Looking to grow your blog? Or wondering how to start a blog? This page has resources on the blogging basics, website hosting, photography, Pinterest and more.
I love blogging! It's fun to share decorating and DIY projects we do around the house, but there's a lot more to blogging than that.
More and more, I've been getting questions from readers about the world of blogging, how to get started and how to grow a blog. I absolutely love blogging and some days still can't even believe this has turned into my job.
There are a lot of blogging resources out there and figuring out which ones are worth investing in can be a tough decision. I'm sharing the ones that have helped me the most below.
Click any of the links below to hop right to a specific blogging category, or scroll down to see them all.
This post contains affiliate links. This means if you click the link and buy something, I may receive a small percentage of sales at no extra cost to you.
Blogging overall
Create Your Blog Dream course
Lisa from Farmhouse on Boone compiled all of her brilliant blogging and video knowledge into her course Create Your Blog Dream. She and her husband also blog full-time, and they spill how they made it happen in their course.
Lisa covers all you need to know from Pinterest and email lists to affiliate marketing and staying motivated.
Learn more about Create Your Blog Dream here.
Website
Themes: Restored 316
If you go with Genesis, you're going to need a pretty child theme. I spent A LOT of time researching child themes and looking at blogs to see what I liked about different themes and what I didn't. I kept coming back to Restored 316. I've used both their Tasteful and Captivating themes.
I love that I've been been able to customize things to the way I want within their themes. Plus, the Restored 316 team has an awesome support team via email and Facebook group, so you'll never be sitting at home on the verge of tears because you can't get your website to look pretty. I've met Lauren and Lani (Restored 316 team members) in person, and they're awesome!
Learn more about Restored 316 here.
Tech help
MaAnna of Blog Aid is my go-to tech resource! From site audits to helpful tech tips, she's a great one to follow to stay in-the-know on all things tech. Be sure to sign up for her Tips Tuesday emails.
Logo design
Brepurposed Design
Bre of Brepurposed Design designed my logo, and I love it! She is great to work with and designed just the logo I was looking for.
Learn more about her logo design services here.
Photography
Content is king, but if your photos aren't good, people probably won't stick around.
Camera
At some point in your blogging career, you're going to have to decide to make the investment in a good camera. I did a lot of research on this and talked to numerous bloggers before making my final decision. I bought the Canon EOS Rebel T5i, and I love it. My pictures are so much brighter and clearer; I can't believe I didn't invest in a quality camera sooner.
Extra camera batteries
Do yourself a favor and just buy extra camera batteries now. There's not much worse on photoshoot day than having everything all set up and ready to go, only to realize your camera battery is dead! I use these batteries with my Cannon EOS Rebel T5i. They work with a lot of other camera bodies, too (all listed in the product description).
Lenses
For close up shots, the 50mm lens is a game changer.
External flash
An external flash is a great tool for taking photos in dark spaces like bathrooms or rooms without much natural light. If you don't know much about adjusting ISO and shutter speed to photograph dark spaces, an external flash is a must for brightening up those dark spaces. I have this one.
Lighting kit
A lighting kit is so helpful. No more crossing your fingers the sun is shining on the day you're taking pictures for your next blog post!
Photographing Interiors course by Rachel of Maison de Pax
If you've ever seen any of Rachel's photos, you know she's an AMAZING photographer. Her photography course, Photographing Interiors, is the first course that truly explained the exposure triangle in a way I could use to take all of my photos going forward. It's very apparent she is a former teacher. Her teaching style is easy to follow, and the course's workbook is a great reference as you work your way through the course. (And even to reflect back on if you have a quick question!)
She also covers troubleshooting areas (shadows, no natural light, shooting into a window, etc.) and Lightroom editing in extensive detail. I learned SO MUCH from this course and can't recommend it enough! Learn more here.
Rachel also shares photography tips and free Lightroom presets via her photography newsletter. I can't say enough good things about her!
Lightroom
Lightroom is awesome. I use it to edit all of my photos now. Lightroom presets can save you a ton of time. Once you understand how to use Lightroom, it's amazing how you can edit photos! (Rachel gives a great overview of Lightroom in the photography course linked above if you're looking for direction!)
Adobe offers Lightroom (and Photoshop) via a small monthly fee. It's great way to keep up with the latest versions of each program.
Email
MailerLite
You'll need a great email system to stay in touch with your readers! I love MailerLite for sending our emails about new blog posts and free printables just for my subscribers.
Their system is easy to use, and their support team is quick to respond if you have any questions. Plus they're affordable, and your first 1,000 subscribers are included in their free plan!
PINTEREST
Tasty Pins plugin
Are you using the same text for alt text and pin descriptions? I was, too, but they really should be different content. Alt text should describe the image, whereas pin descriptions should be written to increase search traffic on Pinterest. You can learn more here.
Aside from giving you an easy way to insert both of these descriptions on all of your blog photos, Tasty Pins plugin also allows you to disable pinning on certain images (awesome for roundups!), add a hover button to images and more.
Learn more about the benefits of the Tasty Pins plugin here.
Tailwind
Pinterest likes it when you share a mix of your content and others' content. Where to find quality content from your blogging friends? With Tailwind Tribes! This feature takes all of the work out of searching for other quality pins to repin.
Sign up with my referral link here and you'll get a free month of Tailwind!
Pinterest account review – Amanda Garvin
Stumped on how to grow your Pinterest account? Amanda offers personalized Pinterest account reviews and recommendations to help. With a background that includes years working at Simple Pin Media, Amanda knows her stuff when it comes to Pinterest.
Amanda will give you ideas on improving your Pinterest images for your specific audience, tips to increase your traffic from Pinterest, suggestions on which group boards are benefitting you (and which aren't) and more.
Her review of my Pinterest account was so helpful and helped ensure my time and efforts spent on Pinterest were truly helping me grow my account and my blog.
If you're struggling with Pinterest or even just wishing your account would grow faster than it currently is, I'd recommend working with Amanda. Learn more about Amanda's Pinterest account reviews here.
Conferences
Haven Conference
I attended Haven Conference for the first time in the summer of 2016. It was one of the absolute best things I've done to grow my blog. I can be quiet and was terrified I wasn't going to have anyone to talk to there. So not the case. I can't say enough good things about it! Read my full recap of the conference here.
Read my recap of Haven 2017 here. I got to meet Clint Harp from Fixer Upper!
Getting to spend time with other bloggers in person is always fun so if you're also in Milwaukee or somewhere else in Wisconsin, reach out and say hi!
Remember to bookmark or pin this post if you want to save it for later!

Pin it!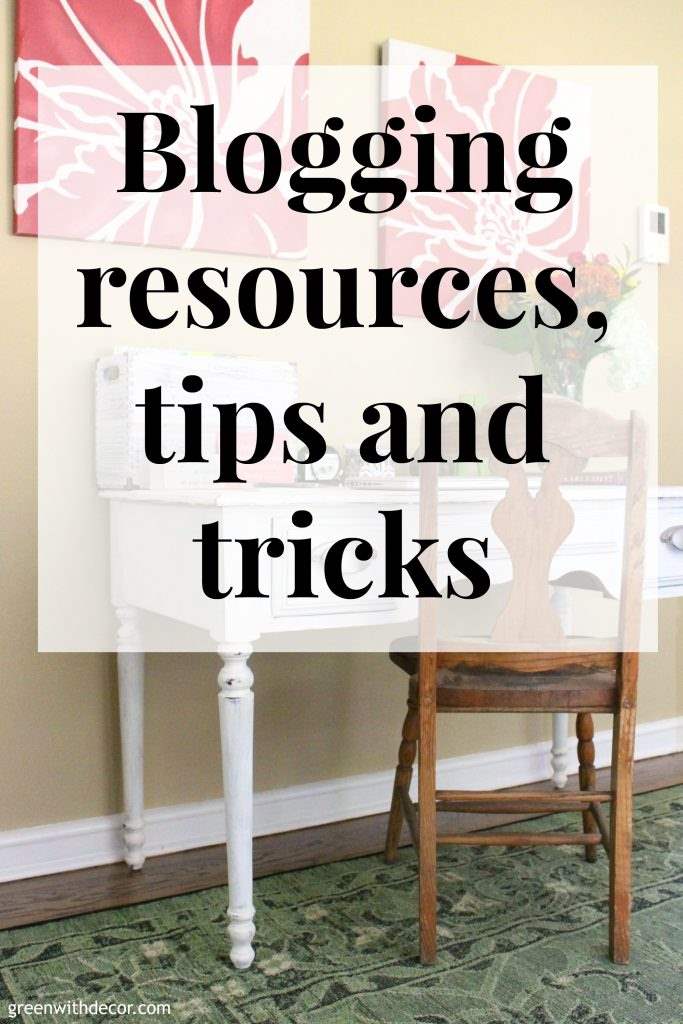 Want to read more posts like this?
Follow along: Get my emails | Facebook | Pinterest | Twitter | Instagram