All of a sudden, Christmas is around the corner. It seems like November 1st came, and Christmas ideas have taken over blogs, Pinterest and Instagram.
I love Christmas. But first, Thanksgiving!
I'm teaming up with some fellow bloggers to share Thanksgiving crafts today as part of our ongoing #homeforthefallidays weekly Instagram challenge.
I made this fun THANKFUL display from old soup cans and burlap.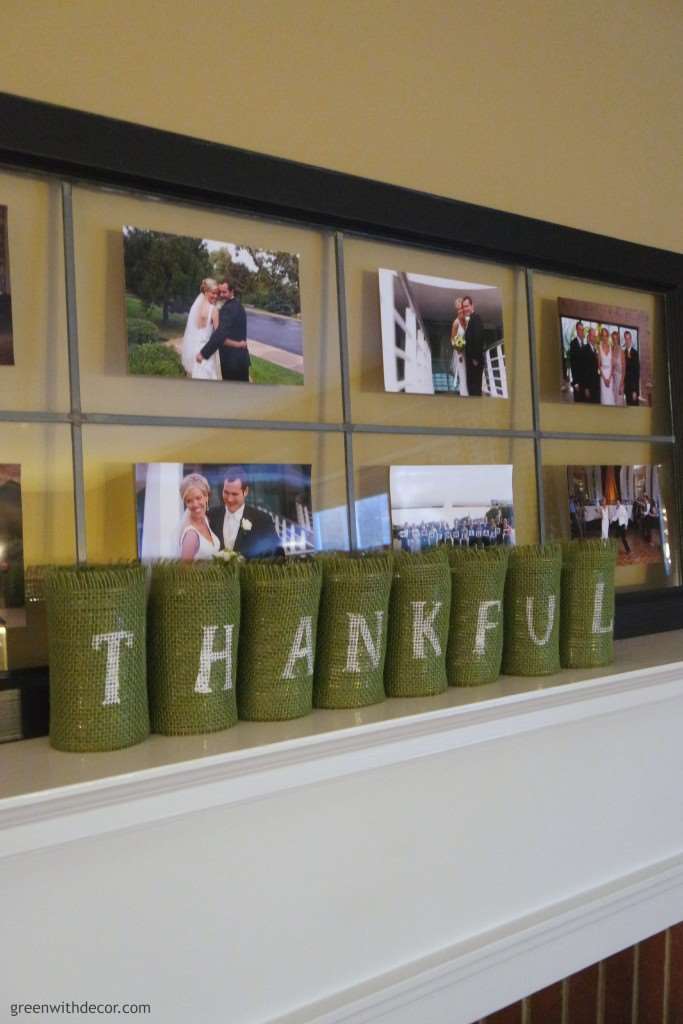 I realized that Jo-Ann has green burlap last week! I was all set to use regular burlap, but when I saw the green, I knew I had to use it.
This post contains affiliate links. This means if you click the link and buy something, I may receive a small percentage of sales at no extra cost to you.
Supply list for a Thanksgiving sign:
2" stencils
8 old soup cans (10-oz. size)
Hot glue gun and glue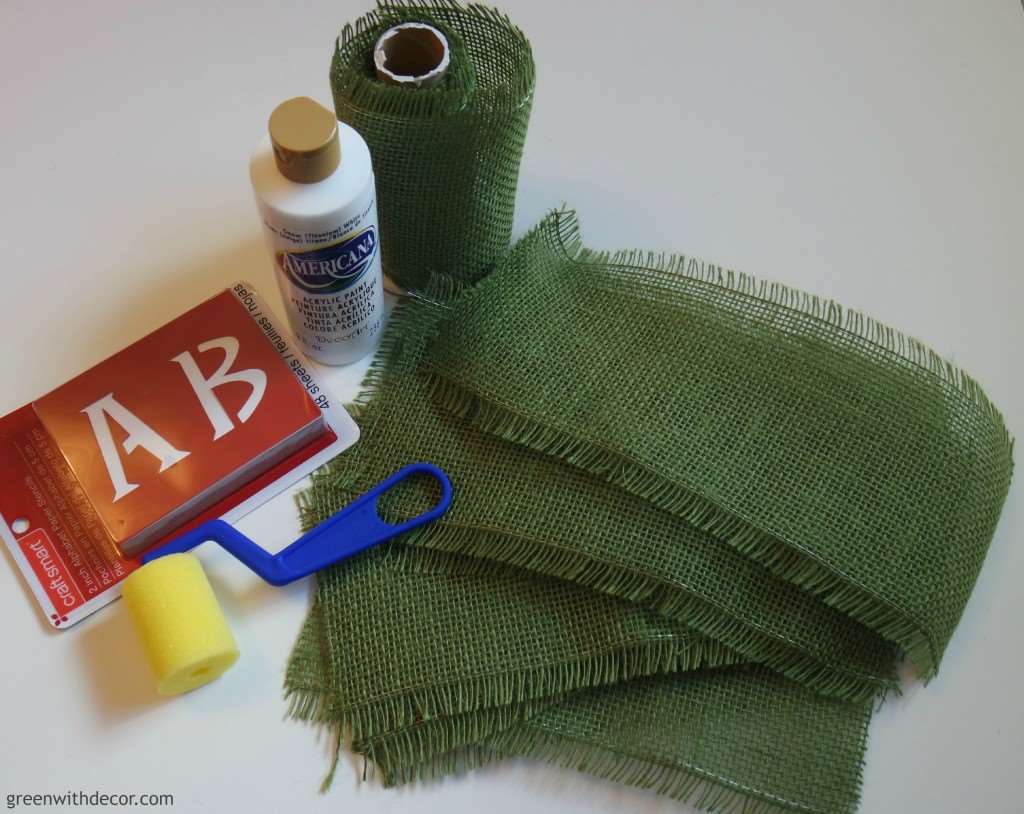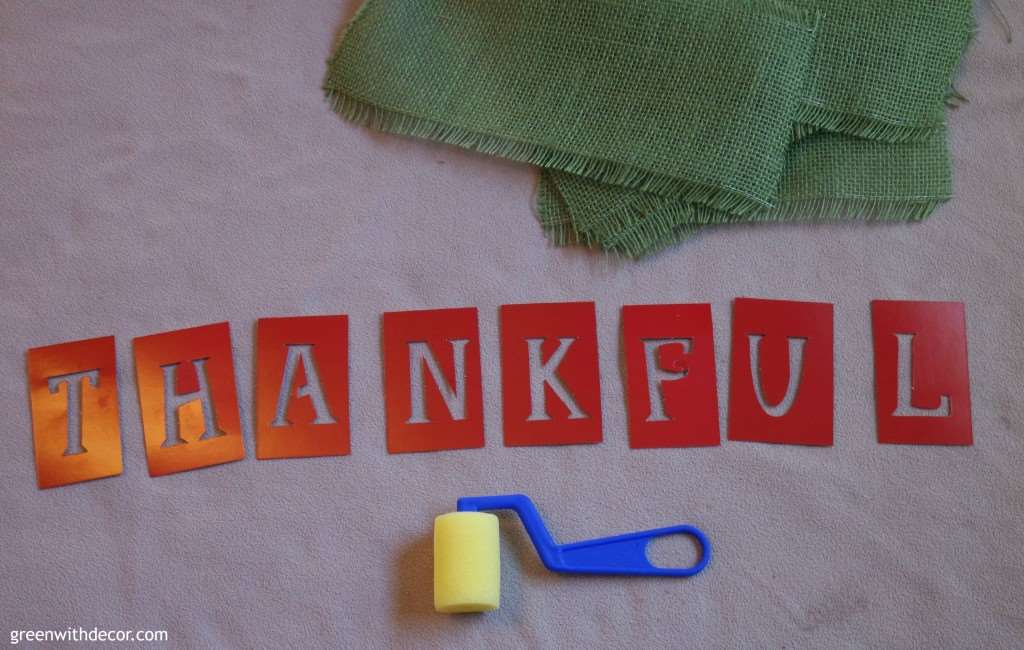 How to make a THANKFUL sign from old soup cans:
1. Cut the burlap.
I cut eight (one for each letter of THANKFUL) 11-inch long pieces.
2. Get the paint ready.
I poured the white paint onto a paper plate. Hey, no need to buy a paint tray for a simple project!
3. Get the stencils ready on the burlap.
Make sure the letters are centered on the burlap.
4. Roll on the paint
The less paint, the better. Otherwise excess paint can clump in the little holes in the burlap.
Use the roller to lightly roll over the stencils, so the letter gets painted on to the burlap.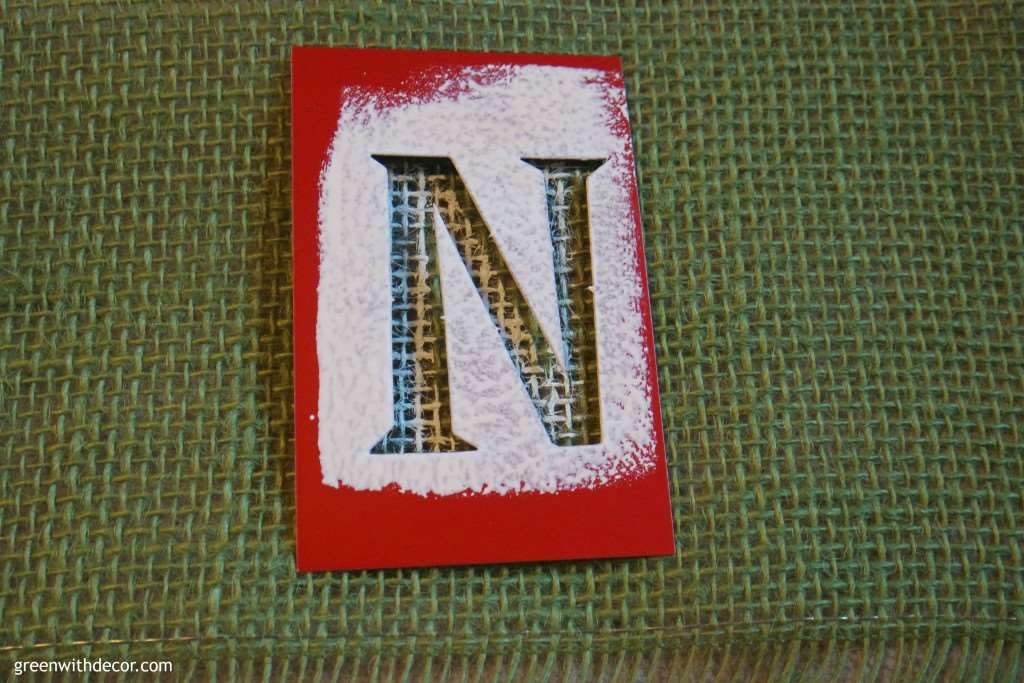 5. Touch up with paintbrush.
Again, the less paint the better. I had a few spots where I touched up the letters.
6. Let it dry.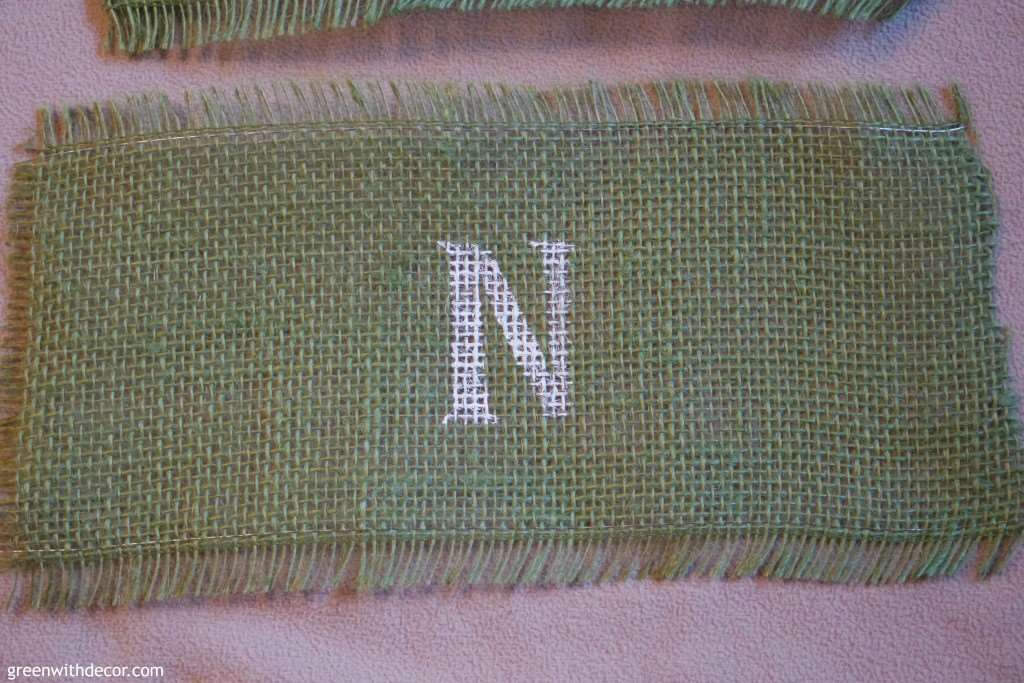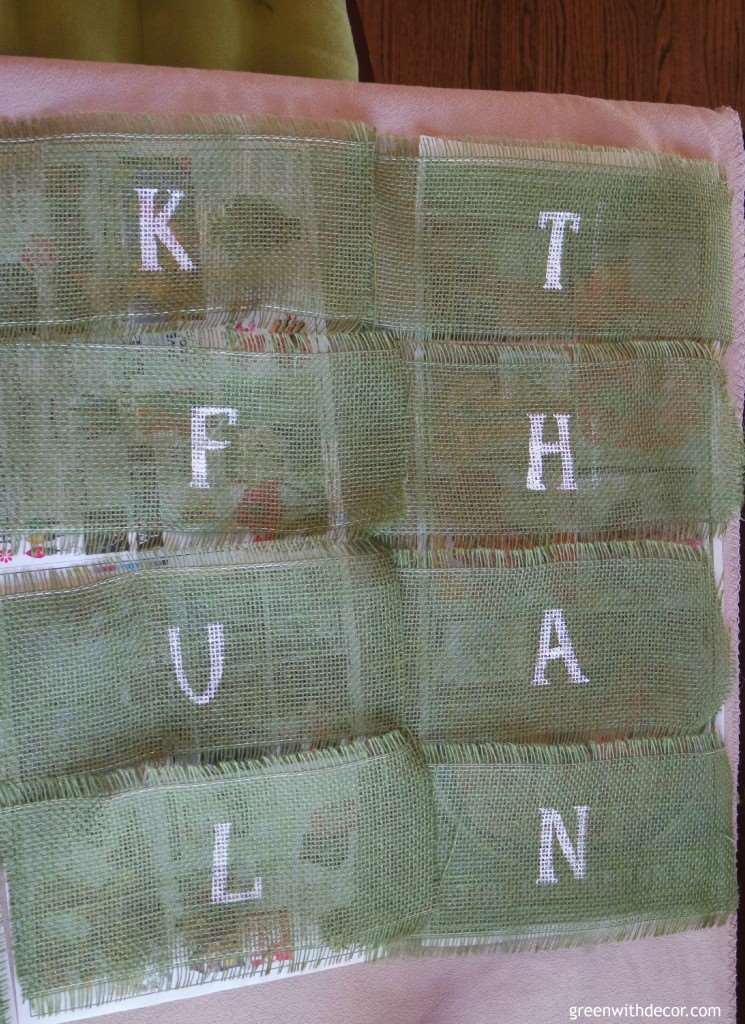 7. Wash the soup cans.
Be careful not to cut yourself!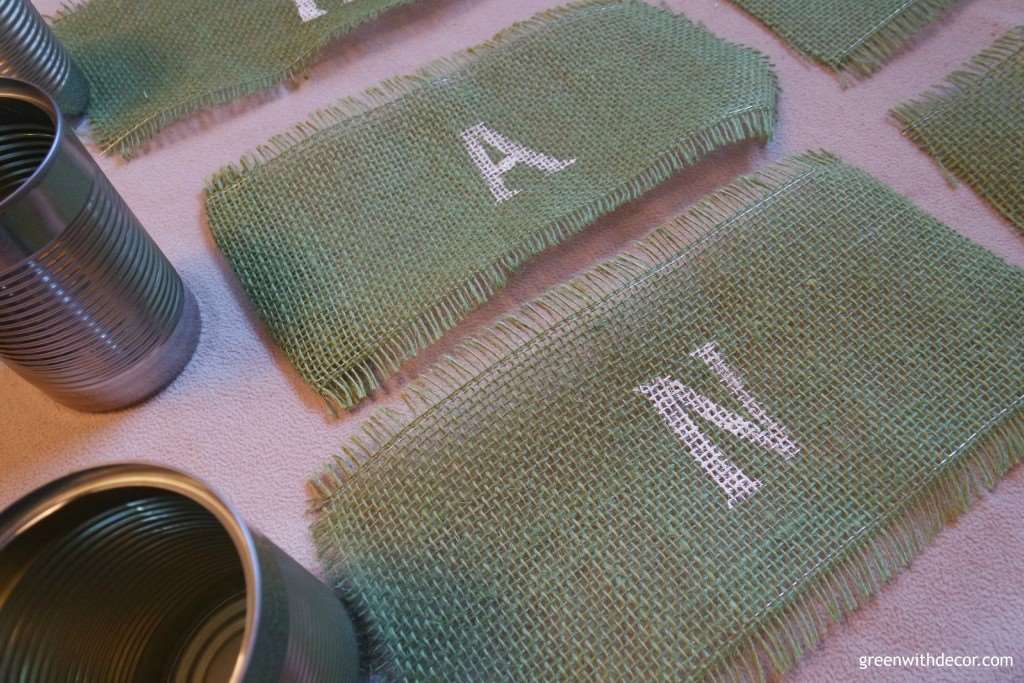 8. Wrap the burlap around the soup can, adhere with glue.
I used a hot glue gun.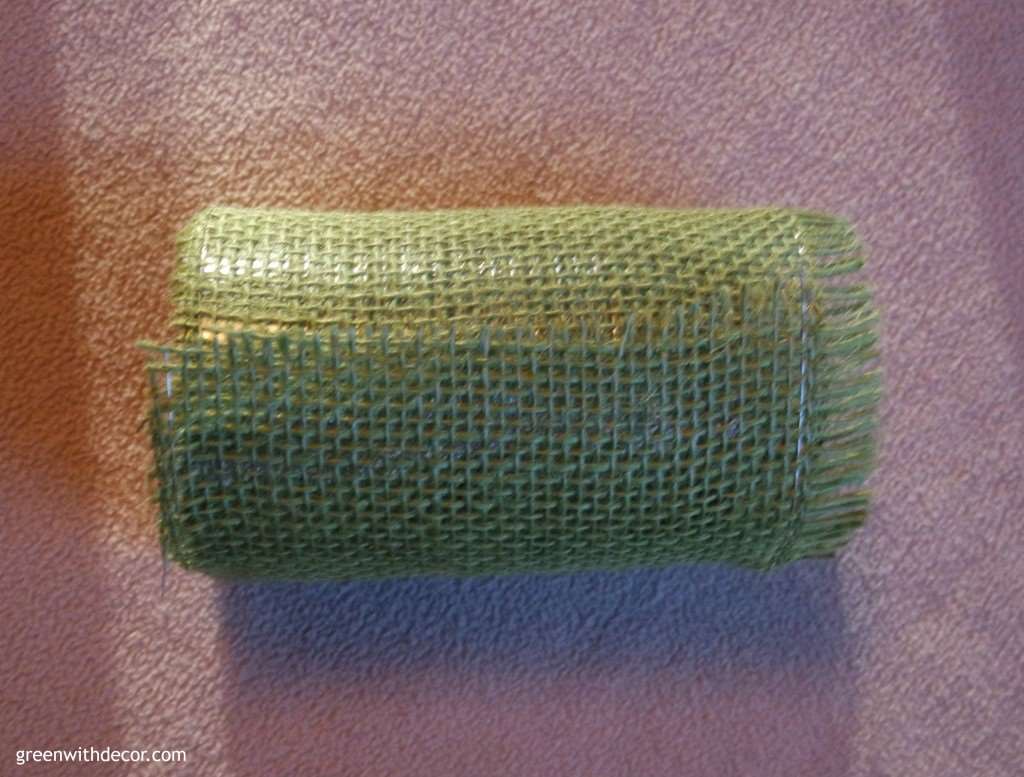 9. Display!
I love that we have our wedding pictures on our mantel. It seems fitting to put the word "thankful" next to pictures of the people that mean the most to us!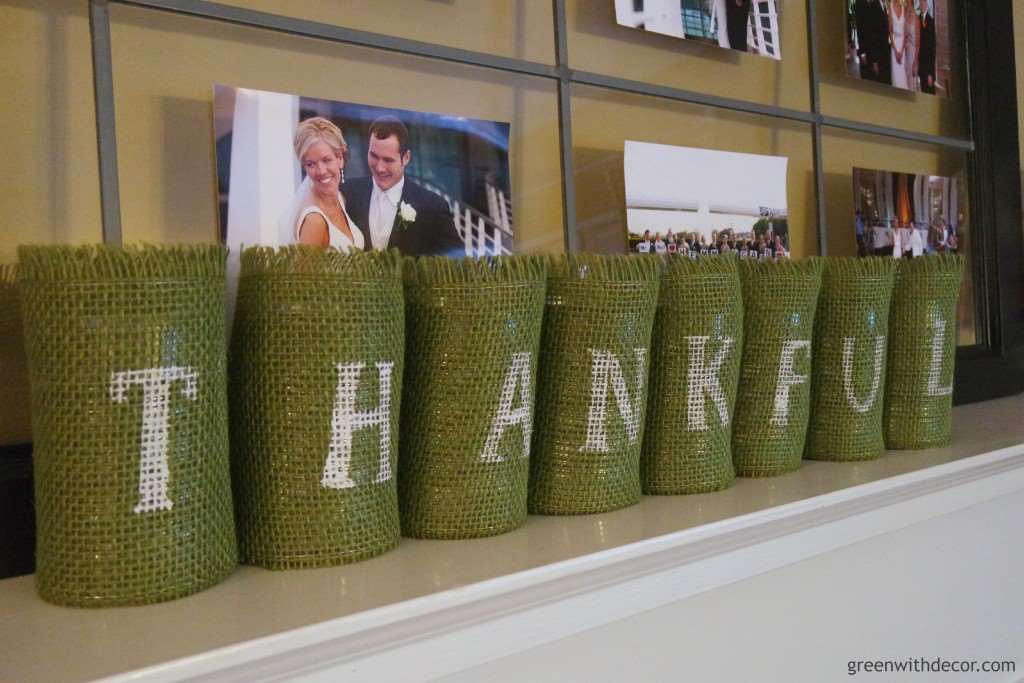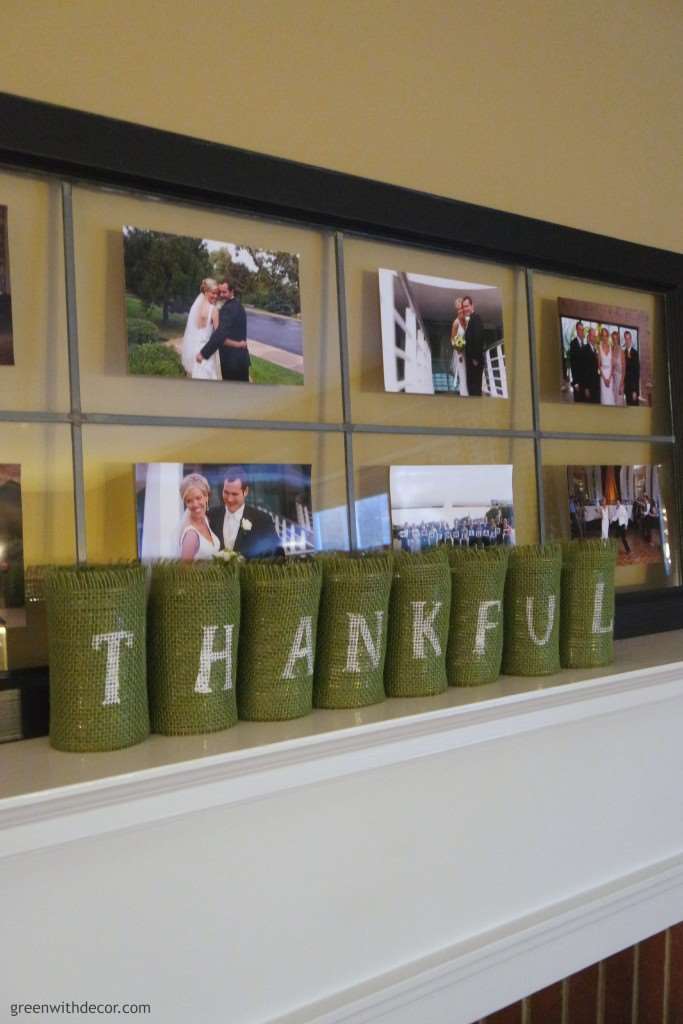 You can learn more about the old windows turned picture frames here.
Remember to check out the other bloggers' fun Thanksgiving crafts (links are below).
Shabby Grace Blog | Little Bits of Home | Beauteeful Living | Pocketful of Posies | Our House Now A Home | Green With Decor (you're here!) | Lehman Lane
Have you made a Thanksgiving craft? Hope to see it on Instagram!
You can see more fall crafts here:
Remember to bookmark or pin this post if you want to save it for later!


Pin it!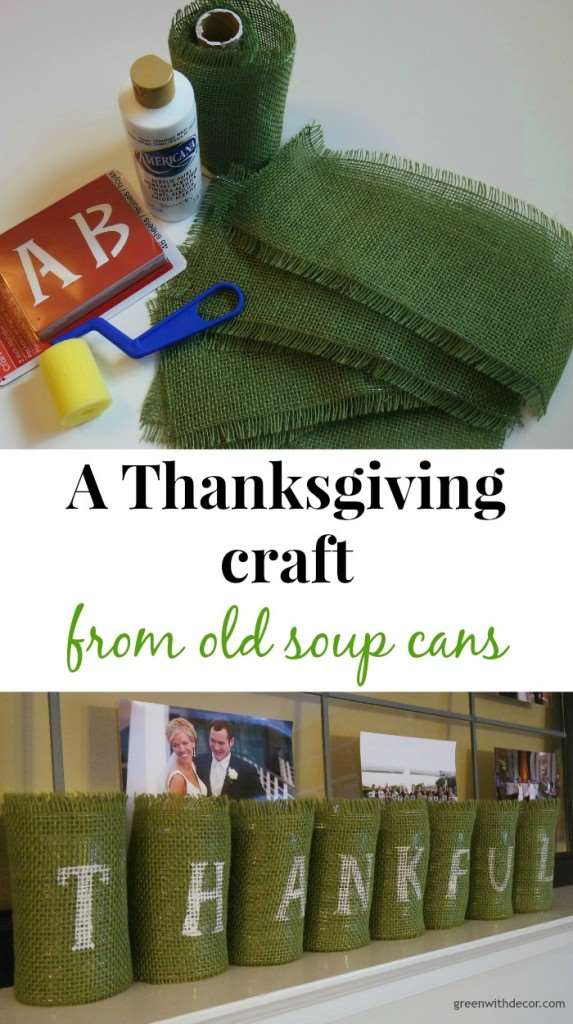 Want to read more posts like this?
Follow along: Get my emails | Facebook | Pinterest | Twitter | Instagram