I'm taking a break from the home decor posts today to talk about our recent trip to Dallas. I love home decor, and traveling is a close second. I love hearing about fun things to do in different cities.
Kalen has been a huge Cowboys fan forever. He's always wanted to go to a game at AT&T Stadium in Dallas. So this year we finally planned the trip. The weekend included a lot of football, but we also had some time for other fun things to do in Dallas.
Including great food!
We are the people that research a city before we visit and Google best restaurants to make sure we hit all the hot spots.
And we ate at some great restaurants in Dallas!
1. Pecan Lodge
If you like barbecue food at all, you have to go to Pecan Lodge. Oh my gosh, yum!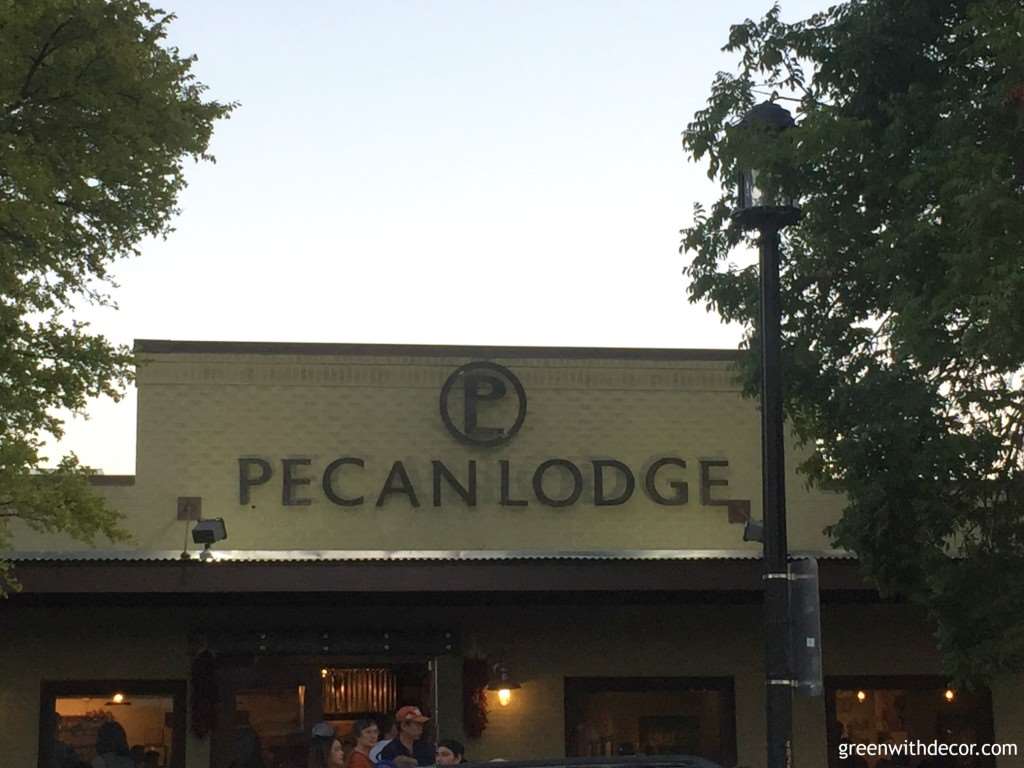 Everything you'll read about Pecan Lodge says you'll wait in line forever but it's worth it – and that's true. We went around 5:30 on a Saturday to get there before the Saturday night dinner line got too long, and we still waited around 45 minutes.
And it WAS worth it!
Plus there's a bar, so standing around waiting with a beer in hand is no big deal.
We got a lot of food because hey when in Rome, when in Texas …
Southern fried chicken (because when in the South, how can you not?!)
Brisket
Pulled pork
Mac and cheese (always one of my go-to choices for sides, yum!)
Coleslaw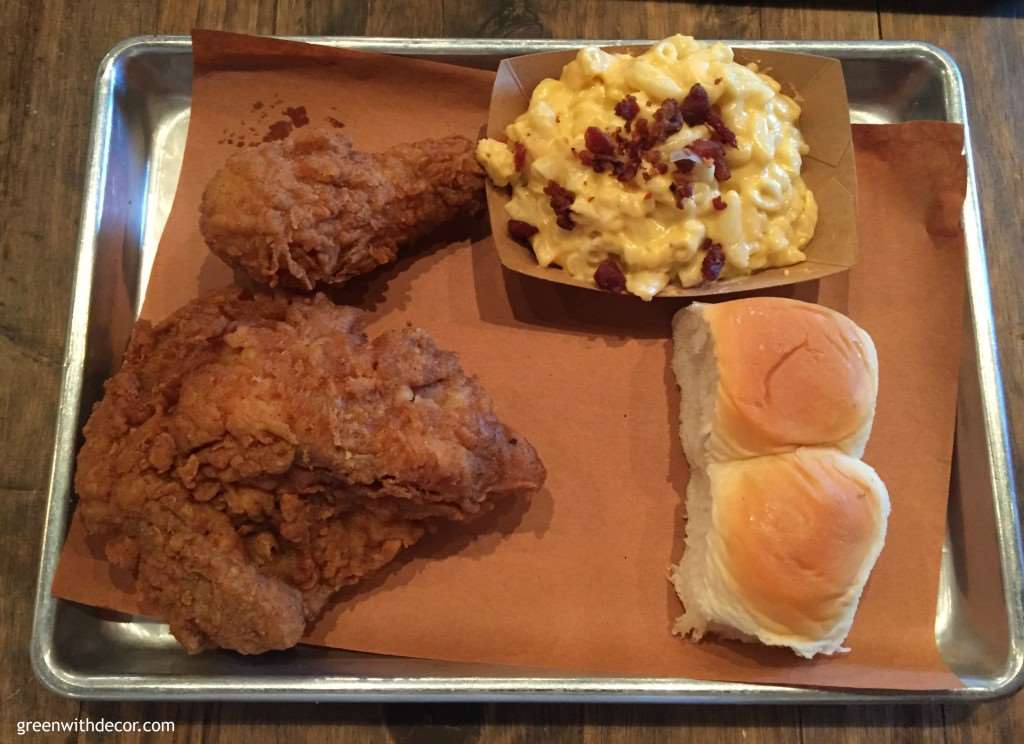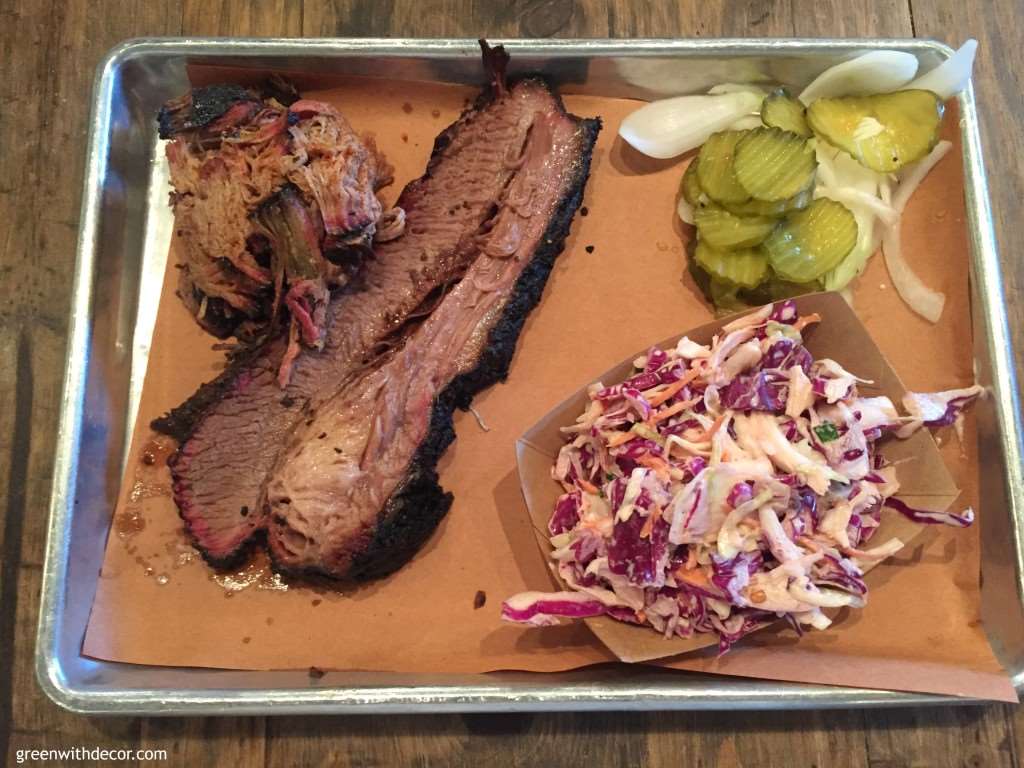 Oh my gosh. It was SO DELICIOUS.
The decor inside the place was cool, too. Very rustic and casual.
2. Twisted Root Burger Co.
We both love a really good burger, and Twisted Root Burger Co. definitely makes really good burgers.
I was starving when we got there and totally forgot to take a picture of our food. Sorry!
I got the Big Tex burger, because anything with guacamole pretty much gets me every time, and Kalen got the Western burger. Both were delicious! So were the fries and sweet potato chips.
The vibe in Twisted Root was great, too. Very relaxed and rustic.
3. Truckyard
If you like drinking outside (and who doesn't), the Truckyard is the place to be in Dallas. It was so cool.


We hung out for a few hours on a Saturday afternoon. They had live music, and it was an absolutely gorgeous day. It was so much fun.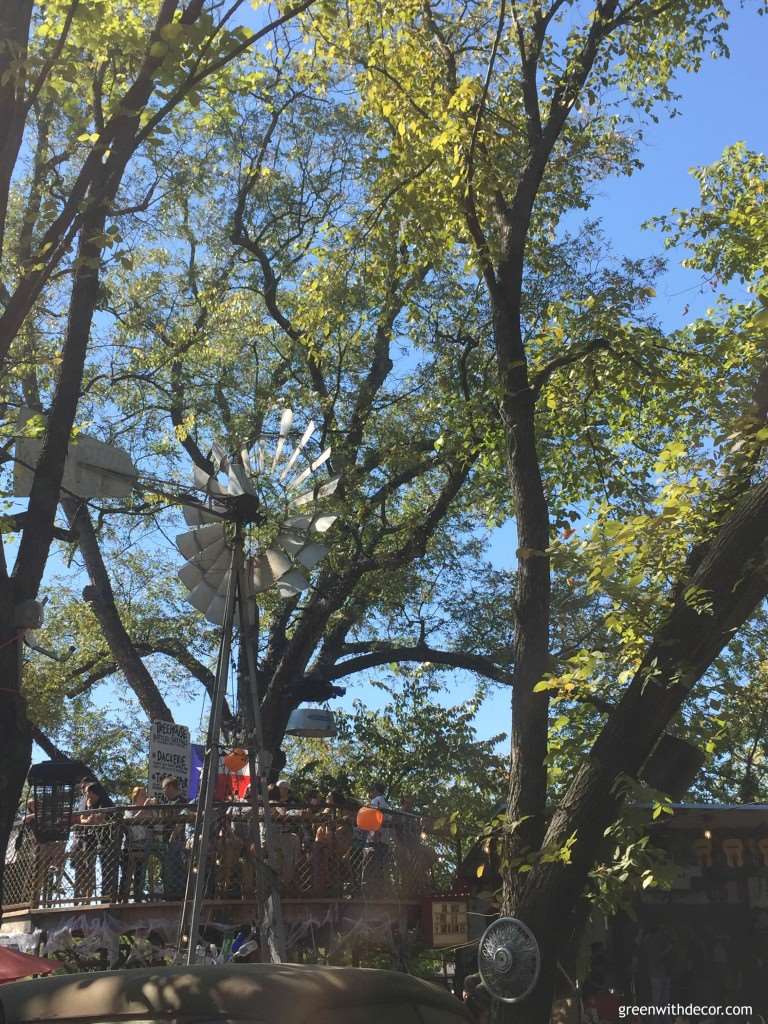 They have old trucks set up as tables, and food trucks lined up along the back. We got some tacos and a quesadilla from ssahmBBQ. It was good!
And isn't this bar sign cool?!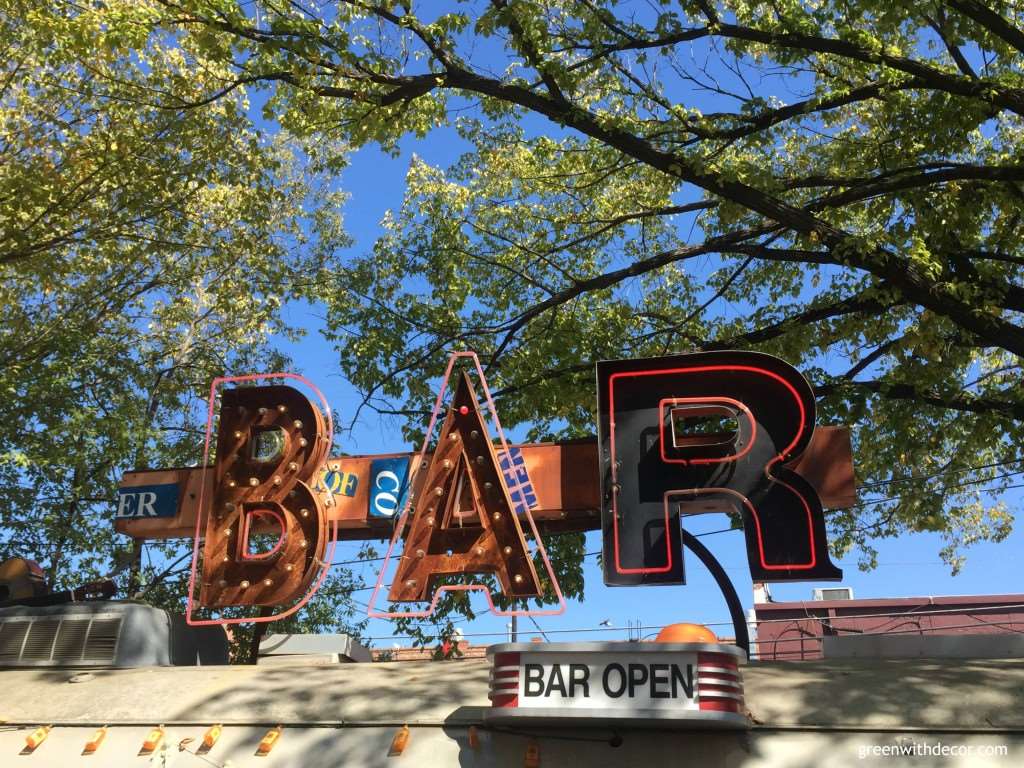 This was the perfect way to spend a Saturday afternoon.
4. Braindead Brewing
In terms of beer, we are pretty much Miller Lite people, but we also love checking out local places in new cities, so we stopped in one of the craft breweries we passed.
Aren't these BEER letters made from old metal outside cool?!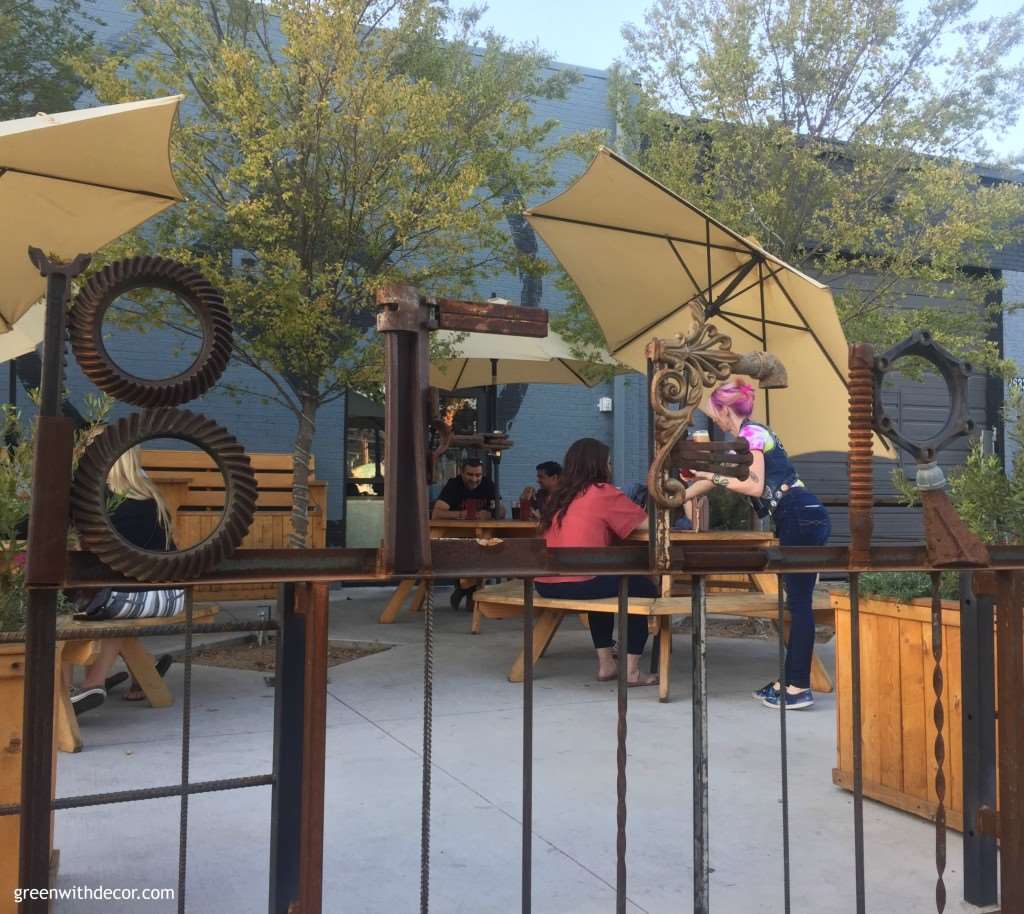 The bar was cool, and it had lights made from pallets hanging from the ceilings.
5. Dallas Cowboys at AT&T Stadium
The whole reason for our trip! Kalen was in heaven the day we spent at the Cowboys game.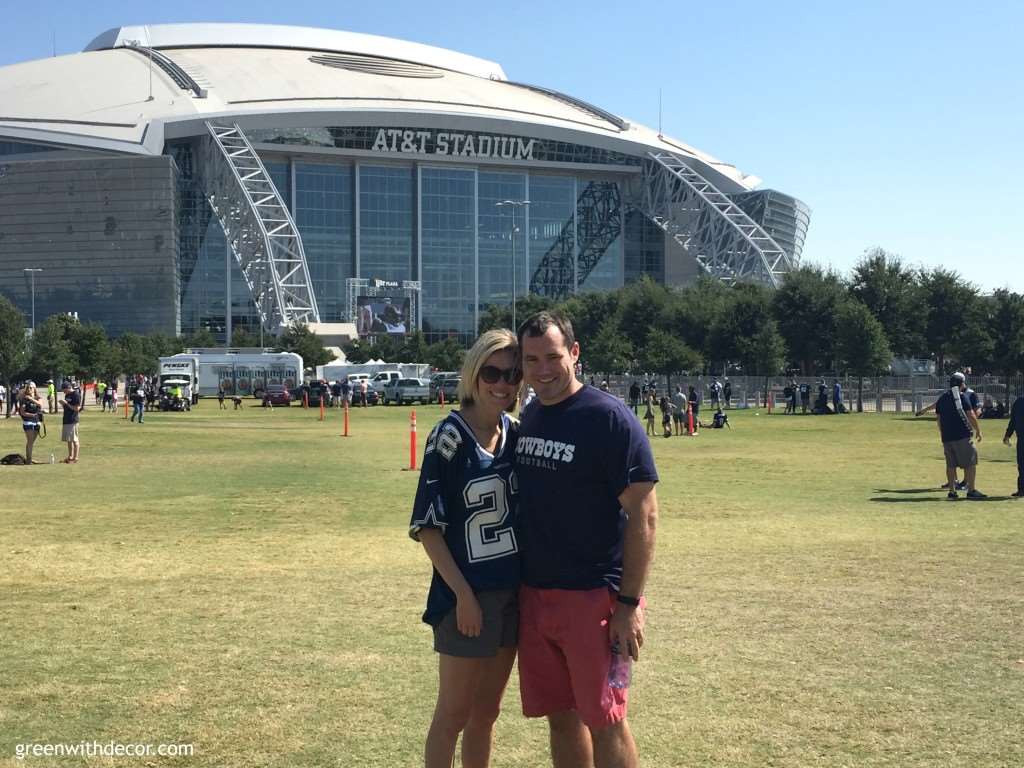 We had a lot of fun tailgating and at the game. I'm a Packers girl, but I was a Cowboys fan that day!
Have you been to Dallas? What are your favorites things to do? I have a feeling we'll be back for another Cowboys game next year!
For more travel fun, check out these posts:
Download my free packing checklist
If you want a copy of my favorite packing list that lets me pack last minute with worrying about forgetting something, download it below.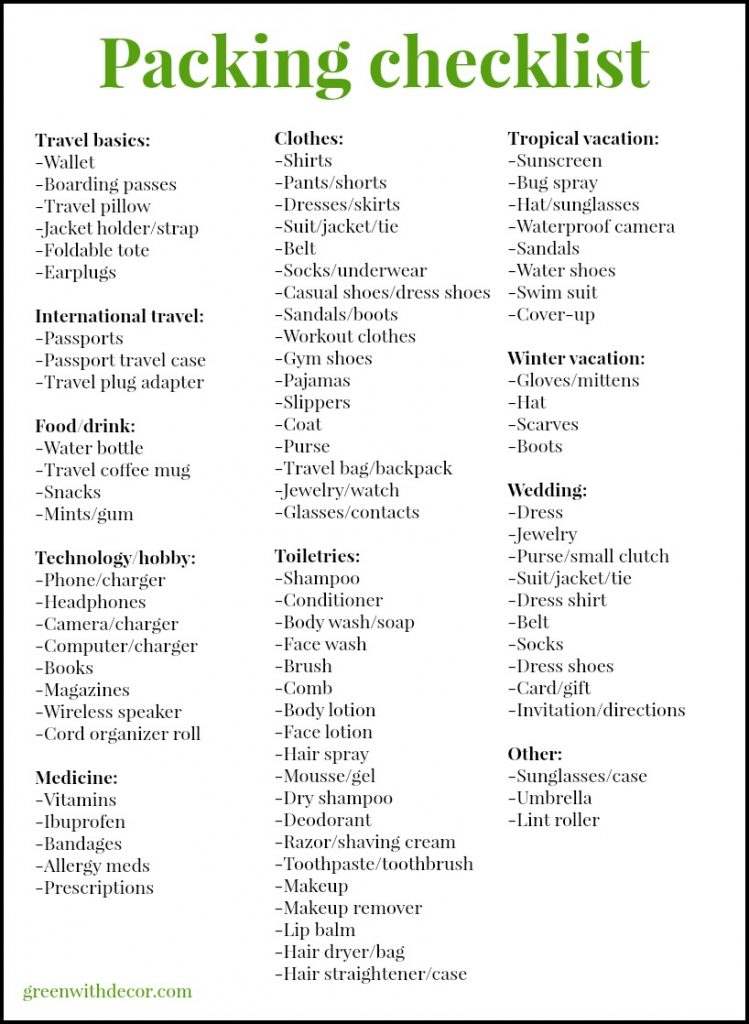 *Please note: All printables and downloads designed by Green with Decor are for personal use only. Please do not alter the files or claim them as your own. These files are not intended for resale, nor are the printed versions of these files.
Remember to bookmark or pin this post if you want to save it for later!


Pin it!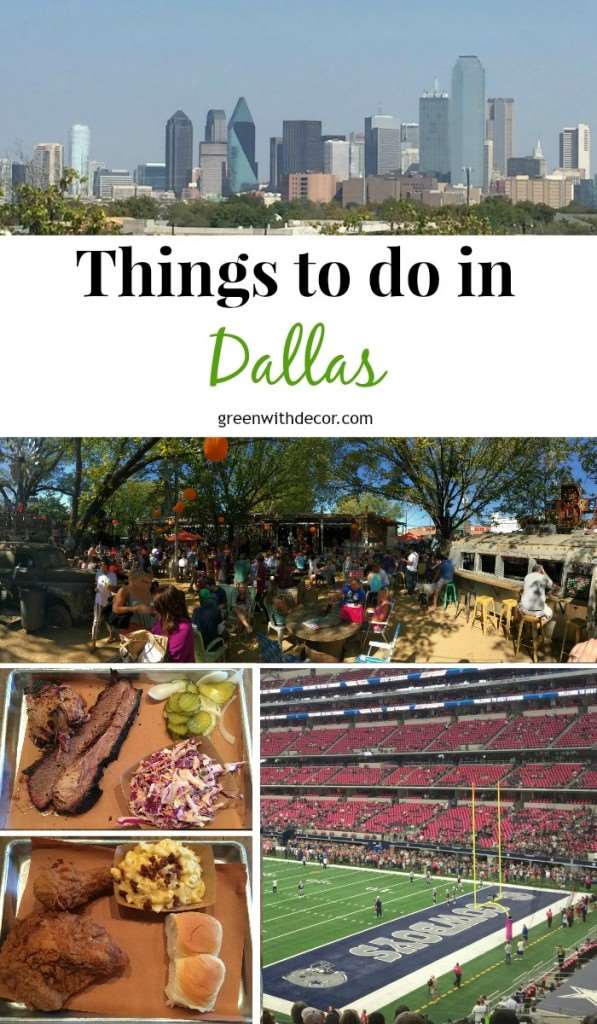 Want to read more posts like this?
Follow along: Get my emails | Facebook | Pinterest | Twitter | Instagram