Disclosure: This post is sponsored by STOVE SHELF. All opinions, images and love of being organized are 100% mine.
Back when we were picking things out for our wedding registry, I was really excited to finally have a spice rack instead of having a bunch of randomly mismatched plastic bottles thrown in a cabinet. We've all been there, right?
Then when we moved into our house and were setting up the kitchen, it turns out I didn't really like the spice rack on the counter. I prefer to use the counter for decorating. 🙂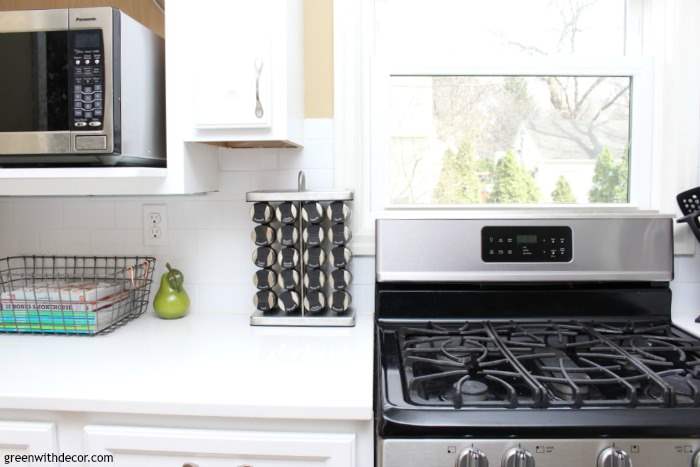 On the other hand, it's nice to have a few spices we use often within easy reach … such a dilemma.
Well, I have a fun new product to share today that lets us keep spices out while still keeping the counters free for decor: the STOVE SHELF. It just attaches to the top of your stove, giving you extra storage space in the kitchen!
Plus the STOVE SHELF is made right here in Milwaukee, which makes me like it even more. I'm all about supporting others who are taking their business idea and running with it from the ground up.
This post contains affiliate links. This means if you click the link and buy something, I may receive a small percentage of sales at no extra cost to you.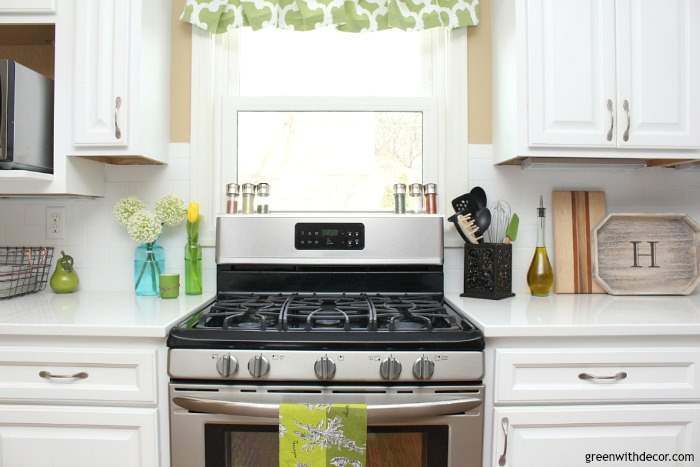 GET THE LOOK: Basket | Green spatula | Olive oil bottle Initial tray | Cabinet handles
Color:
I was, of course, first interested in the color of the STOVE SHELF to be sure it would match the look of our stainless steel stove. The shelves come in stainless steel, black and white, so you're covered there no matter what color your appliances are.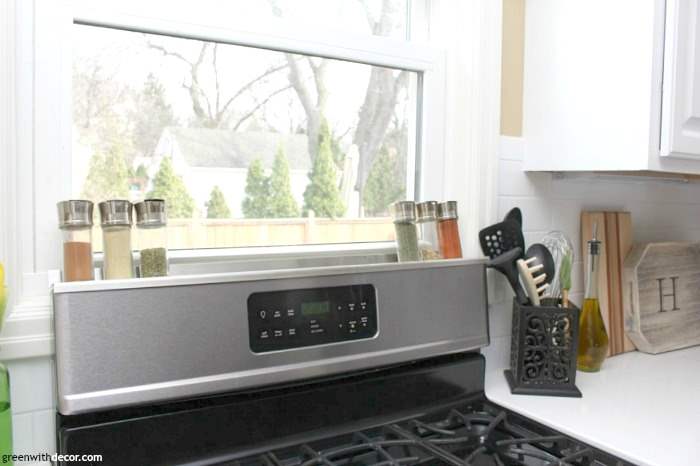 Installation:
Okay, installation is a really strong word for this. The STOVE SHELF is magnetic, which means you literally place it on your stove and walk away two seconds later, even if the back of your stove isn't straight across.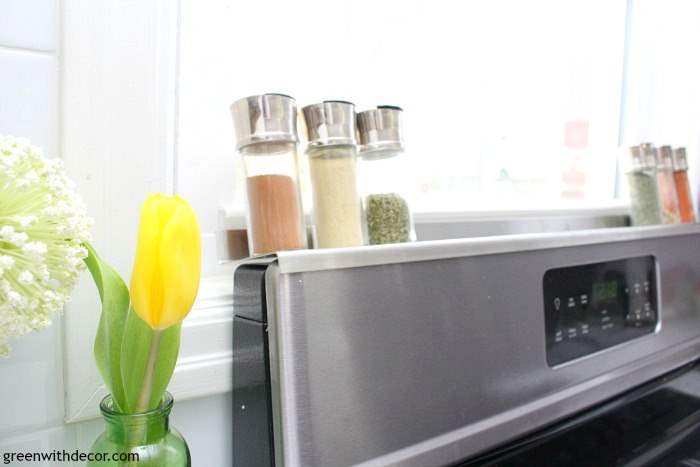 Ours tilts backwards at a slight angle, but the STOVE SHELF stays in place just fine.
Clean up:
It's easy to clean, too. We've been cooking with ours sitting on the back of our stove for a while now, and anything that splatters, we just wipe up the same way we wipe down our appliances.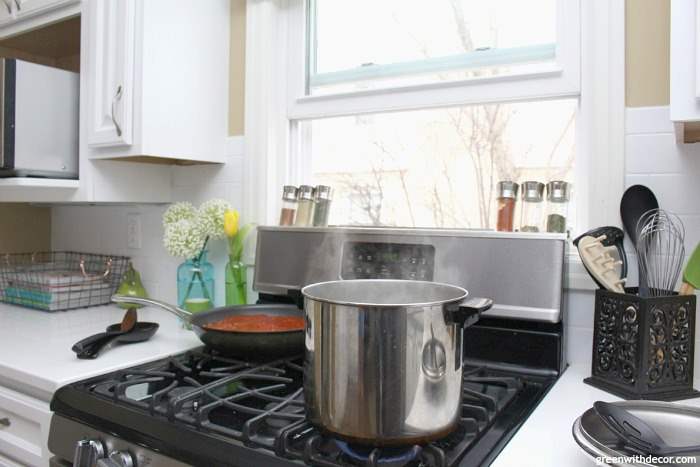 And do you notice the open window in this picture?! Because it's finally been warm in Milwaukee!!
You could, of course, fill the entire shelf with spices, but we opted to just put the few out that we use on a regular basis. I love the clean look of these glass spice jars instead of the plastic, varying sized ones from the store.
The spice rack from our wedding registry looks just great titled sideways in cabinet, hidden from everyday view, don't you think!?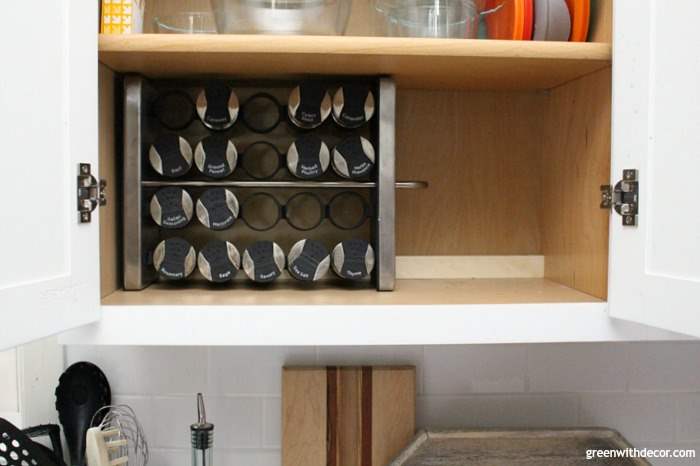 Most importantly, I have room for glass bottles and flowers on the counter instead of spices.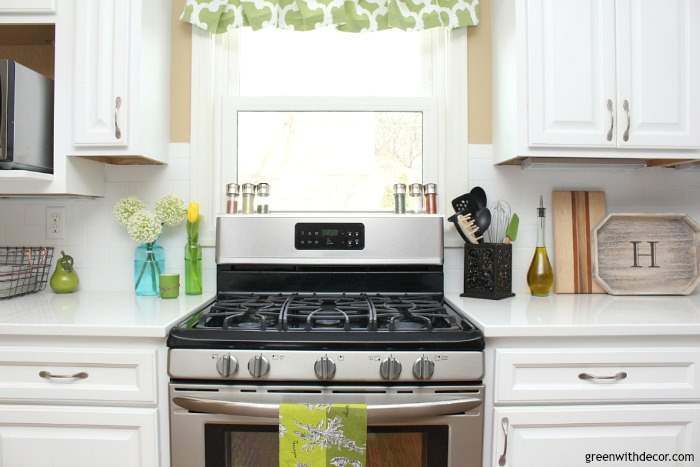 You can order the STOVE SHELF right on its website. They offer free shipping nationwide.
And, if you have jars without labels (our spices are labeled at the top of our jars), I have free printable spice labels you can download below. Just print, cut them out and use double sided tape to attach them to your jars. It's the perfect way to keep spices organized!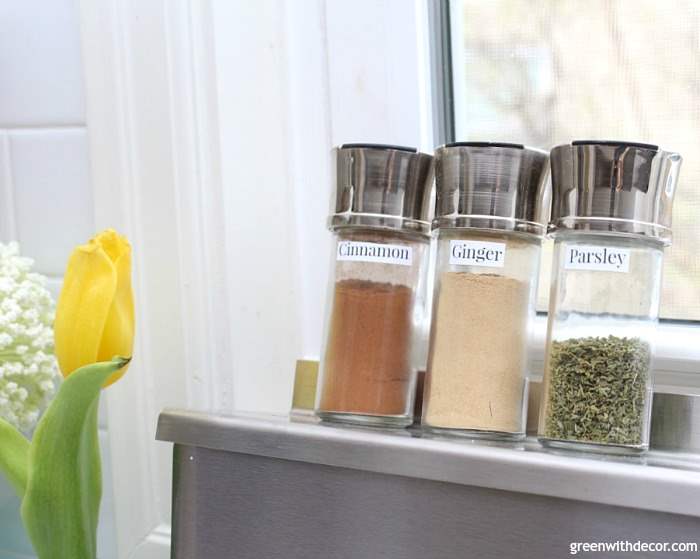 How to get the spice jar labels:
Sign up in the box below, and the link for the free printable will arrive in your inbox shortly. You'll also be signed up to get blog posts and alerts about new printables moving forward. (If you're already an email subscriber, you won't get added to the email list twice.)
*Please note: All printables and downloads designed by Green with Decor are for personal use only. Please do not alter the files or claim them as your own. These files are not intended for resale, nor are the printed versions of these files.
If you want more organizing ideas for around the house, you can see all of my organizing tips and tricks here.
Remember to bookmark or pin this post if you want to save it for later!


Pin it!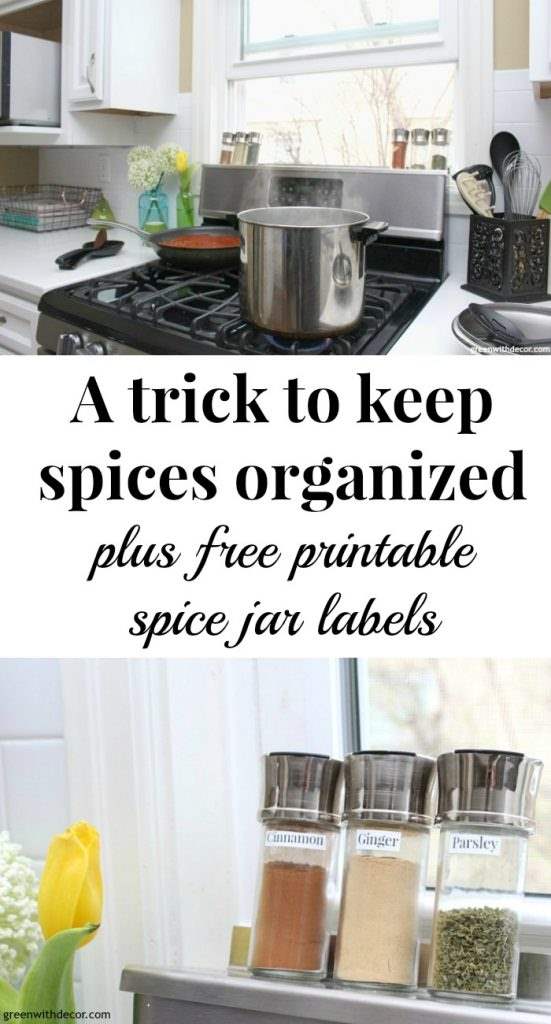 Want to read more posts like this?
Follow along: Get my emails | Facebook | Pinterest | Twitter | Instagram