This post contains affiliate links. This means if you click the link and buy something, I may receive a small percentage of sales at no extra cost to you.
I have ALL of my favorite Amazon finds on my Green With Decor Amazon page here or you can check out some of my top picks below.
Over the years, it feels like we're buying more and more on Amazon. It's just way too convenient.
I mean, what's better than free two-day shipping? Not a lot.
Plus they have way more home decor items than I ever realized so I thought I'd share some of my favorites with you guys.
Just click any of the images below for more info. (You may have to double click on mobile.)
Light fixtures
I discovered Amazon's beautiful light fixtures back when we were looking at farmhouse vanity lights for my parents' bathroom renovation. There are soooo many good ones.
We picked one similar to this for their bathroom.
This silver light fixture we have in our home office and master bedroom is available on Amazon, too.
Fireplace screen
I get soooo many questions whenever I post a picture of our fireplace screen. Unfortunately, it's not available anymore, but this one on Amazon is the closest I can find while still being affordable.
Message center
This message center has been a lifesaver in our little mudroom. It holds keys, Oakley's leash, sunglasses, you name it.
Rugs
We have (and love) these seagrass rugs and this big green/neutral area rug.
Moscow Mule mugs
I talk about these all the time, but they really are a favorite around here. The copper mugs keep drinks sooo cold – I've been known to drink beer and lemonade out of them, too, not just Moscow Mules. They're perfect for summer nights on the patio.
State wood sign
I always get a a lot of comments/questions on this little wood Wisconsin sign, too. Probably because it's just so cute! It comes in other states as well.
Candles
My favorite neutral candles from Chesapeake Bay Candle are available on Amazon. I love them!
Chestnut & Acorn is my absolute favorite scent from them, but I like the Wild Lemongrass, Milk & Honey, Aqua Marine and Bergamot & Clover, too – all perfect for summer.
Furniture hardware
Painting furniture is like some kind of therapy around here. And usually after giving a piece a good paint job, it's in need of a little hardware upgrade, too. I love these silver cup pulls and these black drawer pulls.
Coffee table books
There are soooo many good decorating coffee table books out there! Dream Decor by Will Taylor is one of my favorites. I like Styled by Emily Henderson and Lovable Livable Home by Young House Love, too.
Garbage disposal button
Maybe not so glamorous, but we love our garbage disposal button so I wanted to mention it! You can barely see it from elsewhere in the kitchen, and we love that it's easy to hit whenever you're washing dishes.
Wood watch
Okay, not home decor, but I have to share it because I can't tell you HOW MANY compliments I get on my wood watch whenever I wear it, which is basically every day at this point. (Similar watches here and here, too.)
Scarf hanger
This might be a little random, too, but my Grandmom bought me one of these scarf hangers last year, and I love it! I ended up buying two more because I *might* have a slight scarf addiction.
They're a game changer for organizing scarves though – and keeping them from getting all wrinkled if you just throw them all a bin like I used to do.
This is my favorite brown lace scarf that I use as a table runner a lot, too.
I've saved even more of my favorite Amazon finds on my Green With Decor Amazon page here if you want to check it out!
What else have you found on Amazon that you love?!
Happy shopping!
Remember to bookmark or pin this post if you want to save it for later!

Pin it!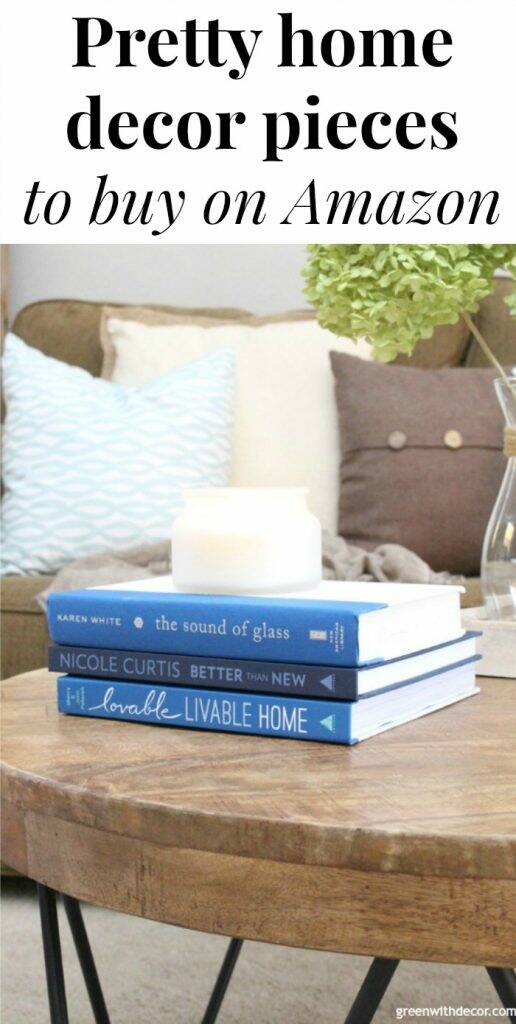 Want to read more posts like this?
Follow along: Get my emails | Facebook | Pinterest | Twitter | Instagram | Google+