Disclosure: This post is sponsored by Steinhafels. All opinions, images and love of using pretty furniture are 100% mine.
You know what's really hard to find?!
A glider that's comfortable, gorgeous and neutral … and will work in a nursery AND a living room once you're past the nursery stage.
But I found one! This gorgeous New American Living Swivel Glider from Steinhafels!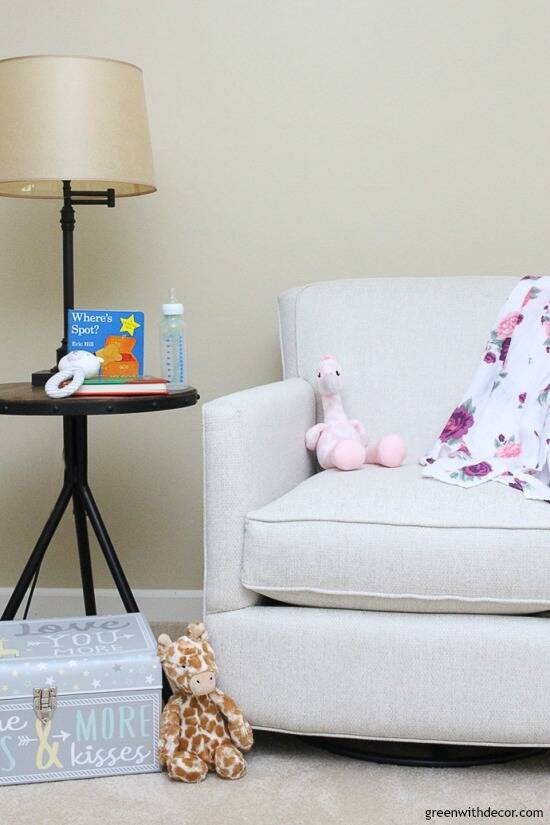 Isn't it pretty?! I just love it.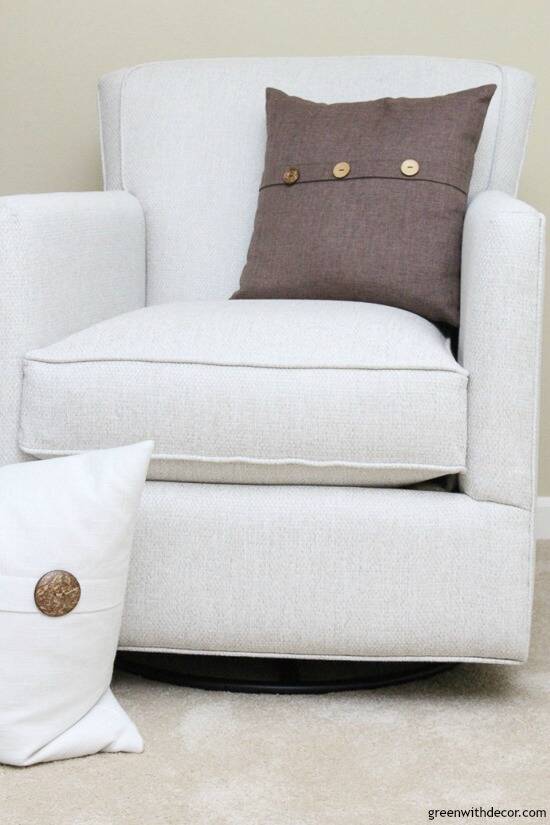 (Yes the chair is currently in my parents' living room … we haven't quite moved it to our house yet. Nor have we started decorating a nursery, more to come on that soon!)
There just aren't many gliders out there that fit the bill of what we were looking for, which I didn't think would have been all that hard to find. After looking around a bit, turns out, it is.
I'm really glad we found this glider! Turns out it's one of Steinhafels' most popular chairs so obviously others agree!
Versatile
Sooo many gliders out there just look kind of child-ish. I mean, I get they're for a nursery and all, but I really wanted something that could grow with us as the baby grows.
Something that we could easily move into the living room or family room that won't look like we just moved the chair out of the nursery.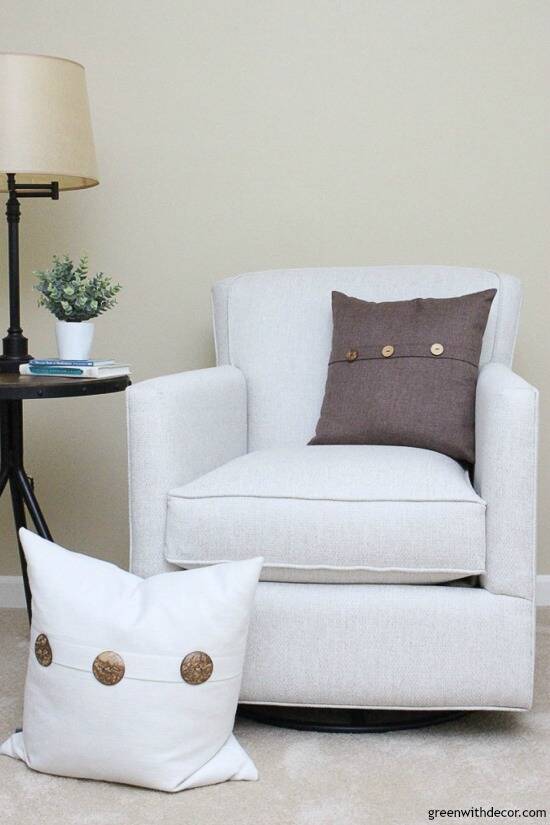 Perfect, right?! I think it'll look just great in our family room eventually.
Comfortable
Comfort was high on our must-have list. We've heard rumors that you spend a LOT of time in the glider with the baby at the beginning. 🙂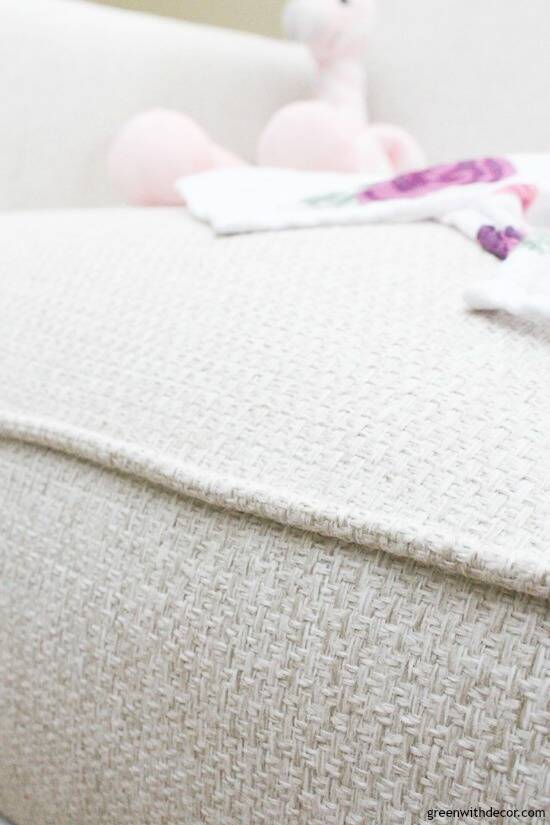 The countdown to Baby H's arrival is dwindling, and I can't wait to snuggle with her in this comfy chair.
Gorgeous
A lot of gliders we looked at just looked kind of cheap – not exactly the look we were going for. This fabric is comfy and looks nice. Here's a close-up so you can really see it: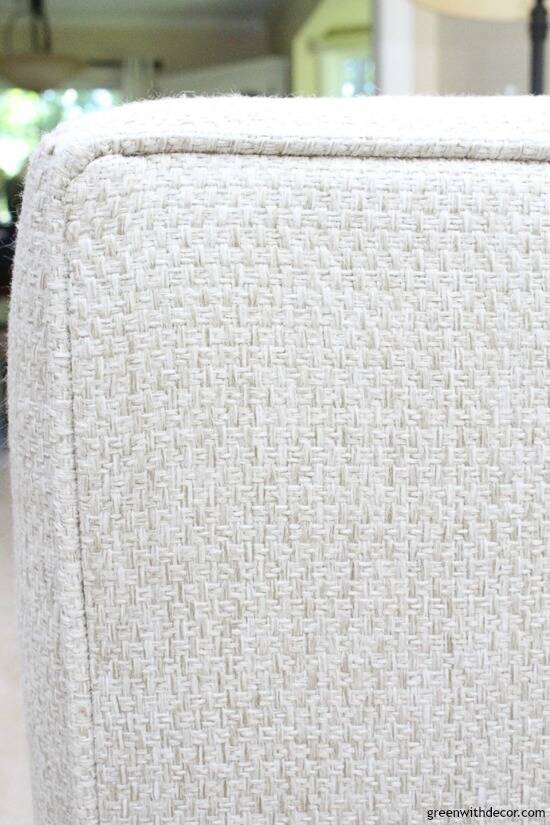 The cording along the seams gives it an extra fancy touch, too.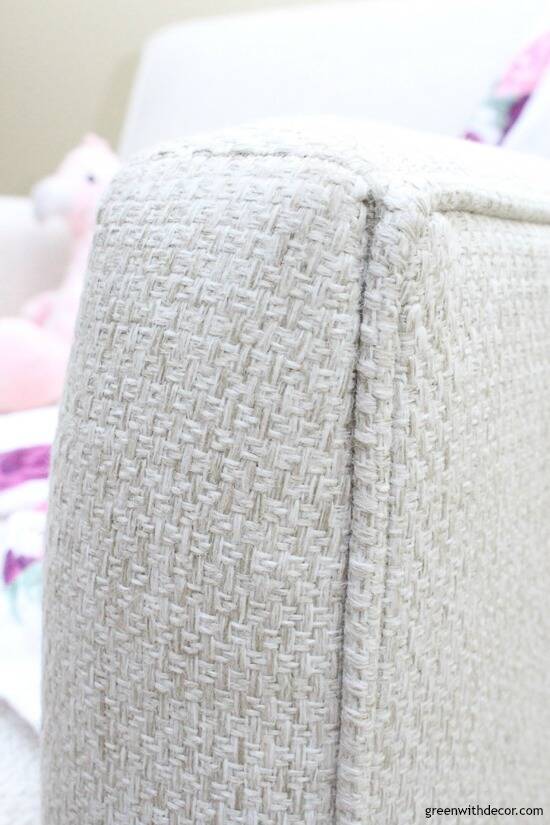 I like that the base is pretty much hidden underneath the chair so you don't have to look at it.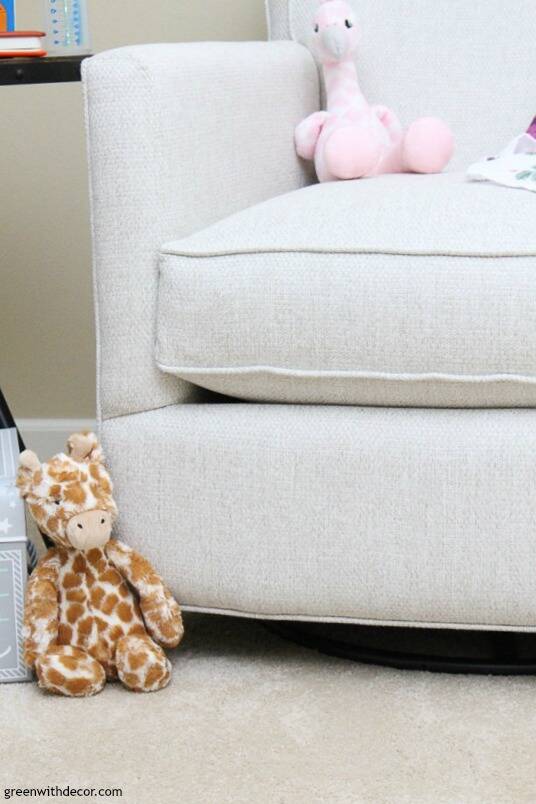 Neutral
I tend to lean towards neutral furniture. It's much easier to add/switch out color with throw pillows, curtains and accessories when you want a new look so I looooove the color of this chair.
Plus white means it'll work in a nursery for a girl or a boy (should we have one of those at some point). I did spring for pink and white crib sheets because they're just too darn cute to resist!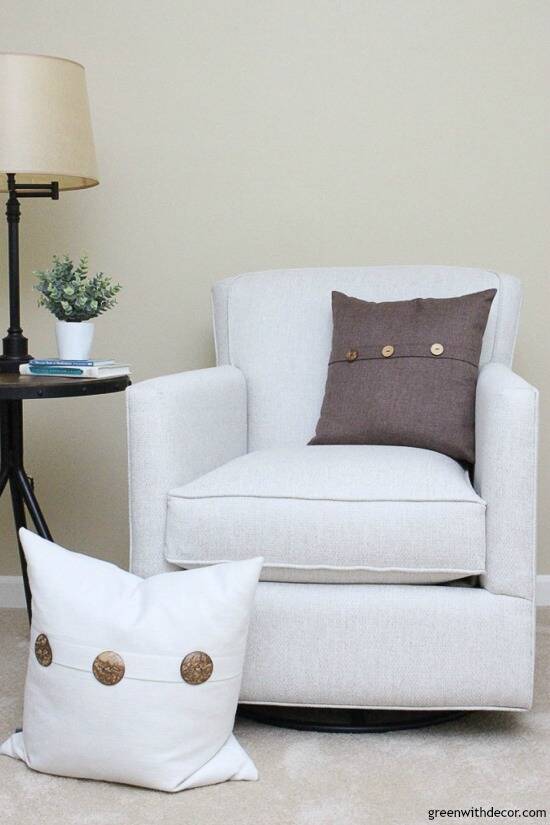 If there's a specific look you're going for though, you can special order the New American Living Swivel Glider in other colors, fabrics and leathers, too.
Swivel
Along with gliding, the chair also swivels. Bonus!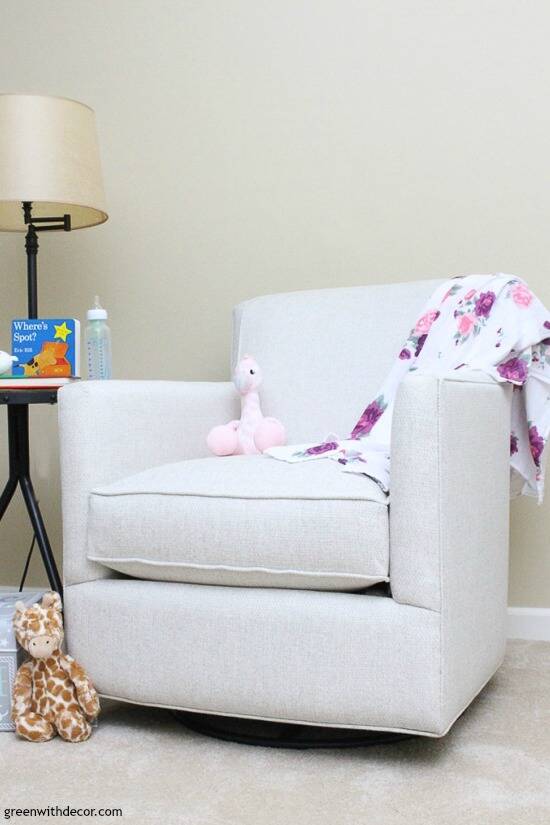 All around, this new glider is one of my new favorite pieces. I can't wait to get it set up in the nursery!
This post contains affiliate links. This means if you click the link and buy something, I may receive a small percentage of sales at no extra cost to you.
GET THE LOOK:
Since a popular question I get is "Where'd you get that?!," here are links to the same or similar sources:
Wall color: Believable Buff by Sherwin Williams
White pillow (similar)
If you're in the market for pretty chairs, check out Steinhafels' website or visit one of their stores. Here's a link right to the New American Living Swivel Glider – again, it's one of their popular items so if you want one, too, I'd jump on it!
We also love our desk chair/dining chairs from Steinhafels. (They're the Belmeade Hostess Chairs if you're wondering.) Apparently I have a thing for chairs that can serve multiple purposes!
Do you love shopping for versatile pieces, too?
Remember to bookmark or pin this post if you want to save it for later!


Pin it!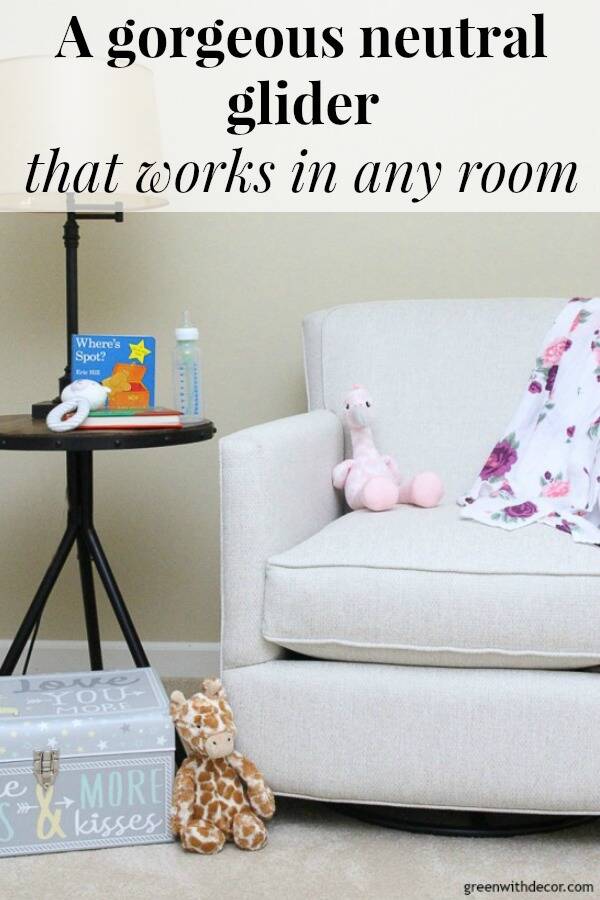 Want to read more posts like this?
Follow along: Get my emails | Facebook | Pinterest | Twitter | Instagram