A list of my favorite home decor pieces, DIY tools, organizing products and clothes – perfect for Christmas gift lists for others or yourself!
Today's post was so much fun to write!
My friend Kim from Knock It Off Kim rounded a group of bloggers up to share our favorite things – perfect if you're looking for gift ideas for others … or for yourself!
Because why is it all of a sudden hard to come up with a list of gift ideas when people ask you?! I see stuff I want all year long, and then someone asks, and I'm like ummmm, let me think….
Well this group of blog posts should help!
I love to see everyone's favorite things and discover some fun new ideas for my gift lists! You can see the other bloggers' favorite things blog posts linked at the end of this post.
Once I started this blog post, I felt like I could have gone on forever so I limited it to 20 things across different categories: home decor, DIY tools, life hack/organization and clothes.
This post contains affiliate links. This means if you click the link and buy something, I may receive a small percentage of sales at no extra cost to you.
Favorite decor pieces:
Click any of the product images below for more info. (You might have to double click on mobile.)
1. Aqua vases

I looooove aqua vases. They're so pretty and look great in any room. I find a ton of them at HomeGoods, TJ Maxx and Marshall's so I can't link to them in blog posts, but these vases from World Market are some of my all-time favorites.
We have the small and large ones, and truthfully, I'm debating buying the medium one, too.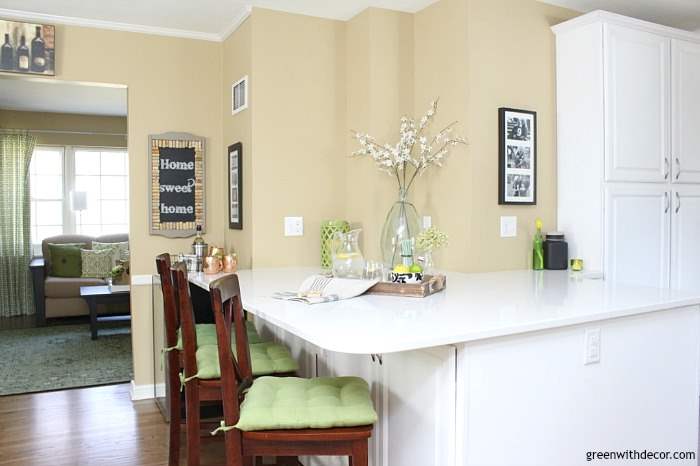 2. Faux eucalyptus 

This faux eucalyptus is my all-time favorite! (We own 10 stems, haha!)
It's cheap and looks real – the two main things I want in a faux plant! Plus it looks great in those aqua vases I just mentioned.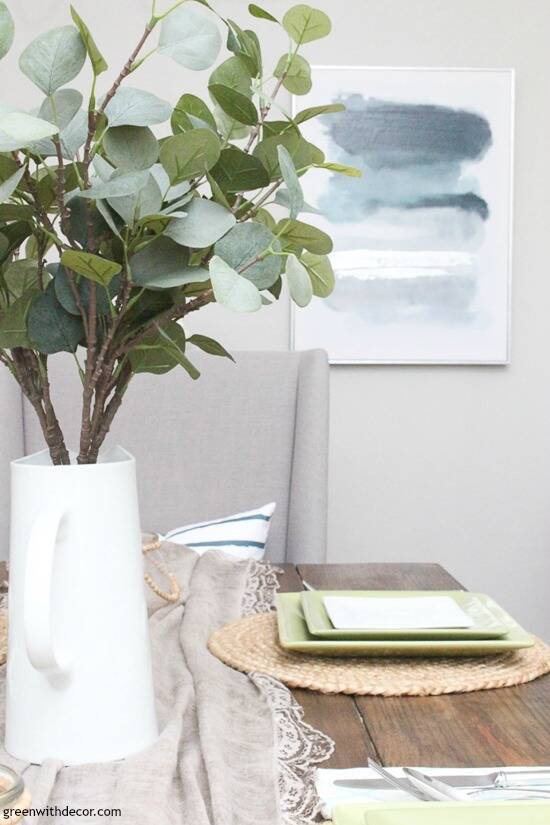 A bundle of these would make a cute hostess gift, too! (I share a fun list of hostess gifts on my Amazon store here.)
(These look really similar if you don't have an IKEA near you!)
3. Faux plant

This is one of my favorite faux plants. Again, I've found a lot of cute faux plants at HomeGoods, TJ Maxx and Marshall's, so I love that I can link this one so you guys can buy it, too!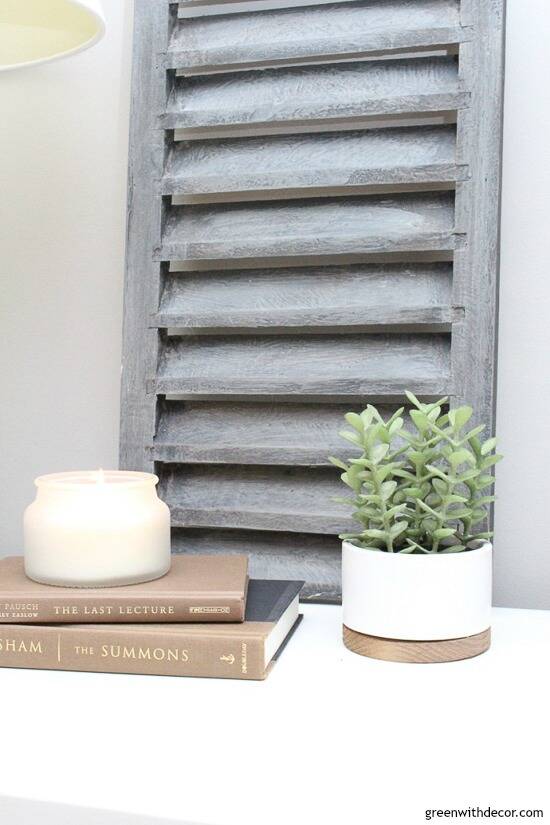 4. Seagrass rugs

We have these seagrass rugs (size 2'x3′) by ALL the doors in our house. And in front of the sink. So obviously we're big fans. So is Oakley.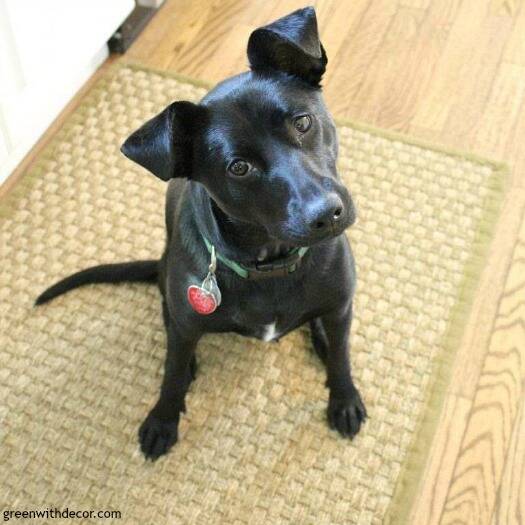 5. Jute chargers

These jute chargers are the perfect way to protect a dining table while adding a little coastal touch. And bonus, they're cheap!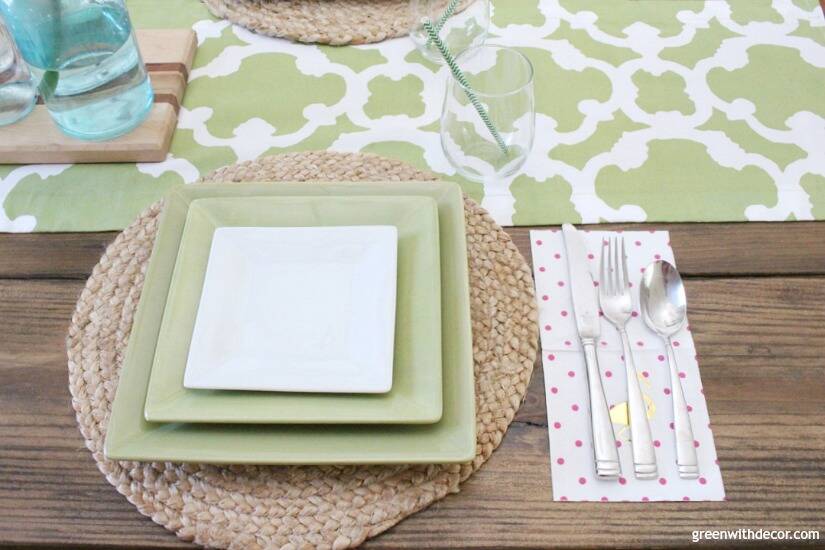 6. Copper mugs

I feel like I talk about these all of the time, but I love our copper mugs. They keep drinks SO cold, and they're pretty to put out on display when you're not using them.
I see them all over at various price points, but the copper mugs we have are affordable. We've had them for maybe 5 years and they're holding up great!
These would be a cute hostess gift this season, too! (I share a fun list of hostess gifts on my Amazon store here.)
7. State wood sign

I love these cute state wood signs. I'm pretty sure everyone in our family has one. They're just so classic and look good with everything!
We have Wisconsin obviously, but they come in every state!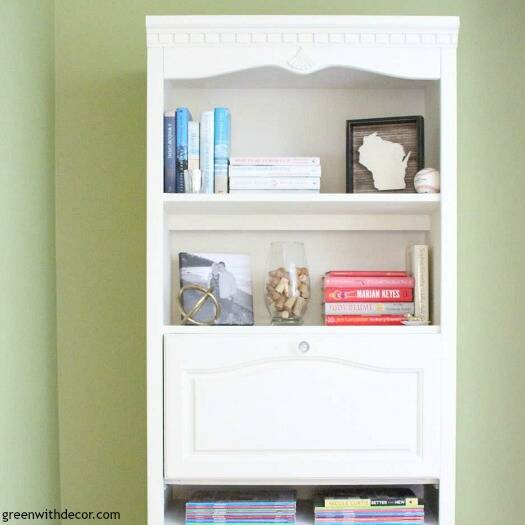 8. Crystal curtain rods

I talk about these curtain rods a lot, I know. But they look great, add a little 'wow factor' to any room AND they're cheap! (They aren't always in stock, boo, but these are similar!)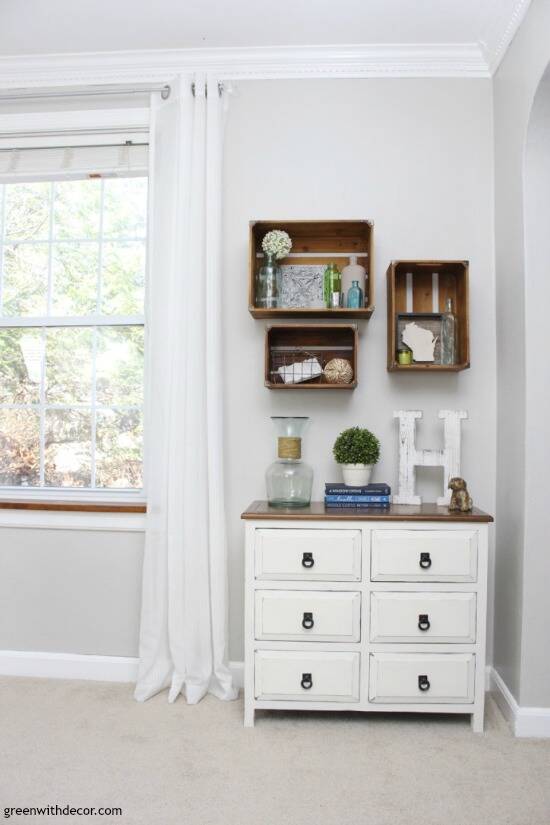 9. Neutral candles

I'm really picky about scents since a lot of them end up bugging me. But I love the coziness of having a candle lit, especially once it starts getting colder out.
These candles all smell so good! The Chestnut & Acorn is my favorite. Plus I love that they come in neutral colors so they match any decor.
These would be another good hostess gift! (I share a fun list of hostess gifts on my Amazon store here.)
Favorite DIY tools:
10. Wagner FLEXiO 3000 paint sprayer

If you've been around the blog at all, you know we love our Wagner paint sprayer (available here ,here or here) for painting walls, patio furniture, you name it. It just makes those painting projects SO much faster!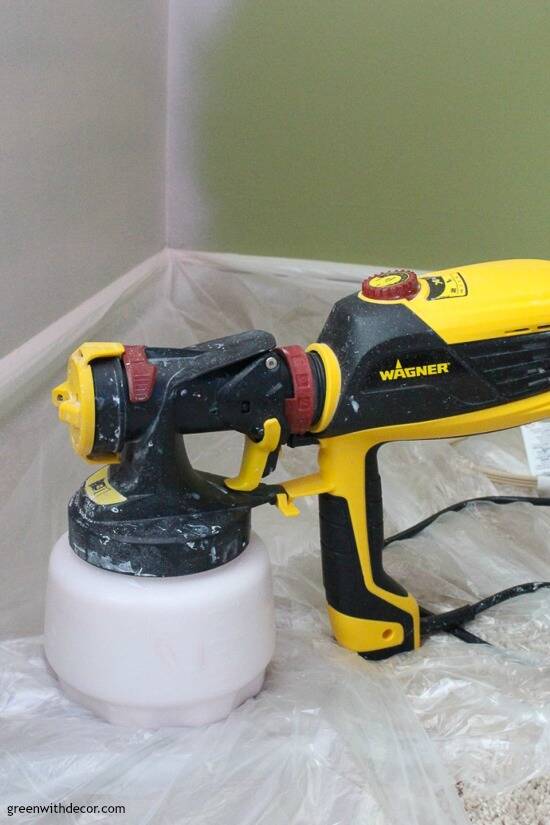 11. Gorilla Glue Clear Grip

We've been on a Clear Grip kick around here this year, using it for everything from wine cork DIYs and making coasters to repairing sandals and broken candlesticks. It works on basically everything and is super handy to have around the house.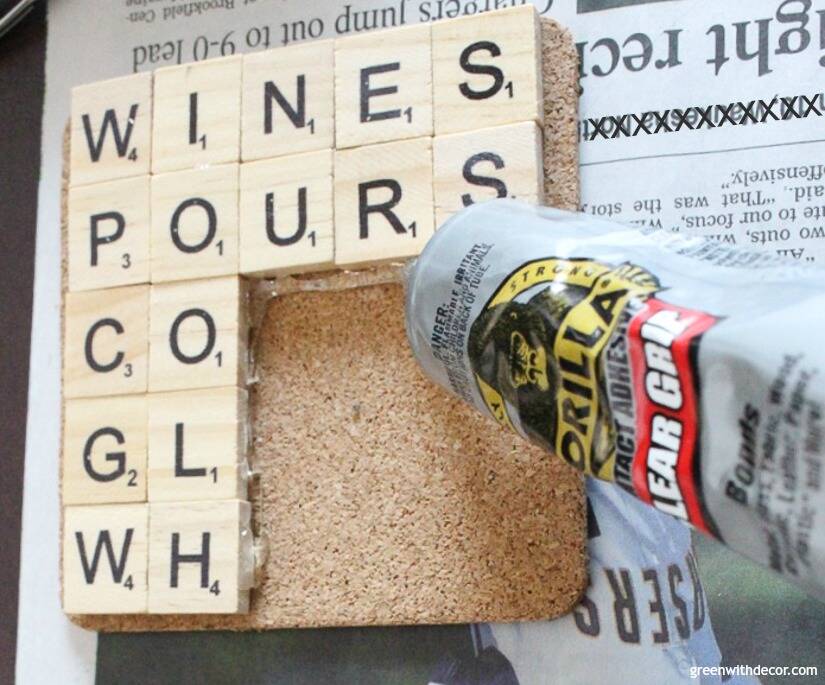 12. Country Chic Paint's Vanilla Frosting

Big surprise if you've seen any of my furniture makeovers, but Country Chic Paint's Vanilla Frosting is one of my absolute favorite paint colors.
We've used it on a bookshelf, desk, dresser, nightstands, tables, benches and some little DIYs, too.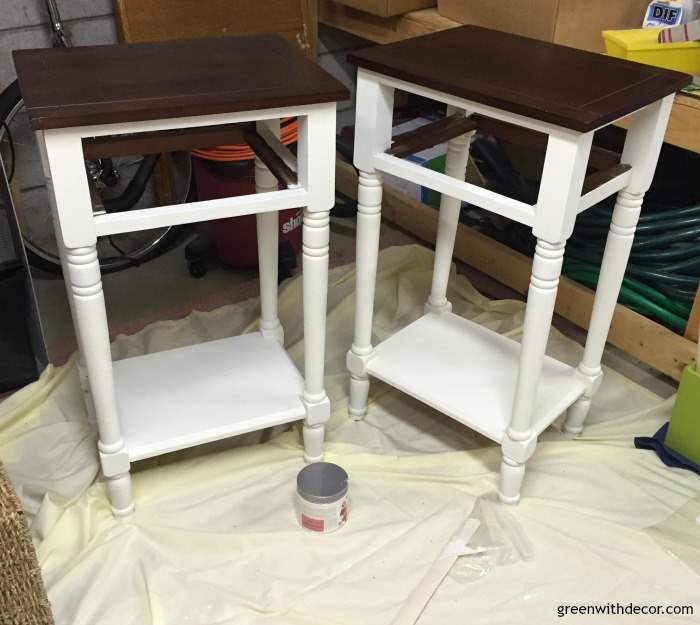 Favorite life hack products:
13. Dry shampoo

Ummmm I have a new baby who hates sleeping, need I say more?! This dry shampoo is my fave!
14. Daily vitamin organizer

Back to the no sleeping thing. I can't remember much right now, so having a daily vitamin organizer to keep track of if I've taken my vitamins or not is a must.
15. Return address stamp

This return address stamp is awesome! No more writing out your address on every single thing you mail. We LOVE ours.
It's also a perfect hostess gift or present for your favorite new homeowners! (I share a fun list of hostess gifts on my Amazon store here.)
16. Drawer organizers

These are currently my favorite drawer organizers. The various sizes are perfect for organizing anything. We're using them for organizing EVERYTHING lately.
17. Bar / dish cloths set

We were going through SO many paper towels and thought we should really do something about that. I found these bar / dish cloths, and they're awesome.
They come six in a pack, so we switch them out every 1-2 days so they don't get too dirty and then wash the whole group weekly when we're doing laundry.
They clean up little spills so our counters stay clean, and I have to think we're saving money from not buying a million paper towels anymore. (They come in multiple colors, too if aqua isn't your thing!)
And again, these would be a cute hostess gift! (I share a fun list of hostess gifts on my Amazon store here.)
18. Coasters

Okay maybe it's weird to have a favorite coaster, but these coasters are awesome.
I always have a glass of ice water next to me, and I hate when the glass sweats and then your coaster is soaked and dribbles onto your coffee table. (I can't be the only one.)
These coasters have a lip around them, which means no leaking water. Plus the cork material means you don't really have much excess water anyway, it all soaks into the coaster. (But we haven't had any problem with water leaking through them – I was worried about that at first!)
These are another good hostess gift, too! (I share a fun list of hostess gifts on my Amazon store here.)
Favorite clothes:
I'm no fashion blogger, but these two things are definitely worth mentioning.
19. Wood watch
I'm not exaggerating when I say, EVERY TIME I wear my wood watch, strangers tell me they love my watch. I don't own anything else that gets that reaction, haha! So get yourself a wood watch!
I don't see my exact one anymore, but this one is the same brand and similar. (And I share more watches on my Amazon store page here if you want to see!)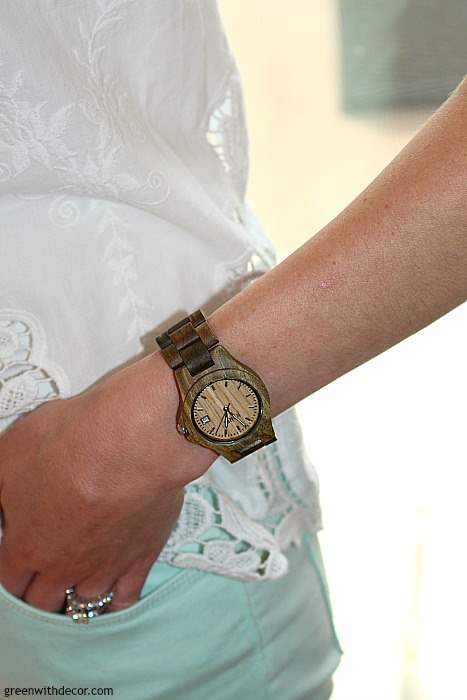 20. Tank tops

First of all, Pink Blush is amazing if you're pregnant or nursing. AMAZING. I've pretty much given them all of my money in the past year. And they're having a huge Black Friday sale this week!
But they also have great non-matnerity clothes. These tank tops are THE BEST.
Seriously. I own multiple in black, gray, tan and white. (I think I own 10 or so, I may have a problem! Or a newborn who spits up allll the time, and I'm sick of laundry!))
They're comfy and affordable and come in basically every color so buy yourself a few!
What are your absolute favorite things? I would love to know!
Here are the links to the other bloggers' favorite things lists! After reading these blog posts, I want EVERYTHING, haha!
Remember to bookmark or pin this post if you want to save it for later!

Want to read more posts like this?
Follow along: Get my emails | Facebook | Pinterest | Twitter | Instagram