We're keeping the Christmas decorating really simple this year. It just seemed like one more thing to do on the endless list of unpacking and laundry.
(If you're new around here, we moved back into our house this fall after living away for a while for my husband's job, and we had a baby in August. Things are a little busy around here, and we're not sleeping much.)
I do love Christmas decorating though, and once I got started, I realized how much I've missed having time to decorate.
It was fun to go through some of our decorations and set the kitchen up for Christmas!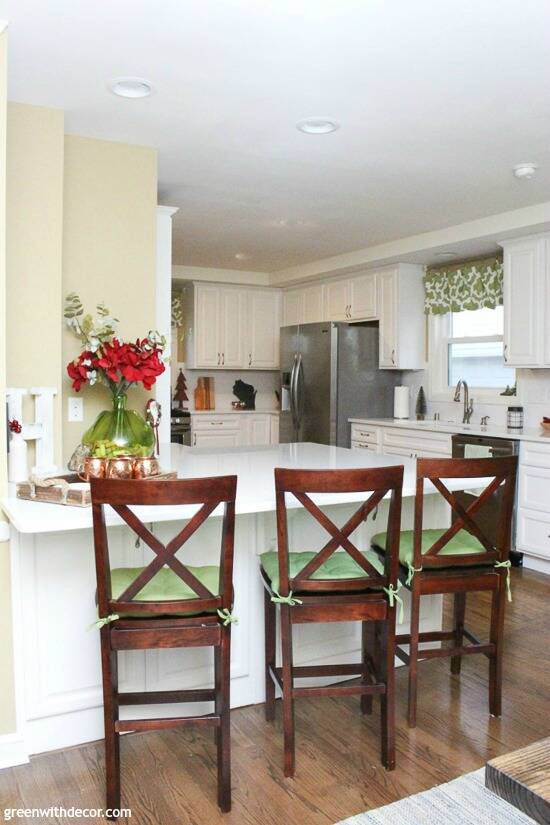 I decked out the dining area behind the breakfast bar, too, which I'll share in more detail tomorrow!
We're still 50/50 on if the tree is going up this year, which I never thought I'd say, but may be some insight into how little sleep we're getting over here. But at least the kitchen is ready for Christmas!
Today's kitchen tour is part of the Very Merry Christmas Home Tour hosted by my friend Carrie of Lovely, Etc. You can see all of the other bloggers' Christmas home tours linked at the bottom of this post, so be sure to hop around and check out all of the fab Christmas decorating ideas.
As always, I'll list a 'get the look'/source list at the end of the post, too, in case you see something you like!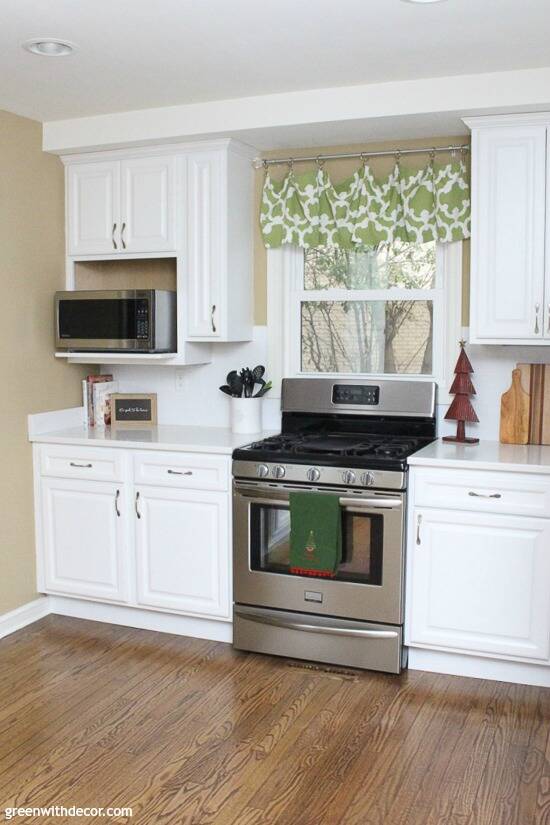 This post contains affiliate links. This means if you click the link and buy something, I may receive a small percentage of sales at no extra cost to you.
I mixed in some regular everyday decor with our Christmas decor, which always leads to easy decorating and cleanup after the season. (See my post on using everyday decor as Christmas decor here – so many simple ideas!)
Swapping out kitchen towels is such an easy way to decorate for different seasons. And I love having wood cutting boards out on display.
They always make a kitchen counter look put together.
We also have this Wisconsins slate cutting board, which honestly was out because it hadn't gotten put away yet from unpacking, but doesn't it look great next to a bowl full of ornaments?!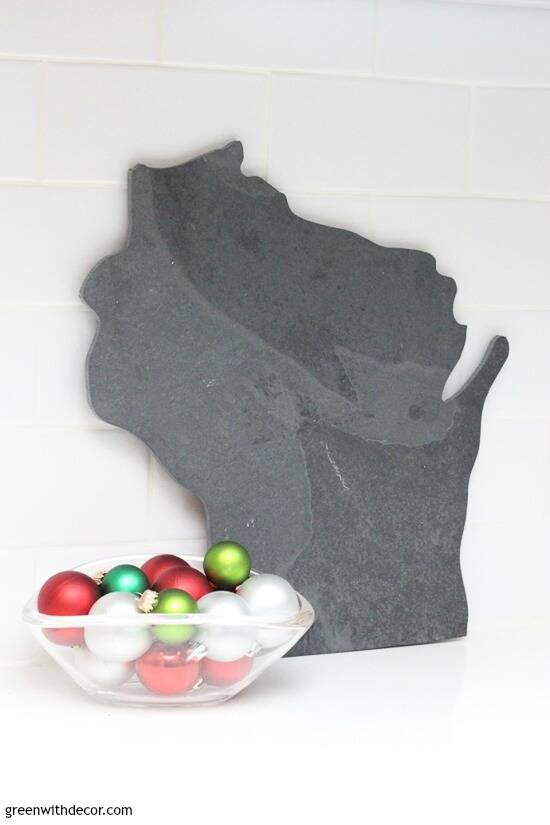 Near the sink, I added a Christmas tree, a glittery green Christmas shoe and this new hurricane candle holder.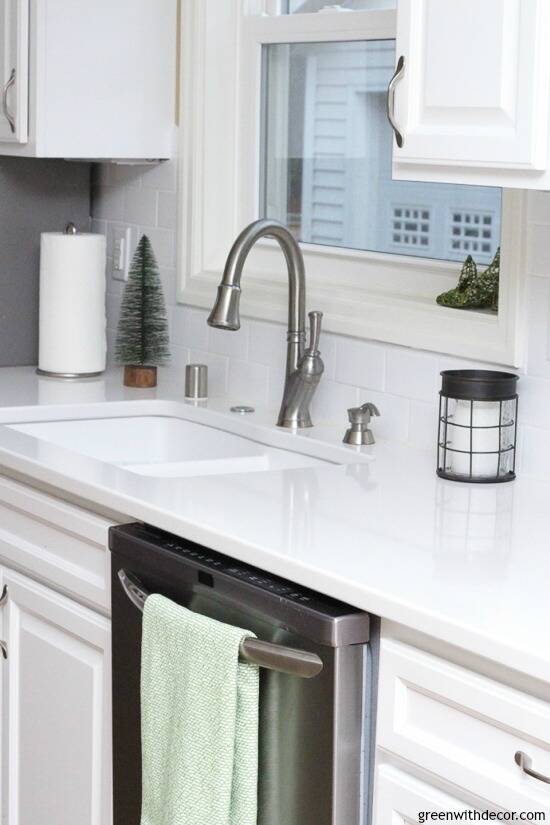 The green and white towel is one of our everyday towels but works perfectly for Christmas, too.
(It's been cloudy here lately, which doesn't make for good pictures. Ugh but oh well!)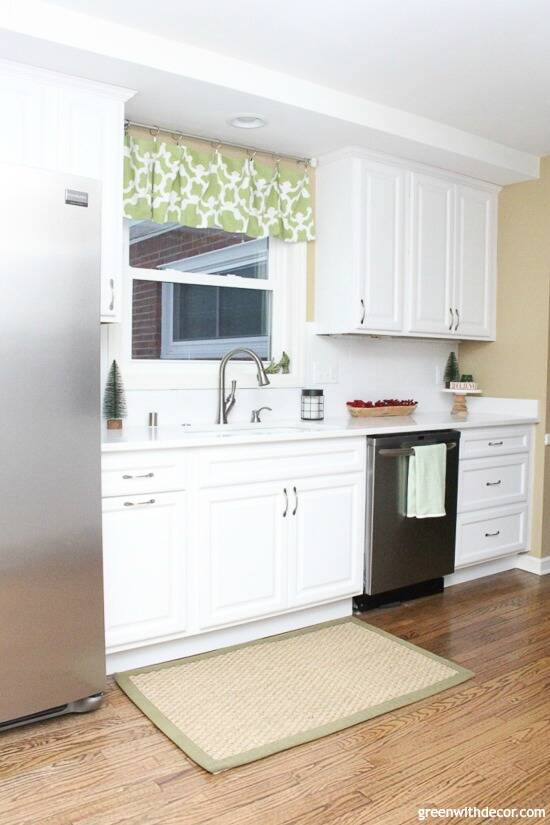 I love this cake platter with the mix of marble and wood.
I have a slight obsession with little Christmas trees. They just work so well for easy Christmas decorating!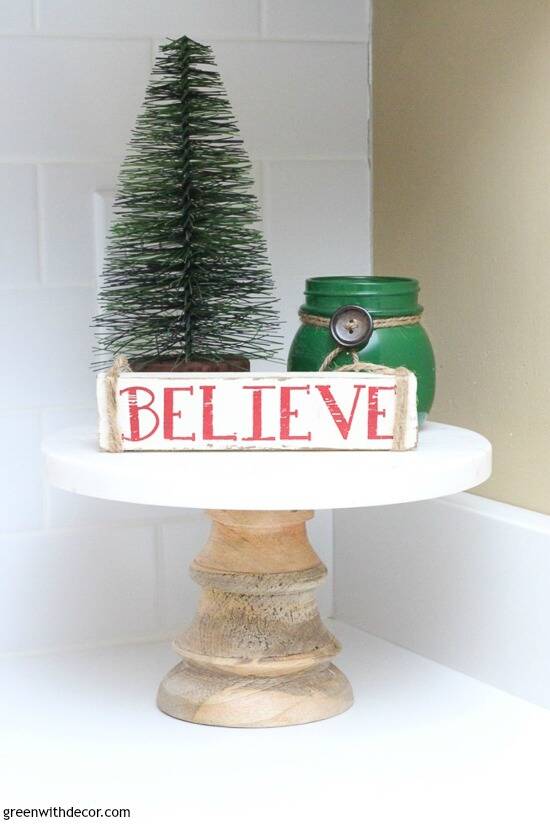 This bread bowl with red berries is one of the easiest Christmas decorations ever.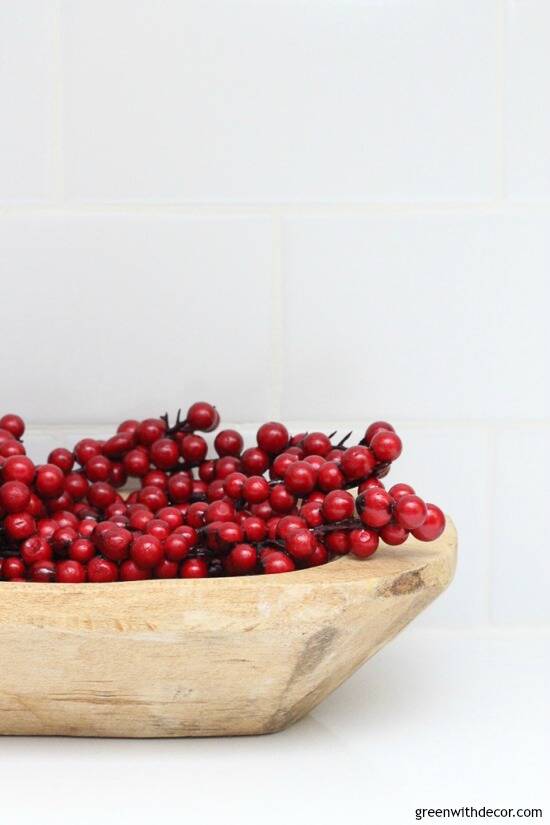 That Christmas sign was a fun find at a local home decor store last year. (Bittersweet in Delafield, for you Milwaukee friends, but it closed earlier this year, which is such a bummer!)
I was excited to hang the sign up since we got it after Christmas last year.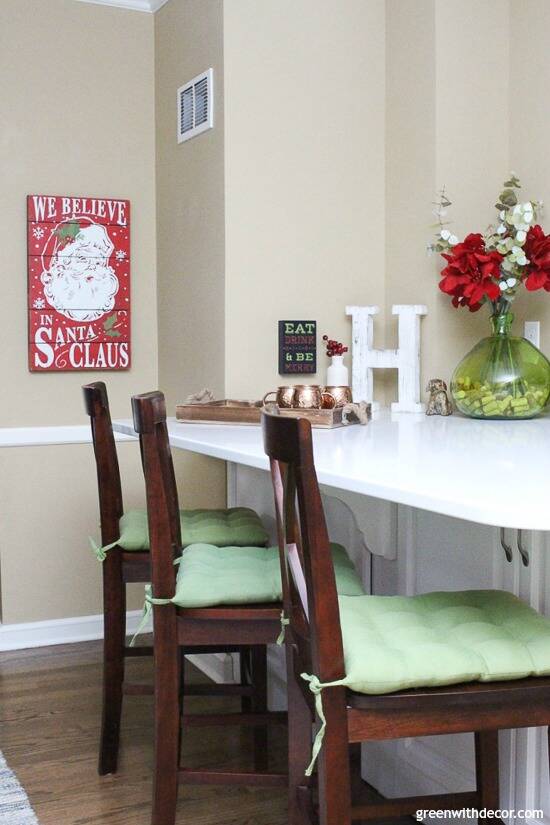 I'm looking at new barstools for the breakfast bar, more to come on that…
Moscow Mule mugs always work as practical decor, since you can just leave them out until you're ready to serve something festive in them.
Or wine or beer, whatever works. They keep drinks super cold!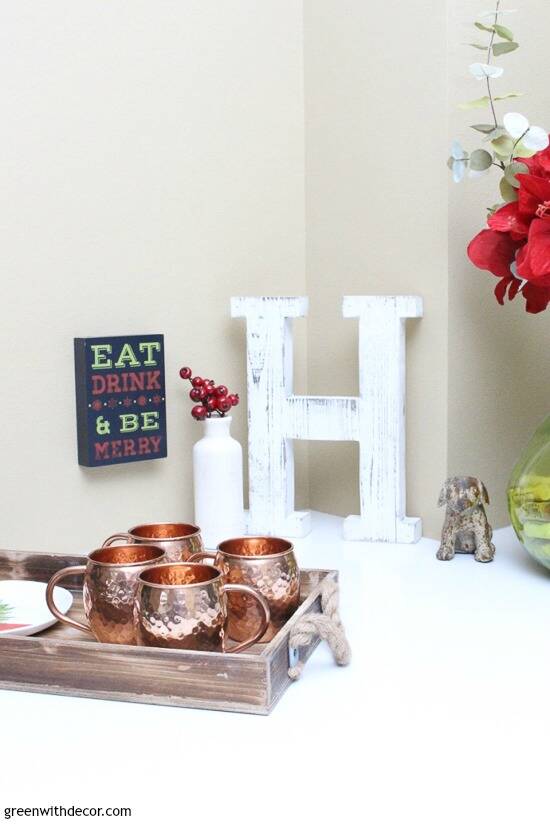 That white vase was a find at our trip to Magnolia Market last year. I just added some red berries to make it Christmassy. (Is that a word? Sure.)
The 'Eat drink & be merry sign' is sitting on an outlet cover – perfect way to hang a little holiday sign up without putting yet another nail hole in the wall.
I added some red faux flowers and green eucalyptus to one of my green glass jars for a little 'centerpiece' on our breakfast bar.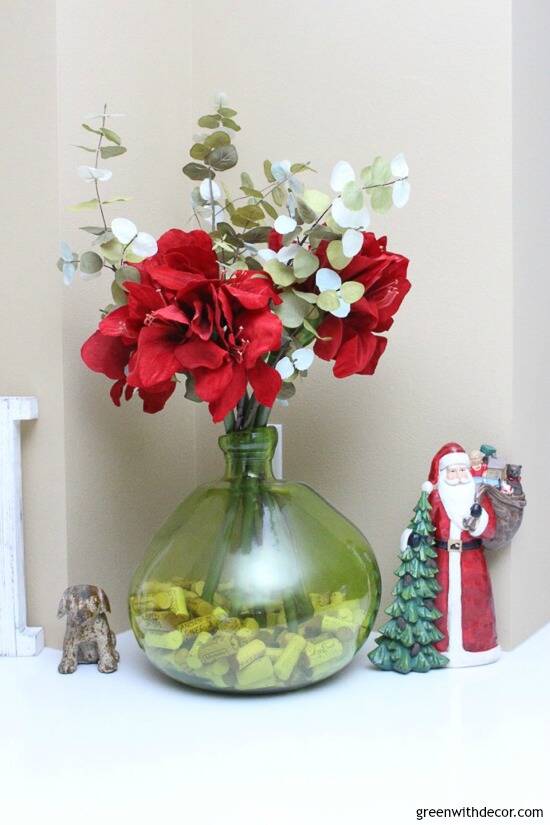 And that little dog concrete status was too cute to put away for Christmas so I had to leave it out.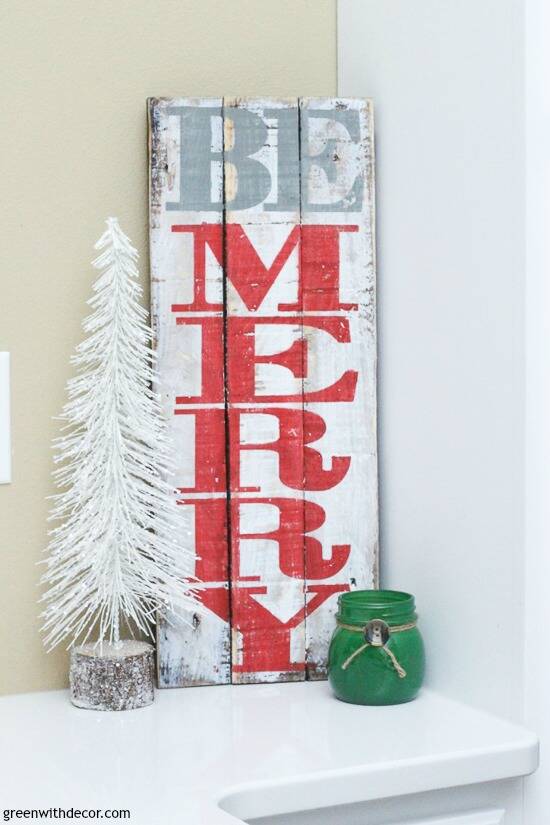 That white Christmas tree was another Bittersweet find, I got the 'Be Merry' sign with Kirkland's rewards points a few years ago, and the green candleholder was a Goodwill find we added some twine and a button to. (Just like the one on the cake stand pictured above.)
And that's the kitchen all decorated for Christmas!
Hard to believe the kitchen looked like this on the day we bought the house!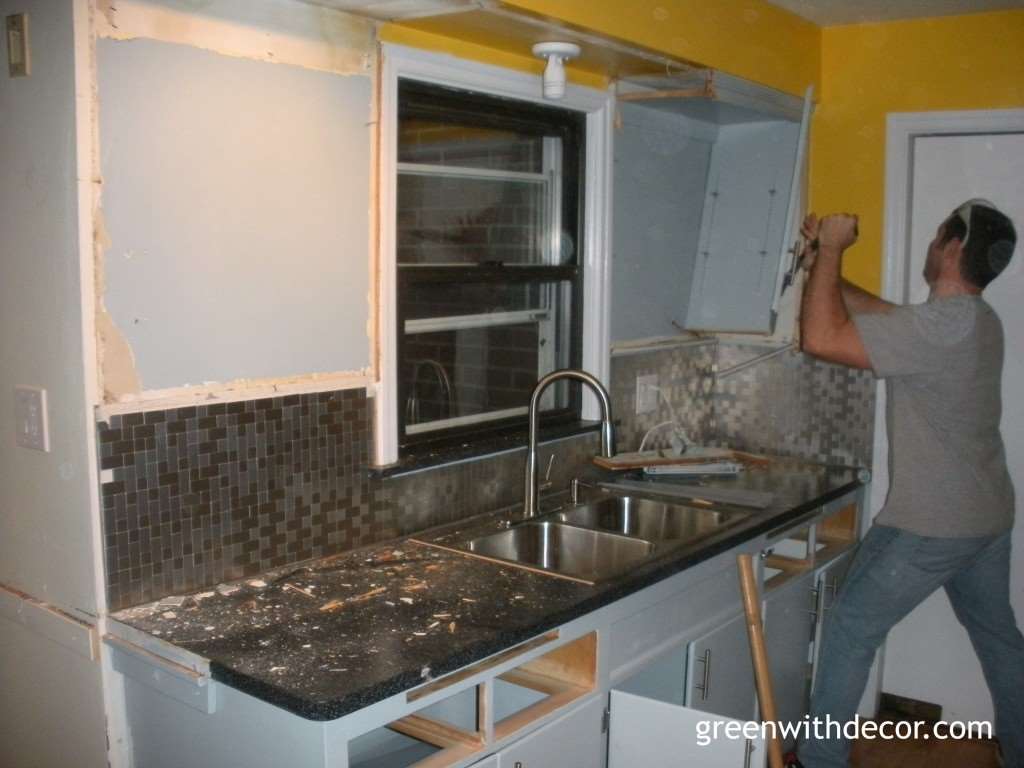 It looks much better in white, don't you think? 🙂 You can click to see all the details of our white kitchen renovation.
GET THE LOOK:
Since a popular question I get is "Where'd you get that?!," here are links to the same or similar sources:
Remember to hop around and see the other bloggers' gorgeous homes all decked out for Christmas! Thanks again to Carrie for hosting this week's tour!
All Things With Purpose | Lovely Etc. | Love and Renovations | Thrifty & Chic | Up to Date Interiors | Casa Watkins Living
Green With Decor (you're here!) | Boxy Colonial | Bigger Than The Three of Us | Our House Now a Home | The Navage Patch
Chatfield Court | Lehman Lane | Redhead Can Decorate | Designing Vibes | A Brick Home
House by Hoff | Create and Find | Making it in the Mountains | Twelve on Main | What Meegan Makes
Amber Tysl | The Striped House | Houseful of Handmade | Little House of Four | Avenue Laurel
You can see even more Christmas decorating ideas here:
Remember to bookmark or pin this post if you want to save it for later!

Pin it!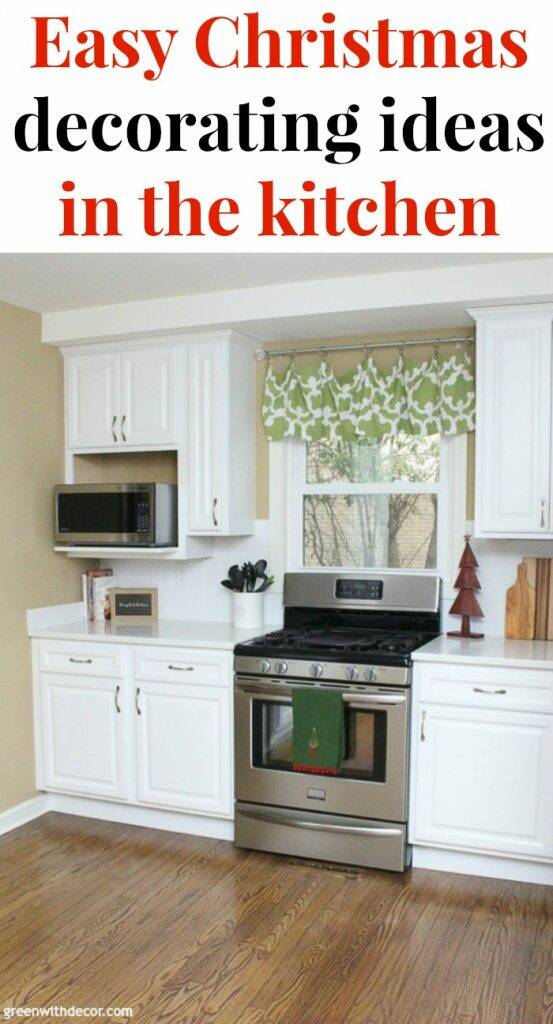 Want to read more posts like this?
Follow along: Get my emails | Facebook | Pinterest | Twitter | Instagram