It's been a bit quiet on the blog this week, sorry about that. We've been running around sorting everything we own into keep/purge/maybe piles (maybe piles are the worst, btw), and I just didn't quite get around to finishing the blog posts I had planned for earlier this week.
I've also been sorting through the stash in my craft closet and deciding what to do projects with and what to (sadly) let go.
I save a whole lot of glass bottles and jars around here, and we've had a few whiskey bottles sitting around here for a while.
A friend stopped in the other day and asked me where I got the concrete vase, and I really didn't know what she was talking about.
I have been hitting Homegoods, TJ Maxx and Goodwill a bit lately as retail therapy and was a bit concerned I bought something I forgot about (hate when that happens).
She pointed to a bottle I just painted … Ah, not concrete, but (my favorite) clay paint!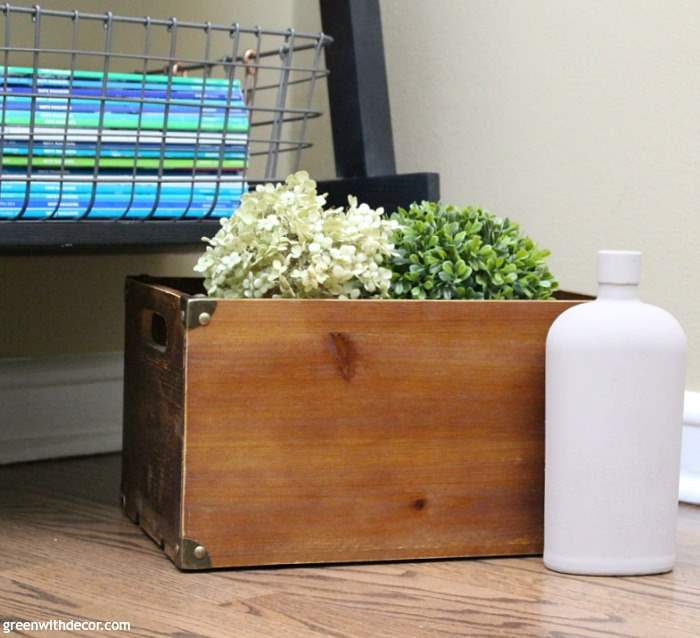 This paint really does give the bottles the texture of expensive, heavy bottles. It's clay paint, which I'm obsessed with.
Today's post is part of the monthly Create & Share Challenge hosted by Cat of Pocketful of Posies, and the theme is DIY vases.
For the challenge, there's a general DIY theme each month, and a group of bloggers all put their own spin on the theme. It's fun to see what everyone comes up with.Some of my favorite past Create & Share Challenge projects are this DIY fall pillow and this DIY rustic wall sign.
You can see the other bloggers' DIY vase ideas at the bottom of this post.
This post contains affiliate links. This means if you click the link and buy something, I may receive a small percentage of sales at no extra cost to you.
Supply list for DIY faux concrete vases:
How to DIY faux concrete vases:
These are really easy, which of course means it's one of my favorite types of projects.
1. Strip the labels off the bottles.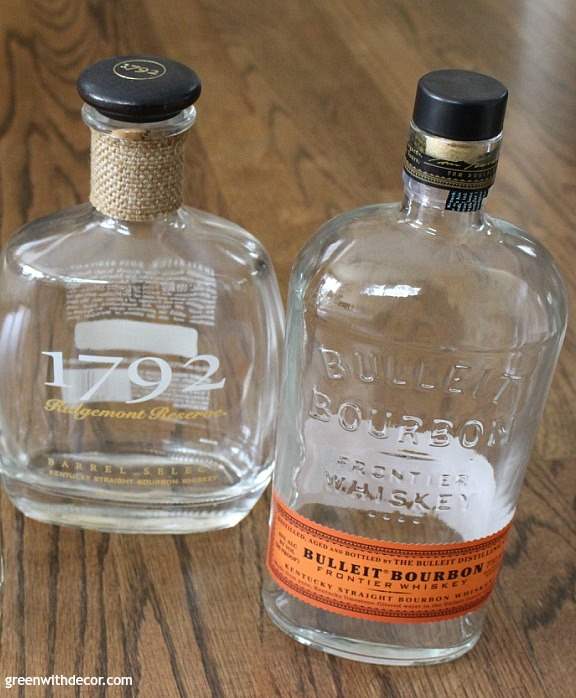 I love the burlap at the top of the one bottle. Kalen said he knew when I was digging through old whiskey bottles for a project that I'd pick the one with the burlap. He knows me too well.
2. Paint the bottles.
Side note: I put painter's tape around the burlap at the top of the one bottle, but obviously if your bottle doesn't have a cute burlap ribbon around the top, you can skip this step.
Apply the paint with the brushstrokes going in the same direction, then let it dry.
I'm always amazed at the difference between one coat and two coats of Country Chic Paint.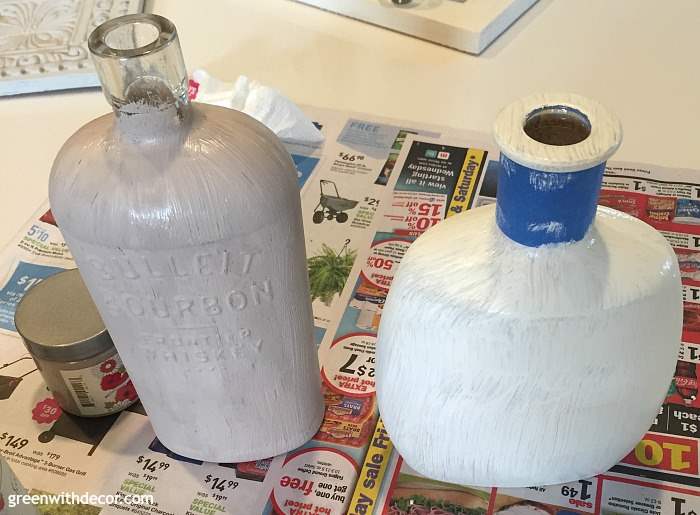 3. Apply a second coat.
Let it dry 24-48 hours before you apply wax..
4. Apply the wax to seal the clay paint.
Use a nice wax brush (really, it's worth it), swirling it around in the wax container than applying to the bottles in a circular motion. Then use a lint-free cloth to wipe off an excess wax.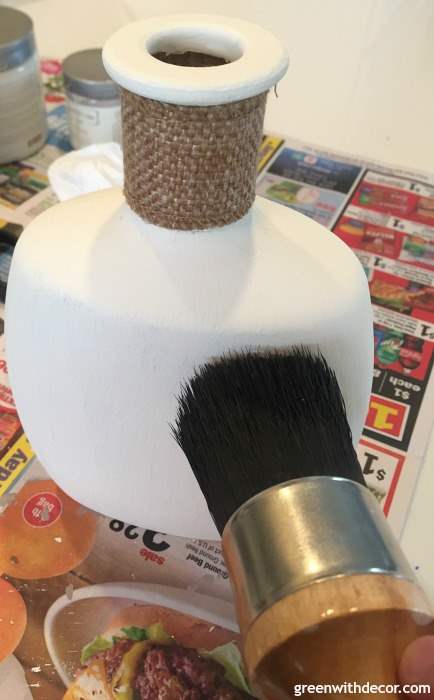 5. Tie some burlap ribbon around the top if you want a similar look. (optional)
Fill with water and your favorite flowers, and you're all set!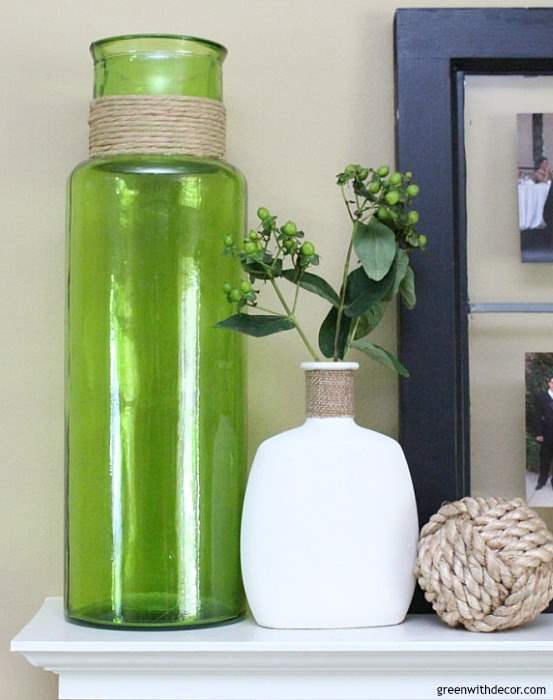 A little tip for my Milwaukee friends, the Pier 1 at Mayfair is going out of business, and EVERYTHING is on sale. I got that little rope ball there over the weekend for a steal.
Otherwise, it's available online here and really not expensive at full price anyway.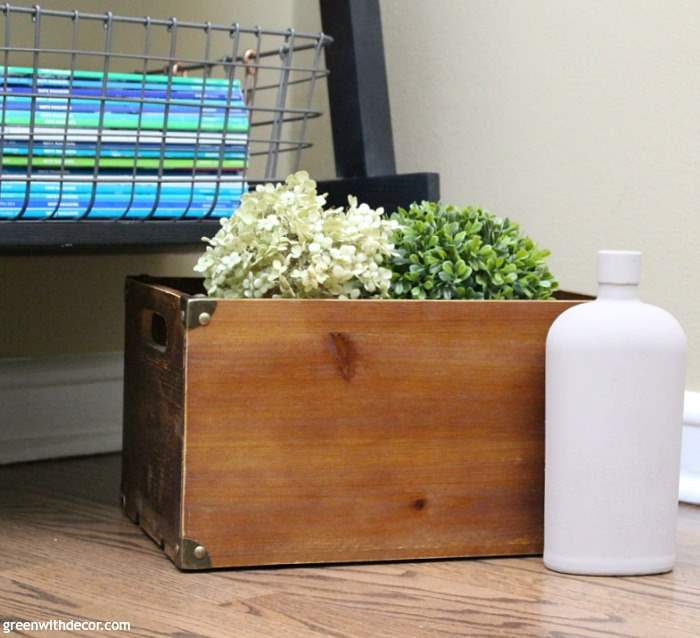 And can we talk about this wood crate? I mentioned it in this blog post about painting a table with chalky paint, but omg, I'm obsessed with them.
I'm also still obsessed with that metal basket, available here.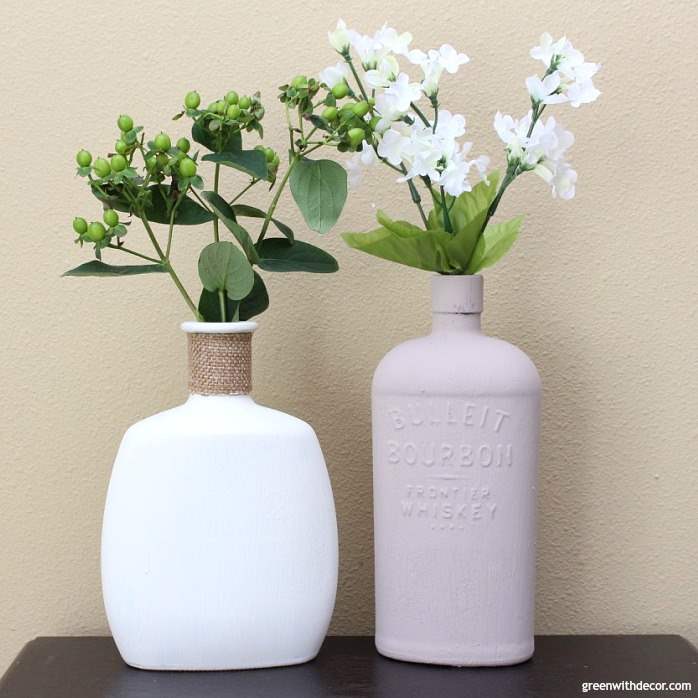 See more clay paint makeovers here:
Remember to check out the other bloggers' DIY vases, too.
Confetti DIY dollar store vase – Up to Date Interiors
DIY upcycled vase – Creatively Homespun
An easy way to DIY faux concrete vases – Green with Decor (you're here!)
DIY upcycled Mother's Day vase – Pocketful of Posies
DIY wood pallet shelf for flowers – Lehman Lane

Remember to bookmark or pin this post if you want to save it for later!

Pin it!
Want to read more posts like this?
Follow along: Get my emails | Facebook | Pinterest | Twitter | Instagram