If you're struggling to organize a craft closet to corral all of your craft supplies, these tips should help. Better yet, these ideas are all about organizing a craft closet on a budget!
It's week 5 of the One Room Challenge (ORC), which means room reveal week is next week. Wow that snuck up fast. Six weeks seemed like such a long time to get the office into shape!
I am STILL painting the bookshelf, but we're getting there.
But good news, I organized the craft closet this week, and it's making me so happy. Whenever I start stressing about all the work I still have to do to make the room look presentable by next week, I just open the closet for a second and smile at all the organization.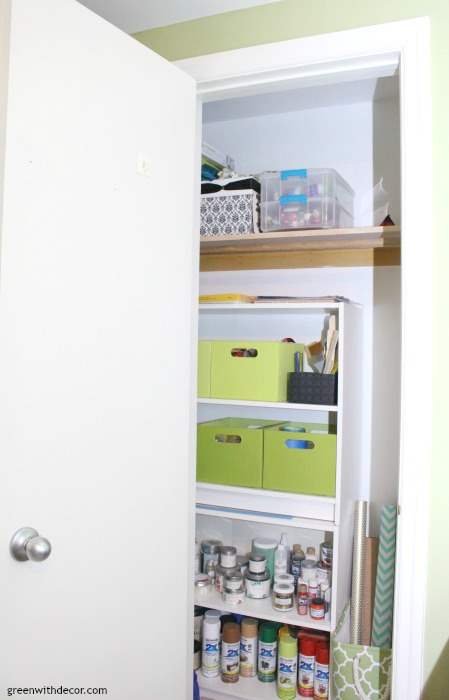 It is SO nice to have all of my craft supplies in one place instead of running around the house trying to remember the last place I used the painter's tape or stencils.
The best part of this little organizing project is that I didn't spend a dime.
This may not look like a perfect Pinterest-worthy organized closet (but hey, feel free to pin it! 🙂 ), because all the containers aren't perfectly fit for the shelves, the closet isn't all set up with a customized storage system, and there aren't little labels on everything, but I'm pretty happy with it!
How to organize a craft closet on a budget:
1. Use storage options you already have.
Okay, duh. But seriously, use whatever containers and/or storage units you have around the house. I had a bunch of these green bins hanging around in different places around the house.
I swapped out a few of these with other random containers (no idea why we have so many of those clear plastic bins but they sure come in handy!) so I could use four of the same green bins to organize the craft closet.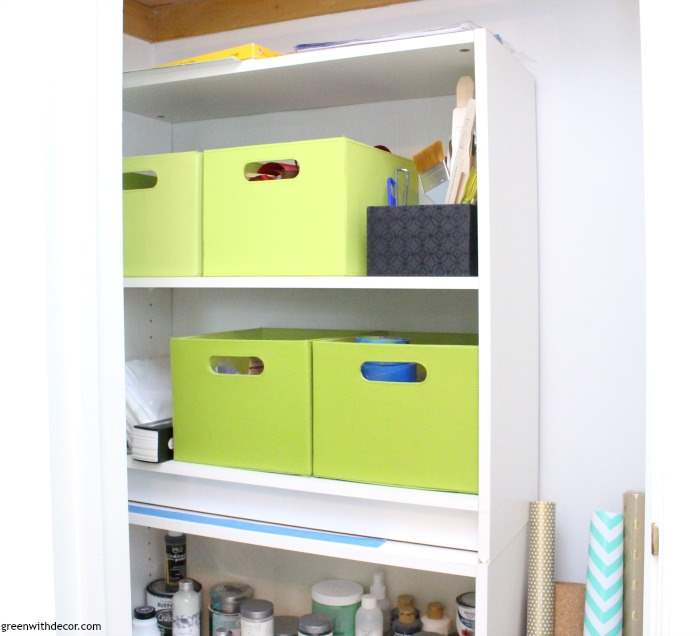 My parents had a few of these bookshelves sitting in their basement. As much as I'd love a customized organized closet, stacking two of these free bookshelves on top of each other works just fine.
2. Group your supplies by category.
I gathered everything I had and spread it on the office floor to decide how much space in the closet I needed for each category:
Paint (oh wow do I have lot of paint! I might have a small obsession with Country Chic Paint, Rust-Oleum, DecoArt, Velvet Finishes, the list goes on.)
Painting supplies: brushes, rollers, stir sticks
Painter's tape
Stencils
Hot glue gun/glue sticks
Burlap (for some reason, I have a lot of burlap)
Fabric
Twine
Ribbons
Wrapping paper
Cork
Markers
Other smaller supplies: scissors, tape, hole punch, etc.
Cardstock
Blank cards/envelopes
Other random supplies that don't fit anywhere (I have a wood burner, tin snips, a bunch of random hardware … the things I collect!)
I'm so excited to have everything from different categories grouped together.
Sometimes I buy something for a project (like a roll of cork or twine) and only need a small portion of it. I hate it when I forget what craft supplies I have and end up with two of something.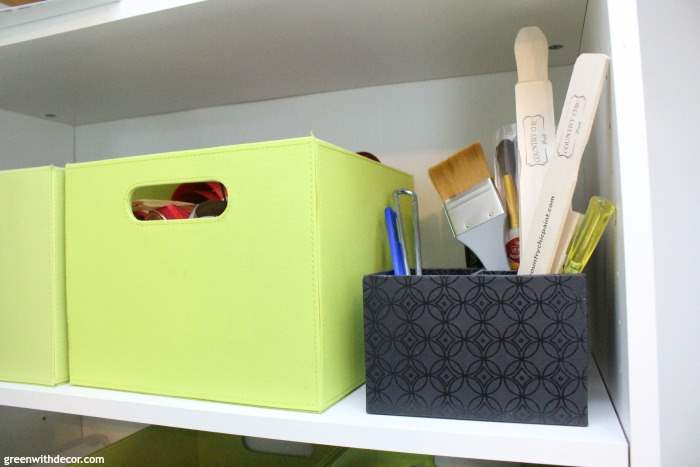 3. Use storage containers you can easily see into.
I realize I just said to use bins you already have. I'm still standing by that.
But if you're like me, you probably have a random assortment of bins around the house that you can use in the closet. Go with the clear ones or leave the tops off the colored ones (like I did here) so you can easily glance into each container and get whatever it is you're looking for.

4. The closet doesn't have to be stuffed full.
While I have a lot of craft supplies, I don't actually have enough to fill the whole closet. I know, I was surprised, too.
Instead of shoving other random stuff in the closet to fill it, I just left it as a craft closet.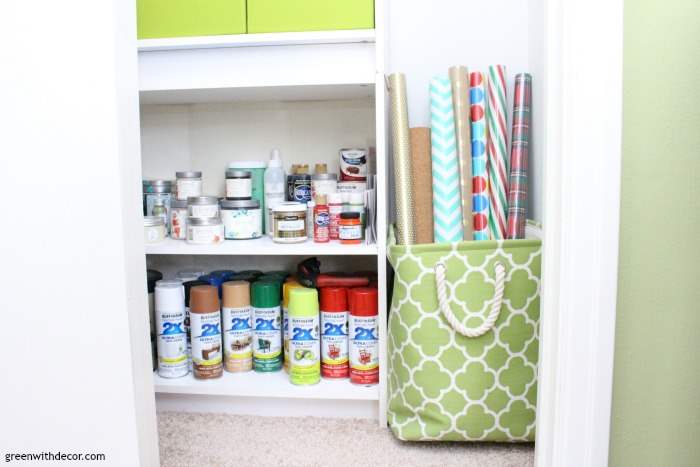 Sometimes it's easy to throw stuff in a closet to get it out of sight, but I've been on an organizing spree this year (going through the whole house is taking me months! I need breaks!), and I'm really trying to have storage/closets dedicated to just one or two purposes.
Hopefully these organization tips help you without making you feel like you have to run out and buy a bunch of matching bins and an expensive label maker to get a nice looking organized closet. We all have other things to spend our money on!
Just for fun, let's take a peek at the before and after side by side: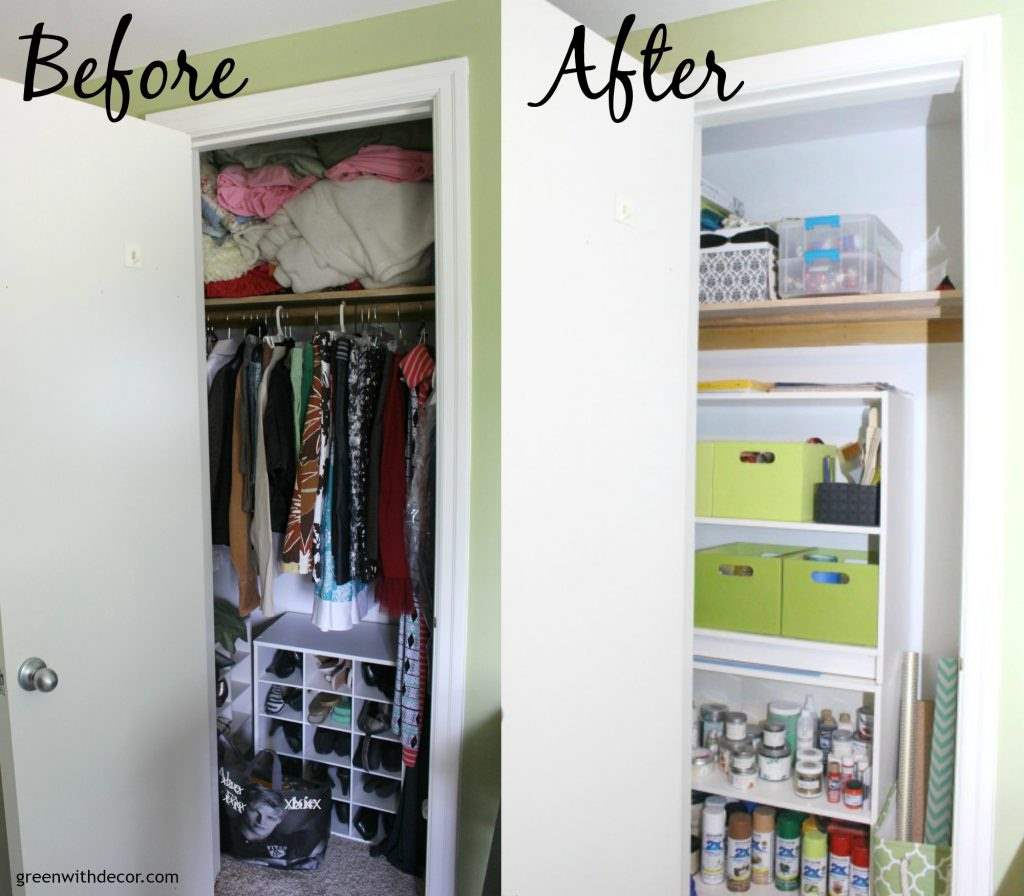 This post contains affiliate links. This means if you click the link and buy something, I may receive a small percentage of sales at no extra cost to you.
Doesn't it make you happy?!
The room is coming together!
You can see all of the home office makeover progress here:
GET THE LOOK:
Since a popular question I get is "Where'd you get that?!," here are links to the same or similar sources:
Remember to bookmark or pin this post if you want to save it for later!


Pin it!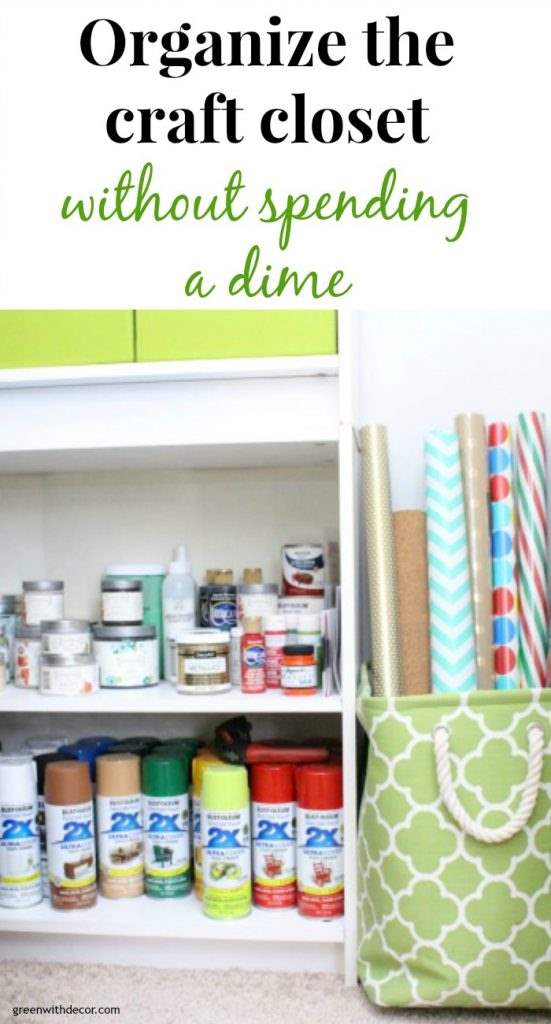 Want to read more posts like this?
Follow along: Get my emails | Facebook | Pinterest | Twitter | Instagram