I figured it was time for a basement update!
If you missed it, back in the fall before our daughter was born, we kicked off a basement makeover.
Here's how it started: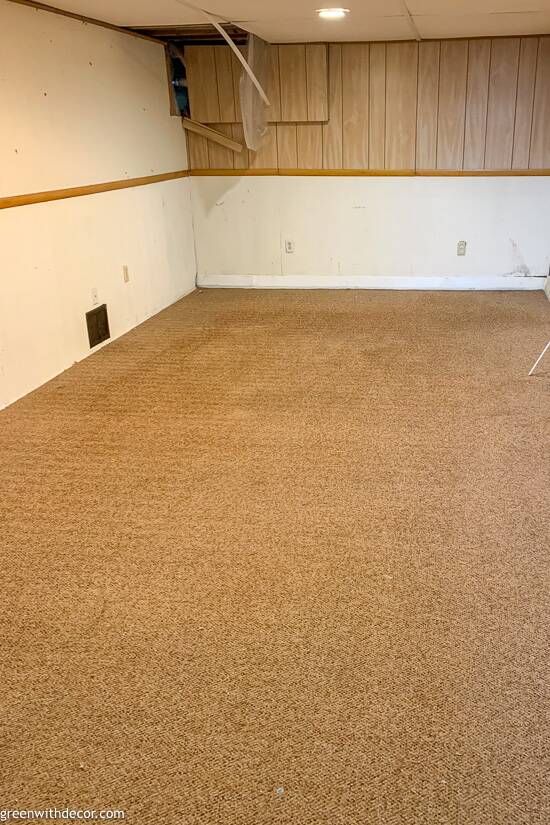 You can catch up here if you missed any of the earlier basement posts:
Next up was installing flooring!
This post contains affiliate links. This means if you click the link and buy something, I may receive a small percentage of sales at no extra cost to you.
Subfloor:
We installed this subfloor and if you've ever done a basement makeover, you've probably had the 'Should we or shouldn't we install subfloor?' debate.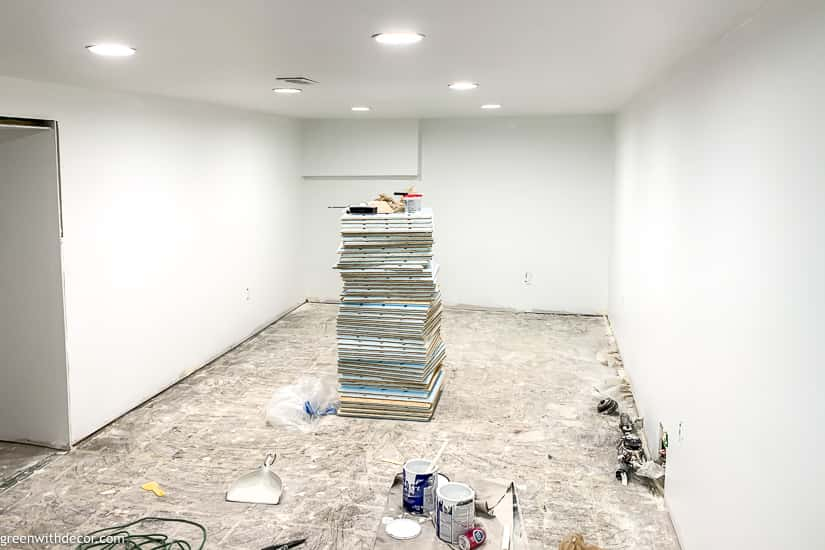 It's expensive, but we went for it for two reasons:
It's designed to prevent moisture, mold and mildew
It insulates against cold concrete
We've never had water in our basement so maybe we're being overcautious, but the peace of mind was worth it. Plus the insulation really got me. I want kids to be warm down here playing in the winter!
We're not doing carpet down here at this point, but we figure eventually we'll turn this into a rec room for teenagers, and the subfloor will be nice to have under carpet in the future.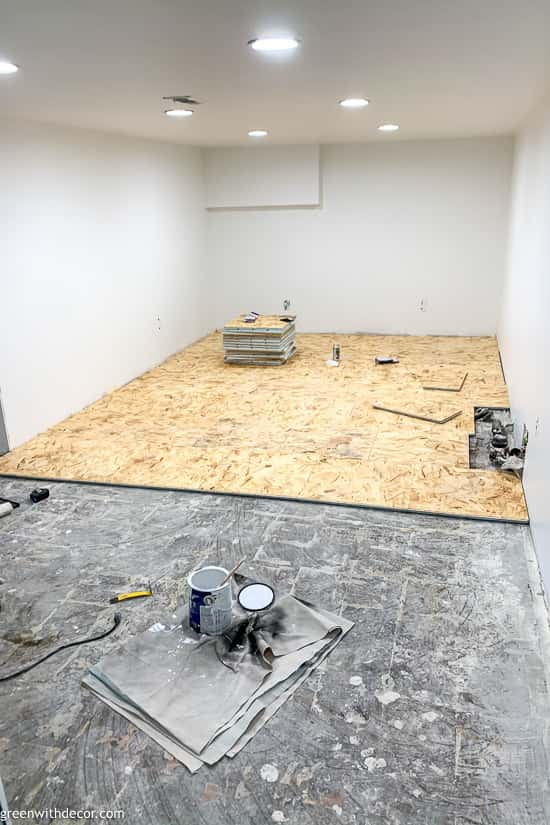 As for installation itself, we found the quickest way to cut the subfloor is using a RYOBI sliding miter saw because one, you can change the angle to follow the wall when cutting and two, you can cut through the entire piece of subfloor in one cut.
Gym floor:
To keep with our kid indoor gym feel down here, we bought and installed these gym floor tiles, which are affordable and really easy to install!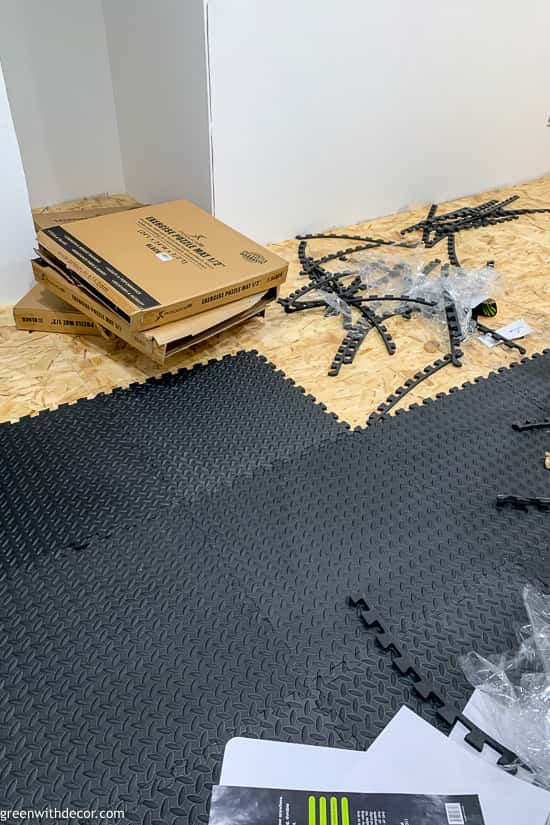 We figure this will be fun for little kids, it's cheap and will be easy to keep clean amid snack and drink spills. Perfect for basement flooring!
Kalen had the whole gym floor installed in about 2 hours. It was so quick!
The most tedious part was cutting the pieces for around the edges of the room. (Be sure to use a level to ensure you're cutting in a straight line.)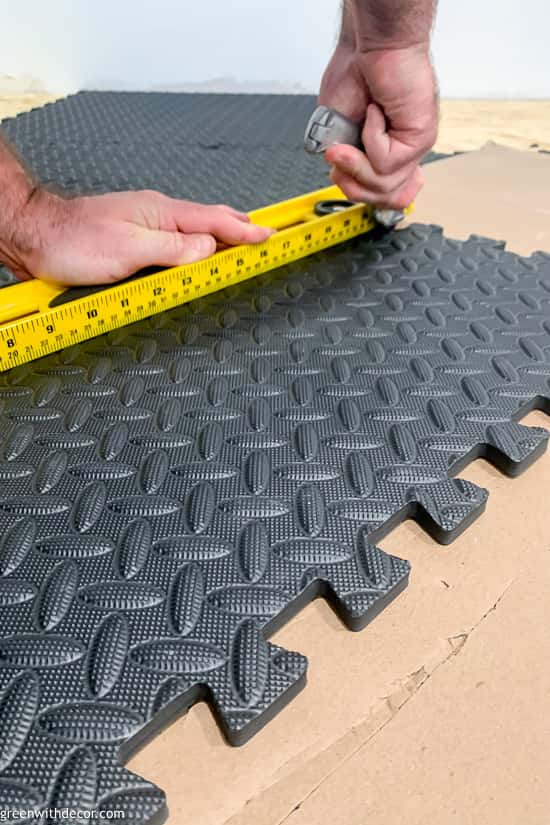 Otherwise, putting the puzzle pieces together was easy.
Our 2-year-old daughter even helped peel the puzzle piece edges off some of the middle pieces.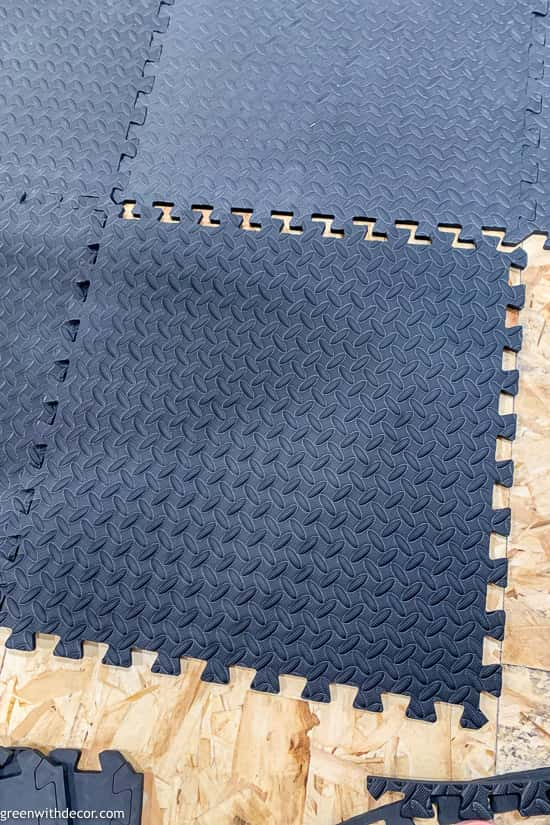 The floor is really comfy. Our daughter was immediately obsessed with running around down here, even before there was anything else down here for her to play with.
I guess the comfy basement flooring is just that fun to jump on! It really would be great if you're planning an adult indoor gym, too.
I did pick a fun paint color for the trim and doors down here, but I think I'll save that for another blog post. 🙂
I'm also still scheming about ideas for a big painted wall mural at some point later this year when I have a little more time (haha right!).
It's fun to see the kids' playroom come together down here, more to come!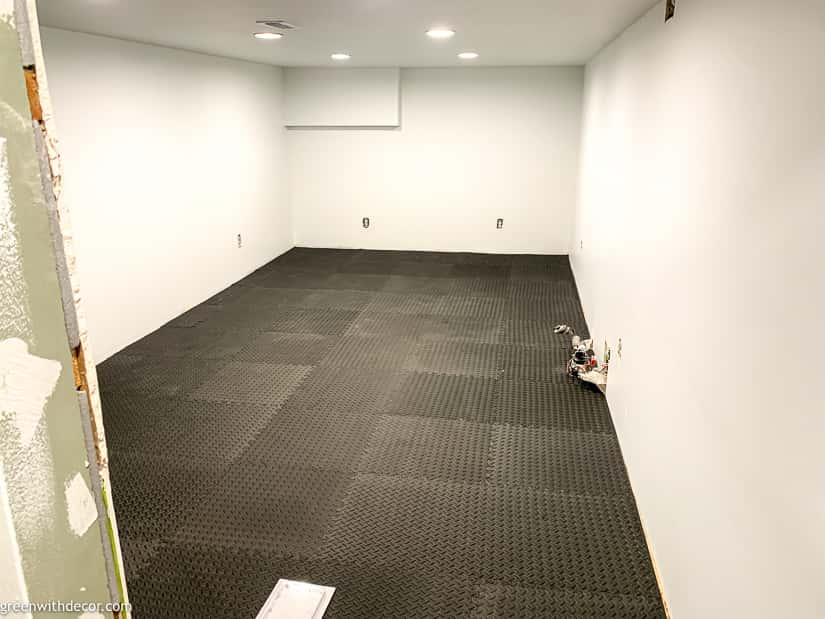 GET THE LOOK:
Since a popular question I get is "Where'd you get that?!," here are links to the same or similar sources:
Remember to bookmark or pin this post if you want to save it for later!

Want to read more posts like this?
Follow along: Get my emails | Facebook | Pinterest | Twitter | Instagram