Check out this list of gorgeous, affordable baskets for organizing around the house. Use them for toys, blankets, toiletries, shoes, mittens and more!
So since it's January and we're all organizing every nook and cranny of our homes (or at least thinking about it), let's talk about baskets for organizing ALL the things around the house.
If you've been around the blog for any length of time, you've probably realized I use baskets for, um, everything.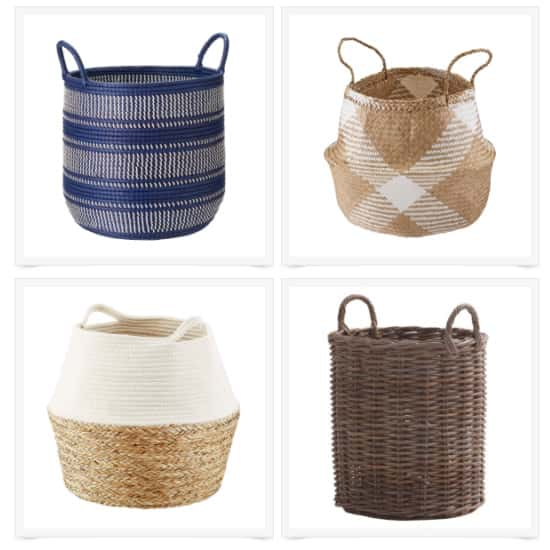 We use them to store papers on the kitchen counter, toys in basically every room, kids' books, blankets in multiple rooms, baby supplies, toiletries, cleaning supplies, water bottles and snacks in the pantry, towels, tissues, mittens, shoes, you name it.
Take any messy pile from around the house, and toss it in a pretty basket. Instant peace of mind.
I'm sharing a bunch of gorgeous baskets below, including all of the ones we have in our house plus some other pretty options I have my eye on. Because can you ever have enough pretty baskets? I don't think so.
This post contains affiliate links. This means if you click the link and buy something, I may receive a small percentage of sales at no extra cost to you.
Pretty baskets for organizing around the house:
I love seagrass baskets, obviously, since we have them in so many rooms of the house. They're pretty and SO durable. Our toddler tosses toys and blankets in them all the time, and they're all holding up.
This big basket is my favorite for holding blankets. I feel like we always tried to make smaller baskets work for all of our blankets before, but they never had enough space, and the blankets would end up overflowing. This one is perfect!
We also have a smaller version of the same basket (it's so pretty!) for blankets near our door that we use for stroller walks / car rides.
I love these smaller woven baskets for holding papers in our kitchen, small little pieces on our living room built-in bookshelves and small toddler toys in our family room.
I've talked about these drawer organizers (also here) before, and we still love them. They're perfect for keeping dresser drawers organized.
This hanging basket is amazing! We use one as a little laundry hamper for dirty kitchen towels at the top of our basement stairs (our laundry is downstairs), and another near our door for mittens and gloves.
We have a few of these cloth bins we use for toys, too. Again, super durable and easy for a toddler to throw toys in. Plus they come in a bunch of colors so you're sure to find some to match your kids' bedrooms or playroom!
We have a few of these (super cheap!) baskets around the house for smaller toys and organizing toiletries on the bathroom counters. (And they come in multiple colors and sizes.)
I've been on the hunt for more baskets and bins as we figure out how we're going to organize toys in the new basement playroom and work on transitioning our guest room into a toddler bedroom when our baby moves into the nursery.
And let's be honest, I'm always on the lookout for pretty, affordable baskets because they just make everything better! (Could this basket be any cuter?!)
Here are some of my other favorite baskets I've been eyeing:
Click any of the images below for more info. (You might have to double click on mobile.)

Which baskets are your favorites?
Remember to bookmark or pin this post if you want to save it for later!

Pin it!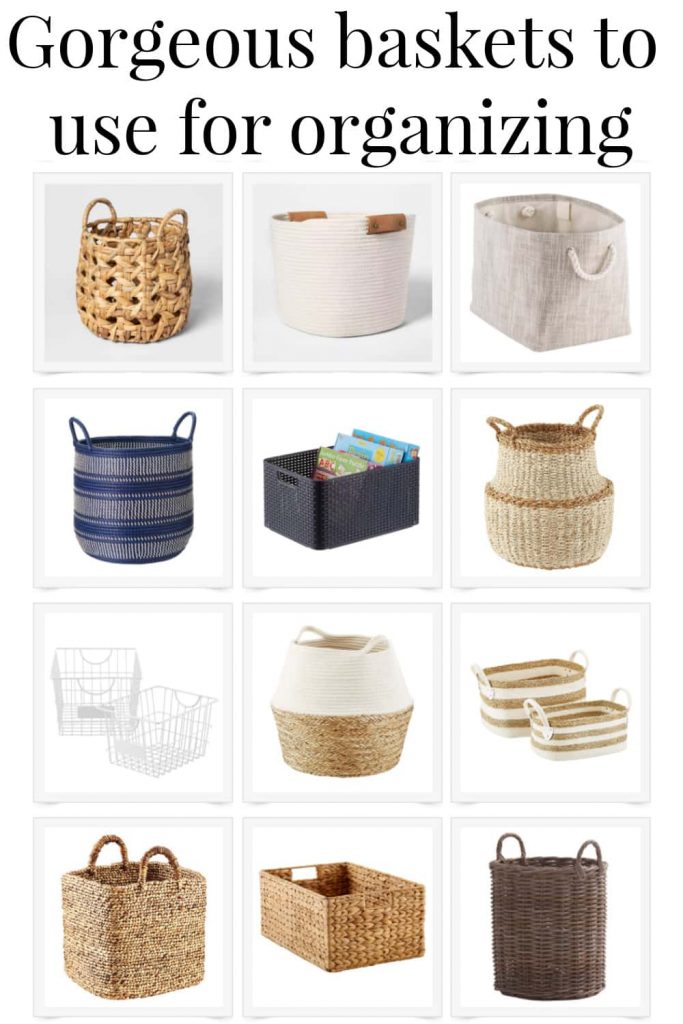 Want to read more posts like this?
Follow along: Get my emails | Facebook | Pinterest | Twitter | Instagram