Disclosure: This post is sponsored by BabbleBoxx. All opinions, images and love of easy cleaning methods are 100% mine.
The weather may not exactly be agreeing here in Wisconsin, but apparently it's spring! Which means spring cleaning.
In the spirit of keeping chores easy around here, I recently tried a few new cleaning products that are big hits at our house and thought I'd share.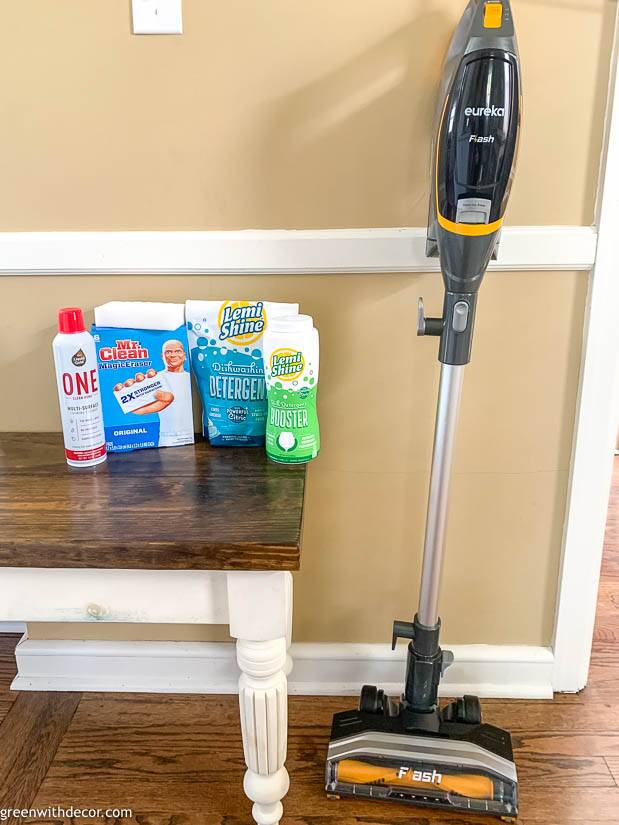 Anything that helps keep spring cleaning easy is worth sharing, right?!
This post contains affiliate links. This means if you click the link and buy something, I may receive a small percentage of sales at no extra cost to you.
1. NES510 Flash Corded Stick Vacuum Cleaner from Eureka
I've been wanting a stick vacuum like this Eureka vacuum for basically forever and now that we have one, I'm realizing we should have gotten one a lot sooner!
It works on both hardwood and carpets, which is perfect for us. It's way easier to have something that works on both so we don't have to store two different things.
The swivel steering is awesome for hard to reach places like just under a dresser or along the bottom of kitchen cabinets. (So many crumbs!) Plus it's lightweight but still powerful.
The thing I'm probably most excited about is that it easily switches to a hand vacuum, which is perfect for vacuuming up Oakley's never-ending (!!) shedding on our couch.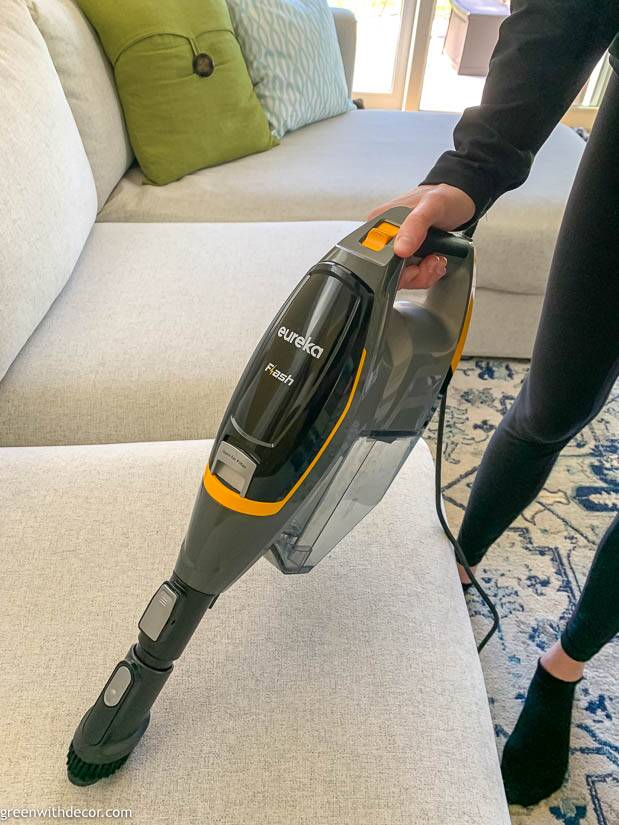 And it makes cleaning the stairs a quick, easy job!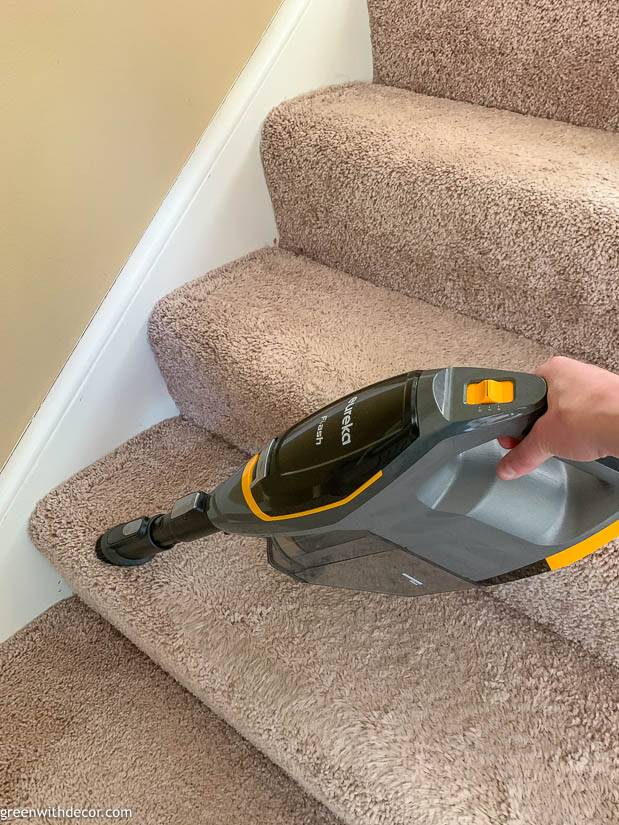 The portable storage base fits perfectly in our powder room linen closet, aka our cleaning supply closet. I've said it before, but seriously, everyone should have a full-size linen closet in their power room. It's such great storage!
If you want to try out a Eureka vacuum yourself, you can use code 150OFFNESS510H for 15% off now through May 17, 2020.
2. Magic Eraser from Mr. Clean
Have you ever used a Magic Eraser? Because they really are like magic.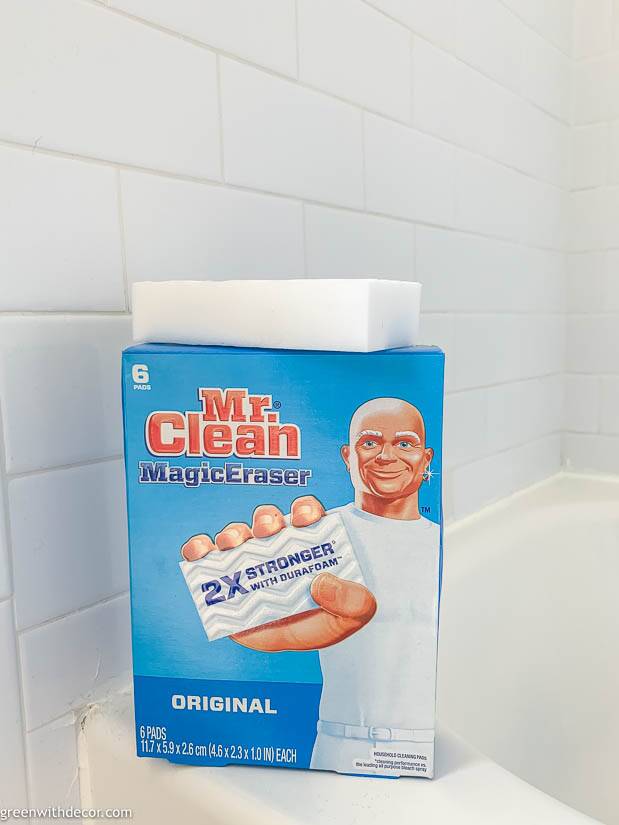 I love them for keeping our white subway tile and grout (in both our bathroom tub and kitchen backsplash) looking super white.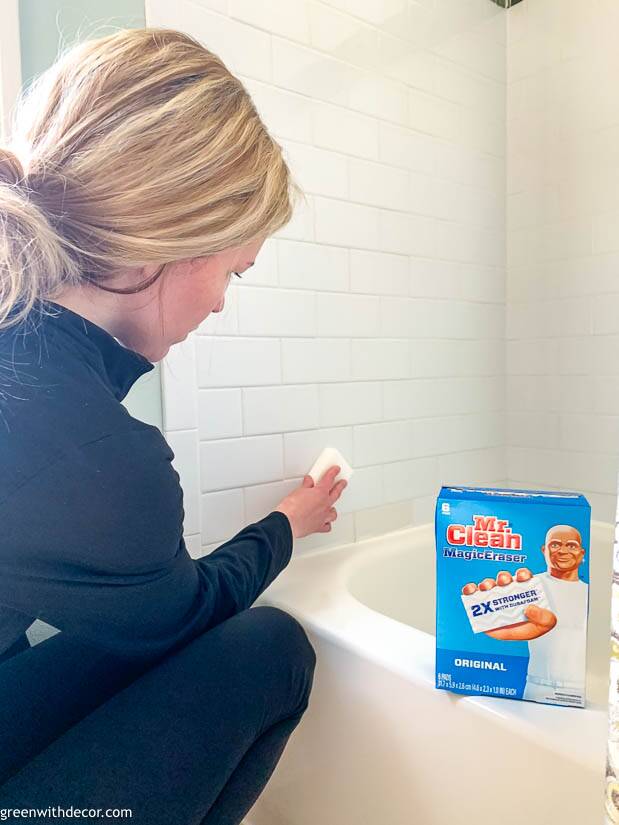 You can also use Magic Erasers on walls (helpful with a toddler and dirty hands!), oven doors, light switches, doors and more. Again, yay for products that do a million things so it's less for us to store.
Plus Magic Erasers have 2x stronger cleaning performance than leading all-purpose bleach spray, so you know you're getting a good, strong clean.
Mr. Clean's Magic Erasers are also available in Extra Durable, Magic Erase Bath and Magic Eraser Kitchen options. Learn more here.
3. Auto Dish Detergent + Dish Detergent Booster from Lemi Shine
With Lemi Shine Auto Dish Detergent, you can take dishes right from the table to the dishwasher. No rinsing (easy!), and your silverware, plates, glasses and even sippy cups will be sparkling clean.
The detergent is perfect for non-toxic cleaning since it doesn't contain any gross chemicals. Plus it has a nice citrus smell.
These pods are easy to use. Just place one in the detergent receptacle.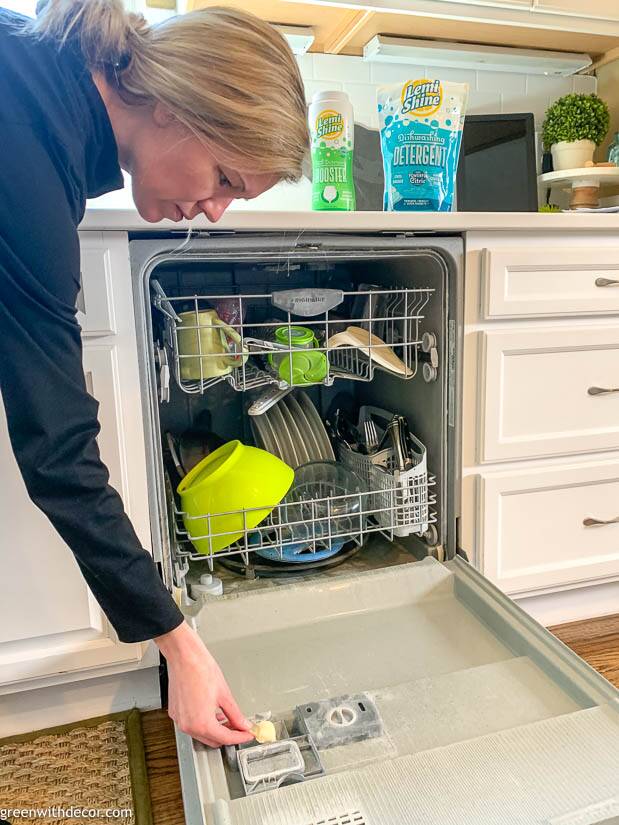 The Lemi Shine Dish Detergent Booster was a new one for us, and it's great. You can even run your dishwasher empty with it, and it will get rid of any hard water buildup inside.
Obviously, since it can do that, it can also be used to remove hard water spots from dishes and glasses.
Fill your main detergent receptacle with the Lemi Shine Booster. You can then place your detergent in either the prewash detergent receptacle or, if your dishwasher doesn't have one, just place the detergent in the bottom of your dishwasher.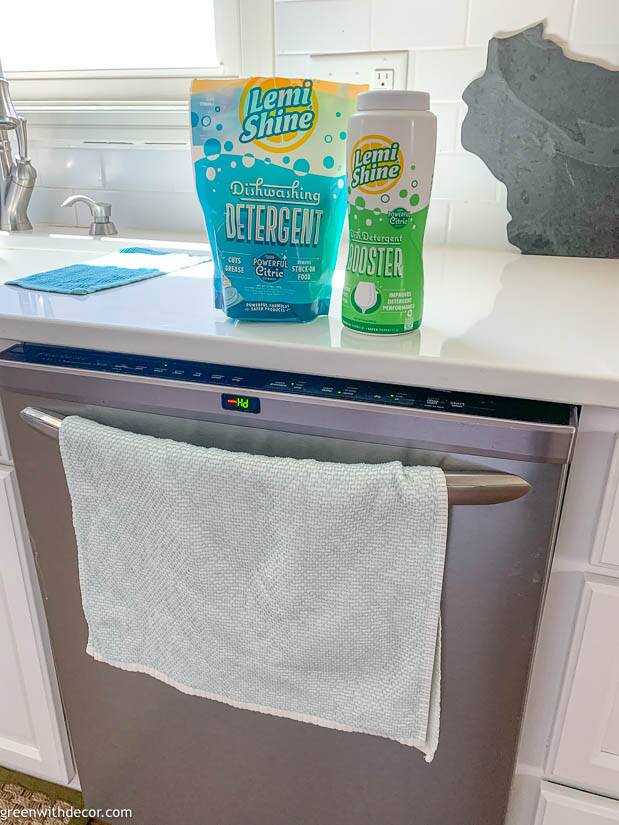 4. ONE Clean Home from Scott's Liquid Gold
This one is also a winner for one cleaning product that serves multiple purposes.
The ONE Clean Home from Scott's Liquid Gold is a multi-surface foaming cleanser that cleans all types of hard surfaces, including wood, tile, stone, plastic, porcelain, stainless steel, metal and more.
I use the ONE Clean Home on our bathroom floor tile. The no-drip formula is great, and it's easy to wipe clean. You can buy some here or here.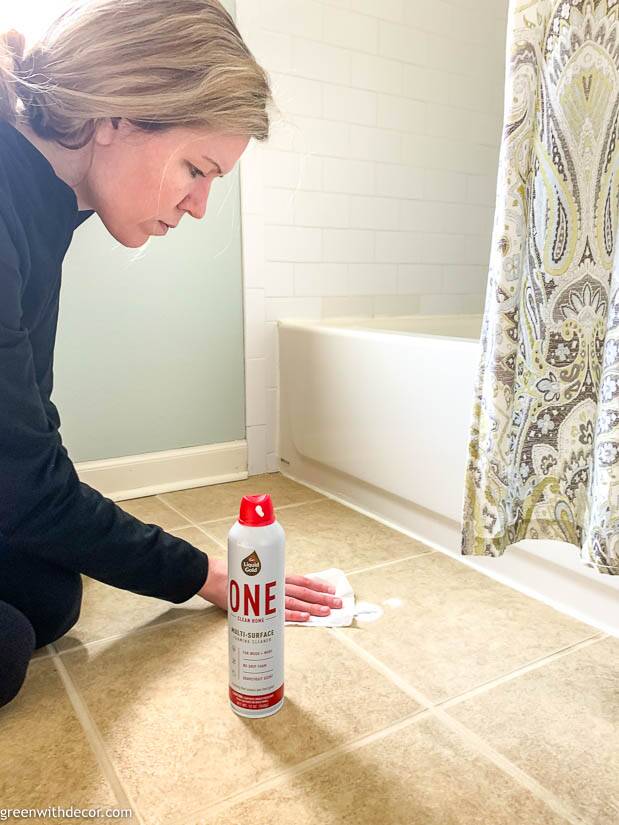 The grapefruit scent smells great and is made with essential oils, not artificial fragrances. Since it's natural and non-toxic, it's safe for pets, people and the planet.
You can use it indoors or out – perfect as it starts to (hopefully) warm up out there!
Have you found any other spring cleaning products that are making chores easier?
Here's hoping the spring weather around here comes soon now that the spring cleaning is done!
Remember to bookmark or pin this post if you want to save it for later!


Pin it!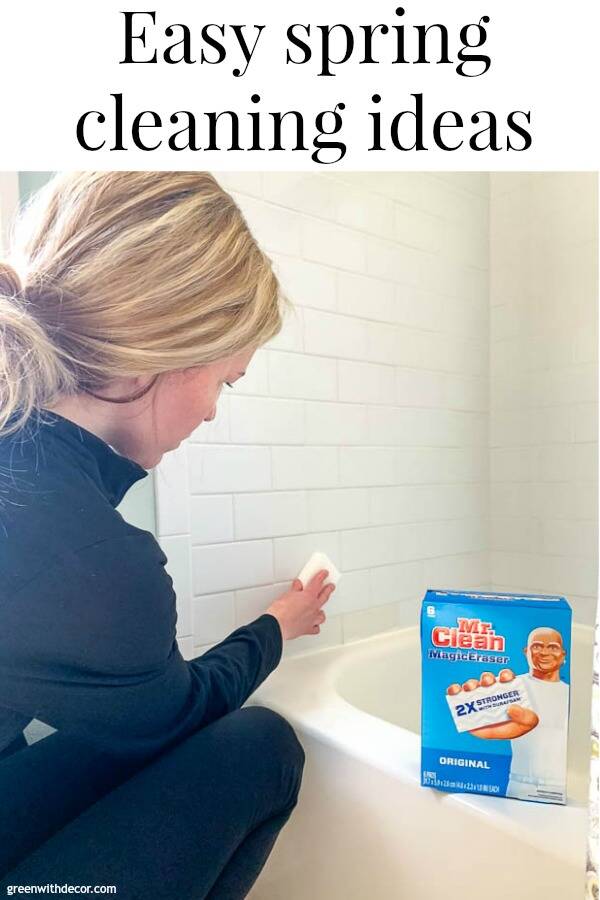 Want to read more posts like this?
Follow along: Get my emails | Facebook | Pinterest | Twitter | Instagram