It's reveal day!!
Remember last year when I shared our casual coastal family room design plans?
I've shared a few blog posts about the family room since then (round wood and metal coffee tables, the affordable neutral accent chair search, all about our crate shelves and how to paint pocket doors ), and then haven't shared much else in here.
We have a few smaller projects I've been wanting to finish up in here before I shared the final reveal (more on those below), but since they've been on the to-do list for months at this point, who knows when we'll get to them! 95% club, right?!
So I'd say 95% done counts as a room reveal.
Reminder waaaay back when we bought the house, the room looked like this?!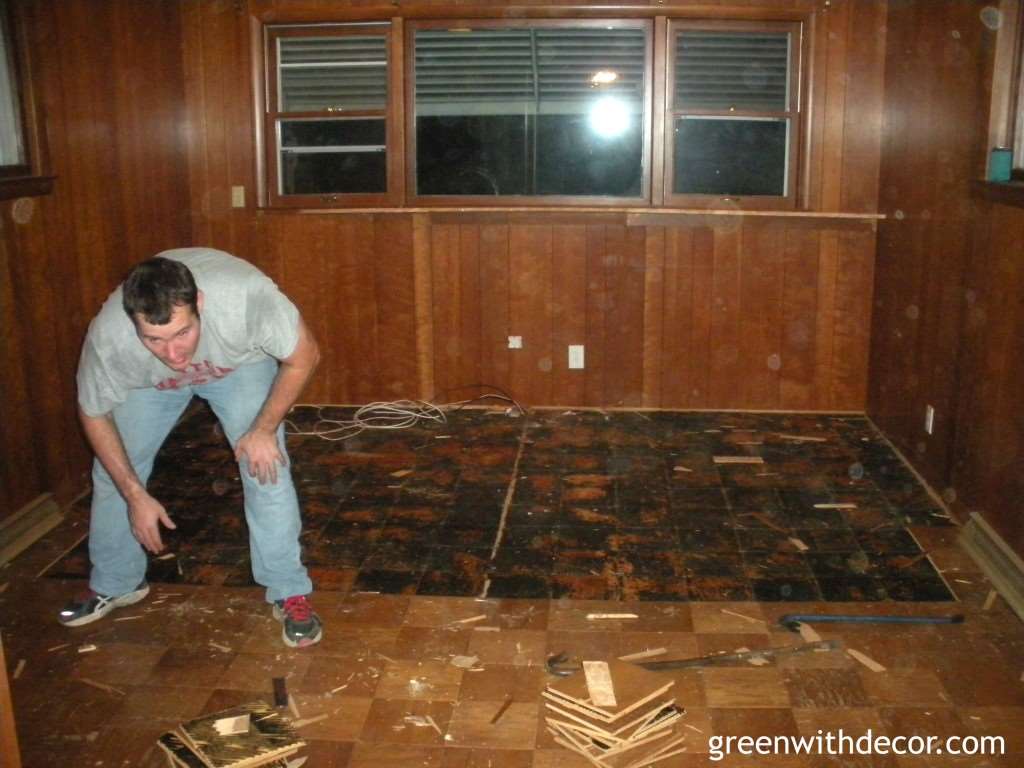 Dark paneling, awnings on the side windows to prevent any natural light from streaming in, and no access to the backyard. We swapped out those three shorter windows for big patio doors.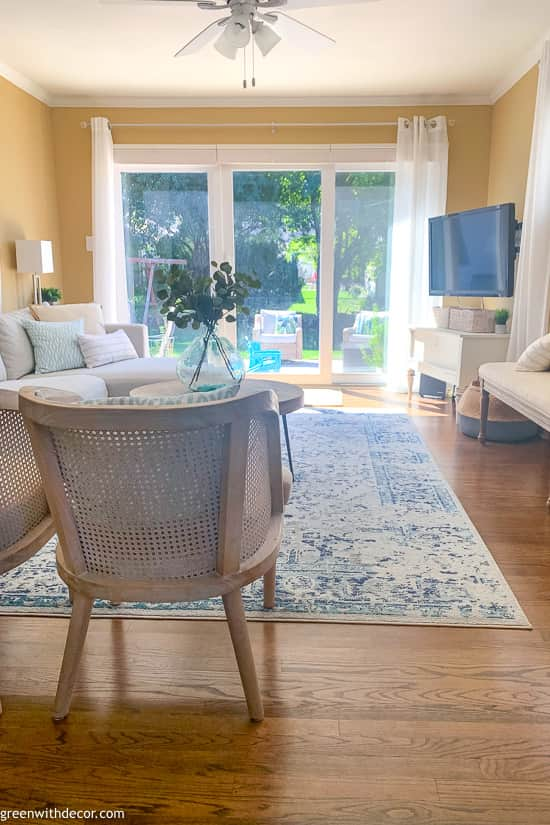 I LOOOOOOVE this room now!! All the colors and textures came together perfectly for the casual coastal feel I had in my head.
We spend so much time in here, and it's just the perfect cozy space for our family.
And another before/after: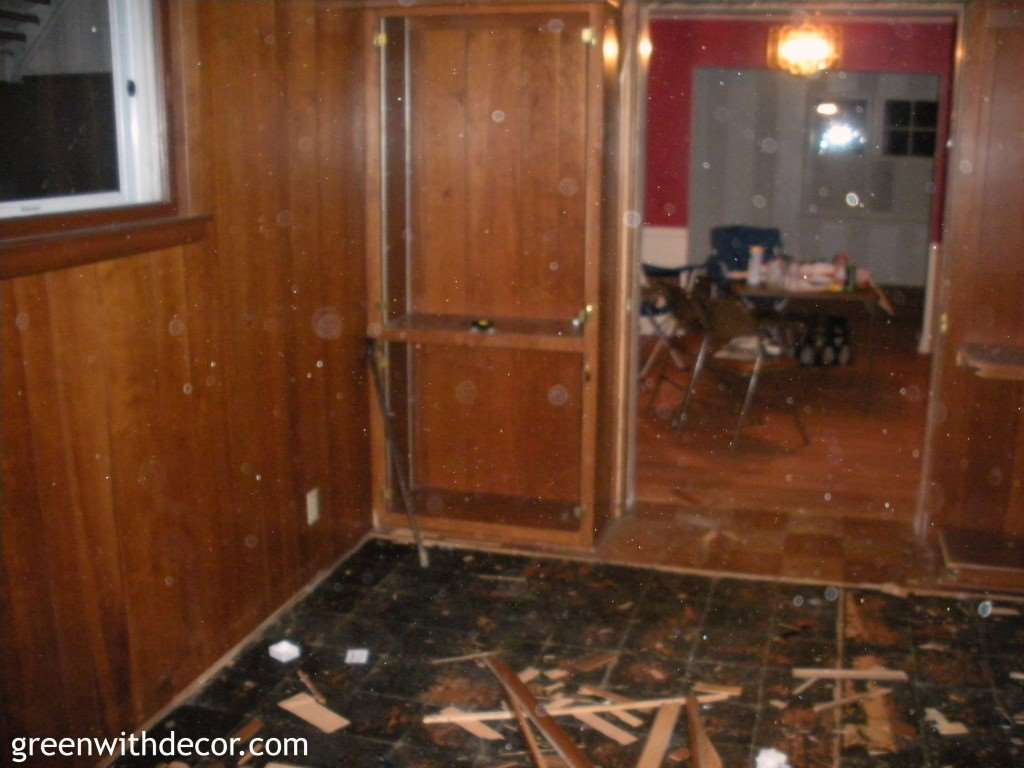 And now!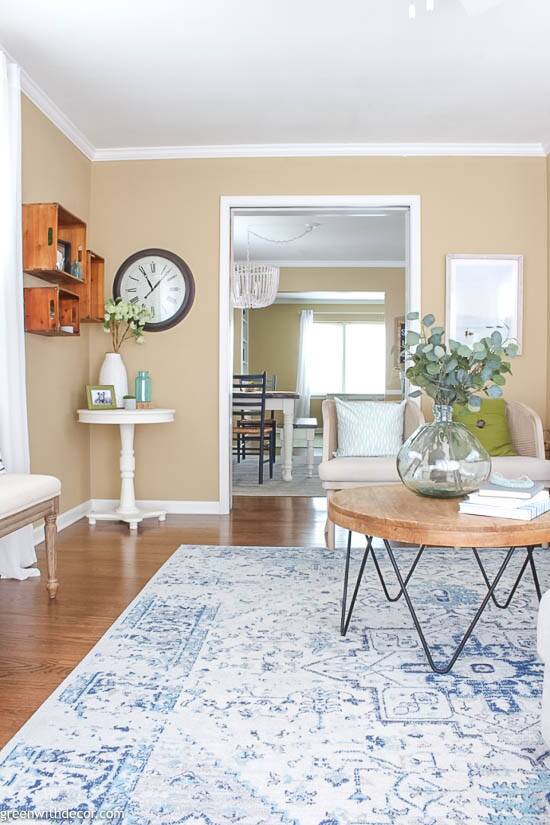 One more because before and afters are the best: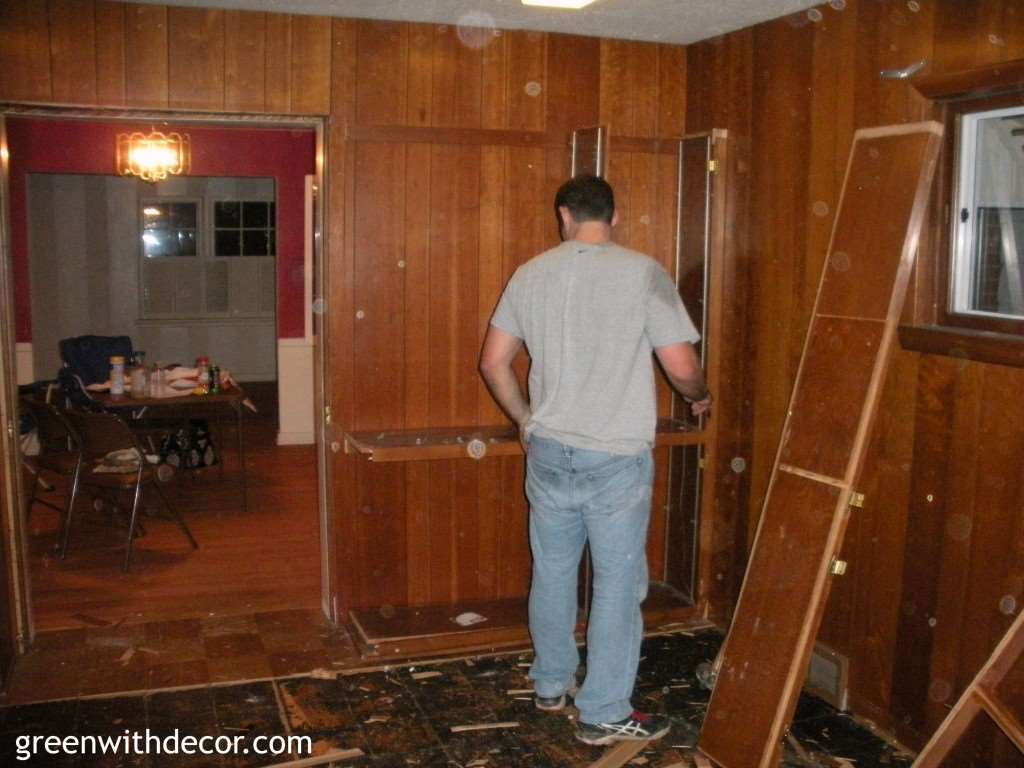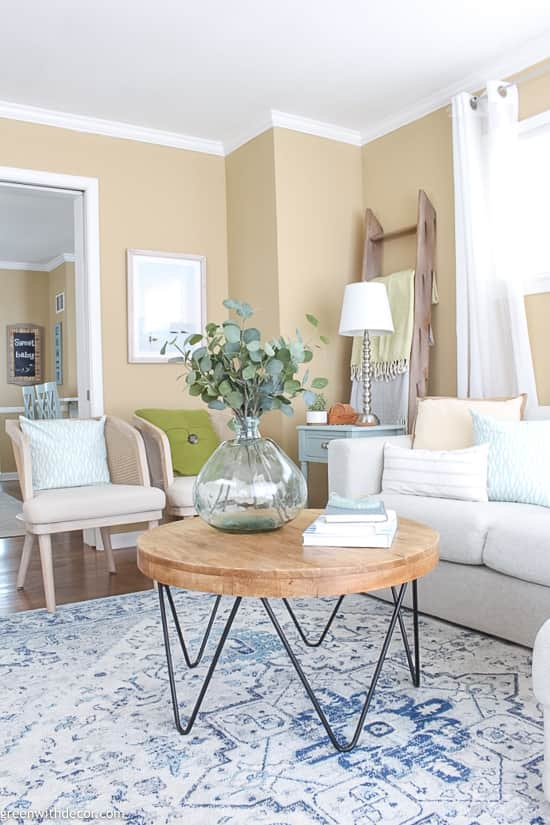 This post contains affiliate links. This means if you click the link and buy something, I may receive a small percentage of sales at no extra cost to you.
Let's chat details, shall we?!
A quick note – I'll try to link to stuff as I go, but I'll put a big get the look/source list at the end of this post so you can easily shop for anything you'd like!
Furniture:
Couch:
We got this IKEA couch and love it. It's comfy, and the color is perfect in here.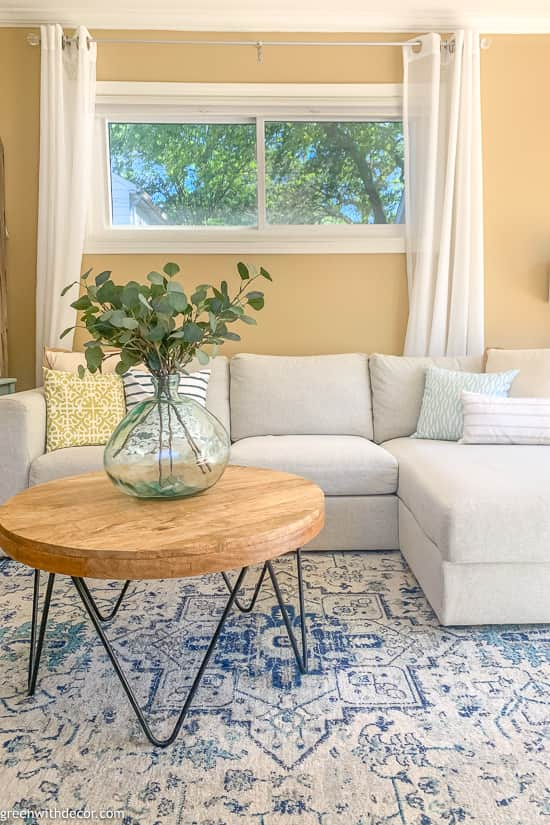 And we love the chaise so we can both stretch out when we want. Or it makes a good perch for Oakley.
Plus there's storage underneath!
I know people have a LOT of opinions on IKEA couches so I'll dive into more details on our couch in another blog post soon. (Update: See it here: VIMLE IKEA sofa review.)
Chairs:
I love these neutral cane chairs! They look more expensive than they are, plus they're deep and comfortable. They're perfect for extra seating.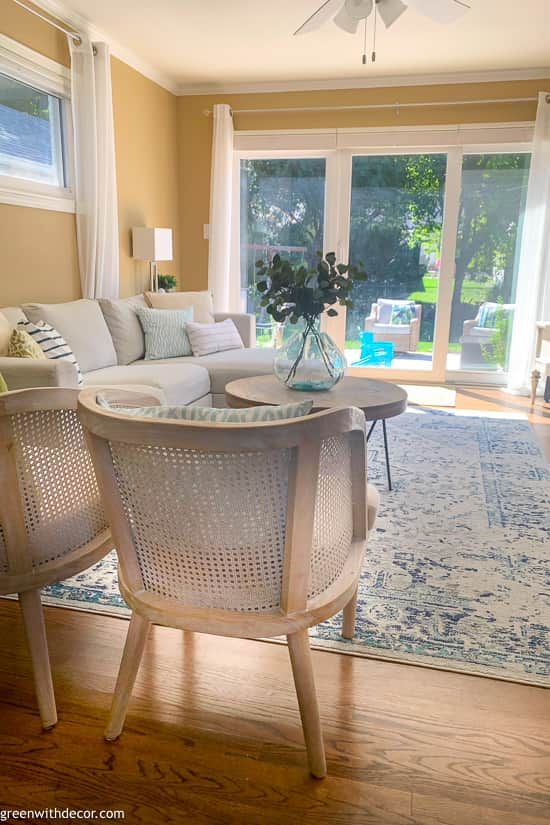 I did a whole post on gorgeous, affordable neutral accent chairs with so many good picks! So check that out if you're looking for new chairs.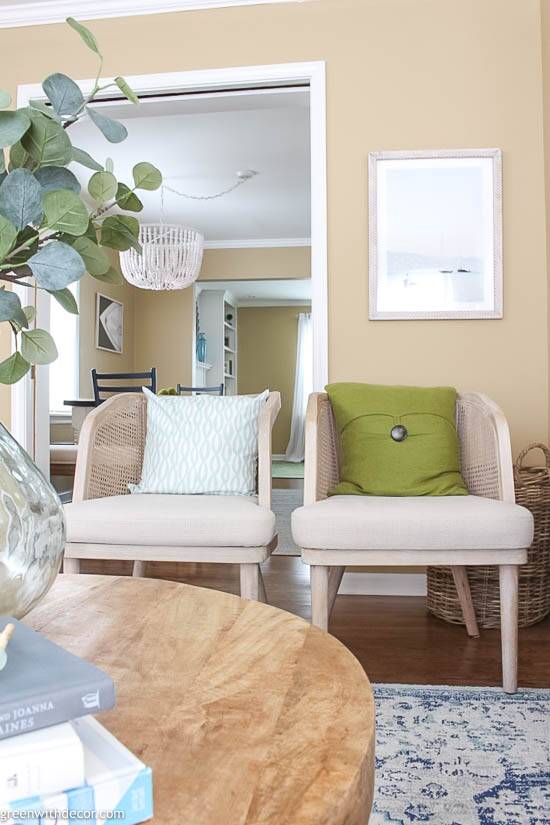 Bench:
I've had my eye on this bench FOREVER. But I never thought we had a place for it in our house.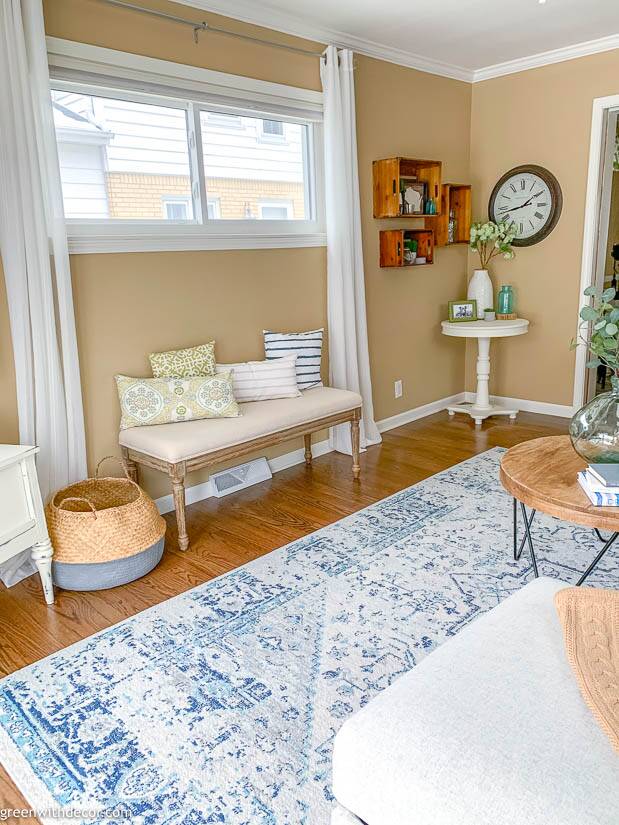 Until we rearranged the family room that is! And now it's perfect under the window. It's sooooo pretty and again, great extra seating when needed.
Also great for displaying my collection of throw pillows, which is awesome because unlike when you put them on the couch and everyone promptly throws them on the floor, the pillows on the bench stay right where I put them!
Tables:
Still obsessed with our coffee table. It was a really lucky TJ Maxx find (oh do I miss this place!).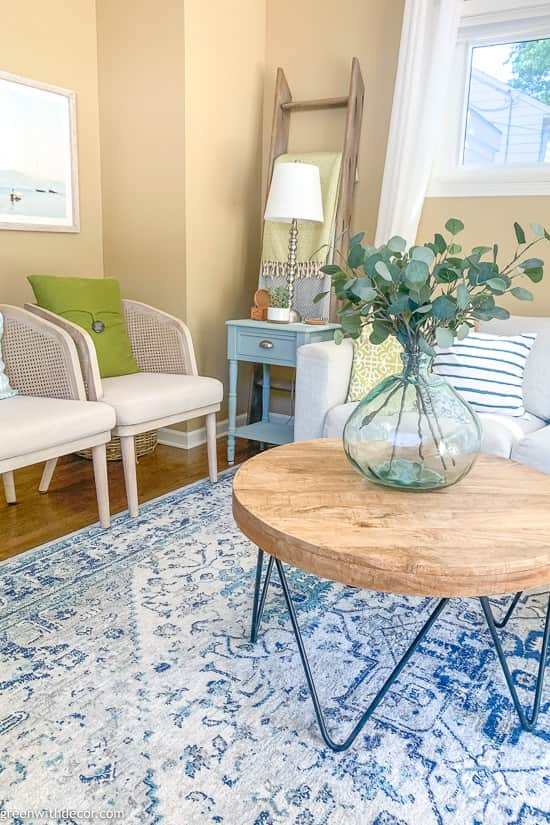 This post (round wood and metal coffee tables) has a bunch of similar options if you're interested.
Our end tables were also TJ Maxx finds from years ago. They were black, which we used as is in our old family room makeover. Then I painted them my favorite ever shade of blue. The tutorial is here: An end table makeover with clay paint.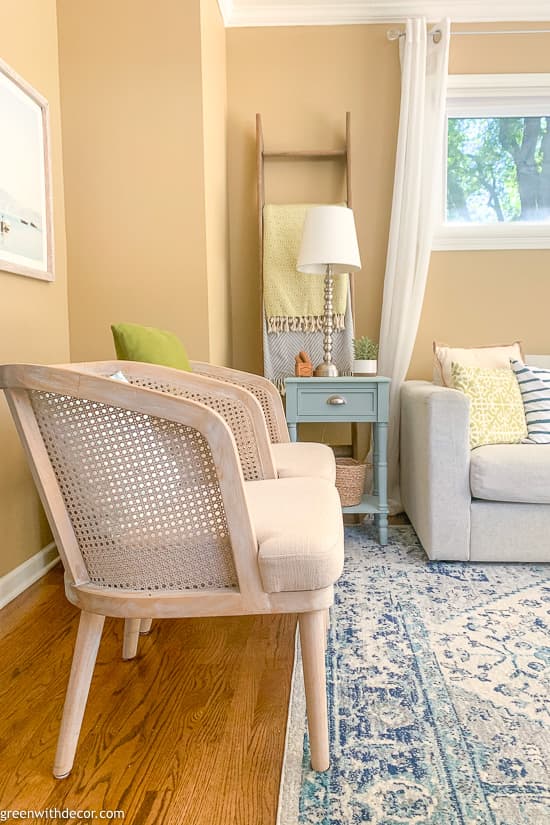 Hmmm so turns out, I have a bit of a thing for tables from TJ Maxx. This round table was another TJ find. Also originally black, and I painted it. You can see the tutorial here: How to paint a round table.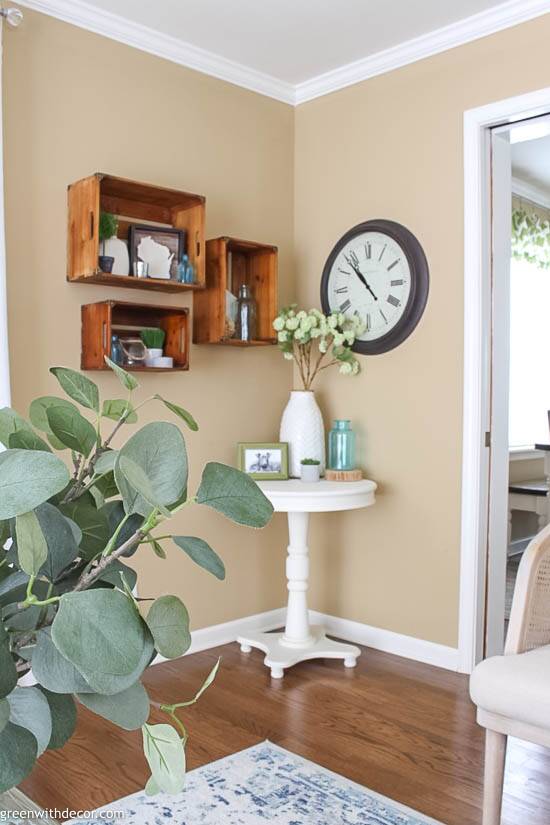 Our TV stand is one of my fave ever furniture makeovers. It was a Facebook Marketplace find, and I gave it makeover. You can see the tutorial here: How to give a beat-up piece a furniture makeover.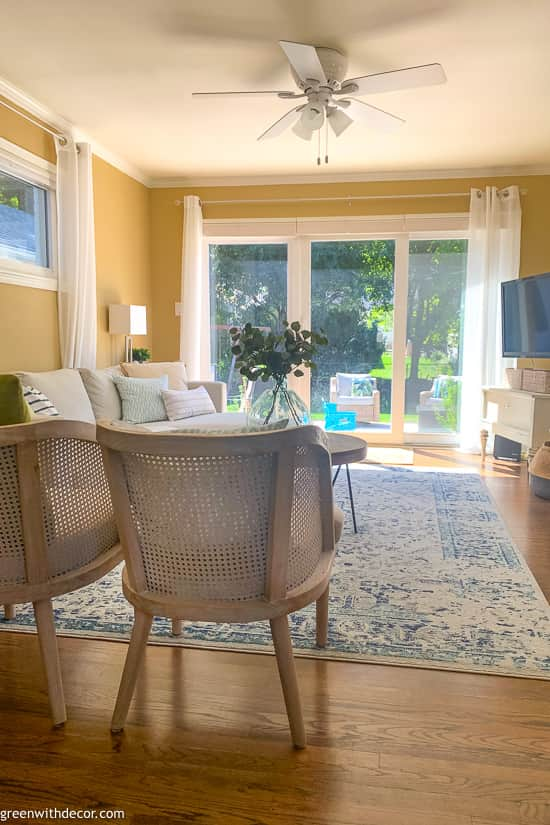 We have thoughts on using the drawer to hide the boxes/cords currently sitting on the floor underneath, but we've changed our minds a few times on what exactly to do. Sooo eventually we'll decide and do something about those!
Rug:
We had a neutral rug in here for a while, but it wasn't holding up that well, Oakley's dark hair was really noticeable and it was a little boring with the couch color.
So I found this rug and am OBSESSED. Pretty confident it's my favorite rug we've ever had.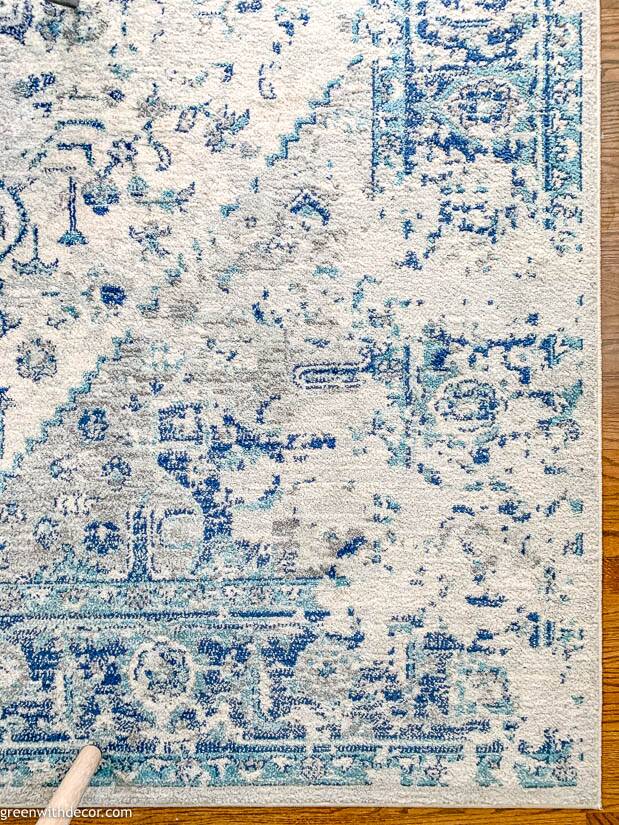 I LOVE the colors and the slight distressed look, plus it's soft and comfy without being too plush. Basically it's perfect.
Wall decor:
Crates:
I've talked a lot about these crates before. You can see all of the details here, including tips for hanging and spacing: all about our crate shelves.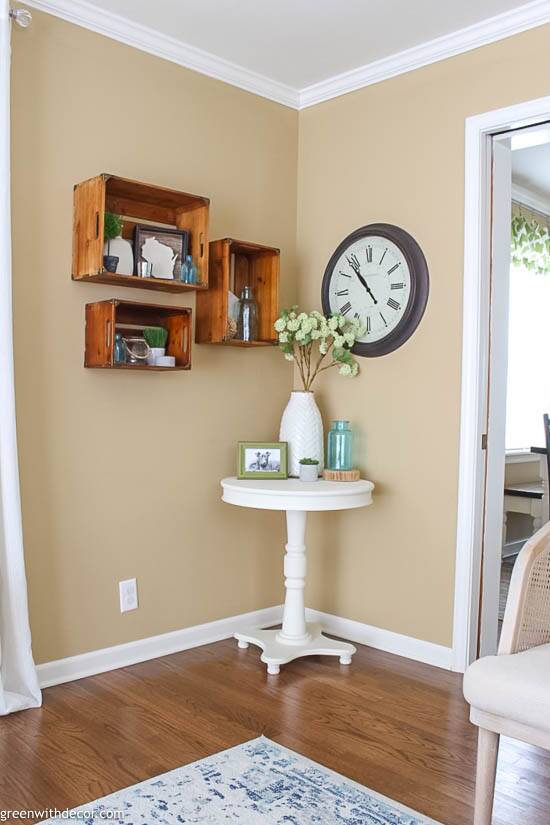 They're perfect if you have a recessed corner like this, and it's fun to decorate them with pretty little pieces.
Artwork:
This pretty boat artwork is one of my fave pieces and looks perfect above those gorgeous chairs. And that peek of our wood bead chandelier – I just love this view!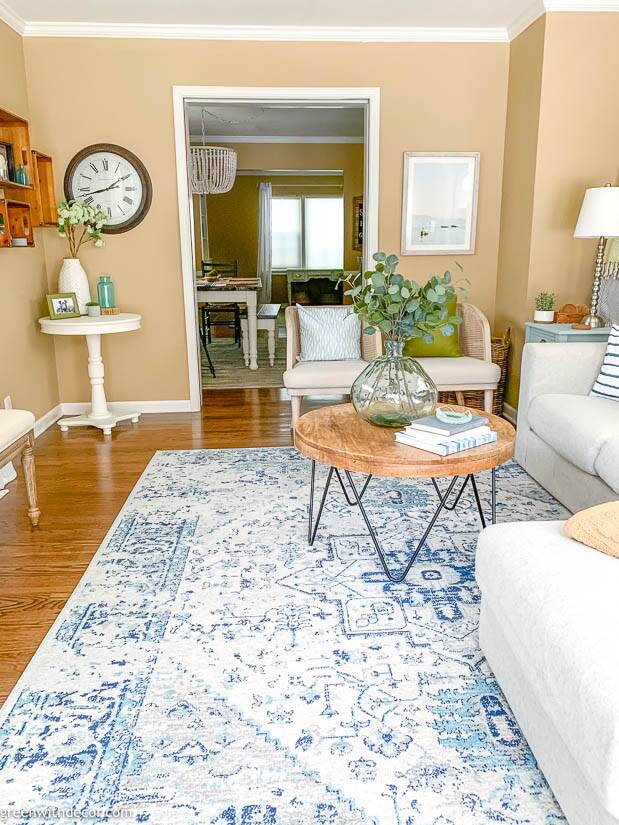 We need something above the end table in the back of the room, but I haven't found anything I'm into yet. (That's still on the to-do list in here.)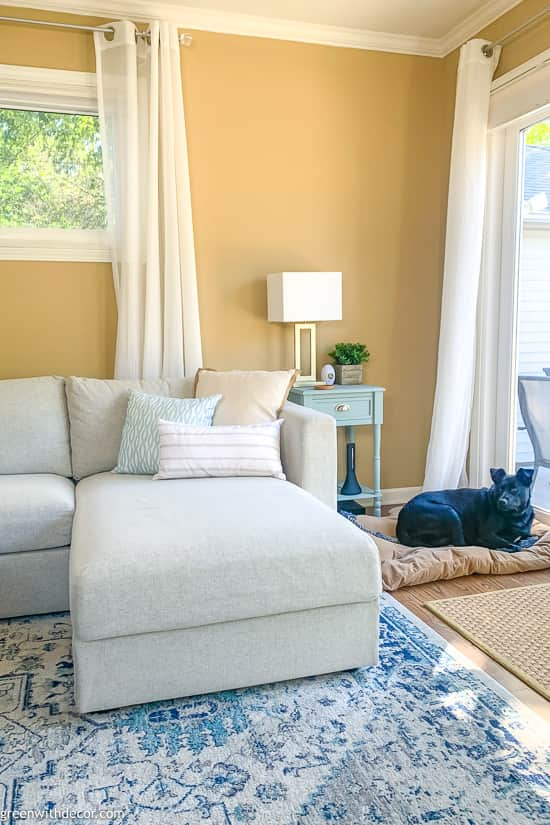 I'm not exactly sure what I'm looking for, but I haven't seen it yet. I might end up DIYing something. Stay tuned.
Other decor:
Curtains:
These are my favorite curtains. We have them in almost every room of the house. They're so breezy and airy – and not expensive.
But they're a bit long and need to be hemmed. Which means this project is also on that last 5% list!
Blankets / storage:
I'm always freezing and need blankets around. This tall basket is perfect for storage! I looked forever before I finally found this one. So many baskets are pretty but just not really big enough for blanket storage!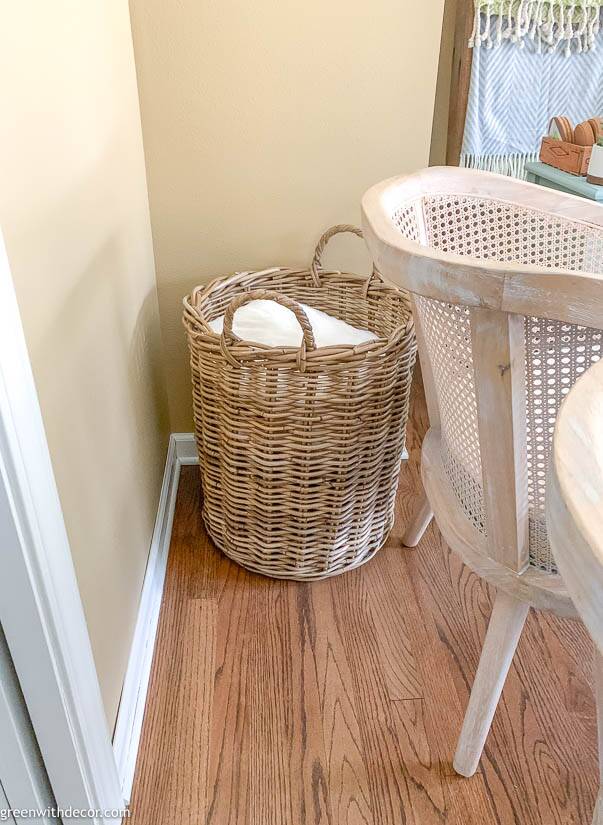 And the ladder behind our end table was in the garage when we moved in. I cleaned it up, and it's perfect for displaying a couple blankets!
Seagrass basket / toy storage:
I'm a big believer in baskets. We have more of our daughter's toys up in our living room (aka playroom), but we keep some back here, too.
This seagrass basket is perfect for storing them – easy enough that even she can just toss things in.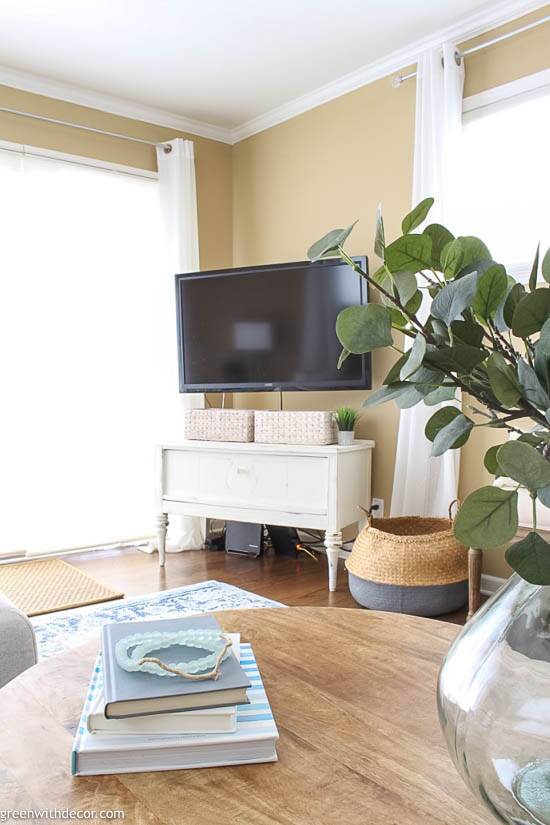 Plus it's flexible, which means whenever she walks/rolls/crashes into it as one year olds do, it just bounces right back into shape.
Coffee table decor:
One of my favorite ever decor combos is an aqua glass vase and faux eucalyptus. It just works SO well together!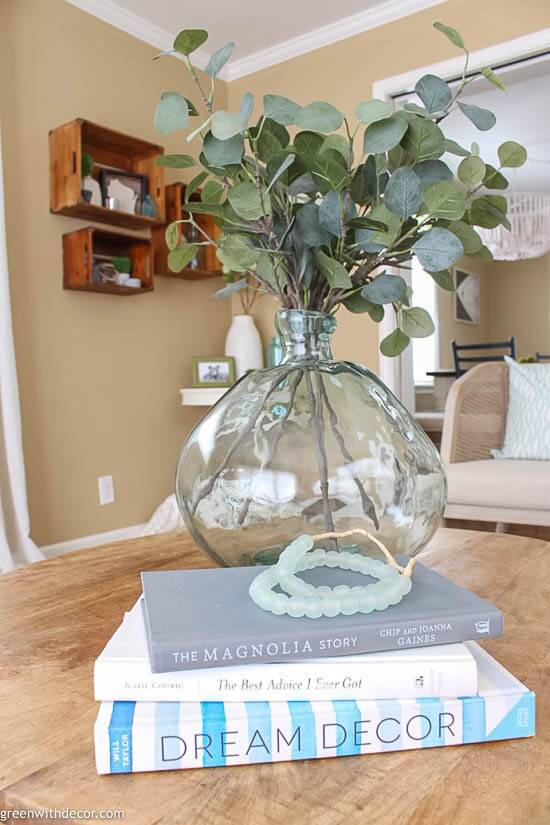 Crown molding:
I feel like I just have to mention this because crown molding really does make SUCH a difference in making a room feel complete! I love how it finishes this room off.
We had crown molding added around our entire first floor when we had the built-in bookshelves around the fireplace added in our living room. Funny how those projects always snowball!
Small pieces:
There are a lot of small pieces in here, but a few of my faves are this rustic crate to hold our coasters …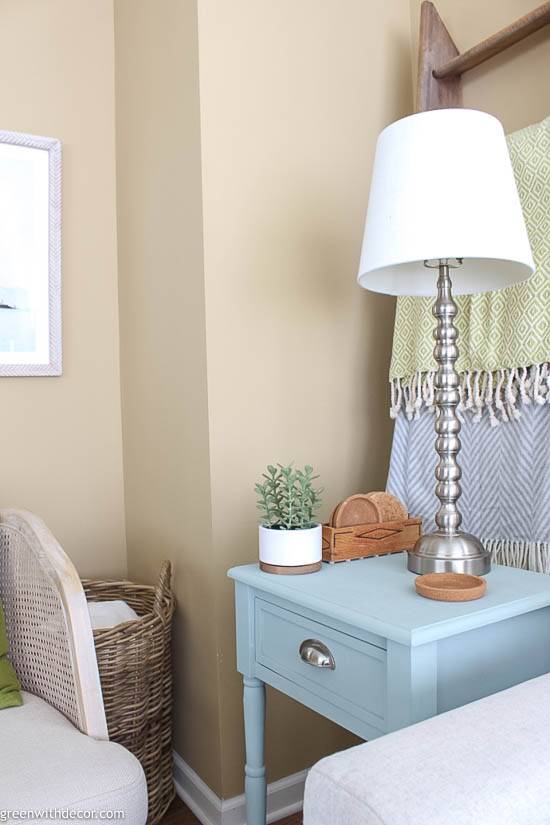 … and these pretty coastal glass beads.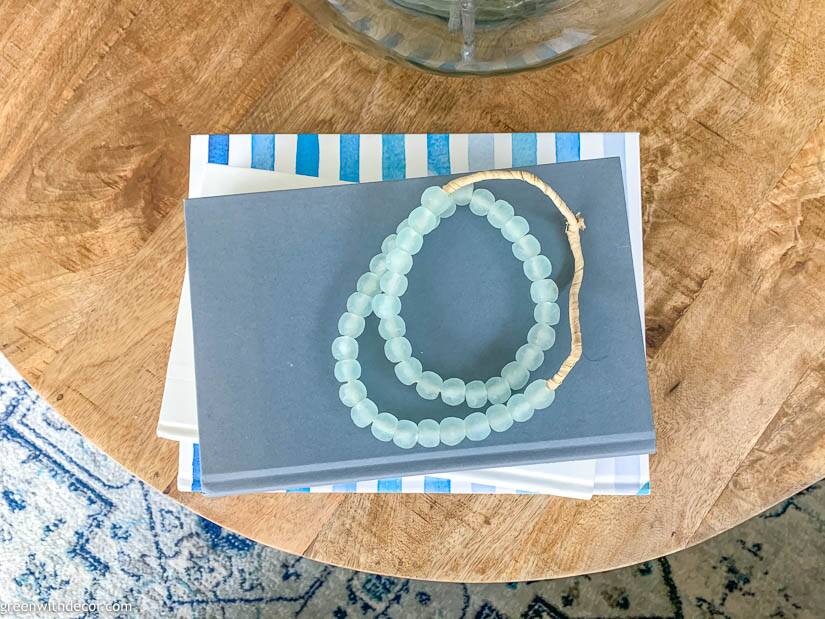 So that's our casual coastal family room! It's easily my favorite room in the house.
At some point, we'll hem the curtains, hang some artwork above the end table and figure out those pesky cords under the TV stand, but for now, it's a great place to hang and those things can wait!
Old family room:
Oh, and before we get to the giant source list below, let's look at how this room looked in between renovating and today, because there was another round of a family room makeover that you may have missed if you're new around here.
I always love seeing how rooms evolve over time! The color scheme totally changed, as did the furniture placement. Crazy, right?!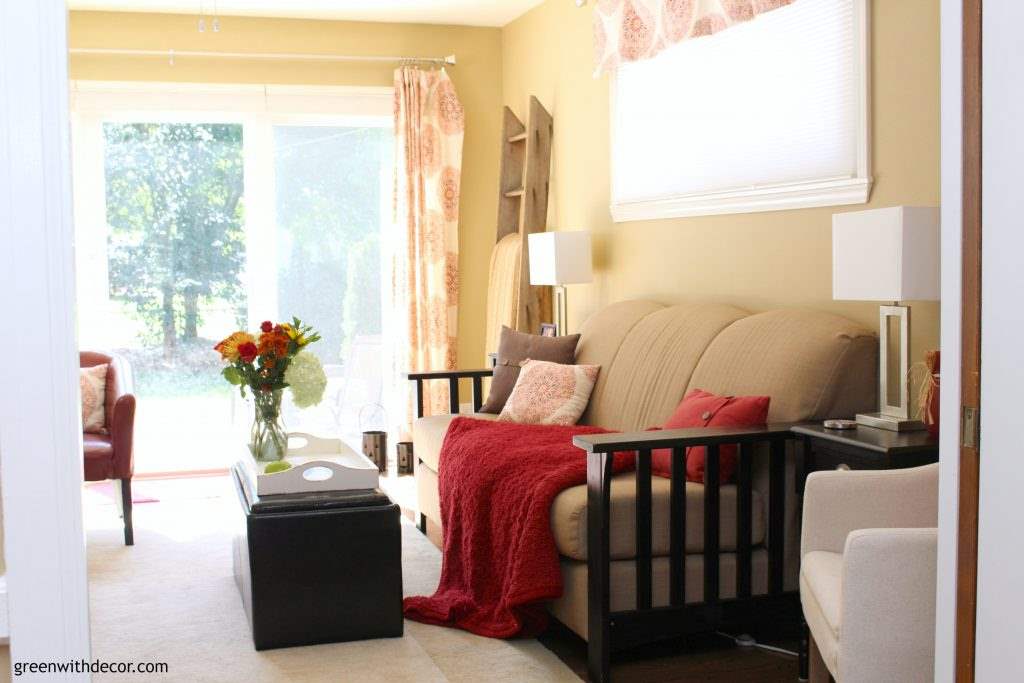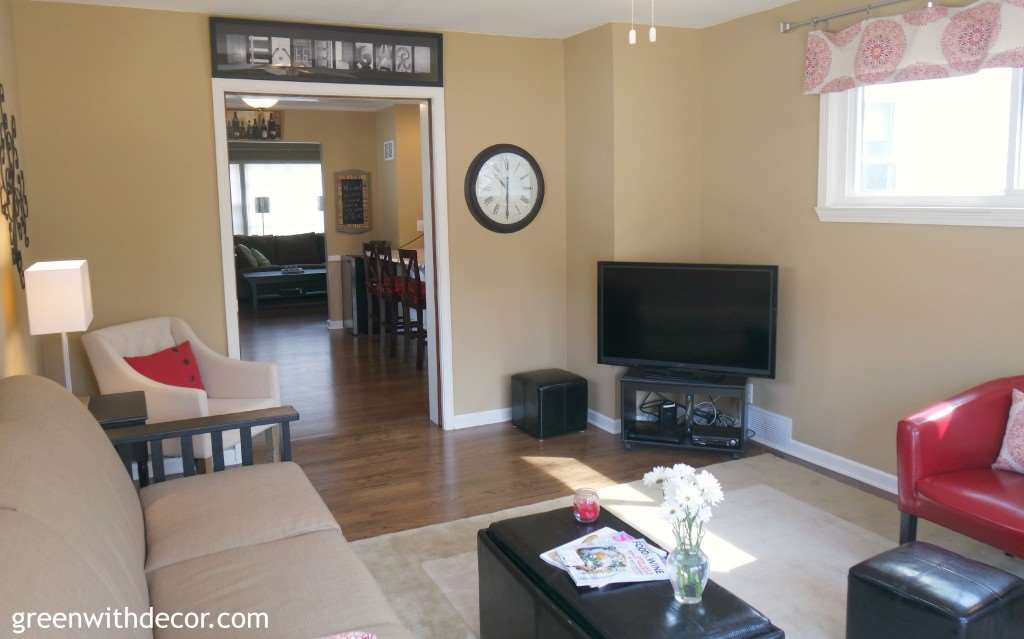 GET THE LOOK:
Since a popular question I get is "Where'd you get that?!," here are links to the same or similar sources:
Let's end with a shot of Oakley enjoying our family room!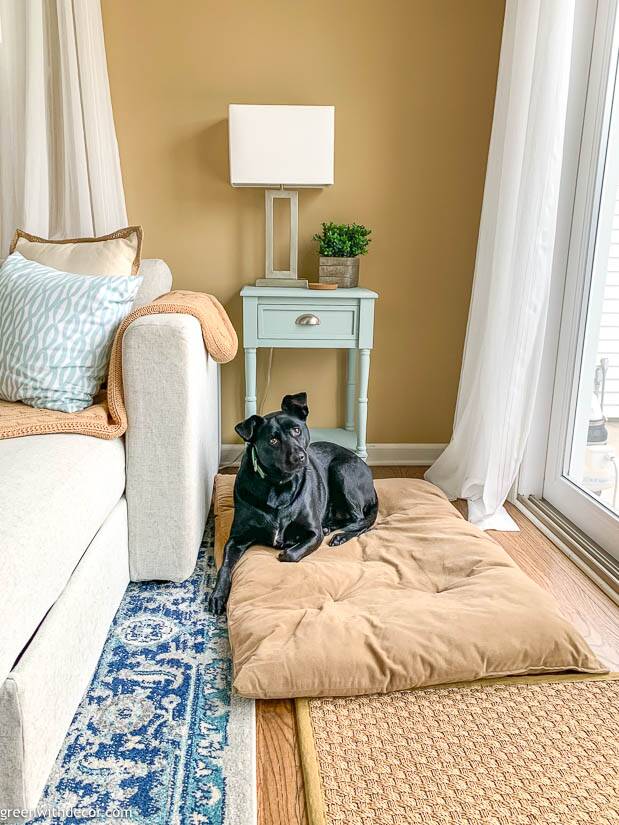 Remember to bookmark or pin this post if you want to save it for later!


Pin it!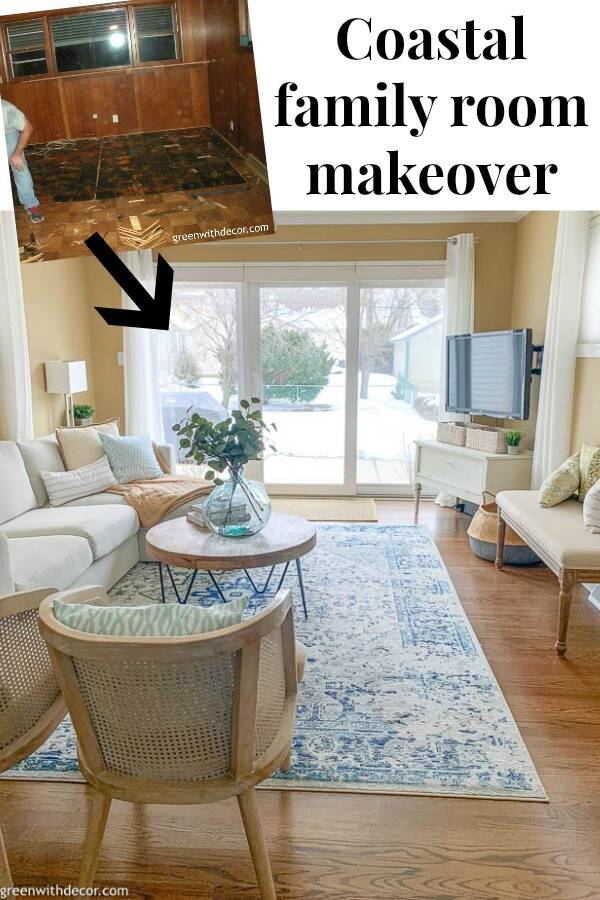 Want to read more posts like this?
Follow along: Get my emails | Facebook | Pinterest | Twitter | Instagram