Disclosure: This post is sponsored by Chesapeake Bay Candle. All opinions, images and love of delicious smelling candles are 100% mine.
Once fall weather hits, I love having a candle lit when we're hanging around the house. It just makes everything feel cozier, especially when it starts getting dark earlier. Which, I have to say, is the one thing about fall I'm not a fan of!
I'm pretty picky about candle scents though. A lot of scents tend to make my nose twitch.
I've been known to just light one cinnamon candle after another throughout the fall and winter months, but that hasn't stopped me from looking for other scents to try to mix it up around here once in awhile.
When I heard about Chesapeake Bay Candle's Heritage Collection for fall, I was curious to try them. Multiple friends have had good things to say about the candles. The Heritage Collection is known for natural, rustic scents, which has me more interested than anything too sweet smelling.
This post contains affiliate links. This means if you click the link and buy something, I may receive a small percentage of sales at no extra cost to you.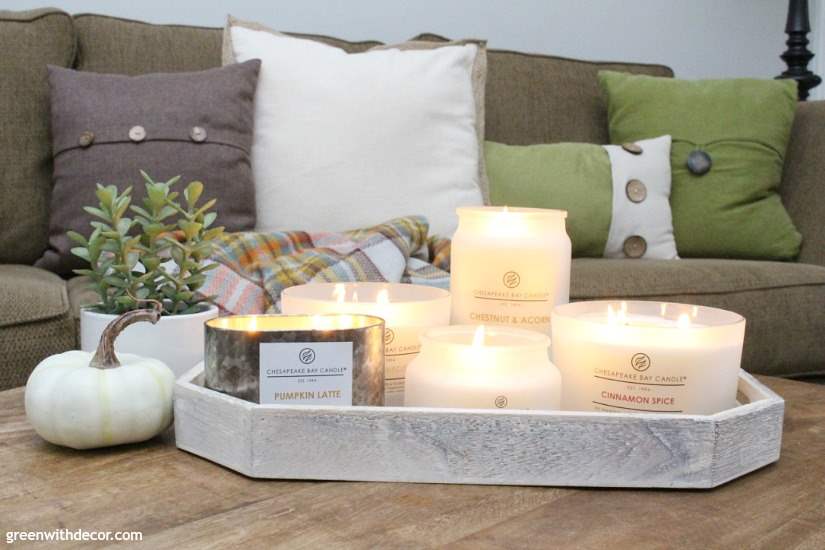 GET THE LOOK: Couch | Coffee table | Faux plant | Brown pillow | Cream pillow | Green + white pillow | Green pillow
We tried out five scents from the Heritage Collection: Chestnut & Acorn, Cinnamon Spice (of course), Vanilla Biscotti, Pumpkin Latte and Balsam Fir. (To see even more of their Heritage Collection, check out my favorite summer candles.)
No one is more surprised than me that not only do I like each scent, but the Chestnut & Acorn fragrance is my favorite even over the Cinnamon Spice. I'm really excited to have other options when it comes to candles.
The Chestnut & Acorn Large Jar Candle is so good. I'm wasn't sure what to expect, I mean what do acorns even smell like when they're not rolling around on the driveway being annoying? Magic, apparently.
Just kidding. It's actually bits of vanilla, roasted chestnuts (of course), brown sugared pecans and cinnamon (yum). Hearing that, it makes perfect sense I love this one.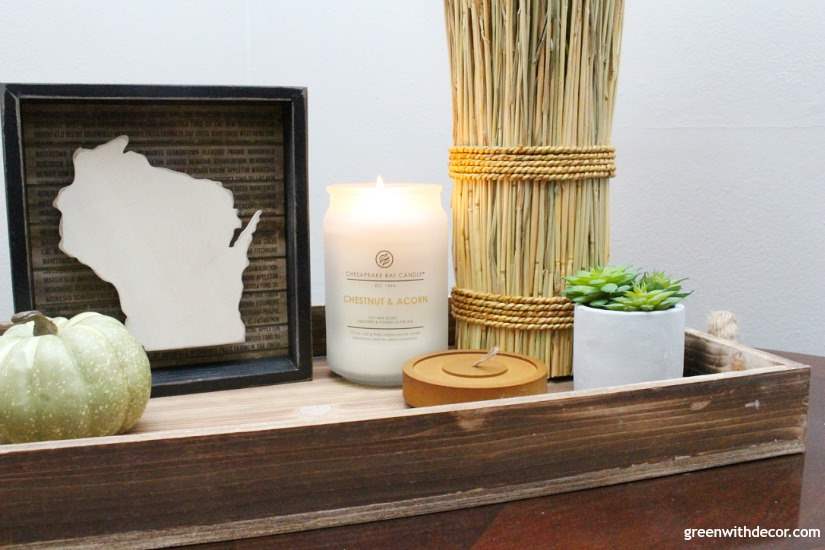 Can we talk about how cute the wooden lid is that comes on the frosted glass candle jars?! It's such a perfect rustic coastal look, you don't have to hide them when you're lighting the candles. I'm totally keeping the jars after the candles burn out. They would be adorable as storage jars in a bathroom or a home office.
The Cinnamon Spice Coffee Table Jar Candle is also delicious, and maybe it's because we usually have cinnamon candles going around the fall and holiday season, but smell anything cinnamon always makes the house feel instantly cozy.
The Cinnamon Spice is filled with cinnamon spice, obviously along with flavors of vanilla, bay leaf and warm nutmeg. Yum, right?! It makes me want to get a fire going in the fireplace.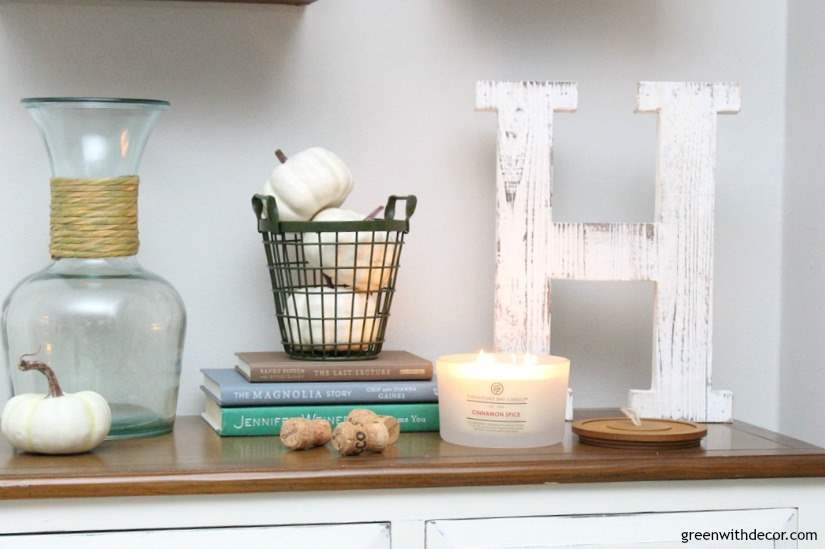 GET THE LOOK: White mini pumpkins | Green basket | White initial
This might sound weird but I'm thinking fellow decorators will agree with me, I love that the candles are all a neutral color (either the white inside frosted glass or the tin containers) so they easily flow with whatever decor you already have.
The problem with most cinnamon candles is that they're red, and we've pretty much phased red out of our decor (except for Christmas), so this white cinnamon candle is the perfect solution.
Vanilla is always my go-to scent if I can't find anything cinnamon, so I was excited to try the Vanilla Biscotti Coffee Table Jar Candle. With hints of cinnamon and toasted almonds, it's no surprise I like this candle, too.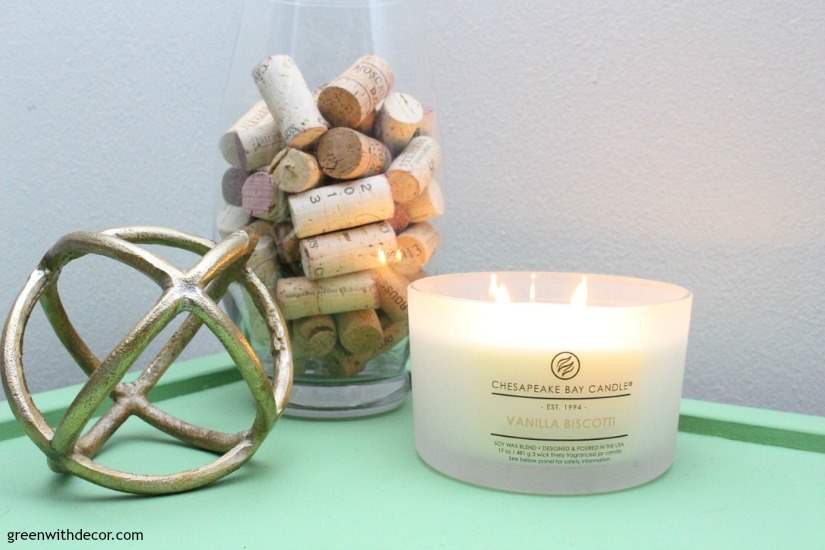 Pumpkin Latte is pretty much everyone's go-to fall scent except mine. I don't even like pumpkin spice lattes. I know, I know, don't throw anything at me.
Needless to say, I didn't have high hopes for this one. But I was surprised. It's not sweet smelling like a lot of pumpkin things, it's more like a hint of pumpkin and just smells like fall, which I love.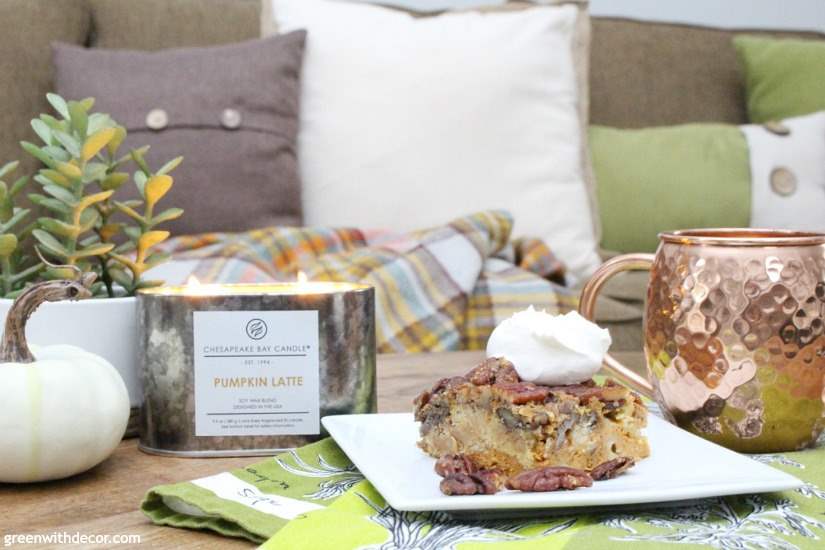 Our neighbor, who also loves decorating, was over the other night, and she was smelling all of my new candles (and also admiring the pretty wood lids). She had the same reaction I did – it didn't smell like typical pumpkin, it was warmer.
She also brought us this delicious pumpkin pecan dessert, which she said even us non-pumpkin lovers would love, and she was right since we've already eaten most of it.
I guess I do like pumpkin as long as it's mixed in with other flavors. This candle is filled with praline, pecans and pumpkin frosting scents, so I'm thinking the way to get me to love pumpkin anything is to mix it with pecans. If you're a fellow not-typical pumpkin fan, give it a try.
We also tried the Balsam Fir Small Jar Candle, which is basically Christmas in a jar and has me equally excited that Christmas is coming and terrified that I haven't even started thinking about gifts yet. This one is filled with clove, amber and spearmint flavors.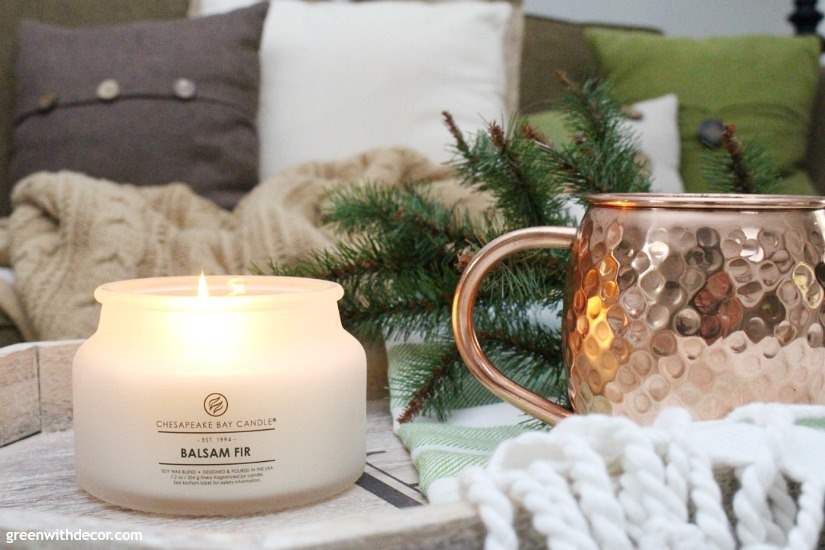 I love that each of these candles comes in the different options I have pictured here – large jar, small jar or the tin container – plus a mini tin container if you want to try out a scent before fully committing.
And I just think they look pretty paired together at varying heights, again, especially because they're all relatively the same color. You can see the various scents and sizes and order online here.
What are your favorite candle scents for fall and the holidays?
See more fall decor ideas here:
–A DIY fall pillow (one of my most popular projects!)
–Easy Thanksgiving place settings
–Cheap fall throw pillows
Remember to bookmark or pin this post if you want to save it for later!

Pin it!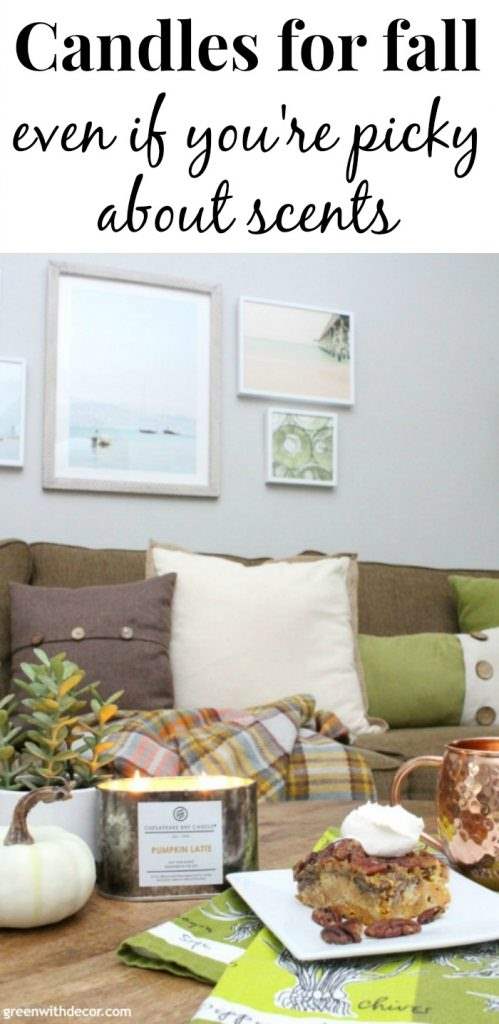 Want to read more posts like this?
Follow along: Get my emails | Facebook | Pinterest | Twitter | Instagram