I feel like I should preface this post by saying if you're not into Magnolia Market, Waco probably shouldn't be at the top of your vacation list. 🙂
But if you are in town for Magnolia, you're going to need a few other things to do (and places to eat!) while you're there.
If you missed it, you can read about our trip to Magnolia Market here.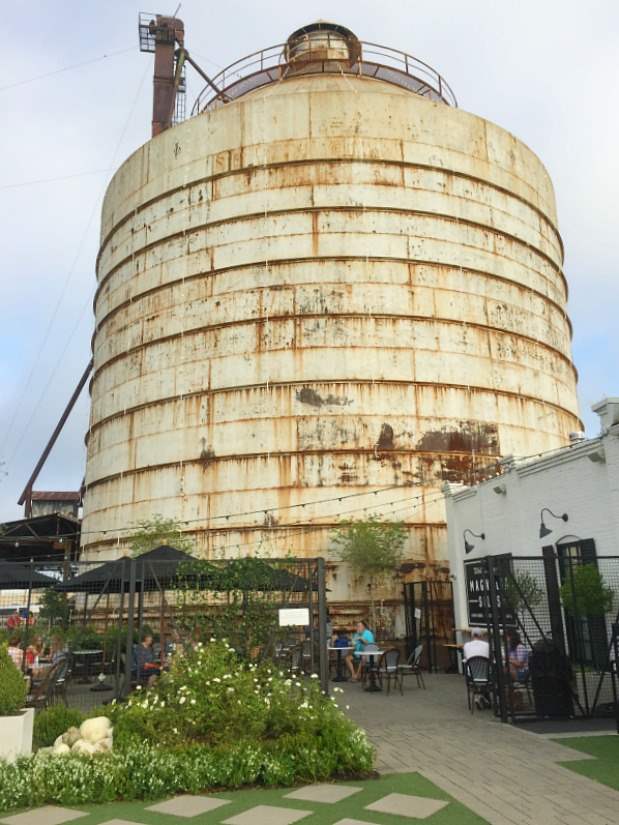 Home decor shops in Waco:
There are a lot of other home decor spots in Waco.
The hours of many of them vary, so be sure to check the websites or Facebook pages of each before you go.
There were a few I'd seen on the show that were only open later in the week so we didn't get to see those. (We knew that going in so I was okay with it.)
1. Harp Design Co (808 N 15th Street)
I met Clint Harp over the summer (you can read about meeting him / the Haven Conference here – he is soooo nice), and it was really fun to go see his shop.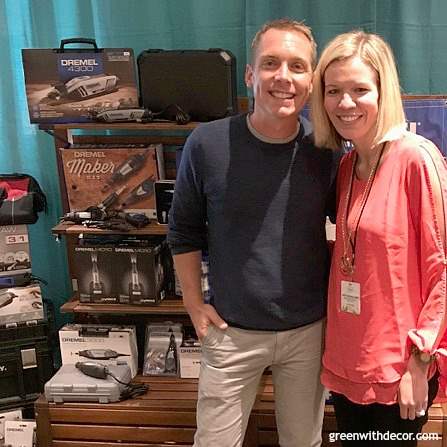 Plus his house they renovated on Fixer Upper is right next door so you get a peek at it.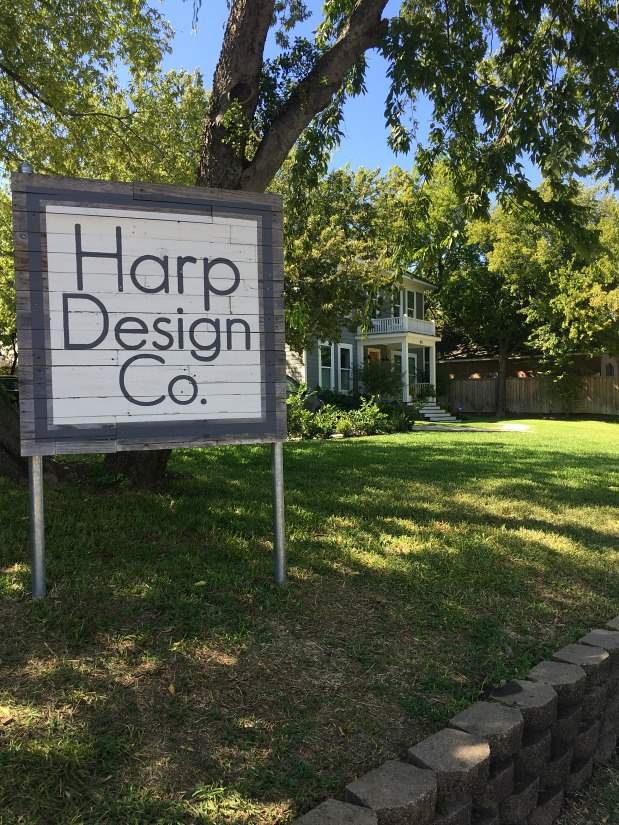 The shop is relatively small, but it was fun to look around. Lots of gorgeous woodwork, of course.
Isn't that light fixture cool?!
And the headboard along the back wall!
They had a lot of fun seasonal decor, too.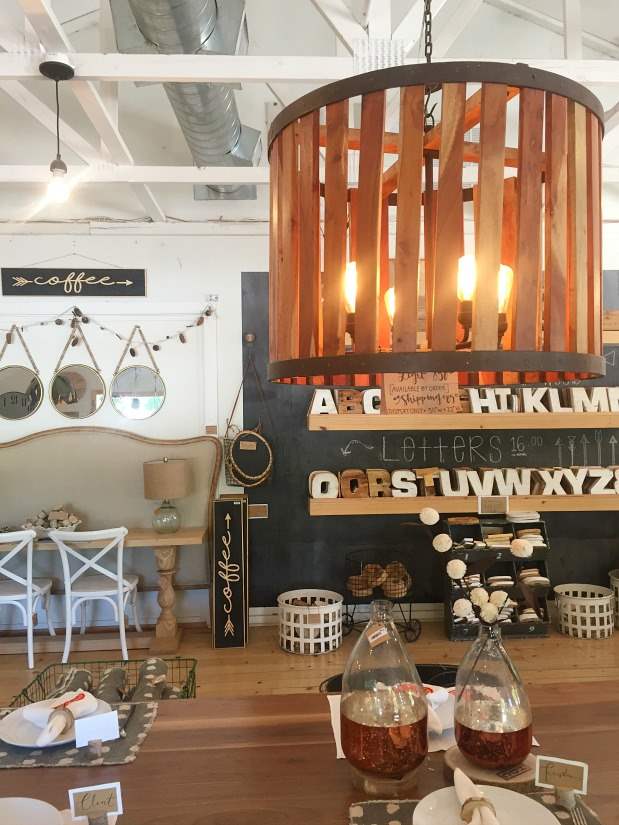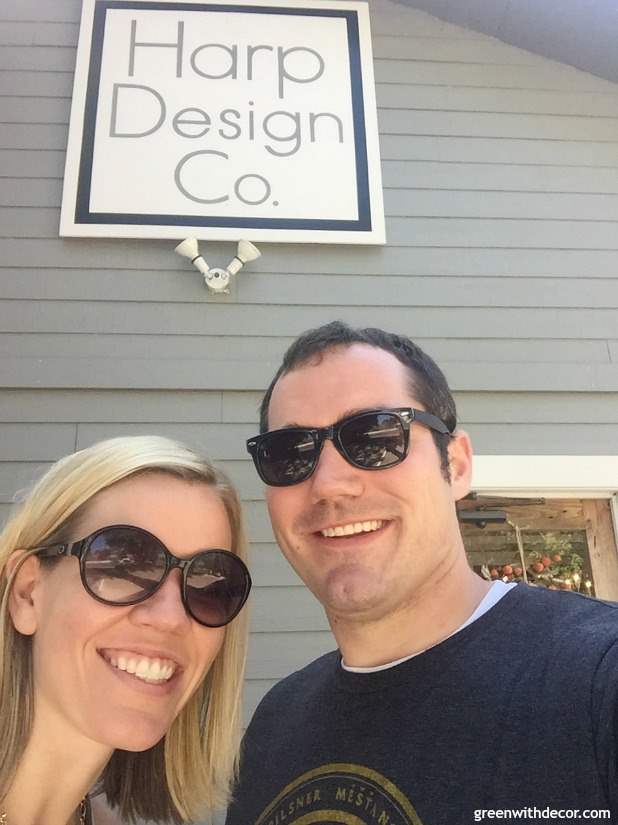 We realized via social media a few hours later that the day we were there, Clint, Chip and Jo were there that morning filming for Fixer Upper.
UGH!! Can't believe we were that close to seeing them.
2. The Findery (501 S 8th Street)
This was my favorite store (aside from Magnolia, of course).
It's two floors of fabulous decor and displays.
Just like Magnolia, you know a lot of thought goes into how everything is set up and displayed.
It's within walking distance of Magnolia so definitely worth a stop.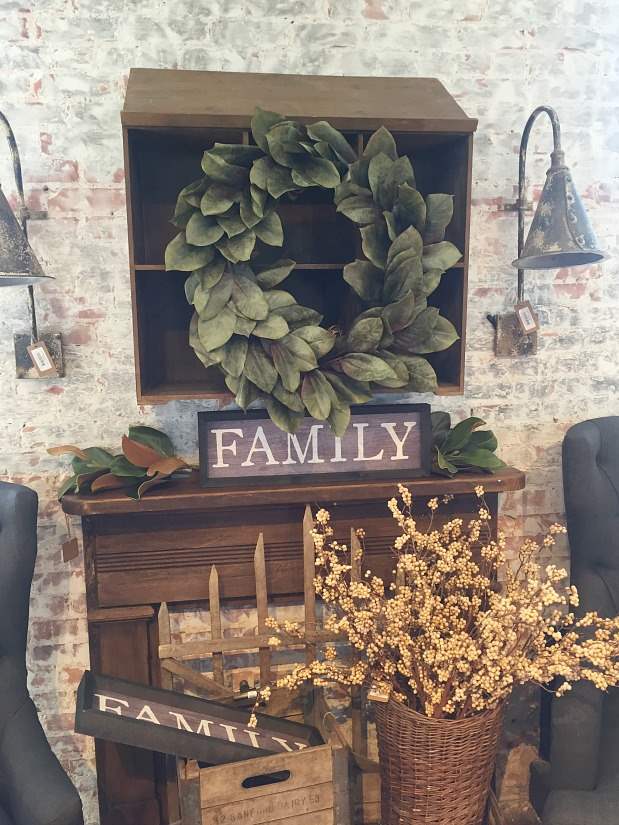 I got this cute little 'BELIEVE" ornament.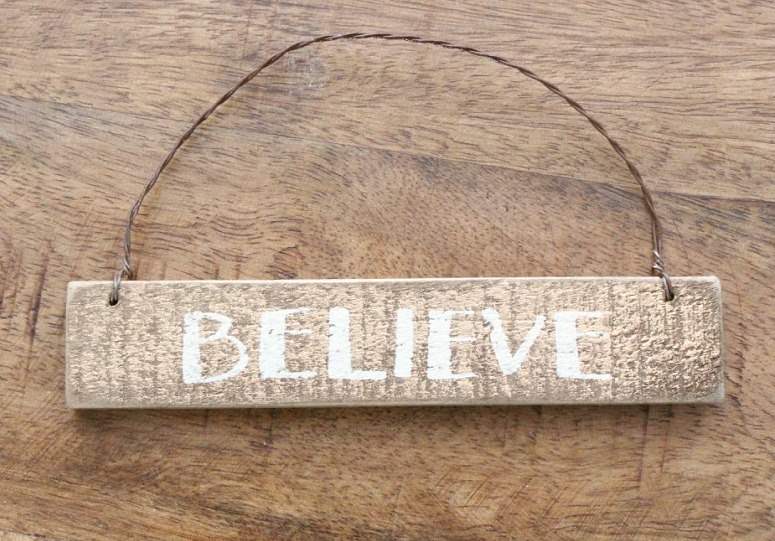 3. Simply Irresistible (1018 Austin Avenue)
This was a huge shop full of fun antique, farmhouse and other home decor finds.
We had fun walking around.
There was a beautiful bench we reaaaaally liked, but it was $600 so needless to say, we didn't buy it.
There was plenty of other affordable home decor though.
4. Shades of Shabby (926 La Salle Avenue)
This was a fun shop. They had all sorts of farmhouse and vintage finds.
I ended up buying this drawer shelf.
I'm thinking I'll use it for storage when we give our bathroom a budget makeover.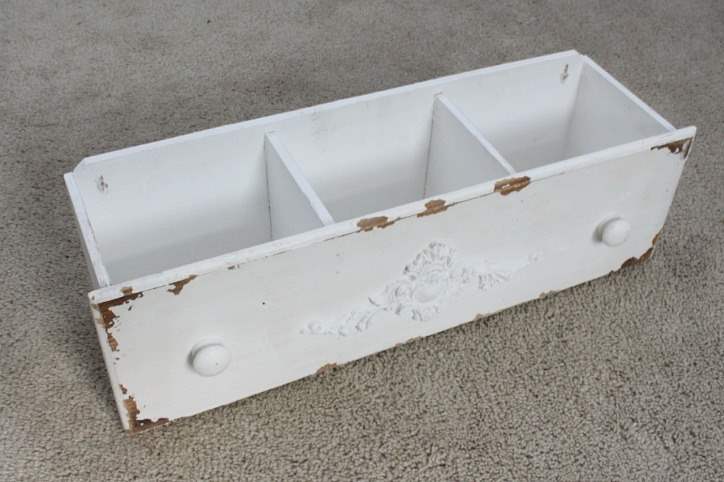 5. The Junky Monkey (1715 La Salle Avenue)
This has lots of old vintage and antique finds.
Plus the yard is full of sorts of fun rusty things.
6. LaSalle Shops (2223 La Salle Avenue)
This is down the street from Shades of Shabby and The Junky Monkey so you can hit all three of these together.
There a bunch of vendor booths you can walk through – lots of vintage and antique finds.
We found a fun beer bottle opener.
Which you can see we wasted no time hanging up, but the bathroom shelf, yep, still sitting on the floor. (Priorities.)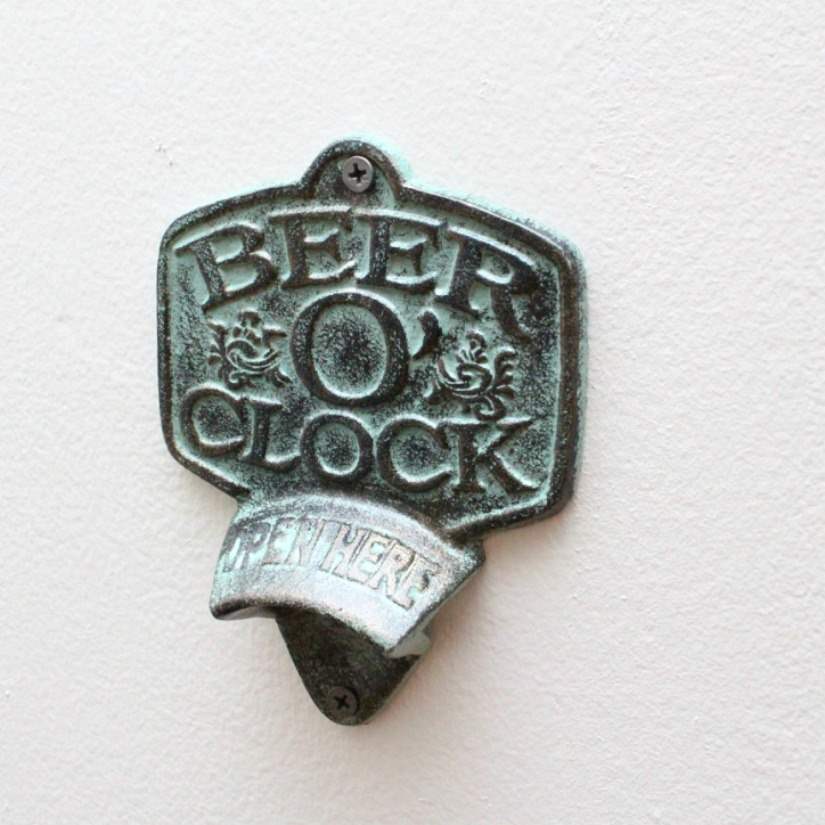 7. Spice Village (213 Mary Avenue)
This is an indoor market full of 90-something vendors, each has their own booth.
There's a lot of fun home decor.
If you're all shopped out, we heard good things about the Waco Zoo and the Dr. Pepper Museum.
Who knew Dr. Pepper started in Waco?
Where to eat in Waco:
Again, it's worth noting, check that days/times these places are open. Sunday and Monday nights didn't offer a whole lot of dining options.
8. Vitek's BBQ (1600 Speight Avenue)
This was by far our favorite meal in Waco – delicious BBQ!
Rumor is the owners are friends with Chip and Jo, and I later learned via the Magnolia website that the watch party for the pilot episode of Fixer Upper was at Vitek's.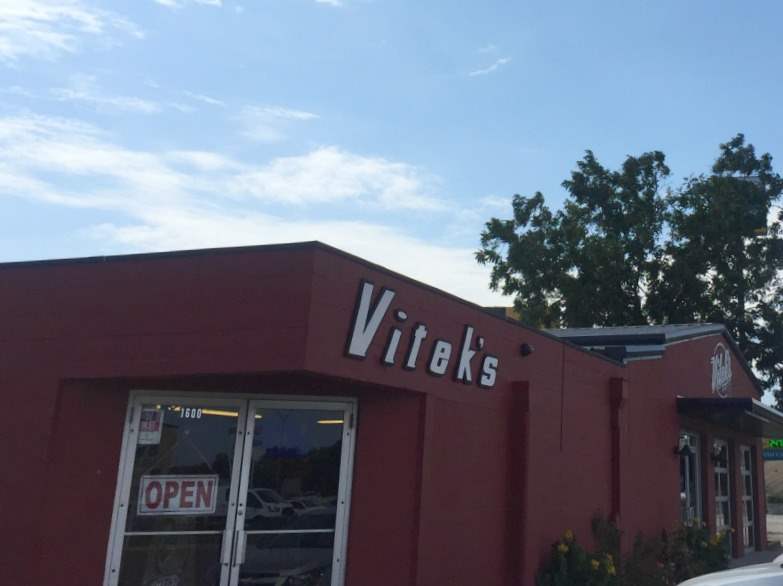 The mac and cheese was DELICIOUS.
Like I wish I had an entire plate of it in front of me right now.
OMG it was good.
The pulled pork was also good, and Kalen got the infamous Gut Pak, which is a huge pile of meat, Fritos, cheese, beans, pickles and BBQ sauce. It was awesome.
And somehow I managed to not take a single picture at any other restaurant, but I have a million pictures of Magnolia Market on my phone.
Weird how that happened.
9. Health Camp (2601 Circle Road)
This is basically fast food, but it was also the only place open when we got there Sunday night that I'd heard of before we got there.
The burgers were really good – that special sauce was awesome.
And the milkshakes they're famous for? Also awesome.
Health Camp is right by the newly opened Magnolia Table (that wasn't open when we were there!).
10. The Backyard Bar Stage & Grill (511 S 8th Street)
This was a fun bar to hang in. They had all sorts of local Texas beers, all of which were delicious.
Their outside area was really cool, too. It reminded us of the Truckyard in Dallas (read about our favorite things to do in Dallas here if you're tying Waco into a Dallas trip).
They had some cool lower key country artists coming for different concerts in the coming weeks, too, which looked pretty fun.
We got the mozzarella sticks (of course, my fave), fried pickles and wings. All were good. Plus the bartenders here were really friendly.
And if you're in town on a Monday night, this was pretty much the only spot open, so we were glad it was good!
11. Twisted Root Burger Co. (801 S 2nd Street)
This is a Texas chain. We actually didn't go to the Waco location, but we went to the one in Dallas, and the burgers were delicious.
12. Common Grounds (1123 S 8th Street)
You'll see this coffee shop come up a lot if you're looking for things to do in Waco.
The owners had their house renovated on an early episode of Fixer Upper, so you may recognize the shop!
They also have a food truck (coffee truck?) at Magnolia Market.
How to download a free printable Waco must-do's list: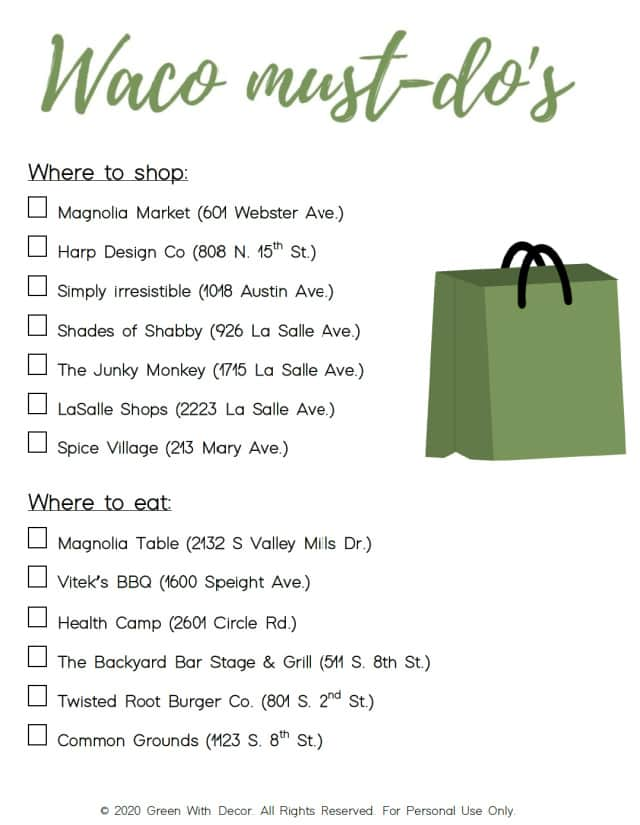 Sign up in the box below, and the link for the free printable will arrive in your inbox shortly. You'll also be signed up to get blog posts and alerts about new printables moving forward. (If you're already an email subscriber, you won't get added to the email list twice.)
*Please note: All printables and downloads designed by Green with Decor are for personal use only. Please do not alter the files or claim them as your own. These files are not intended for resale, nor are the printed versions of these files.
Have you been to Magnolia Market? What else did you do in Waco?
Remember to read about our trip to Magnolia Market here or trip to Dallas here if you're planning a Texas trip!
Remember to bookmark or pin this post if you want to save it for later!

Pin it!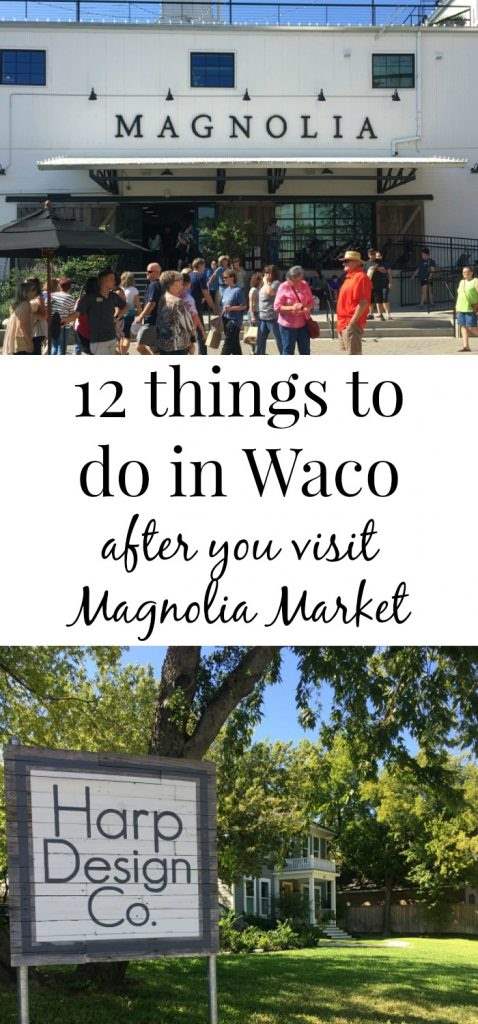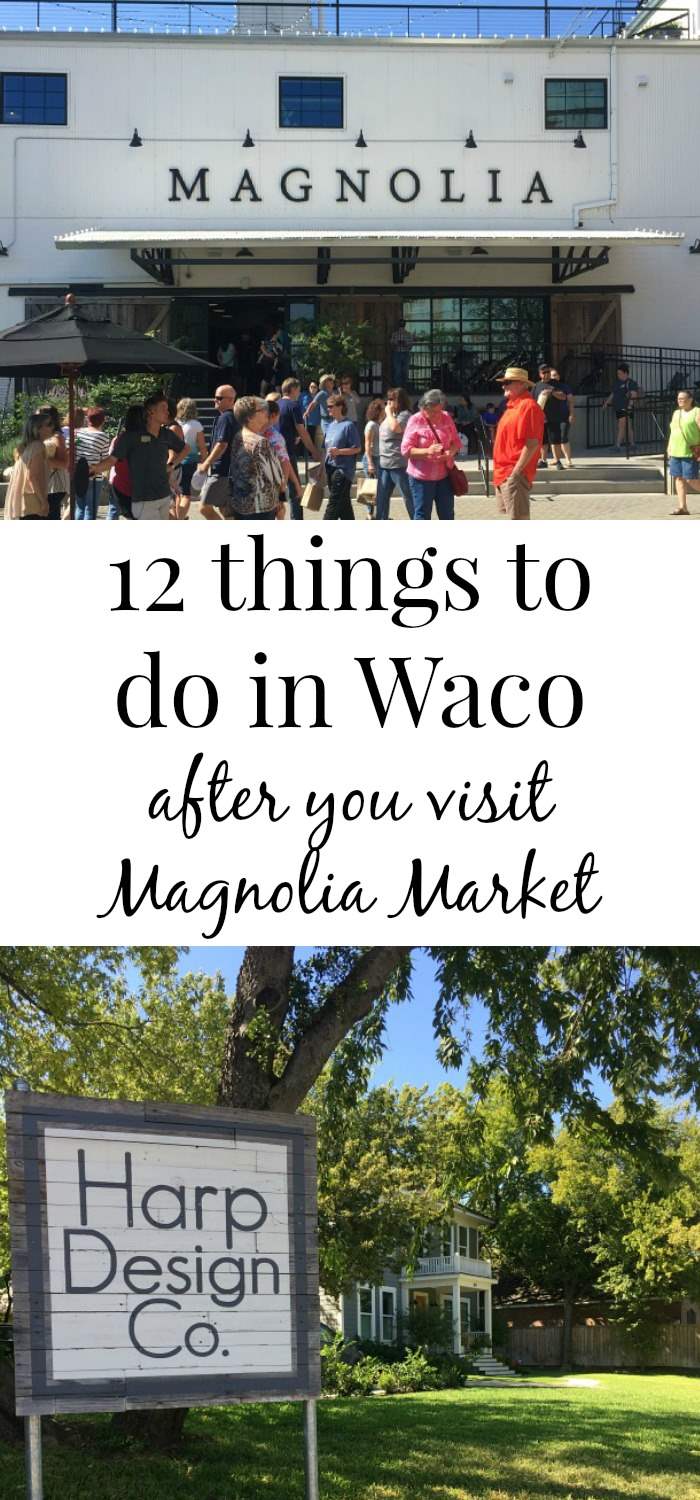 Want to read more posts like this?
Follow along: Get my emails | Facebook | Pinterest | Twitter | Instagram