This post walks through how to decorate bookshelves from start to finish and has plenty of bookshelf decorating ideas if you're stuck!
So remember months ago when I shared our white built-in bookshelves around the fireplace and then promised to share them all decorated soon?
Yeah… well maybe 'soon' was optimistic, but I finally stopped swapping pieces around because I've decided I'll probably be doing that forever anyway and decided to take some pics to share on the blog!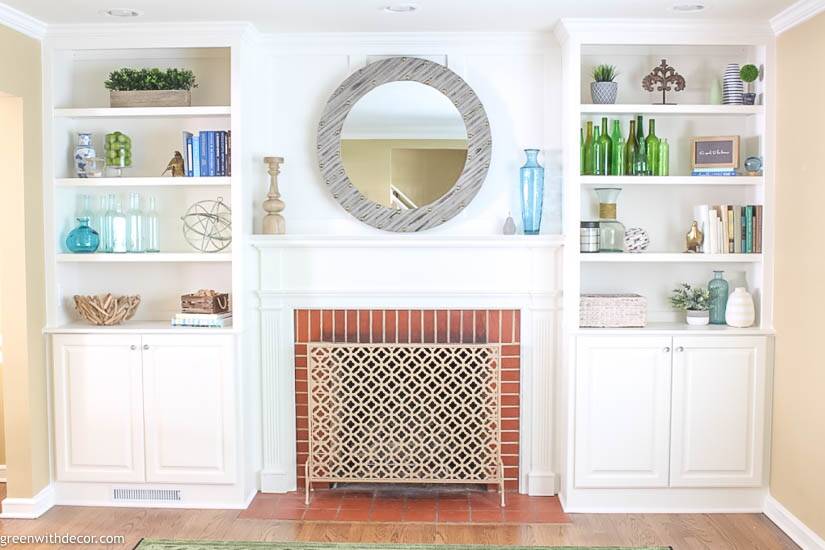 I was SUPER excited to finally have built-in bookshelves to decorate after imagining them in my head for so long, and then when we finally had them, I was almost overwhelmed at decorating them all.
It's a lot of space to fill while making sure everything looks cohesive together.
I basically took most of our home decor pieces and spread them out on the living room floor so I could easily decorate and move things around as I went.
I've since changed a few things out, especially as I buy new things or just sometimes when I walk into the room and decide something should be different, ha.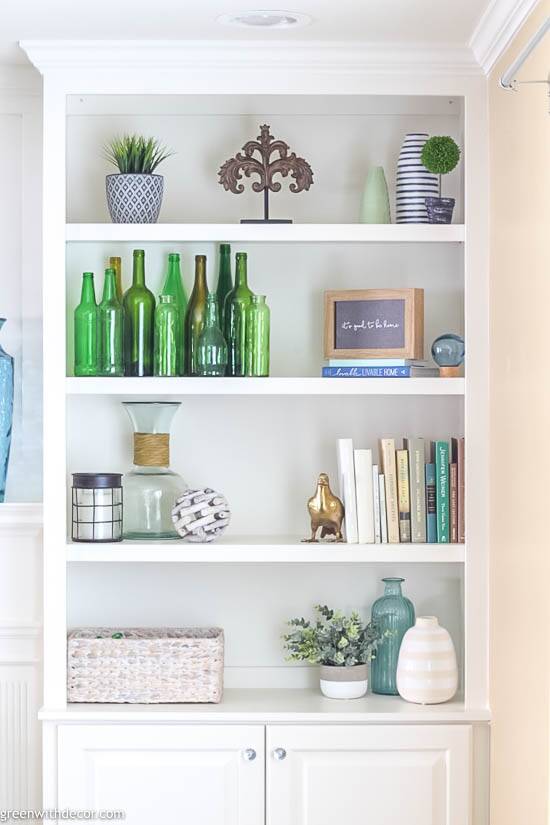 Like I said above, I guess these will never really be 'finished' to never change again so I figured it was time to share my tips for how to decorate bookshelves.
Hopefully it's helpful if you also have built-ins or even a freestanding bookshelf!
After looking around at approximately a million bookshelves to see what I like and don't like, and what works and what doesn't, here's my bookshelf decorating system!
This post contains affiliate links. This means if you click the link and buy something, I may receive a small percentage of sales at no extra cost to you.
How to decorate bookshelves:
Gather a variety of objects:
We'll dive into design rules, bookshelf decorating ideas and then how to decorate bookshelves below, but first you need things to decorate with!
Basically, gather a bunch of decor pieces to start with and dump them on the floor in front of the bookshelves.
It's way easier to start with more than you need then try to figure out what's missing while you're in the middle of decorating.
(Oh and if you're not starting with new bookshelves, take everything off. Yes, everything. It's easier to start fresh then try to fill in. If you like how some of your shelves are set up, take a picture so you don't forget, but then take everything off to start over!)
1. Greenery:
Faux is great – and way easier! Get a variety of sizes / heights. Any room always needs some 'life'.
Shop faux greenery: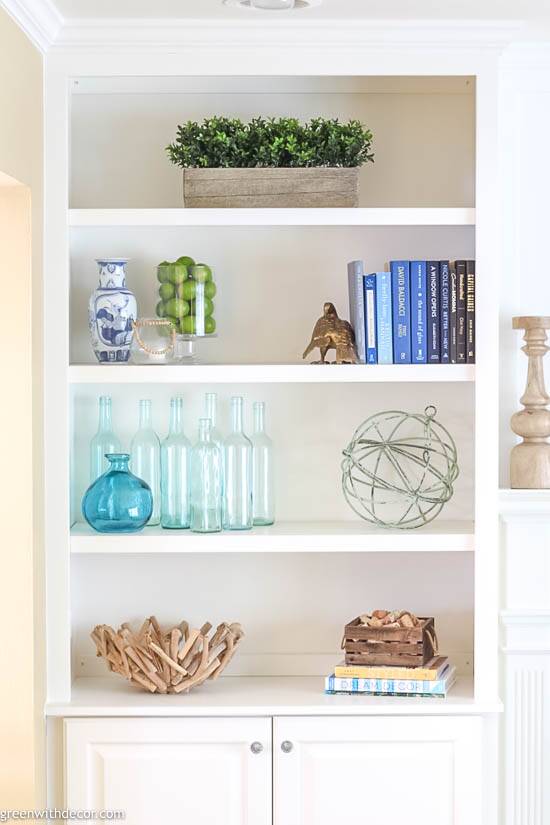 2. Vases:
Colored glass or anything with a pattern or texture is great. Old wine bottles work, too!
Shop vases:
3. Books:
Books can be used on their own or to add height to anything else, so gather a ton of books in the color scheme(s) you're going with.
Ironically, a lot of my favorite home decor / DIY books are blue and black. How perfect is that?!
4. Pieces with texture:
Rope, driftwood, wood, glass, greenery, metal, fabric, burlap, stone, etc. Even vases with burlap or twine around the neck or a lantern with a beaded handle count as texture!
This is one of their cases where (usually) the more, the merrier. Gather alllllll the textures! If a shelf seems boring or flat, add a new texture.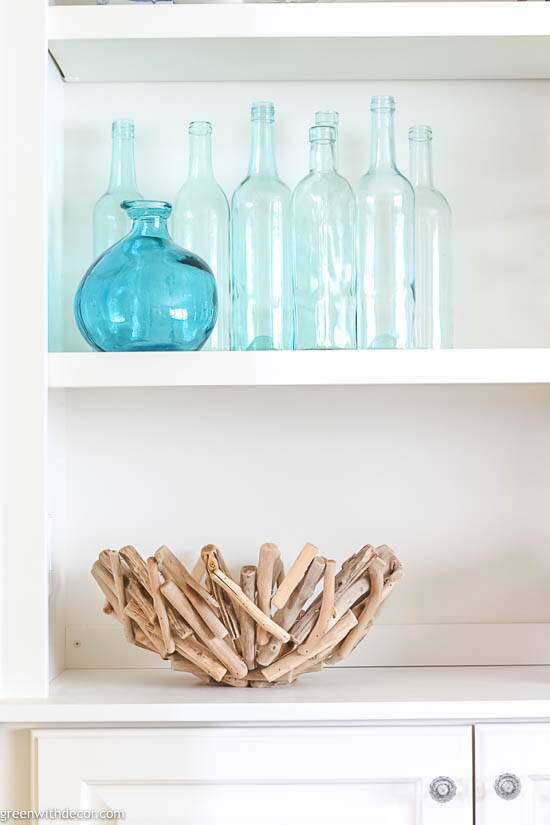 Shop textured pieces:
5. Unique objects:
This is one of my favorite bookshelf decorating ideas! Bookends, funky sculptures or figurines, coral, bowls, trays, spheres / orbs, cake stands, baskets, etc.
You don't need a ton of these, but a few will make a statement — and the difference between a blah bookshelf and a great one!
Get creative!
That blue glass ball near the top right is actually the top of the vase on the mantel, and the green metal sphere was something I bought a long time ago with potential for a DIY light fixture I never quite got around to. (There is never enough time for all the projects!)
Remember that anything sturdy can be a bookend. This makes it more fun! I used these gold birds from my grandparents, and it was such a fun way to reuse them.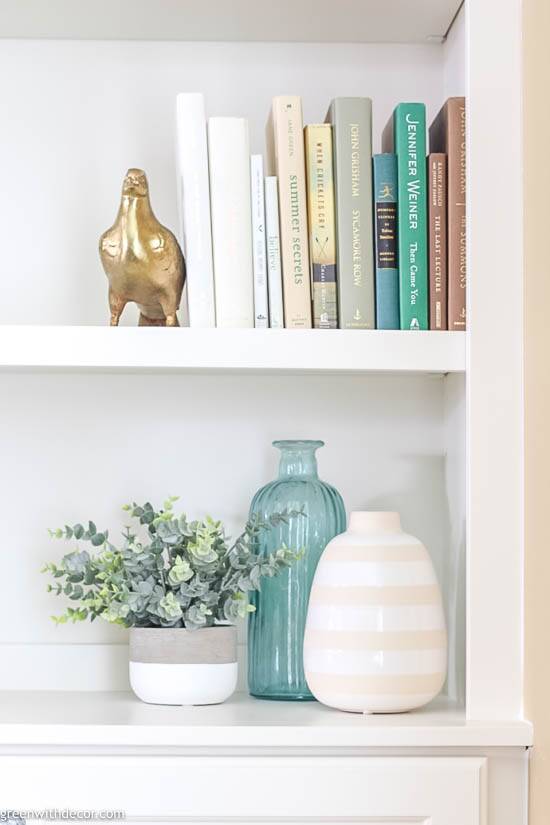 Shop unique pieces:
6. Size:
Be sure to gather pieces at a variety of heights and a mixture of small/medium/large objects.
7. Colors:
Gather a variety of pieces in the colors/neutrals you want to use.
8. Metals:
If you're using metals, decide if you want to mix metals or stick with one.
9. Filler:
Wine corks, faux fruit, beads, decorative rocks, etc. to fill any glass vases or baskets.
These are easy to switch our seasonally, too – use pumpkins, holly berries, ornaments, jingle bells, pinecones, faux eggs, palm leaves, sea shells, etc.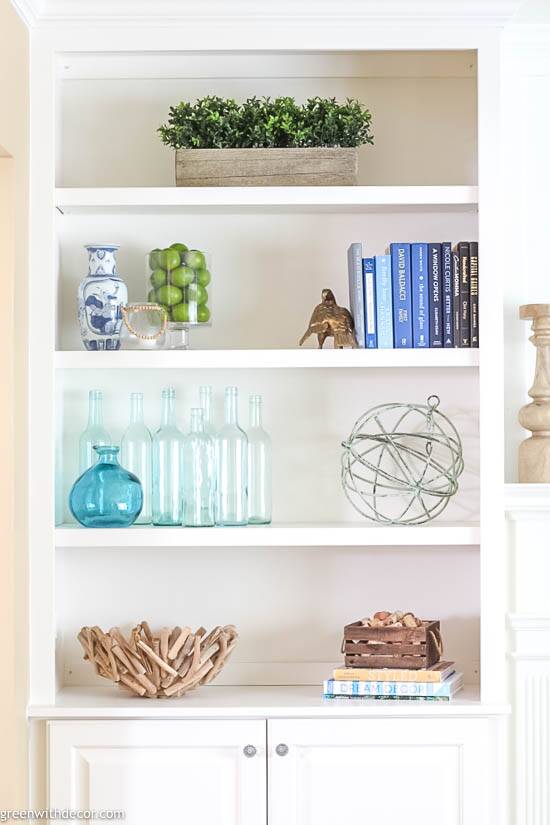 Shop filler pieces:
10. Artwork:
Family photographs, small pieces of artwork, small signs, framed scrapbook paper or wrapping paper, etc.
Bookshelf decorating ideas:
I pretty much stick to 4 groupings when I decorate bookshelves: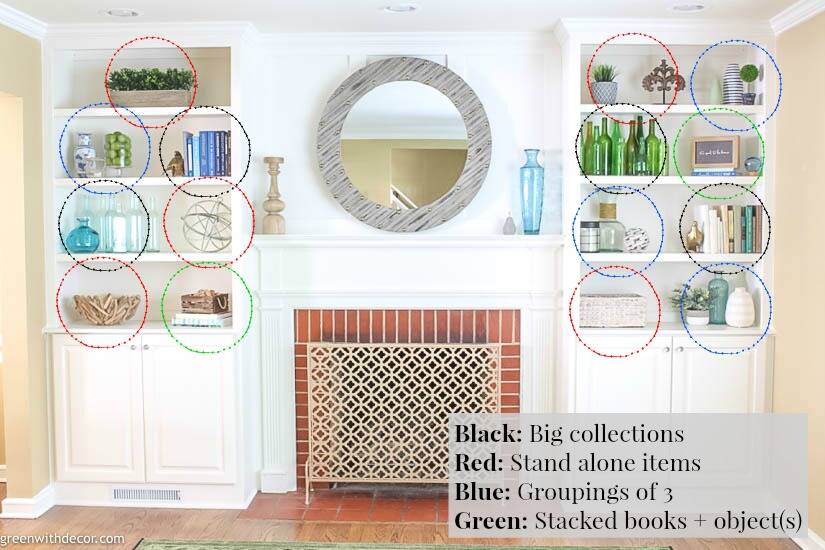 I decorate bookshelves in that order:
1. Big collections (wine bottles, books)
These usually work best on the middle shelves.
2. Stand alone items (green metal sphere, big planter on the top shelf, driftwood bowl)
Next fill in a few stand alone items. It can be so tempting to fill in blank space around a big piece with small pieces.
Don't do it! It can end up looking cluttered and take away from the statement of a big piece.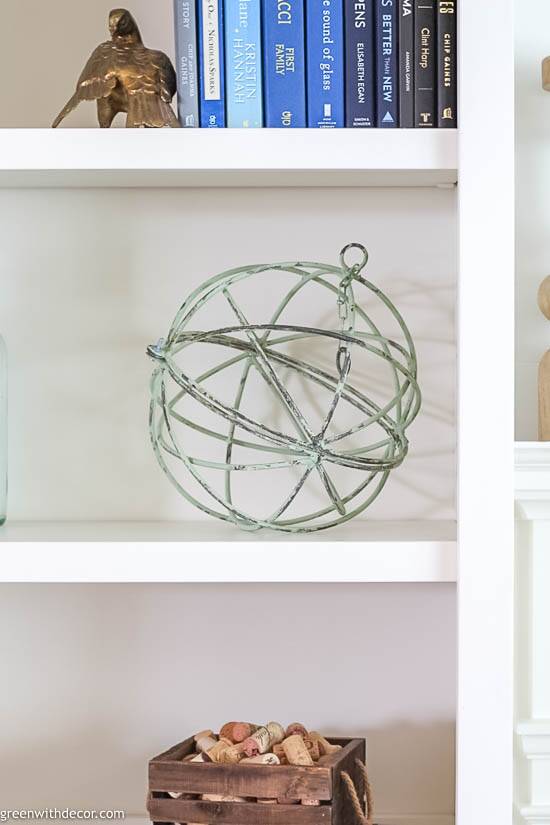 Since you probably have fewer big pieces than smaller, place these bigger items first and then work on your smaller groupings.
Then later (as needed), you can swap out smaller pieces within a grouping to add a pop of color or texture.
3. Groupings of 3
The design rules below (particularly #4 and #5) are helpful to reference for each of these steps, but especially for this one!
4. Stacked books + objects (which is basically just another grouping of 3 but set up in a different way)
You can really interchange steps 3 and 4, or do them at the same time. But I wanted to call them out separately since they're both groupings but set up in different ways.
If you're stuck, sometimes walking out of the room and back in to see your display with fresh eyes can help.
Or take a picture and look at that. I don't know why things jump out in pictures that don't in real life, but it works!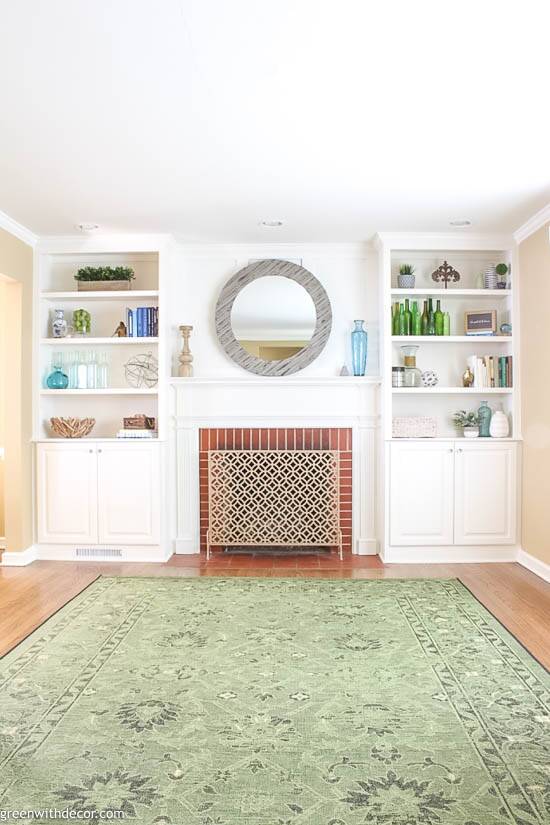 Design rules for decorating bookshelves:
I don't really like the word 'rules' because this should be fun!
But I do think it's nice (and suuuuper helpful) to have some guidelines when you're starring a bunch of open shelves and a whole pile of home decor trying to make it all look great.
That being said, I always say you should do whatever you want in your house because it's your house!
So if you don't have room to repeat a color 3 times or just don't like how it looks, don't. (You'll see I've even broken a few of the rules below – and this is a blog post about how to decorate bookshelves!) This is all more art than science anyway.
But hopefully these 'rules' help if you're stuck and can't figure out what isn't working when you're decorating bookshelves.
1. Create diagonal lines
Don't stack the same looks (collections, stand alone objects, groupings) on top of each other or put them on the same shelf.
Instead, place them on a diagonal so they're on different shelves and on opposite sides.
Hopefully my 100% professional graphic below should help explain what I'm saying! 🙂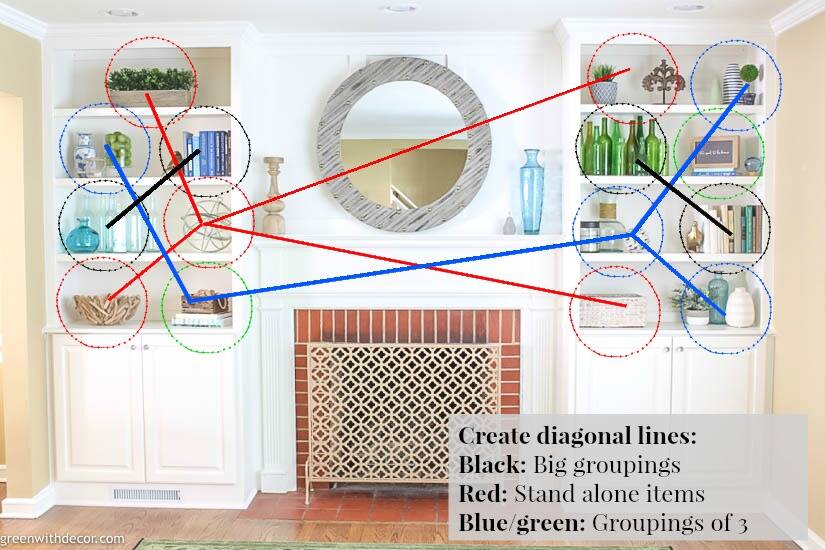 Basically, you don't want any of the circles next to/on top of each other. They should be connected only on a diagonal line.
(The green circles are kind of funny in that they are groupings of 3 but they're also their own type of display.)
This also helps you to offset big collections with stand alone items or smaller groupings.
2. Go for balance not symmetry
This is really freeing! Everything does NOT have to be identical, and it actually can look too perfect (boring) that way.
You can see how I used groupings of wine bottles and books on both sides, but the groupings aren't in the exact same place on each side. They balance each other out without being symmetrical.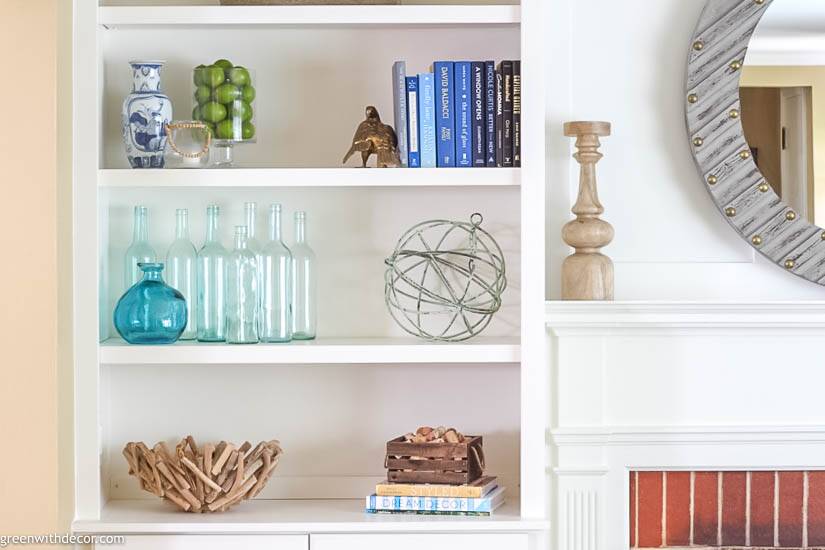 And if you only look at one shelf at a time, the groupings are also on opposite sides to balance each other out, but they're not right across from each other to be symmetrical.
Same goes with the groupings of 3. They're not all stacked on top of each other.
Basically, this one is easy to follow as long you're creating the diagonal line rule above.
3. Use the rule of thirds
This is helpful in figuring out where to place everything on your bookshelves.
Basically, mentally divide each shelf in thirds.
Either fill in the outer two thirds or the middle third (with a little crossover onto that dividing line so you don't have tons of empty space), and you'll almost always have perfect looking bookshelves!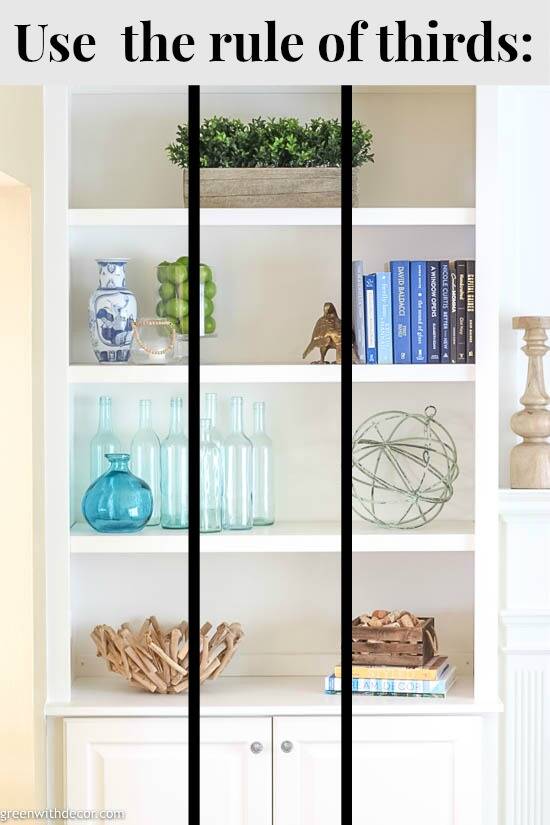 The wine bottle groupings break this rule a bit (see, break the rules sometimes!), but I think it adds a bit of interest since it's such a large collection.
The top shelf in the below picture also breaks it, but since it's still leaving some blank space on the shelf, it works.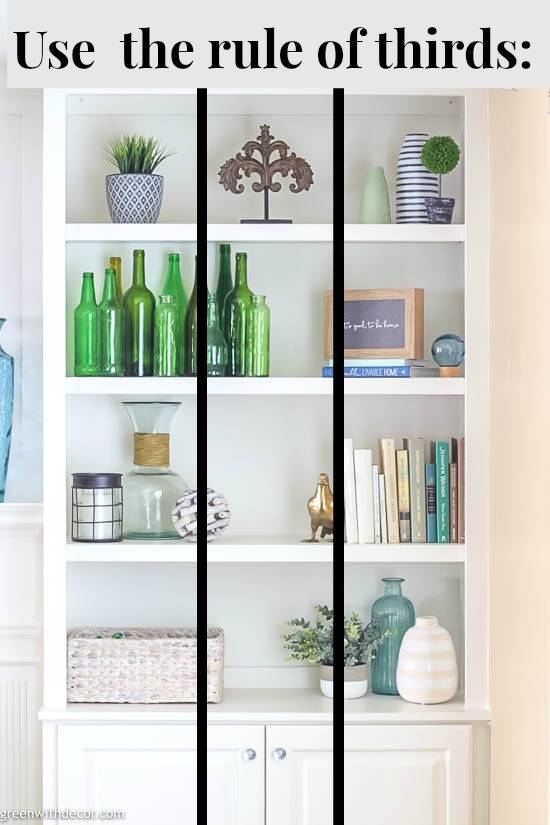 4. Use odd numbers / the rule of 3.
Odd numbers are usually best. In smaller groupings, 3 objects usually works best.
Sometimes 5 can work, but it often ends up looking too cluttered unless you have huge bookshelves.
However, in big collections like the wine bottles and books, I honestly haven't ever counted how many of each I have. When there's that many, it doesn't matter. But again, line the wine bottles up on a diagonal, not in straight rows across.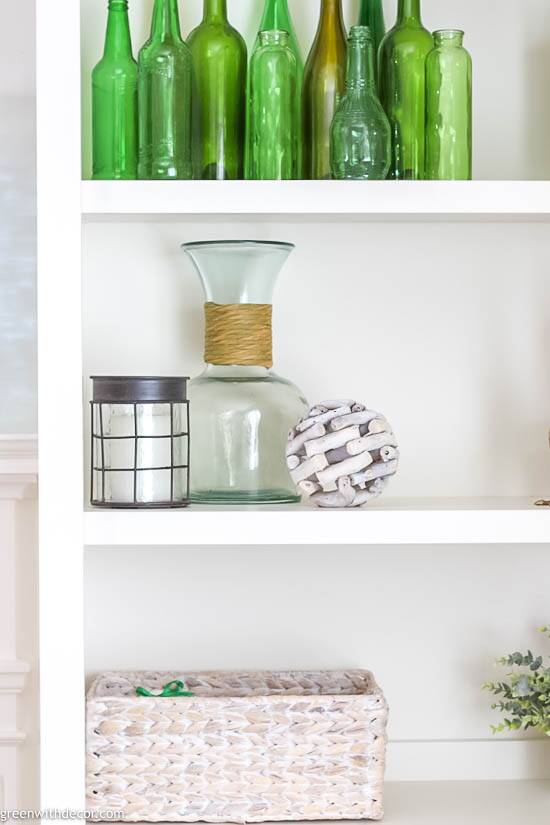 For groups of 3, you can have 2 objects in front/1 in back (like the metal candleholder / aqua vase / driftwood ball in the picture right above this) or 2 objects in the back/1 in the front (like the greenery / aqua vase / white striped vase on the bottom shelf in the picture below).
Keep in mind, this rule of 3 can be kind of funny.
Sometimes two books stacked together can visually count as 'one' object, sometimes as two. It kind of just depends on the overall look of your display.
5. Vary object heights.
Pair different size vases and objects together. In groupings, all 3 objects' height can vary, or two can be the same height, but you don't want all 3 the same height.
Use books to give small pieces height (see the green circles in the graphic above).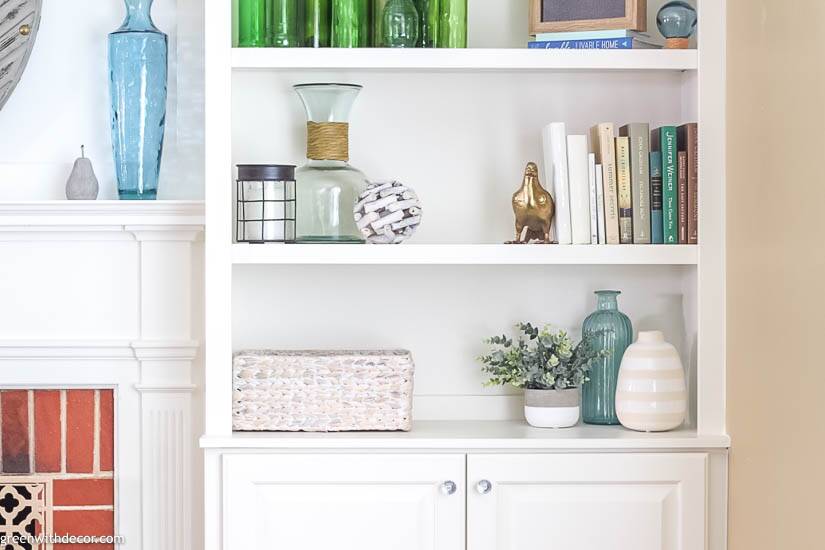 On the top shelf on the right (greenery in the blue planter), those are actually two separate pieces.
The plant is too short for the planter, so I have a few little pads of paper in there to give the plant enough height. Since it's on the top shelf, you'd never know!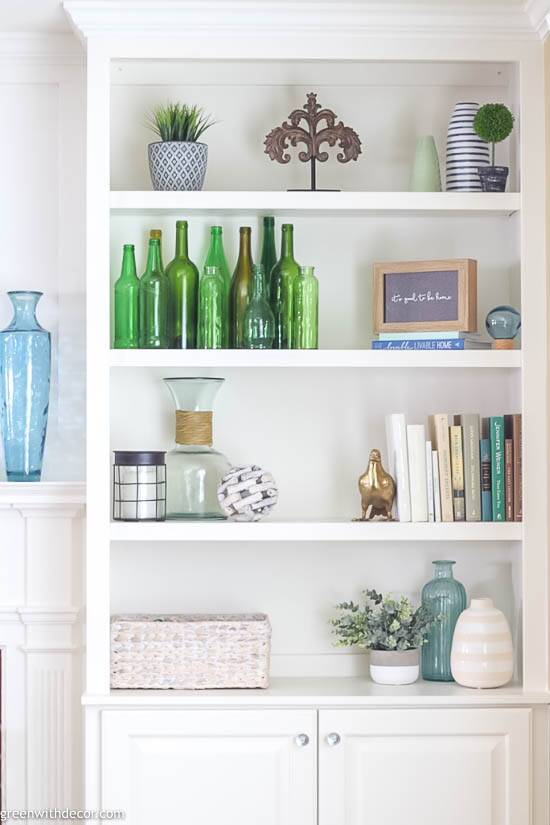 6. Repeat a color at least 3 times
Often if you only have a color once or twice, it looks more like an accident than part of the design.
I repeated greens, blues and neutrals in our bookshelves. I have each at least 3 times on each bookshelf side.
You pretty much have more leeway with neutrals, but it still might look odd to have one gold pop with all other white and wood neutrals.
7. Repeat a texture at least 3 times
I stick to the repeating a color rule 3 times more than the texture one, but it's still a good one to check if something looks off.
That being said, I have a seagrass basket on that bottom shelf and the concrete pear on the mantel, and neither texture is repeated again in the display.
(Although I think you could say the seagrass basket ties in well with the driftwood ball above it and driftwood bowl on the opposite shelf.)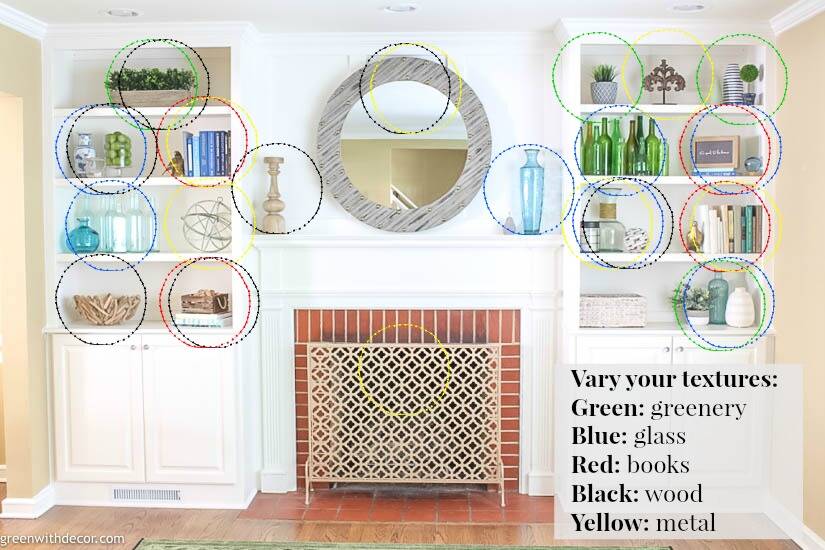 Whew, alright who knew you could chat so much about how to decorate bookshelves?! Apparently I have a lot to say on the topic!
What are your favorite bookshelf decorating ideas?
If you want more details on our living room, click to read about our white built-in bookshelves around the fireplace (it's basically everything you'd ever want to know about the project!) or for more shelf decorating ideas on a small scale basis, click to read about our crate shelves in the family room.
Happy bookshelf decorating!
Remember to bookmark or pin this post if you want to save it for later!

Pin it!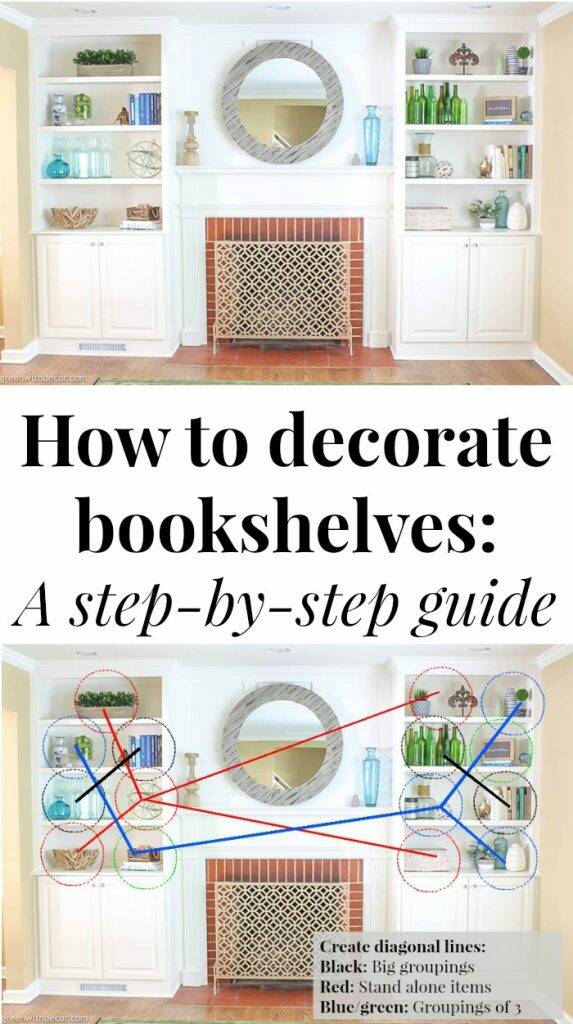 Want to read more posts like this?
Follow along: Get my emails | Facebook | Pinterest | Twitter | Instagram