Guess what?! We found the perfect place to hang our crate shelves and you know I'm so happy we could reuse them!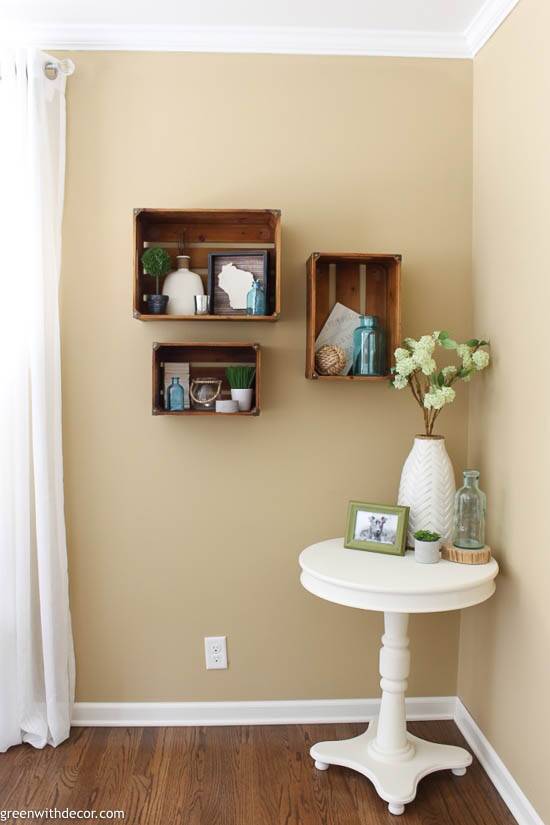 We ended up rearranging the family room completely (more to come on that, still working on a few things!), which meant we had a bit of a recessed area to the right when you walk in now. Which is perfect for our crates!
Before we talk all about the crate shelves, let's go down a little memory lane trip, because before/afters are my fave and a good reminder that pretty pictures don't just appear out of nowhere.
You might remember this corner used to look like this: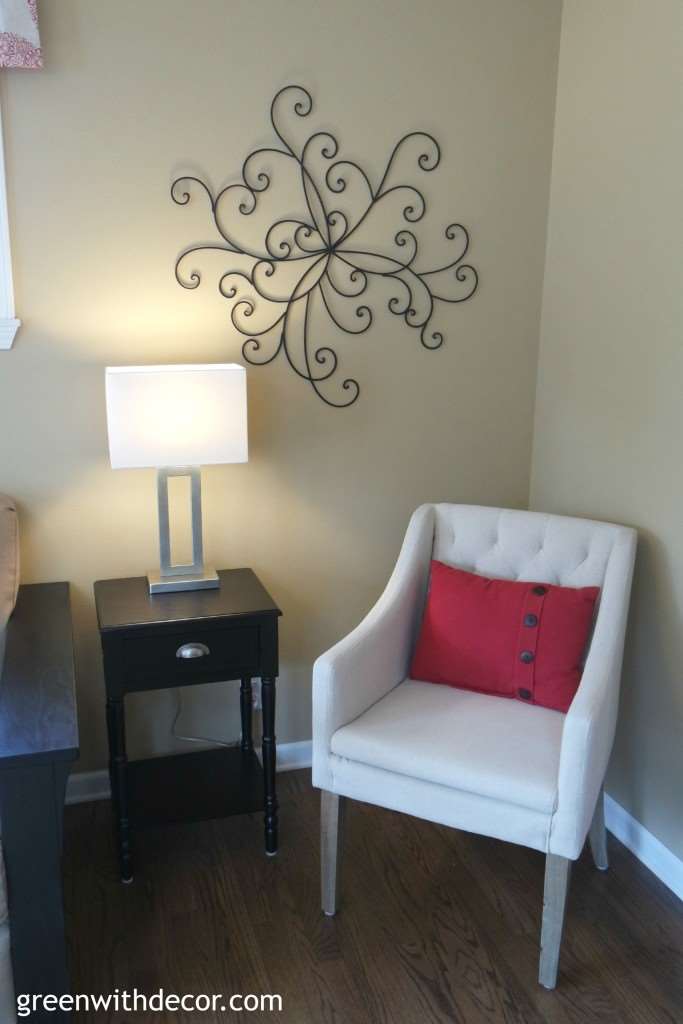 And like this when we moved in. Hello, dark paneling!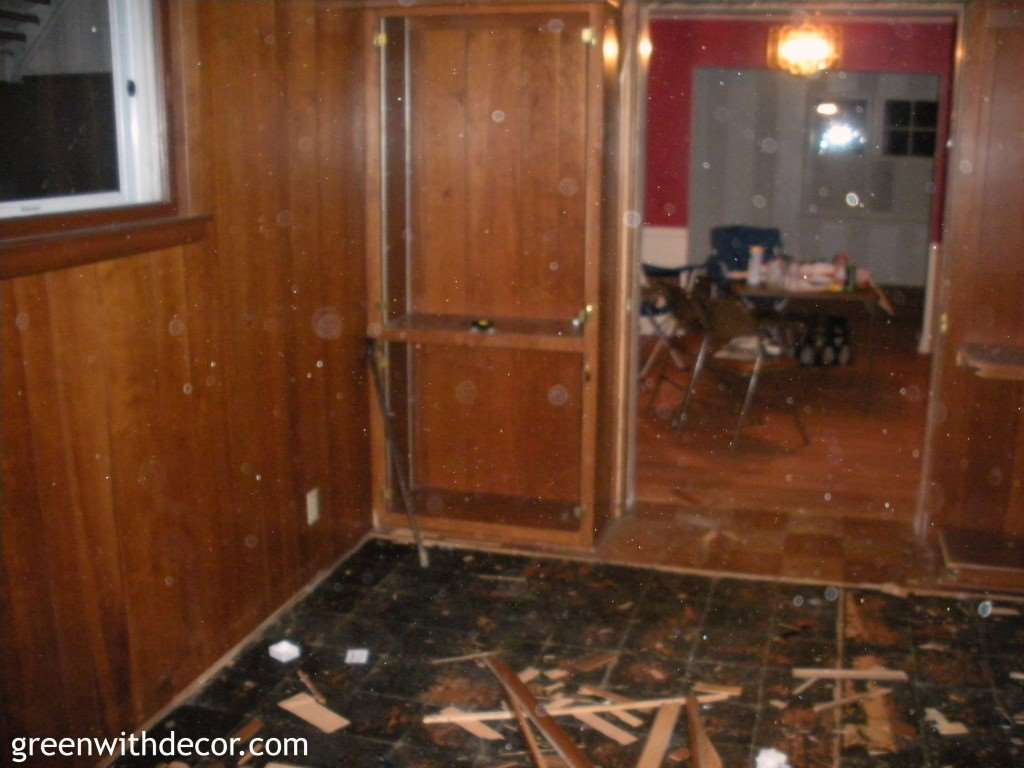 I talked about the crate shelves a lot in our rental house living room, but I never got around to doing a post on them. So now that they're hung up here, I figured it was time!
A few tips for hanging crate shelves:
You really need a recessed wall for crate shelves. They stick out too far to sit above any furniture or hang in any walkways, so this little corner is perfect for them!
We screwed the crates in versus using sawtooth hangers/nails so they're more secure on the wall.
There is a bit of measuring, of course. Fun, I know. We have 4 inches in between the big horizontal and vertical crates and 3 inches between the two horizontal crates, with the smaller one centered below the big one. We started with the same distance between all three, and it just looked off so we moved the vertical crate out a bit. It might be because from in the family room, you're almost always looking at them on an angle versus straight on if they were hung more in the center of the room. Just something to keep in mind!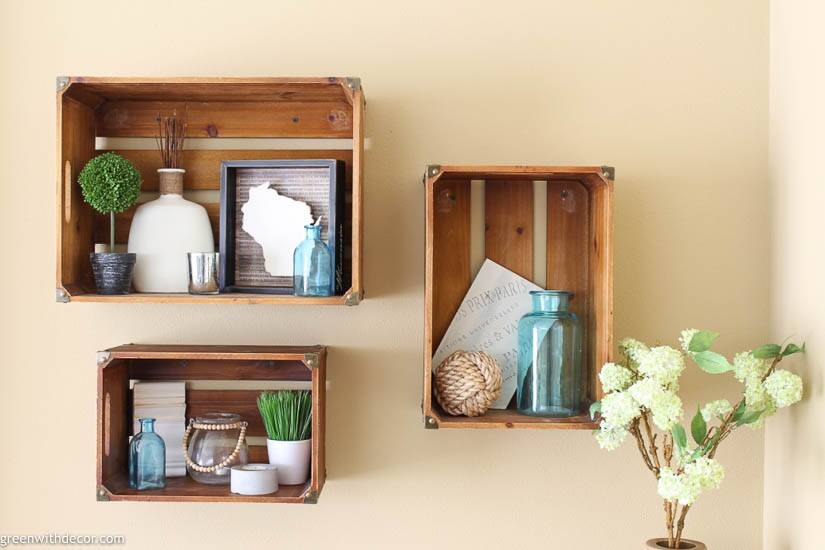 We hung the biggest crate first. I think it's always easier to see that on the wall and make sure you really like the placement of it since it will take up the most space.
I centered our crate shelves on the wall between the corner and the curtain (not the edge of the window) since they'd look off center if we measured from the window with the curtains hanging there.
Our bottom crate is 44.5″ inches from the ground, but if you have a taller room, you could hang the whole grouping a bit higher.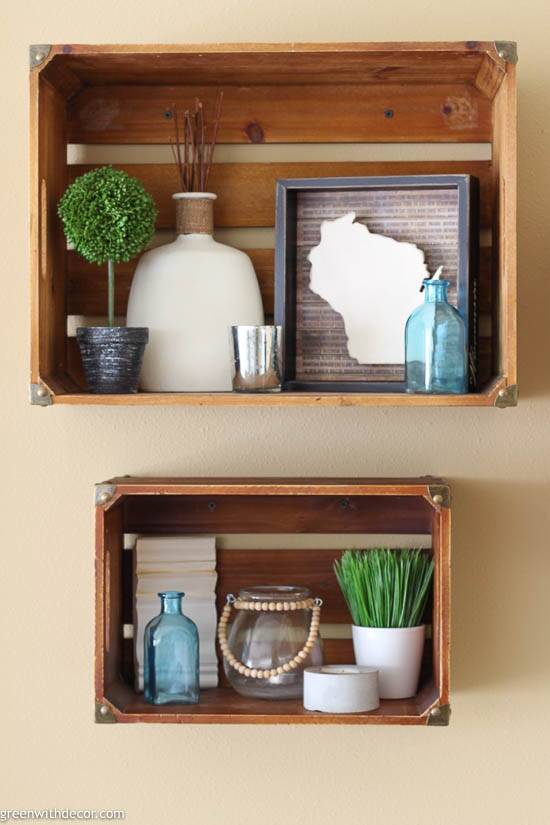 This post contains affiliate links. This means if you click the link and buy something, I may receive a small percentage of sales at no extra cost to you.
Where to buy crate shelves:
I know I'll get questions on these crates since I often do, and I hate to say, but they were a random lucky find at Marshall's so I can't link to them. (I wish they'd let us shop online like TJ Maxx does now!!)
I've found a lot of pretty wood crates on Etsy and a few other retailers that look similar, but they do tend to go in and out of stock often. For now, you can find similar crates here or here.
Decorating crate shelves:
I love decorating the crates. They're a fun way to display some decor pieces, and they're small enough that it's not overwhelming trying to fit in a million decor pieces.
A mix of aqua glass, greenery and natural textures (rope/beads/burlap), and this corner has the perfect coastal look.
I try to repeat colors at least three times in any vignette so it all looks cohesive.
In this case, I tied the decor on our painted round table into this grouping, too. Even though there's only green in the crate shelves twice, I'm also counting the hydrangeas and picture frame.
(And really, if it looks good to you anyway, no need to follow 'decorating rules' – sometimes they're helpful and sometimes not!)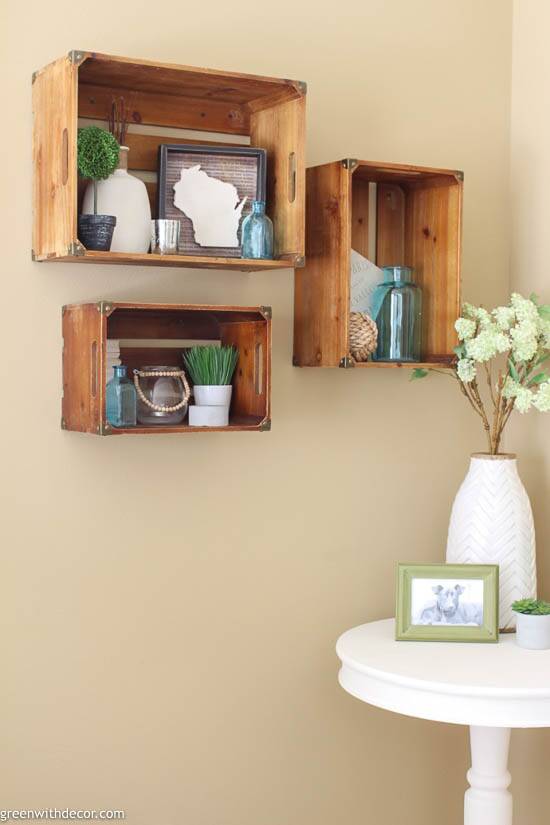 I stuck to an odd number of pieces in each crate though. That old decorating rule about any setup having an odd number of pieces is right more times than not!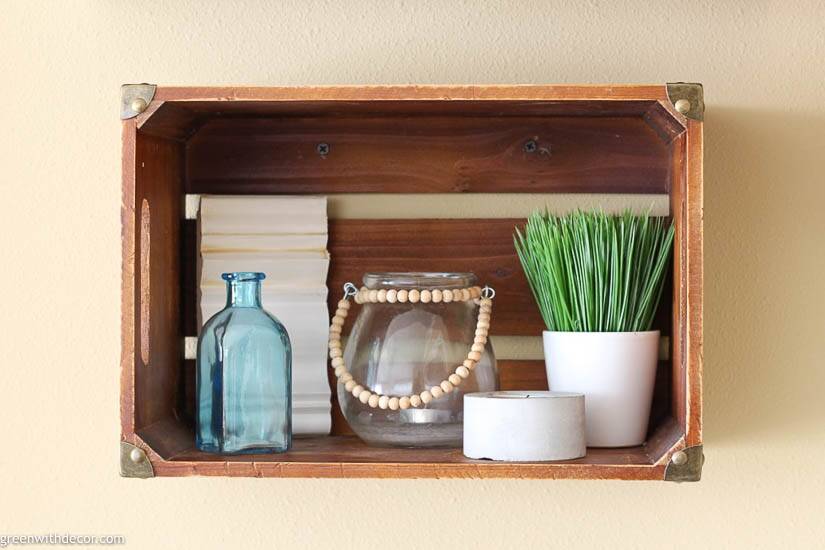 Pieces to decorate crate shelves with:
I'm realizing now that lot of the pieces I've used on our crate shelves were TJ Maxx, Marshall's, HomeGoods and local home decor store finds, plus a few Kirkland's (glass beaded lantern), Pier 1 (rope sphere) and Target (aqua glass) finds that are no longer available, which means I'll link to what I can below, but a lot of items below will be similar pieces instead.
Hopefully this is helpful though if there's something you're looking for!
Vases: Here are some fun colored glass options.
Old wine bottles also work perfectly! And check Target's Dollar Spot and TJ Maxx (remember you can shop online now it's almost dangerous!), Marshall's and HomeGoods, of course.
That white vase is actually an old liquor bottle I painted with clay paint. You can click to see the DIY faux concrete vase tutorial.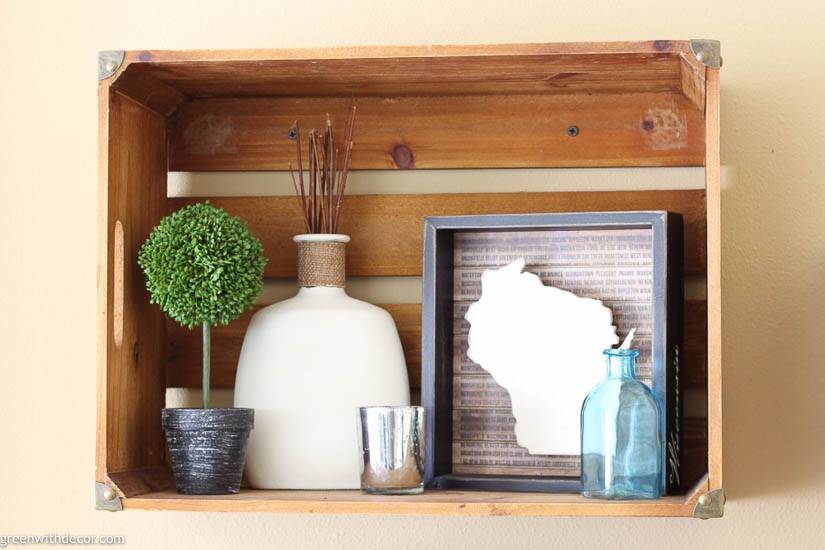 The big white vase on the table is available here.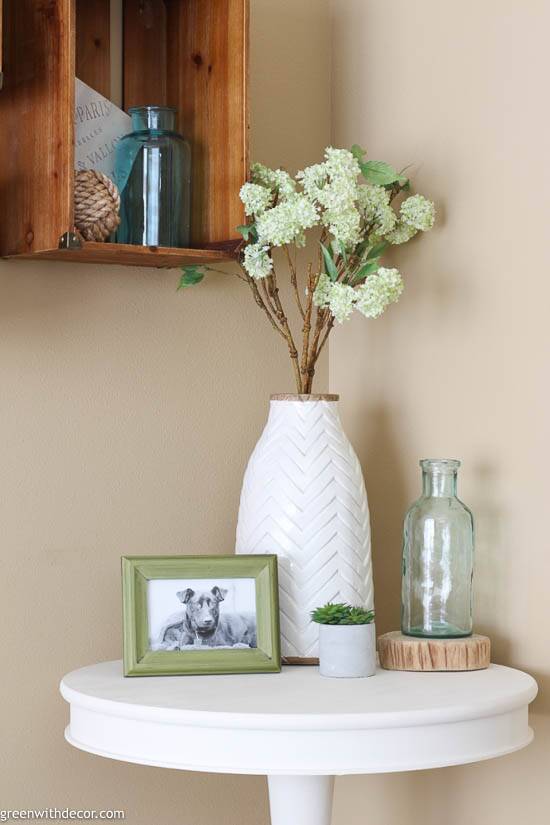 Greenery: Here are some fun faux greenery options.
And again, check TJ Maxx. They always seem to have a good selection!
Texture: For texture, add wood, beads, rope or burlap!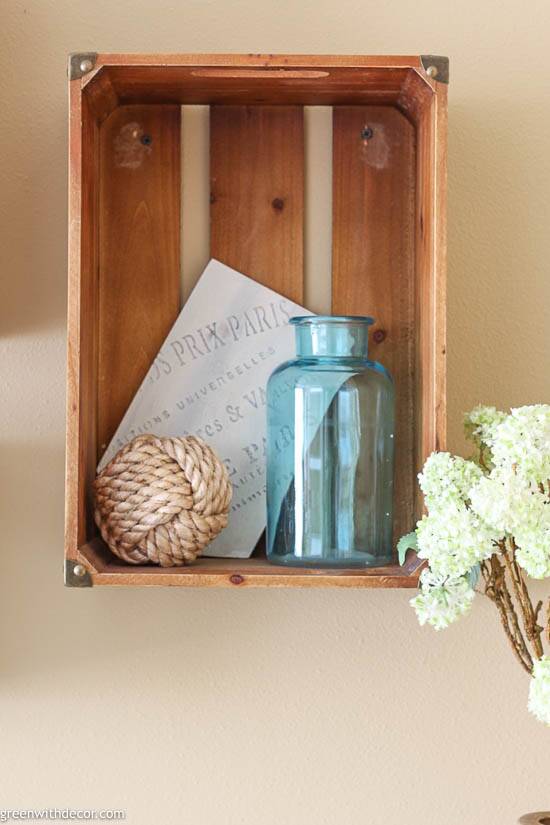 Here are some ideas:
Our liquor bottle that I painted came with the burlap around it, but you could easily add burlap to any vase.
Candles: I added some small candles, too. For decorative purposes only, of course. We don't light any of these since the top of the wood crate shelves are right above them! 🙂
Extra pieces: I LOVE this wooden state sign – it comes in other states as well. I think everyone in our family has one by now, ha!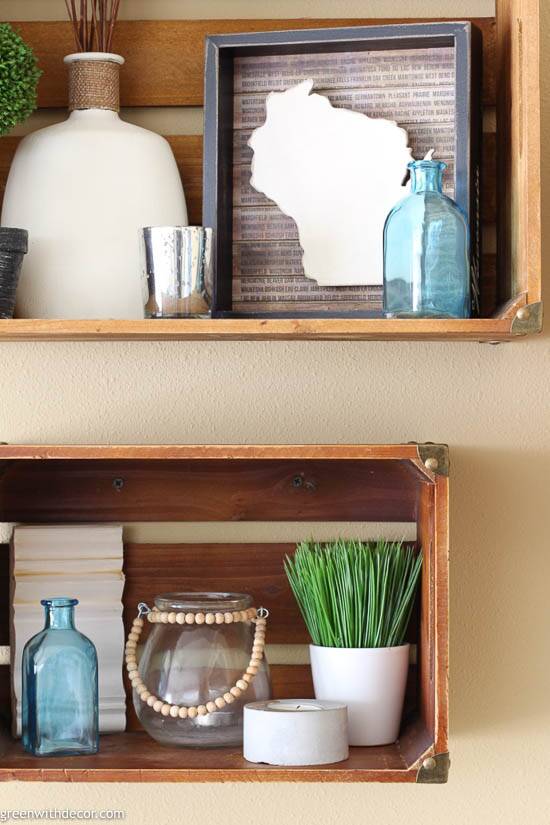 The other white and wood pieces are random wood pieces I painted during a painting class I was teaching a while ago. If you don't have a piece in a color you want, bust out the paint!
Here's a peak at the crate shelves back from the rental house, too if you want more ideas for shelf decorating.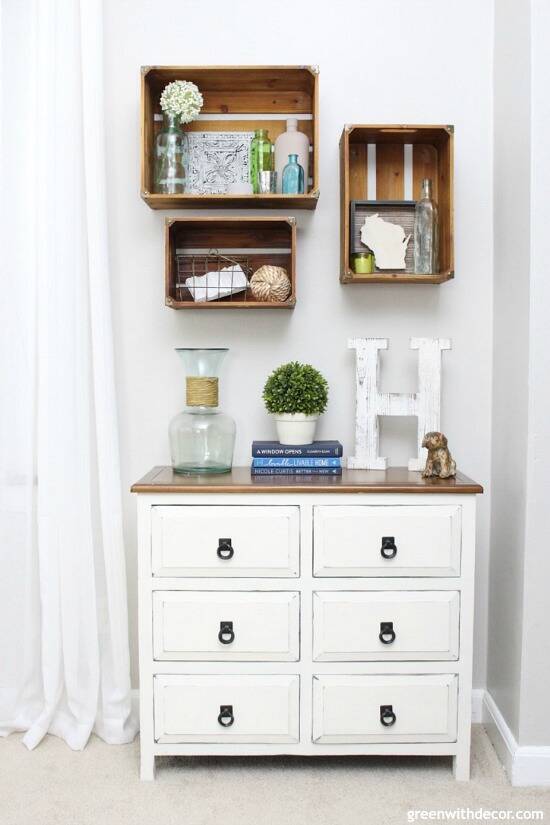 More to come on the family room makeover! You can see the room's design plans here. We still have a few things to do like hem the curtains, mount the TV, finish the wall decor and figure out blanket and toy storage.
Have you hung any crate shelves? They're one of my favorite things we have on the wall!
You can see more wall decorating ideas here or for more shelf decorating ideas, check out this post on how to decorate bookshelves.
Remember to bookmark or pin this post if you want to save it for later!


Pin it!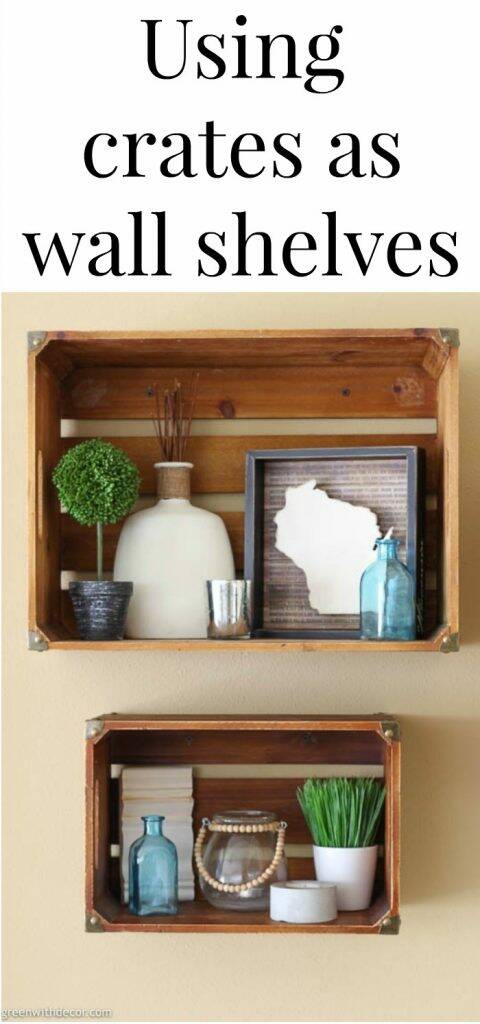 Want to read more posts like this?
Follow along: Get my emails | Facebook | Pinterest | Twitter | Instagram