This DIY trick is perfect if you're stumped on how to hang a wreath on a glass door without leaving scratches or nail holes!
Happy New Year! Hope everyone had a fab holiday with family and friends!
We have all the holiday decor down and put away except for the wreath on the front door. I figure with the evergreens and white berries, it counts as winter decor and it's staying up there for a while.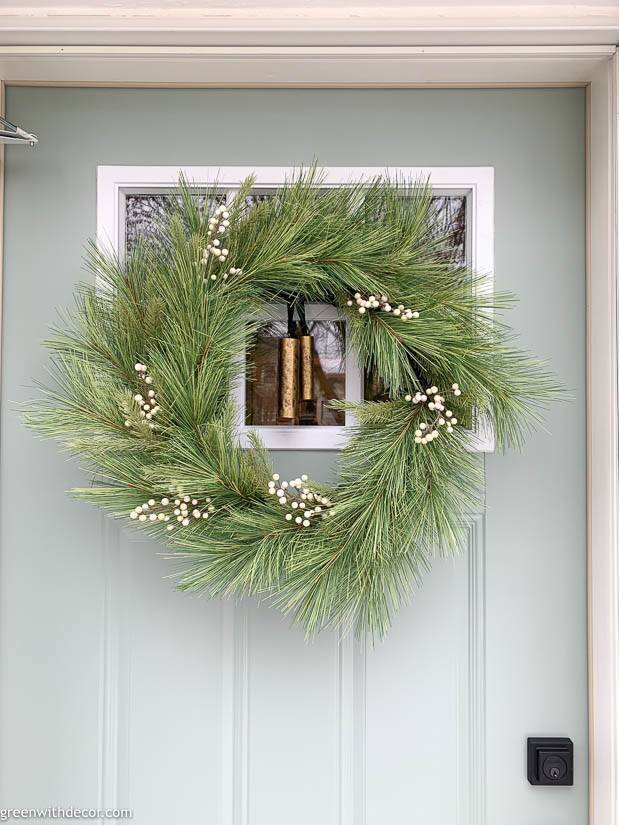 When I went to hang a wreath up this season though, I forgot for a sec we got a gorgeous new (steel and glass) front door!
Pounding a quick nail in glass or steel wasn't exactly an option, plus I'm not sure I would have wanted a hole in our brand new door anyway.
Which got me thinking about how to hang a wreath without ruining our pretty new door.
I tried a wreath hanger, but it didn't fit very well over the door so I was afraid of it scratching our newly painted door. (Click to read how to paint an exterior door.)
And I didn't really want a wreath hanger showing at the top of the wreath anyway.
Which brought me to good old Command Hooks! They're perfect for hanging a wreath on the glass window in our door.
And felt is perfect for keeping the back of a wreath from scratching your door.
So skip the random nail holes in your front door and buy some Command Hooks and felt to hang a wreath instead! Your door will hold up way better.
This post is super easy, but since the new door stumped me at first, I thought I'd share this easy trick! Hopefully it's helpful if you're hanging a wreath on a glass door (or window of a door), too.
Sometimes the easiest little DIYs/tips for around the house are the best!
This post contains affiliate links. This means if you click the link and buy something, I may receive a small percentage of sales at no extra cost to you.
Supply list for Hanging a wreath:
Fabric scissors
Old rag
Command Hooks (These hold up to 3 pounds – just be sure to check the weight of your wreath before ordering any hooks! And be sure to check that they'll come off of your surface without leaving a mark – they're perfect for glass windows/doors!)
How to hang a wreath on a glass door:
1. Measure where you want your wreath to hang.
If the center of the wreath hits at about eye level, you're good!
The grid on our window made it easy to center left to right. Otherwise use a tape measure if you're nervous to just eyeball it.
2. Clean that portion of the glass with rubbing alcohol.
(If you're feeling ambitious, clean the whole window while you're at it. I definitely didn't.)
3. Follow the easy Command Hook directions.
Close your door or use a door stopper while you do this so it's easier to apply pressure to get the Command Hook to stay.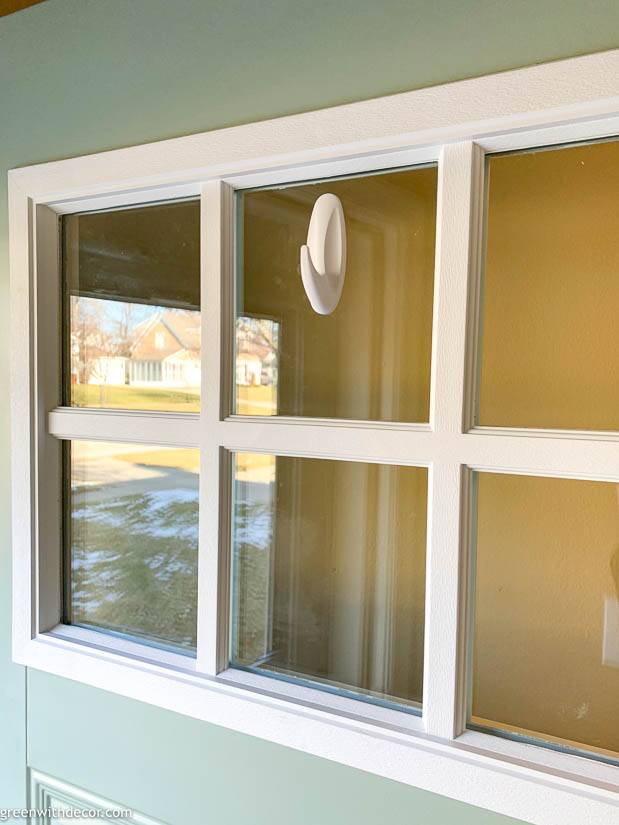 Is there a simpler way to hang a wreath?! I don't think so!
4. Cut your felt into smaller pieces.
If you get the same felt I bought, I cut a sheet into four long strips and then cut each of those piece in half.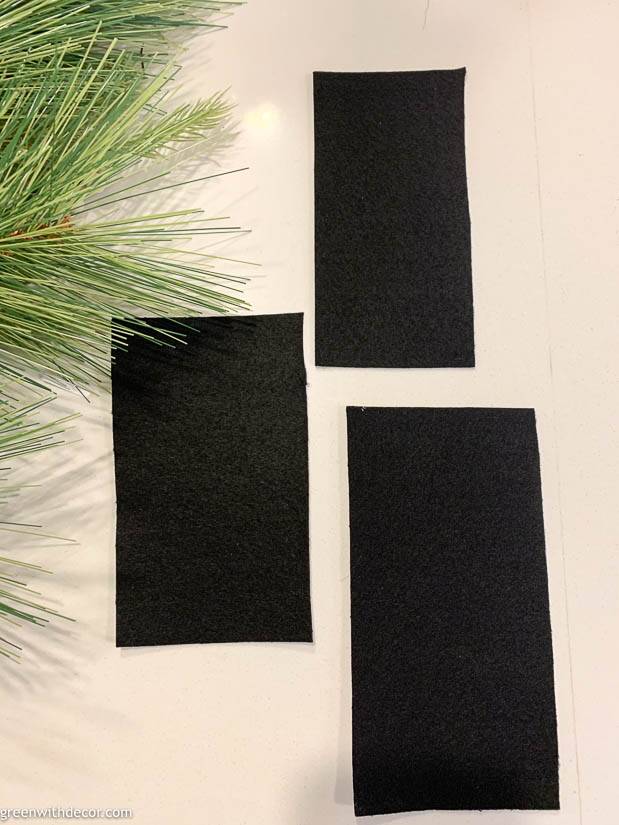 I used one felt sheet for this wreath and saved the others for other wreaths I'll use throughout the year.
5. Stick your felt to the back of your wreath.
The felt I bought had adhesive right on the back so it was easy to stick to the wreath.
You want the pieces to wrap around the back of the wreath (where it will hit your door) but not be too wide that you can see the felt from the front of the wreath.
Very technical explanation, I know! The pic below should help. Basically, use your best judgment.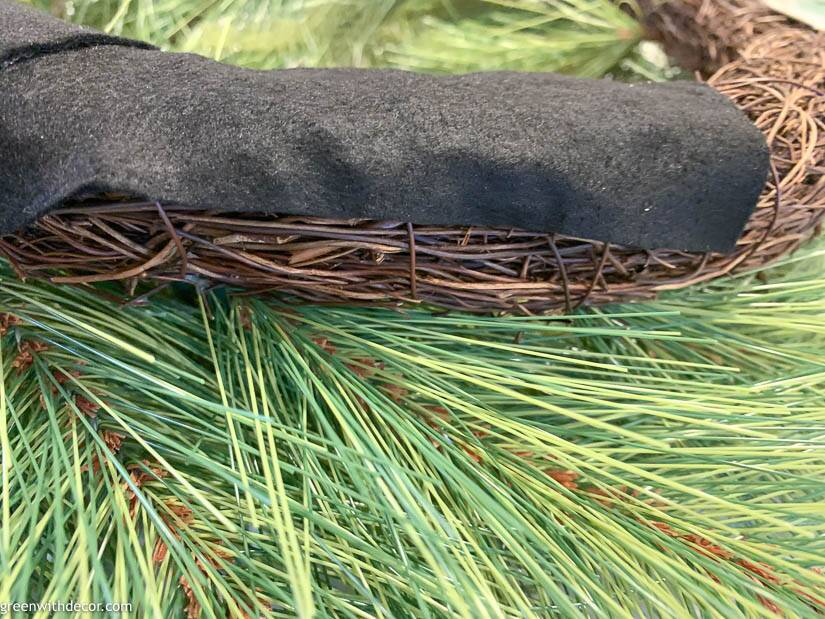 I worked my way around the wreath, putting one piece of felt on at a time, which the next piece slightly overlapping it.

Your felt pieces will all be at slightly different angles as you work around the circle shape of the wreath.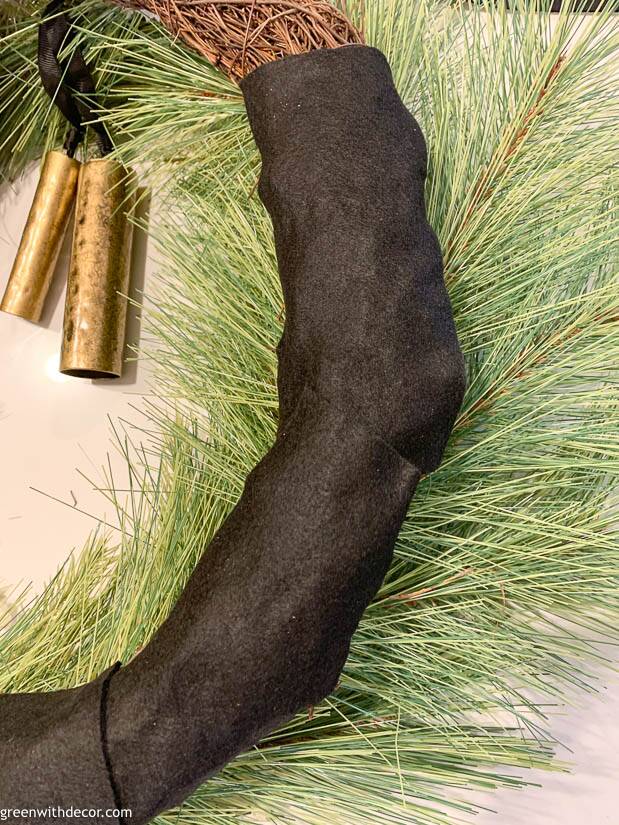 I had a few spots where the wreath had extra twigs or pieces hanging off, I just cut those off instead of trying to wrangle them under the felt.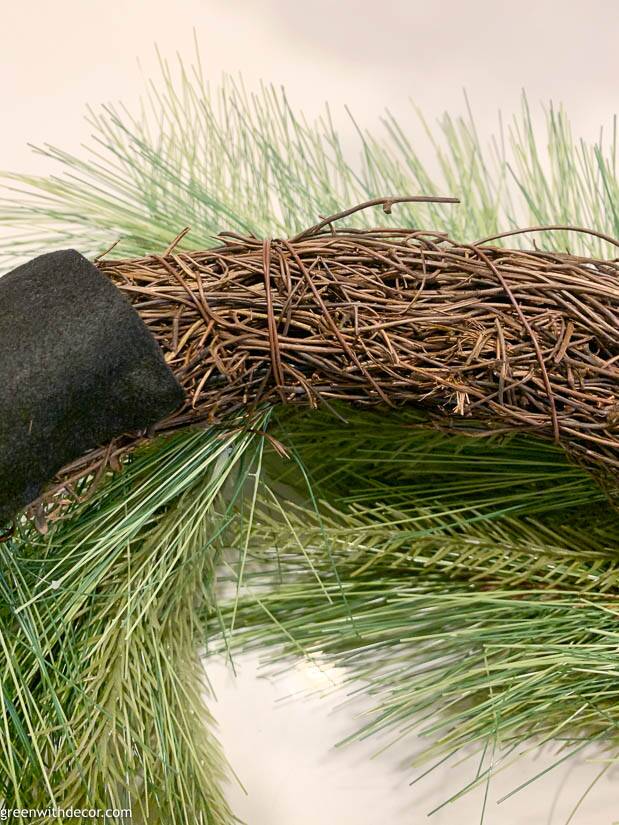 Keep going till you're covered the whole wreath.

Remember it's the back of the wreath that no one will see – except for a bit you can see through a glass window if you also have one. Here's what ours looks like from inside: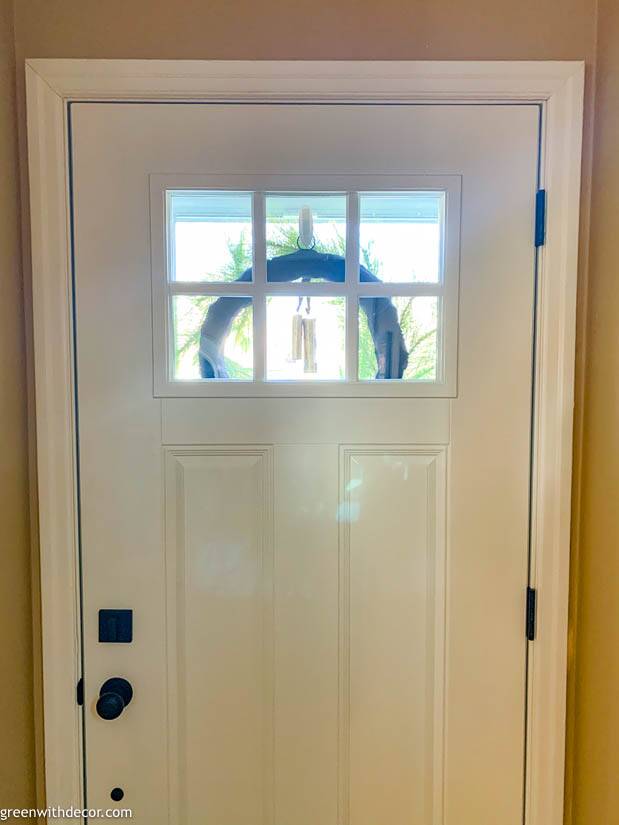 6. Hang your wreath!
Super easy, like I said, but so helpful if you're also wondering how to hang a wreath without scratching your door!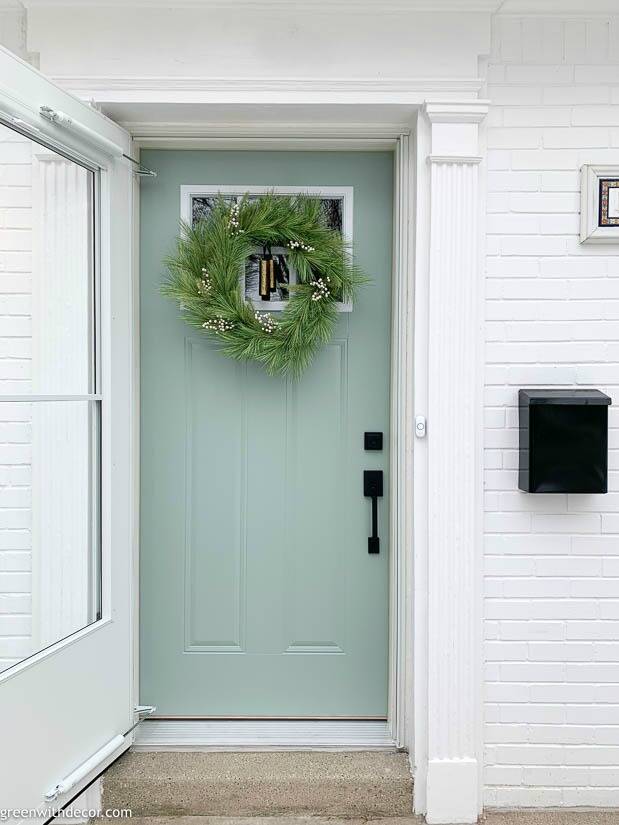 GET THE LOOK:
Since a popular question I get is "Where'd you get that?!," here are links to the same or similar sources:
Our wreath goes in and out of stock often so I found a few similar options here:


Do you have any other wreath hanging tips? Let's hear 'em!
For more simple hanging ideas, check these posts out:
Remember to bookmark or pin this post if you want to save it for later!


Pin it!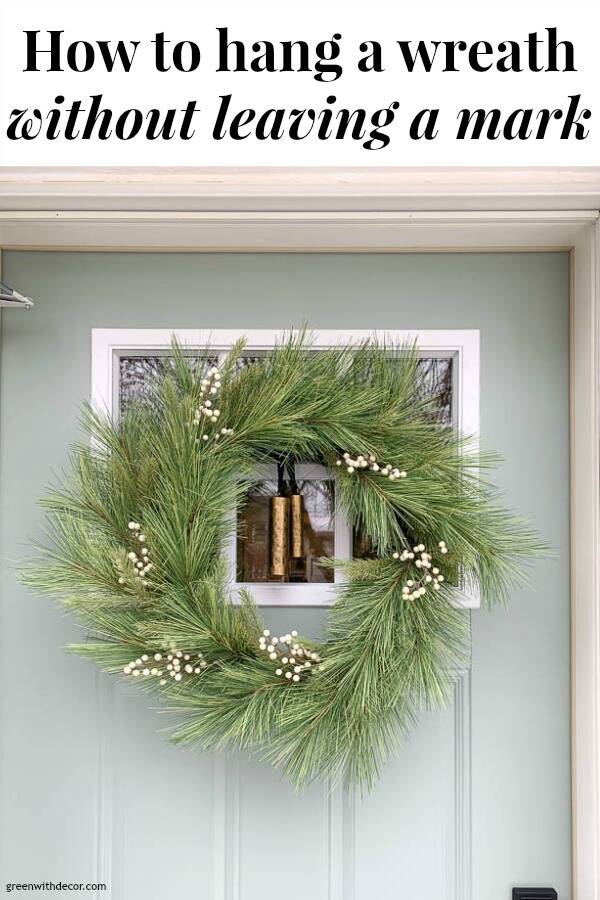 Want to read more posts like this?
Follow along: Get my emails | Facebook | Pinterest | Twitter | Instagram