This DIY towel rack just may be one of my favorite ever DIY projects.
Remember my parents' bathroom renovation? (Catch up on the best blue paint colors, affordable farmhouse vanity lights and the overall bathroom renovation plans.)
It's coming along, and it's so much more fun than all the endless cleaning and painting at our rental house. A fun DIY project is always a good distraction.
While this could be a really fun story about using old scrap wood and cool antique knobs and hooks (and if you have some laying around, use them), we're just going to pretend over here. Because the final DIY towel rack is so cool, it doesn't really matter that we bought it all new. 🙂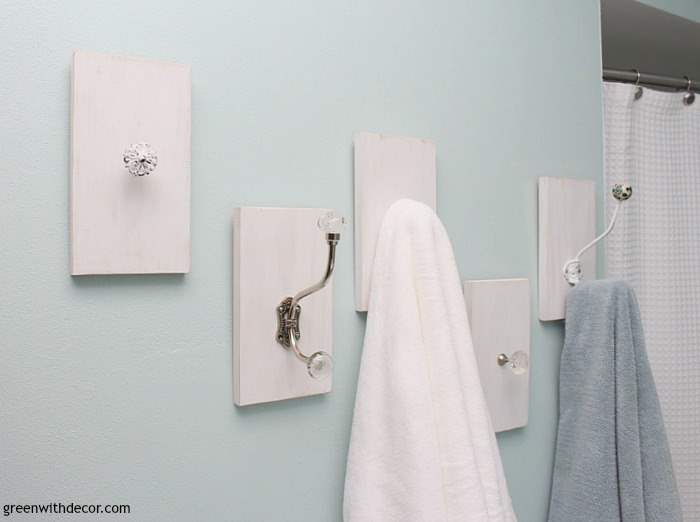 My parents had an empty wall between the shower and the hallway door, and my mom and I were brainstorming ideas for towel bars.
Let's be honest. Towel bars, while practical, just aren't that pretty to look at.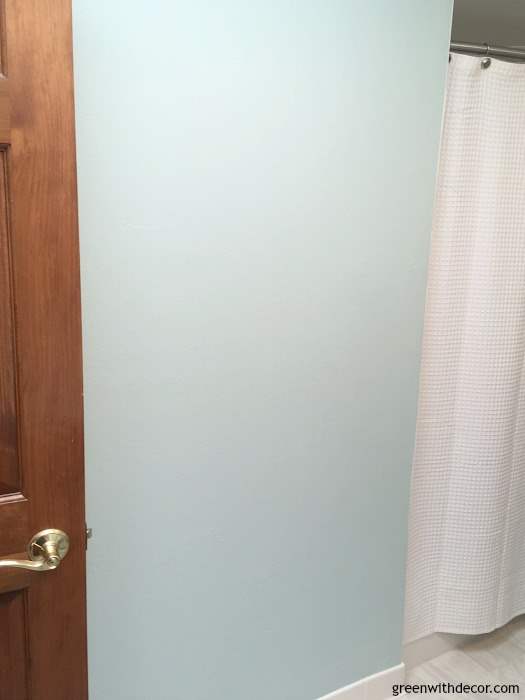 Yes, they help towels dry, but this is for a guest bathroom, so hooks would work just fine given how often they'll get used.
Plus I've always wanted to do something with all of those cool old doorknobs and hooks you see at home decor and antique stores.
This was the perfect project for them. I'm kinda thinking we could even do something like this in our rental bathroom and just hang the towel bars back up before we head out.
(Update: see how we updated our rental bathroom without renovating!)
This post contains affiliate links. This means if you click the link and buy something, I may receive a small percentage of sales at no extra cost to you.
Supply list for a DIY towel rack:
Scrap wood pieces
Safety glasses
Paint brush
Paint (We used Sherwin Williams' Pure White.)
Sandpaper
Gloss paint (if you'll be using this in a bathroom, this protects it from moisture. If you'll be using this in a back hall or mudroom, no need.)
Drop cloth
Knobs and hooks, here's what we used:

White and blue hook (I don't see any online anymore.)

Tape measure
Drill
Screwdriver
Screws
Paper (Scroll down for an easy way to hang a grouping of wall decor like these towel rack pieces or a gallery wall. I just realized I haven't shared this easy trick on the blog before!)
Tape
Nails
Hammer
This supply list got really long when I wrote everything out, but really, this project is easy!
How to make a towel rack from old knobs and hooks:
1. Cut the wood to size.
A reminder to follow all safety guidelines and to wear safety glasses whenever using a saw.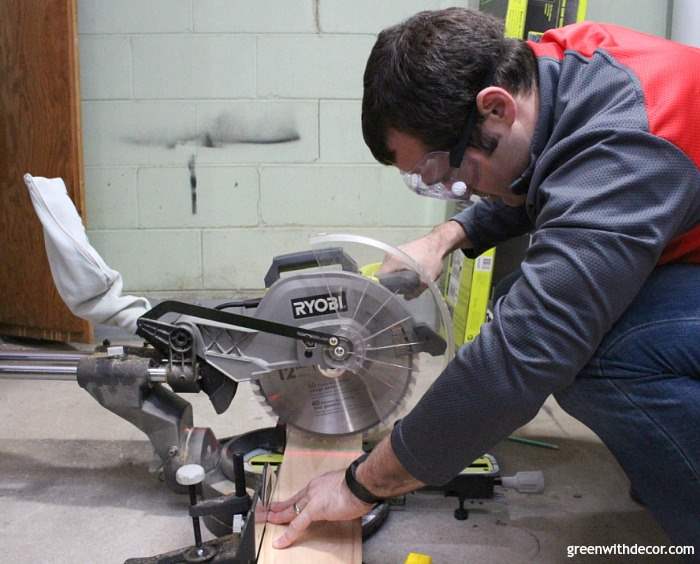 I love the laser on the RYOBI saw. It's so easy to see where you're cutting.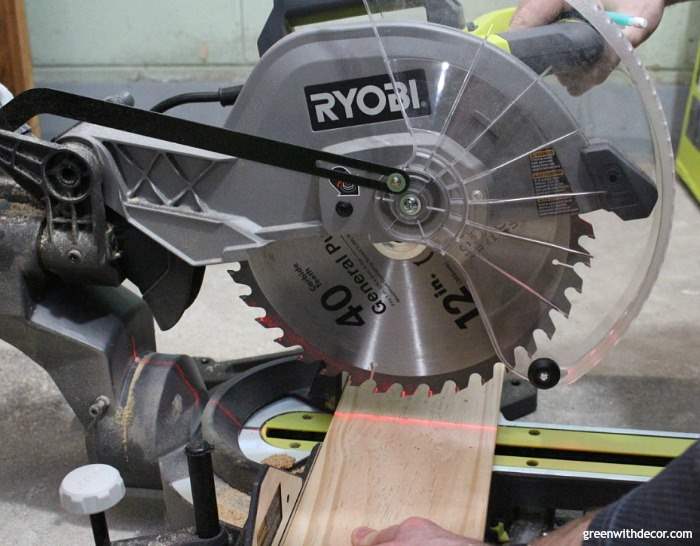 2. Paint each piece.
Apply the brush strokes in the same direction.
If you're going for a distressed look, don't put too many layers of paint on since you're just going to sand some of it off anyway.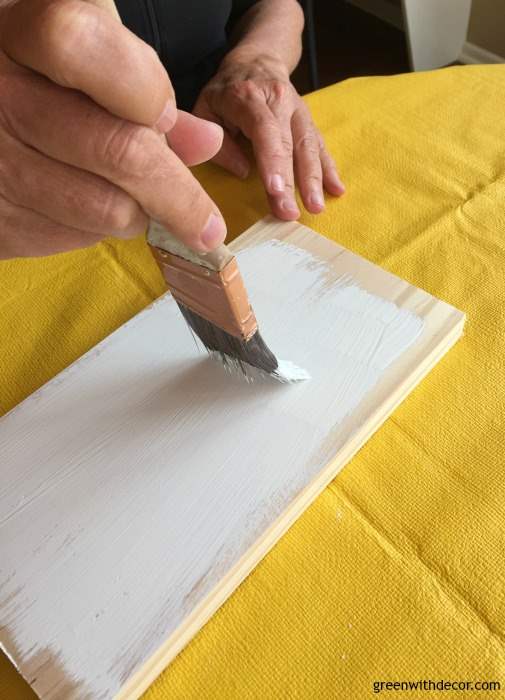 Let it dry.
3. Sand the edges to give the pieces a distressed look.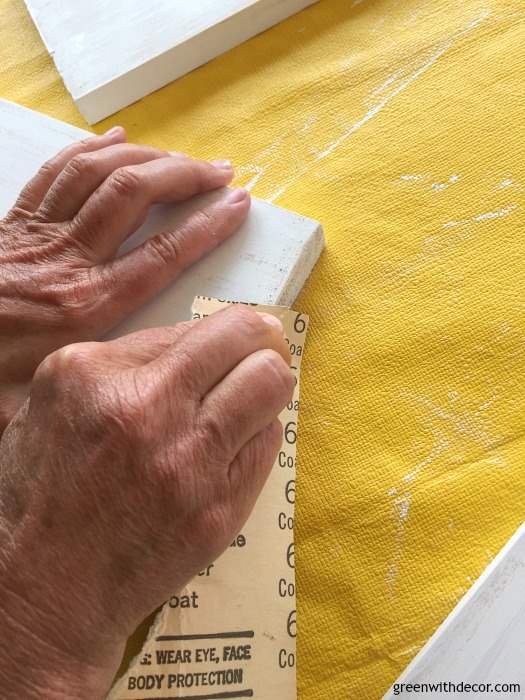 My mom the Hand Model is back!
4. Brush on gloss paint to protect the pieces from moisture. 
5. Center your knobs on the wood pieces and mark where the hardware holes need to be drilled.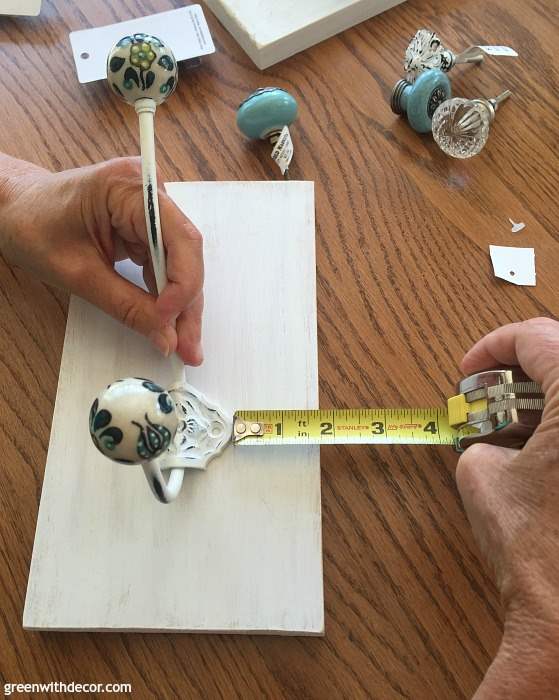 6. Screw the sawtooth hangers into the back of each piece. 
It's easier to screw these in before you drill in the knobs and hooks so you aren't dealing with those when you have each piece flipped over.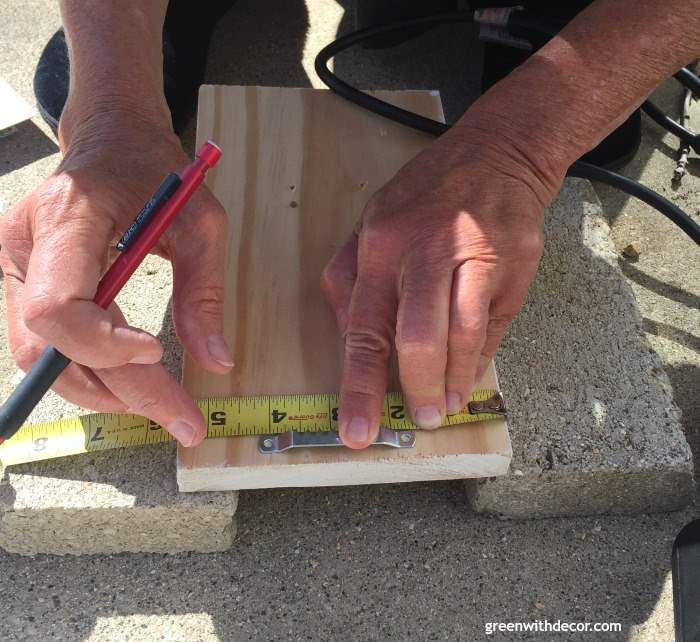 7. Drill the hardware holes and screw in the knobs and hooks.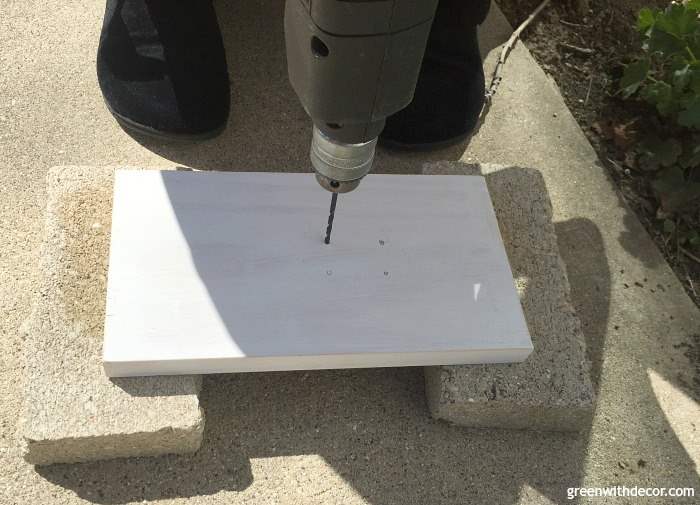 We did this on the patio on the sunniest day so pictures have all sorts of shadows.
Not that I'm complaining about the sun or anything because I most definitely am not.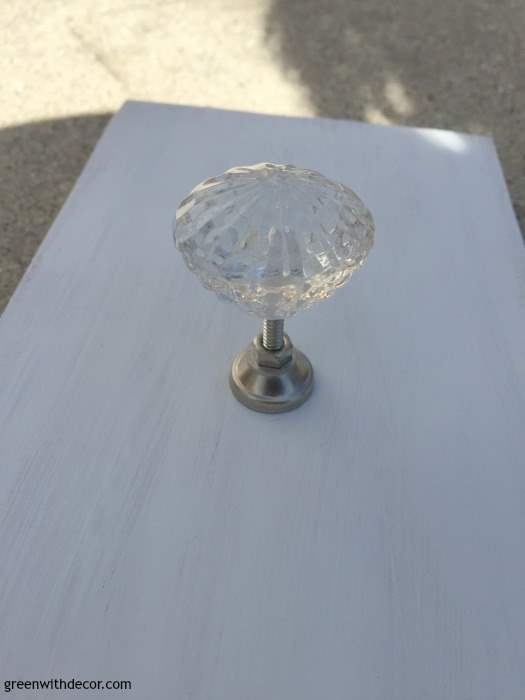 Ready for the easy gallery wall hanging trick?!
8. Cut a piece of paper to match the size of each wood piece.
Place a piece of tape at the top of each so you can easily move them around and see how you like them on the wall.
It's so hard to guess where to put nails and then hope you like where each piece ends up. This little paper trick makes it easier and way less frustrating!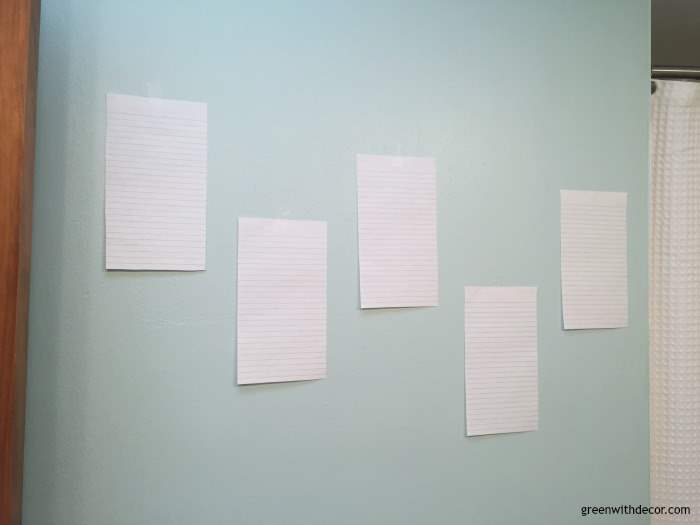 We played around and varied the height of each so it wasn't just a regular pattern.
9. Hammer in the nail right over the tape so you mark on the wall exactly where you want it.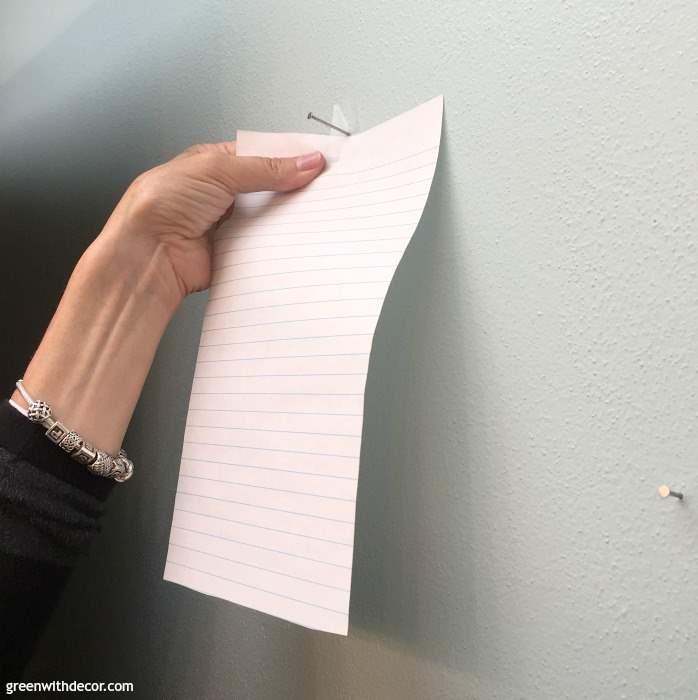 Then take the paper down.
10. Hang up each towel rack piece!
We played around so the layout would look random.
With a few white hooks and a few turquoise ones, plus a mixture of hooks and knobs, we didn't want anything too similar to be next to each other.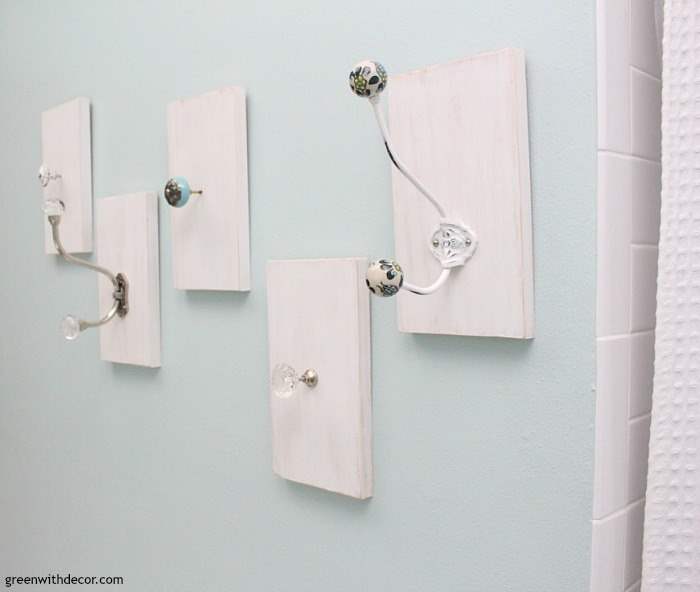 Sometimes getting a random look is so much harder than a regular one! Why is that?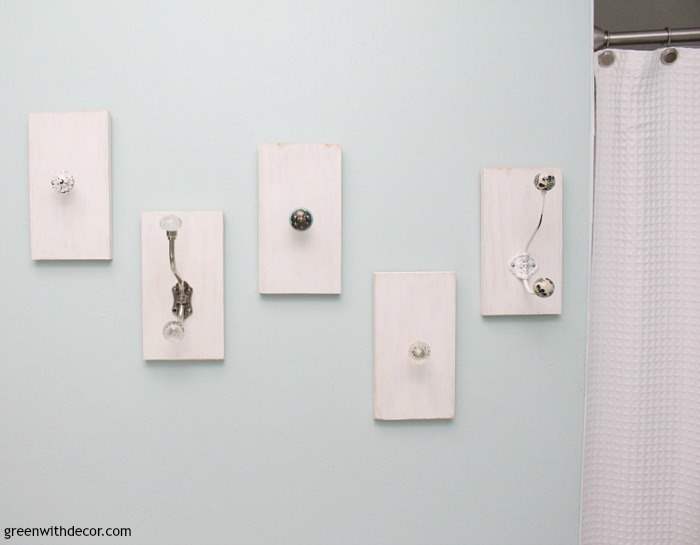 All worth it though! It looks so cute on the wall. Way more fun than standard towel bars. (I say as we have all towel bars in our house.)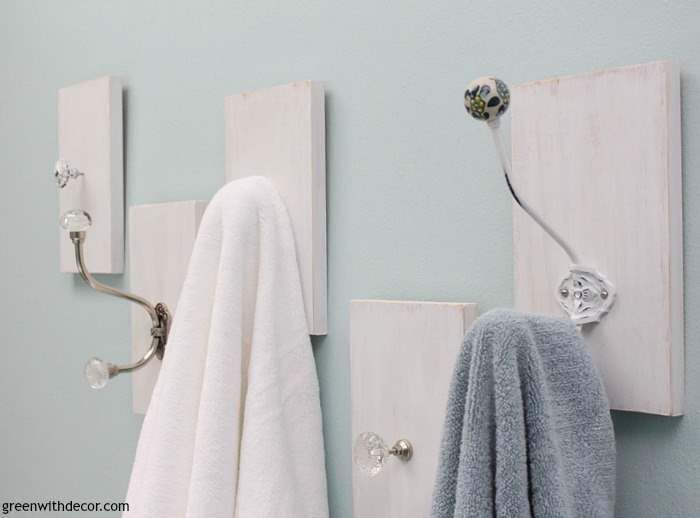 By the way, it's realllly hard to take pictures in bathrooms. I was wedged into the back corners of the bathroom counter to get these pics.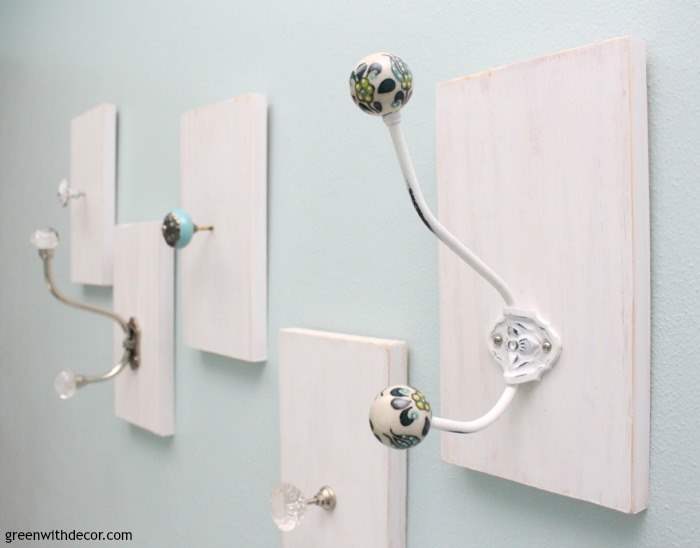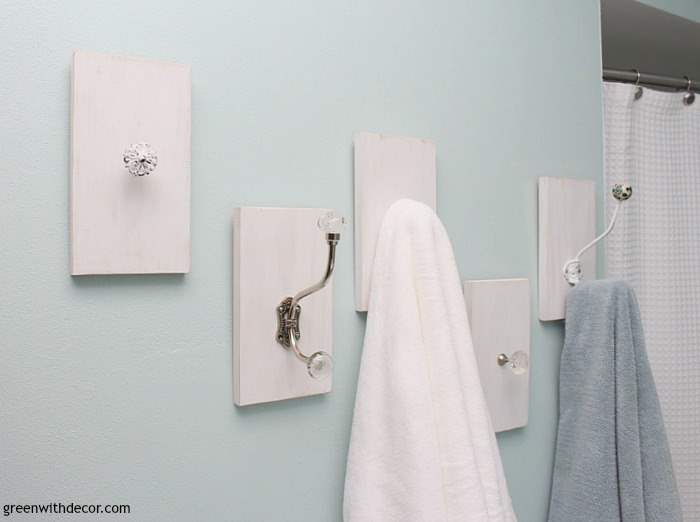 I just love it. I've gotta figure out a way to get something similar into our rental house. Well right after I finish painting and cleaning. And painting and cleaning …
What do you use for hanging towels? Ever used old hooks or knobs for a DIY project? Let's hear all about 'em!
If you want to catch up on my parents' bathroom renovation, check out these posts:
Or you can see the bathroom renovations in our house here:
Remember to bookmark or pin this post if you want to save it for later!


Pin it!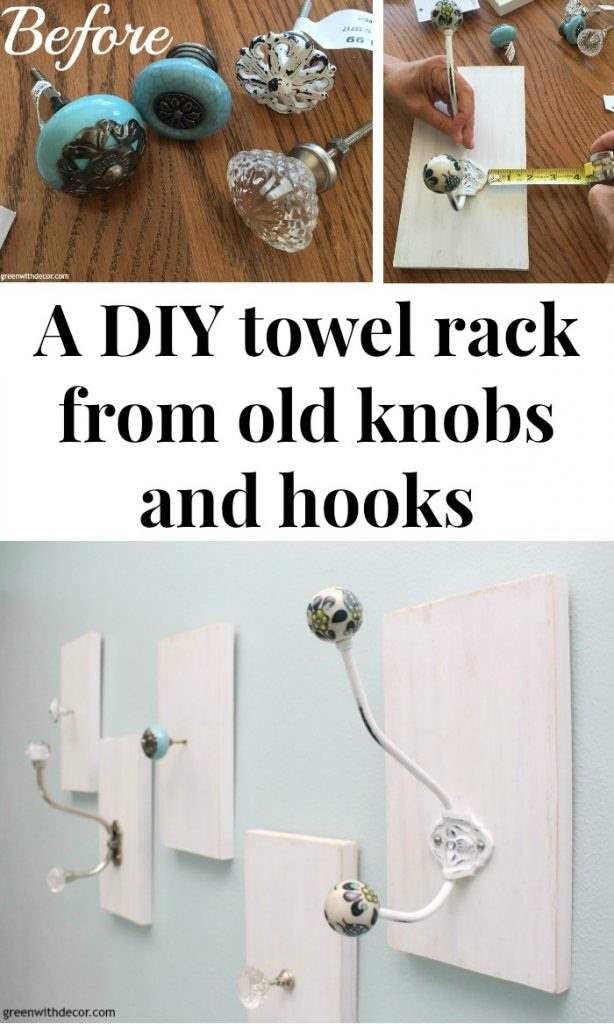 Want to read more posts like this?
Follow along: Get my emails | Facebook | Pinterest | Twitter | Instagram