If you're ever wondered how to hang heavy wall decor when it doesn't line up with studs, this post will help you! It's easy.
I told you guys when I shared the living room design plan and the coastal fall mantel decor that Kalen surprised me with this awesome wood gray mirror. I loooove it.
It sat on an angle on top of the mantel for a long time. An embarrassingly long time. Well maybe not. Between summer traveling and all that entails, I guess it makes sense we didn't get around to finally hanging this thing till recently.
Doesn't it look just perfect?!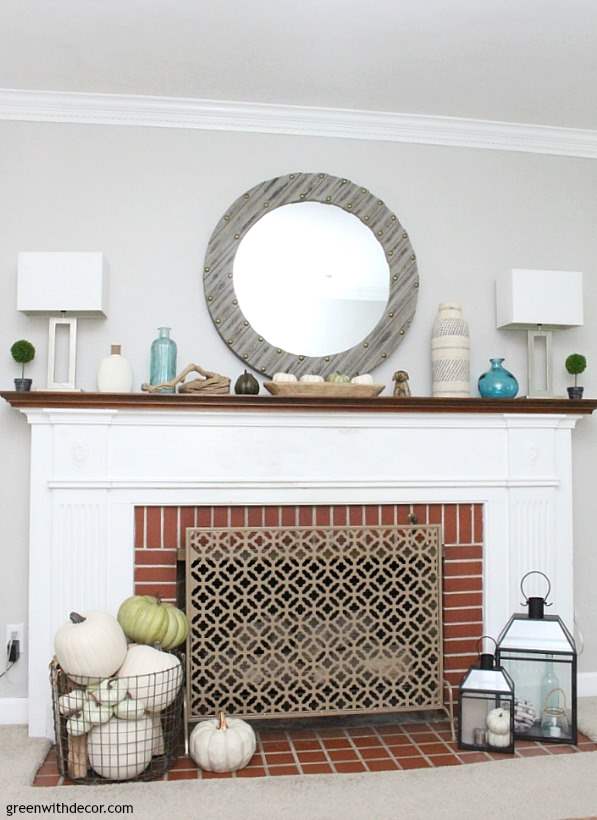 When we finally decided to hang it up, we quickly realized there was a problem. The perfect mirror didn't line up perfectly with the studs in the wall. Tragic, I know.
This was actually a really easy problem to solve.
This post contains affiliate links. This means if you click the link and buy something, I may receive a small percentage of sales at no extra cost to you. Thanks for supporting Green With Decor! 
Supply list:
Here's the easy tutorial to hang heavy wall decor:
1. Use a stud finder to find the studs in the wall.
Measure the difference and make a note of it.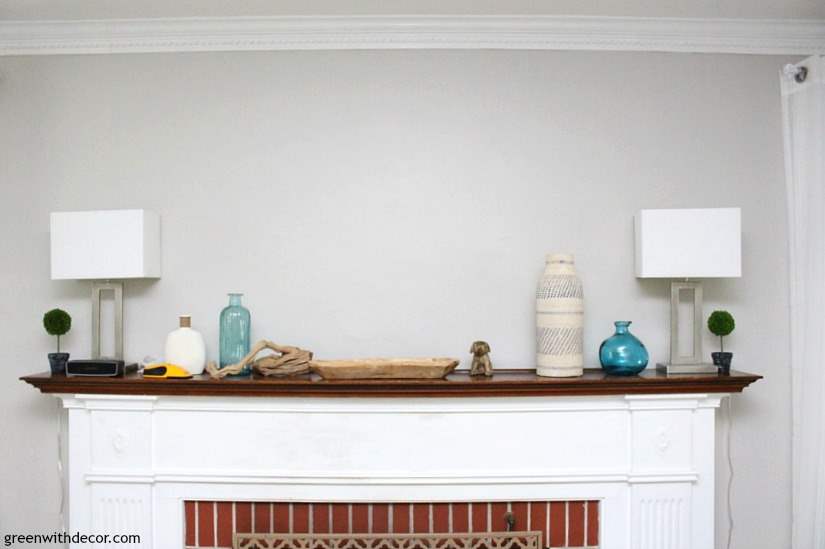 Yep, that's a speaker on the mantel. Who does DIY projects without country music blaring? Not us.
2. Remove the hooks from the back of the wall decor.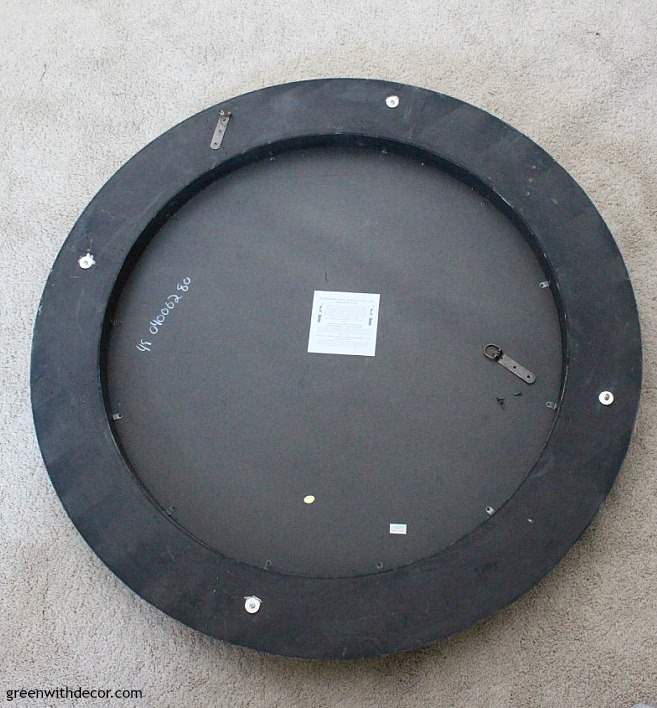 3. Measure for the new placement of the hooks.
Measure based on the number you noted in step #1. Use a level to ensure you're marking the spots for the new hooks evenly, although honestly on a circle mirror, this isn't as crucial. If you're working with a square or rectangle piece though, this is important.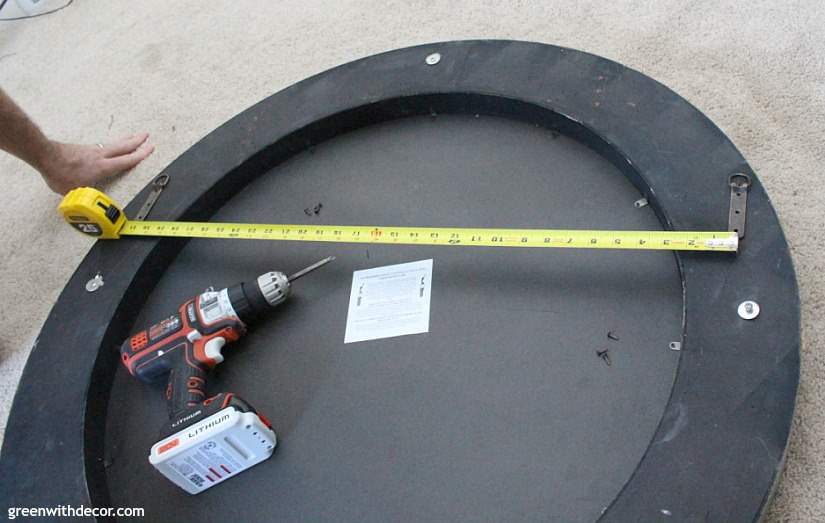 4. Drill the hooks in their new spots.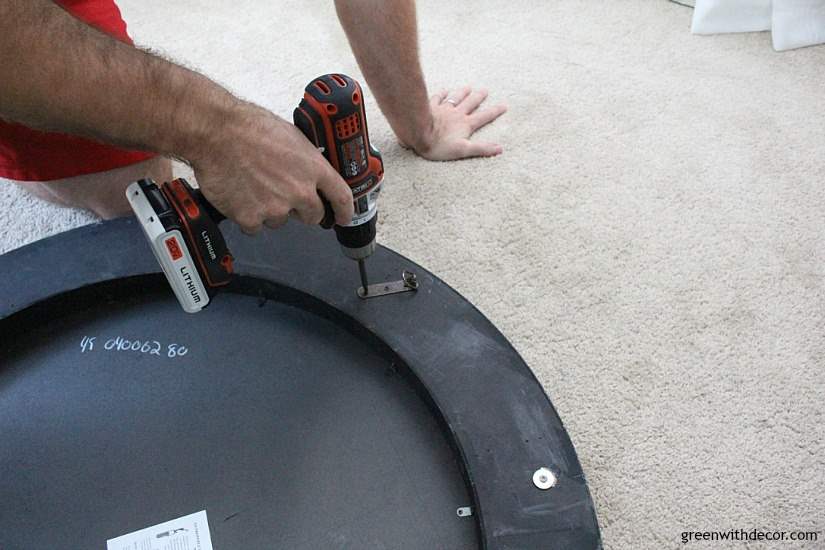 5. Hang the mirror. 
Isn't that easy?! And to think for a second we were worried we couldn't hang this beauty on the wall!
I loved the mirror before, but having it hung up really makes the bread bowl shine so it's a win for mantel decor all around.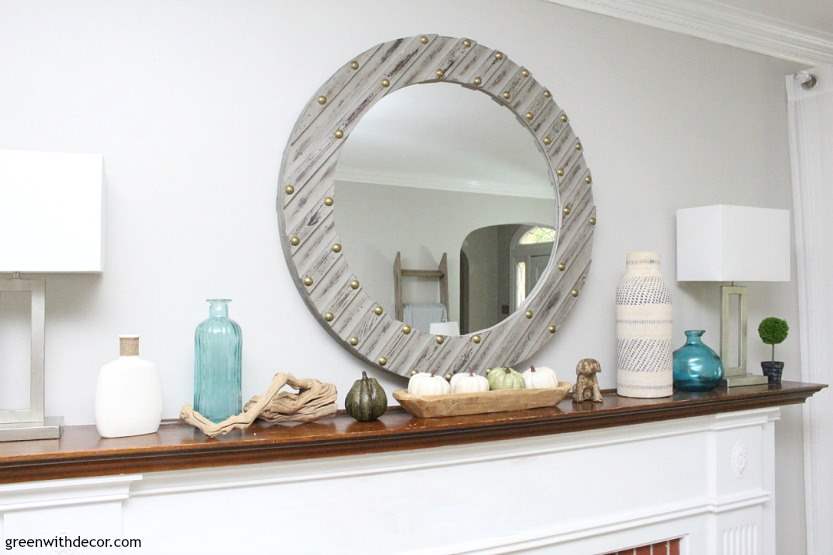 Get the look:
 I've had a few questions about where I got the mirror, and it's from a local decor store. I can't find anything even remotely similar online or I would link to it. Sorry, I hate when that happens! I love to share sources with you guys so you can get the same look.
The question I get most often is "Where'd you get that?!" Click each image or link below for more info. (Scroll left and right for more images.)

Wall color: Agreeable Gray by Sherwin Williams
Bread bowl from a local home decor shop, similar here
Gold fireplace screen from At Home (don't see it online anymore), similar here
Driftwood piece from Marshall's, similar here
Dog from local home decor store, can't find anything similar online
Have you found any tips to hang heavy wall decor? We have a lot to hang around here so give me all your tips!
If you want to save this post for later, remember to bookmark it or you can pin it here: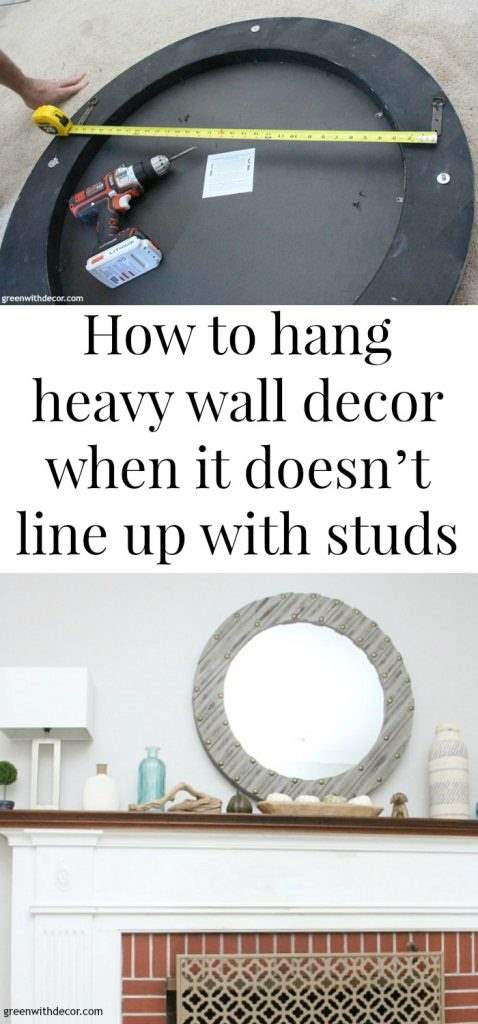 Check out these posts for more wall decorating ideas:

Want to read more posts like this?
Follow along: Get my emails | Facebook | Pinterest | Twitter | Instagram | Google+