We had such a great weekend hanging in our backyard. We had friends over to enjoy drinks and dinner, and it's so much fun to have a great outdoor space when the weather is nice!
It was one of those weekends you hate to see end!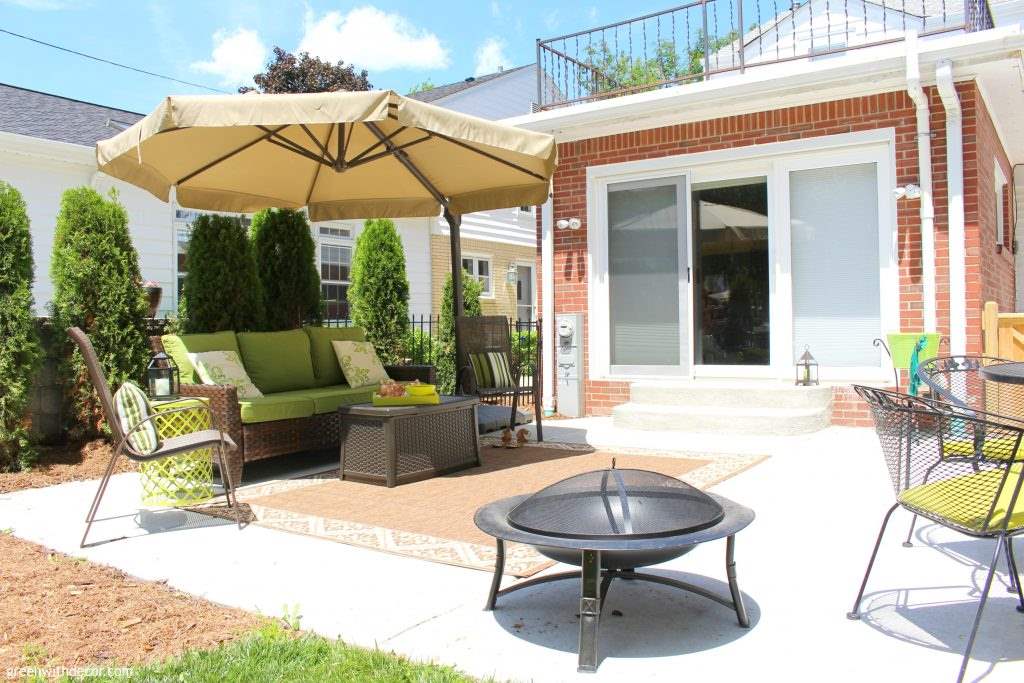 We've slowly but surely been working on the yard, and I'm excited to share it today as part of Tara from Lehman Lane's outdoor spaces series. There's a whole group of talented bloggers sharing their outdoor spaces this week. The links to all of them are at the bottom of this post.
I took a bunch of pictures of our yard, so I hope you're ready! If you're new around here, you can see how our yard started here. The biggest things we did to change the space were taking down a big tree and adding the patio and the patio doors.
I've said it before, but I really love our outdoor couch. Seriously. I talk about it a lot! But it's comfy and perfect for hanging outside.
This post contains affiliate links. This means if you click the link and buy something, I may receive a small percentage of sales at no extra cost to you.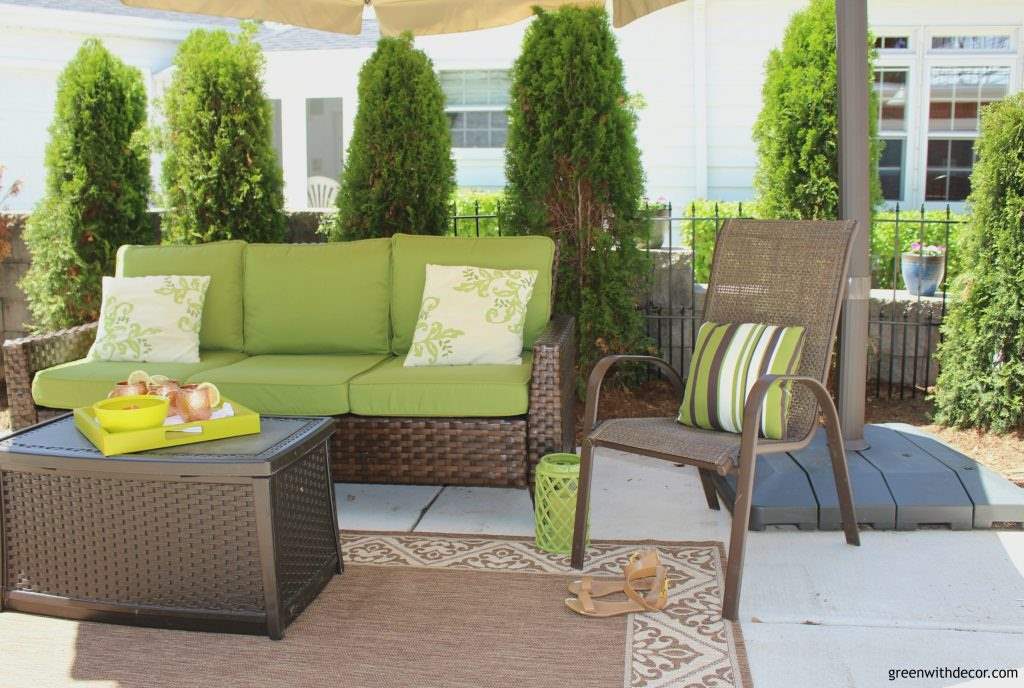 The outdoor couch and the big umbrella are the absolute best purchases we've made for our patio. Our backyard gets a lot of sun, which is awesome when you want to soak it up, but sometimes it gets really hot.
The umbrella covers so much of the seating area, so we can hang under the umbrella on really hot days, which we've had a few of already this summer!
We bought both last year about half-way through the summer, which I would HIGHLY recommend, because everything is on sale as stores get ready for fall.
It's definitely worth the wait when you realize it saves you hundreds of dollars.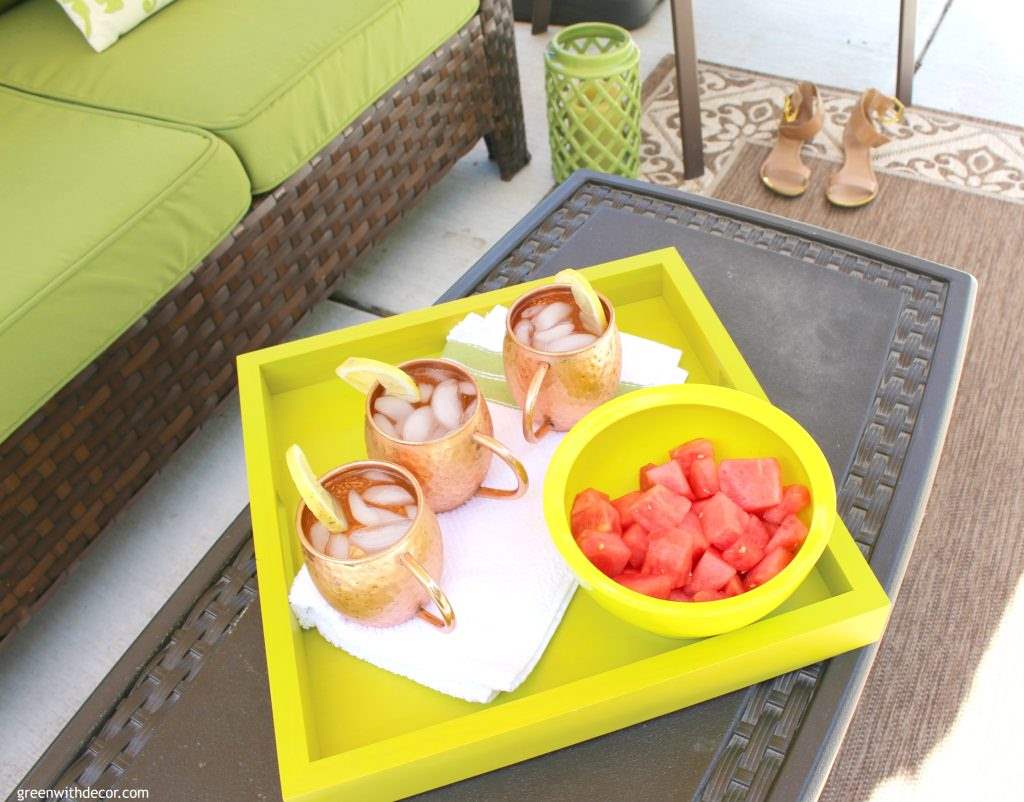 The copper mugs are perfect for keeping drinks cold outside.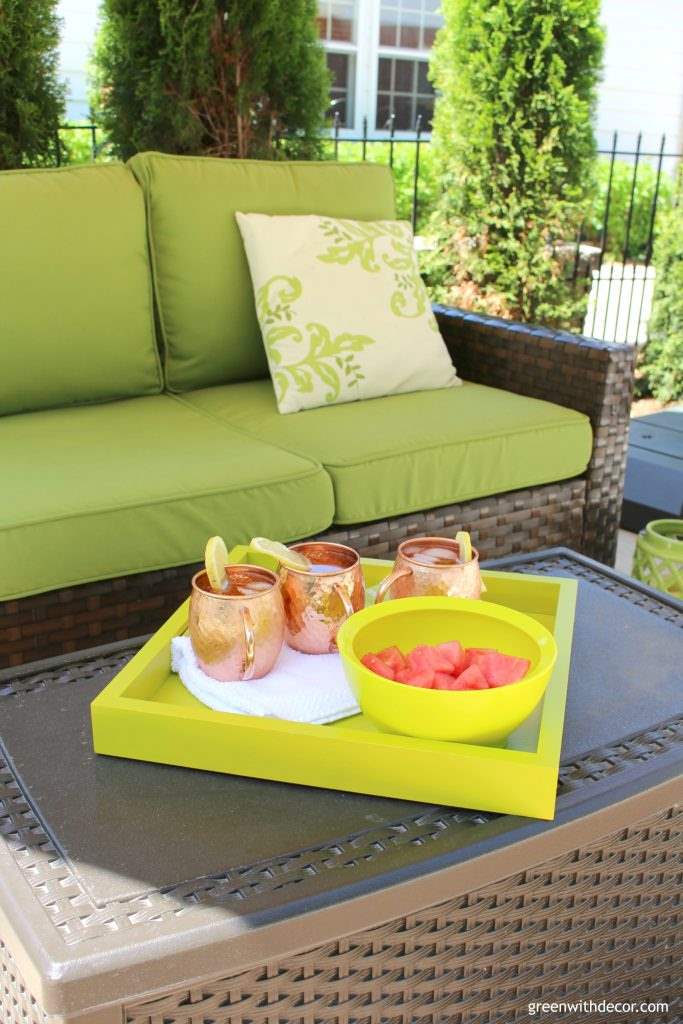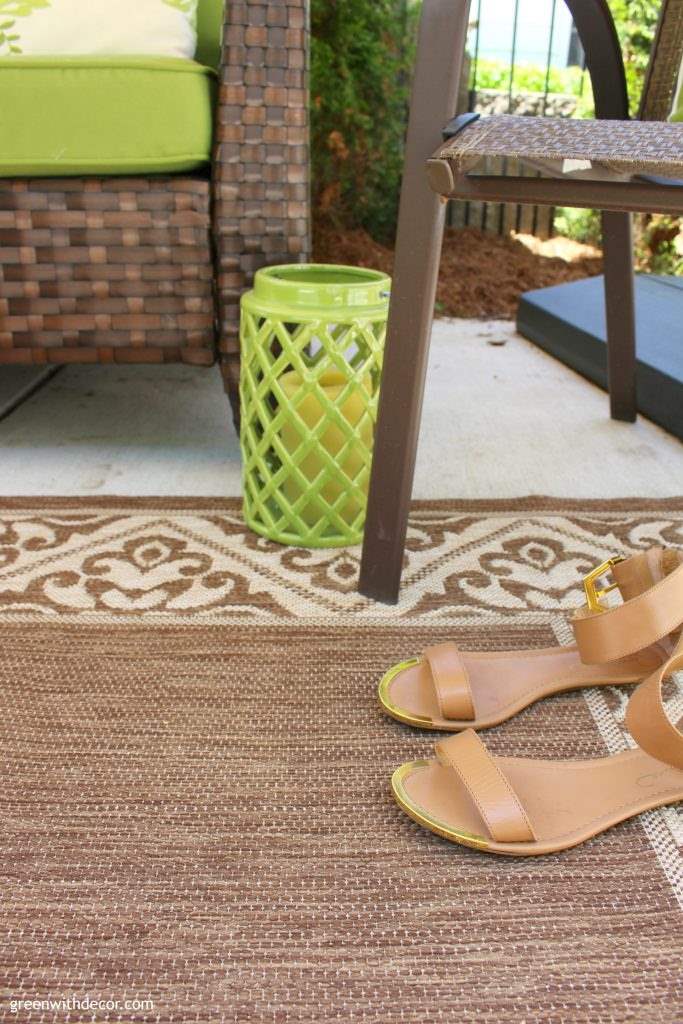 The decorator in me loves the rug and this little green side table. I talked all about adding pops of color to the patio here.
Of course, I've added a lot of bright green to our patio.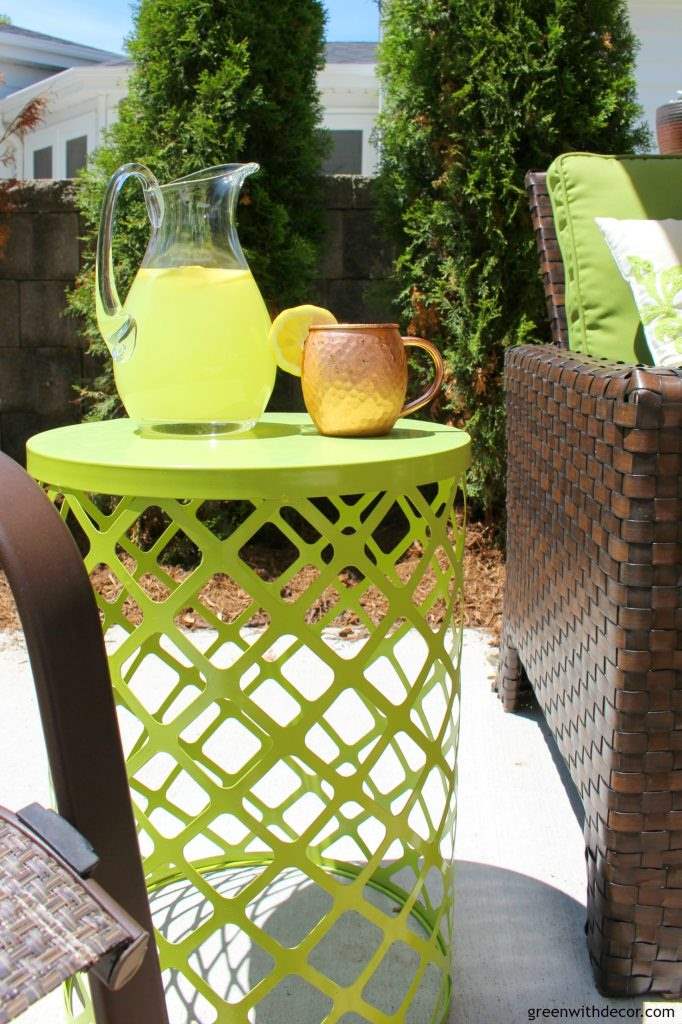 I want to add something to this wall to break up all the white, but I haven't decided what yet.
Any ideas?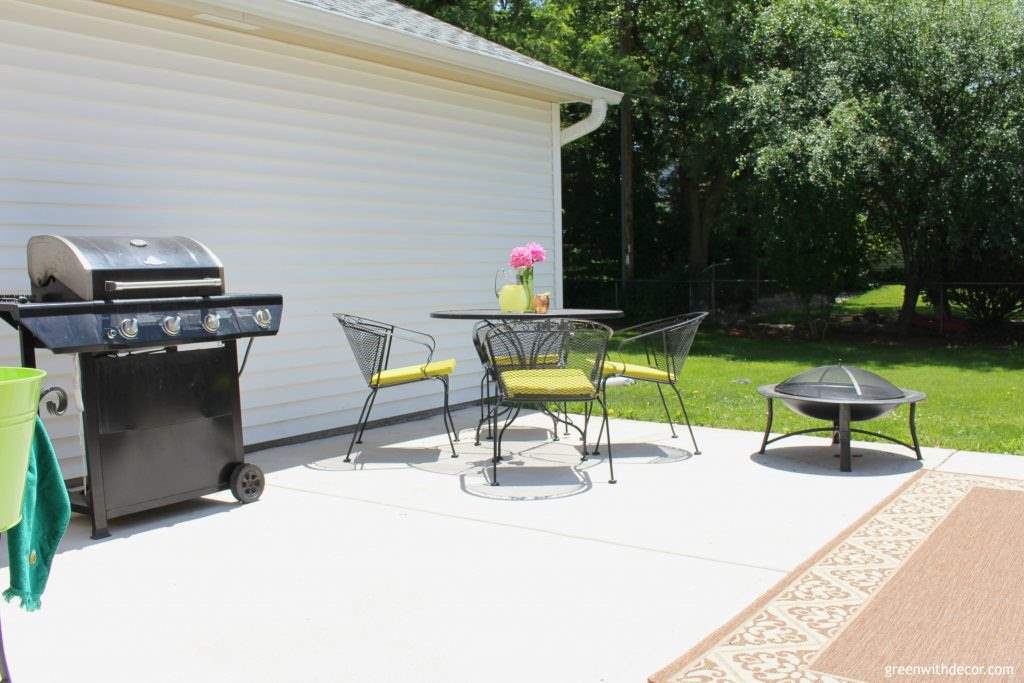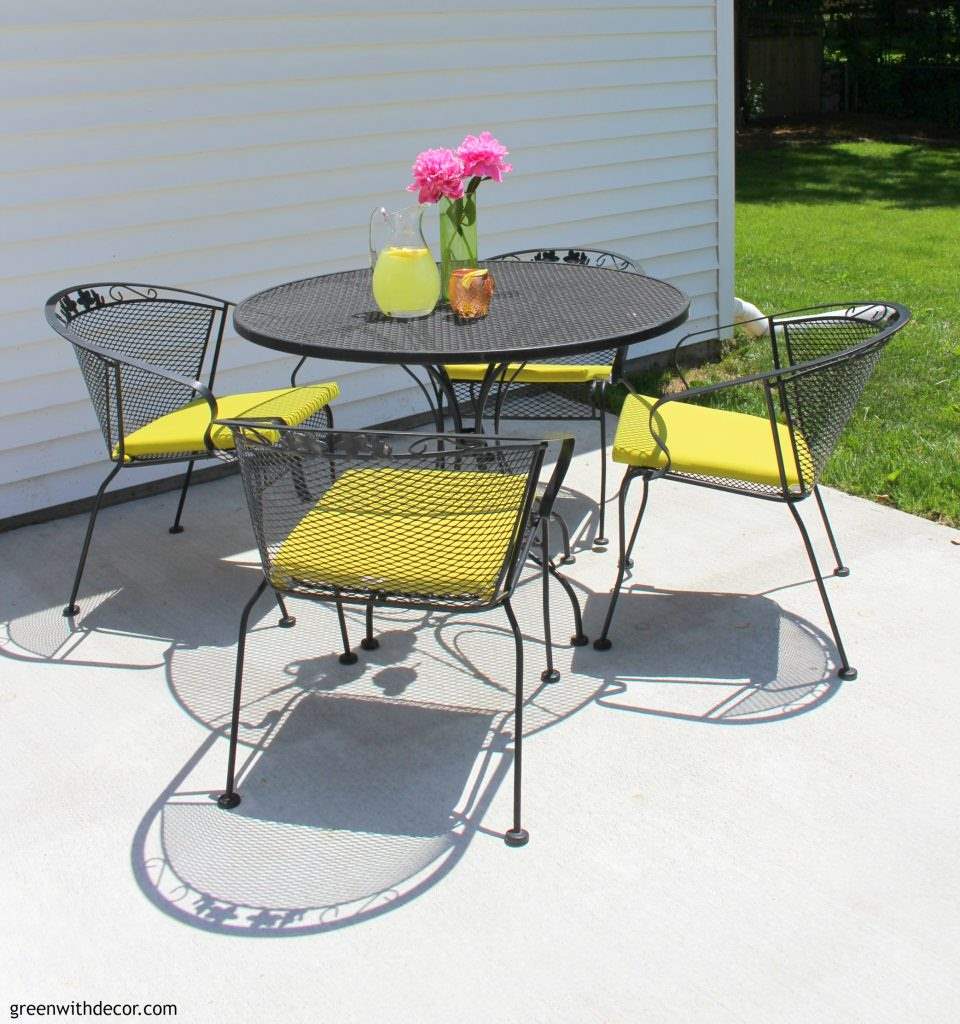 Like everyone else, I love peonies!
They're so pretty.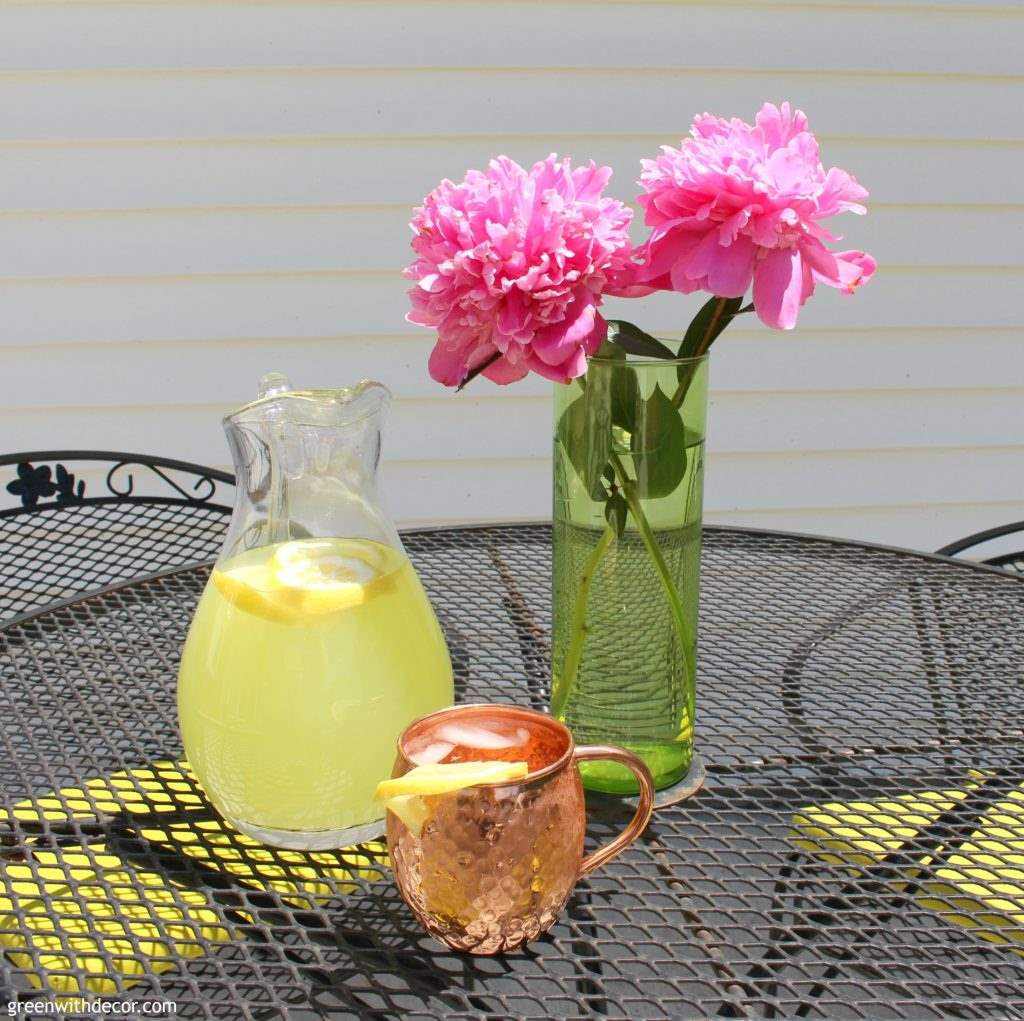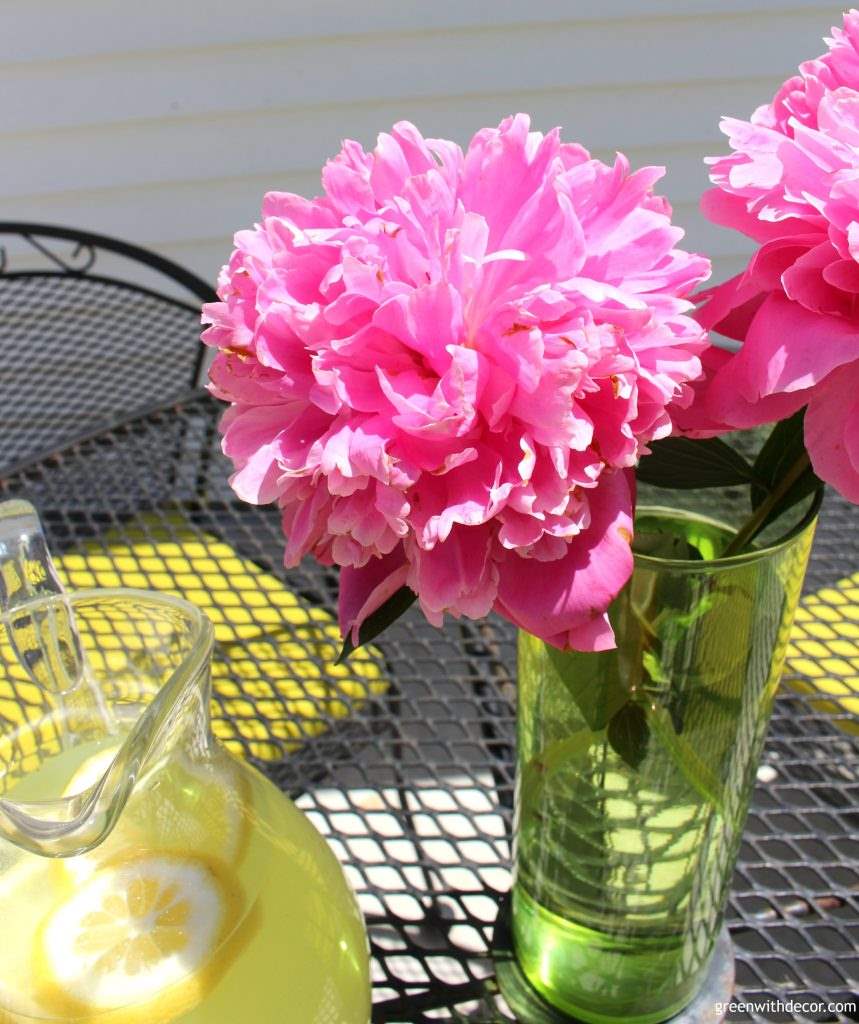 The drink bucket is perfect for keeping drinks cold (and close, which is equally important) when we're hanging out the patio.
The fence is new from last year, too. It's AWESOME to be able to just let Oakley out in the yard without worrying about her going anywhere.
Speaking of, here's our cute little guard dog: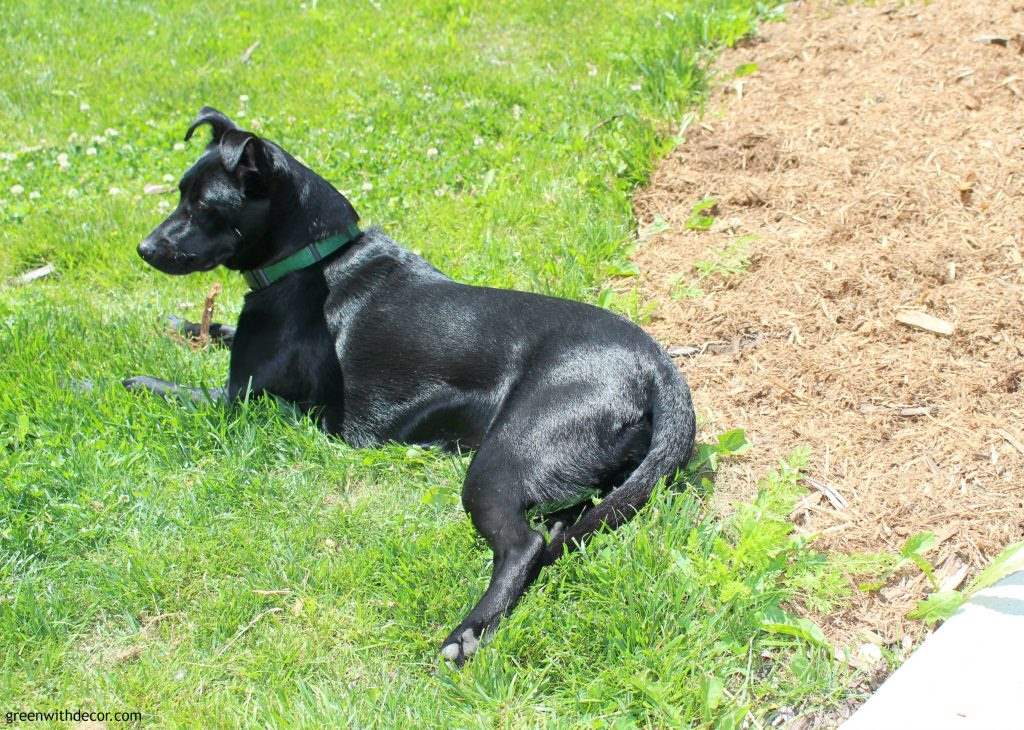 The fire pit is a fun addition this year, too. We used it a lot over the weekend.
Oakley is a little scared of the fire. (She's also terrified of lawn mowers – maybe she's not so into the outside!)
So much for a guard dog. But it keeps the bugs away, so we're going to keep using it, and she'll have to just get used to it.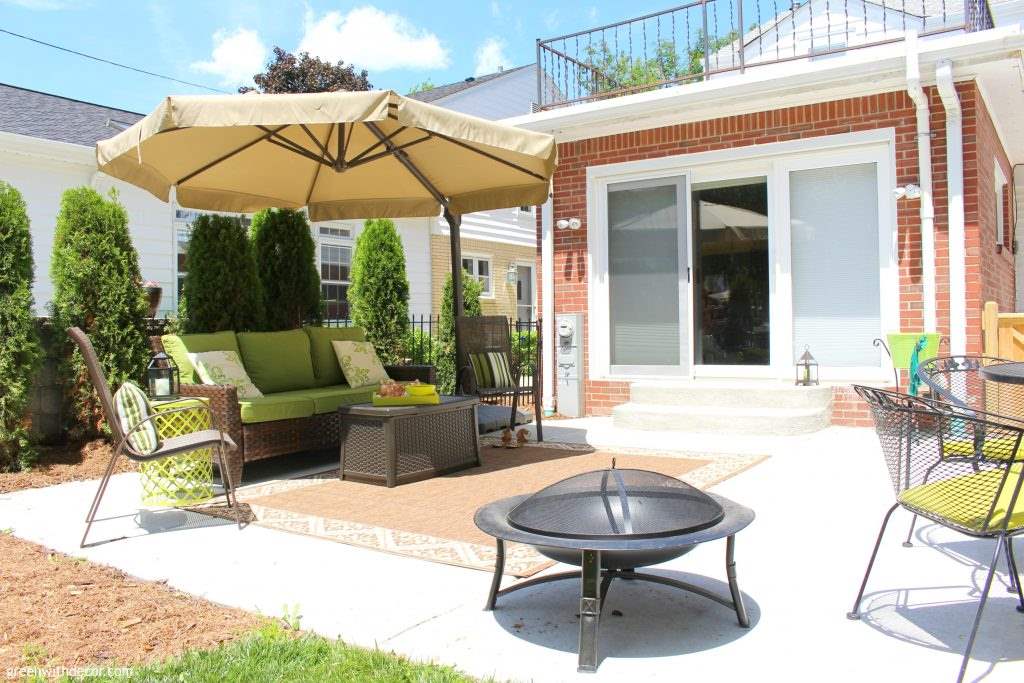 We have string lights we need to hang up, which means we need somewhere to attach them from the garage to the side of the yard behind the couch. It's on the to-do list!
We (well, Kalen) added a vegetable garden this year. We're growing lettuce, tomatoes, green peppers, green beans, broccoli and strawberries. Ha, we'll see how the strawberries go in Wisconsin.
We make a lot of salads, and it seems like even more so in the summer, so we're excited to have so much growing right in our yard.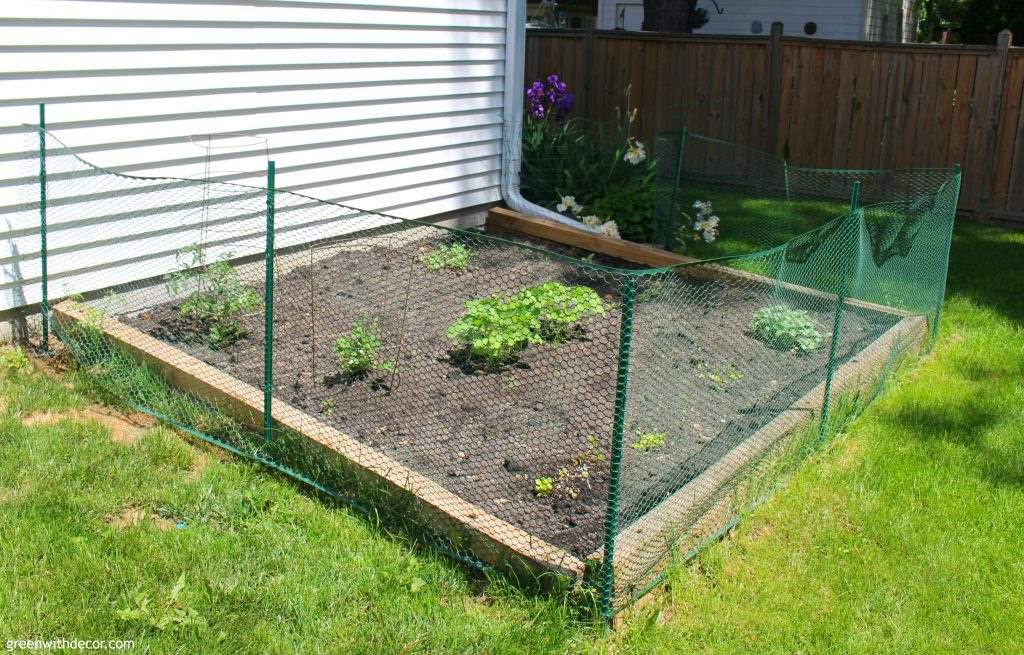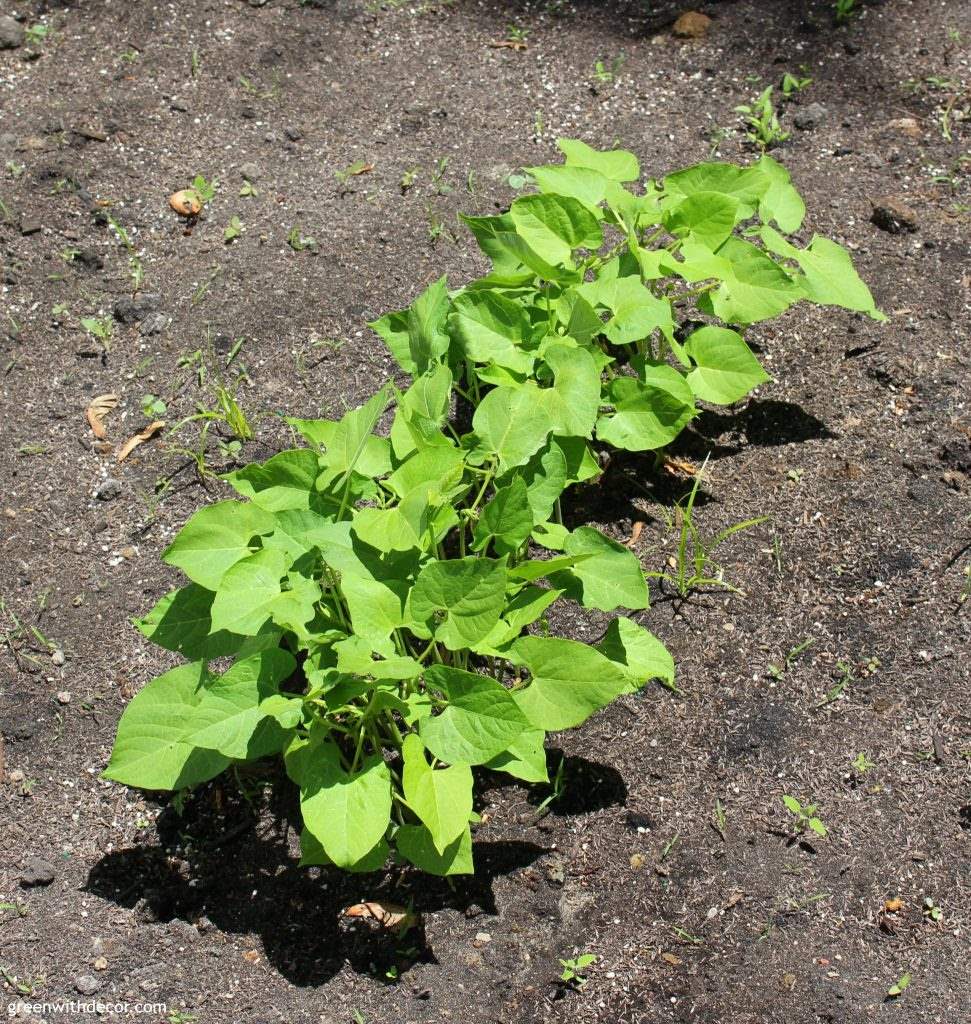 I want to add an herb garden out here, too.
We have some flowers and such outside, but we definitely need to add a lot more to the yard.
I'm not usually a huge fan of purple, but I love the height irises provide.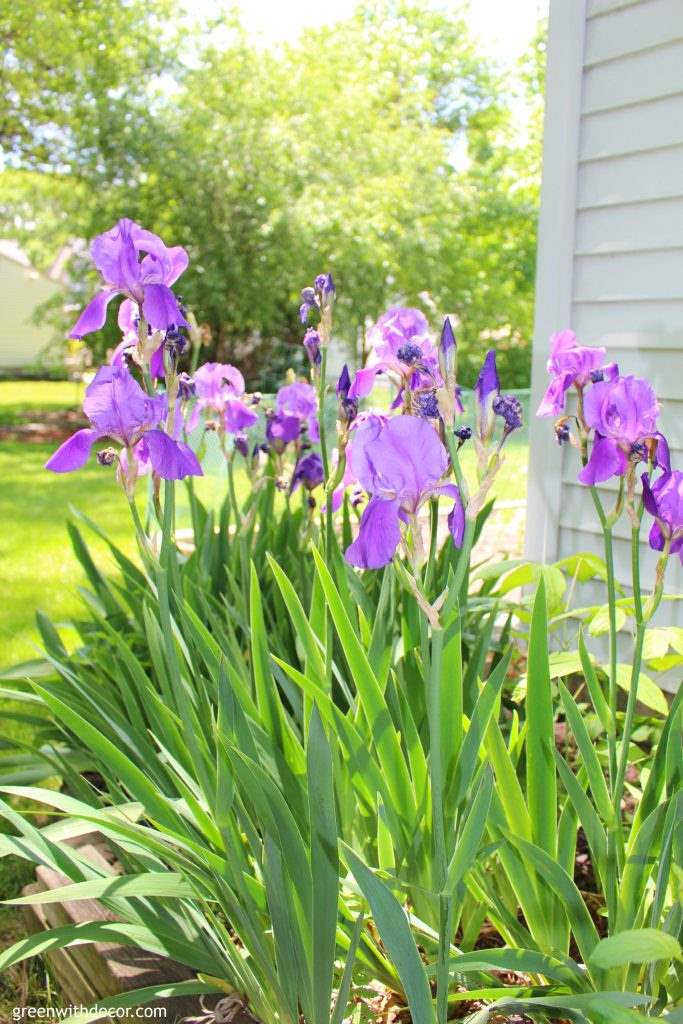 The yard is always a work in progress!
Doesn't it seem like you could spend forever outside and still have more landscaping to do? We're getting there!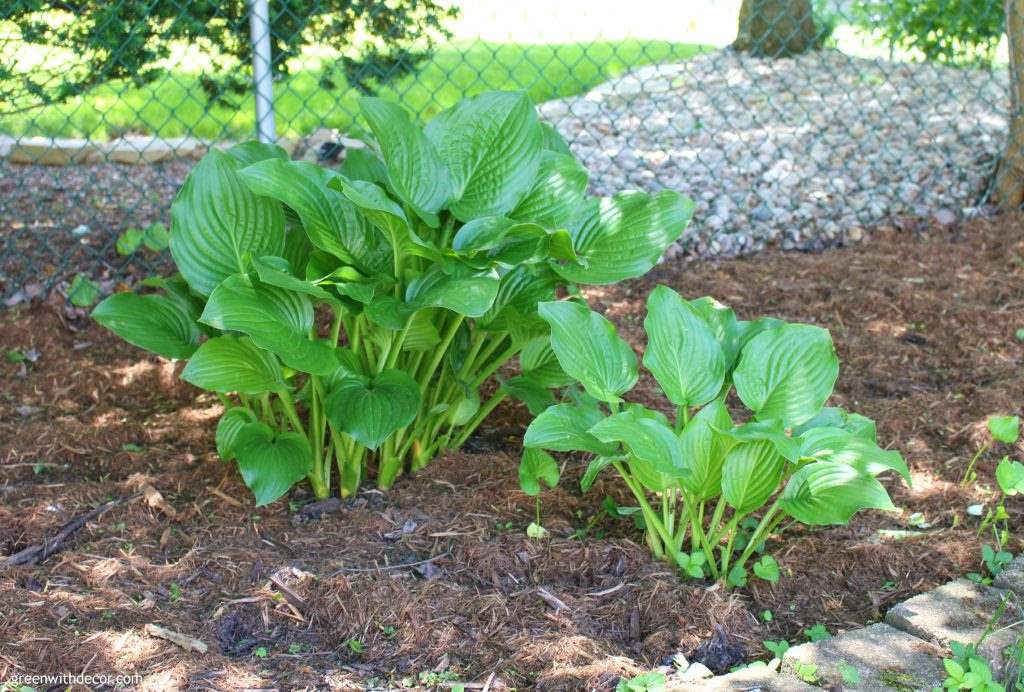 I'm glad we focused on the patio area first.
We love spending time out here. It makes the summer nights even more fun!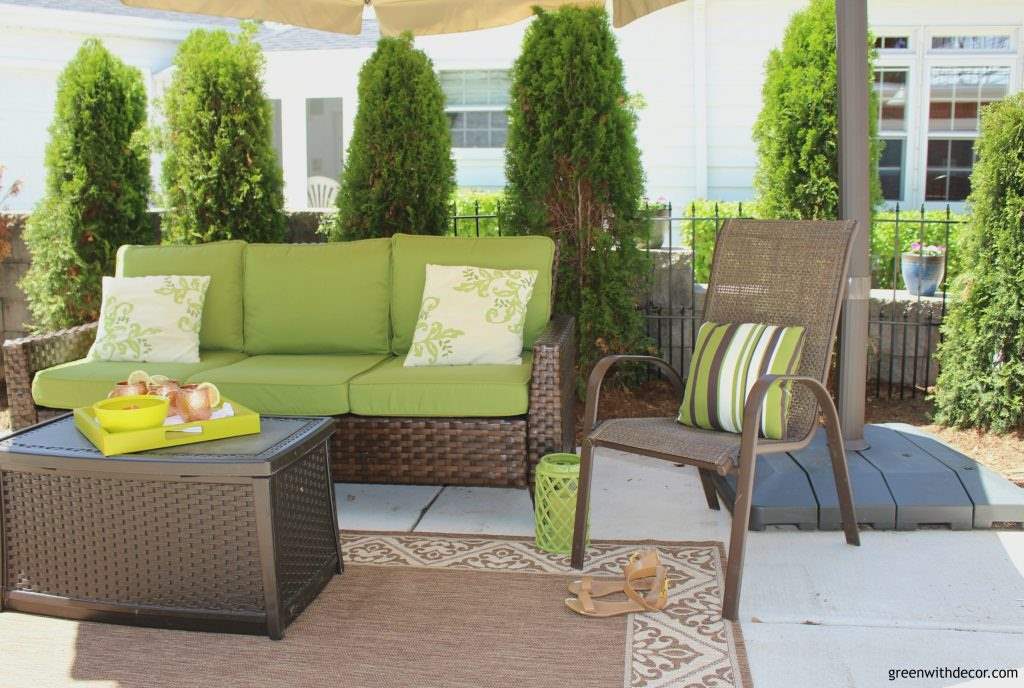 GET THE LOOK:
Since a popular question I get is "Where'd you get that?!," here are links to the same or similar sources:
Head on over to the other girls' blog posts for more outdoor decorating and landscaping ideas.
Lehman Lane | Our House Now a Home | Craft + Tell | Green with Decor (you're here!) | 2 Bees in a Pod #1 | Two Purples Couches | Knock it Off Kim | 2 Bees in a Pod #2 | My Life from Home | Average but Inspired | Refresh Living | Little Bits of Home | The Honeycomb Home | Iris Nacole | Twelve on Main | Beauteeful Living | Hunt & Host | Love Your Abode | My Creative Days
You can follow along with all the garden tours on Instagram by following #gardentourbloghop.
Remember to bookmark or pin this post if you want to save it for later!

Pin it!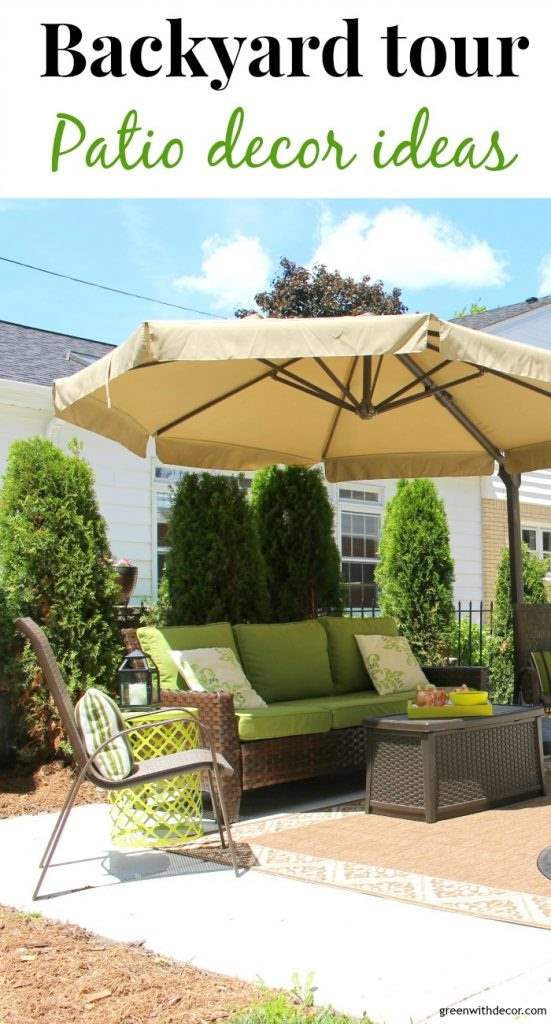 Want to read more posts like this?
Follow along: Get my emails | Facebook | Pinterest | Twitter | Instagram