Disclosure: This post is sponsored by At Home. All opinions, images and love of patio decor are 100% mine.
It's warm out!!
I'm too excited about this. But when you live in Wisconsin, the winters springs are long. So when summer weather arrives, we are READY.
We did some major updates to our backyard last year, including putting in a patio and getting an awesome outdoor couch and a big umbrella for shade.
I have a list of things in that blog post that I hoped we'd cross off this year. We're getting there!
I'll share the whole backyard tour in a few weeks as part of an outdoor tour series I'm doing with some fellow bloggers, but today I wanted to share some fun ways we've been able to add color to the patio.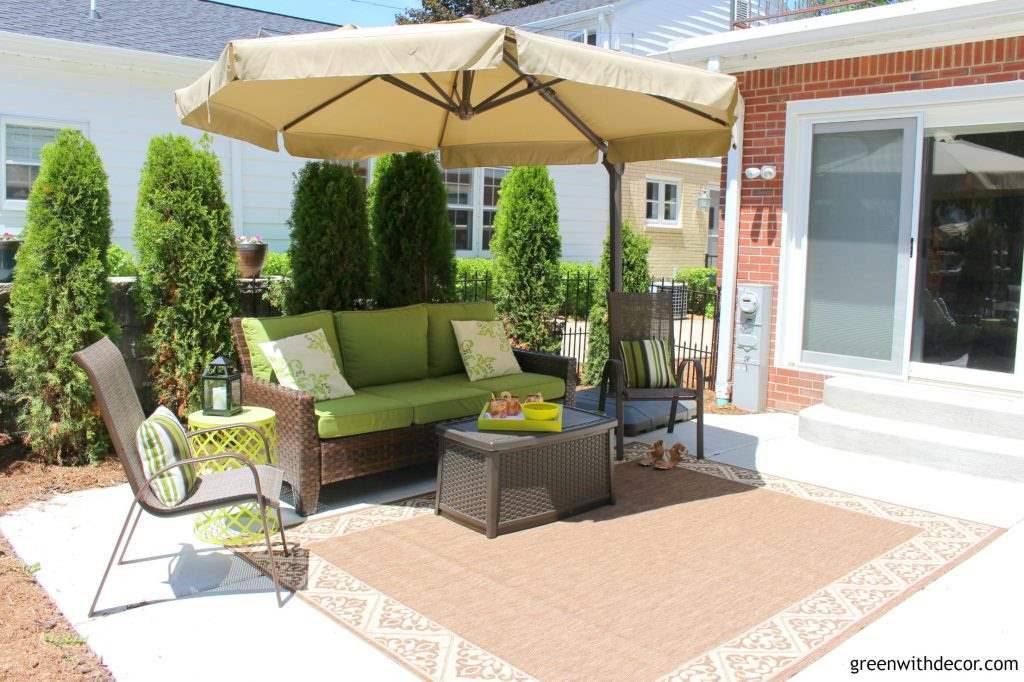 1. End tables
I'm so happy! I found an end table that has that garden stool look without costing a million dollars!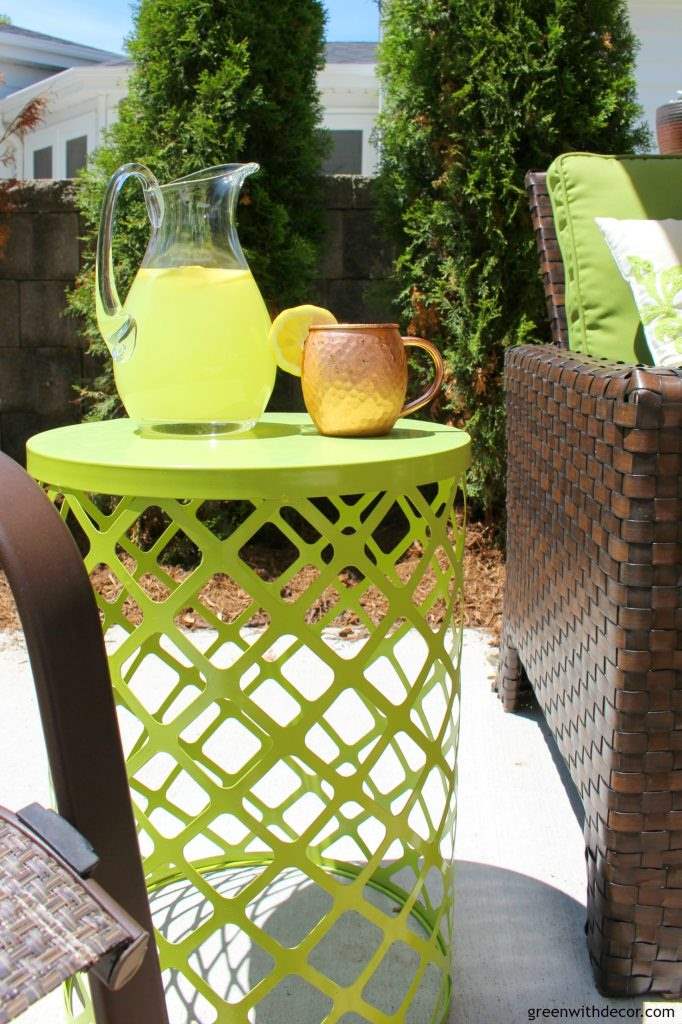 I was shopping at At Home recently because their outdoor section is crazy big with cushions, pillows, tables, basically everything you could want for a backyard in just about every color.
I knew it was the place to go to start crossing things off my list for the patio.
I found a few green tables I liked: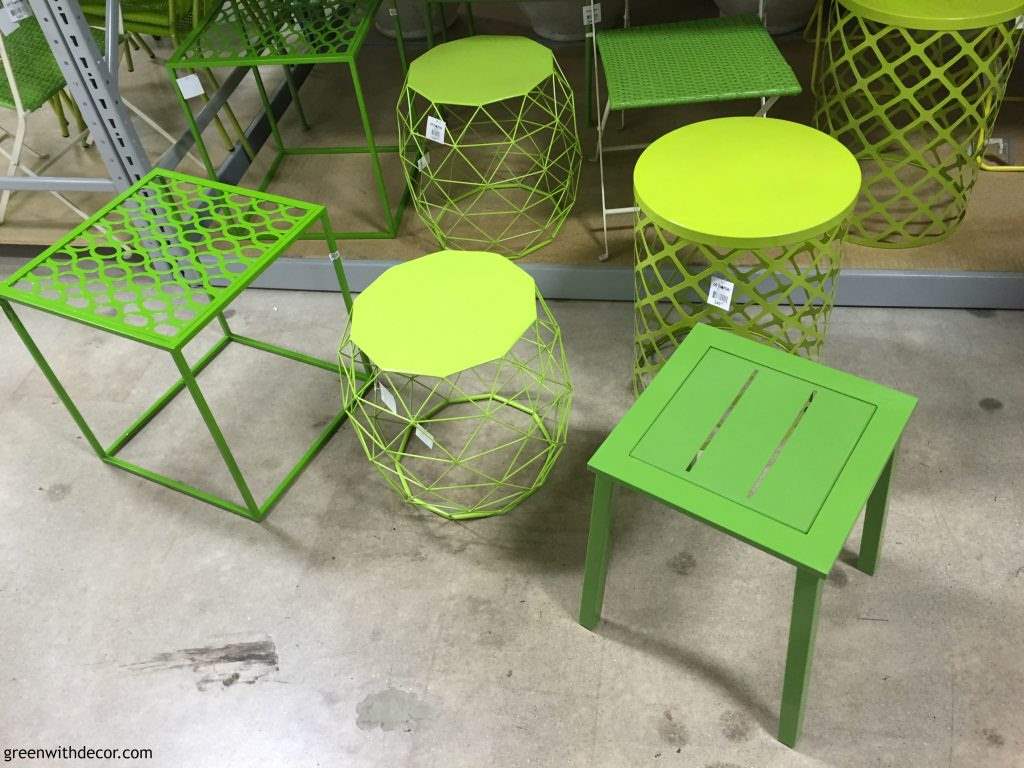 I debated between them, but I liked the color, style and height of the one I picked. What do you think?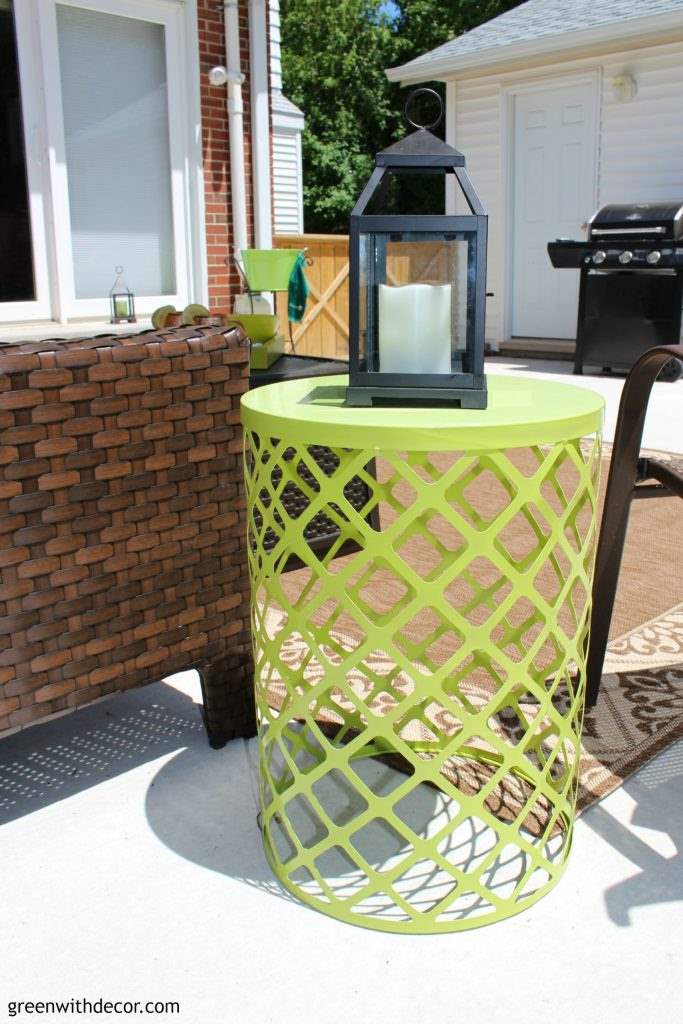 2. Cushions
I talked last year about how I dreamed of an outdoor couch and last year that dream finally came true. A year later, I feel the same.
An outdoor couch is really one of the best things you could buy yourself for the patio.
They're so comfy. AND colorful.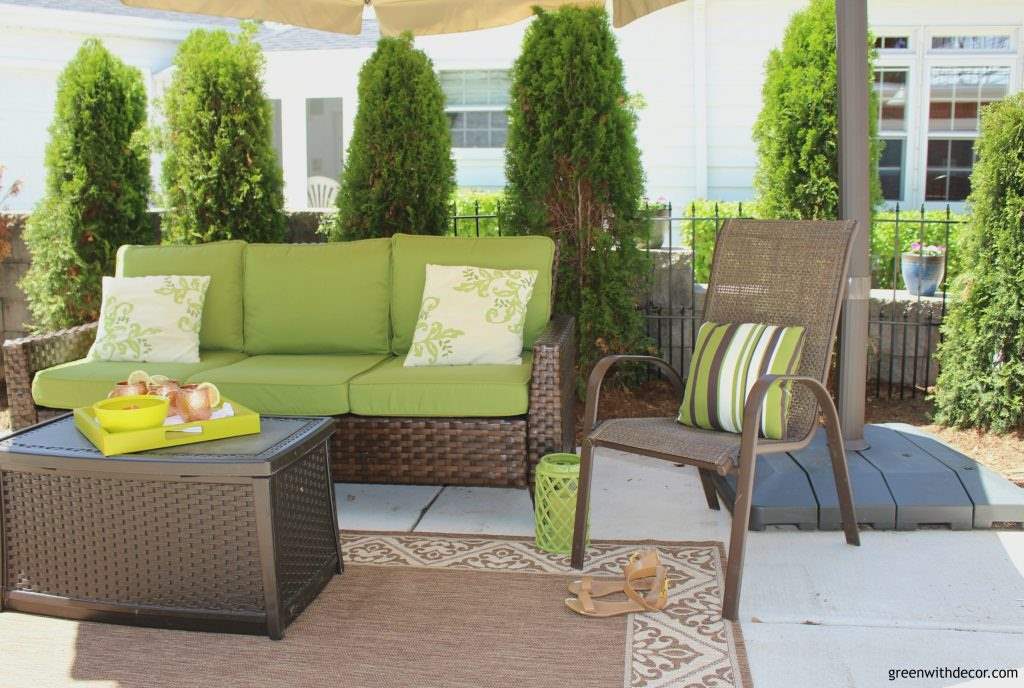 3. Throw pillows
An obsession of mine in every room of the house, so why should the patio be any different? It shouldn't!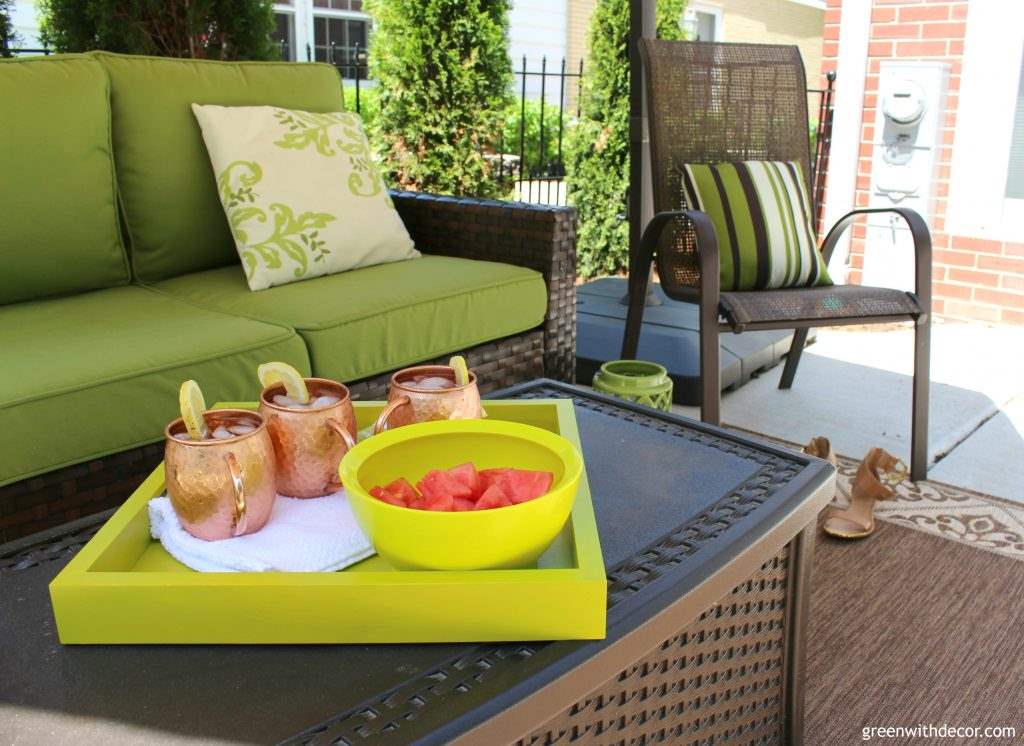 4. An outdoor rug
Yes! We crossed this off last year's list, too!
I love how the rug grounds the space and makes it feel a bit more like a cozy room out there while you can still enjoy the fresh air and sun.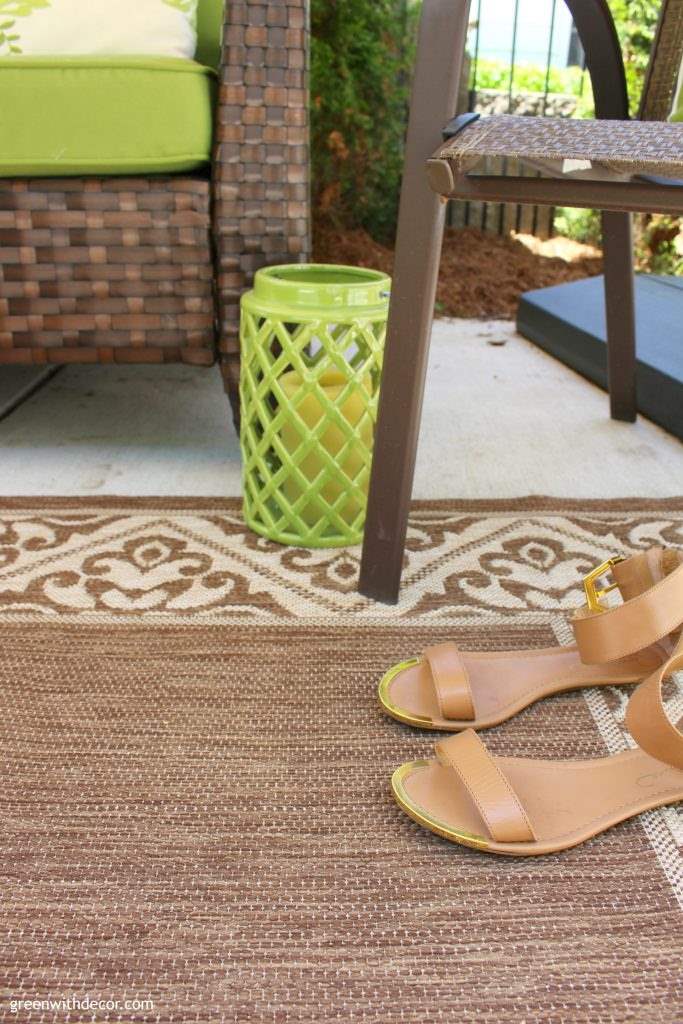 Oakley seems to think the rug is just like any other part of the backyard and continues to bring pieces of mulch and sticks onto the rug and then leaving them there while she's off to chase a squirrel. It's really nice.
She just starred at me while I threw all of her sticks back into the mulch so I could take these pictures, and I had a feeling she was planning on just bringing them all back on the rug.
Guess what? Yep, the rug has sticks scattered around it again. I'm ignoring them.
5. Trays
Along with throw pillows, I also have an obsession with trays. I don't know why. They're just so handy to carry things around on though, and they look pretty with everything corralled on top of them. Okay, so I guess that's why I love trays!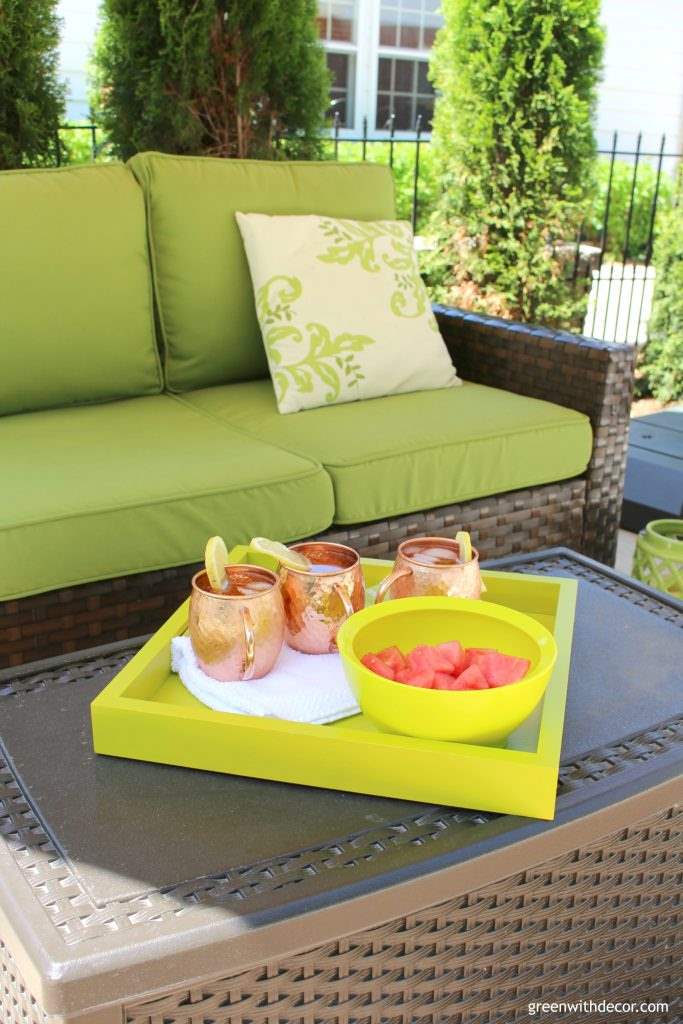 This post contains affiliate links. This means if you click the link and buy something, I may receive a small percentage of sales at no extra cost to you.
How do you add color to the patio?
Can't wait to share the full backyard with you guys in a few weeks!
GET THE LOOK:
Since a popular question I get is "Where'd you get that?!," here are links to the same or similar sources:
Remember to bookmark or pin this post if you want to save it for later!


Pin it!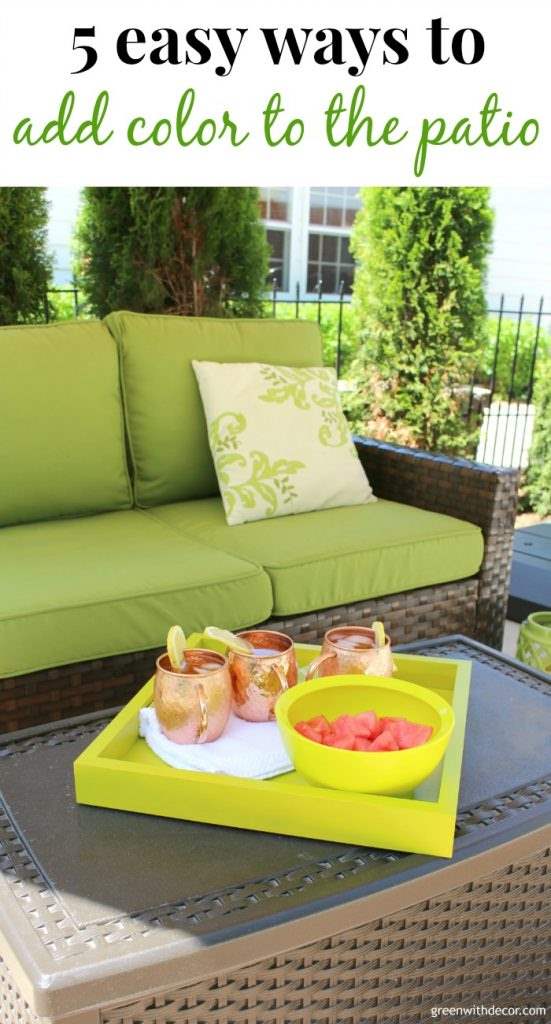 Want to read more posts like this?
Follow along: Get my emails | Facebook | Pinterest | Twitter | Instagram