We've been busy this year working on our backyard. It's far from done, but we've made a lot of progress.
We've had fun enjoying it so far – sitting out there catching up with friends and enjoying a few drinks.
I'm excited to share our progress with you guys today.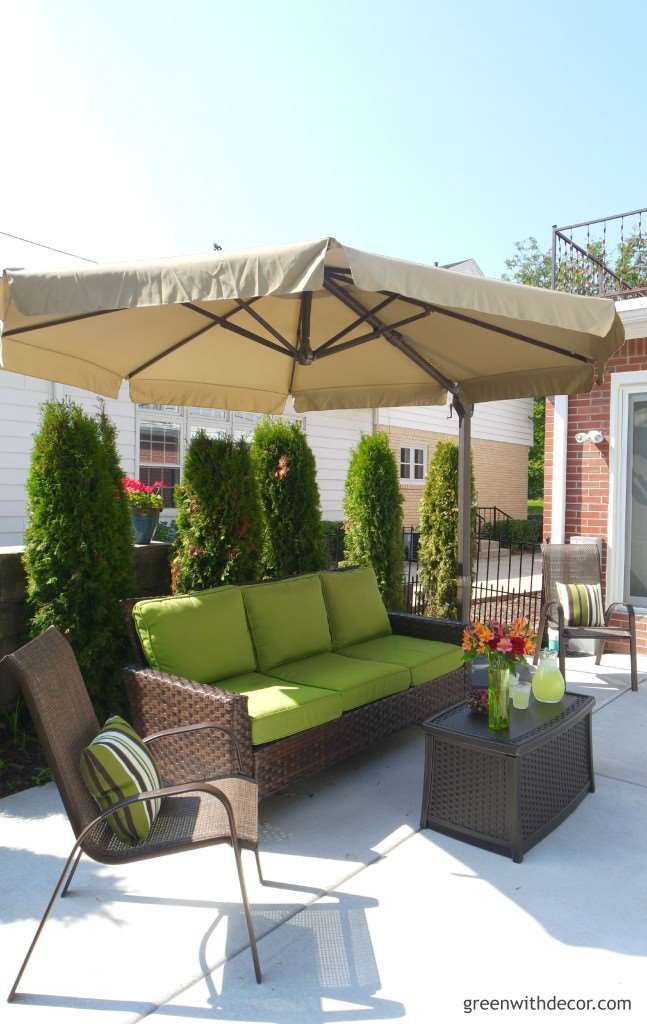 When we bought the house, the backyard looked a lot different. The previous owners had a small, older wooden deck that wasn't centered in the yard.
There was a huge tree that blocked a ton of sunlight, and it was so close to the house, we wouldn't be able to put in a good-sized patio.
The house didn't have any access to the backyard, which was important to us, so we put in patio doors across the back of our family room.
Here's a look at the backyard before: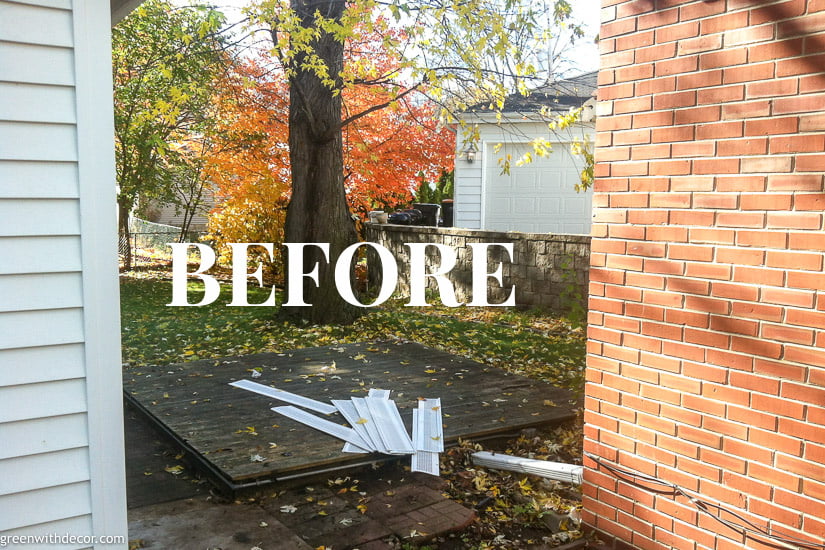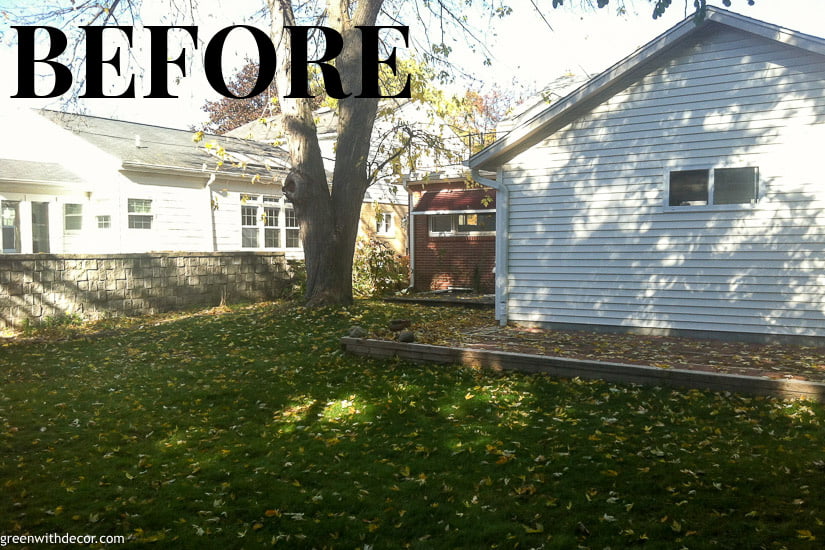 And a quick in-between shot before we put in the patio: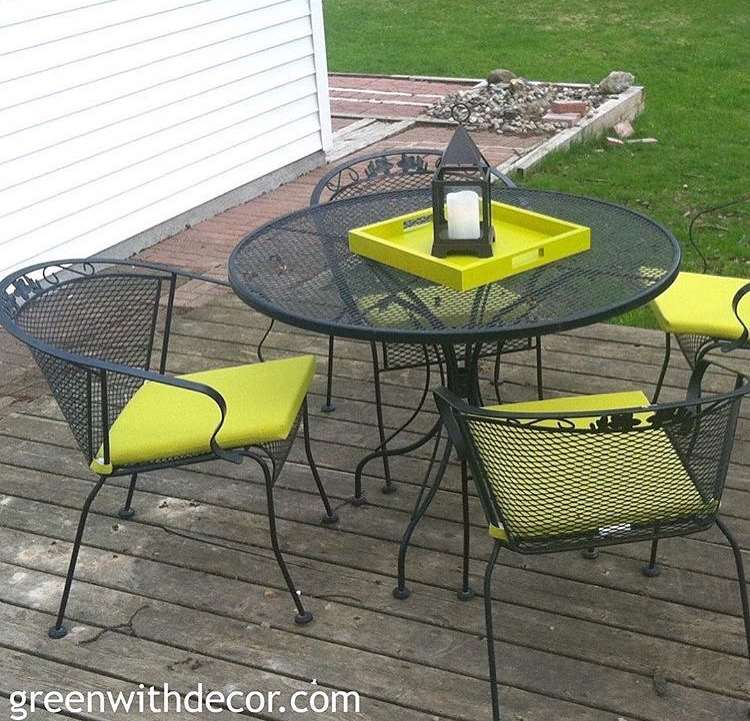 And now: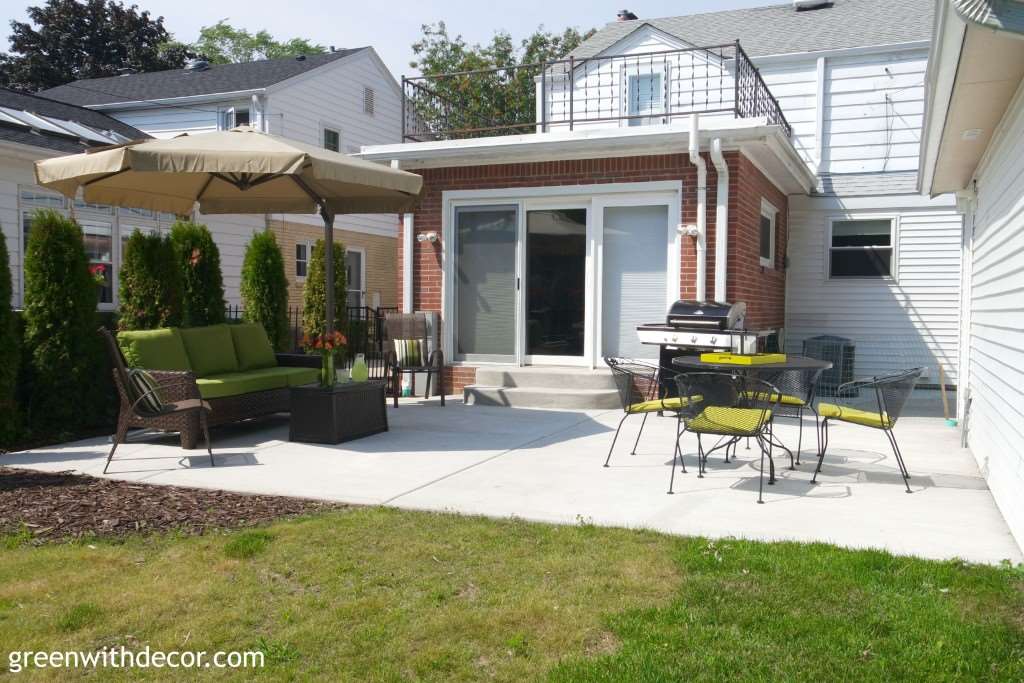 We knew the backyard was going to be a huge project all on its own. We focused on the inside renovations first and decided to start on the backyard this year, knowing we wouldn't get to it all.
Since there was so much to do, we prioritized.
1. A good-sized patio
We started with pouring a concrete patio. We thought a lot about the patio size. We wanted a space big enough for a couch/seating area, a fire pit, a table/chairs and a grill, but we also didn't want a patio that was so big it took over our whole yard. I love the size we decided on.
Then we planted arborvitae along one side of our yard for some privacy.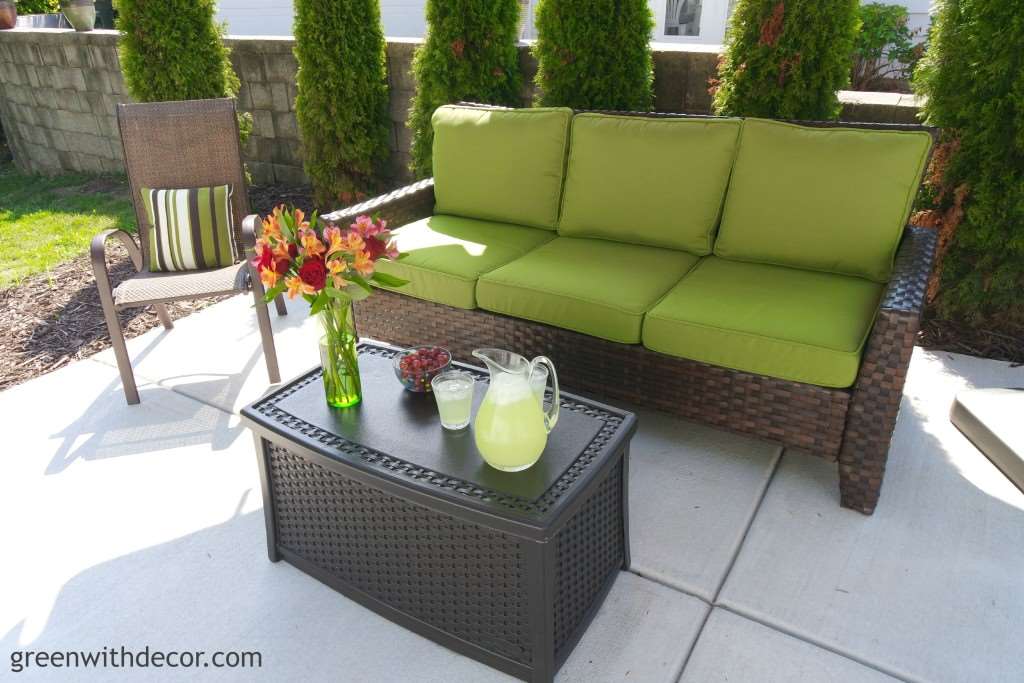 This post contains affiliate links. This means if you click the link and buy something, I may receive a small percentage of sales at no extra cost to you.
We also had some grass to plant and mulch to do. We did what we had to do this year, but much more landscaping is on our list for next year!
2. Comfortable seating
What good is a gorgeous backyard without comfy seating to enjoy it? This one was so important to us.
We had this black table and chairs set at our previous house. I love the matching cushions and tray.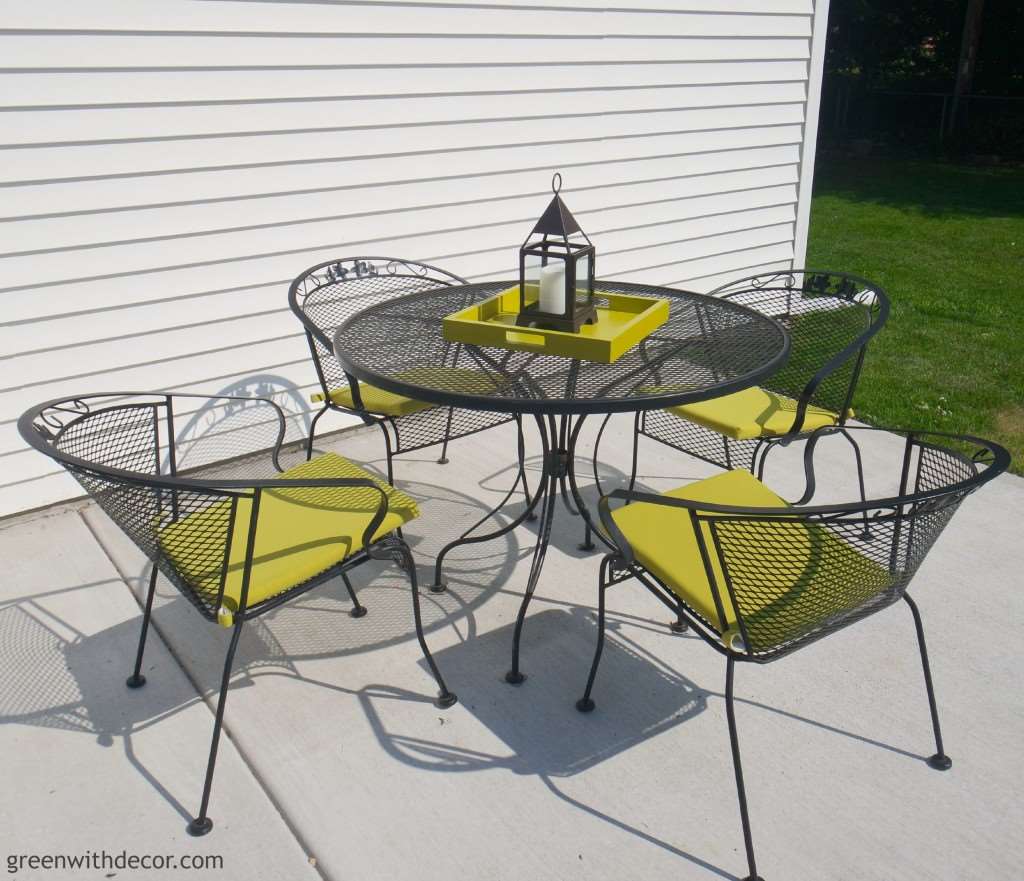 I've long dreamed of having an outdoor couch – and that dream finally came true this year!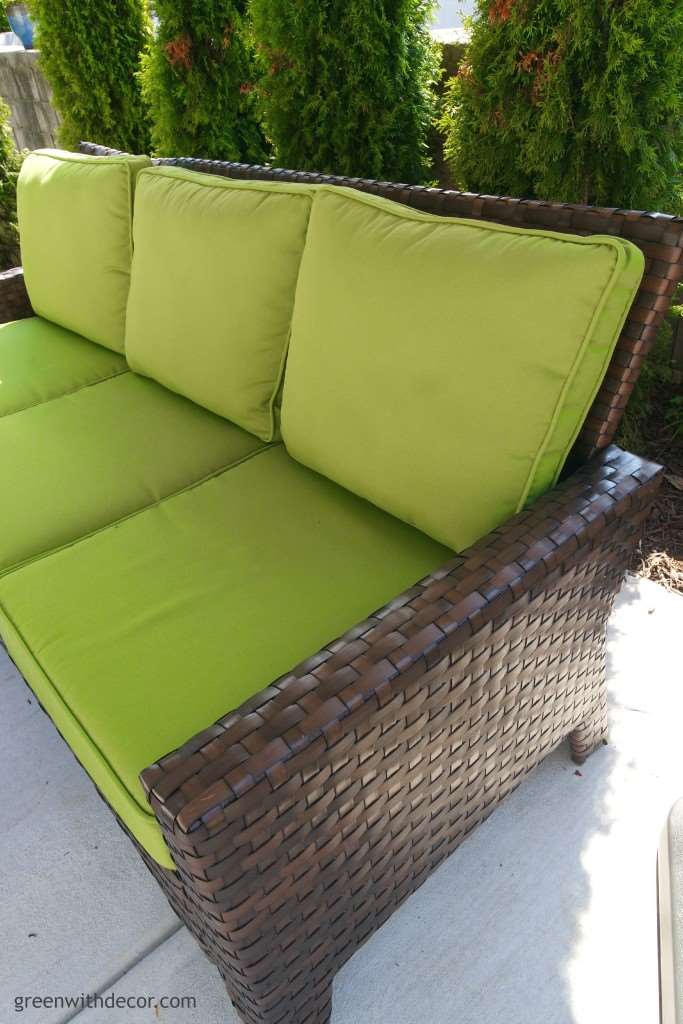 I know you guys will be surprised, but when I saw the green cushions, I knew this was the couch for us.
Something to keep in mind when patio furniture shopping – we waited until mid-July to buy the couch (honestly because we didn't get around to it till then). It ended up working out, since it was on sale by then. We saved a good amount of money by buying half-way through the summer season.
The couch also came with these striped outdoor pillows. I'm not sure what it is about outdoor throw pillows, but whenever I see them, I want to buy them all!
I've restrained since we had other priorities this year, but don't be surprised if you see more throw pillows out here next year! (See my favorite outdoor pillows under $15 here!)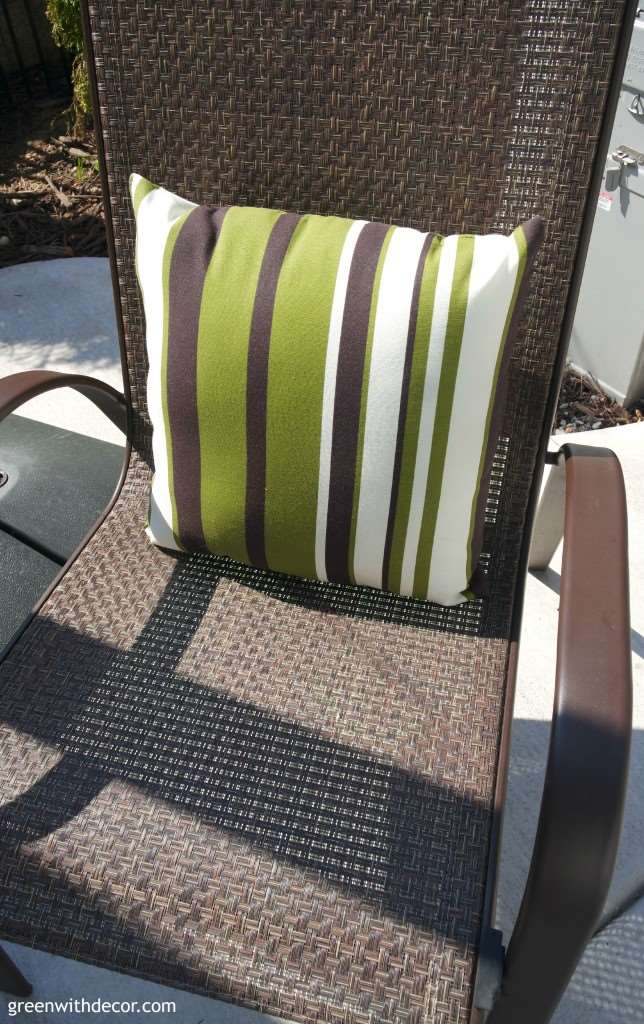 I've had the two brown chairs forever. I bought them when I lived in an apartment after college; they were perfect on my tiny balcony.
3. Outside storage/covers
We wanted a coffee table outside. I wanted it to match the dark brown look of our couch, and we wanted one that opened up for storage.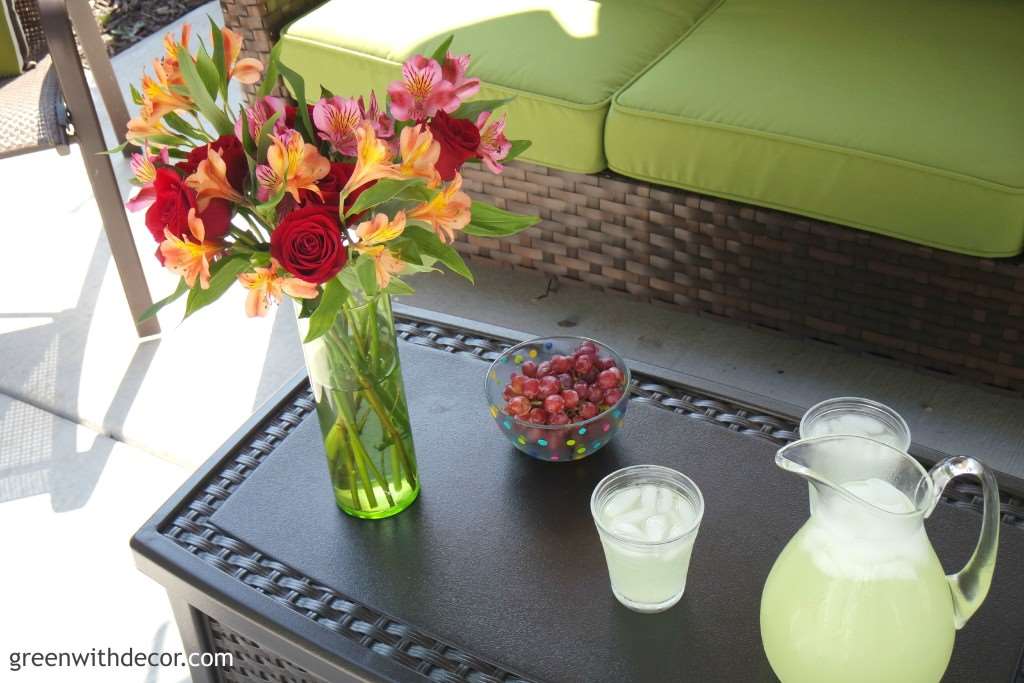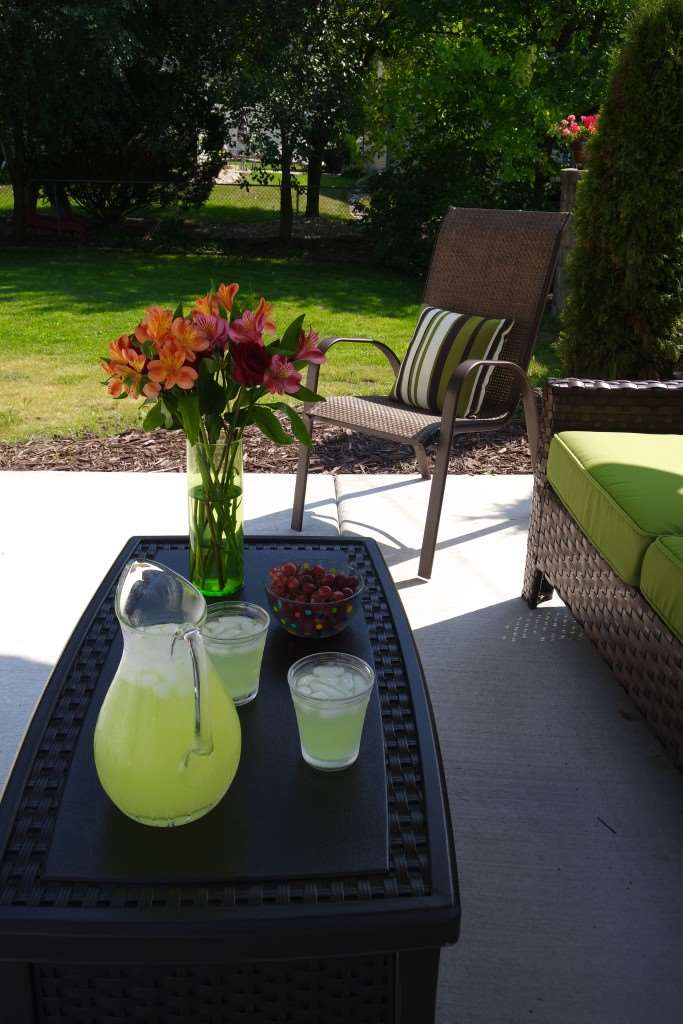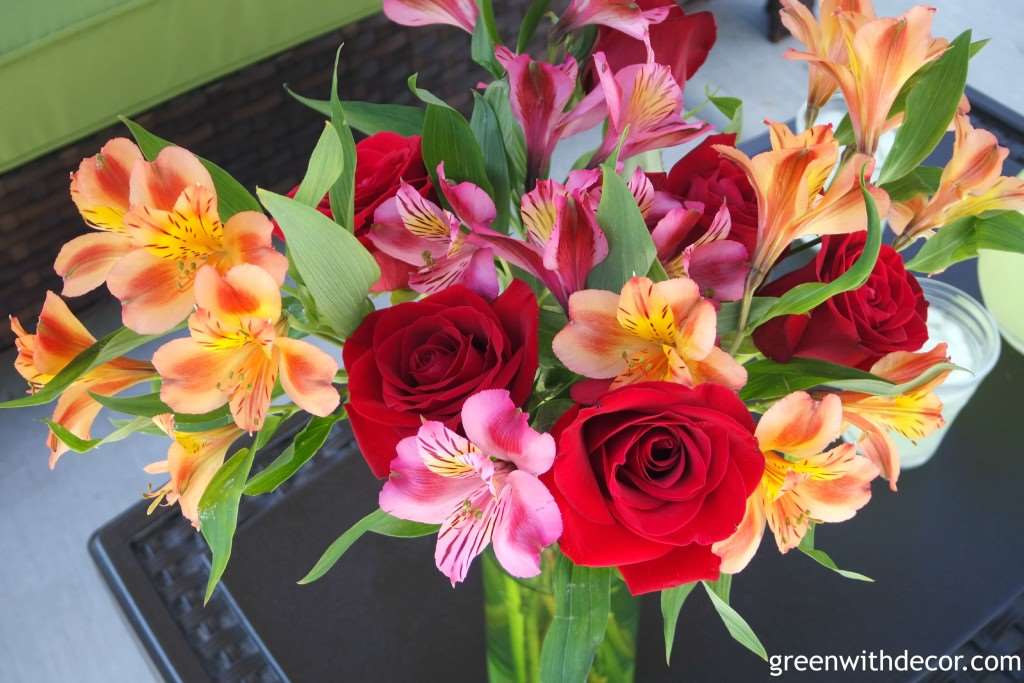 After some searching, we found this coffee table on Ebay.
It's perfect for storing the chair cushions and pillows. We don't leave them out when we're not using the space – we don't want them to get dirty or soaked every time it rains.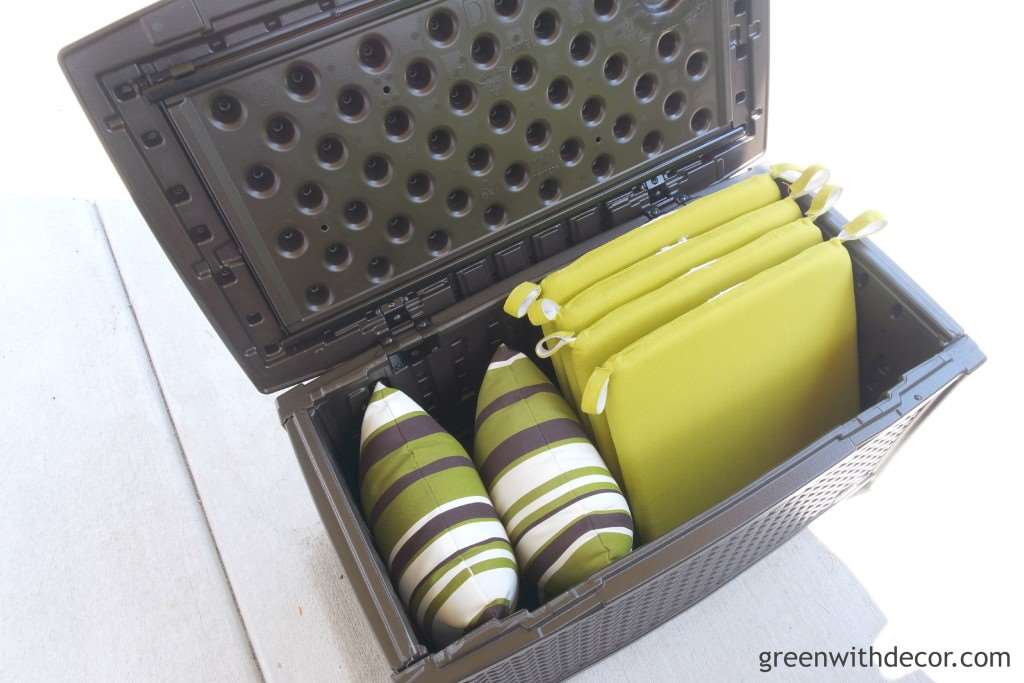 We didn't want the couch cushions to get dirty either, and we definitely didn't want to deal with bringing the cushions in and out every time we wanted to use our couch.
We found this couch cover at Menard's.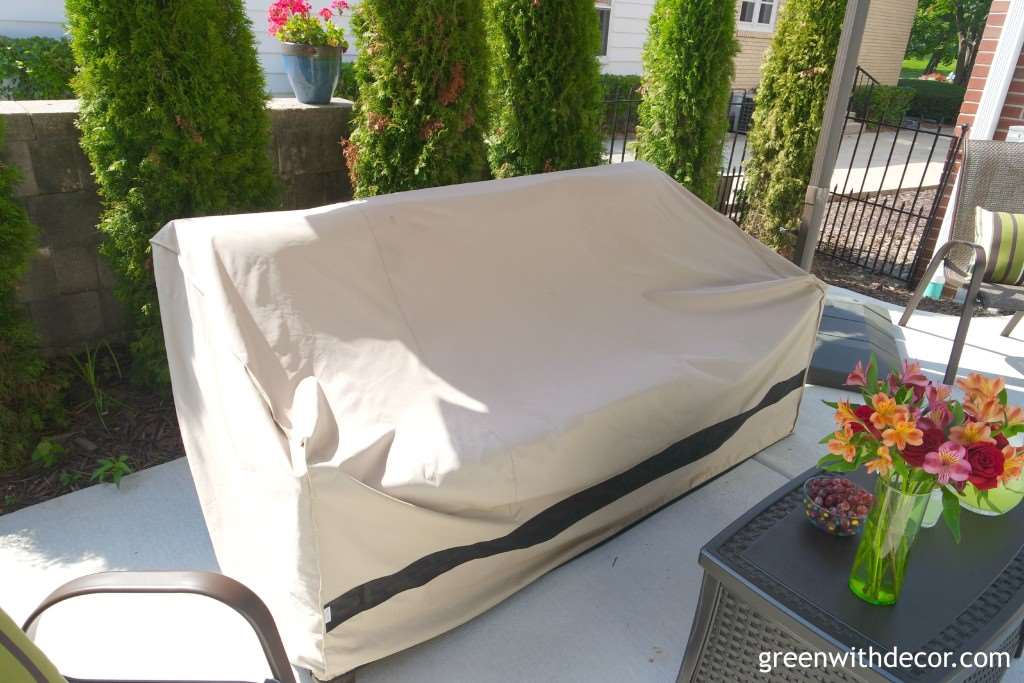 It's perfect. It has netting at the bottom to let the water out, so water never sits on the cover after it rains.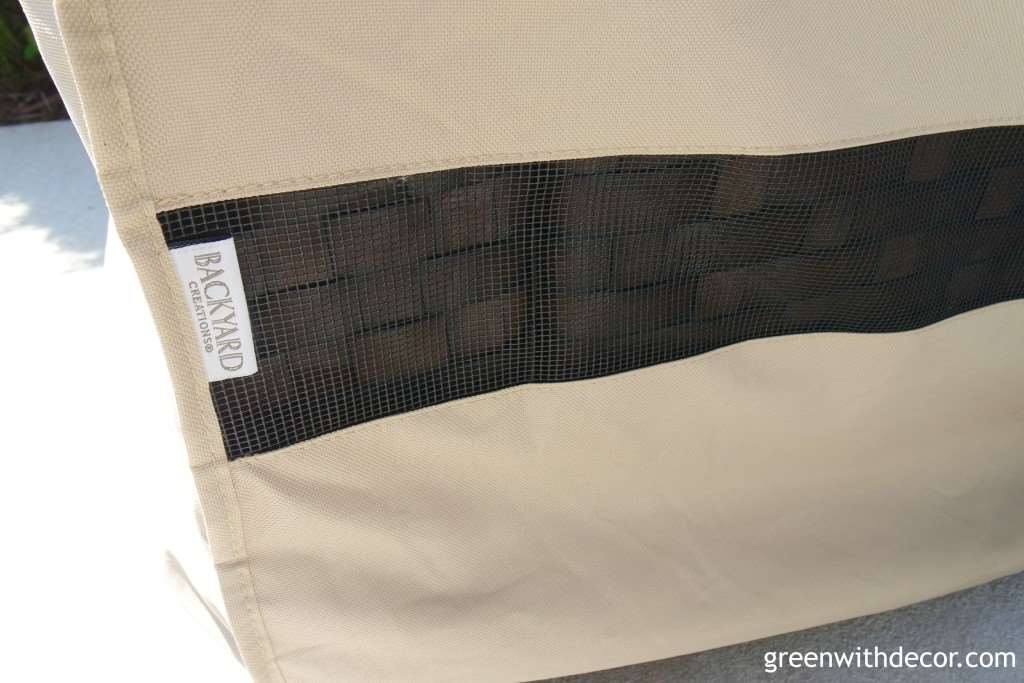 4. A good umbrella for shade
We got this umbrella at Menard's, and I can't say enough good things about it. Our neighbors have one, and they inspired us to go buy the same one.
It's HUGE and definitely provides enough shade no matter what time of day we're out there.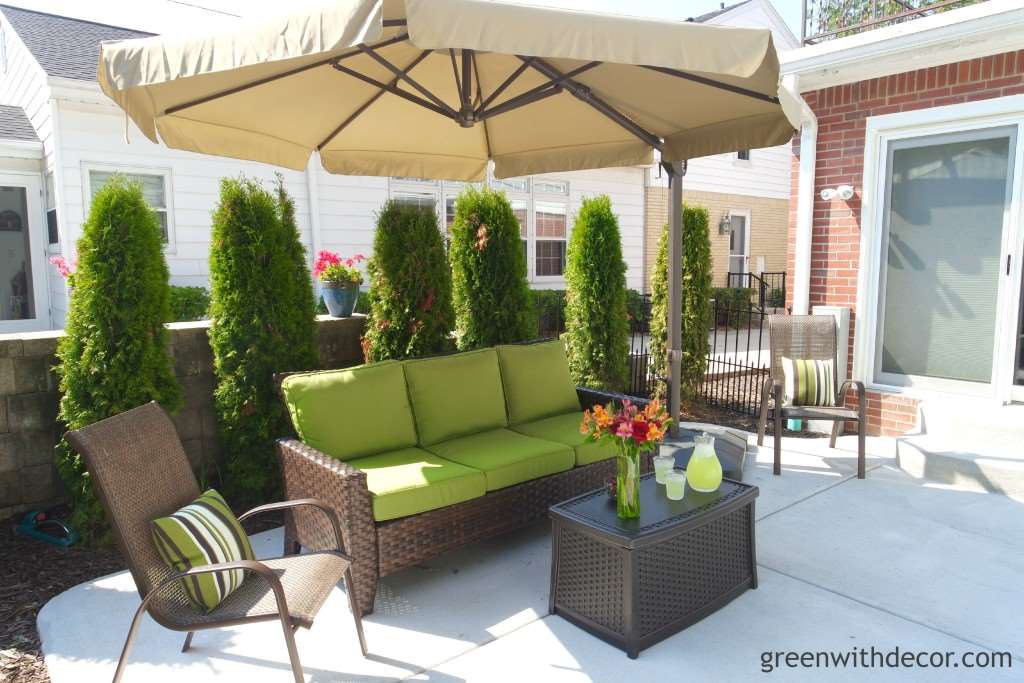 It swivels and turns on any angle, so we can position it pretty much anyway possible to always ensure we can enjoy the outside space without squinting because there's too much sun.
My one complaint about the umbrella was filling these tiny holes in the base.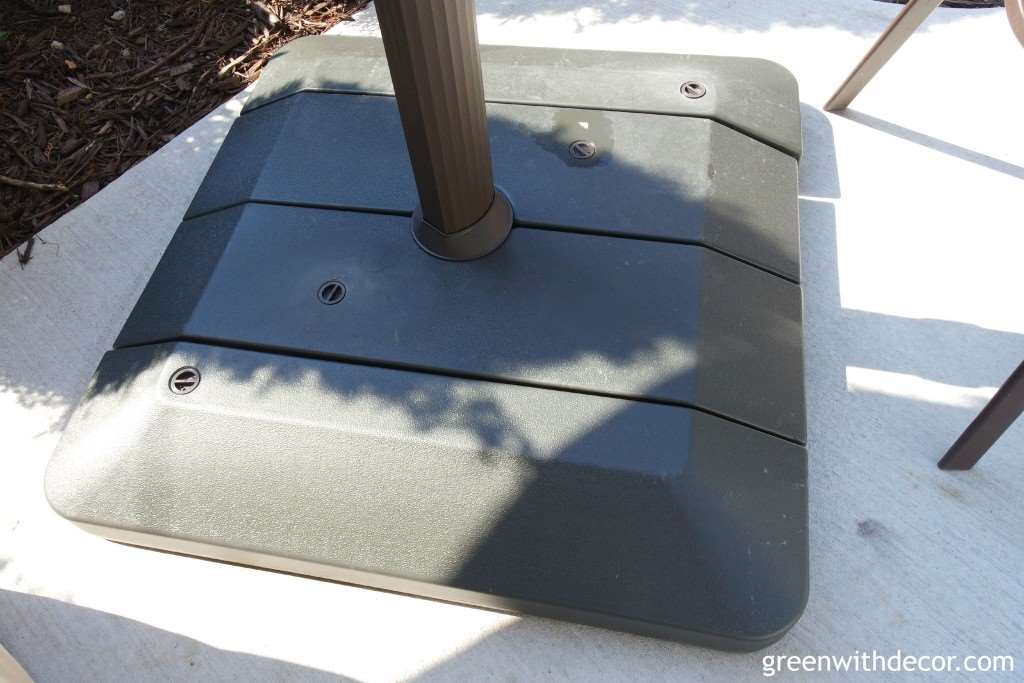 We filled two of the sections with water and two with sand. We planned to fill all four with sand, but after two, we gave up. It's a bit challenging to get sand into that tiny hole!
5. A fence
We were really lucky that most of our yard was fenced in when we bought the house. We had three small corners of the yard where we still needed fencing.
These black garden fences are perfect for this little corner.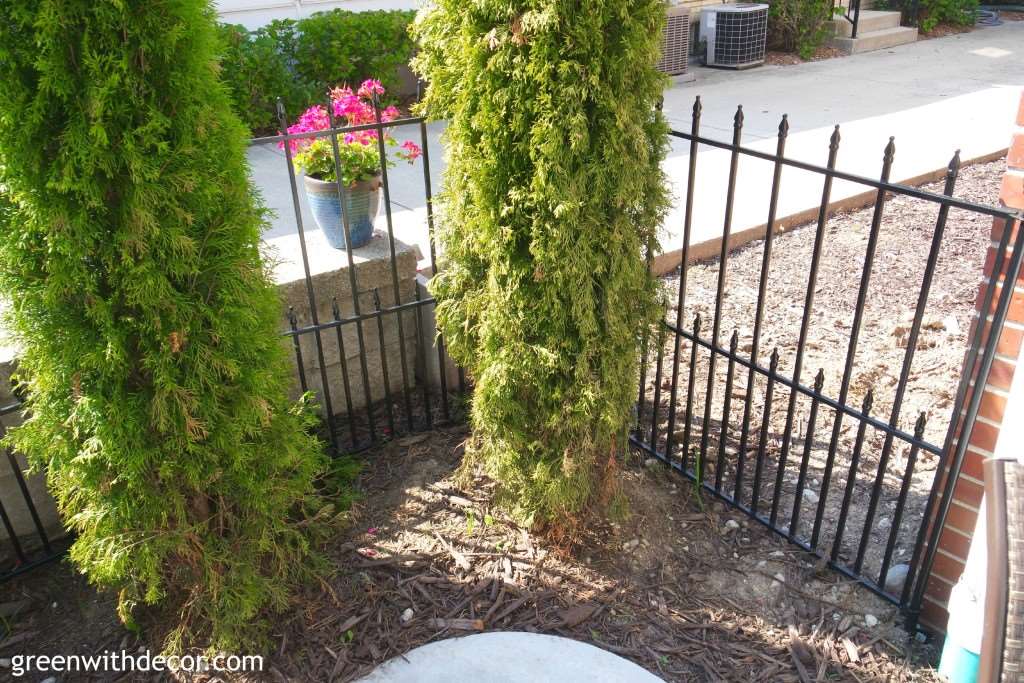 We have temporary fencing up in the other two spots so our puppy Oakley can run around our yard without running away. It doesn't look nice, but it's green so it kind of blends in, and it's just temporary.
Kalen and a neighbor are putting up a wooden fence in those two spots in a few weeks.
So that's our backyard right now! Even though it's not done, I wanted to share the progress so far. We LOVE it and are happy with everything we got done this year.
Rooms – and outdoor spaces – are so often a work in progress, but this is definitely a work in progress that we're enjoying as we go!
On our list for next year:
We have so many ideas for making our backyard even better next year. Just typing out this list makes me wish it were spring already!
1. A vegetable garden
We have the perfect spot all set up behind the garage – just need to pull out the weeds and start planting! (Update: Check! See the updated garden here.)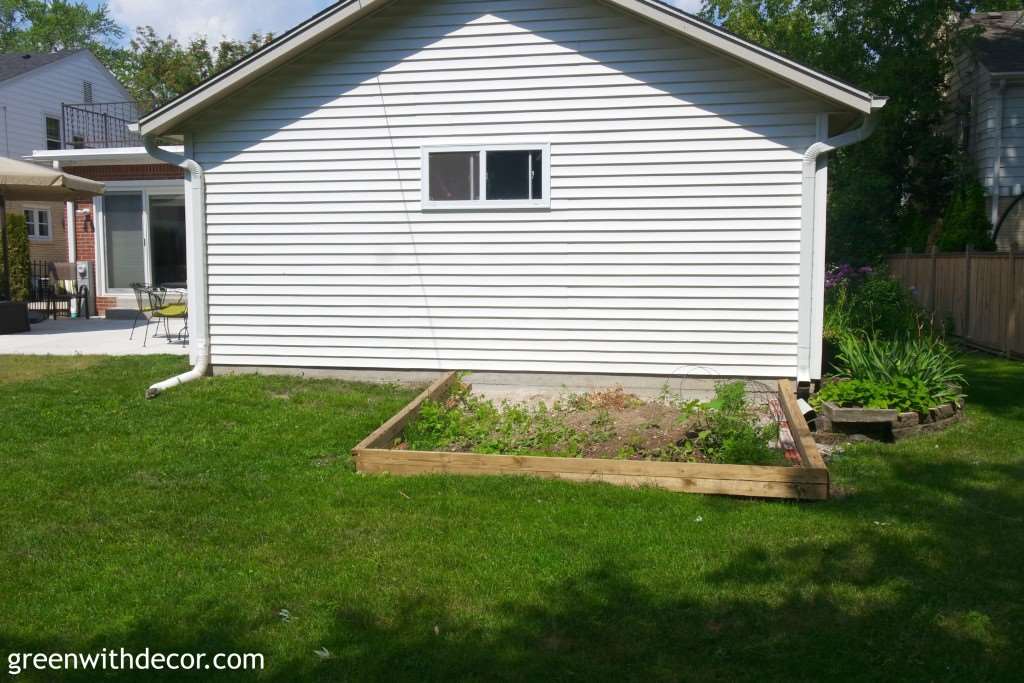 2. Landscaping/flowers
I can't wait for this. This will be a big project in the spring – stay tuned!
3. Planters near the house
When we added onto our kitchen, we had to move the electric box. By code, it has to be on the back of house, which means it's a big eyesore from our patio.
I want those nice tall planters to place on either side of our patio door for a more finished look.
4. An outdoor rug
To add a bit more decor out here.
(Update: Check! See the outdoor rug here.)
5. A fire pit
For those cooler spring and fall nights. I love sitting outside even when it's a bit chilly. This is Wisconsin after all. (Update: Check! See the fire pit here.)
6. Artwork / curtains / something …
I want to add some color to the long white garage wall behind the black table and chairs.
I have some ideas in mind – more to come next year!
7. Light fixture
The current light fixture on the garage isn't exactly my style. We'll be replacing this with something a bit more modern.
8. End tables
I've been looking at garden stools to use as end tables between the couch and two brown chairs. I haven't found any I love at a reasonable price yet. Stay tuned!
(Update: Check! See the new side table here.)
9. Umbrella for the table
The umbrella we have is awesome and perfect for the couch area of the patio, but we want an umbrella for our dining area, too.
GET THE LOOK:
Since a popular question I get is "Where'd you get that?!," here are links to the same or similar sources:
My friend Heather from Craft + Tell is also sharing their patio reveal today, so be sure to check out her blog post, too. Her blog is full of creative and fun DIY projects!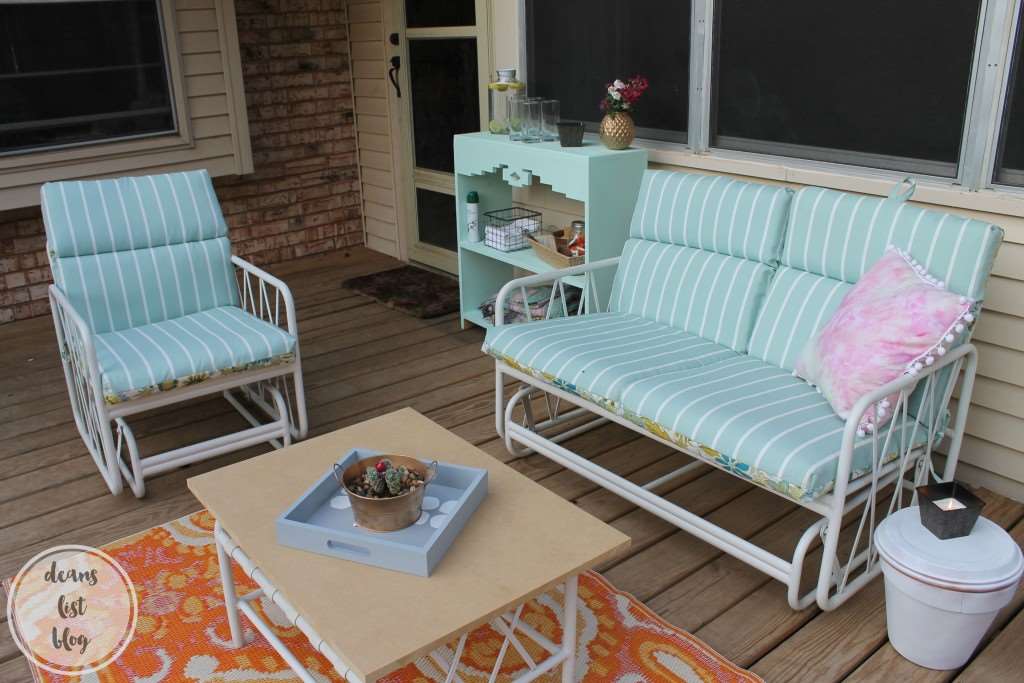 What's on your list for creating the perfect backyard oasis?
You can see more of our backyard in these posts:
Remember to bookmark or pin this post if you want to save it for later!

Pin it!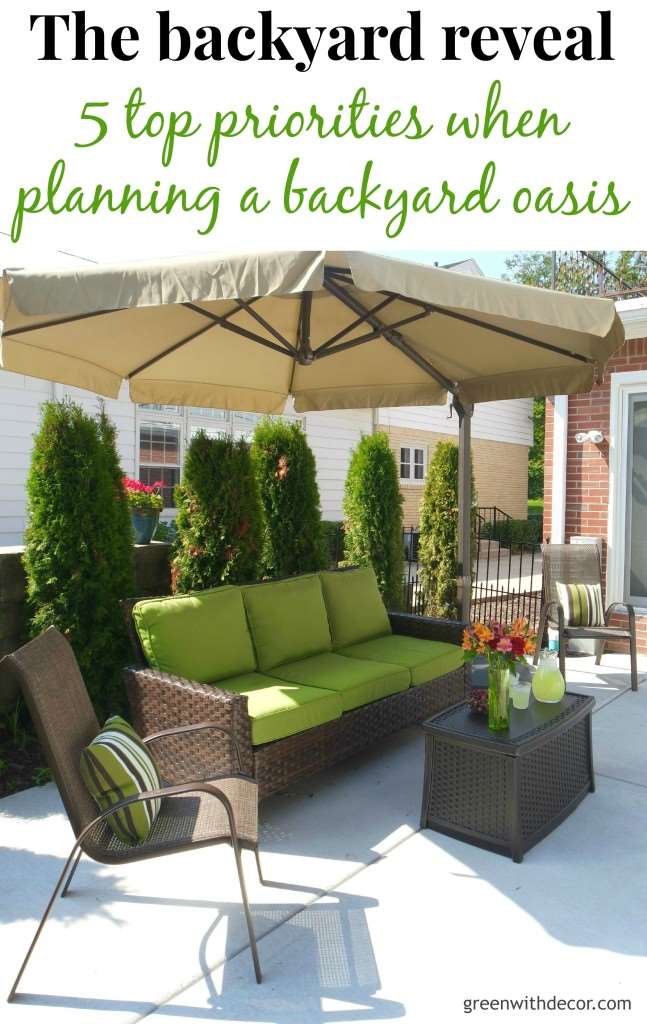 Want to read more posts like this?
Follow along: Get my emails | Facebook | Pinterest | Twitter | Instagram