Disclosure: This post is sponsored by RYOBI. All opinions, images and love of DIY projects are 100% mine.
The backyard updates continue over here!
We're lucky enough to have a lot of trees and plants growing in along the back and side of our yard, but after adding the swing set and moving the hammock back here, it was most definitely time for some serious landscaping.
Here's the view after some yard work. (You'll see some before shots below.)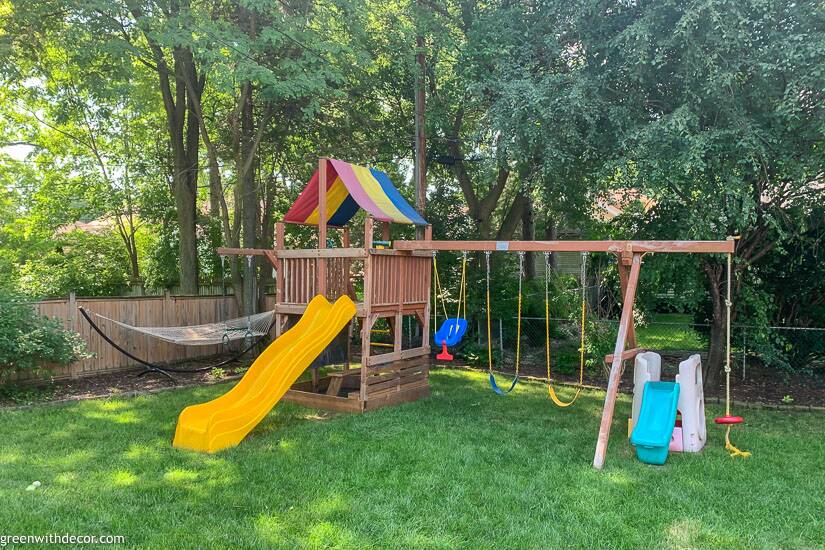 Kalen is great at staying on top of mowing the lawn, but we decided to kick things up a notch this year.
This post contains affiliate links. This means if you click the link and buy something, I may receive a small percentage of sales at no extra cost to you.
3 tips to keep your yard looking great:
These extra landscaping tasks make such a difference! Our yard looks great.
Which is awesome since we're pretty much home all the time now and spend a ton of time out here.
Note: Be sure to follow all safety guidelines when using RYOBI's yard tools.
1. Trim brush and grass along the edges of your yard
We use our RYOBI 40-Volt Lithium-Ion Brushless Electric Cordless Attachment Capable String Trimmer 4.0 to trim brush and clear grass along the edges of our fence and siding along the garage. It gives the yard such a clean, finished look!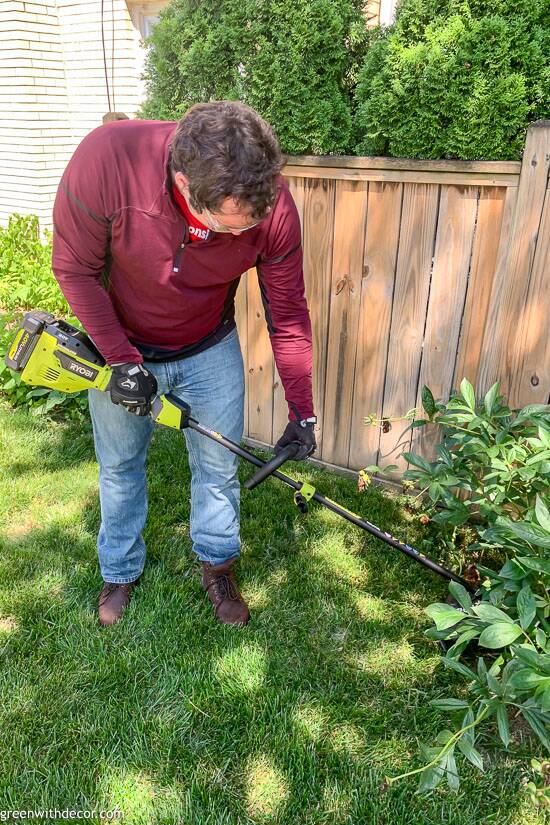 When you skip trimming, you'll end up with messy brush and longer pieces of grass along the fence, siding or other landscaping.
RYBOI's string trimmer is great. The brushless motor means increased cutting power and longer run time. The 40V 4.0AH battery also means longer run time.
And bonus, the string trimmer works with all of RYOBI's Expand-It attachments (like the pole saw attachment listed below), which are easy to attach and release with just one twist. Such a genius idea for yard tools!
Here's a before and after: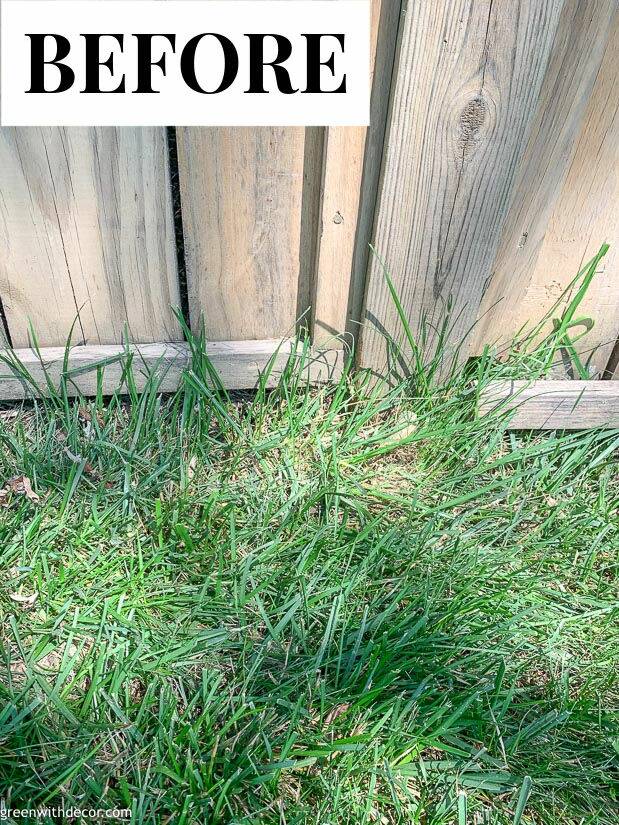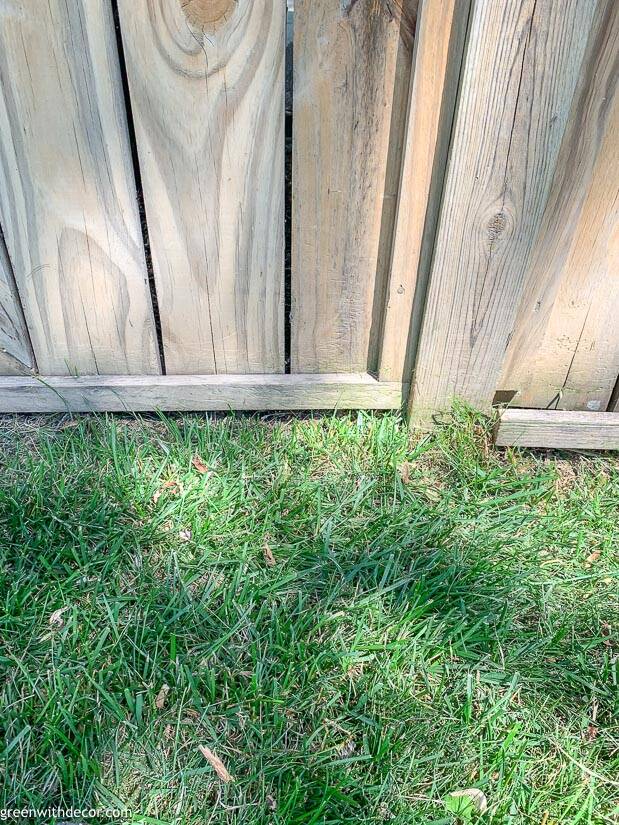 2. Trim and cut low-hanging tree branches
We definitely needed to trim the trees around our swing set. The branches were infringing on the top of the treehouse. Here's a closeup before and after: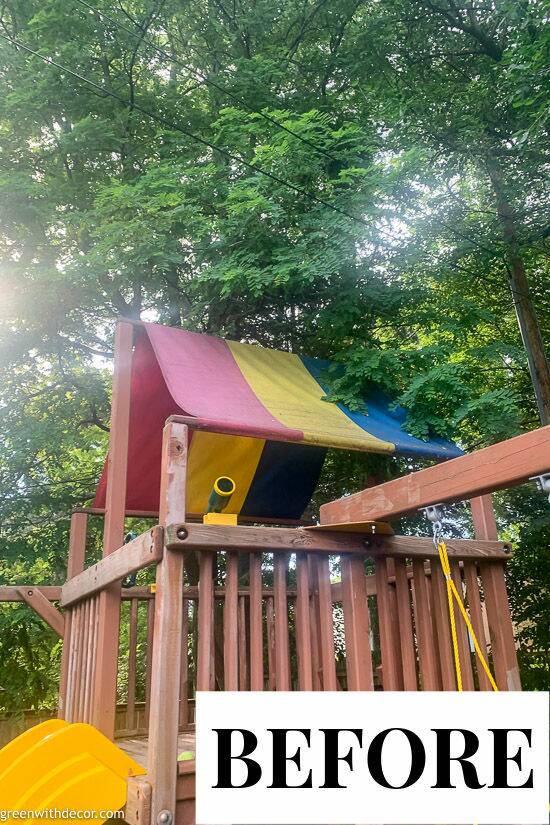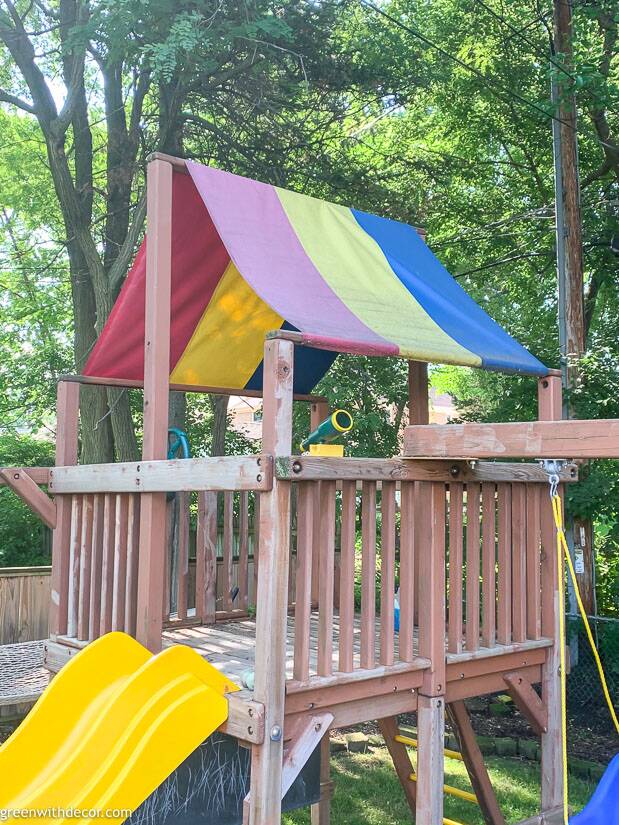 Some other trees in our yard were also in definite need of a trim.
We used our RYOBI Expand-It Universal Pole Saw Attachment with our string trimmer (mentioned above) to trim our tree branches, and it makes SUCH a difference! We should have done this sooner and will definitely stay on top of it moving forward.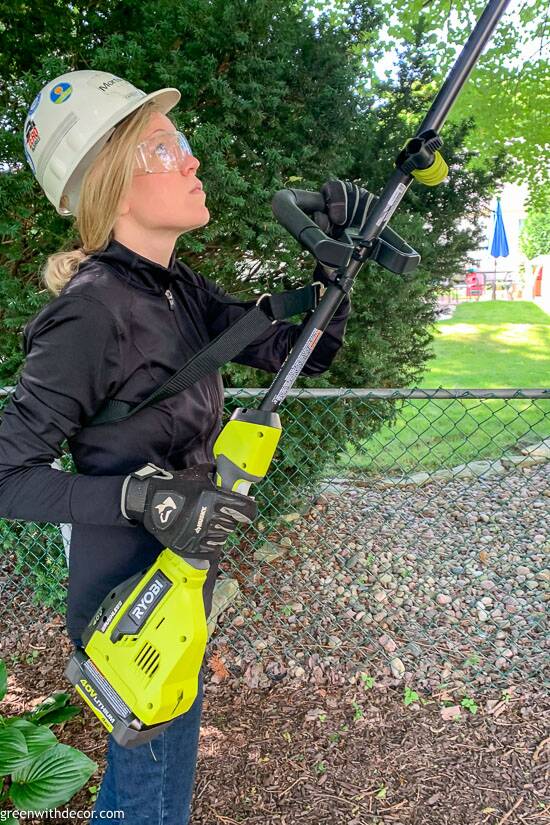 The pole saw attachment can prune and cut tree limbs up to 6 inches thick. The angled head increases user control, reduces cutting effort and allows for more accurate cuts.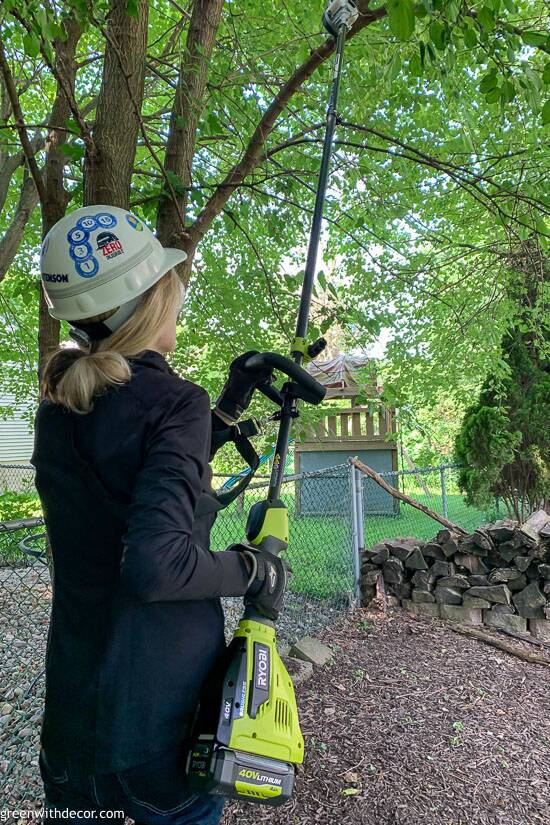 Here's a before and after: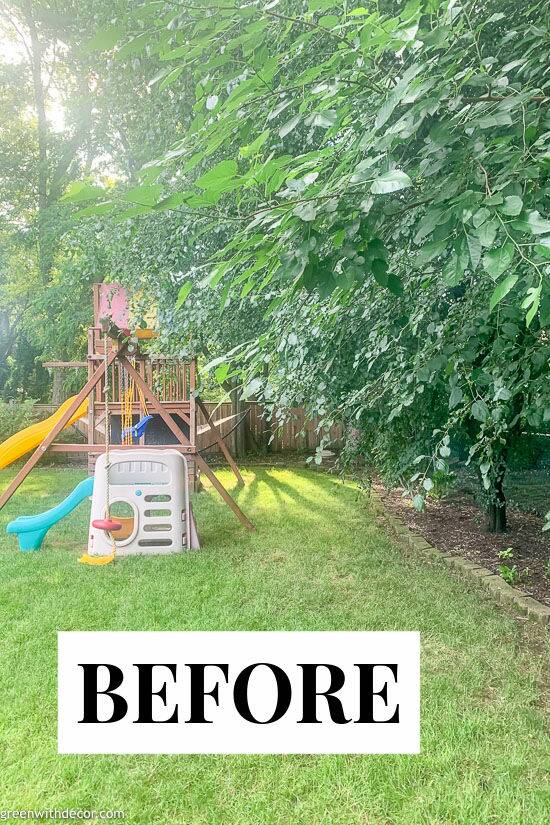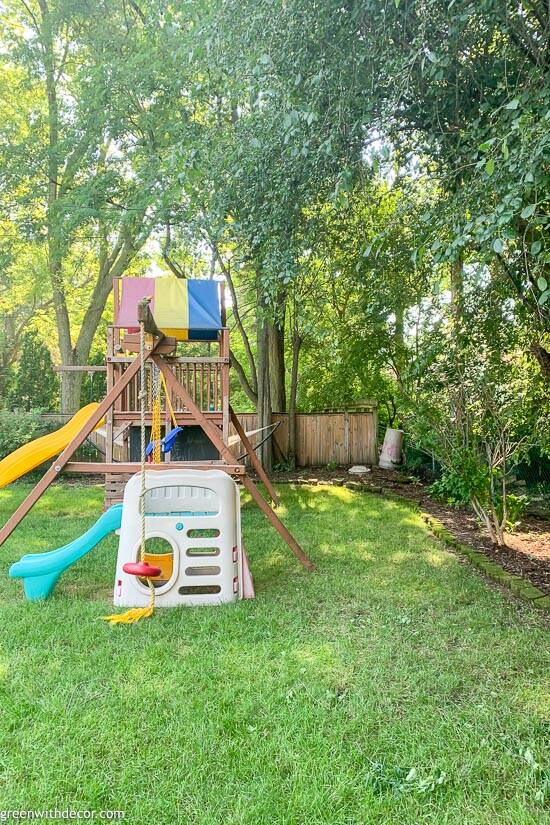 3. Edge along sidewalks, driveway, patio and other concrete areas
After mowing, we use our RYOBI Expand-It 8 in. Universal Straight Shaft Edger Attachment to clean up the edges along our sidewalks, driveway and patio. Again, it makes such a difference!
We had a cheap old edger before, but RYBOI's edger attachment (paired with our string trimmer mentioned above) is so much easier to use, and the end results looks way better! Our yard looks professionally cut now.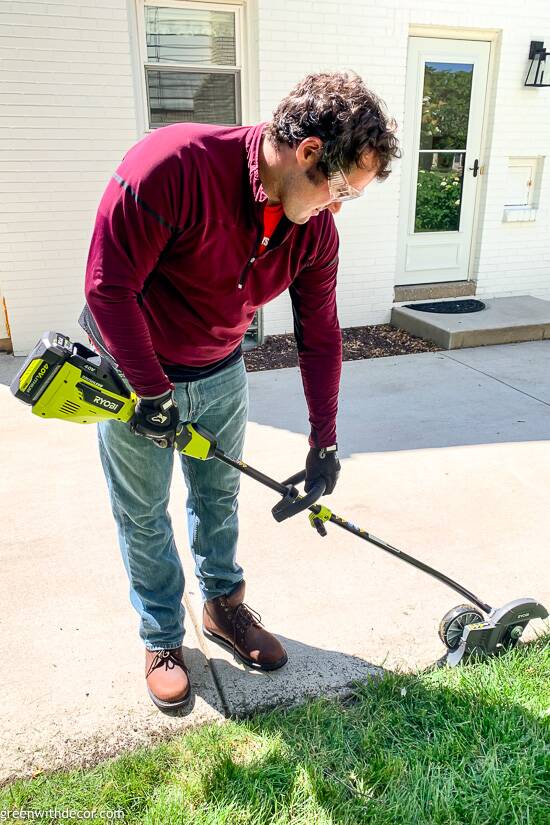 The edger attachment has a quick and easy depth adjustment, and a rubber flap to protect against debris. And bonus, when the blade gets dull, you can reverse it, extending the life of the blade. You can also adjust the height depending on your height.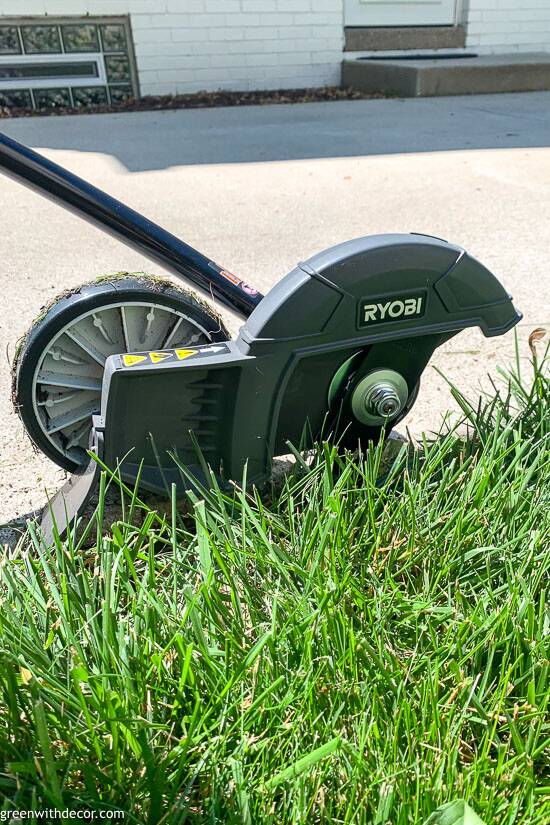 Here's a before and after: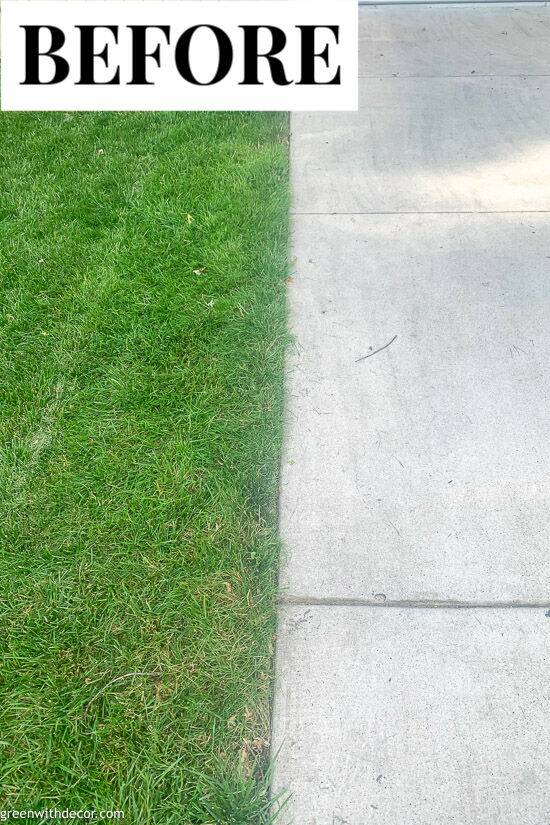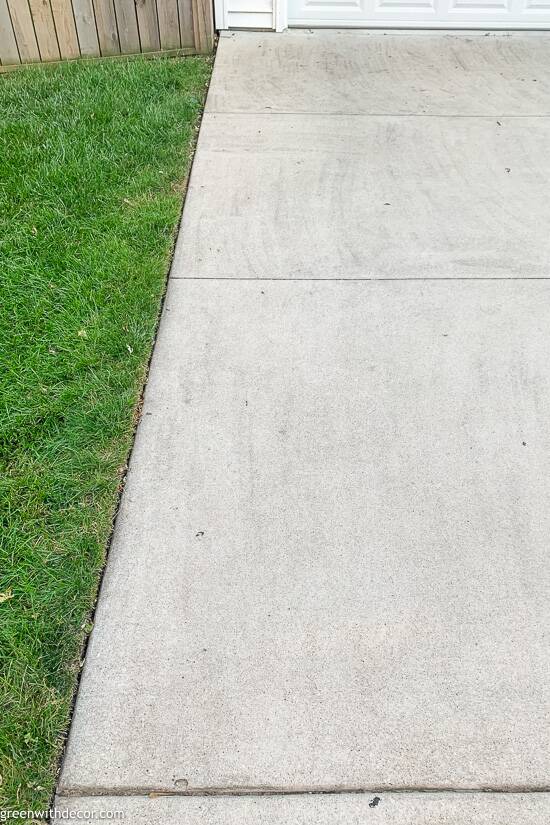 Amazing what some landscaping can do for a yard, right?!
Shop our favorite yard tools: RYOBI trimmer | RYOBI edger | RYOBI pole saw
If you want more yard maintenance ideas, check out this post I did on RYOBI's pressure washer: The best way to clean concrete + siding. I'm obsessed with our pressure washer. It's so satisfying!
You can always keep up with all of our outdoor projects here.
Do you have any other yard maintenance tips?
Remember to bookmark or pin this post if you want to save it for later!

Pin it!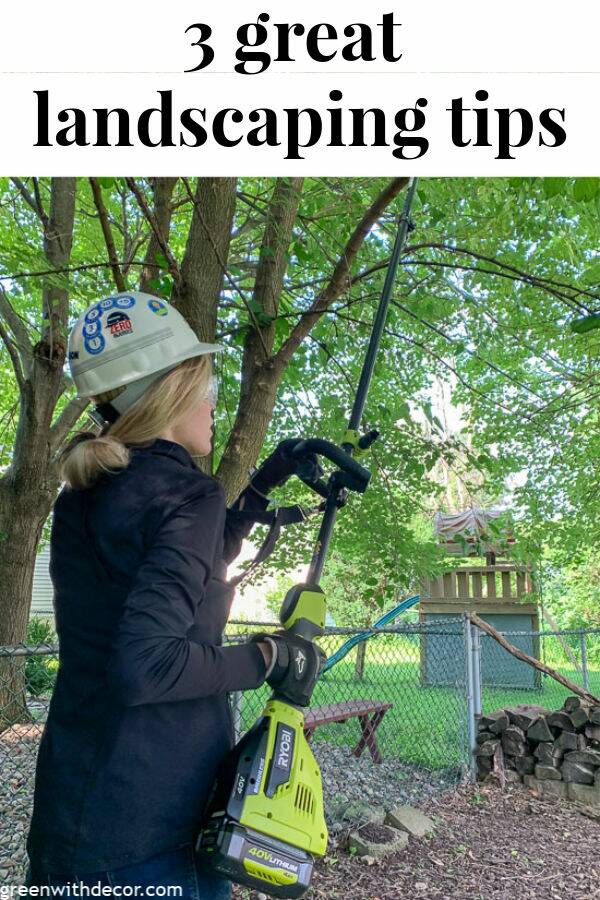 Want to read more posts like this?
Follow along: Get my emails | Facebook | Pinterest | Twitter | Instagram