This is a sponsored post written by me on behalf of Kohler for IZEA. All opinions are 100% mine.
You guys know I love kitchen renovations. When I hear that friends or neighbors are undergoing a renovation, I just can't resist asking them every single detail about it.
Not just "Have you decided on counters?" or "Have you looked at faucets yet?" Nope, I'm the person that's asking about the color, material and overhang of the counter and about the finish, height and spray settings of the faucet.
I just love all the details that go into a pretty kitchen renovation!
Which is probably why my neighbor who's planning a kitchen renovation asked for my thoughts on kitchen faucets. Obviously, I was only too happy to discuss faucets with her.
I figured since some of you are probably going through – or thinking about going through – a kitchen renovation, I'd share my thoughts here, too.
We went to Lowe's, because what person undergoing a kitchen renovation, doesn't practically live at Lowe's? I'm pretty sure we kept our local Lowe's in business when we were renovating our kitchen.
By the end of our trip, she'd narrowed it down to two Kohler faucets: the Cardale Kitchen Faucet …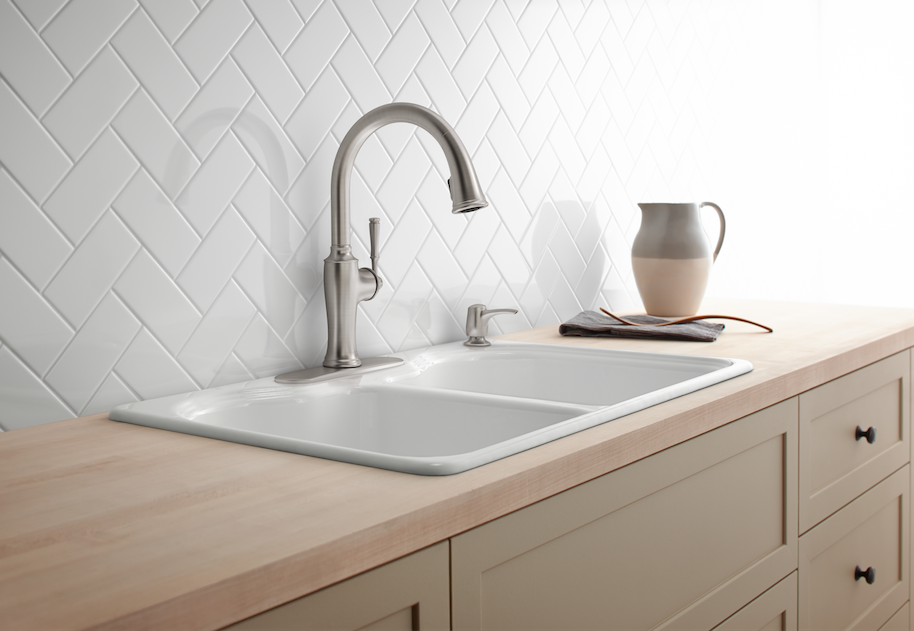 … and the Elliston Kitchen Faucet.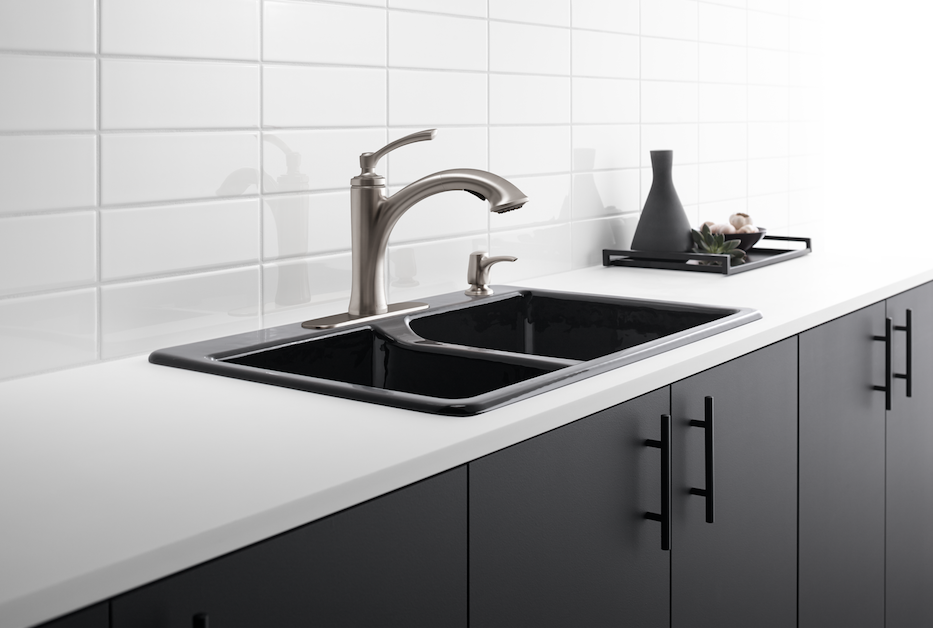 Aren't they pretty?
A quick note: it's a good thing we were at Lowe's, because these two faucets are exclusive to Lowe's.
We talked about several factors as we looked at different faucets in order to narrow it down. The Cardale and Elliston hit most of them.
Here are some things I keep in mind when picking out a faucet:
Finish
I love the stainless/chrome look.
I know this isn't my kitchen we're talking about, but I'm always happy when people pick silver finishes. They just look so sleek and pretty!
The Cardale comes in Stainless, and the Elliston comes in Chrome.
Plus, both faucets offer Kohler's Scratch Shield finishes, designed to resist corrosion and tarnishing.
Mount options
My neighbor and her husband want sink/counter mounts, and the Cardale and Elliston faucets both fit in that category.
Spray options
I'm such a fan of a strong spray option and encouraged my neighbor to take this into consideration, too.
We have smoothies for breakfast every morning, and those little berry seeds don't come off the sides of the glass unless we use our spray option.
Even if you're not into smoothies, a spray option is so helpful for getting rid of gross food stuck on your dishes.
The Cardale faucet has a great spray option: the Sweep Spray, and its DockNetik feature ensures that the sprayer snaps back up into the faucet when you're done using it.
If you've ever had a faucet without this feature, you know how essential it is.
The Elliston faucet has a spray option, too.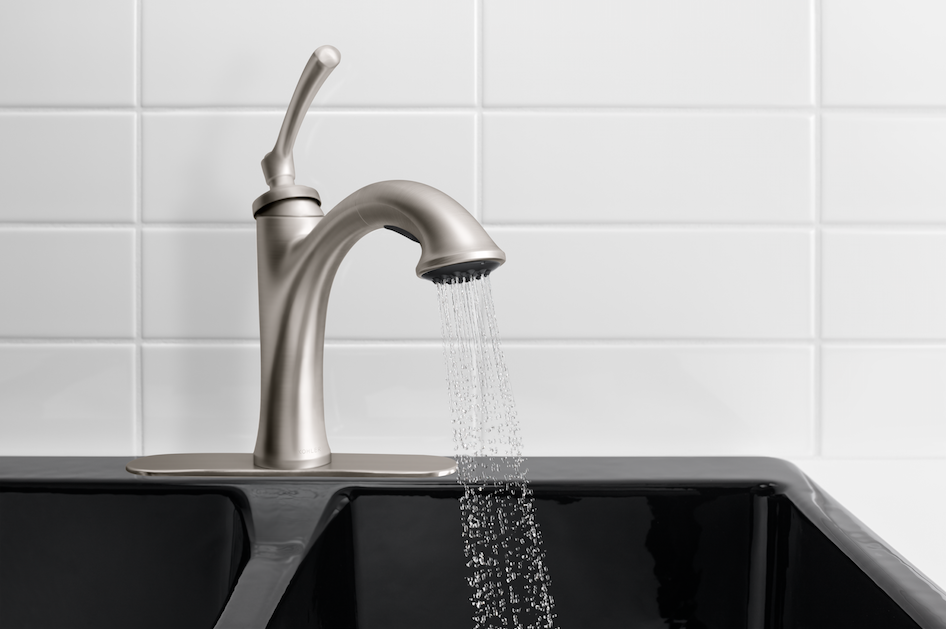 Number of handles (and temperature features)
This is definitely personal preference, but I've always liked the one-handle option on a kitchen faucet – and my neighbor agrees.
One handle makes it easier to adjust the temperature as your washing dishes. Both the Cardale and Elliston are one-handle faucets.
And the Cardale faucet has temperature memory, meaning it remembers the last used temperature so you can turn the faucet back on at that same temperature. How cool is that?
Please tell me I'm not the only one that gets excited about home technology like this?!
The Elliston faucet has a cool feature, too: a high temperature limit, meaning you can preset a maximum temperature. This can be especially important for those with kids (my neighbor and her husband have two) – you can stop them from scalding themselves!
Another note: the Cardale also has left or right handed faucet installation. My neighbor and her husband are right-handed, but if you're left handed, this feature could be a game changer.
Pull-down versus pull-out feature
My neighbor is torn on this one.
I'm a big fan of the pull-down feature, but it works best when paired with a deep sink. I've always liked the look of a pull-down faucet.
You can see how the Cardale pulls down when you grab it: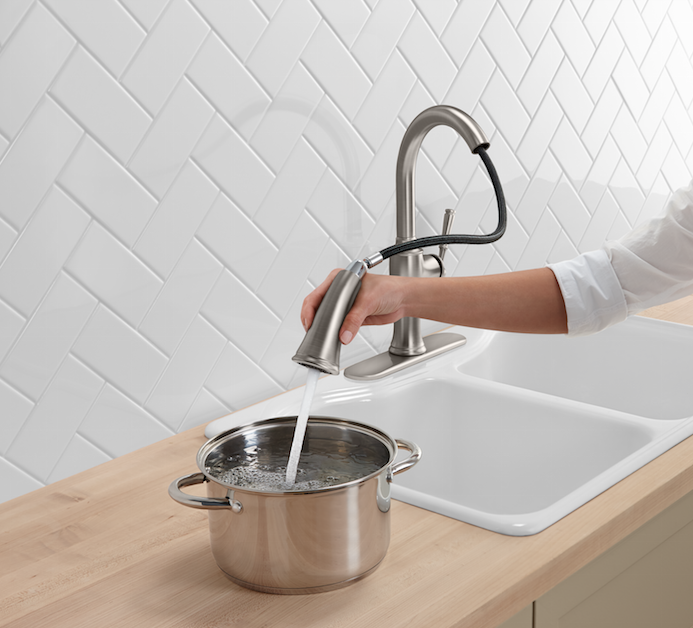 However, the Elliston is a good height, too. It offers a pull-out option, and it's definitely long enough to reach any dishes you'd be washing in/next to the sink.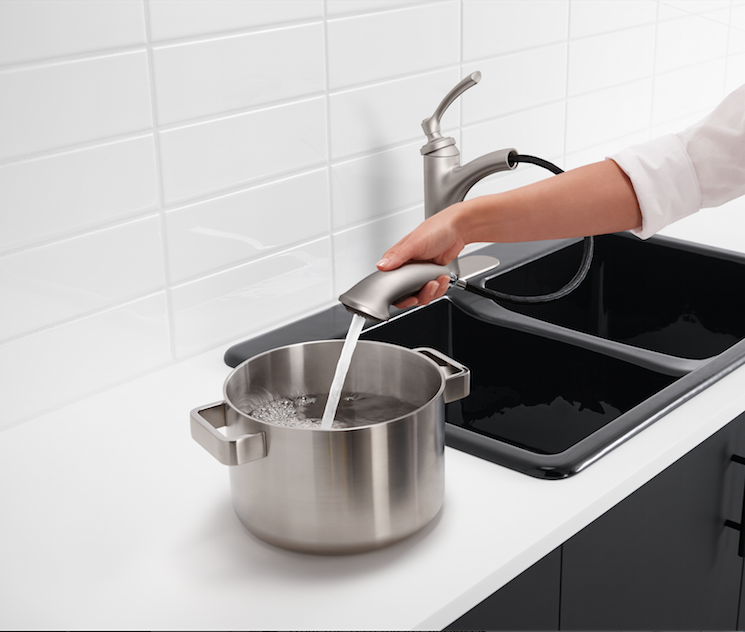 Soap dispenser
This one is completely personal preference, too, but I hate having clutter out on the counters. So having a built-in soap dispenser is on my 'must-have' list.
With two little kids, my neighbor is all about banishing clutter, too.
The Cardale comes with a soap dispenser, which gives it a point in my book.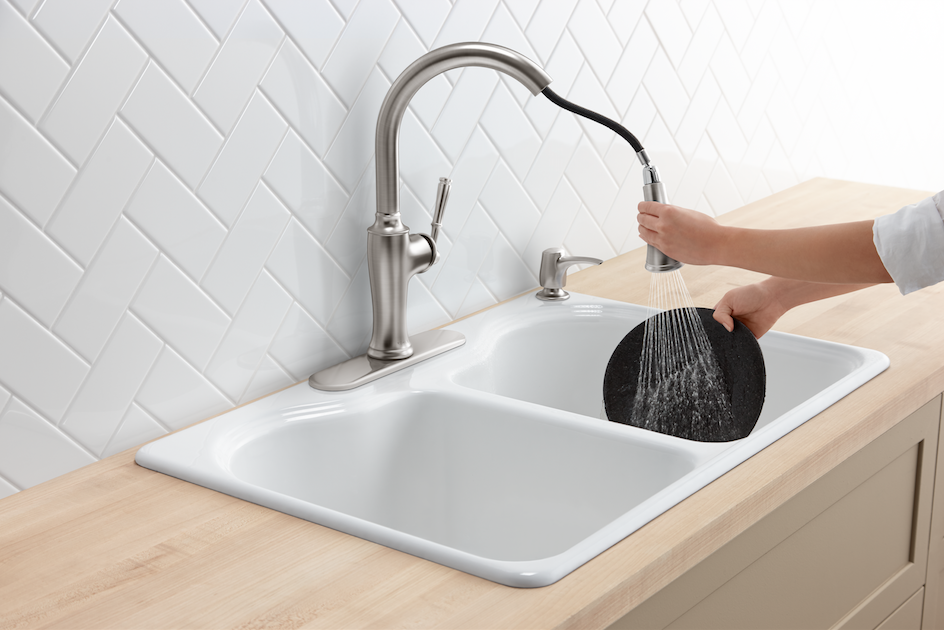 My neighbor is heading back to Lowe's to make the final faucet decision with her husband. I'm excited to see what they pick!
What else do you consider when you're looking for a faucet?
Remember to bookmark or pin this post if you want to save it for later!


Want to read more posts like this?
Follow along: Get my emails | Facebook | Pinterest | Twitter | Instagram