Disclosure: This post is sponsored by Wise Owl. All opinions, images and love of painting projects are 100% mine.
I'm so excited about today's post! I've been wanting to jump on the chalky paint trend for awhile, and guess what the theme is for this month's Create & Share Challenge?
Use Wise Owl's Chalk Synthesis Paint to transform a piece!
Here's my first chalk synthesis paint project: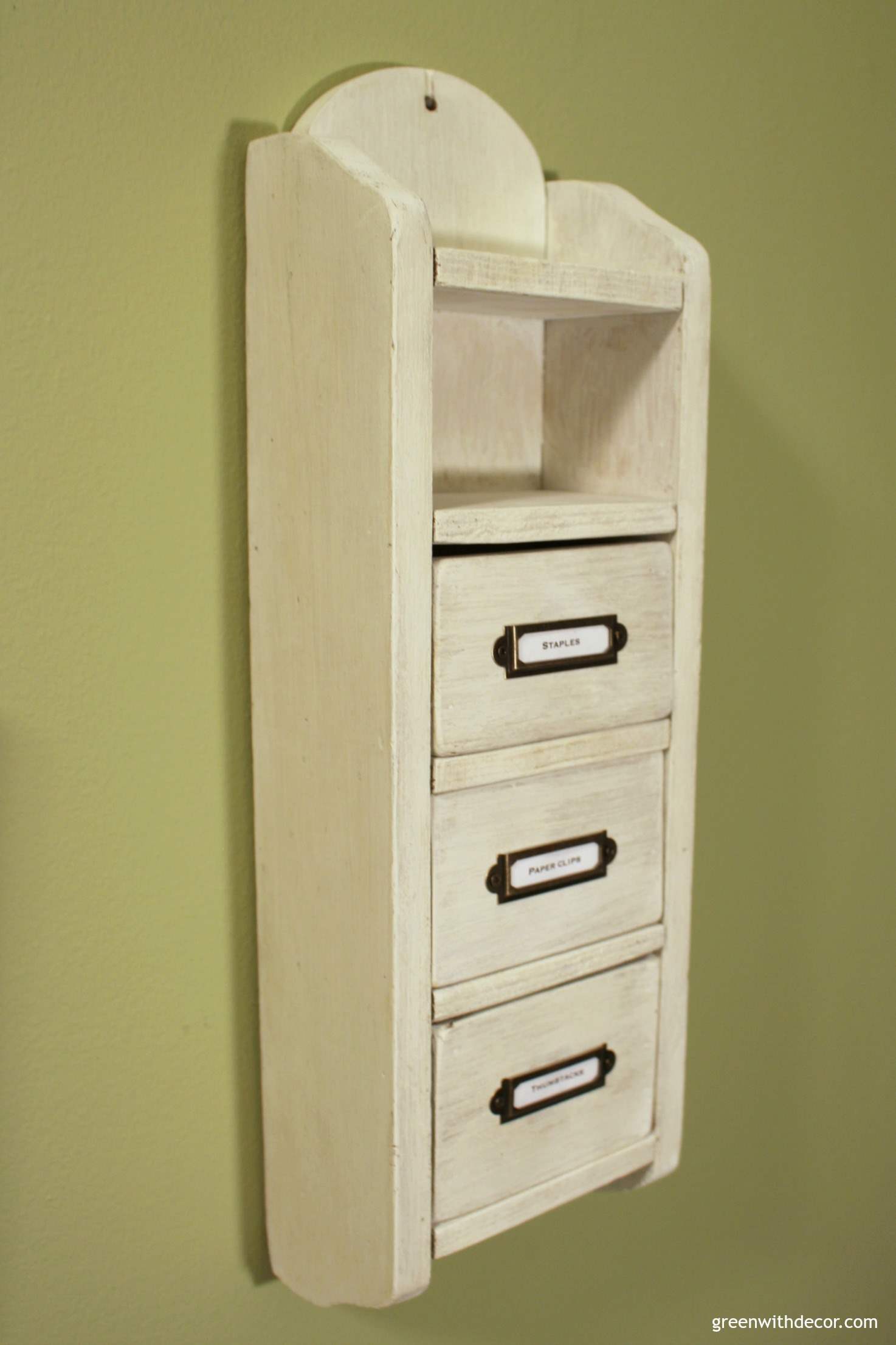 If you're not familiar with the monthly Create & Share Challenge, Steph from Casa Watkins gather us all together once a month to each complete a similar project – with our own personal decor touches of course!
I know everyone says using chalk synthesis paint is easy, and guess what? It is!
This post contains affiliate links. This means if you click the link and buy something, I may receive a small percentage of sales at no extra cost to you.
Supply list:
Wise Owl Chalk Synthesis Paint, Antique Villa
Wise Owl Natural Furniture Wax, Driftwood
Clear wax
Wise Owl wax brush
Lint-free rag (I use old t-shirts. No need to buy anything new!)
Paper
Printer
Scissors
Drill
I've been collecting more and more decor and furniture pieces that I want to make over. Our basement is starting to look like a thrift store … I love it!
One of the pieces I recently bought was this little drawer set.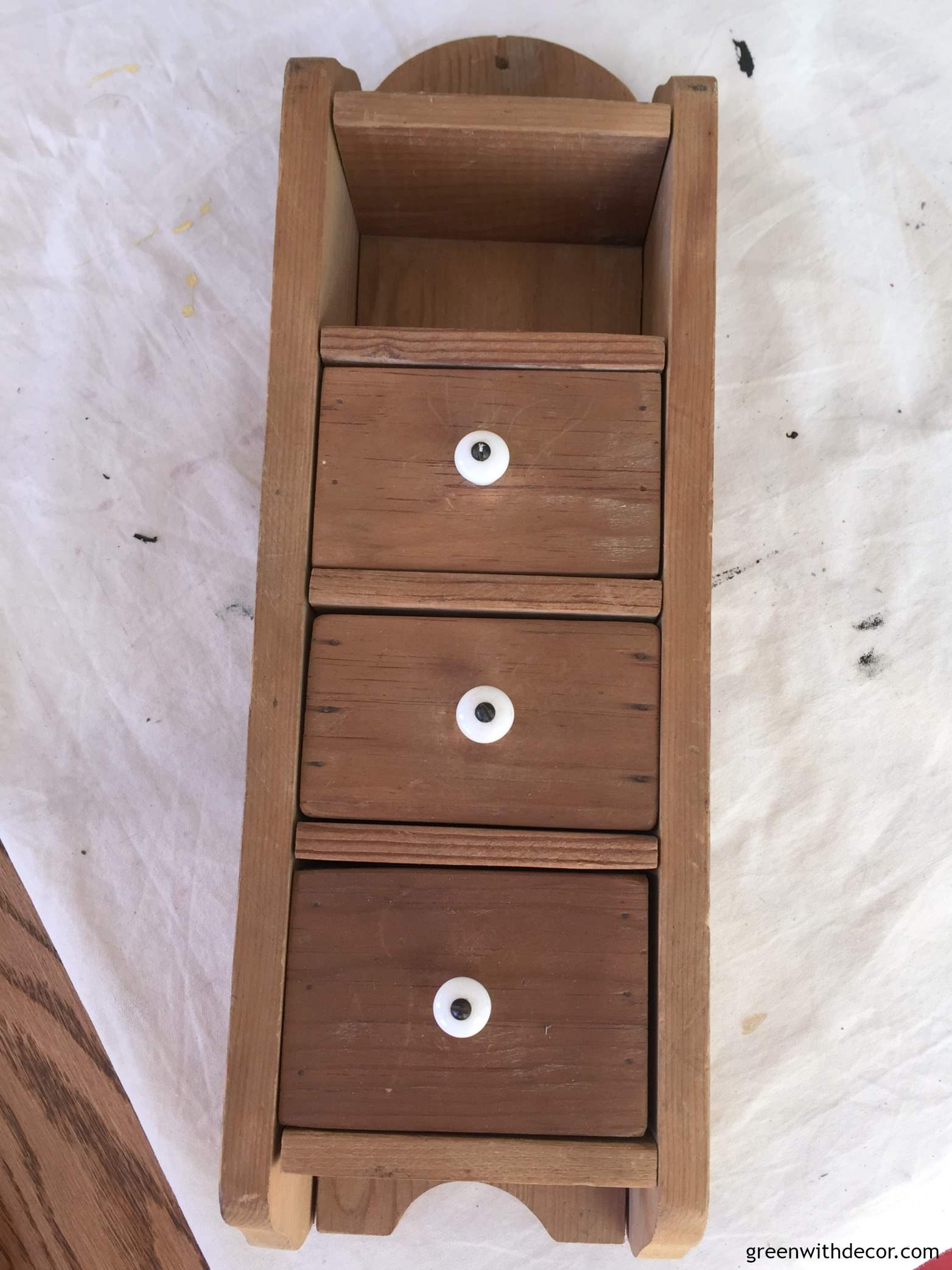 Even though it was missing a drawer, it was too cute to pass up! I knew I could come up with something to do with it.
A home office is on our list at some point since Kalen does some work from home, and I'm working on the blog a lot. So I figured we could use this piece in the home office.
(Give me a cute home decor item, and I WILL find a reason we need it in our house!)
How to paint with chalky paint:
1. Fill the nail holes
You can see some small nail holes on the sides of the drawers. If you pick up a piece with similar holes, use some wood filler to fill in the holes. Let it dry, and then you're ready to paint.
2. Get your paint ready.
Shake, shake shake. Stir, stir stir.
Be sure to use a drop cloth so you protect whatever surface you're painting on. It's winter in Wisconsin, so you bet I was inside at the kitchen table.
3. Prep your piece (kind of)
Chalk synthesis paint is often referred to as "no prep." This is pretty much true, but if your piece is really banged up, you may need to do a little sanding.
My little drawers and chest were in fine shape, but I do always give a piece a quick once-over with a damp rag to get rid of any loose dirt and dust.
I took the drawers out to paint them separately from the chest.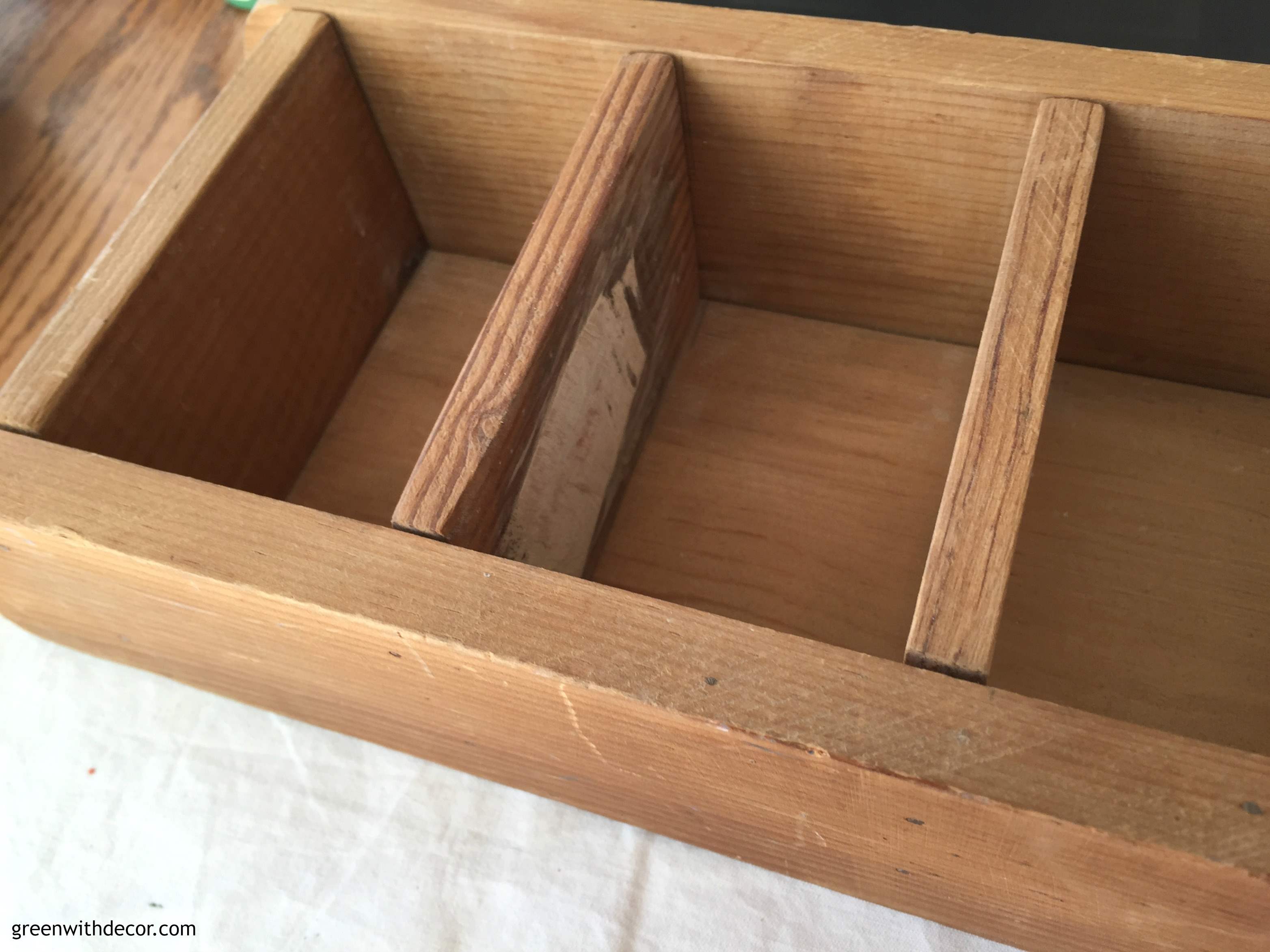 4. Start painting
Be sure to use your brush in the same motion when applying paint so you don't end up with brush strokes going in perpendicular directions.
I'd also recommend painting in the same direction as the grain of the piece you're painting.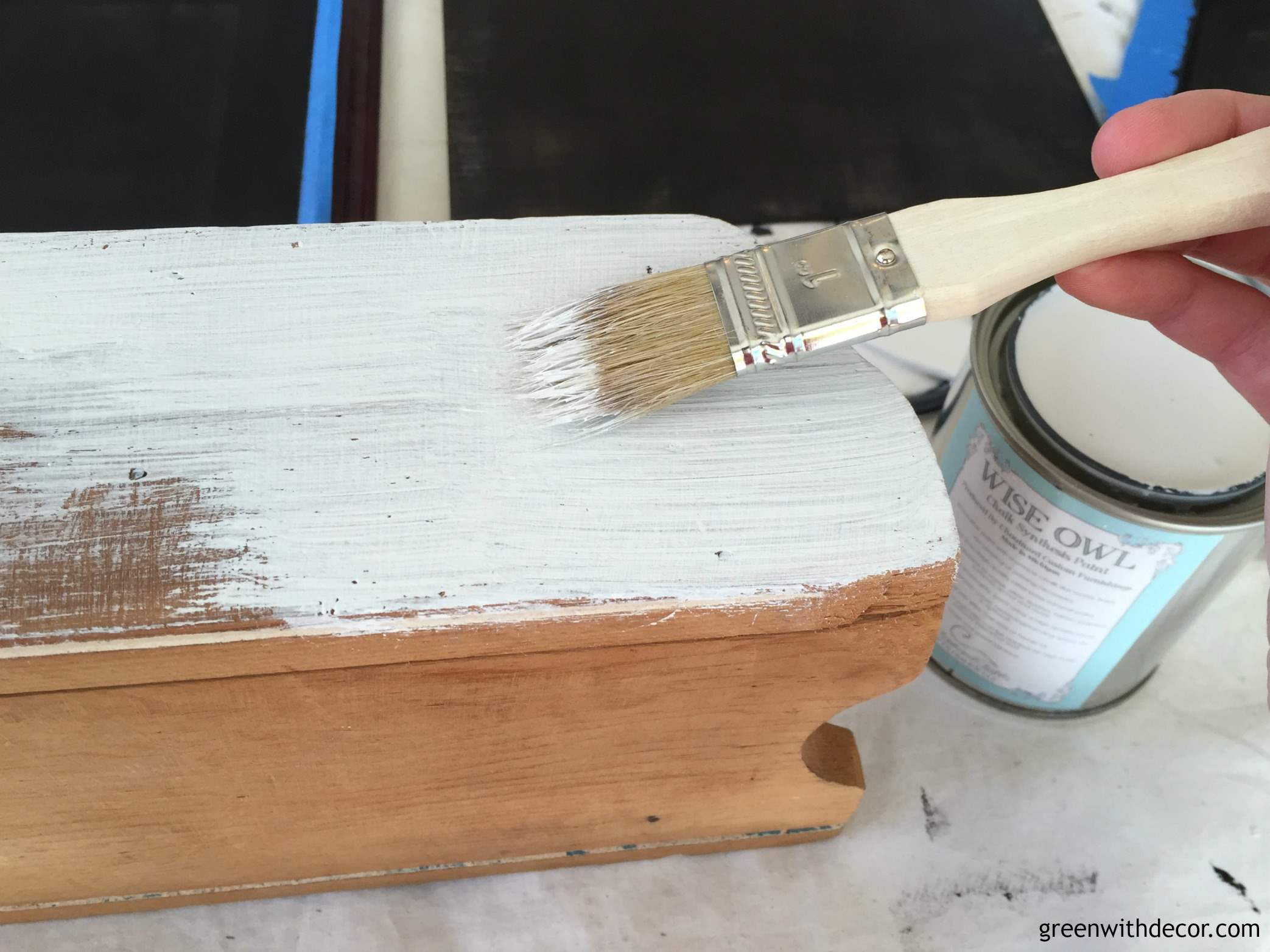 Let it dry for at least 30 minutes and then apply a second coat.
Make sure your piece is completely dry before you give it a second coat or you could end up messing with the paint coat you already applied.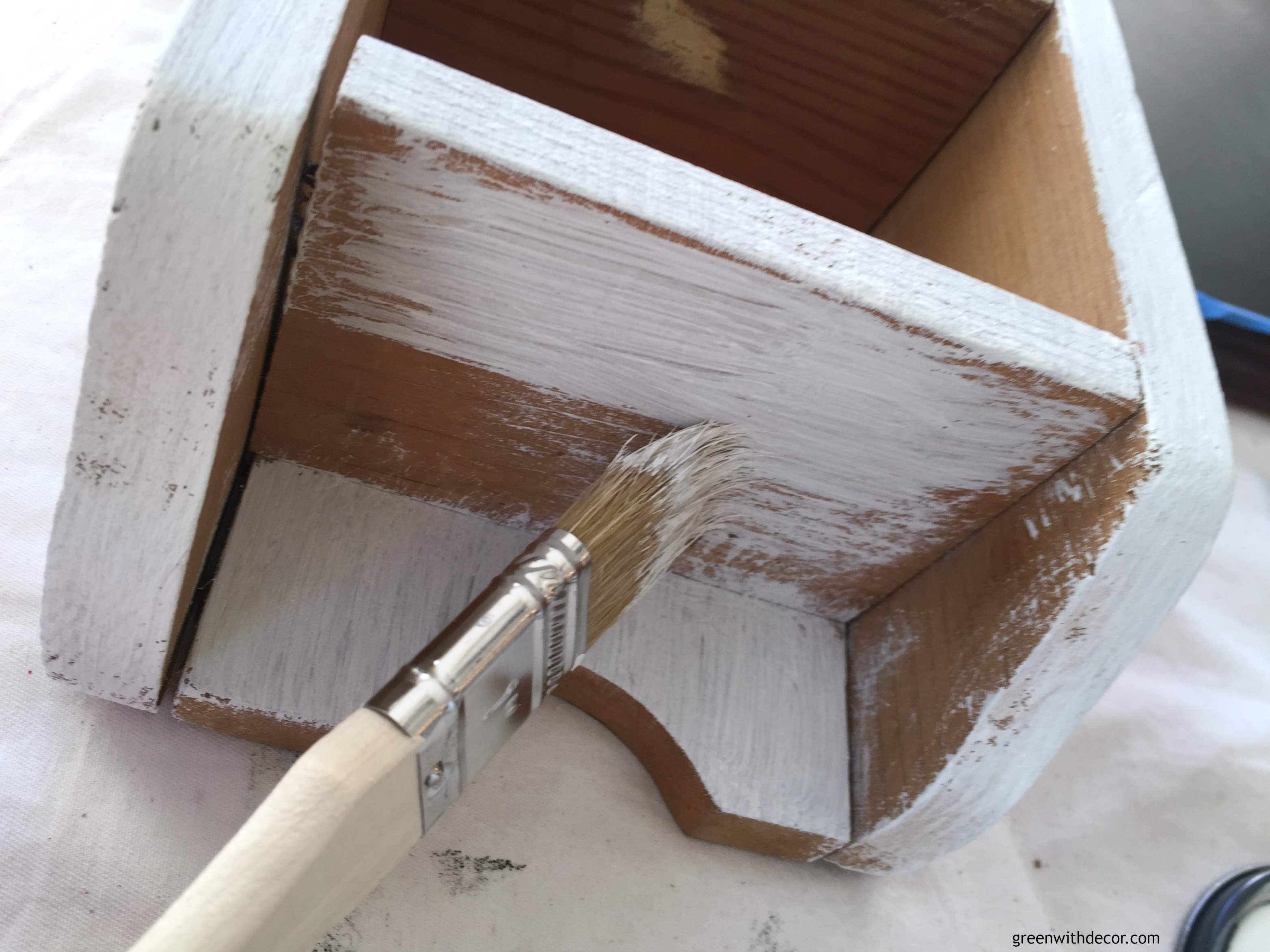 However, if you want more of a brushed look, you can skip the second coat.
White and red paint often need at least two coats though – due to how they're made – so I gave my piece two coats with my Antique Villa (white) paint.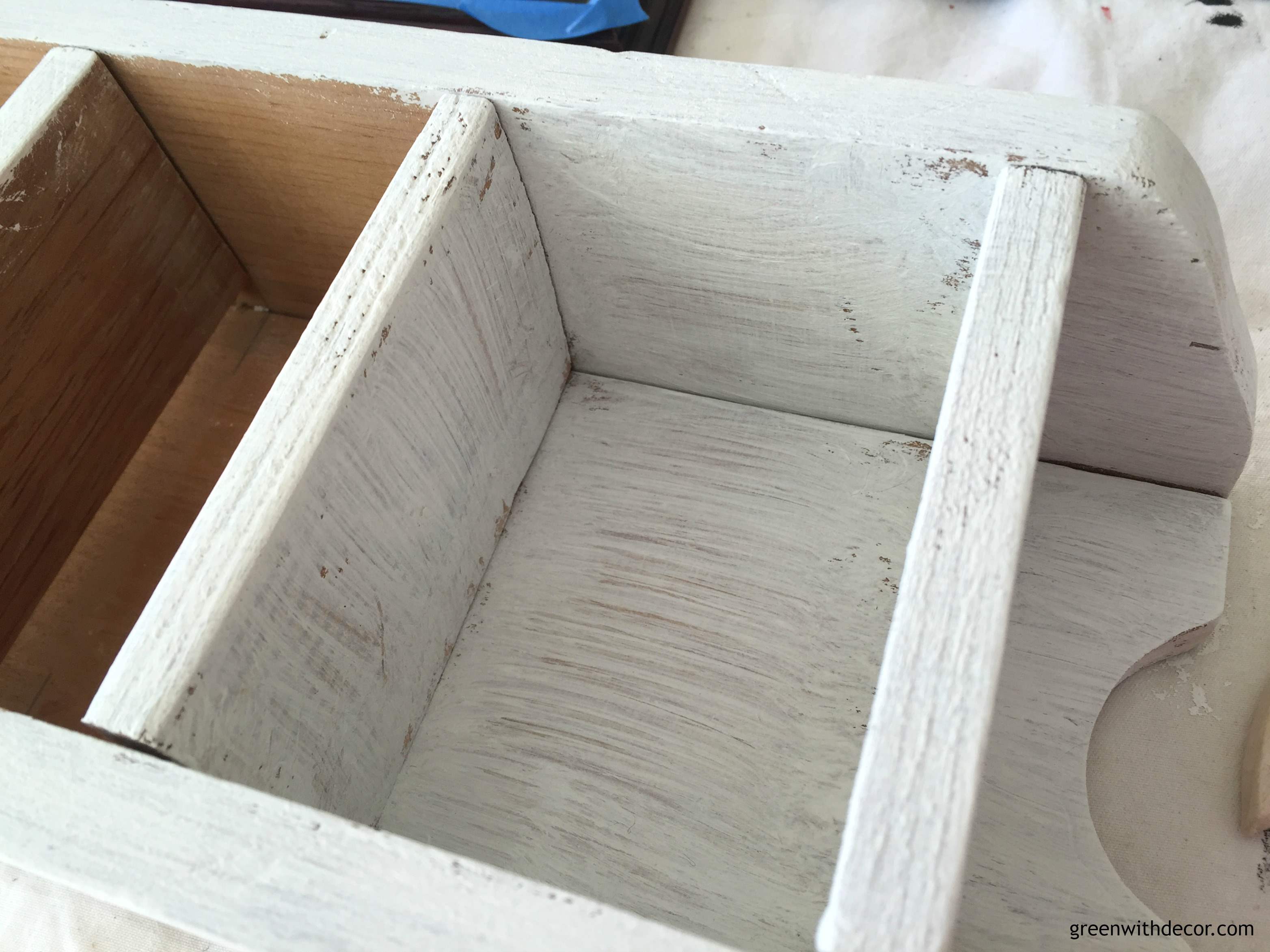 5. Apply clear wax.
If you're not familiar with chalk synthesis paint, wax helps to seal and protect a piece so the paint stays adhered to the piece.
Even if you're going to use a colored wax on a piece, do a coat of clear wax first. If you apply colored wax before the clear wax, your piece will probably come out darker than you want it because it absorbs right into the paint, which can be hard to undo.
When it comes to wax, a little goes a long way.
You can use a wax brush or a lint-free cloth to apply the wax. Use a circular motion and try not to go over spots you've already covered.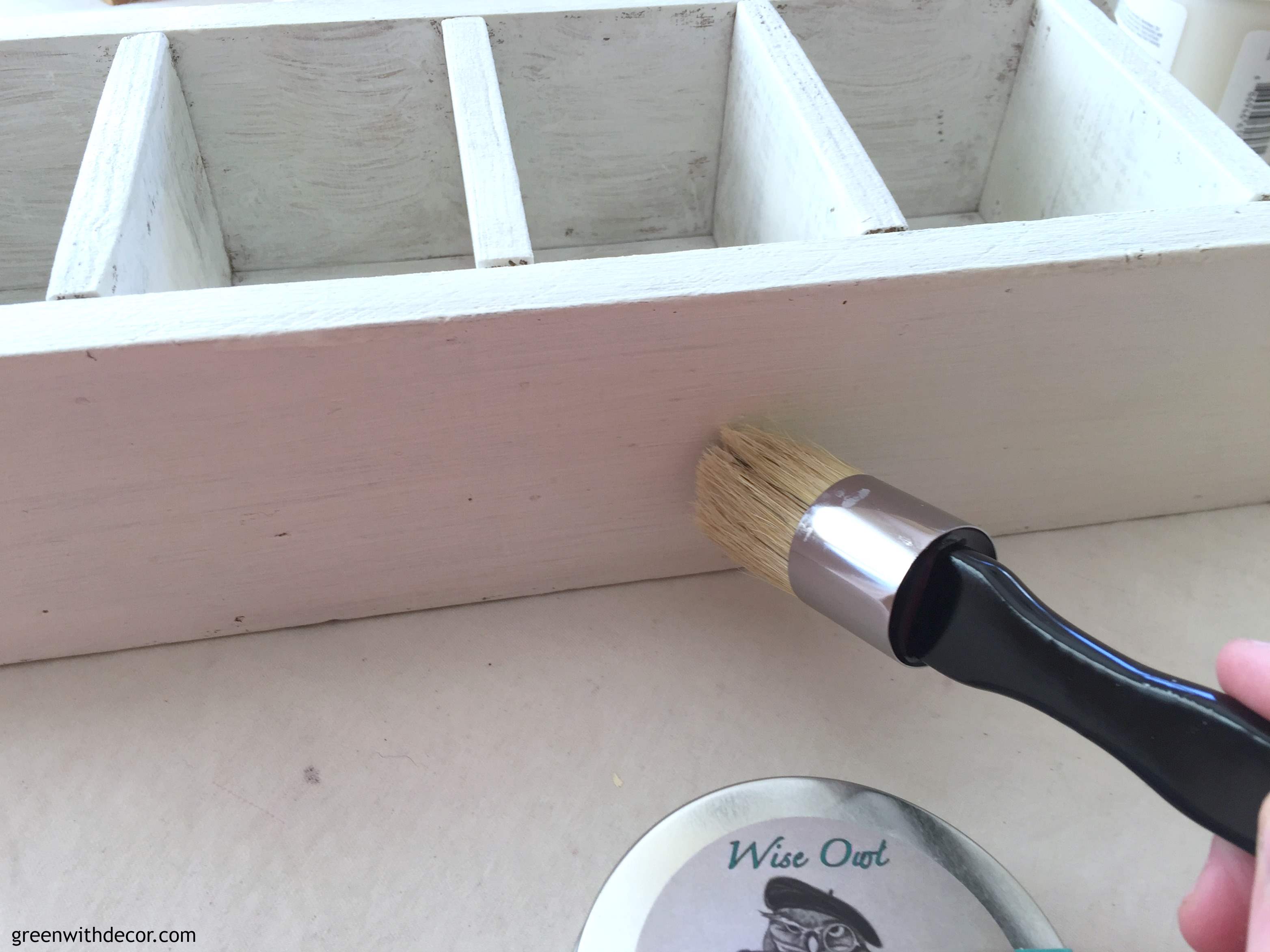 Don't let the clear wax dry completely before moving onto the colored wax.
6. Apply colored wax.
First a few prep steps:
If you like applying wax with a brush, use a different brush for the clear wax than you do for colored wax. Otherwise, that brush will pretty much be a 'dark wax' brush going forward, because you won't be able to use it for clear wax again without inevitably getting some of the darker wax mixed in.
If you don't have two wax brushes, no worries. You can also use a lint-free rag to apply the dark wax.
Work this over the piece similar to the way you did the clear wax – using a circular motion and avoiding any spots you've already covered. Be sure to cover the piece, especially into any little grooves.
The best part is, if you put on too much colored wax, you can rub clear wax over it to lighten it.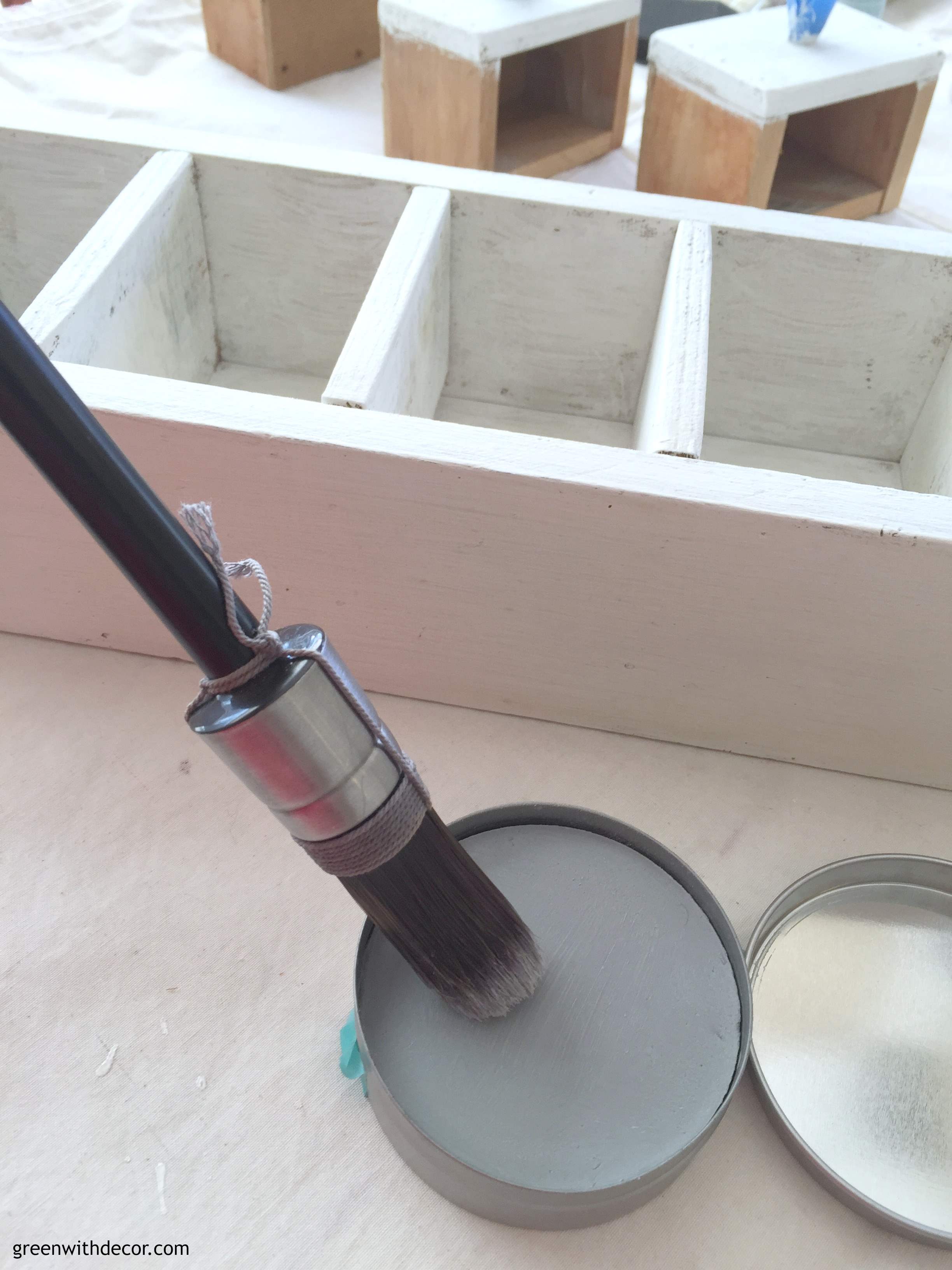 Let it dry.
The Driftwood gray wax is pretty light so it didn't change the color of the piece too much, just added a bit of a textured look.
7. Make your labels.
While your wax is drying, you can make labels for your drawers.
I measured the front of the drawer and found these drawer labels that would fit on the front and then measured the inside of the label holders so I knew what size to make the labels.
I made these in Microsoft Word using Copperplate font. I printed them off and cut them to fit the size of the label holders.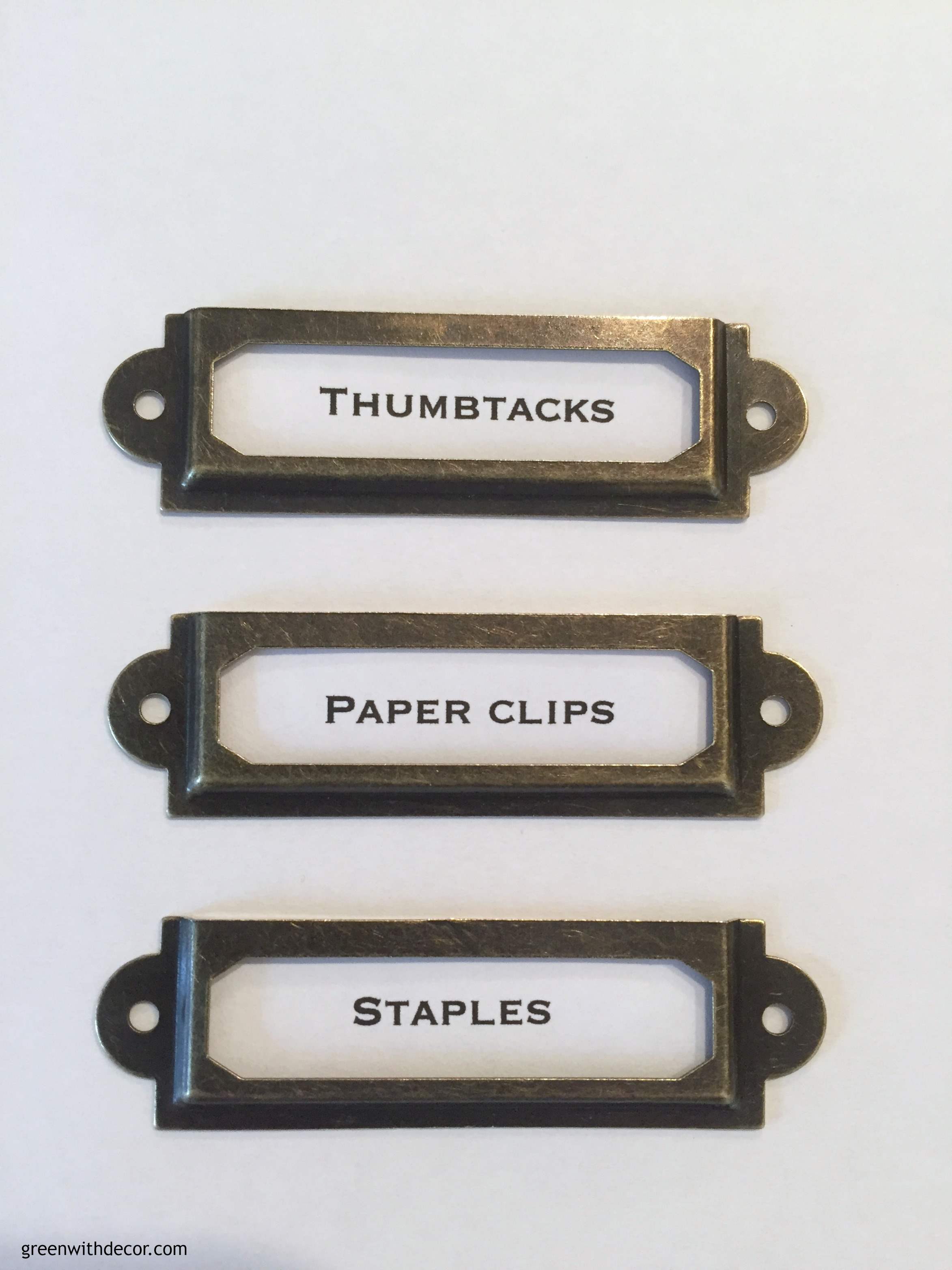 8. Drill your label holders onto your drawers.
Center your label holders on your drawers and drill them in place.
9. Display!
What a fun project, right? I love making over old pieces.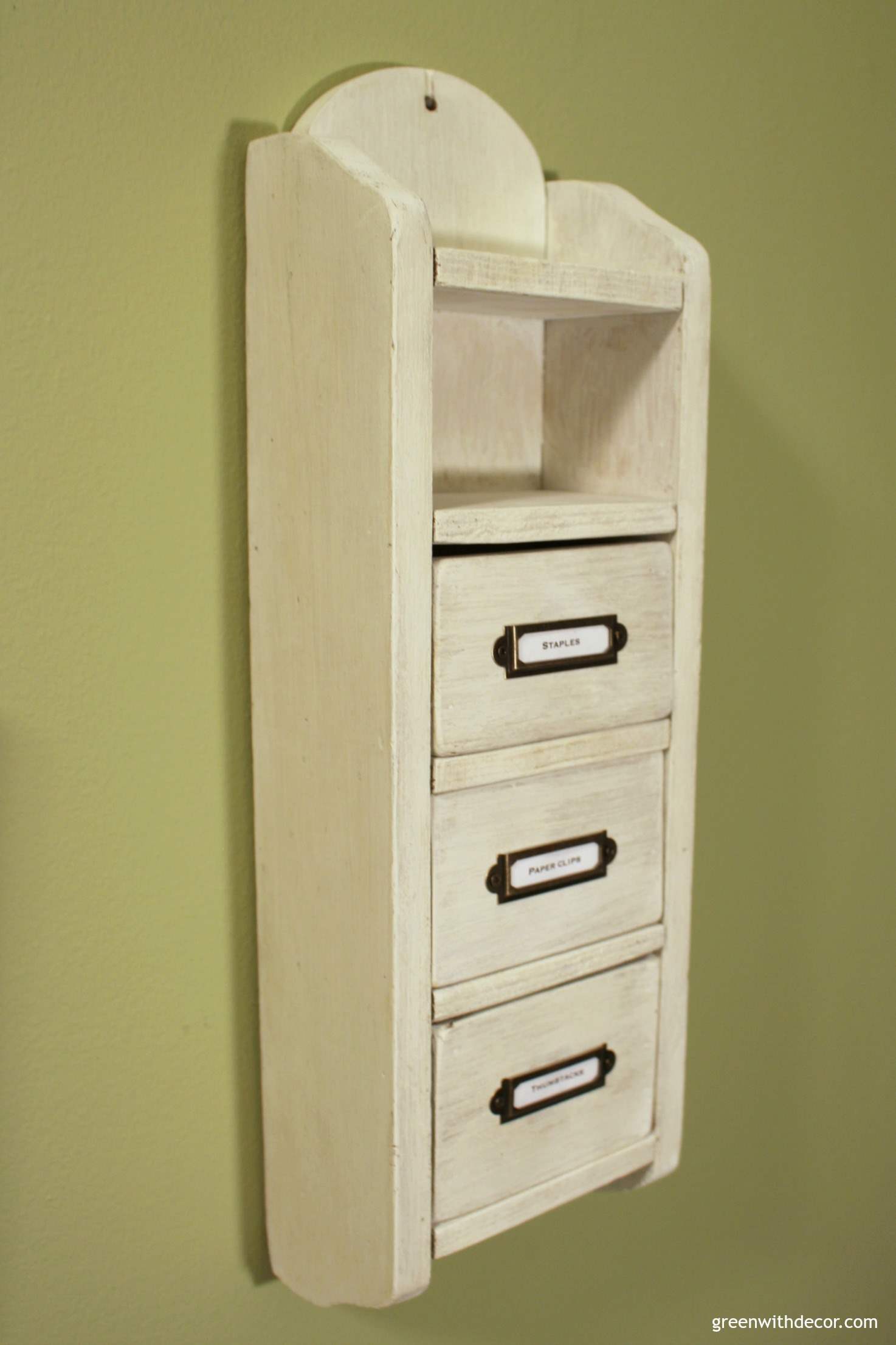 Here are some close ups so you can get a better look at the paint and wax: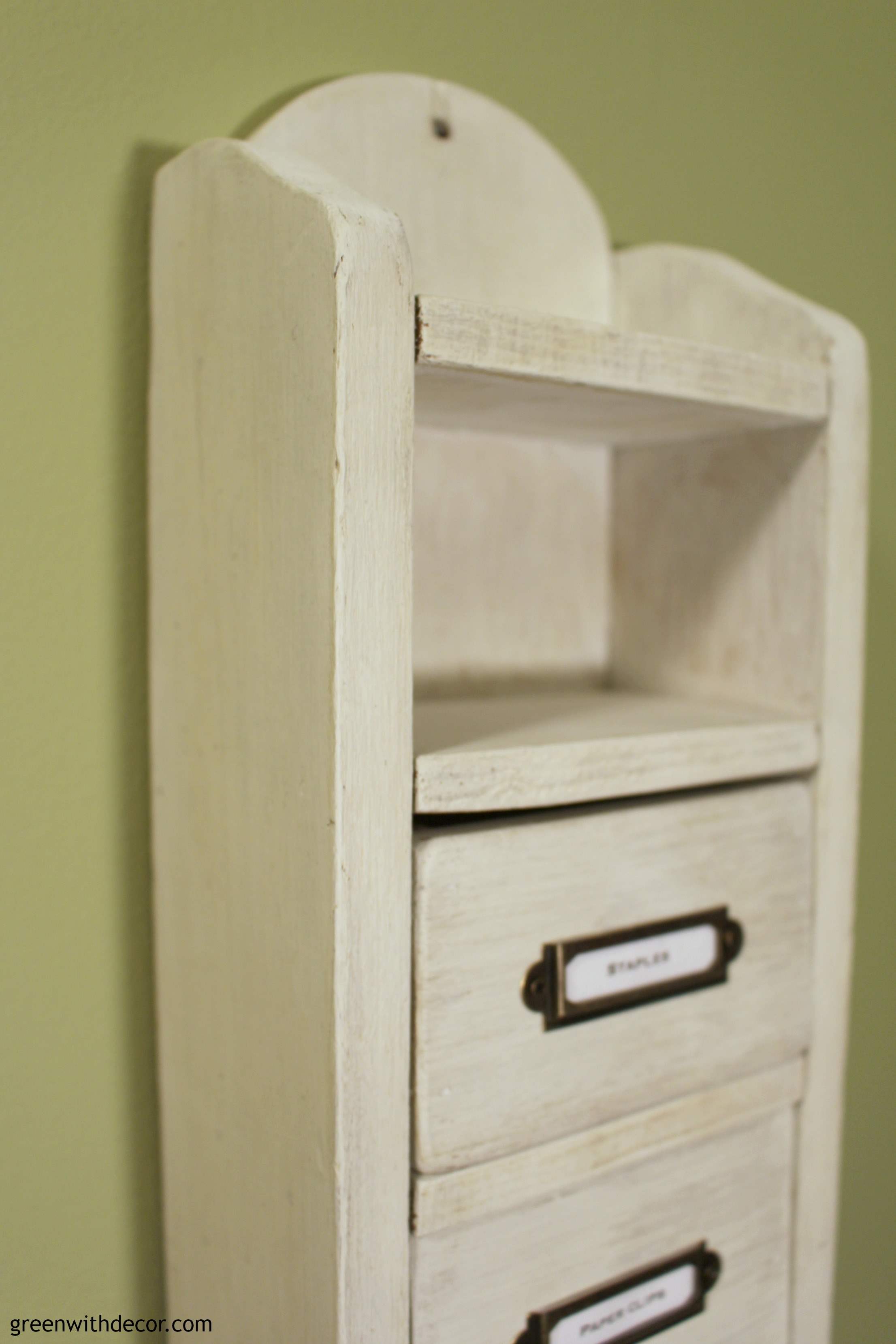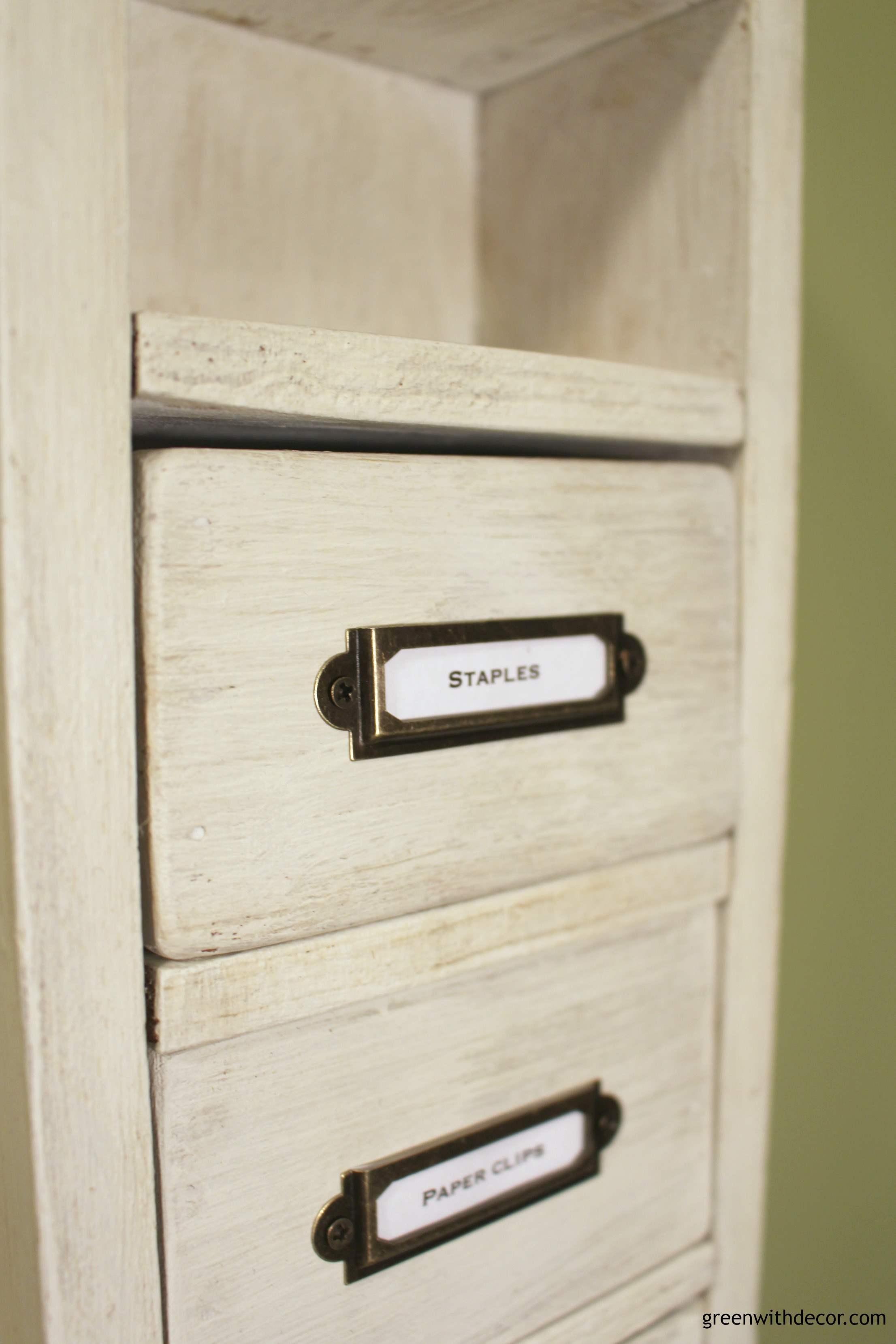 Remember to take a look at the other bloggers' awesome Wise Owl projects. I have fun every month going through all the Create & Share blog posts to see what projects everyone else did!
Green With Decor ~ Old Cabinet Drawer Makeover (you're here!)
For more home office DIYs, check out these projects:
Remember to bookmark or pin this post if you want to save it for later!


Pin it!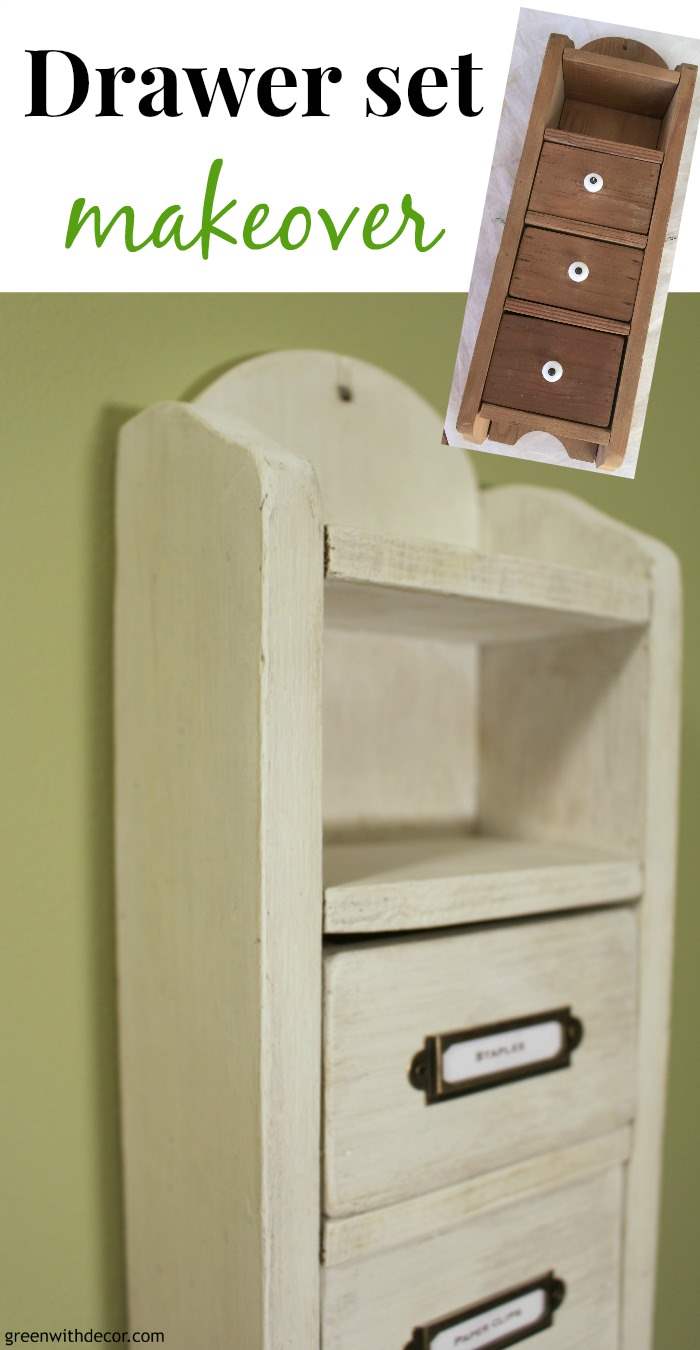 Want to read more posts like this?
Follow along: Get my emails | Facebook | Pinterest | Twitter | Instagram