I've been on a bit of a mission lately to get small projects done around the house. You know those little things that won't actually take that long but for whatever reason, you just never really get to?! I want all those things done!
Two spaces that have been on our list pretty much since we finished the big renovations have been both landings.
The landing on our first floor is how you enter our house from the side door / driveway and also leads to the basement stairs.
The second floor landing is almost at the top of the stairs; you turn and go up a couple more steps to get to our second floor.
Both landings need some updates, so I thought I'd share the fun plans to finish them off!
FIRST FLOOR LANDING
I went through old pictures to show you guys how the landings started. I'll warn you this is not a blog post with a lot pretty pictures! It's mostly those ugly 'before' pictures that always make me kind of happy because I know there's a space to update!
This is the only picture I have of the first floor landing with the yellow wall, which I realize isn't really a picture of the landing at all, but you can see enough of it to get the picture.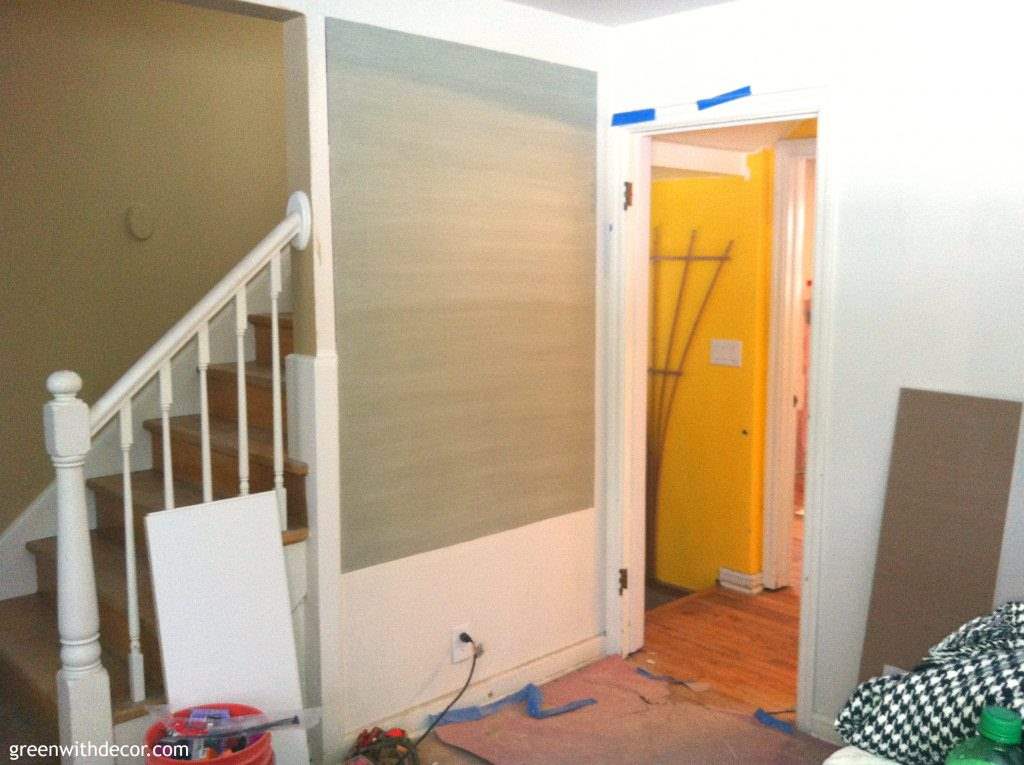 We painted the wall Camelback by Sherwin Williams, but for whatever reason, the trim at the bottom never got painted white in the midst of us painting our whole house.
We also hadn't done anything about the red side door and light blue trim around it – not a color combo I would ever pick!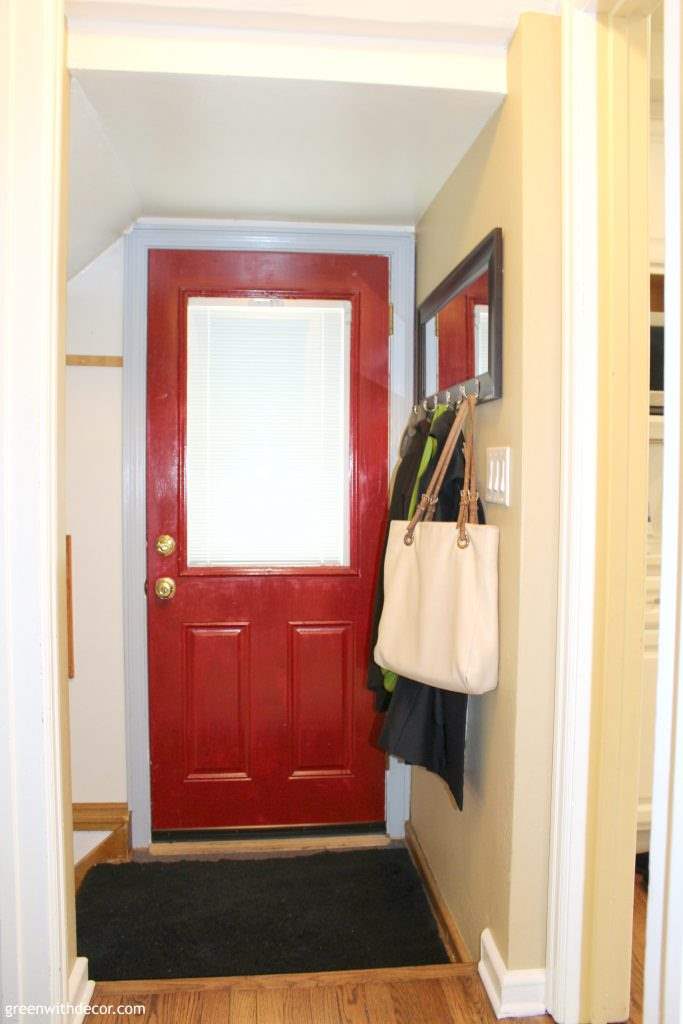 The milk crate, trim and and banister going into the basement are all wood, too.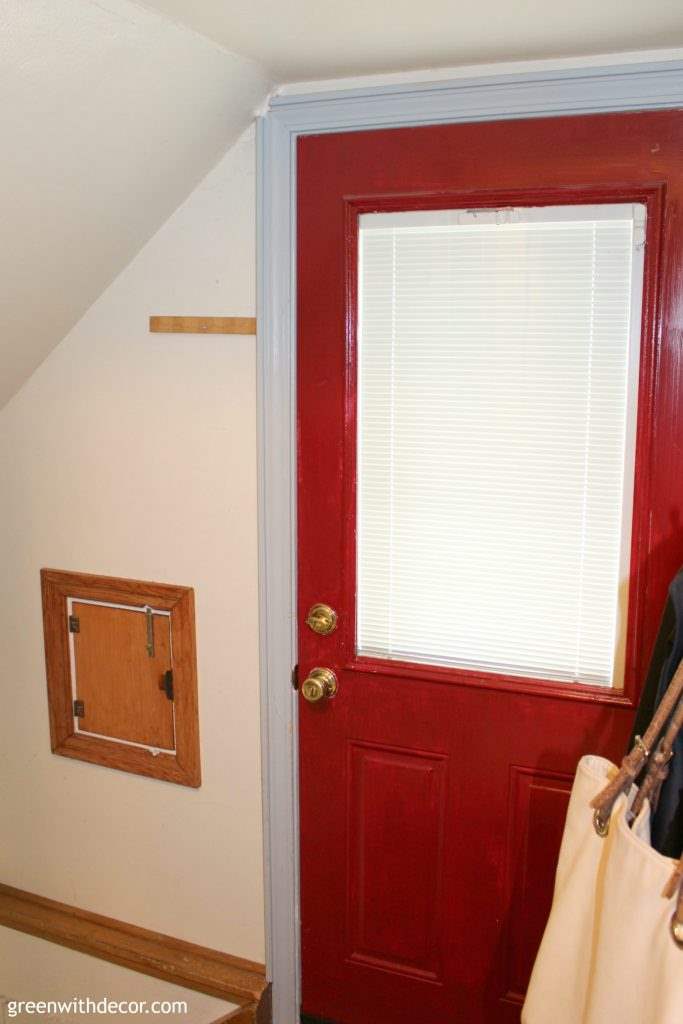 The plan is to paint all of the trim white.
One day my brother Stephen was over and joked, "Hey Meg, you know what space you haven't talked about on the blog yet?!" I was excited thinking he had a fun project idea.
Nope, instead he motioned to the weird mix of red/wood/blue/basement stairs and said, "This great entryway!" Ha. So I'm finally talking about it!
SECOND FLOOR LANDING
This is in MUCH better shape than the first floor landing. Just the fact that there isn't light blue trim next to a red door pretty much tells you that. 🙂
When we bought the house, the landing walls were purple and the trim was wood-colored. This isn't a great 'before' picture either, but it's the best I've got: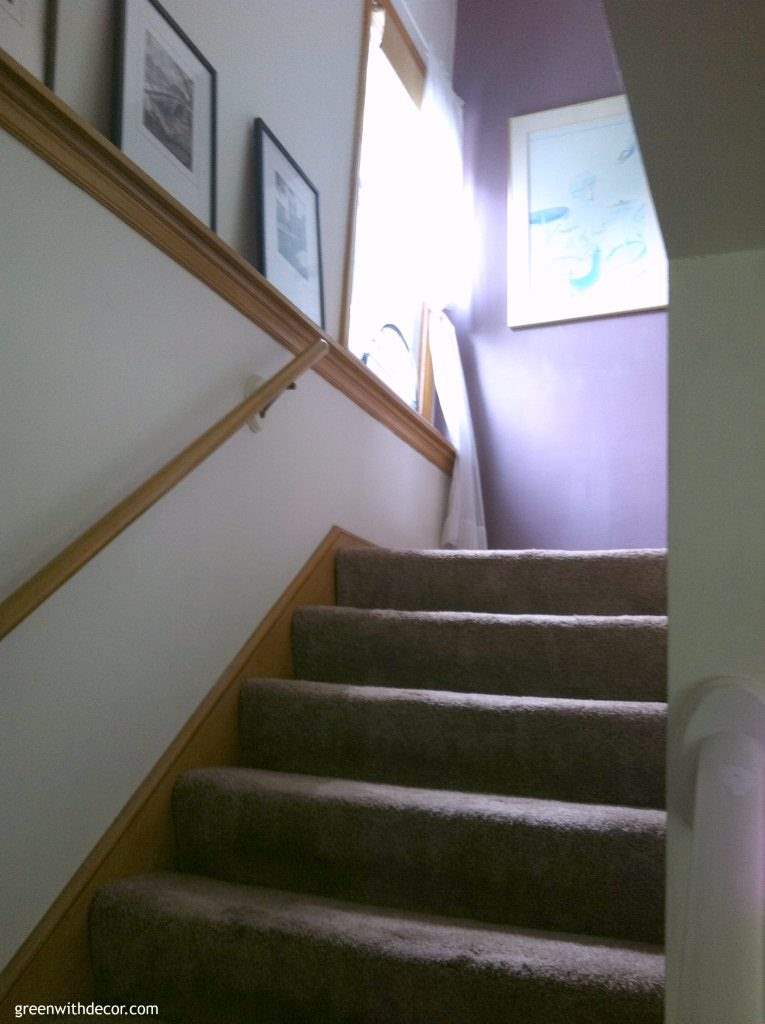 We painted the walls Camelback and the trim white. But this banister never got done.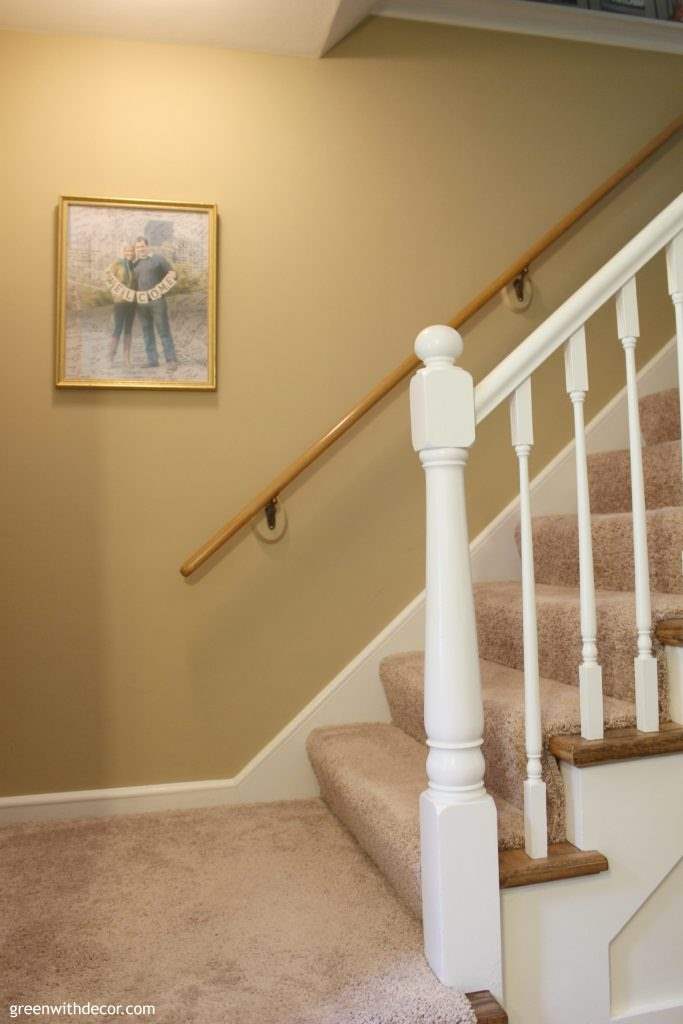 The banister will soon be painted white. Yay! (Update: It's white now!)
I love the shelf that runs along the stairs. Little touches like the shelf are what I love about living in an old house! It's perfect for displaying one of our windows turned picture frames.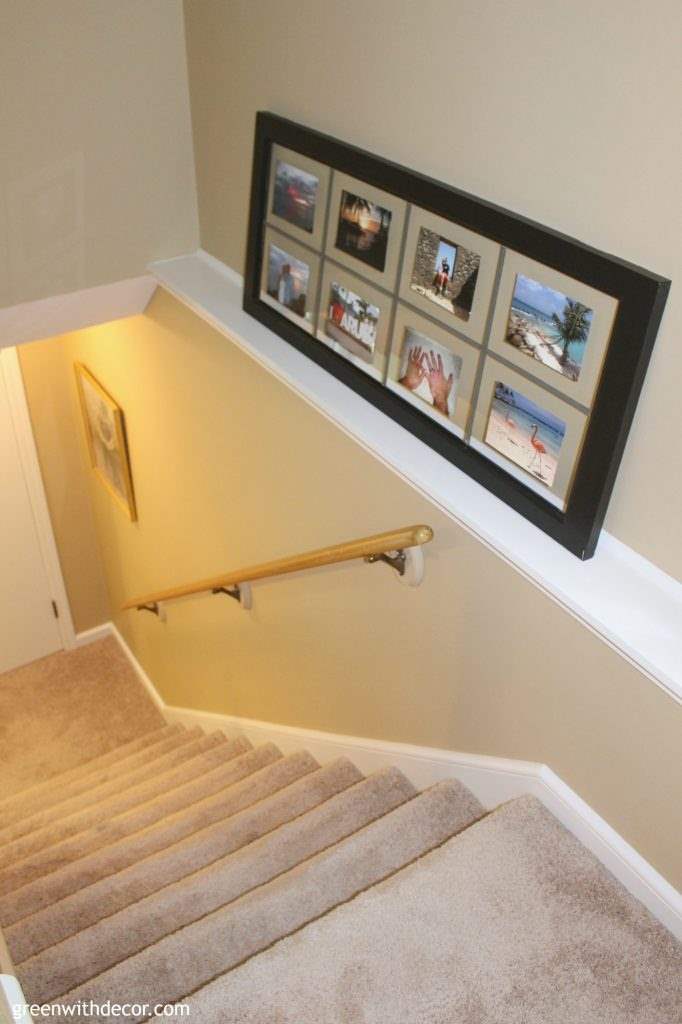 I want a different vase at the top of the stairs, but I haven't found one that's tall enough yet.
So this little corner will change at some point, once I find what I'm looking for.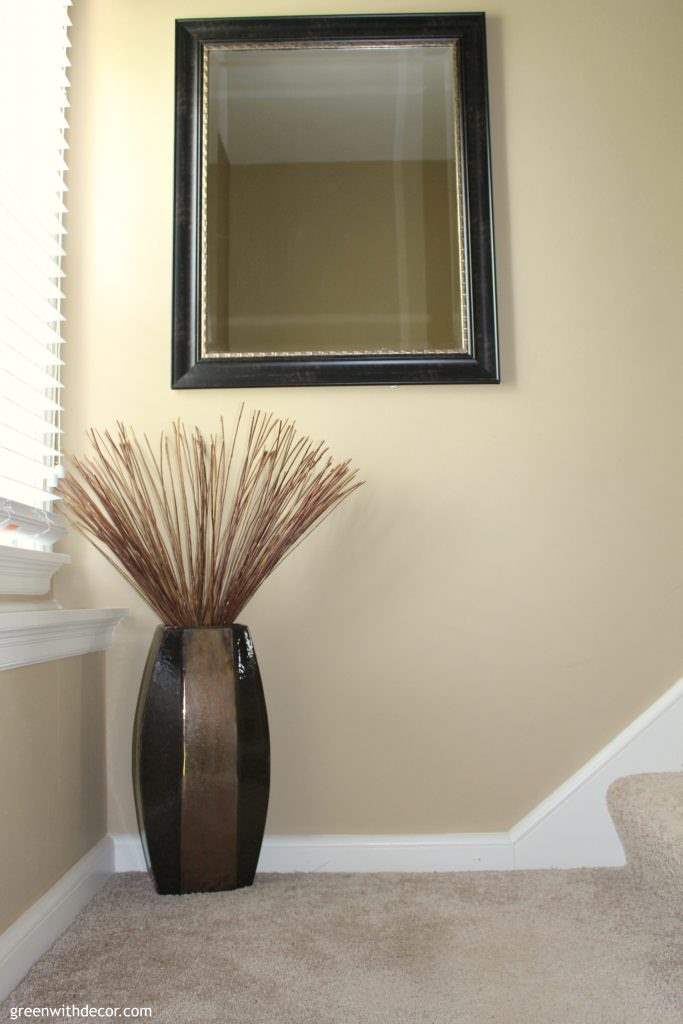 I love the big mirror – it's fun having such a tall wall to decorate – so that will stay.
Those are the project plans around here at the moment.
We've made some updates to the yard, too, which is awesome because it's been so sunny and warm here lately! You can see the patio reveal from last year here. I'll post about the backyard updates soon. (Update: here's a look at the current backyard.)
What's on your house to-do list for the summer?
Remember to bookmark or pin this post if you want to save it for later!

Pin it!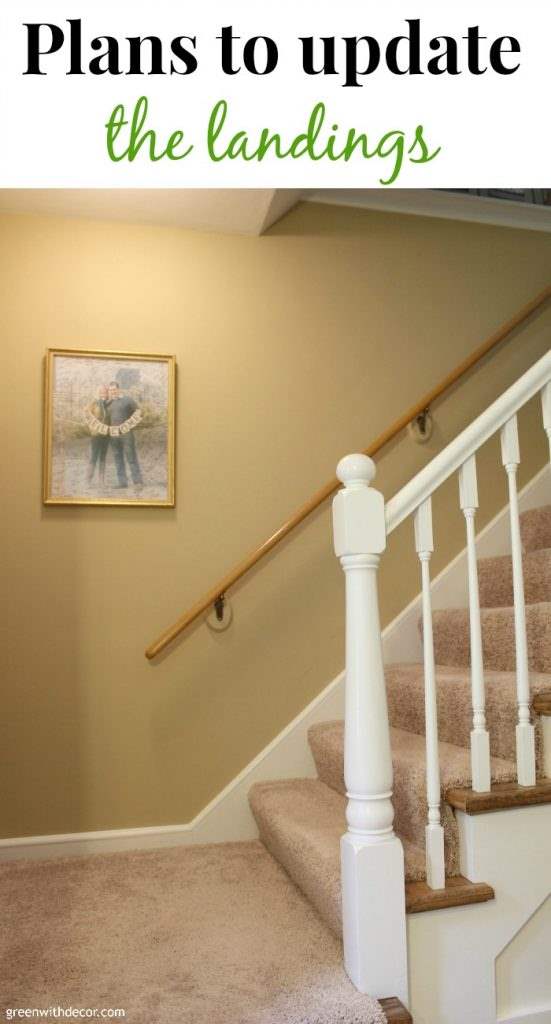 Want to read more posts like this?
Follow along: Get my emails | Facebook | Pinterest | Twitter | Instagram