Disclosure: The artwork featured in this post was provided by Minted. All opinions, images and love of gorgeous wall art are 100% mine.
We're talking all about choosing new artwork today.
This post contains affiliate links. This means if you click the link and buy something, I may receive a small percentage of sales at no extra cost to you.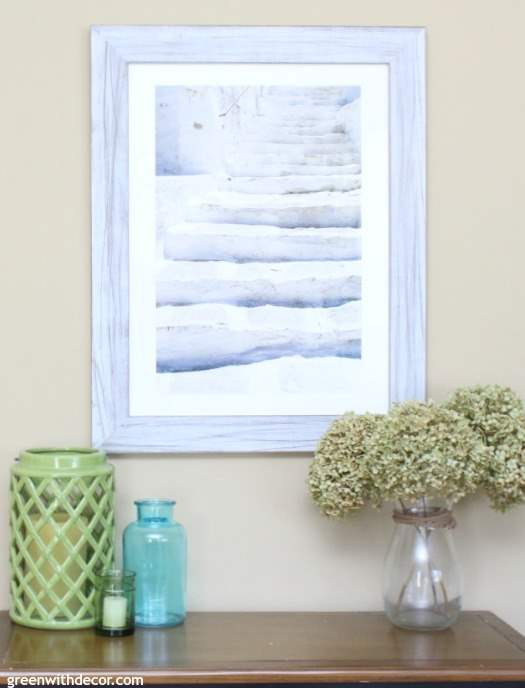 GET THE LOOK: White stairs print | Green lantern | Tutorial: how to dry hydrangeas
(Side note: If you saw my Instagram story last week, you know that aqua vase is from the Dollar Spot at Target. Run there now and grab one or ten, I'll wait!)
Okay, back to pretty artwork!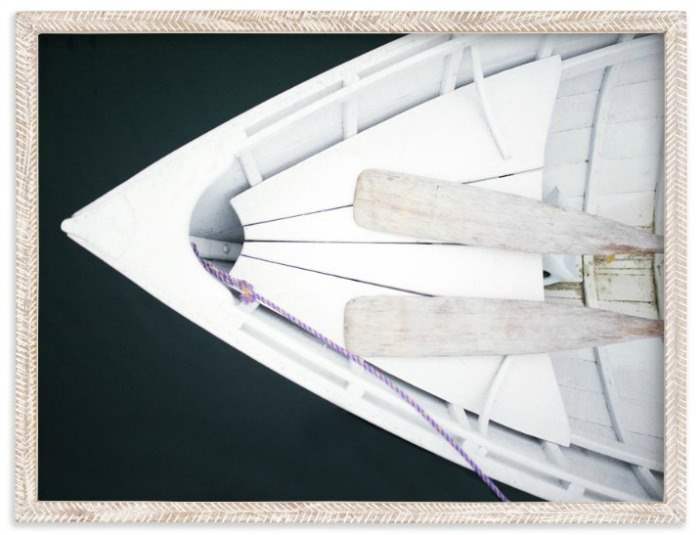 Good news, friends. Minted has a few great promotions going on right now (through April 3, 2017) in honor of their anniversary event, and you know I can't resist a good deal. Especially when you can shop independent artists' work online while sitting at home in yoga pants.
There are other deals, too, on stationary and party supplies, so be sure to check those out if you're planning any wedding or baby showers. Tis the season.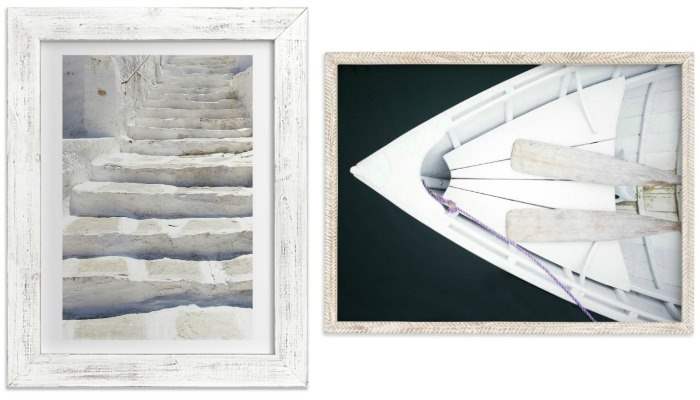 But I'm all about the artwork today. I found sooo many gorgeous wall art options that I liked. I narrowed it down and decided on the White Stairs and the Afloat prints.
When I showed them to Kalen, he liked them but commented he didn't know we were a boat family. I would love a boat, but he's not interested so I'm thinking this picture is the closest I'm getting to one. 🙂
I have a few (okay, a lot) of my other favorite prints pictured and linked below in case you're on the hunt for pretty new wall art, too. I kept a few things in mind though, which really helped me to narrow down my choices instead of getting overwhelmed by all the beautiful artwork.
Tips for choosing the perfect wall art:
1. Pick a decor theme.
Sometimes it can be hard when you like so many different pieces of artwork, but it helps to have an overall theme in mind. I'm leaning towards more of the coastal/beachy style, which may not be the typical Midwest decor style, but I like it. I've been wanting to trend in that direction for awhile, so here we go.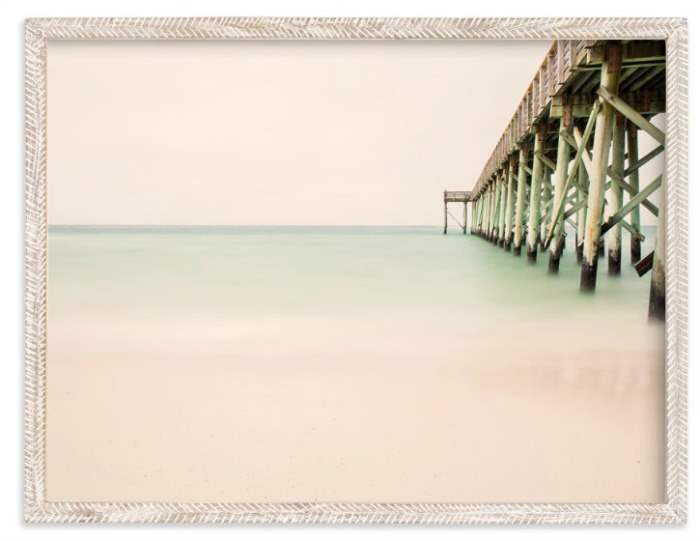 As I was looking through all sorts of artwork and declaring I liked almost all of them, I kept reminding myself I wanted to create a costal look in our house.
That little reminder helped me stay focused in my search and not end up with a bunch of gorgeous artwork that would look random when paired together.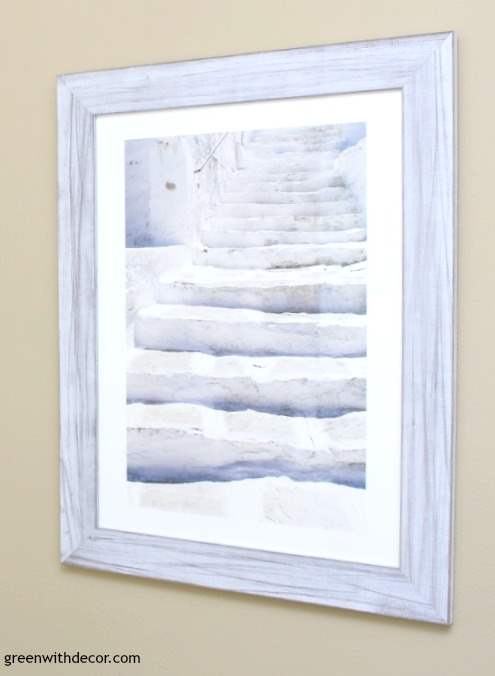 Basically, looking all of the beachy prints (more below if you love them, too) convinced me we need a lake house or a beach house to decorate!
2. Focus on a color scheme.
You don't have to have it narrowed down to a specific paint color or anything. I have no idea what color we'll be painting our new walls yet because I haven't gotten that far, but I do know I want to hone in greens, blues and neutrals.
A few times I picked out some artwork that had some pink to it, and I ended up closing those tabs and forgetting about them.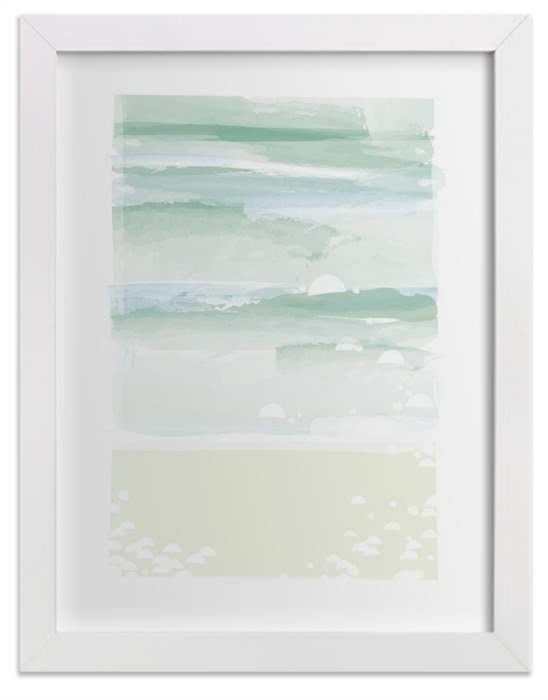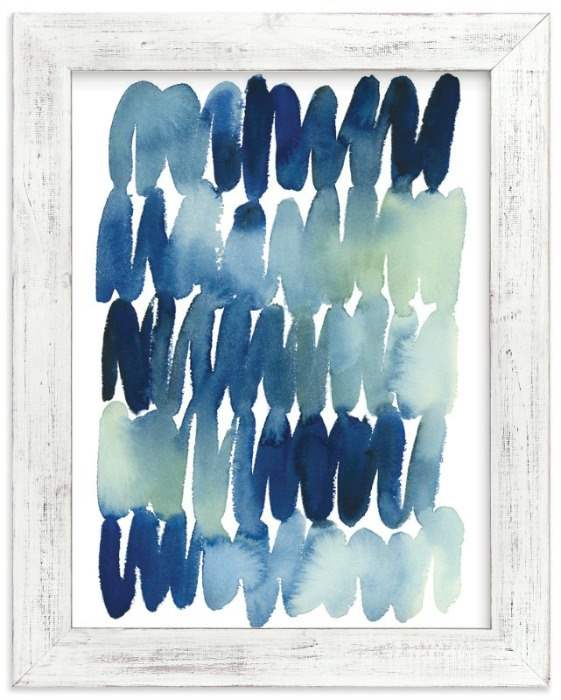 Or, if you love all sorts of bold color, go for it, but stick to a general color scheme.
3. Photographs or watercolors?
This may not matter to you, and you can certainly mix the two. But sometimes just thinking about whether you prefer photographs or artwork can help you to narrow down the selections instead of getting overwhelmed with decisions.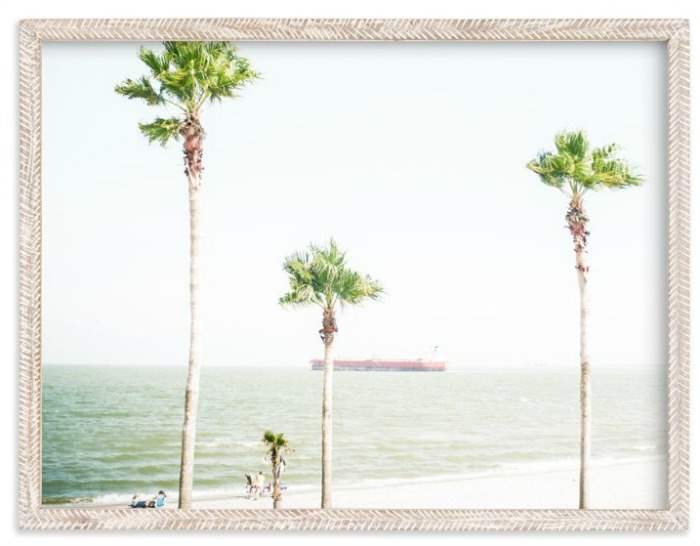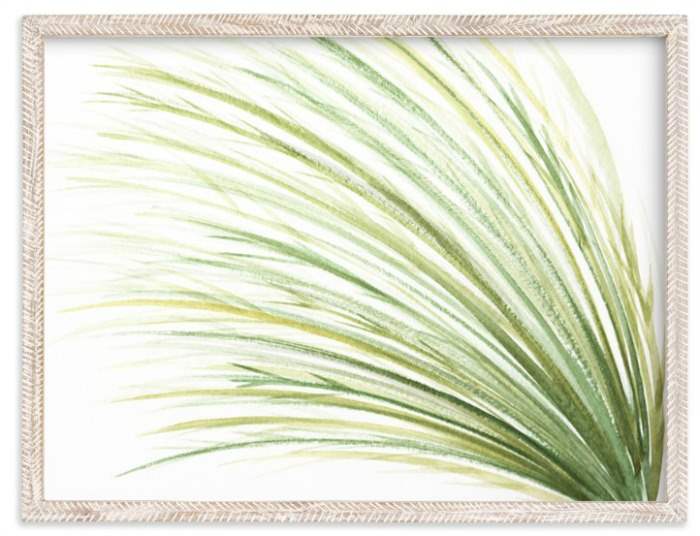 4. Check the size.
With a whole house to decorate, I didn't pay much attention to this honestly. Rectangle medium-sized prints will pretty much work somewhere in a house full of blank walls.
But if you're looking for artwork for a specific space, definitely look at shape (square vs. rectangle) and size.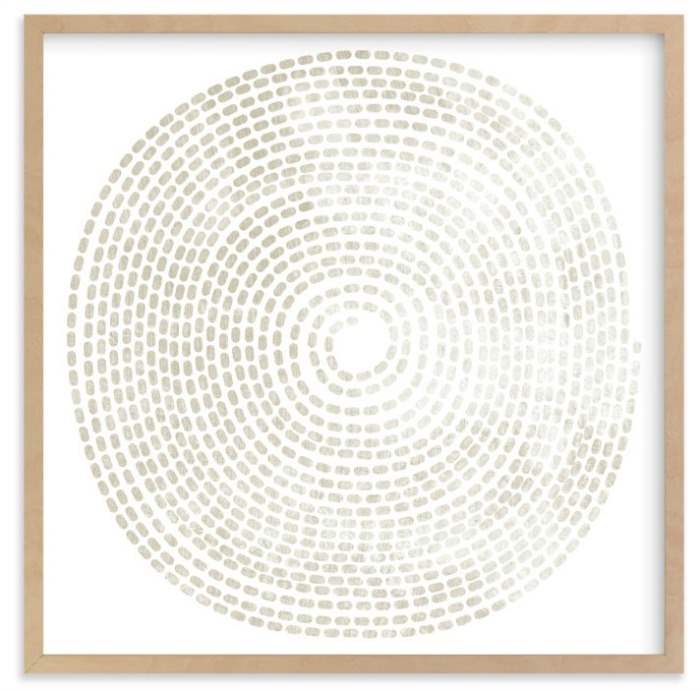 When I was playing around with my new prints just to see what they looked like on our walls here (paint color is Camelback by Sherwin Williams), I placed one of our end tables underneath this one.
Obviously the table is not wide enough to be under the print permanently, but I just wanted to see what it looked like with some decor pieces near it.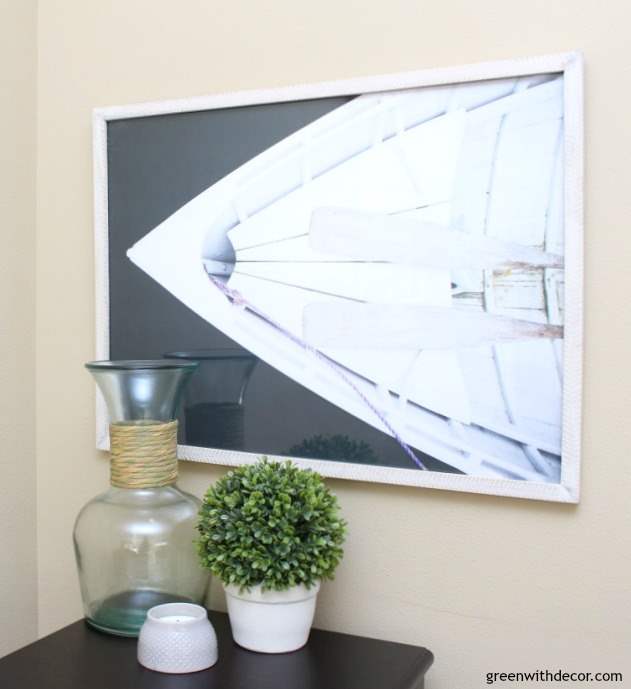 GET THE LOOK: Afloat print | Boxwood plant
5. Get a second opinion.
Kalen is happy to weigh in, but really, he usually just says he trusts me to pick out whatever I want. So if I'm overwhelmed with decorating choices, I usually go to my mom.
I texted her about a million artwork options, and she picked a few of her favorites. Which, as usually happens with the two of us, were pretty aligned with my favorites. It's always good to get someone else's opinion though.
You'll notice the different frame options Minted has, too. My favorites are the Whitewashed Herringbone and the Distressed Cottage White, but I'm sure you puzzled that together!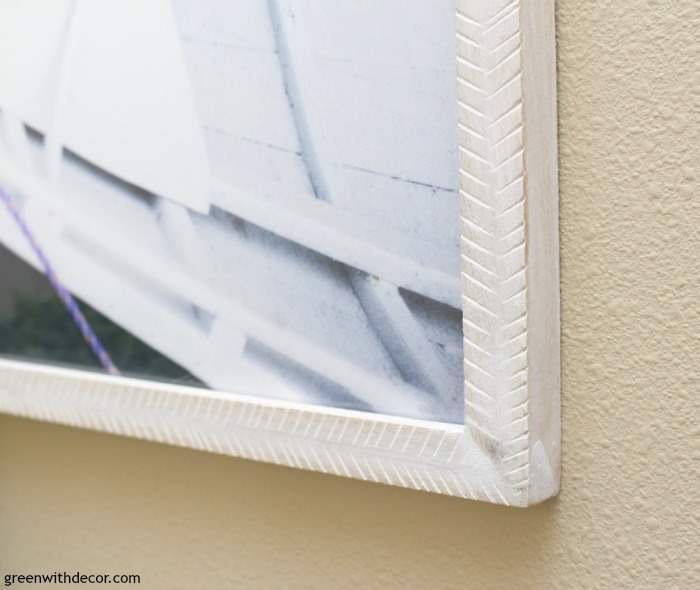 I have a few more of my favorite wall art options below, which are just too good not to share with you guys.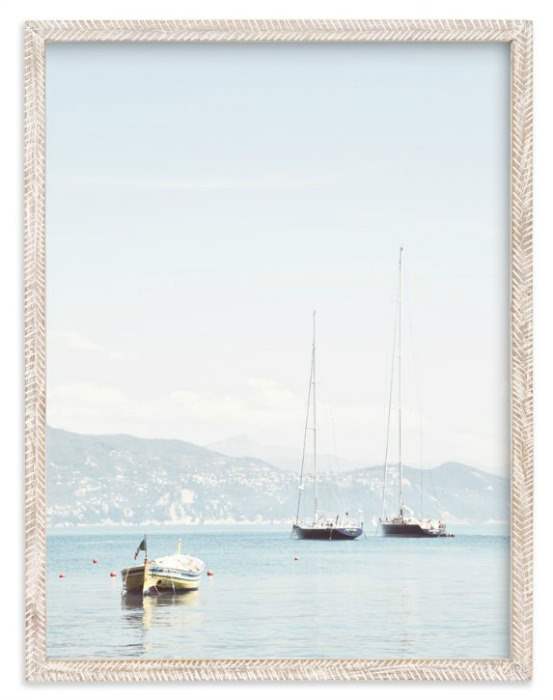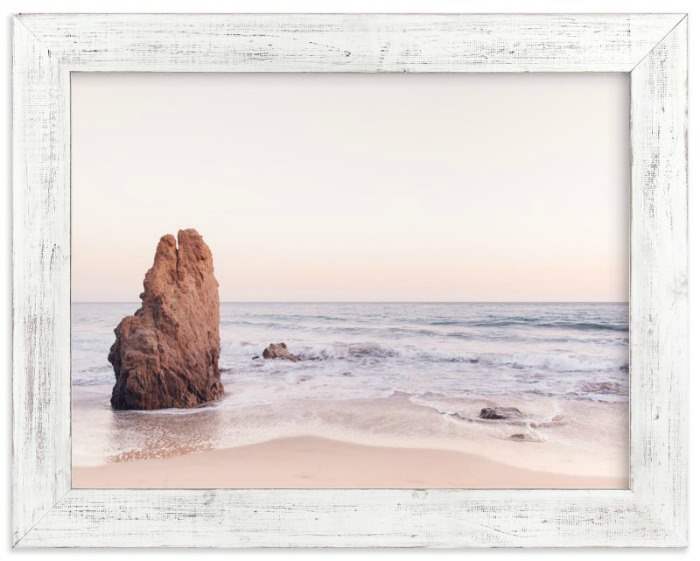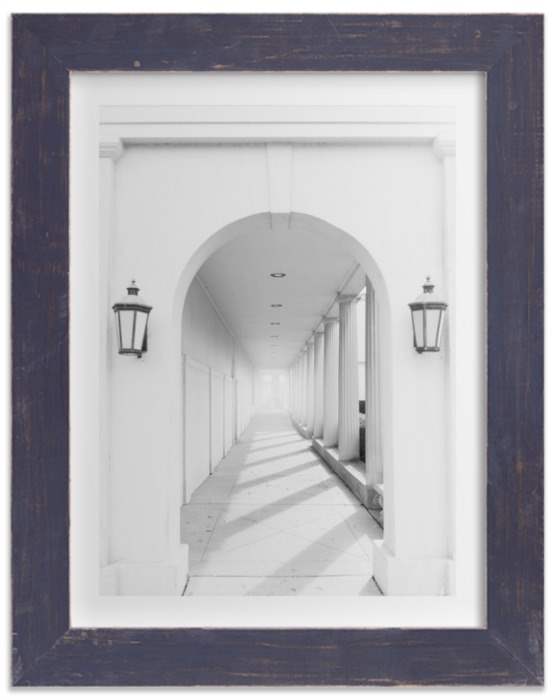 There were a few more travel-focused prints that caught my eye, but I held off on those for now to stick to my dreams of having a more beachy decorated house. I still had to include them below though because they're so pretty!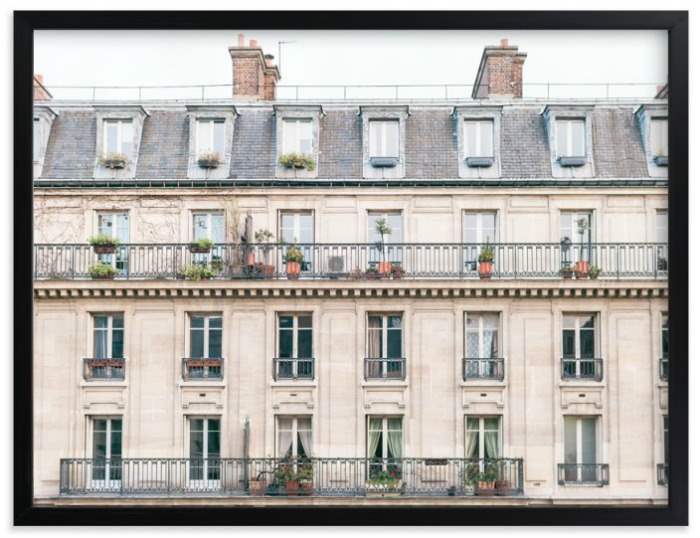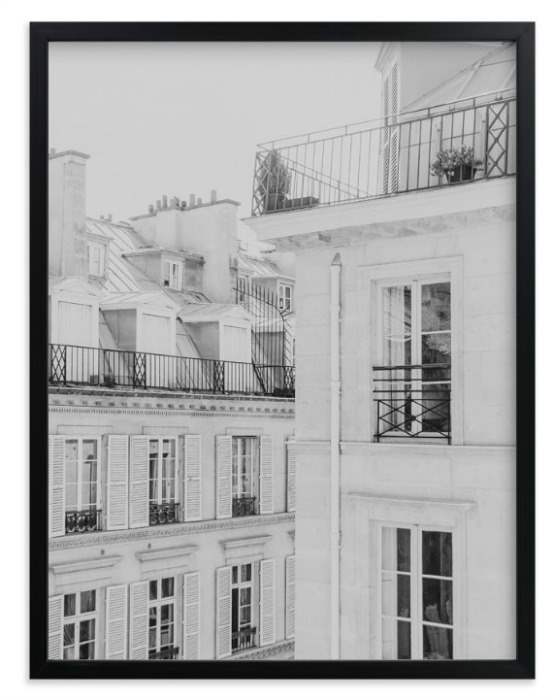 Cincinnati has a bridge that looks similar to this, so this one caught my eye.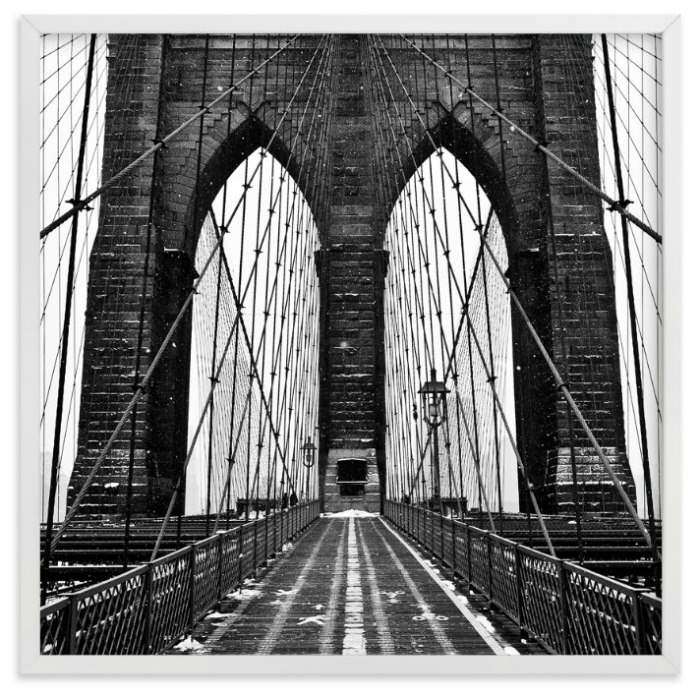 Which ones are your favorites? Do you have any other tips for choosing the perfect wall art?
Remember to bookmark or pin this post if you want to save it for later!

Pin it!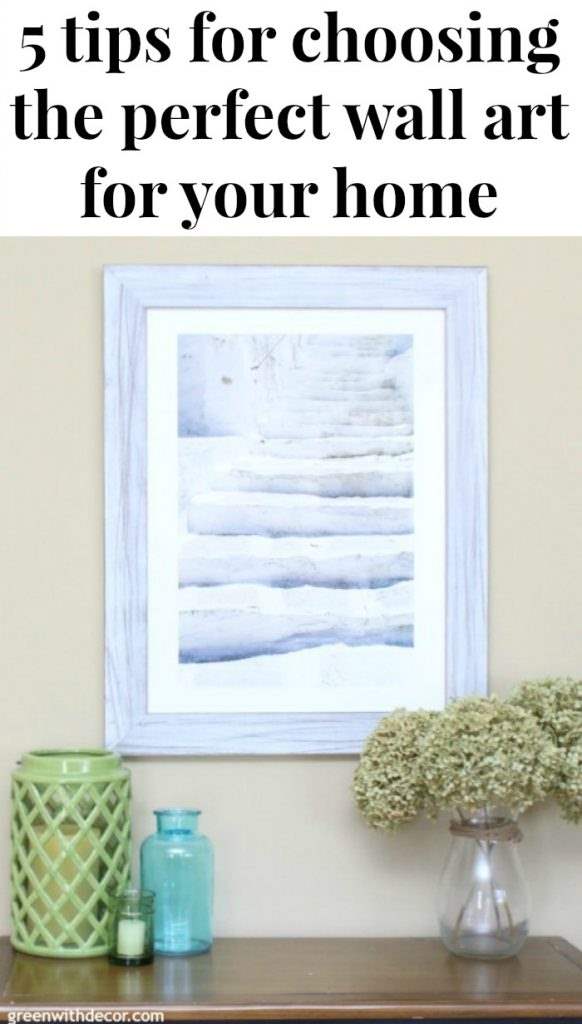 Want to read more posts like this?
Follow along: Get my emails | Facebook | Pinterest | Twitter | Instagram