It's easy to dry hydrangeas. Then you can keep the feel of fresh flowers going into fall and winter!
It's no secret around here I'm close with my grandparents. Kalen and I got married on their anniversary, which was this week. We were married 3 years; they would have been married 70 years.
My Grandmom has a great decorating sense, and my Grandpop was a great writer, so really this blog is a cool combination of skills I inherited from both of them.
I grew up spending a lot of time with my grandparents and when they moved to their current condo years ago, a surprising benefit was their side yard was filled with gorgeous hydrangeas.
My Grandmom is really good about cutting them and bringing them inside so she always has fresh flowers on the kitchen counter.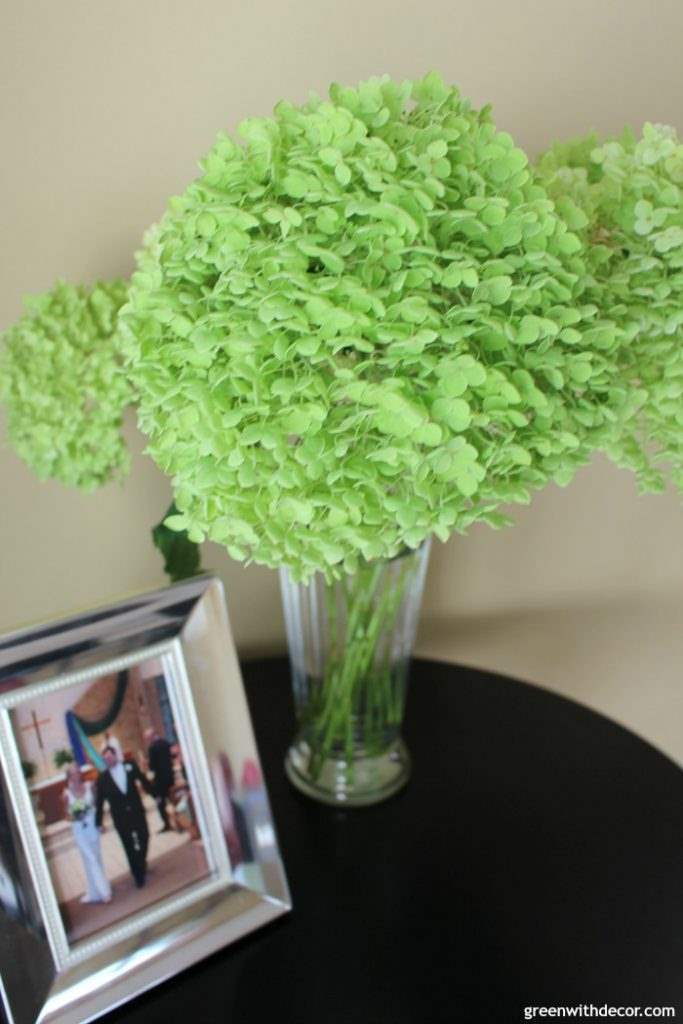 I love having fresh flowers in the house (and hydrangeas are my favorite), but I just can't justify buying them every week.
When I have flowers in the house, I'm really good about changing out the water and cutting the stems (on an angle!) every day so the flowers stay fresh longer. I hate to have flowers around and not get to enjoy them as long as possible!
The next best thing to having our own hydrangea bush in the yard is my Grandmom having a whole bunch of them.
She hands me a pair of scissors and tells me to take some home with me whenever I'm over – and she even brings some with her when she comes to our house.
Her hydrangea bushes were white earlier in the summer and turned green a few weeks ago.
I actually still had two vases (yes, two) full of white hydrangeas in the kitchen when my Grandmom popped over for lunch a few weeks ago with a handful of green hydrangeas. She's well aware of my favorite color! 🙂
The only bad part about the hydrangeas bushes turning green is that I know my stretch of free flowers for is coming to an end.
Well I told you my Grandmom has a good decorating sense, right? She told me to dry my most recent batch of hydrangeas so I could keep them out year round.
So I did. And I love them!
Did you know drying hydrangeas is really easy? Like so easy I'm kicking myself for not doing this in years past.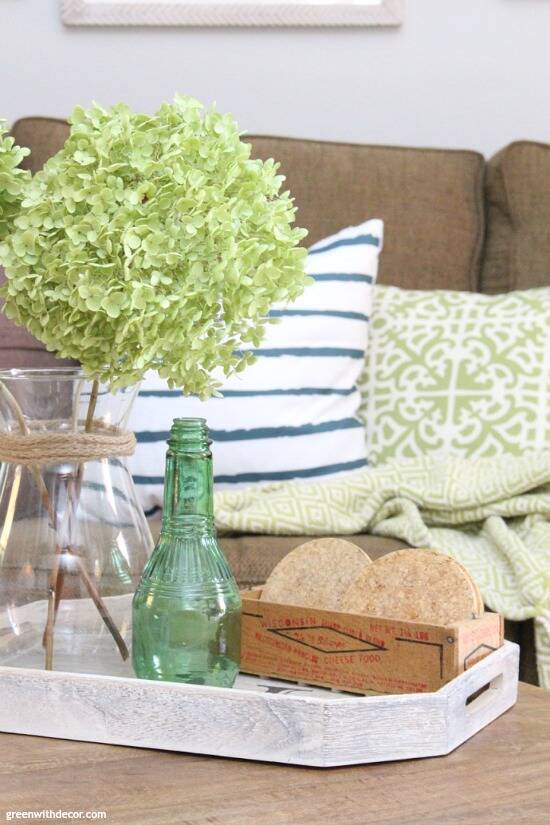 How to dry hydrangeas:
1. Cut the flowers from the bush like you normally would.
I usually cut it so the flower stem is as long as possible, because like I mention above, I snip the steam a bit each day in order to keep the fresh flowers alive as long as possible.
2. Remove any of the leaves off the stem that will sit in water in the vase.
Again, I always do this with any flowers no matter what.
3. Keep out of direct sunlight.
I kept ours on the peninsula in our kitchen.
4. Once the flowers are no longer fresh, just leave the flowers.
I told you this was easy. Stop switching out the water and trimming the stems. Just be sure that the flowers aren't on top of each other. If they are, trim the stems so each flower has its own room to breathe.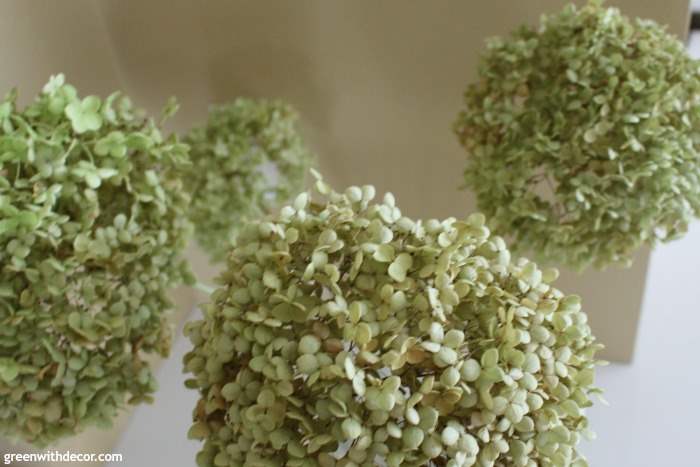 Literally just leave the flowers in the vase. The water will slowly evaporate, and the petals will slowly dry out.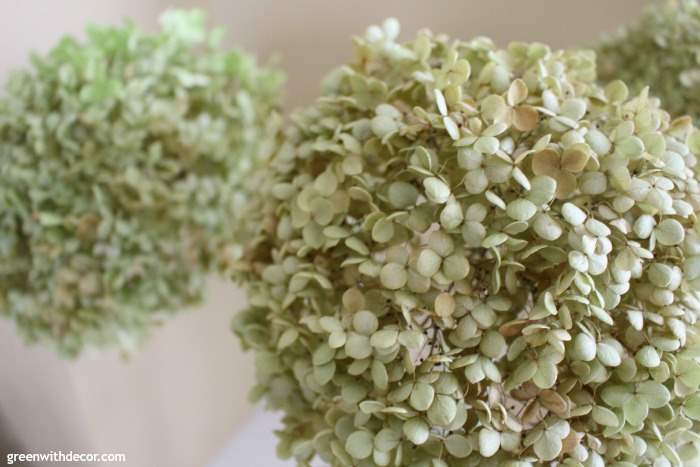 Our hydrangeas dried out in about two weeks. They typically take about one to three weeks.
Then they're ready to decorate with! Be careful with the stems, they'll snap pretty easily.
Continue to keep the dried hydrangeas out of direct sunlight.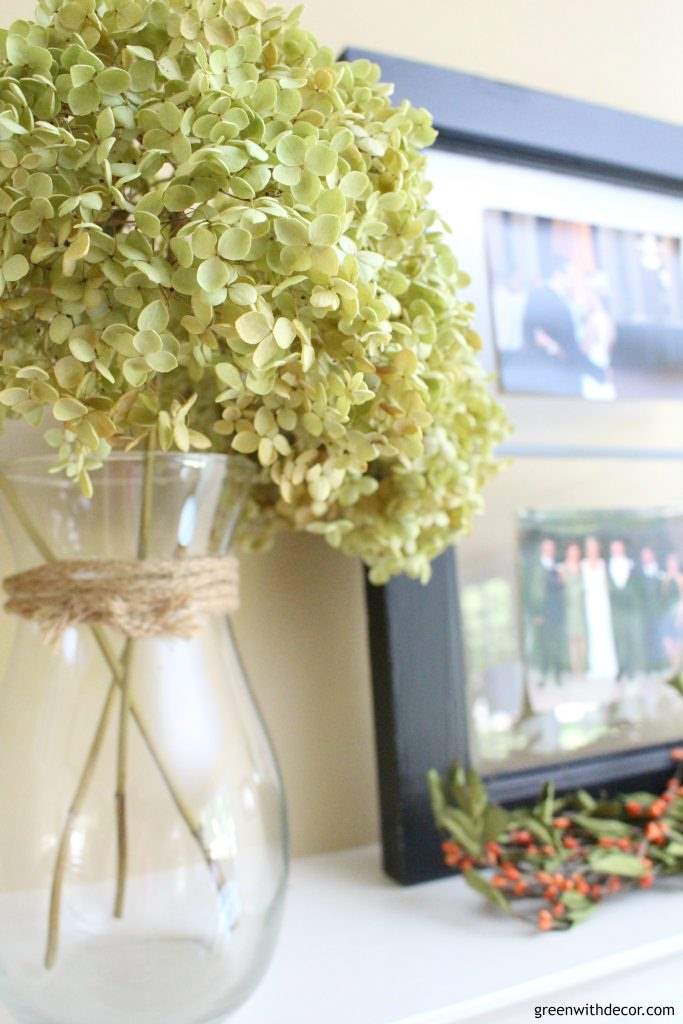 I like the hydrangeas sitting in the vase up on our mantel.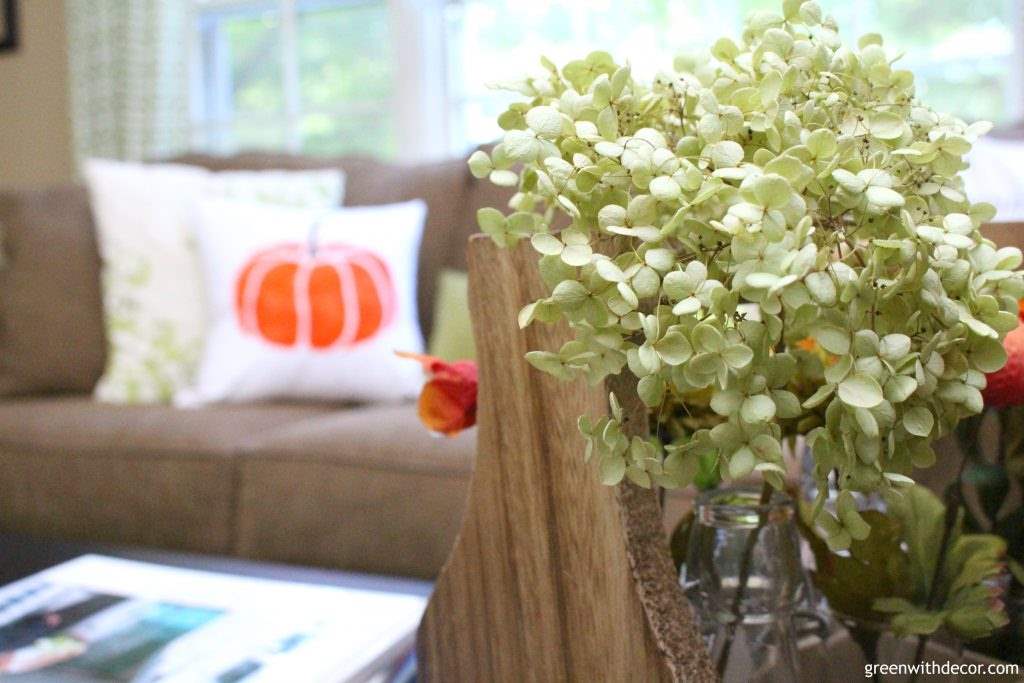 And that's how to dry hydrangeas! Easy, easy.
If you like easy cheap decorating ideas, you'll want to see these, too:
Remember to bookmark or pin this post if you want to save it for later!

Pin it!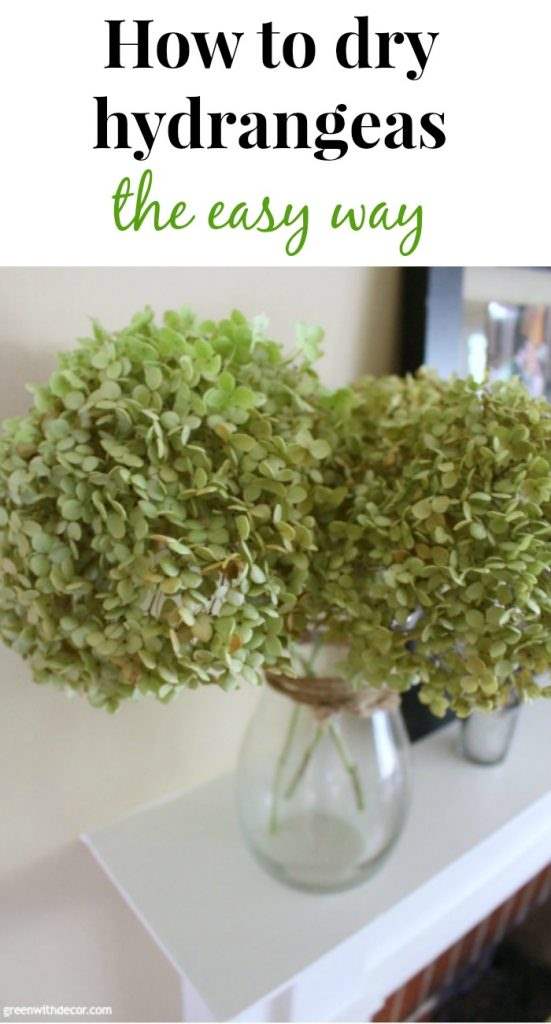 Want to read more posts like this?
Follow along: Get my emails | Facebook | Pinterest | Twitter | Instagram