Sherwin Williams' Camelback is the perfect shade of tan paint for any room in the house: the living room, family room, kitchen, foyer, bedroom, home office and more.
Paint colors!
Everyone loves or hates 'em. Or, more often, can't decide on one!
I get soooo many questions on paint colors. I shared our favorite neutral paint colors for the whole house here, and you guys loved it. And yep, Sherwin Williams' Camelback is on the list. Hence today's blog post title.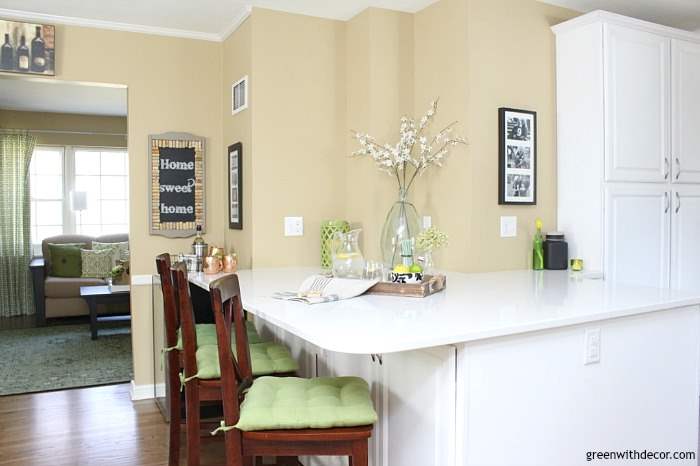 I figured I'd dive into our paint colors in a series of blog posts so you guys can see alllllll the pictures of each of our paint colors in real life in one place.
And Camelback seemed like a good place to start since we've used it in, oh, two houses, and something like ten rooms. (More on those below.)
After looking at approximately a million paint swatches and testing out about the same number of samples, Camelback is a neutral paint winner for us. (SW 6122 if you're wondering.) I think it's the perfect tan paint color.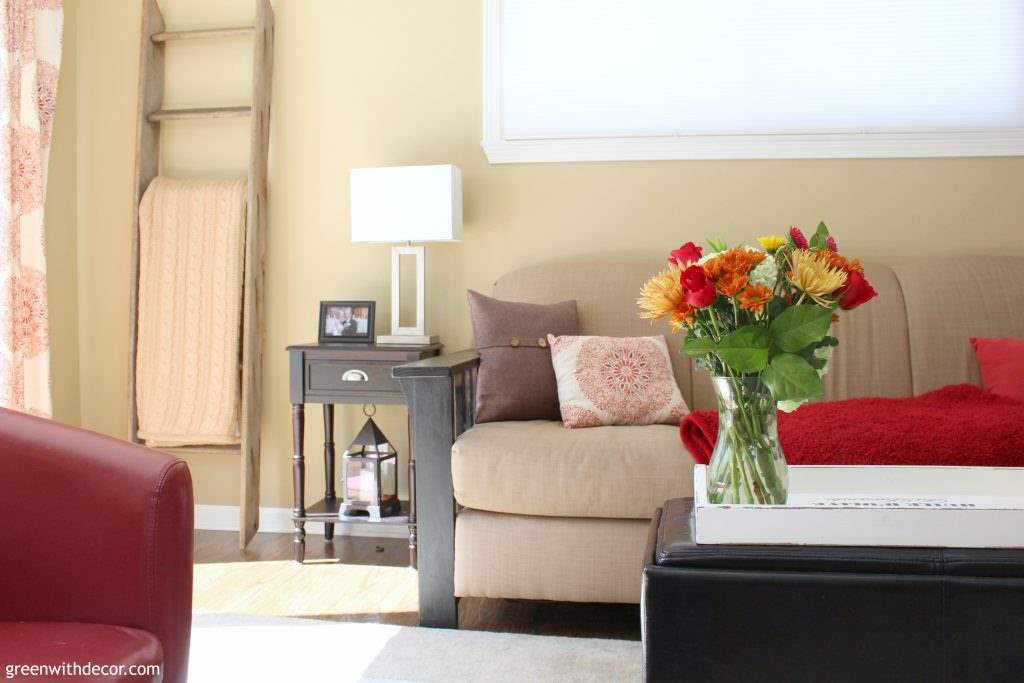 Sherwin Williams technically classifies Camelback as a yellow, but not to worry, it's not really yellow. It's tan.
It's not too light, but it's not so dark it overpowers a room or makes a room seem dark.
Except! If you have a really dark hallway without any natural light, I would test it out first and probably end up going with a lighter shade of tan paint.
Otherwise, I've loved Camelback in all sorts of rooms with varying layouts and degrees of natural light. It's a warm neutral shade that works well just about everywhere.
This post contains affiliate links. This means if you click the link and buy something, I may receive a small percentage of sales at no extra cost to you.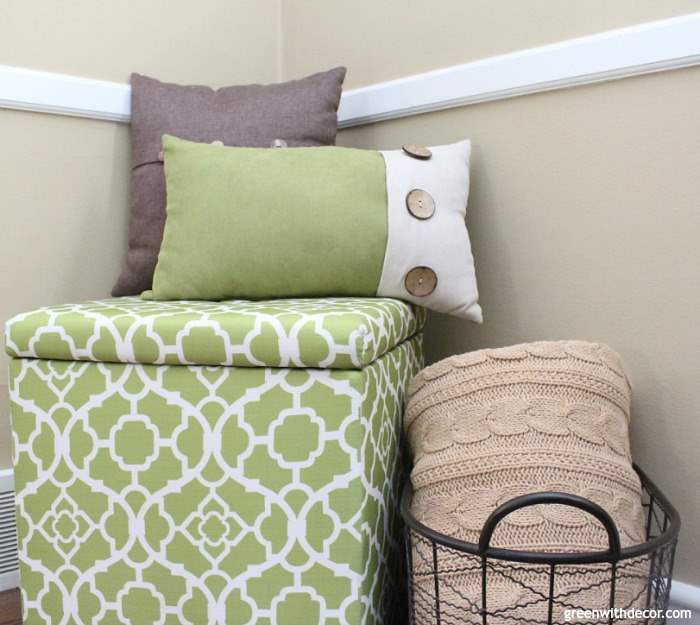 GET THE LOOK: Ottoman | Green pillow | Blanket
We've used Camelback in the kitchen, living room, family room, dining room, foyer, home office and bedroom … and in many of those rooms multiple times.
Which means we've paired it with both cream and white kitchen cabinets, and furniture/decor in just about any color you can name: green, blue, yellow, red, black, white, the list goes on.
CAMELBACK PAINT IN A KITCHEN AND DINING ROOM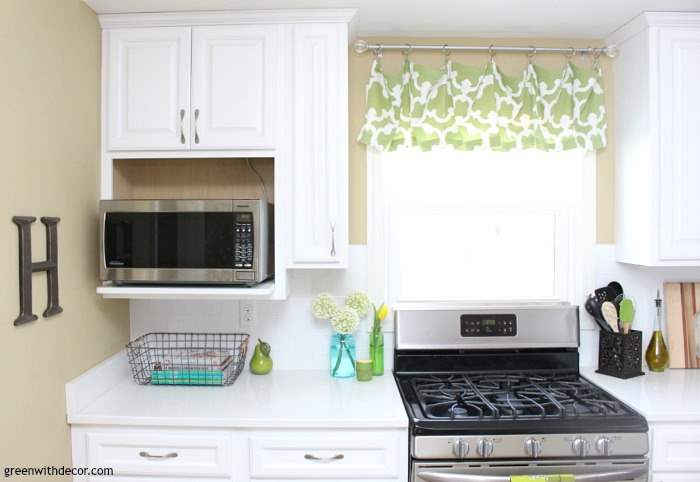 GET THE LOOK: Bronze letter | Metal basket | DIY window valances | Curtain rods | Green spatula| Cabinet handles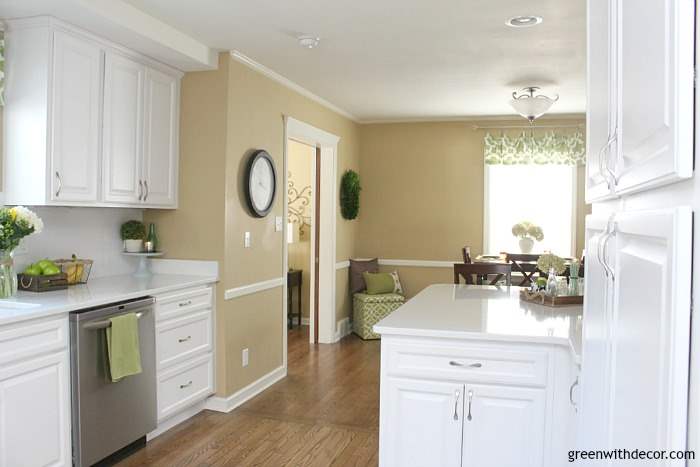 And in our old kitchen …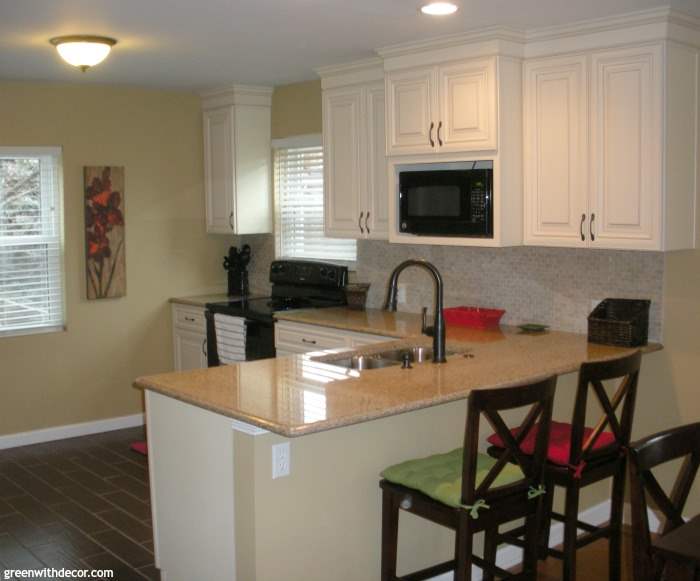 CAMELBACK PAINT IN A LIVING ROOM OR FAMILY ROOM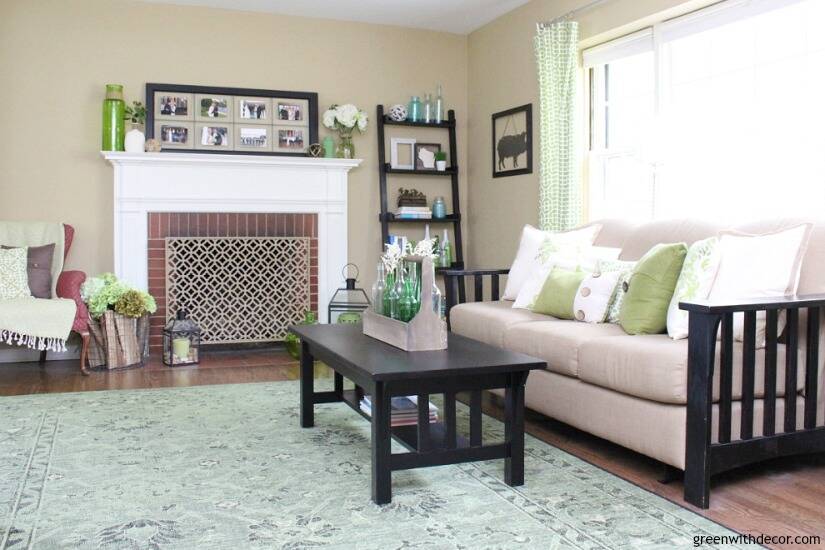 GET THE LOOK: Rug | DIY window turned picture frame | Coffee table | Ladder shelf | Green pillow | Cream pillow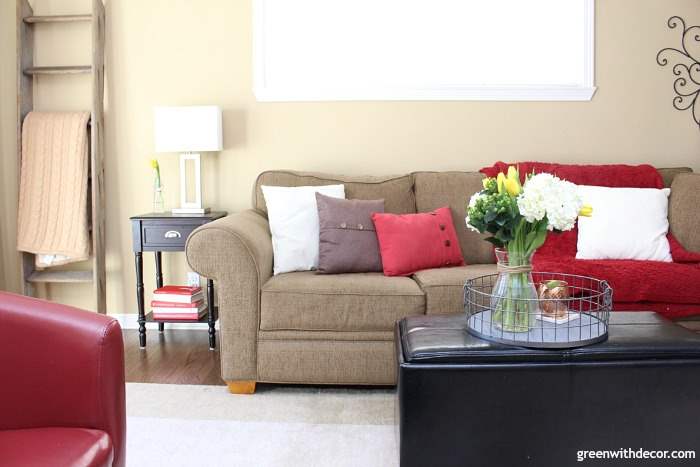 GET THE LOOK: Tan blanket | End table | Silver lamp | Couch | Brown pillow | Red pillow | Rug
CAMELBACK PAINT IN A FOYER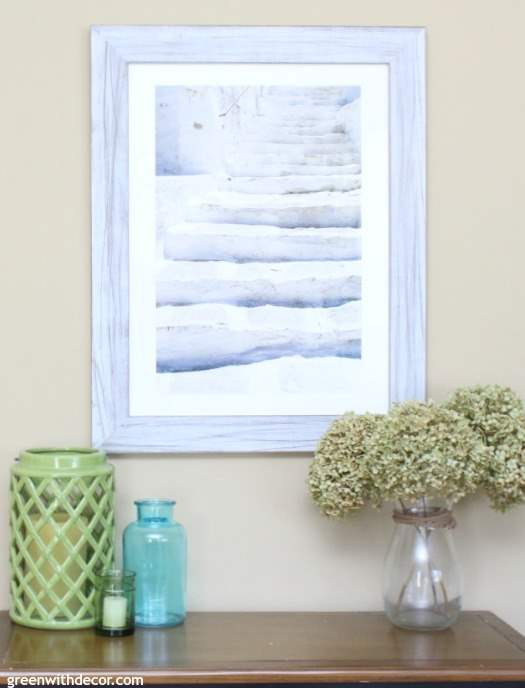 GET THE LOOK: Artwork
CAMELBACK PAINT IN A BEDROOM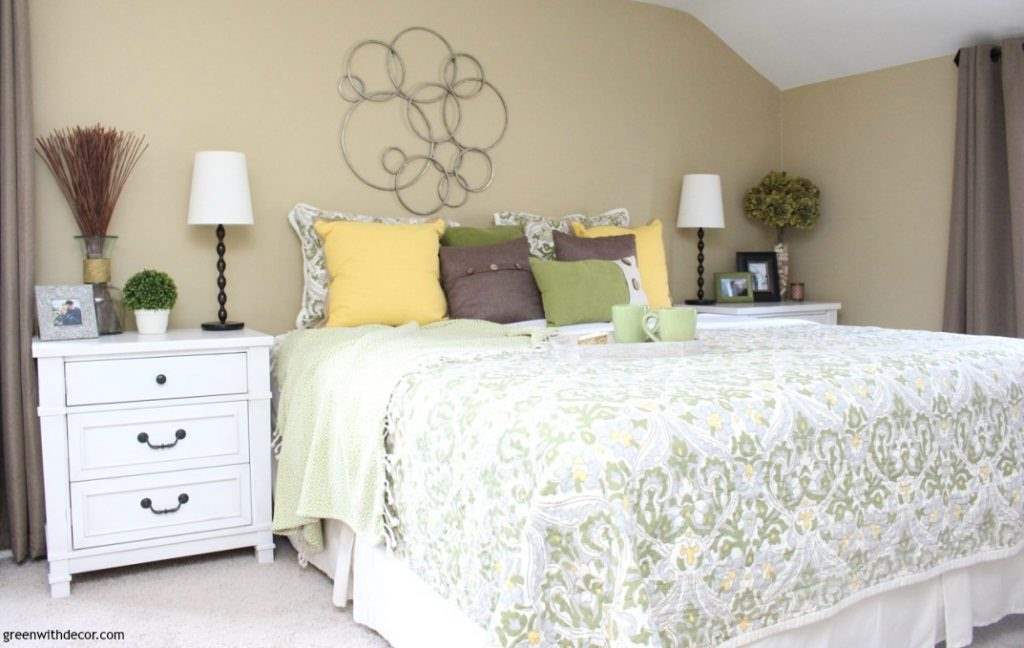 GET THE LOOK: Lamps | Pillows: Green, Yellow, Brown | Faux boxwood plant | Wall decor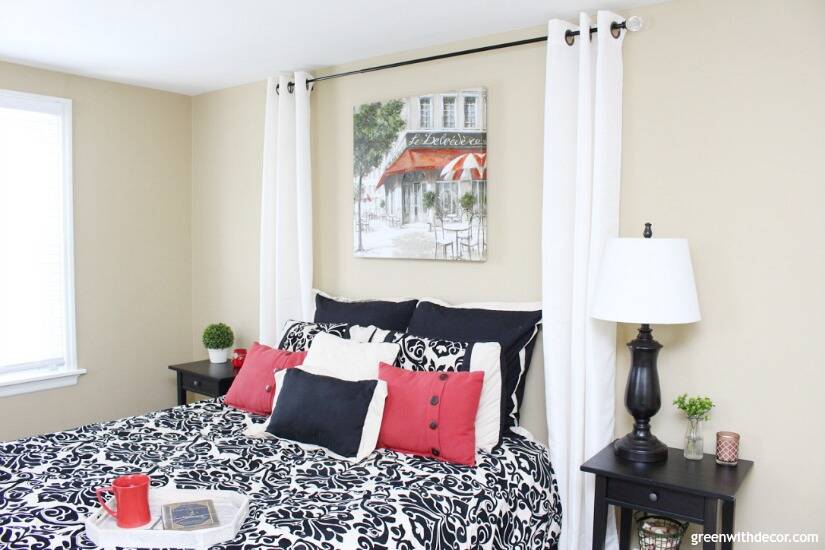 GET THE LOOK: Curtain rod here or here | Canvas | Curtains | Comforter set
CAMELBACK PAINT IN A HOME OFFICE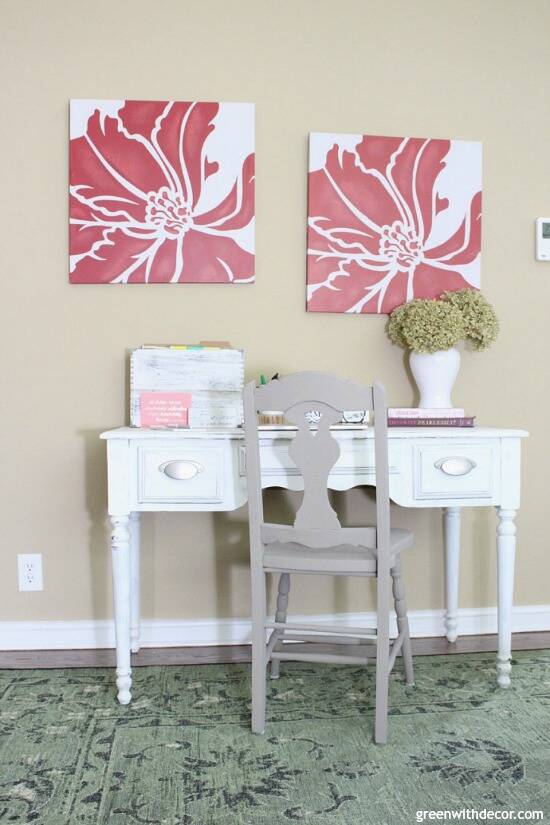 GET THE LOOK: Painted desk | Painted chair | Domino book | Decorating Fearlessly book
I think this is worth saying each and every time you're picking out a paint color, get a sample!
I think those color swatch books are awesome, and I have about, oh, four or five of them in my craft closet that I like to reference, but puh-lease go get a paint sample.
Paint samples often look different than those little color swatches, and it's worth a few bucks to test out a sample before you paint a whole room in a color you just don't like.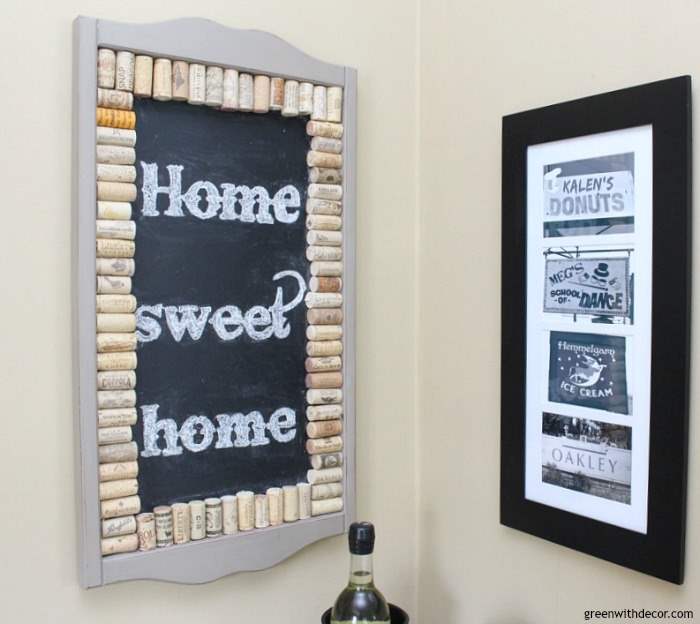 If you're looking for a tan paint color just a little lighter or darker, Whole Wheat (SW 6121) is one up on the SW color wheel, and Coriander Powder (SW 9025) is one down.
And, because I always think this is helpful when I'm picking a paint color out of the millions that are available, the colors Sherwin Williams names as coordinating with Camelback are Antique White (SW 6119), Chopsticks (SW 7575) and Warm Stone (SW 7032).
Definitely helpful if you want an adjacent room or even big furniture piece in a coordinating but not same shade.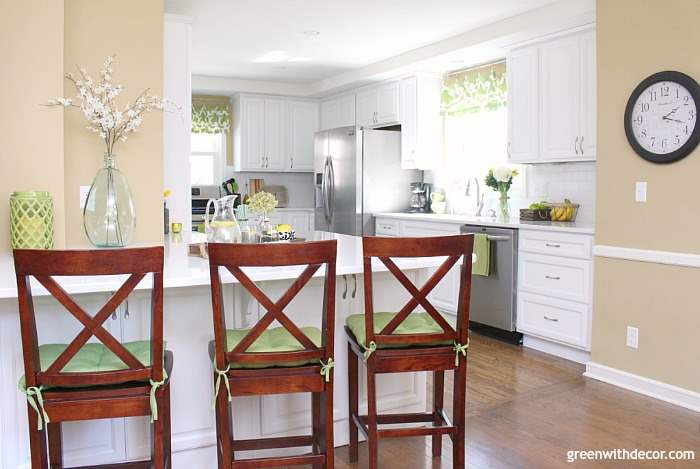 So what do you think? Is Sherwin Williams' Camelback a winner for you? Or do you have another favorite tan paint you just can't live without? Or another neutral paint color you love? I'd love to hear!
I'll be back with more details and pictures of our other favorite paint colors (see Ryegrass, Aesthetic White, Agreeable Gray or Krypton). Meanwhile, you can check out my favorite painting tips and tricks here.
Remember to bookmark or pin this post if you want to save it for later!

Pin it!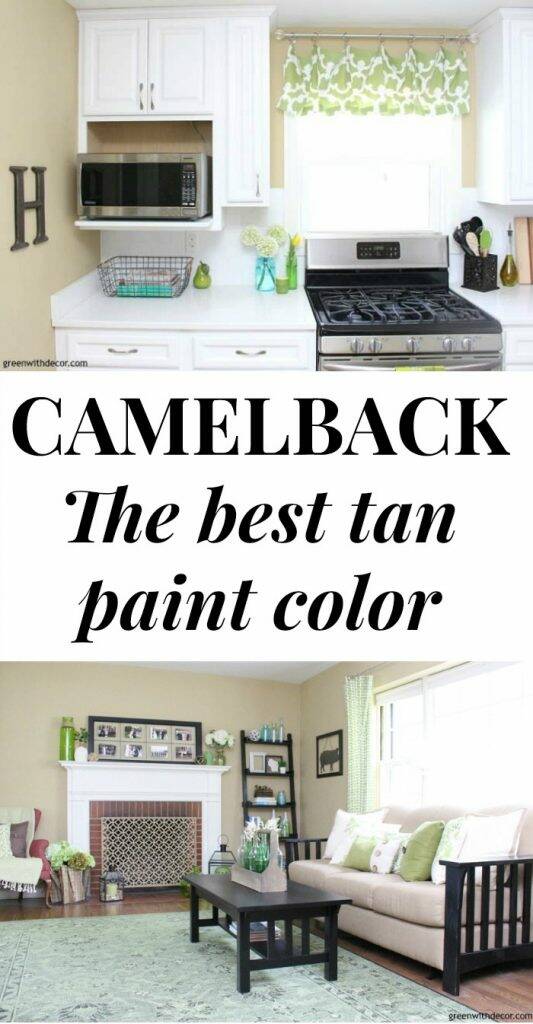 Want to read more posts like this?
Follow along: Get my emails | Facebook | Pinterest | Twitter | Instagram