An easy Christmas centerpiece idea featuring faux eucalyptus, colored ornaments, glass hurricane candle holders and seagrass chargers.
Disclosure: Boho Luxe Home provided the napkins featured in this post as part of the Merry & Bright Holiday Home Tour. All opinions, images and love of pretty napkins are 100% mine.
I didn't even realize how much I missed having time to decorae until I put this Christmas centerpiece together.
It was so much fun to play around and make something look pretty.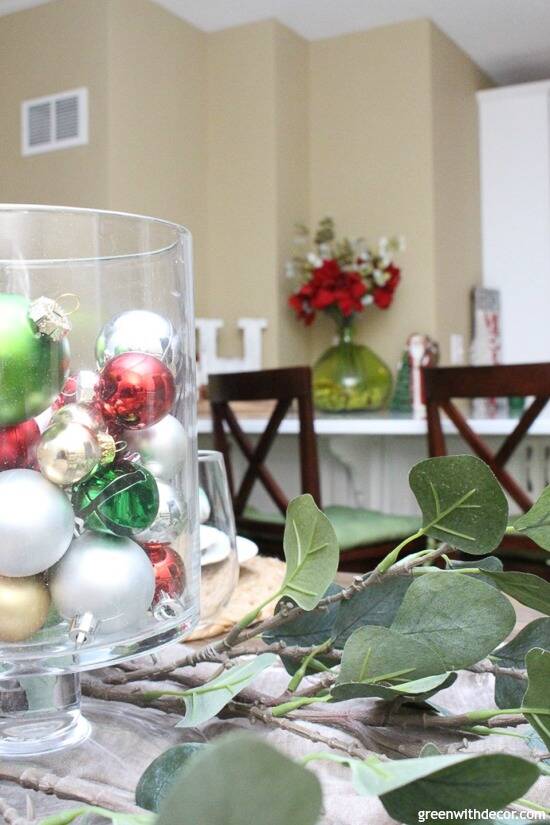 This post contains affiliate links. This means if you click the link and buy something, I may receive a small percentage of sales at no extra cost to you.
First of all, can we talk about our new wood beaded chandelier?!?! I'm not exaggerating when I say I've been eyeing this thing for a couple years.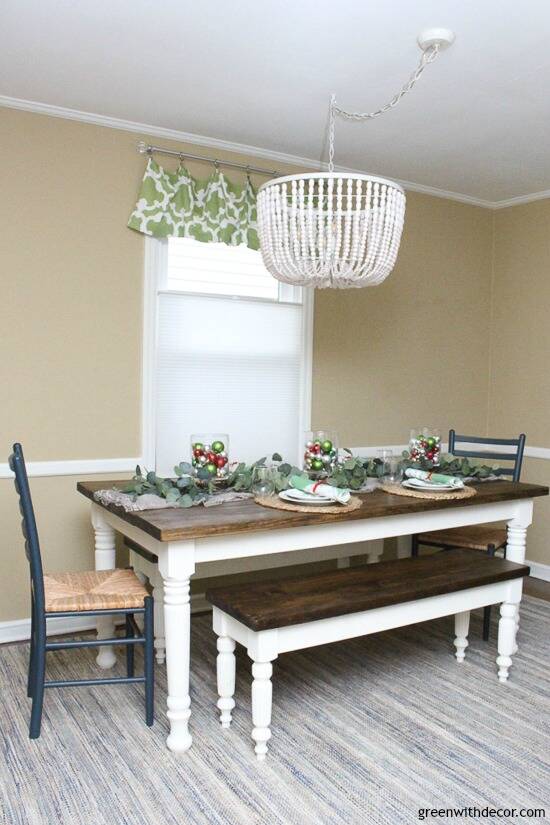 With all the moving, I didn't buy it, but when we got back into our Milwaukee house, it was one of the first things I bought. Because ISN'T IT BEAUTIFUL AND PERFECT?! Yes! (Let me just answer my own question, ha!)
My neighbor even texted me last week to tell me how great it looks from the street.
I'm obsessed.
So is our daughter. She just stares at the beads and patterns on the ceiling. I told Kalen it's basically like a baby toy then, not a house purchase. 🙂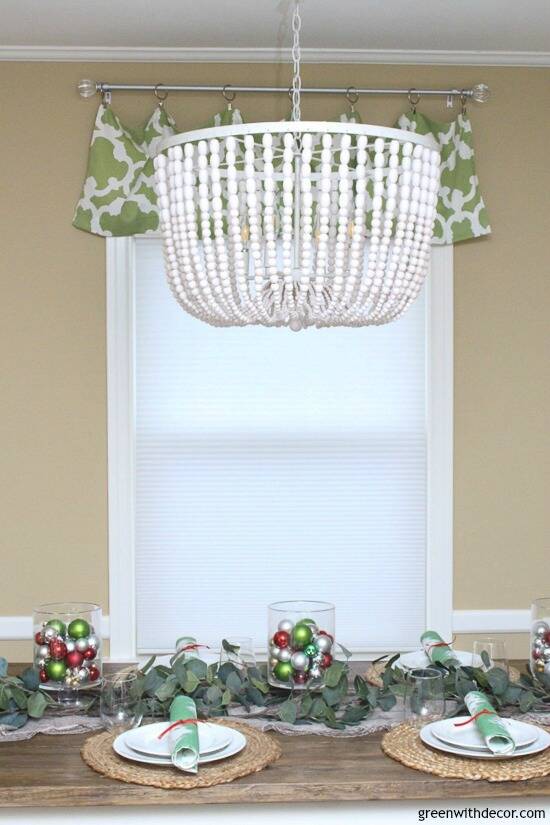 Anyway, onto Christmas decor. We aren't doing too much around here this year given the new move and lack of sleep, but setting up this table was so much fun!
Today's post is part one of the two-week Merry & Bright Holiday Home Tour series hosted by my friend Shelly of ConfettiStyle so be sure to hop around to the other bloggers' Christmas home tours linked at the bottom of this post! And check back next Wednesday for part two!
This table was really so easy to put together.
I took out our collection of red, green, silver and gold ornaments and just plopped them into the glass hurricanes without any real strategy.
I made sure the equal number of colors went into each hurricane, but of course they kind of roll all over, so each hurricane ends up looking different.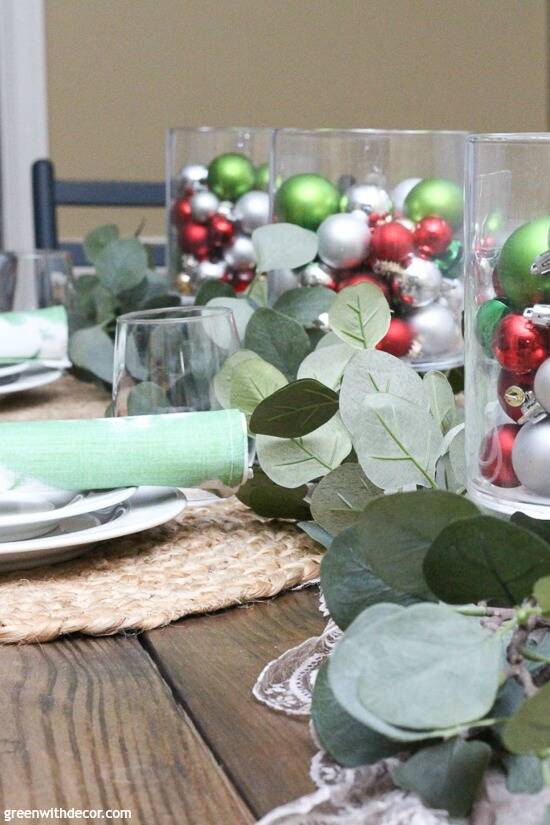 I just didn't want one hurricane to end up with mostly red and one with mostly silver or something.
Then I put this brown lace scarf down and laid the faux eucalyptus around them. (This stuff is one of my faves! So cheap and looks so good! Similar here if you don't have a store near you.)
I found it was easiest to lay four (two on each side in opposite directions) around each hurricane.
Except we only have 10 stems, so the middle hurricane just has two stems … whoever sits on the window side of the table won't have quite the same view as this side, close enough, haha.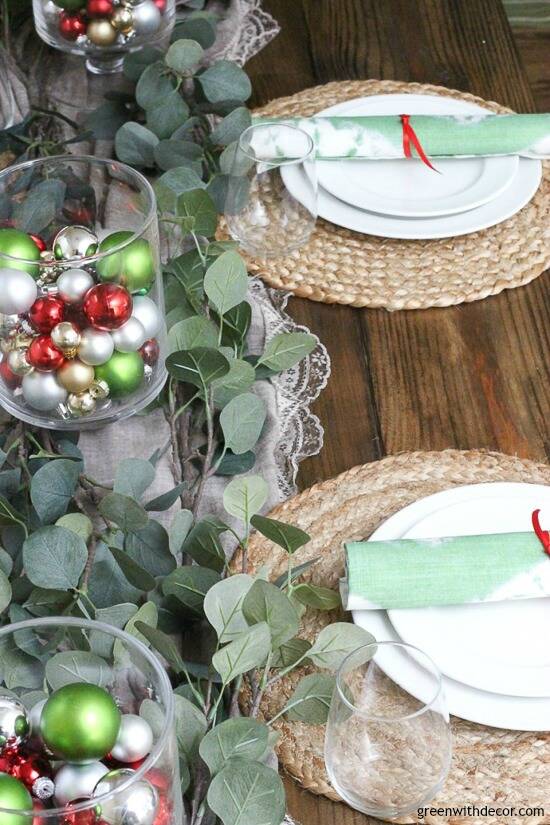 Such an easy table runner/centerpiece, don't you think?!
This would be so easy to reuse throughout the year, too, just plop something else in the hurricanes instead of ornaments.
We just got these Moss Green Shabori napkins from Boho Luxe Home, and you know I looooove that shade of green.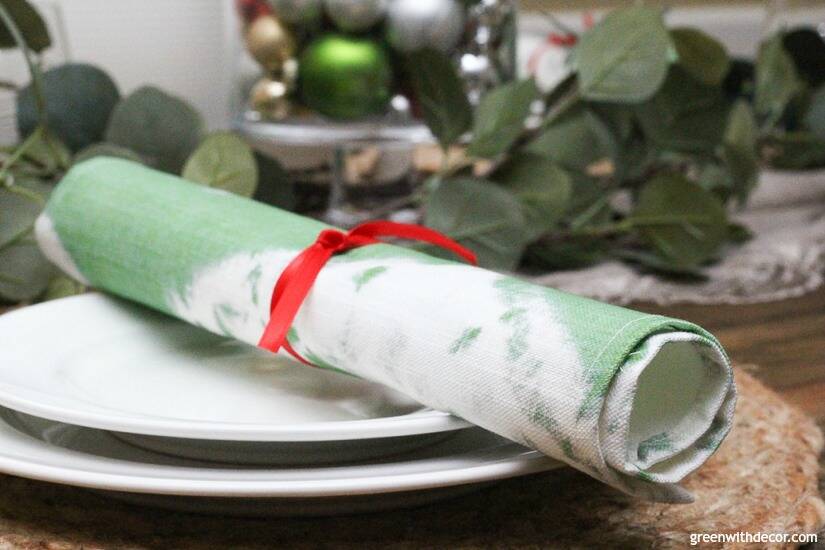 My friends Kellie and Melanie own Boho Luxe Home, and they have such fun fabrics available by the yard. (We have the same napkins in blue, too!)
I tied a little red ribbon around the napkins for a festive touch.
Then added them to our seagrass chargers and new white plates (so cheap!) we use every day.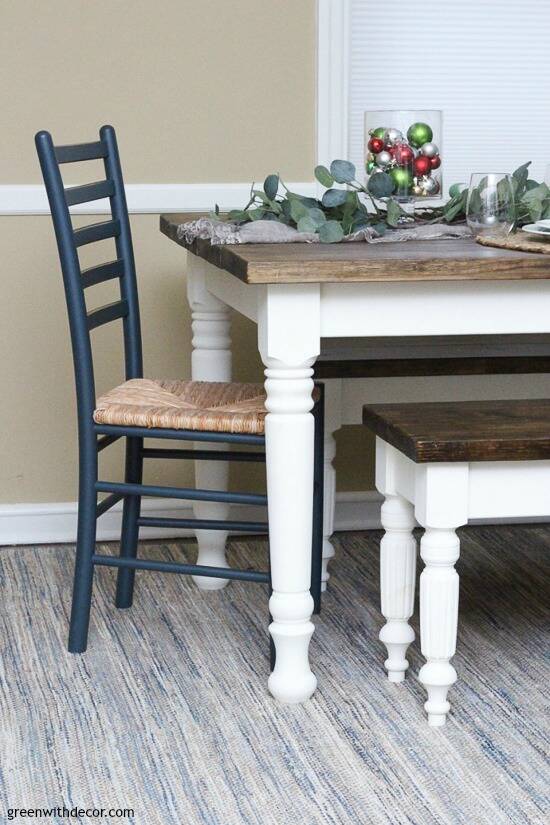 And if you're new around here or missed it last year, we built the farmhouse dining table and matching DIY benches! Still can't believe we did that, we'd never built anything before!
I love how it looks in this room. We need to work on wall decor, but for now, we'll focus on the gorgeous Christmas centerpiece instead! And the beaded chandelier, of course.
And if you missed it, I shared the Christmas decorations in the kitchen yesterday! You can also see other centerpiece ideas from years past here.
GET THE LOOK:
Since a popular question I get is "Where'd you get that?!," here are links to the same or similar sources:
Remember to hop around to see the other bloggers' gorgeous Christmas decor. Chic on a Shoestring is up next!
Positively Southern | ConfettiStyle | Love Your Abode | Farmhouse Therapy | Green With Decor (you're here!) | Chic on a Shoestring | M. Jones Style
Remember to bookmark or pin this post if you want to save it for later!


Pin it!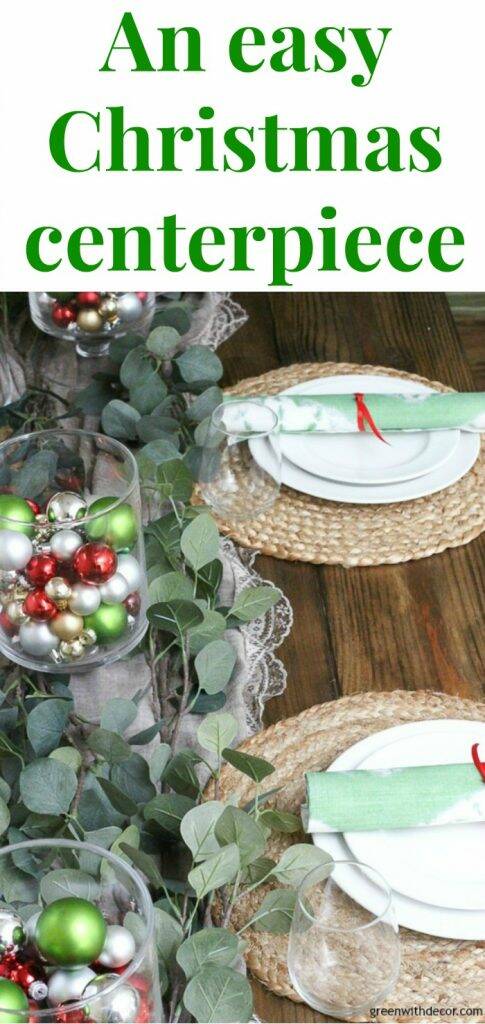 Want to read more posts like this?
Follow along: Get my emails | Facebook | Pinterest | Twitter | Instagram