Easy Christmas mudroom decorating ideas, including using everyday pillows and scarves – and a fun idea for stockings if you don't have a mantel!
Okay, mudroom is a really strong word, but that's what this front corner of our living room is serving as, because we don't actually have any sort of mudroom in this house.
I added a few Christmas touches to fancy the mudroom space up for the holidays, and I'm loving how it looks!
Today's post is a part two of two of the annual Merry & Bright Holiday Tour hosted by my friend Shelly of ConfettiStyle. You can see all of the other bloggers' decorated spaces for Christmas linked below or see our Christmas centerpiece here from last week!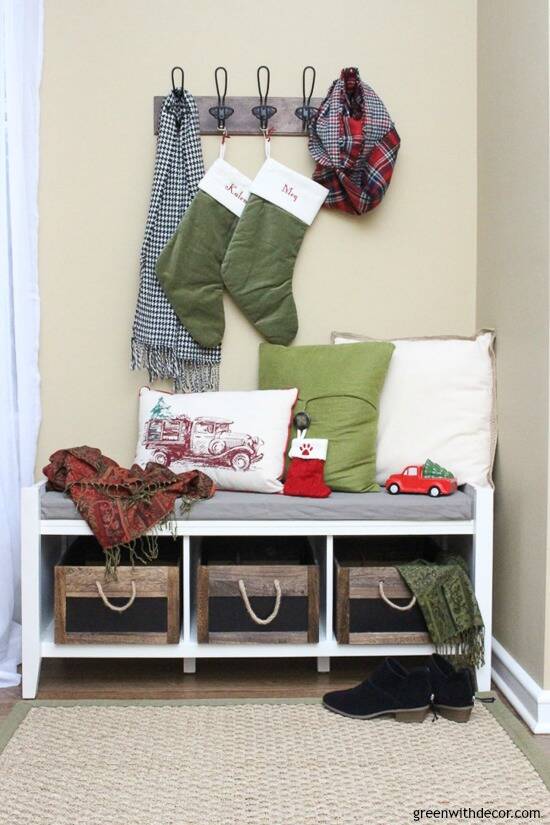 This post contains affiliate links. This means if you click the link and buy something, I may receive a small percentage of sales at no extra cost to you.
Don't for a second be fooled that we have it all together over here! Christmas decorating is at an all-time low this year with a baby who doesn't sleep.
The rest of the living room is a disaster with all sorts of stuff we haven't put away from moving. The mantel is covered in all of my faux plants (I really didn't think I had that many till I saw it all grouped together in one spot!), and a bunch of our wall art is stacked in piles against the walls.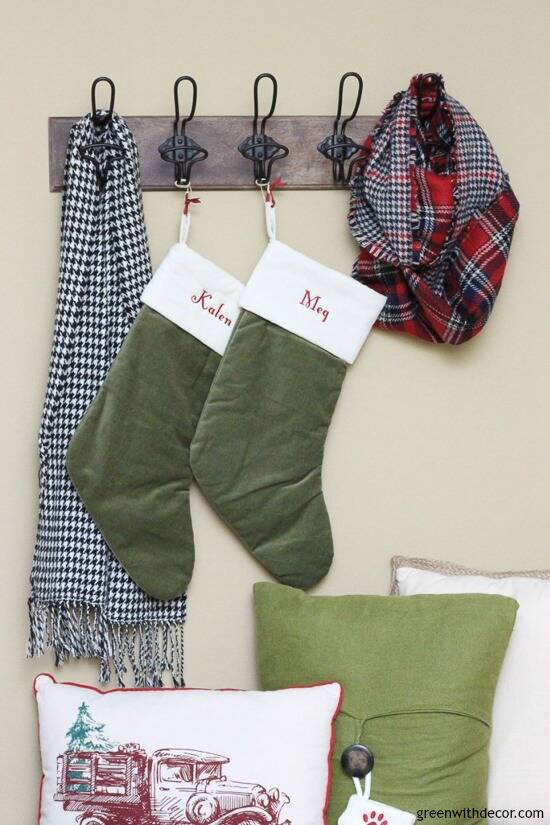 So I put our stockings on our wood hooks this year instead, and I've gotta say, I love it. Such a cute idea if you don't have a mantel!
I ordered a stocking for our daughter, and in my sleep-deprived state, ordered the wrong font. Awesome.
So I just re-ordered another stocking, which hopefully I did correctly so it will match ours.
FYI, if you like our stockings, we have the burgundy font (which looks reaaaally similar to the red font online, so hard to tell!) in style 93.
Of course, Oakley has a little stocking, too.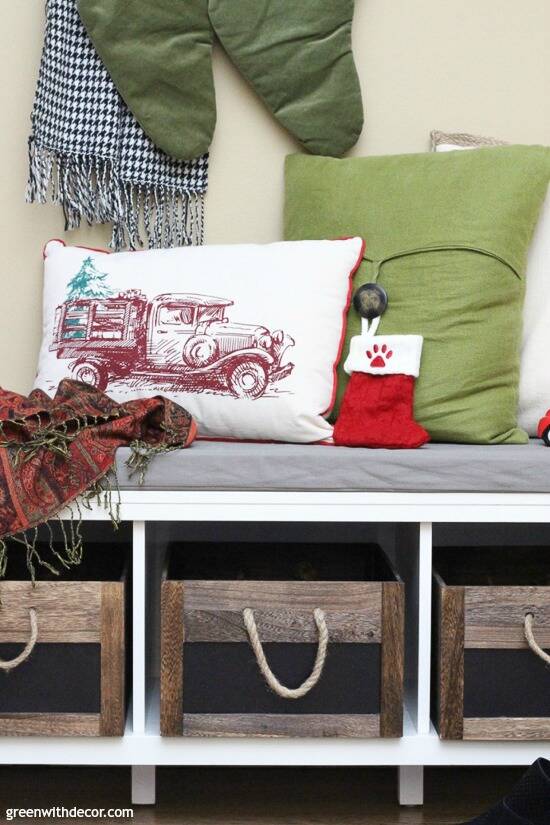 I also added some Christmas pillows. Well actually one Christmas pillow because that was the only pillow in the Christmas box I happened to grab to add some quick cheer to this mudroom area, our kitchen and our dining room.
(The rest of our Christmas decor is packed away till next year … when *fingers crossed* we're sleeping more so I'll have more time to decorate!)
The cream and green pillows are Christmas colors so those everyday pillows worked just fine.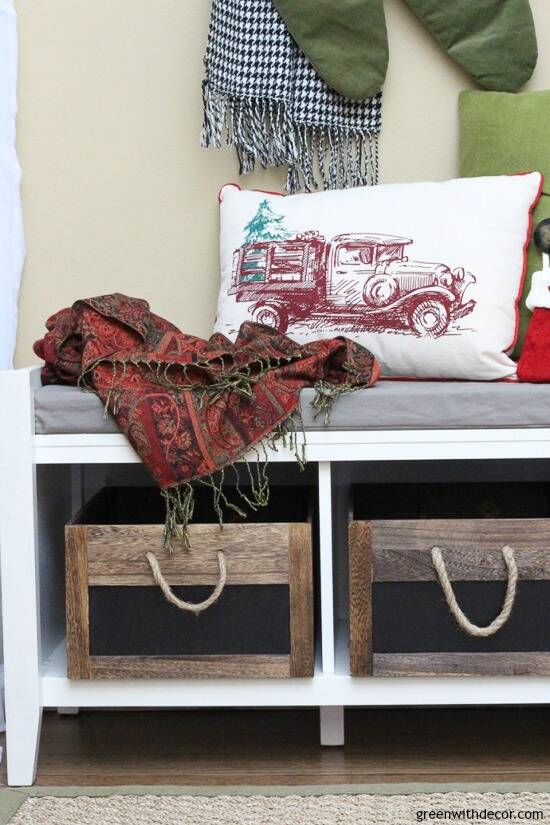 Same with the scarves. I just grabbed a few in Christmas colors for display. Super easy, and instant Christmas!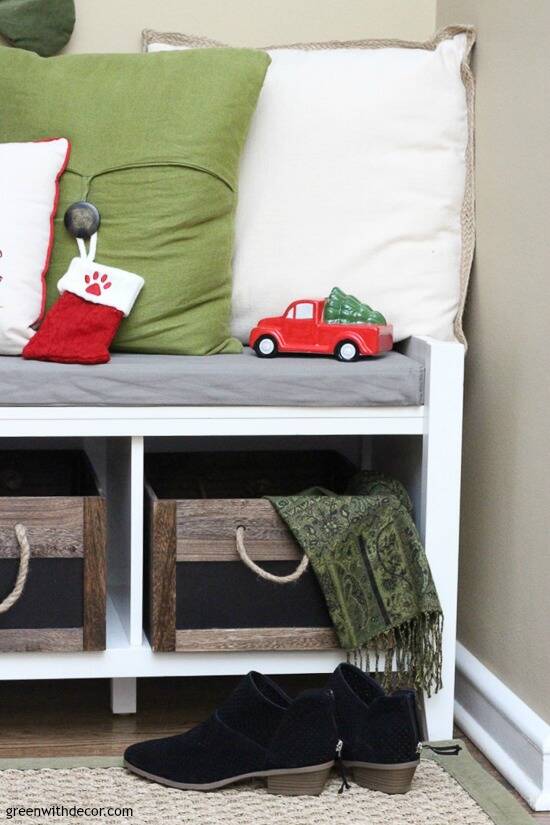 I really love this space – the hooks and crates are decorative and perfect for storage. It doesn't get much better than that!
And we're obsessed with these seagrass rugs. We have them all over the house. The green trim ties in perfectly for Christmas, too! (Although it comes in a bunch of other colors if you're not as into green as I am!)
Hopefully it will help us corral our shoes, boots and coats this winter!
GET THE LOOK:
Since a popular question I get is "Where'd you get that?!," here are links to the same or similar sources:
Do you have any other easy Christmas mudroom decorating ideas?!
For more Christmas decorating inspiration, check out the other bloggers' posts below! A big thanks to Shelly for getting us together again this year, I always love seeing all of the other bloggers' decorating ideas!
Farmhouse Therapy | M. Jones Style | Chic on a Shoestring | Green With Decor (you're here!) | Love Your Abode | ConfettiStyle | Positively Southern
Remember to bookmark or pin this post if you want to save it for later!


Pin it!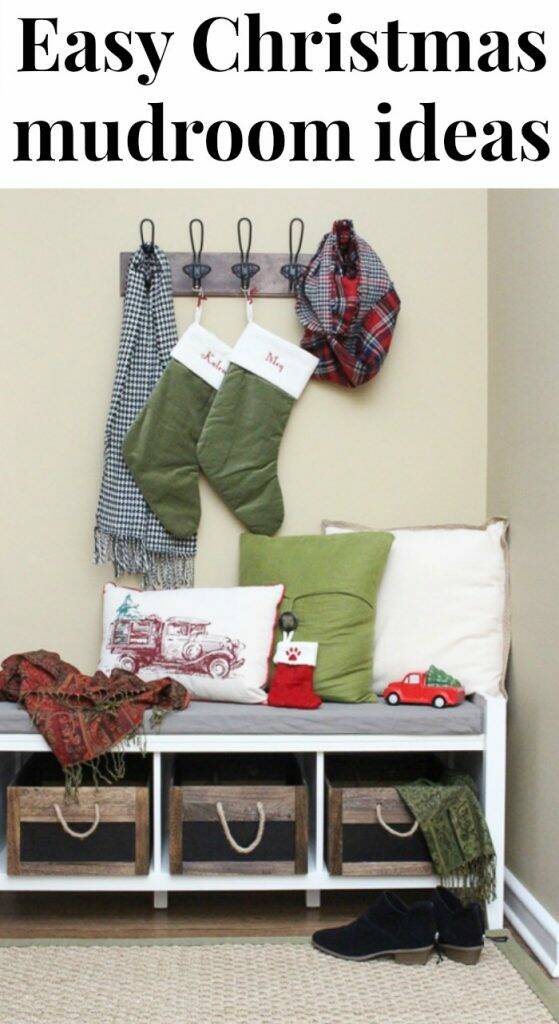 Want to read more posts like this?
Follow along: Get my emails | Facebook | Pinterest | Twitter | Instagram