I know it's not Thanksgiving yet, but I'm starting a few Christmas projects before we go full-on Christmas decorating.
I love decorating for Christmas, so it's fun to start a few projects here and there as Christmas gets closer.
I'm excited to team up with some creative bloggers to share all sorts of DIY Christmas ornaments today and tomorrow! You definitely have to check out their projects (links below). There are so many great ideas! Thanks to my friends Vicki and Jenn from 2 Bees in a Pod for getting us all together!
You guys know I love wine cork projects, so – surprise, surprise – I'm sharing a fun Christmas ornament made with wine corks today!
This was such a fun project, I ended up making a few of these instead of just one. They make the perfect hostess gift, and I definitely won't mind if I end up having more than one of these on our tree this year.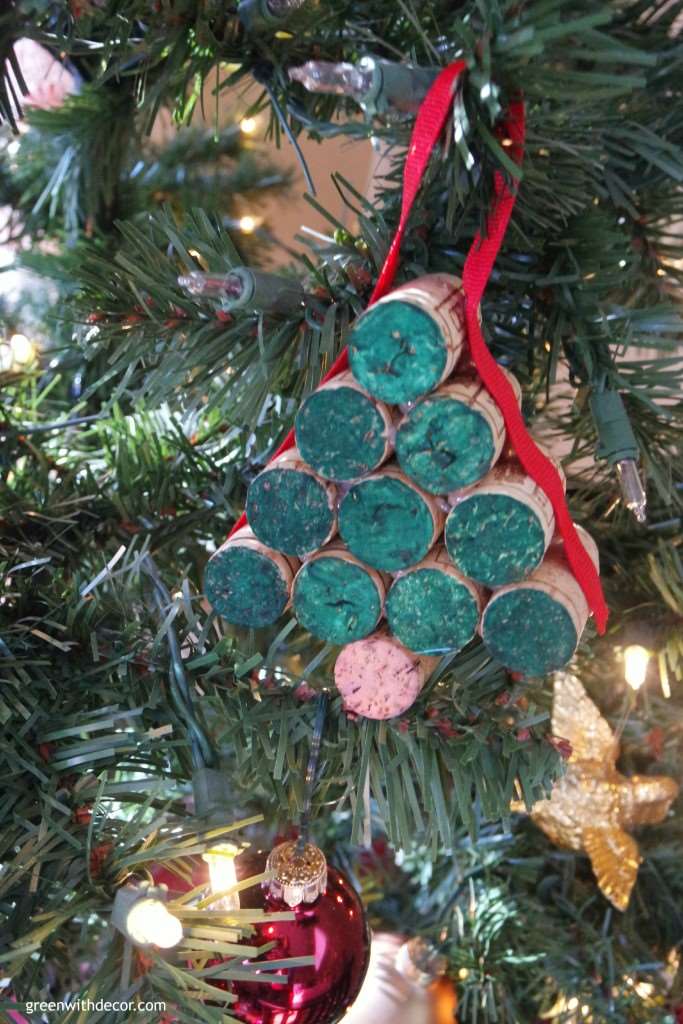 This post contains affiliate links. This means if you click the link and buy something, I may receive a small percentage of sales at no extra cost to you.
Supply list:
Wine corks (11 per ornament)
Hot glue gun and glue
Red ribbon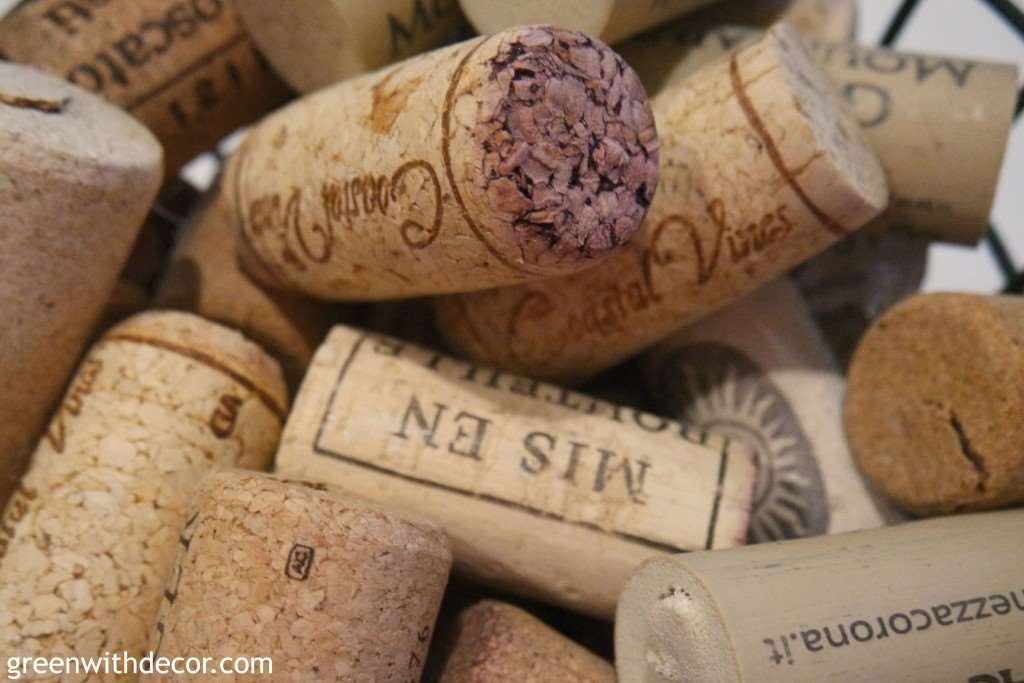 How to make a cork Christmas tree ornament:
1. Line up the corks in a tree shape.
I picked a red wine cork for the bottom of the tree. For the "pine" part of the tree, I used either white wine corks or the opposite side of the red wine cork, so the top I'd be coloring green was plain cork.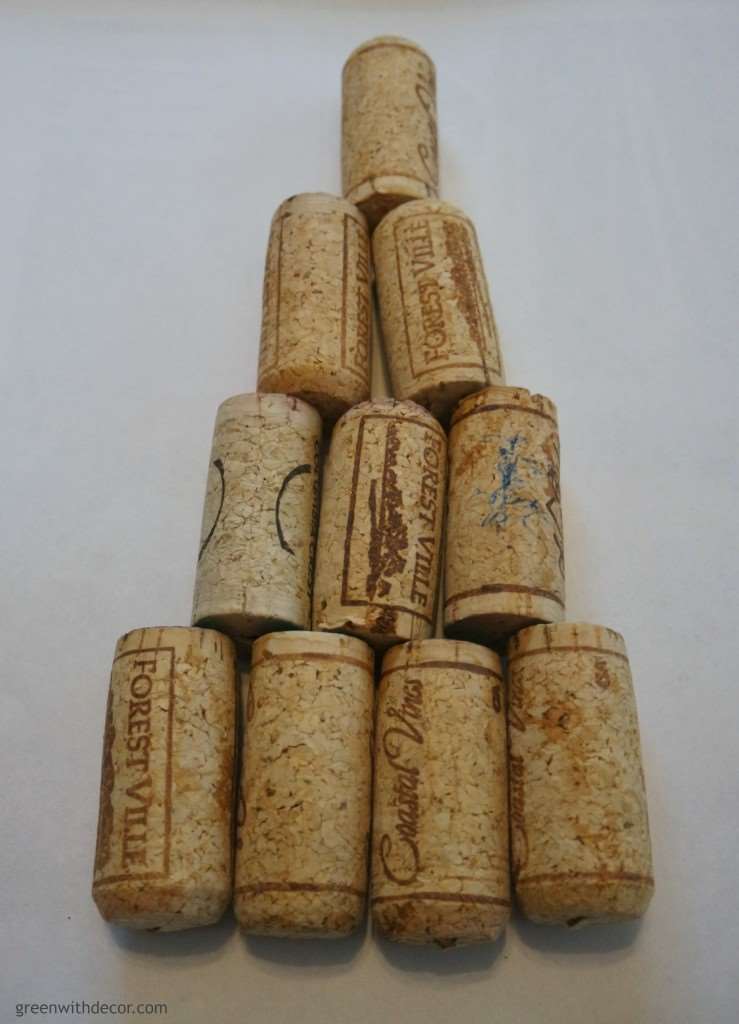 2. Cut the ribbon.
Cut the ribbon into 10-inch pieces.
3. Color the top 10 corks green.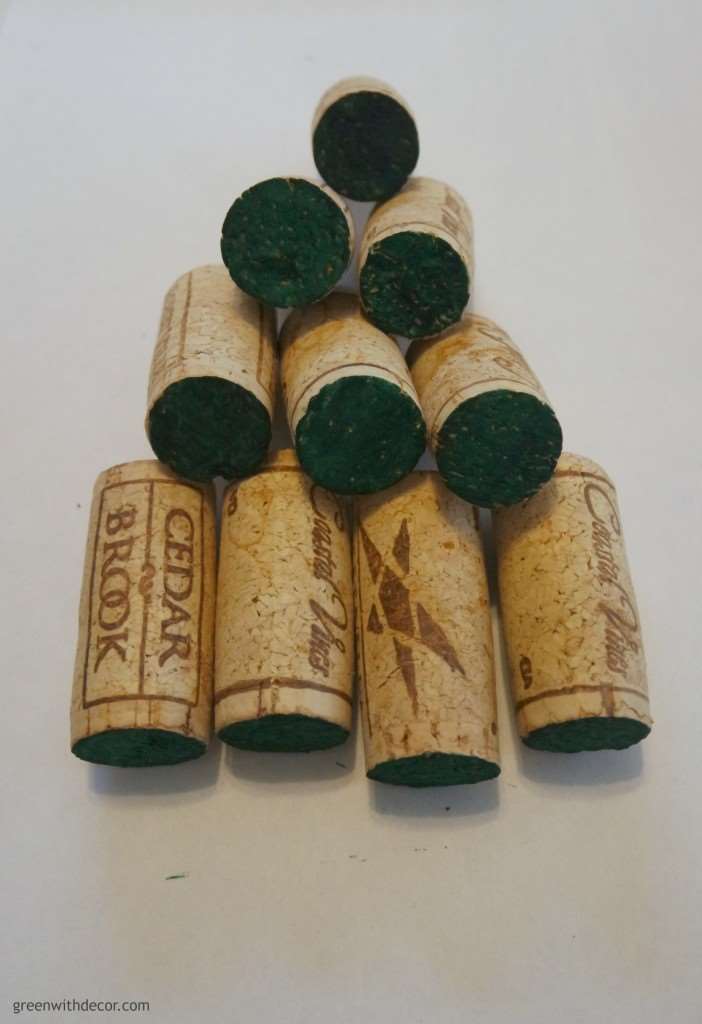 4. Glue the corks together.
I started at the bottom of the tree and worked my way to the top.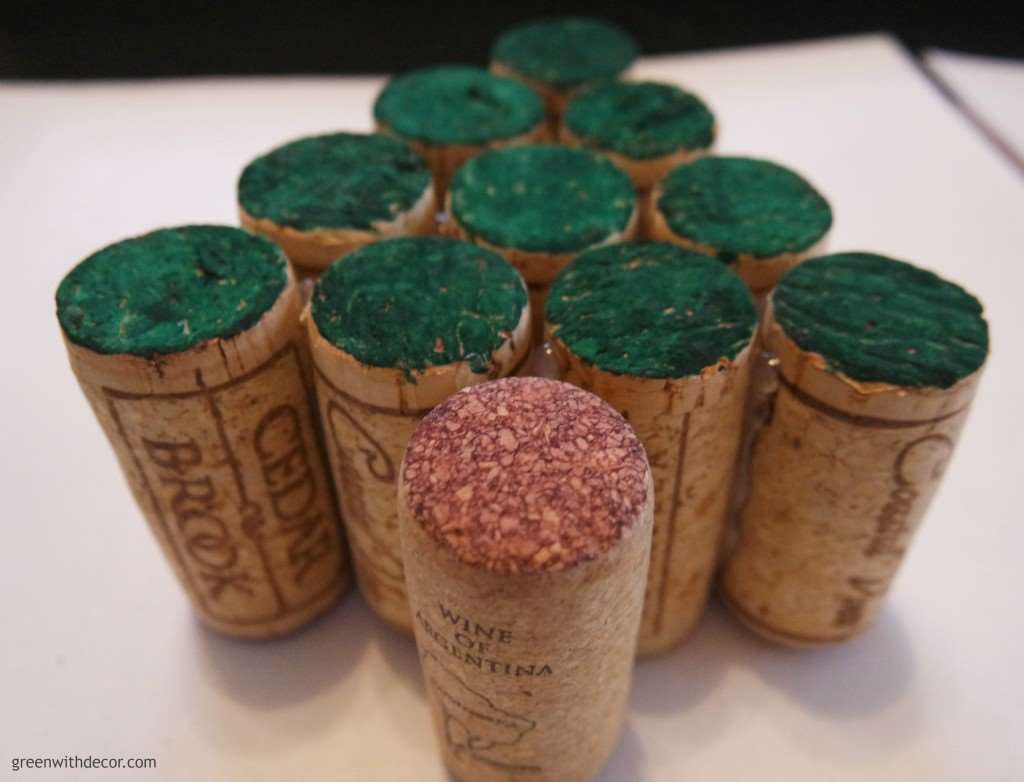 5. Let it dry.
6. Glue the ribbon to the side of the cork trees.
I glued the ribbon right in the middle of the side of the trees so the tree would hang straight down from the tree branch.
If the ribbon is too far forward or too far back on the corks, the ornament won't be straight.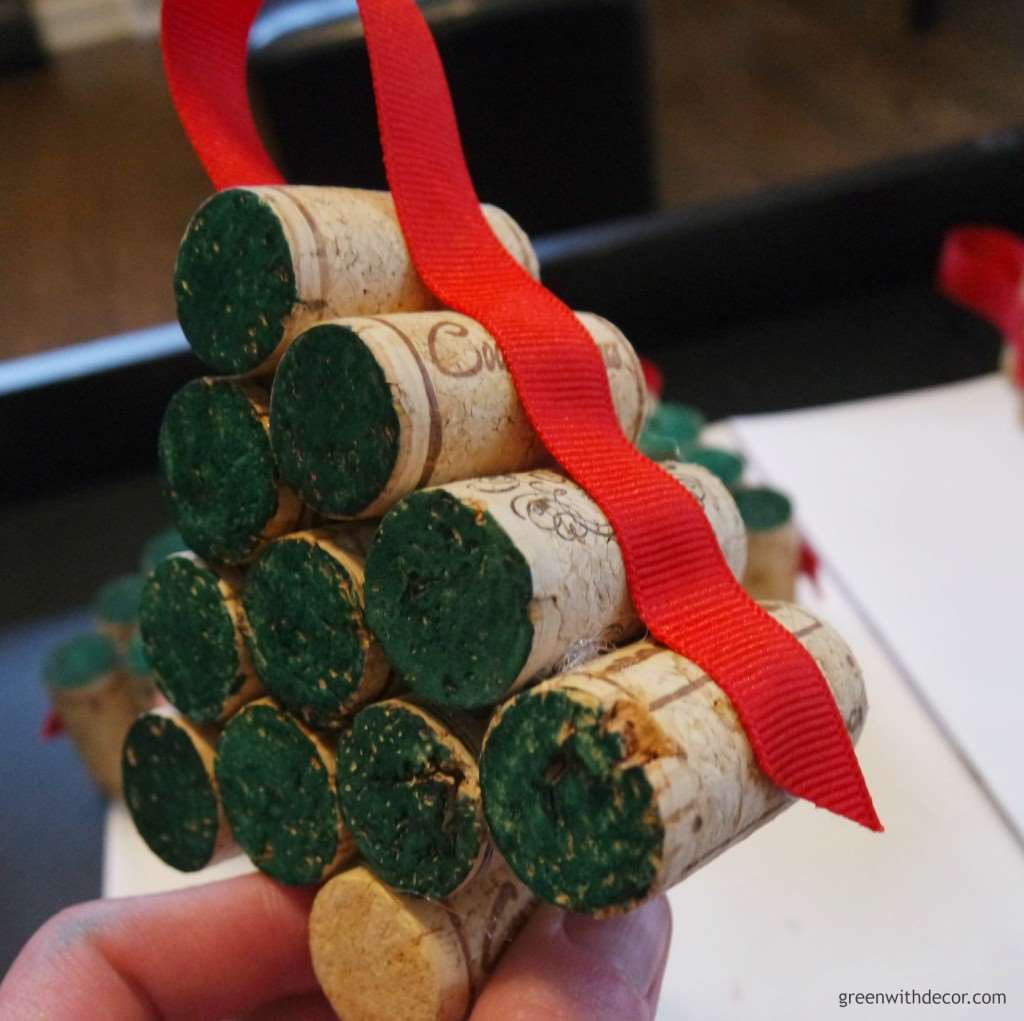 7. Let it dry.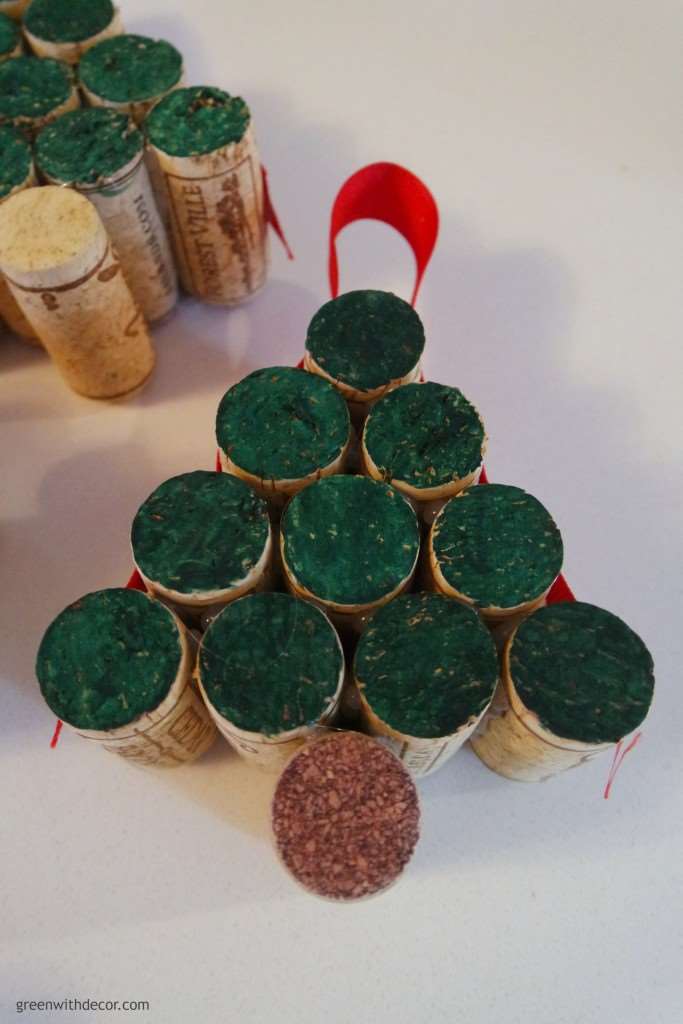 8. Hang it on the tree!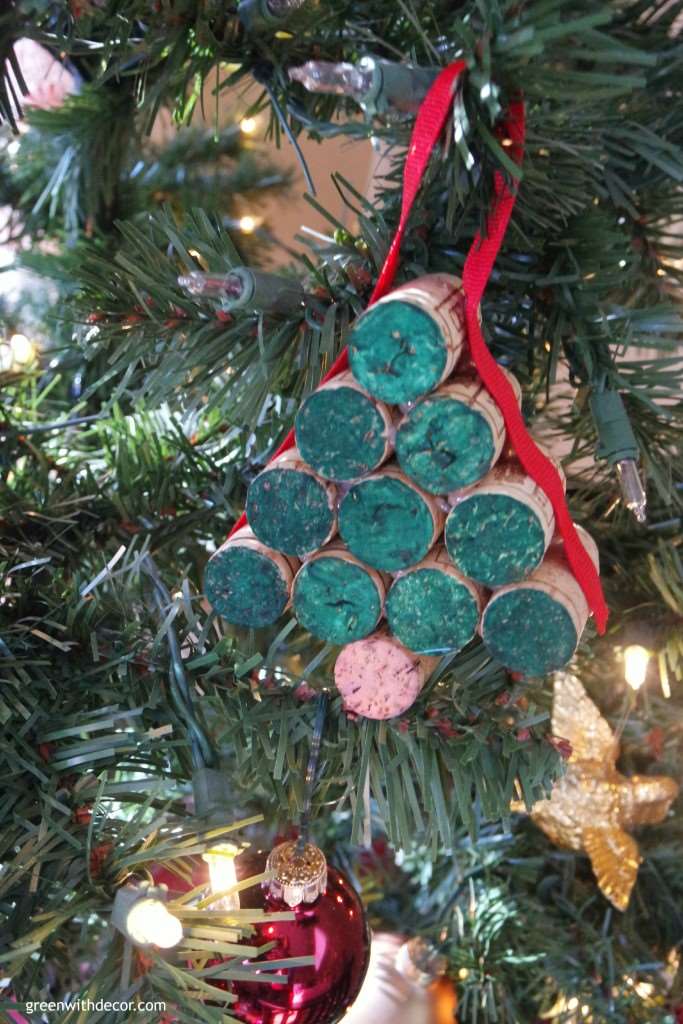 Remember to hop around and look at all the other creative ornaments bloggers are sharing.
2 Bees in a Pod | Pocketful of Posies | Green With Decor (you're here!) | The Resourceful Mama | Somewhat Quirky Design | It All Started with Paint | My Creative Days | The Flamingo Chronicles | The Crowned Goat | Life on Deer Run | Lehman Lane | Eclectic SoapBox
You can see more Christmas DIY projects here:
Remember to bookmark or pin this post if you want to save it for later!

Pin it!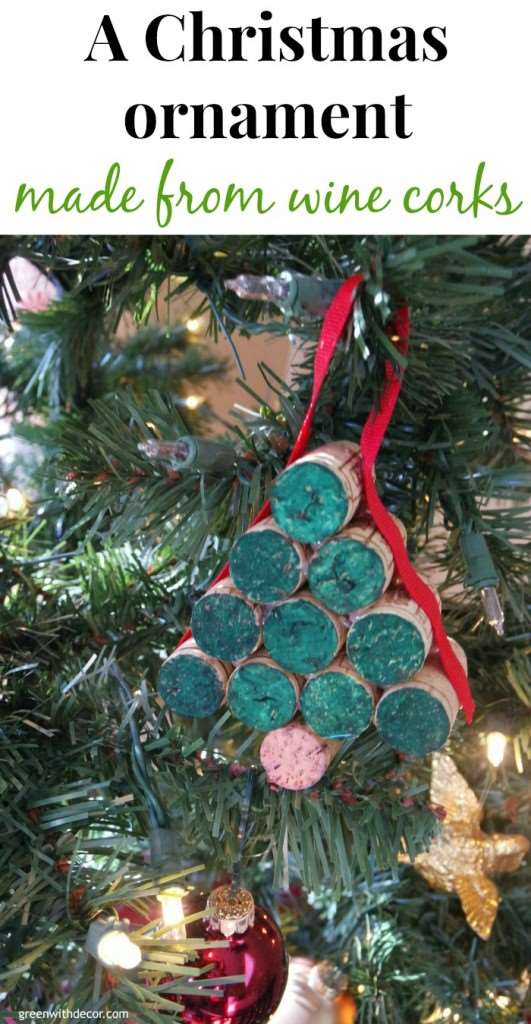 Want to read more posts like this?
Follow along: Get my emails | Facebook | Pinterest | Twitter | Instagram