I went on a bit of an old frame-buying spree on my last trip to Goodwill. You may have noticed in my post about the greeting card turned wall decoration.
When I came across this frame at Goodwill, I had two immediate thoughts: That gold frame is sooo pretty! And wow, that picture is not my style.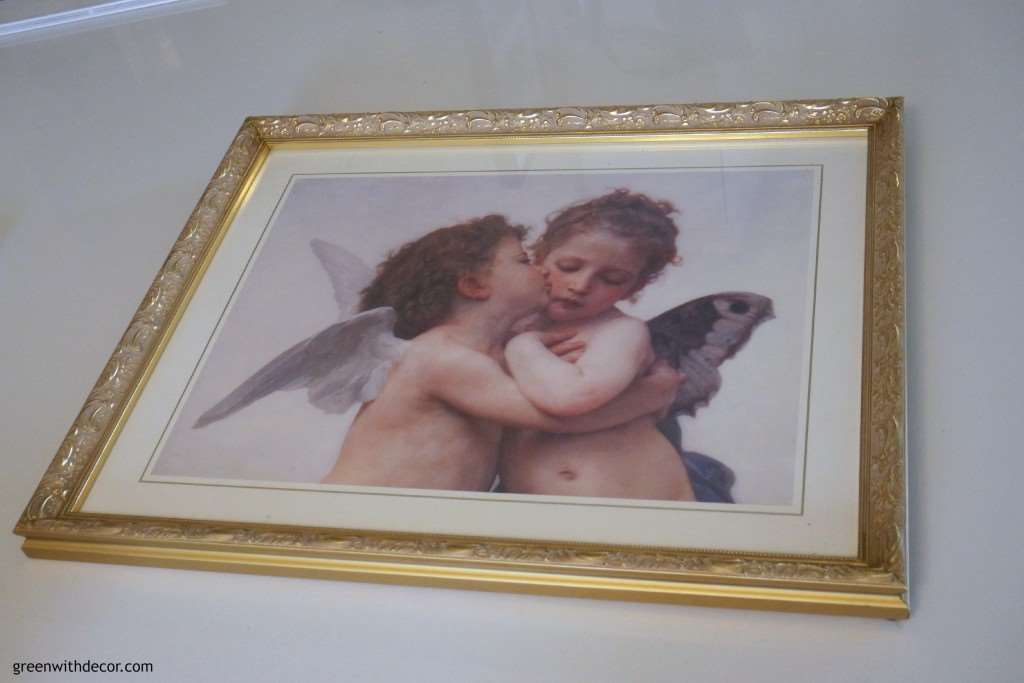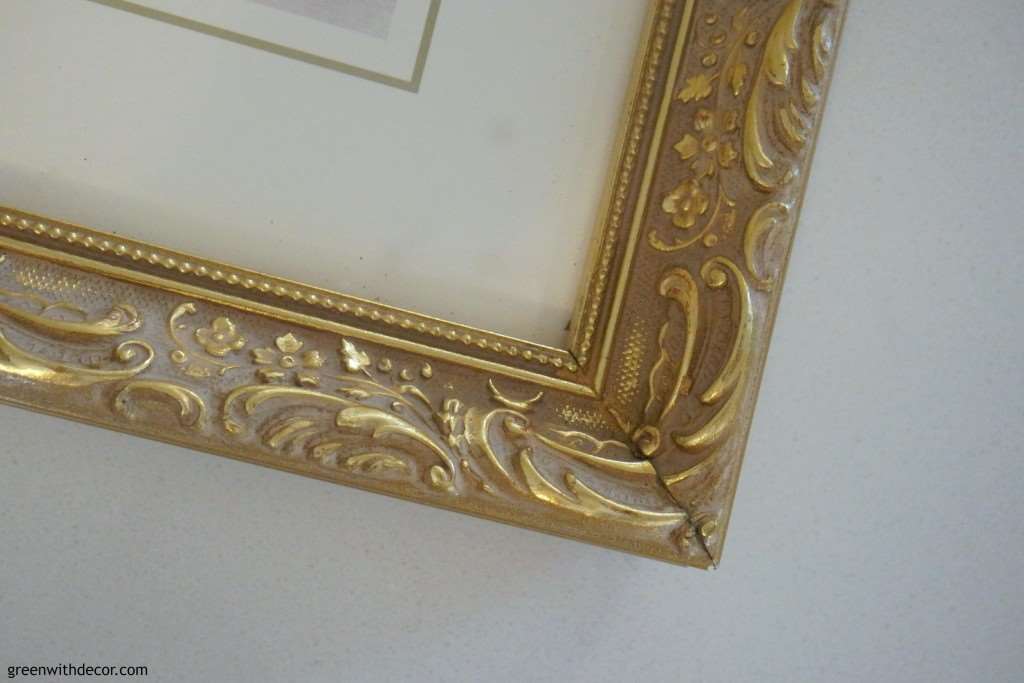 So I bought the frame knowing I could make the inside into something pretty to match the awesome frame.
Since it's the perfect time of year for a Christmas DIY project, here's what I came up with: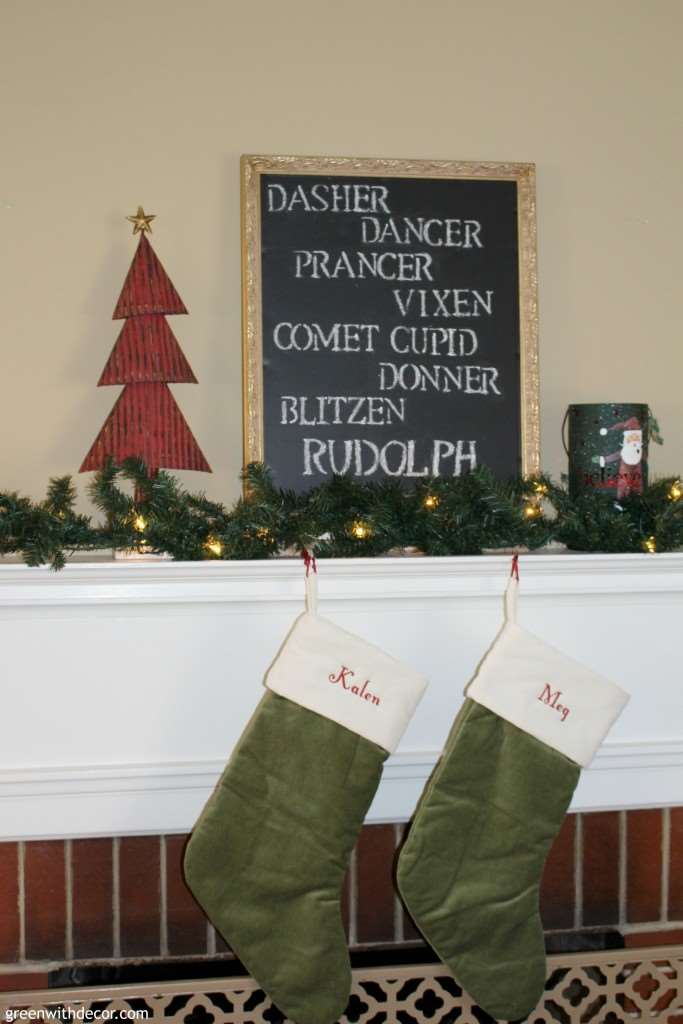 This post contains affiliate links. This means if you click the link and buy something, I may receive a small percentage of sales at no extra cost to you.
Supply list: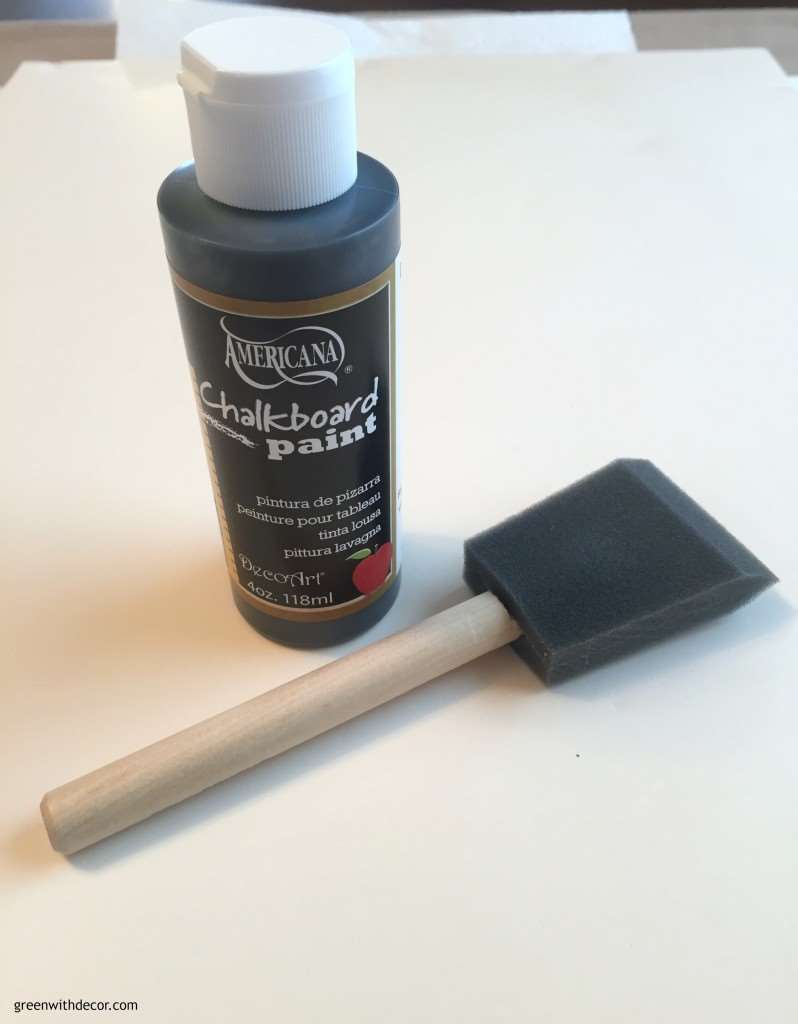 This was my first project with chalkboard paint and it's safe to say, I'm in love.
This definitely won't be my last chalkboard paint project.
Make your own Christmas decoration with chalkboard paint:
1. Shake the chalkboard paint.
Having never used chalkboard paint before, I didn't know this one. But the paint is definitely watery and gross if you don't shake it before pouring it on your tray, so shake it.
And by tray, I mean paper plate in my case, because that's usually what I end up using for my paint … hey, whatever works.
2. Paint the material using all horizontal strokes.
I used the back of the creepy picture, but you could use the back of the frame (if your frame has a back), too.
The picture actually wasn't a picture at all. It was just a print on some weird Styrofoam material. I wasn't sure that the chalkboard paint would adhere to it, but it did without a problem.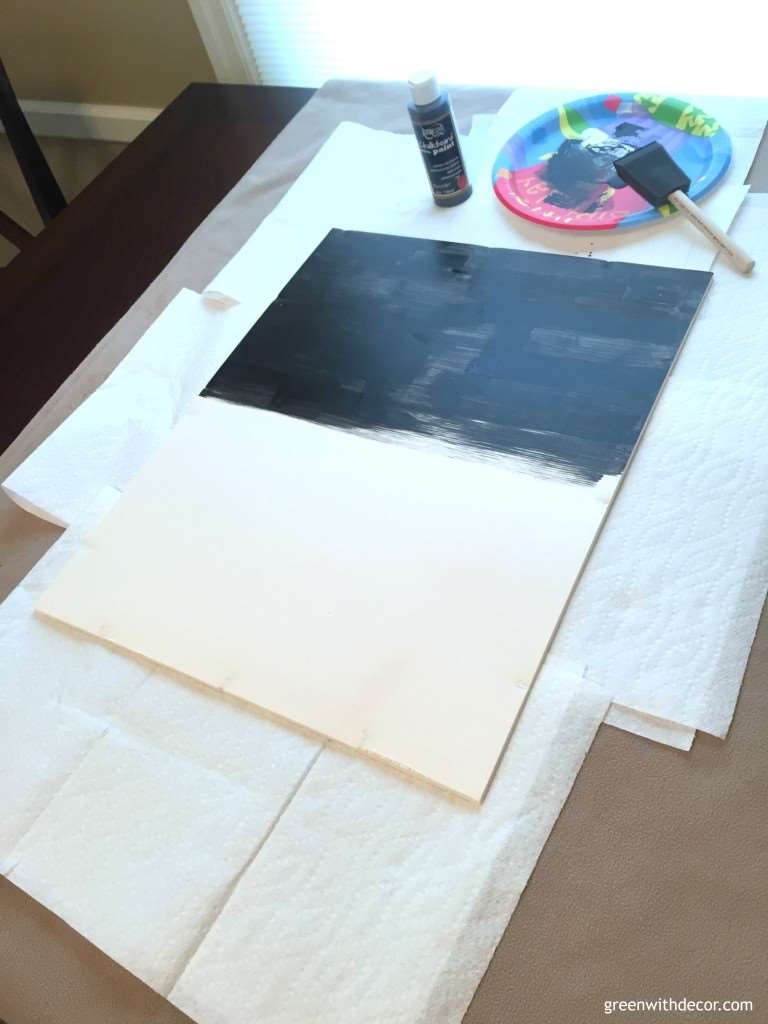 Cover the whole piece, then let the paint dry for 1 hour.
3. Paint the material using all vertical strokes.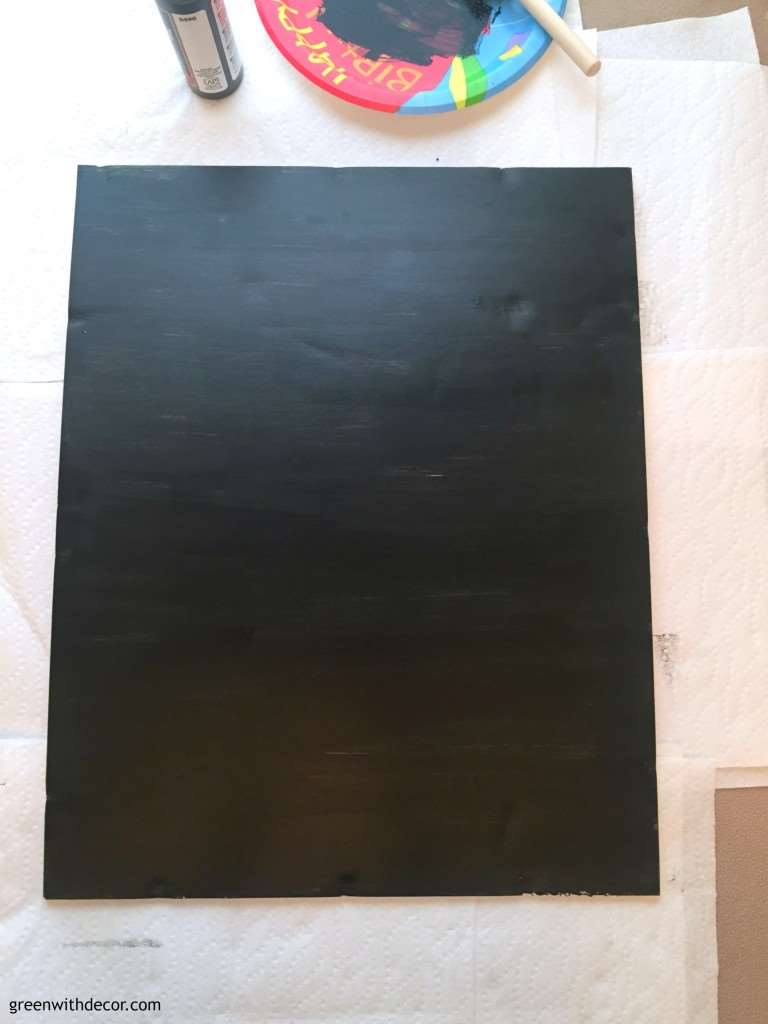 It's amazing how this technique ended up going from looking stripe-y to looking like one solid piece of chalkboard.
Let the paint dry for 24 hours.
4. Line up your stencils.
I wanted a Christmas theme, so I went with all the reindeer names.
I didn't have enough stencils to spell out every name without reusing some stencils, but I had enough to figure out my layout.
As long as you have a general idea of where you want the letters to go, you're good. It would just be a huge bummer to have most of your letters drawn out and then realize you're out of room!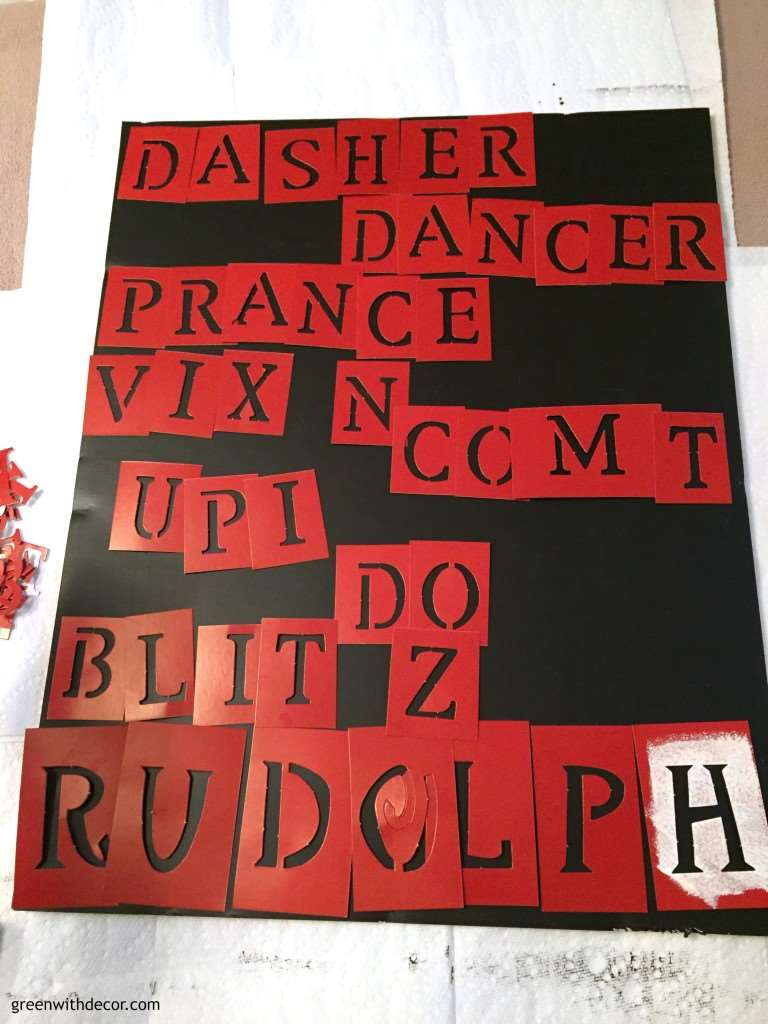 You actually wouldn't have to use stencils at all, but I knew my handwriting wouldn't look great by the end (or even the middle) if I wrote all those reindeer names out freehand.
5. Start drawing the letters with chalk.
If you do use stencils, be sure to hold them down so you don't accidentally draw a crooked letter.
This part took a little bit of time, only because I had all the reindeer names to write out. (Why are there so many?!)
A simple "Merry Christmas" might be an easier project if you're stretched for time!
Oh well. Once I had some of the reindeer names done, I wasn't going back.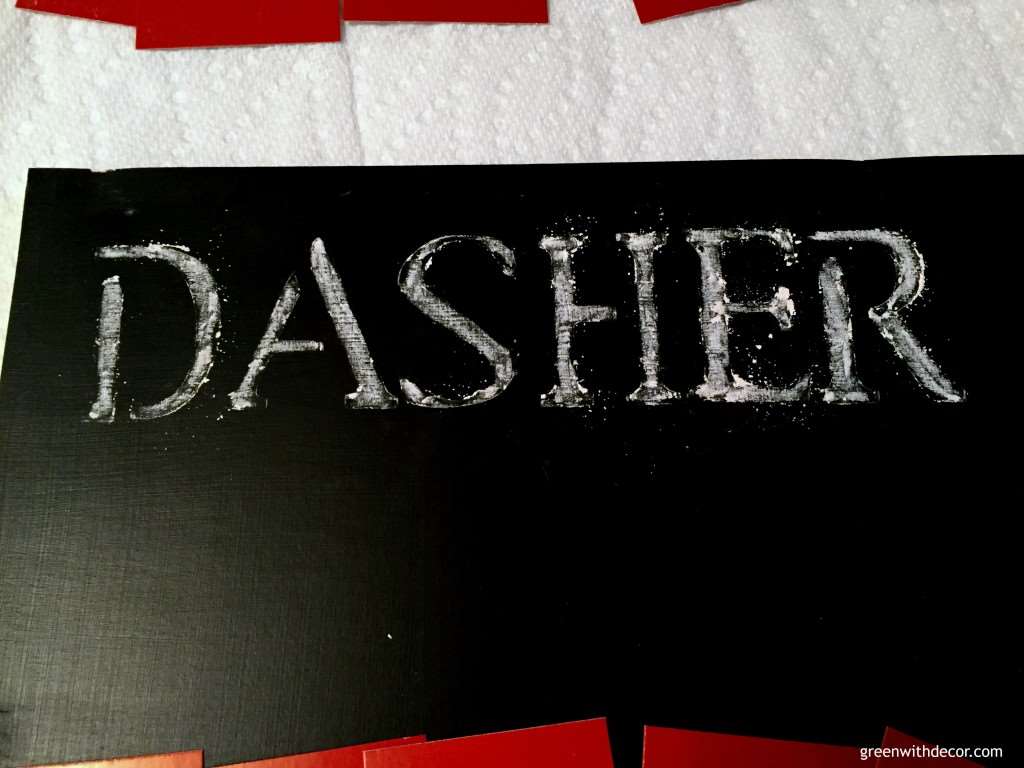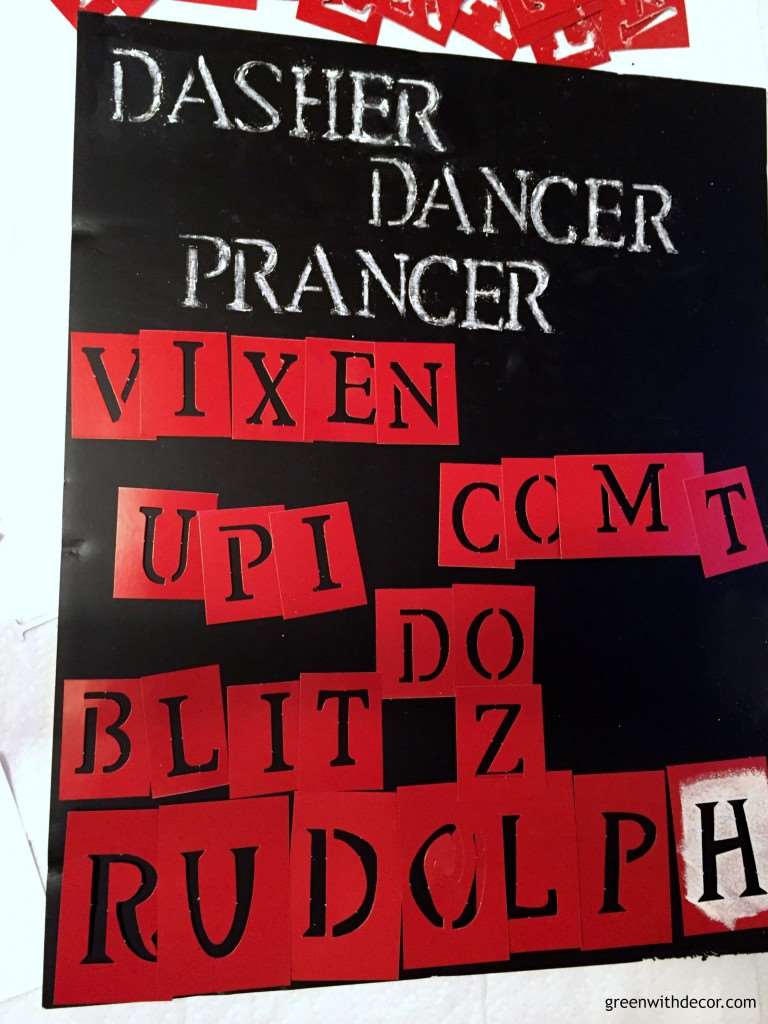 6. Blow off the extra chalk dust.
Unlike paint, which is what I usually use with my stencils, chalk leaves dust EVERYWHERE. I kept blowing it off as I went so it wouldn't settle onto the frame.
If you mess up a letter, you can get a paper towel wet, wipe off the mistake and start over. (Yes, I did that.) No big deal.
7. Put your finished piece inside the frame.
8. Display!
If you saw my Christmas house tour earlier this week, I said I'd probably be changing up my mantel a few times this season. Well here ya go!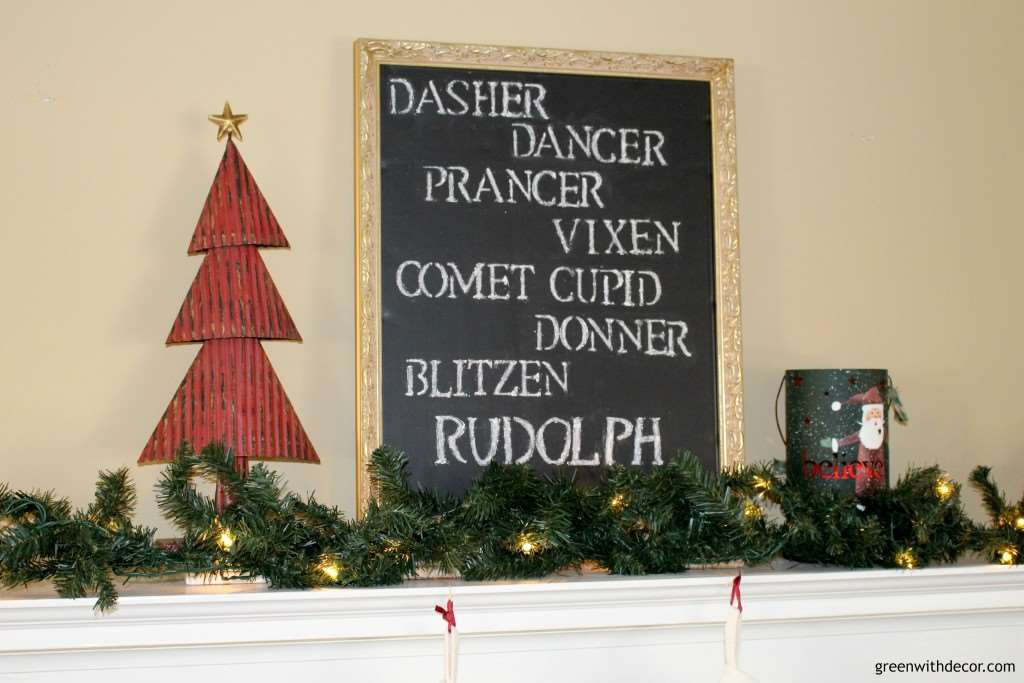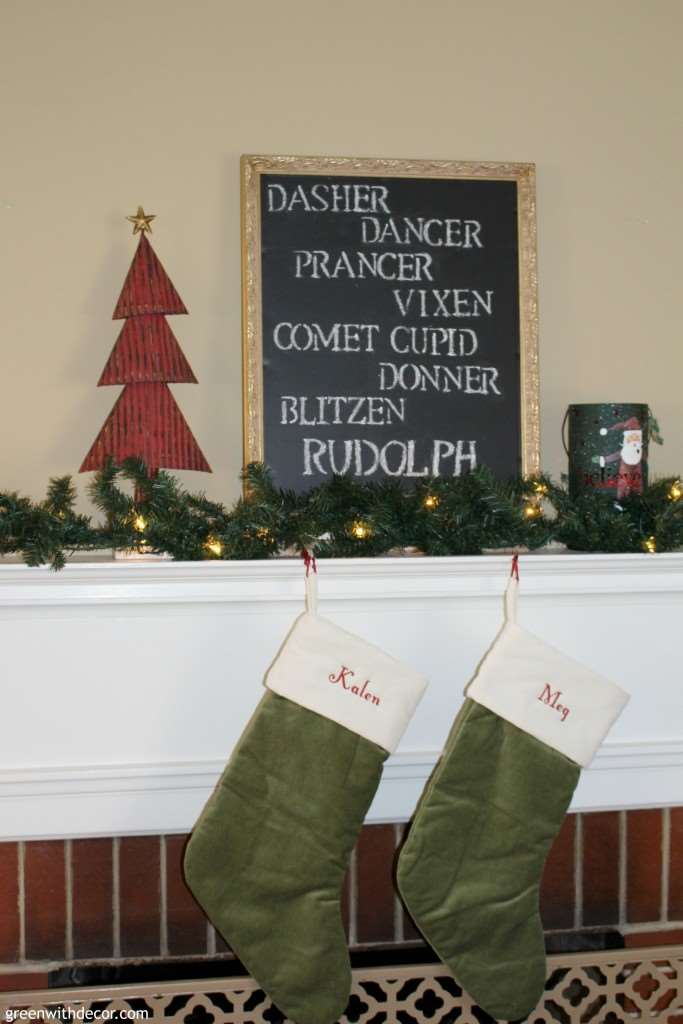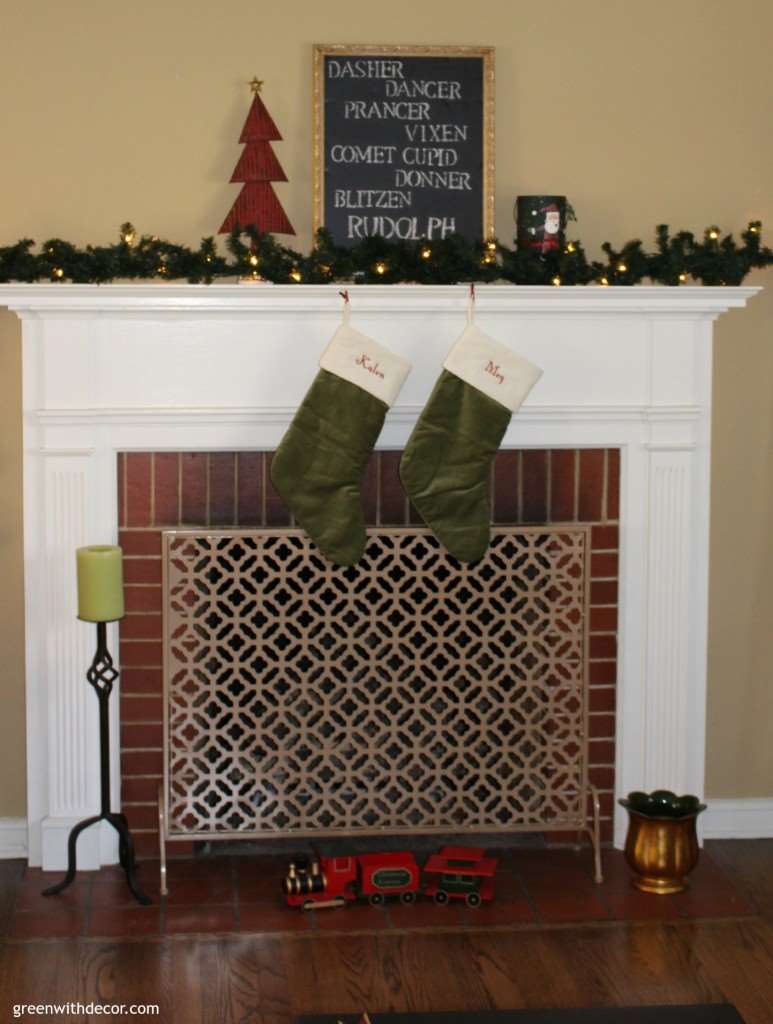 How do you decorate your mantel for Christmas? Please tell me I'm not the only one changing it up because I have too many ideas for one mantel. I wish I had a mantel to decorate in every room.
Remember to bookmark or pin this post if you want to save it for later!


Pin it!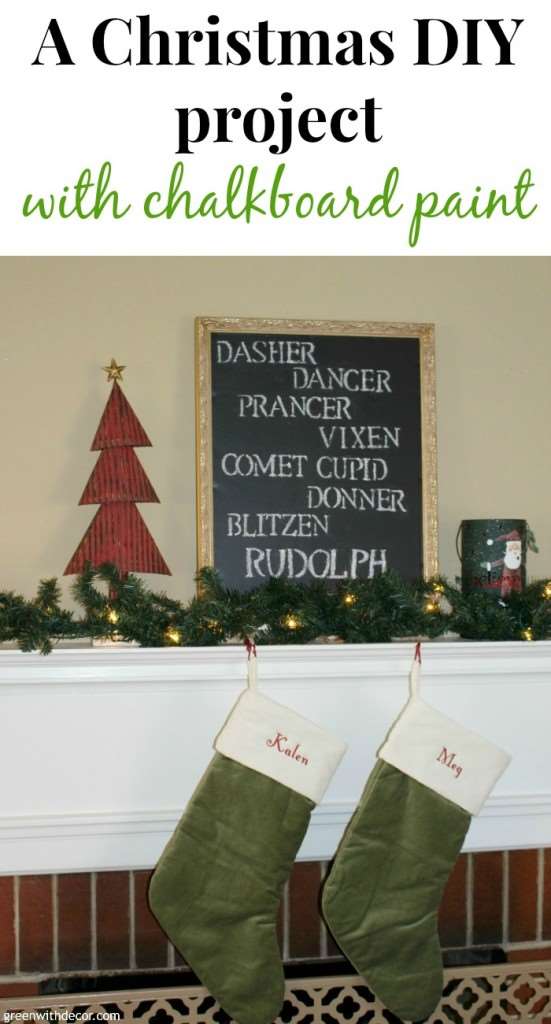 Want to read more posts like this?
Follow along: Get my emails | Facebook | Pinterest | Twitter | Instagram