Disclosure: This post is sponsored by At Home. All opinions, images and love of Christmas decorating are 100% mine.
I just love this time of year. All the twinkling lights, pretty decorations and spending time with family. The Christmas season always seems so special, and festive decorations are such good reminders to enjoy it.
Hands down, one of my absolute favorite things about Christmas decorating is the Christmas trees. The glow the Christmas tree lights give off on those cozy nights at home is just perfect.
#MyReason for decorating is to create a home we can enjoy and create holiday memories in.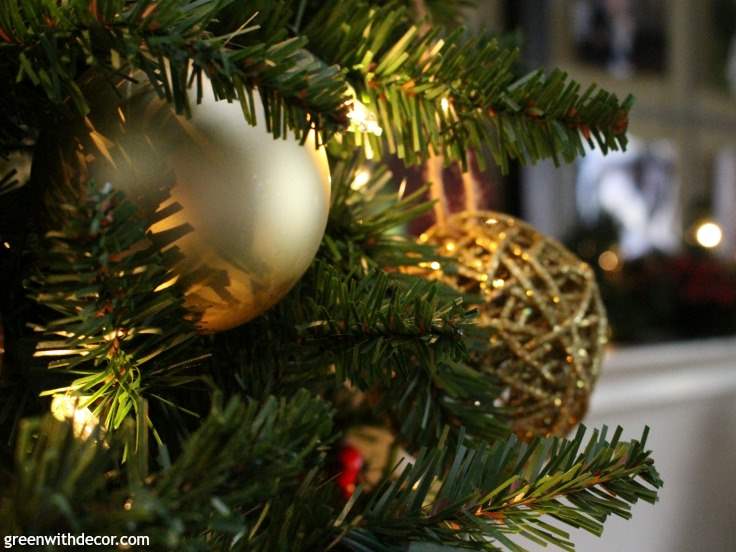 I love spending nights at home, curling up on the couch with Kalen and Oakley with a drink and a fun Christmas movie (Christmas Vacation, anyone?!) while the Christmas lights twinkle.
To add to that pretty glow of the Christmas lights this year, guess what? We added a second tree!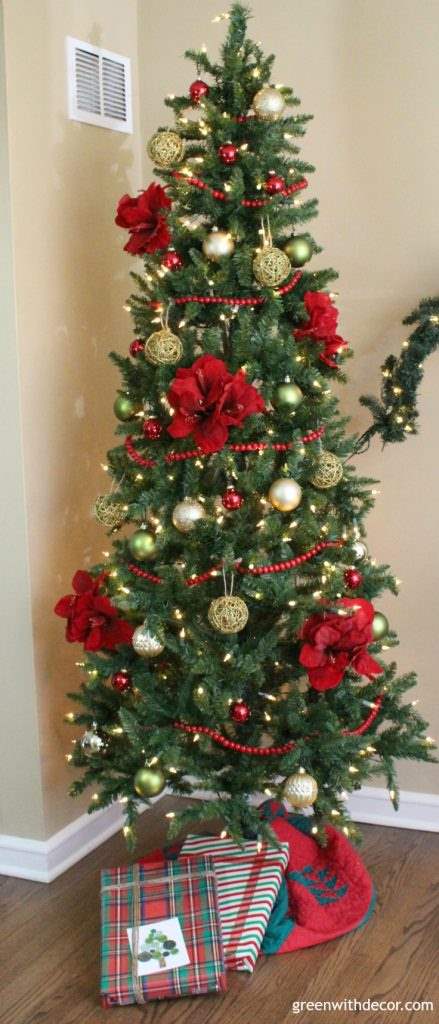 I am so excited about this! I've always wanted a second tree to decorate more traditionally for the classic Christmas look.
Don't get me wrong, I love our original tree. It's filled with meaningful ornaments: trips we've taken, an Oakley lookalike and pigs – since Kalen and I first met at a bar called the Pig & Whistle. It's fun every year to get the ornaments out and talk about 'remember when.'
But this second tree makes the decorator in me oh so happy. The two trees serve totally different purposes and I love them both.
The new tree really helps keep that festive glow alive throughout the house! You can see it from the kitchen so even if you're cooking or washing dishes, you can feel all Christmas-y while you're singing along to Mariah's Christmas tunes.
Plus, since the tree is in our front living room, everyone can see it from the street. Don't you just love driving past houses this time of year and seeing the Christmas trees glowing through the windows?
I had a lot of fun decorating this one. I picked up these gold sparkly ornaments and the red beaded garland from At Home when I was getting the tree.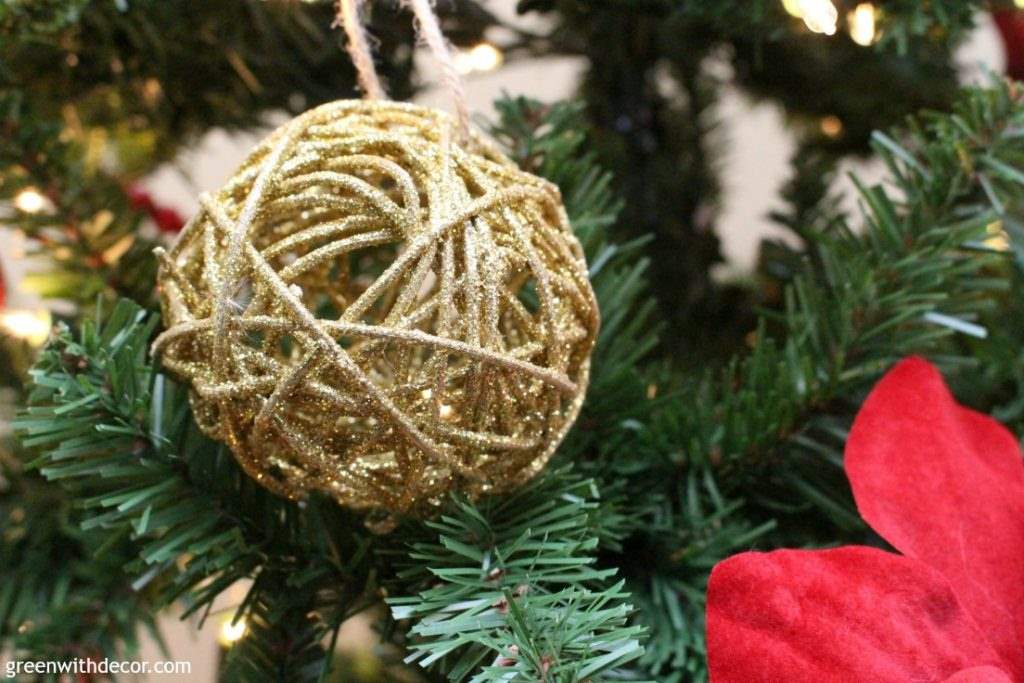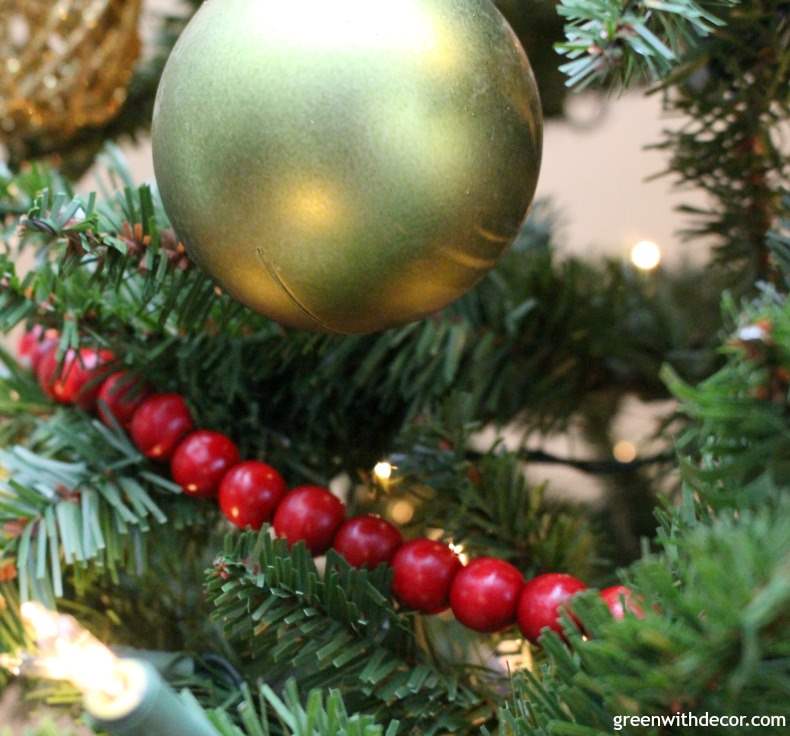 I actually spent far too much time in the ornament aisle at At Home. In the store, I decided on a red and gold look for the tree, but I came home with these silver sparkly ornaments, too. (They were only $2.99 for six of them!)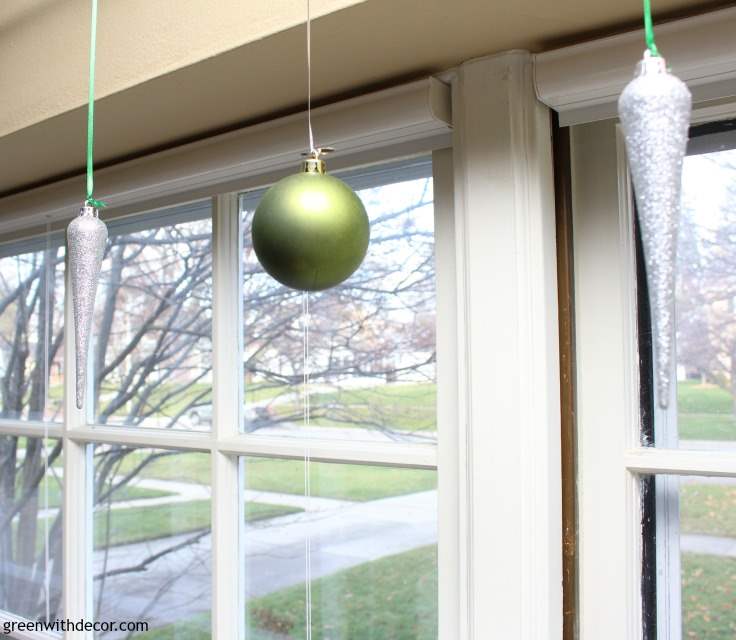 I got the green ones from At Home last year. Needless to say, their ornament selection is HUGE!
I never thought I'd be someone who adds flowers to a Christmas tree, but I've had these big red ones for years. When I pulled them out of one of our many Christmas decoration boxes, inspiration struck.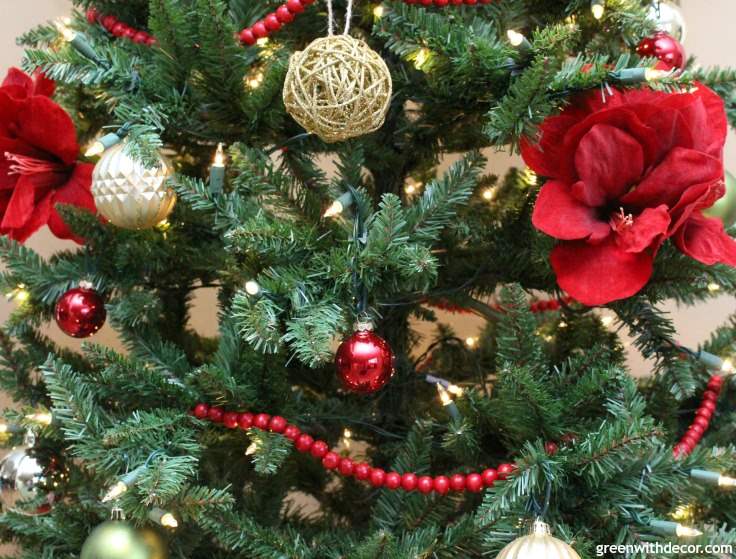 I used an old Christmas table runner of my mom's as the tree skirt so there's still a little piece of family history. I just love mixing old and new decorations this time of year. It really makes things feel festive.
Also important for those cozy twinkling lights nights at home? The cozy part! It's no secret I have a throw pillow addiction. I picked up this cute little red one from At Home this year, too. Buttons on pillows get me every time!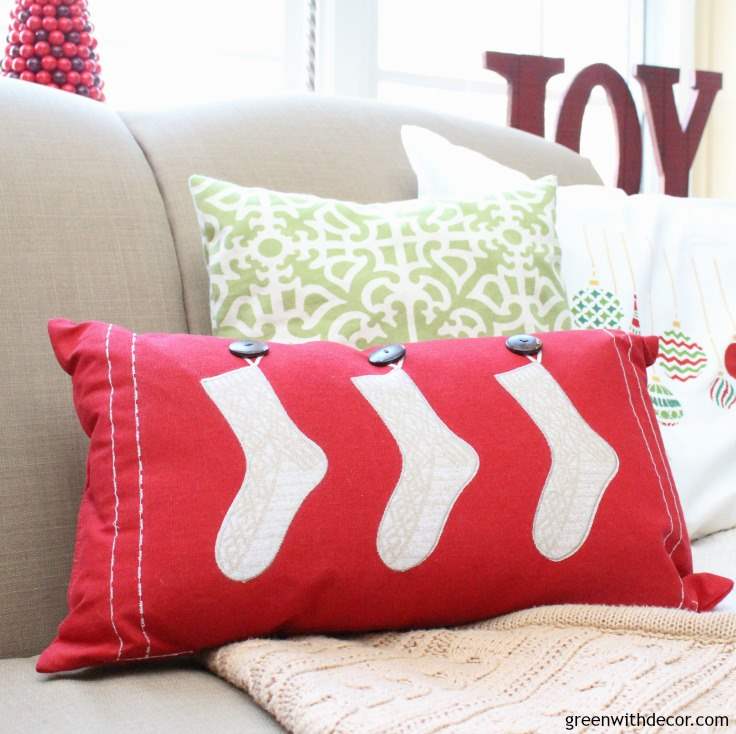 I also have this thing for red pick up trucks with Christmas trees.
I have no idea why, but every time I see one at a store, I can't help myself. How cute is this 'welcome' sign?!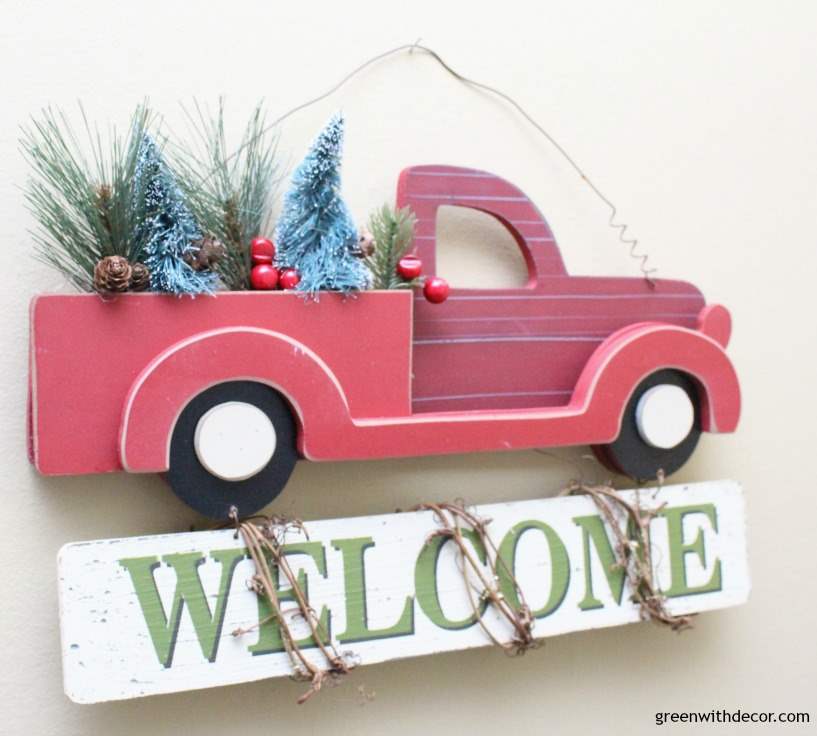 If you read yesterday's blog post about decorating with budget-friendly garland, you'll know I got some garland and red ornaments (yes more ornaments, I can't get enough) from At Home, too.
The combo is the perfect addition to our stairs, and it was so affordable, I couldn't pass 'em up.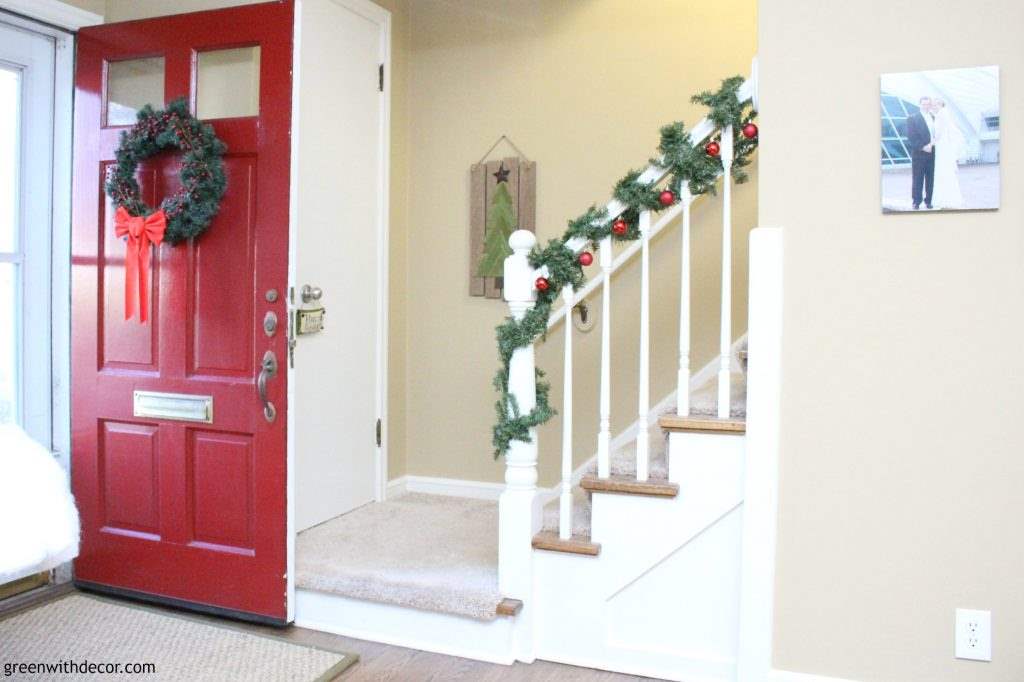 I've had so much fun decorating over the past few days. It makes me happy to see our house all decked out.
It's a great reminder to get in the festive spirit this time of year! Stay tuned for more Christmas decorating blog posts next week.
GET THE LOOK:
Since a popular question I get is "Where'd you get that?!," here are links to the same or similar sources:
For more Christmas inspiration, head to At Home's website or a store near you. (They just opened a second one here in Milwaukee, and of course, I've already visited!)
What's your reason for decorating for the holidays? How many trees do you have?
Remember to bookmark or pin this post if you want to save it for later!


Want to read more posts like this?
Follow along: Get my emails | Facebook | Pinterest | Twitter | Instagram