The kitchen renovation is done!
I'm so excited about this room – and so happy to share the finished room with you guys today! We love having an all white kitchen!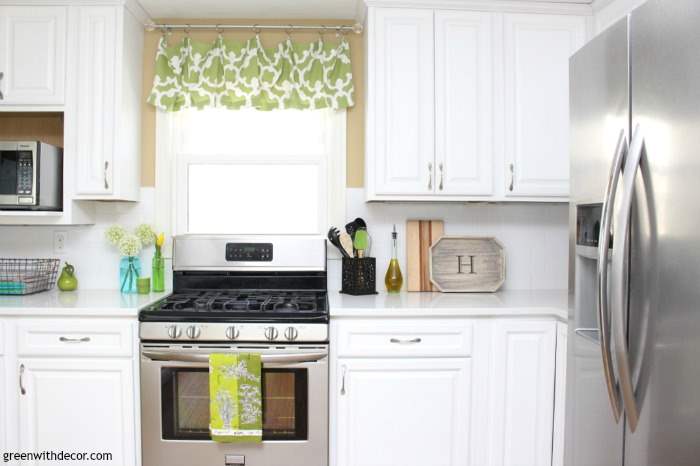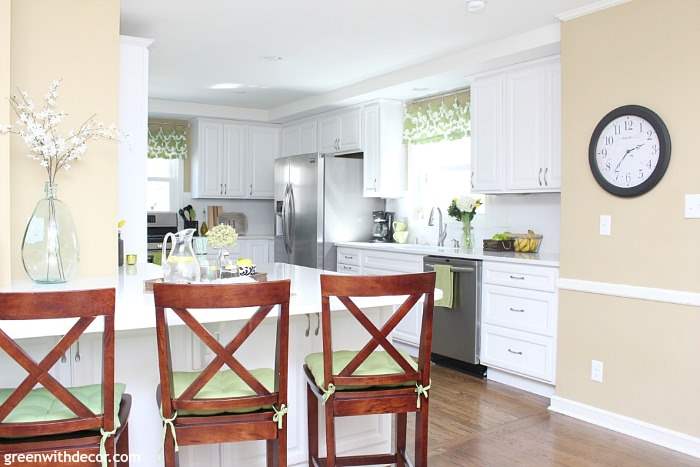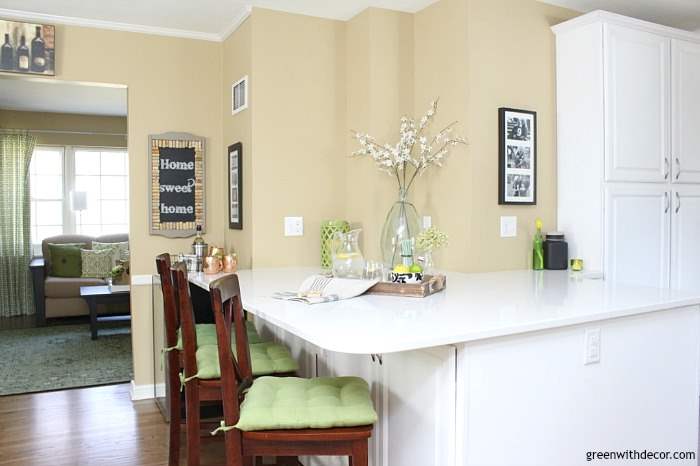 Remember the before pictures I shared in my kitchen demo blog post?
Here are some before and after pictures. I try to share before/after take photos taken from the same angle so you can really get a feel for what changes went into the room.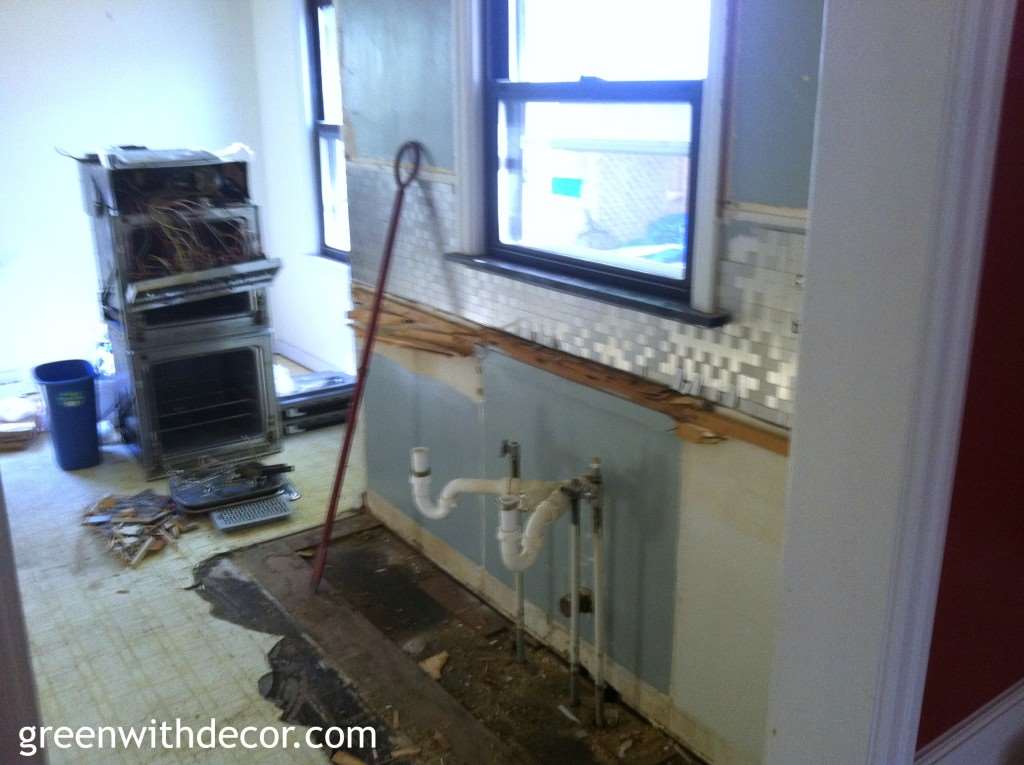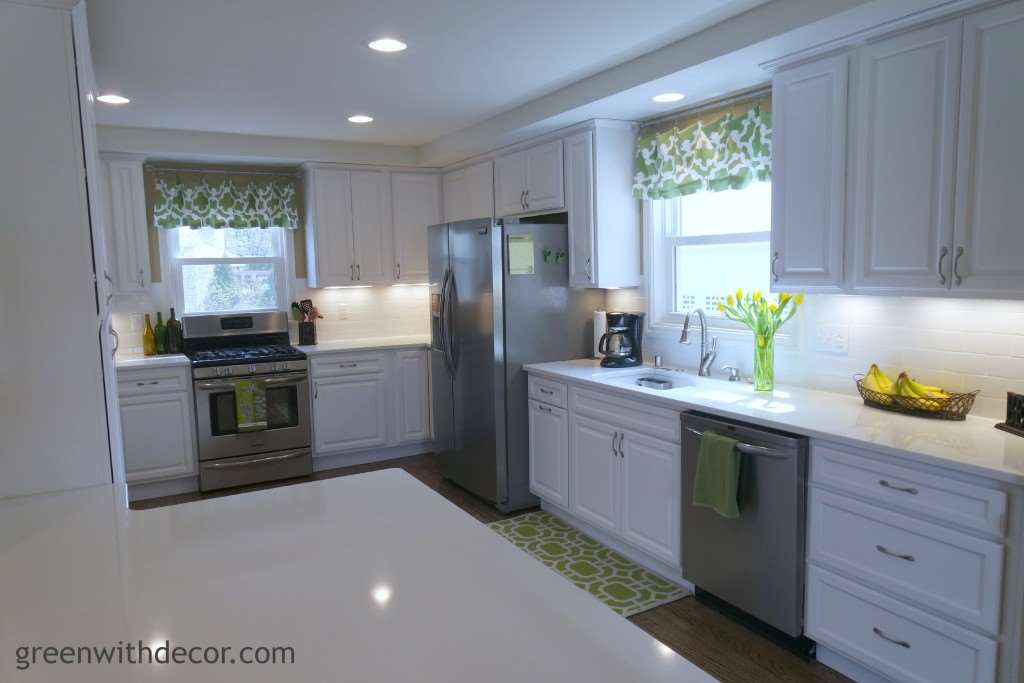 And from another angle: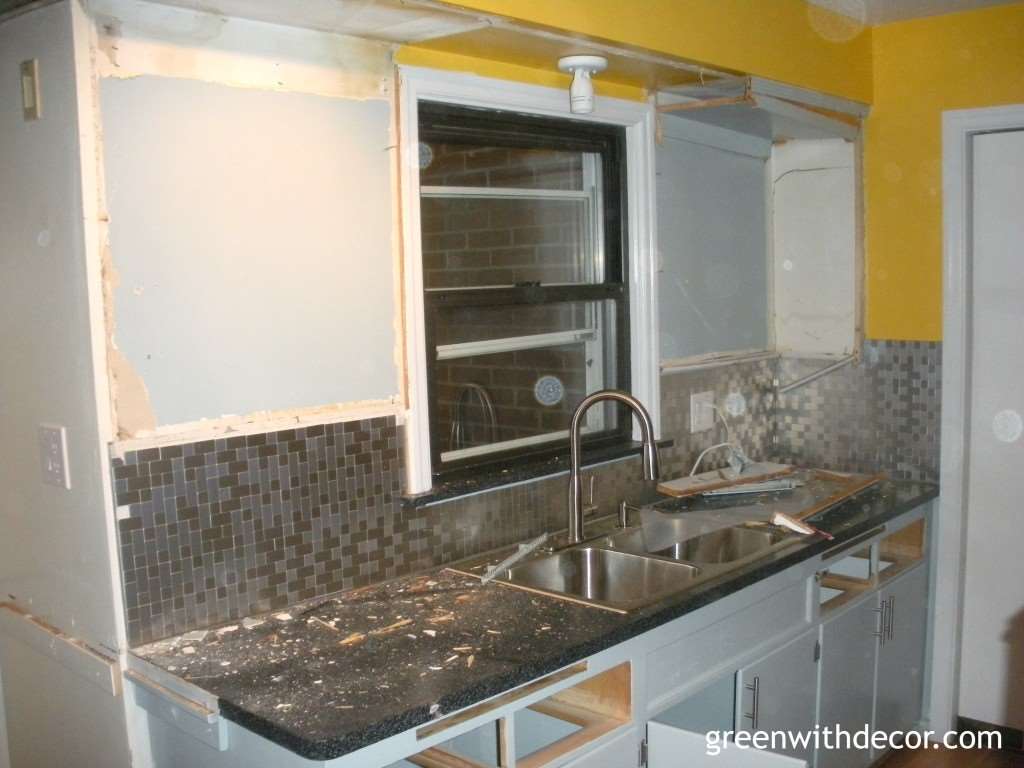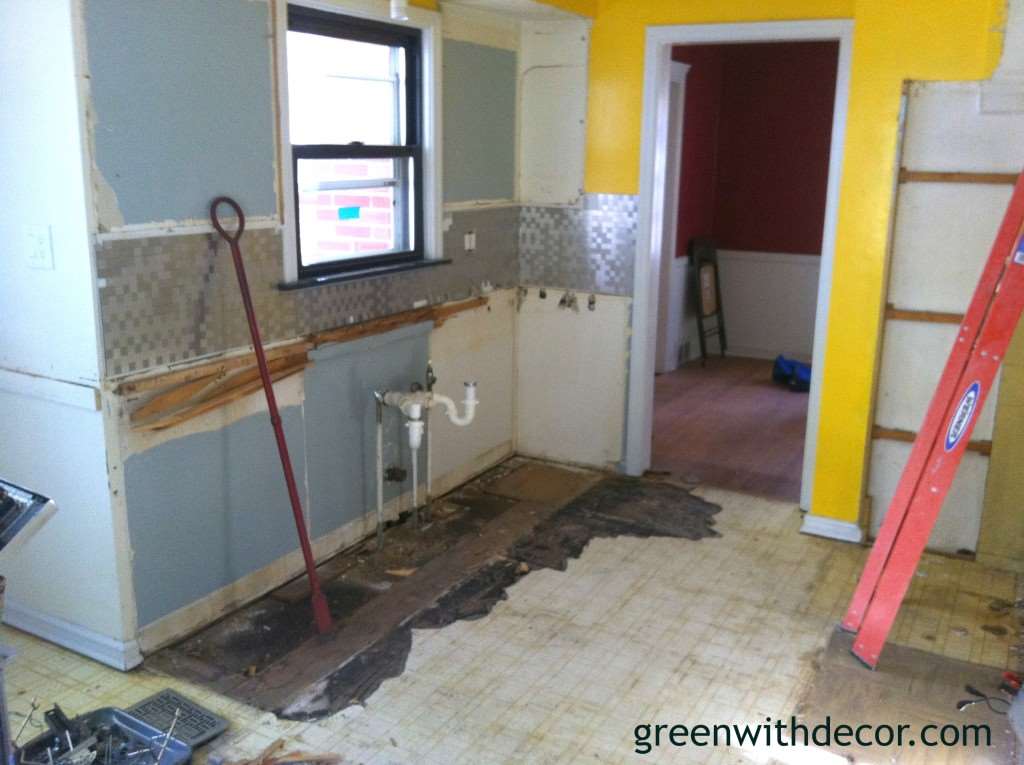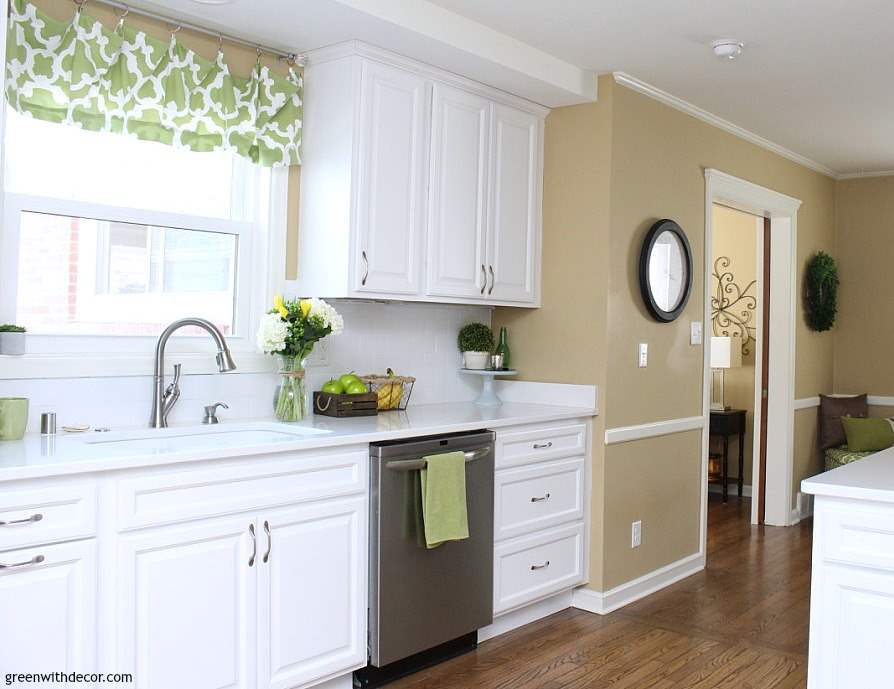 And the opposite wall: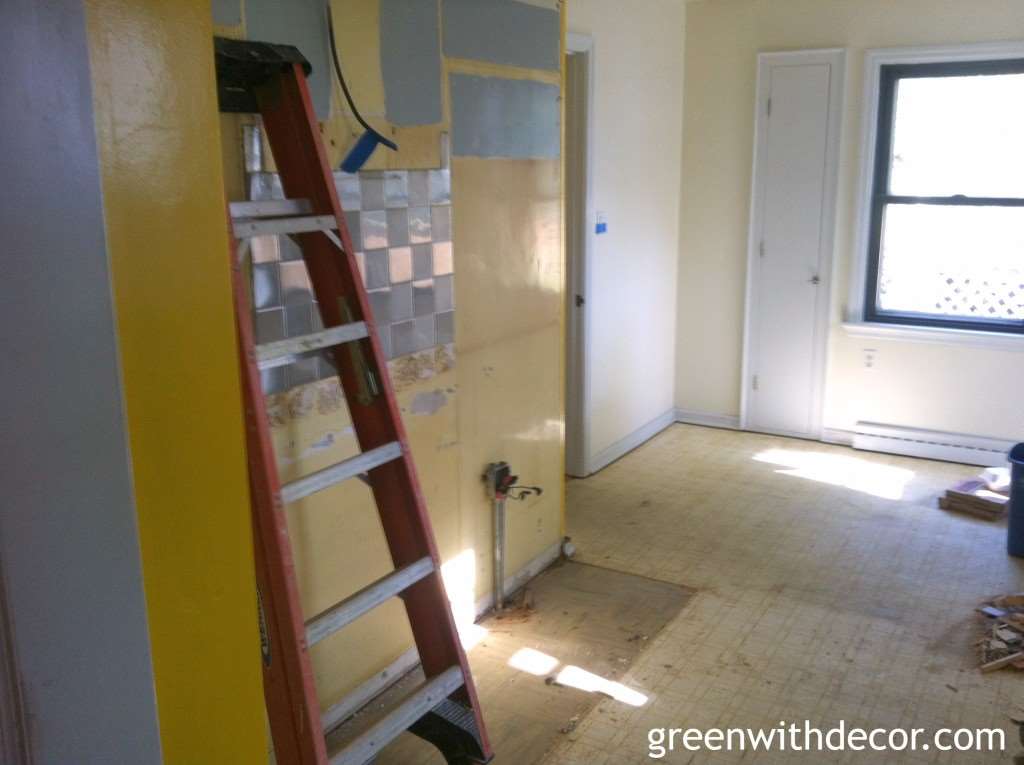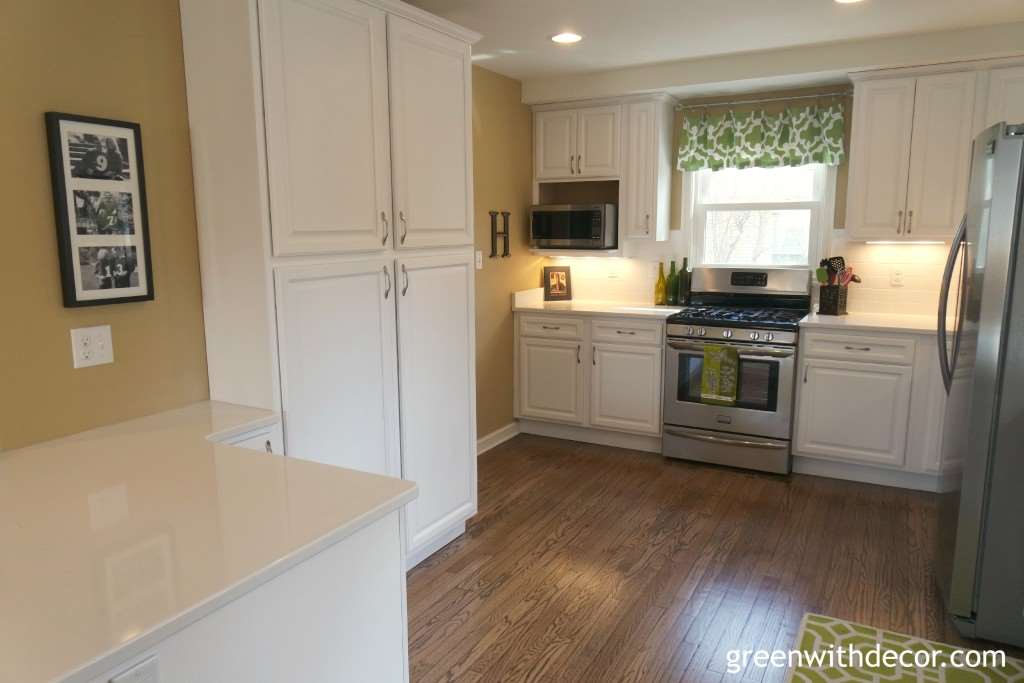 We knocked down the wall between the original kitchen and dining room – and the new space is awesome!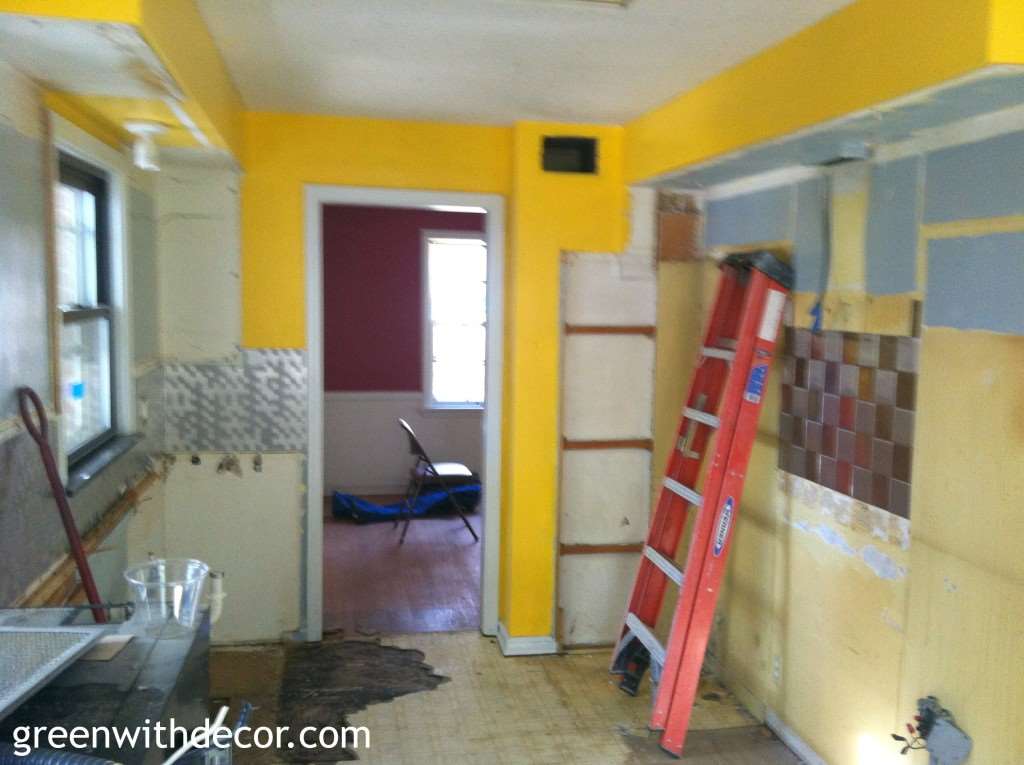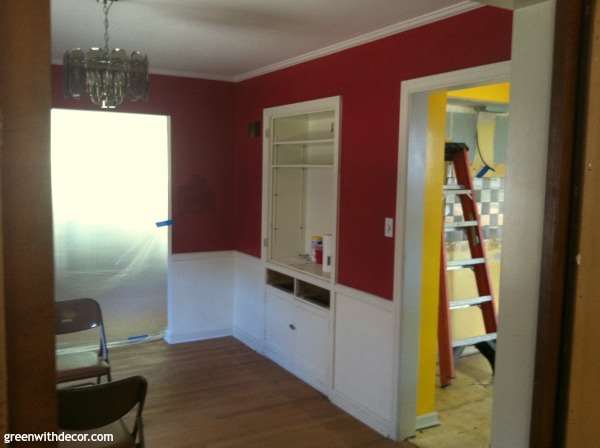 The before/after photos of the dining room are taken from opposite sides of the room.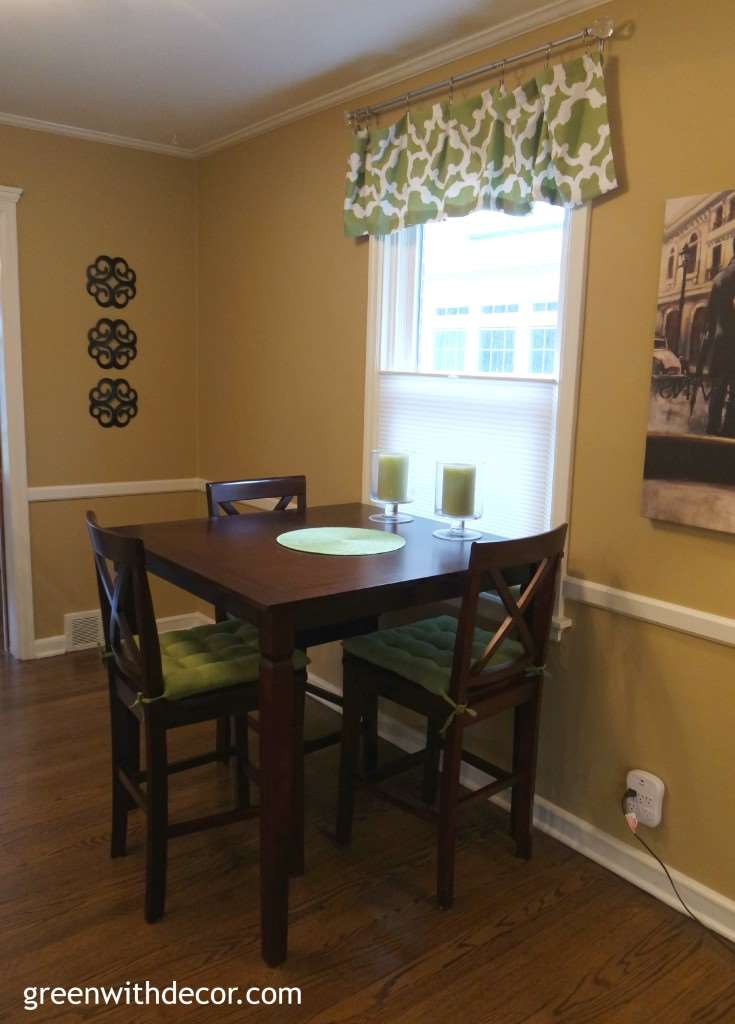 Our brand new white quartz counters look wonderful, especially on the big peninsula!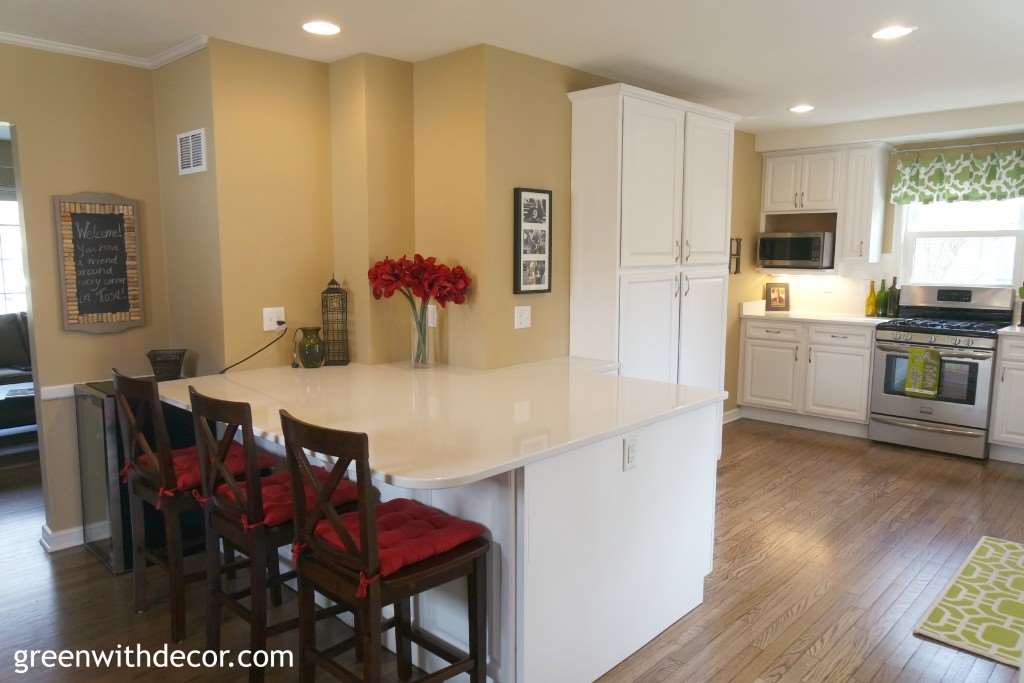 I love having a breakfast bar and a table so there's multiple places to sit.

This post contains affiliate links. This means if you click the link and buy something, I may receive a small percentage of sales at no extra cost to you.
It's nice to have space for some decor pieces. I love the pop of color the (fake) red flowers add!
I love this cute 'H'. We picked up the New York artwork on a trip there a few years ago, and the green wine bottles are all from wine we drank – the price you have to pay for good decor sometimes!
That adorable green towel hanging on the stove was a housewarming gift from a friend.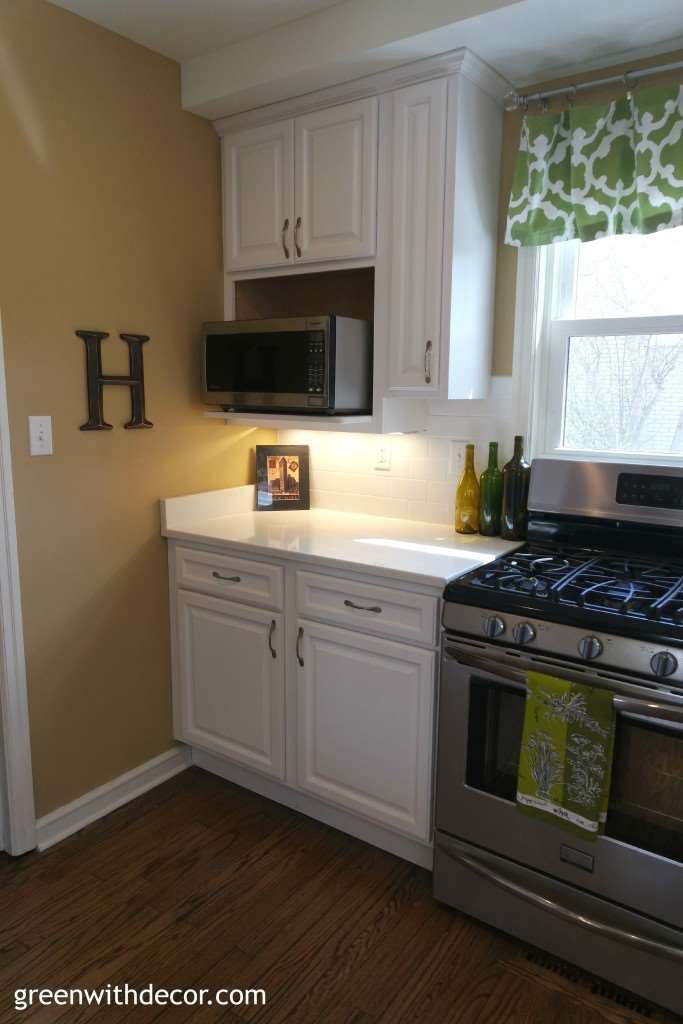 These green curtains are actually material from a shower curtain! (The full tutorial on turning a shower curtain into window valances is here!)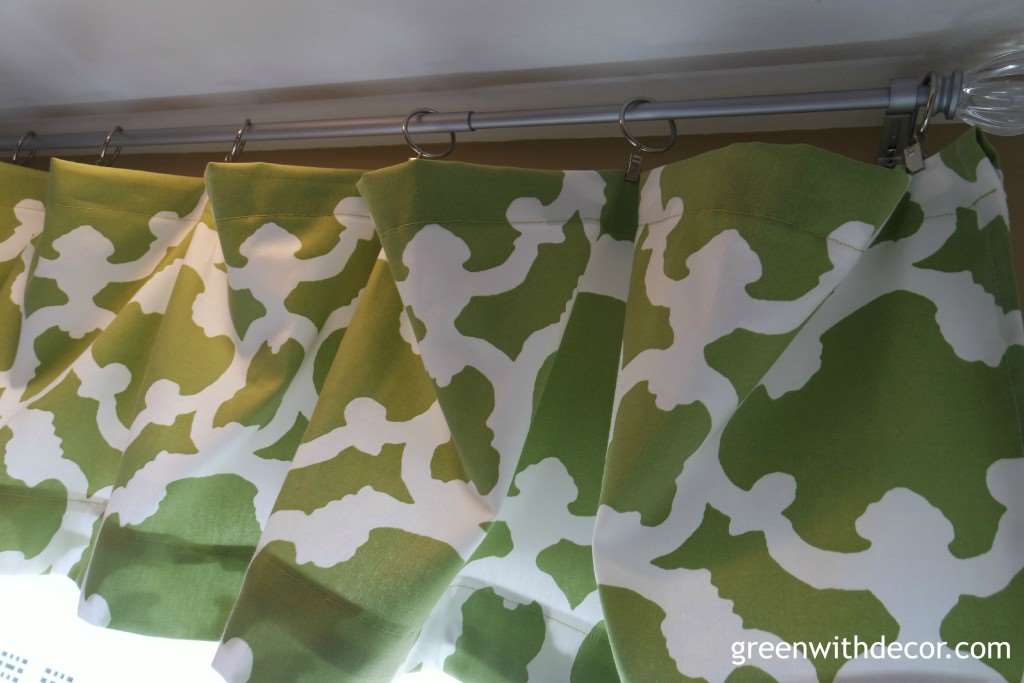 Our neighbor made us this cork chalkboard – isn't it great?! You can see my secret for getting perfect chalkboard letters here.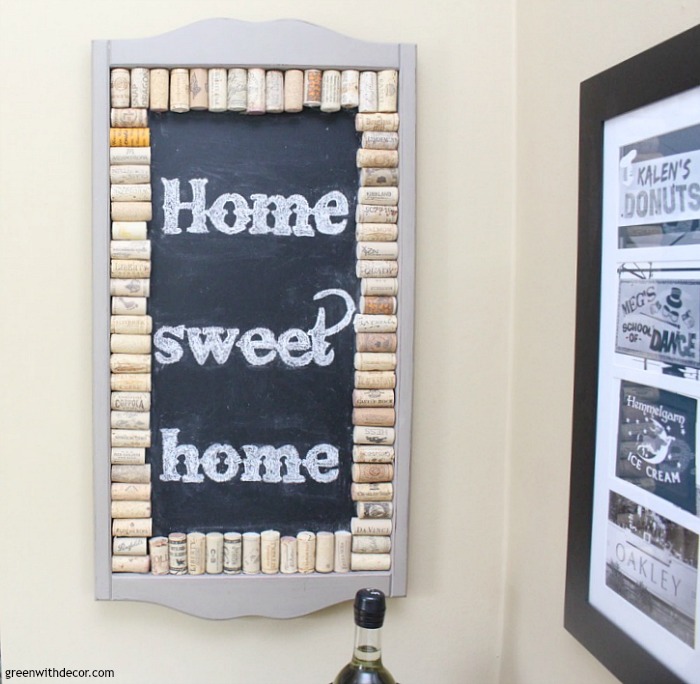 For our table numbers at our wedding, Kalen and I posed with (homemade!) numbers. We framed the poses that made up our wedding date. I love mixing in something personal within the decor in a room.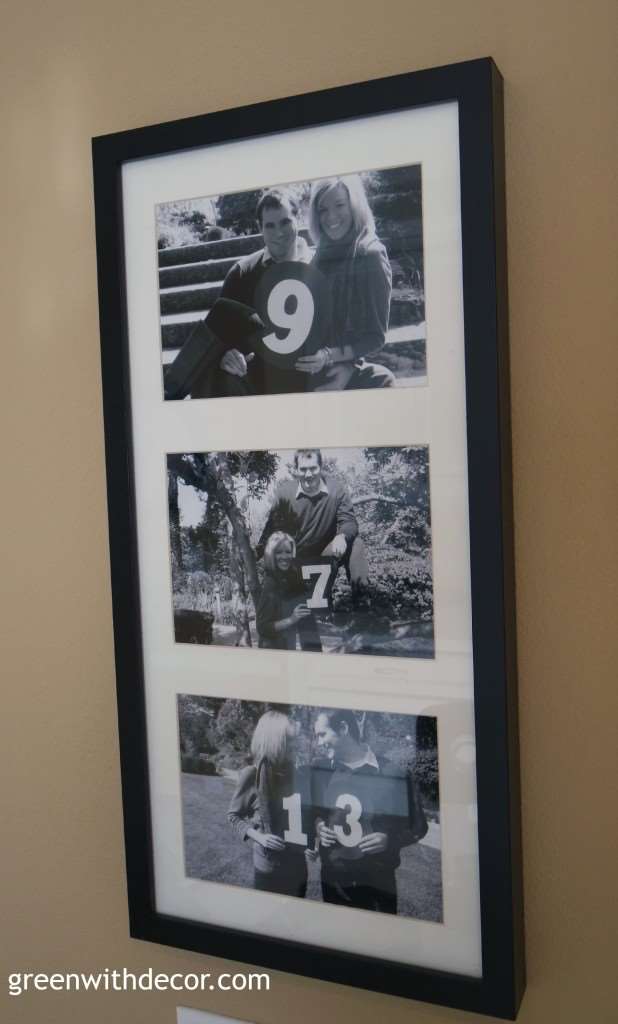 I'd put a big clock in every room in the house. I love how they look!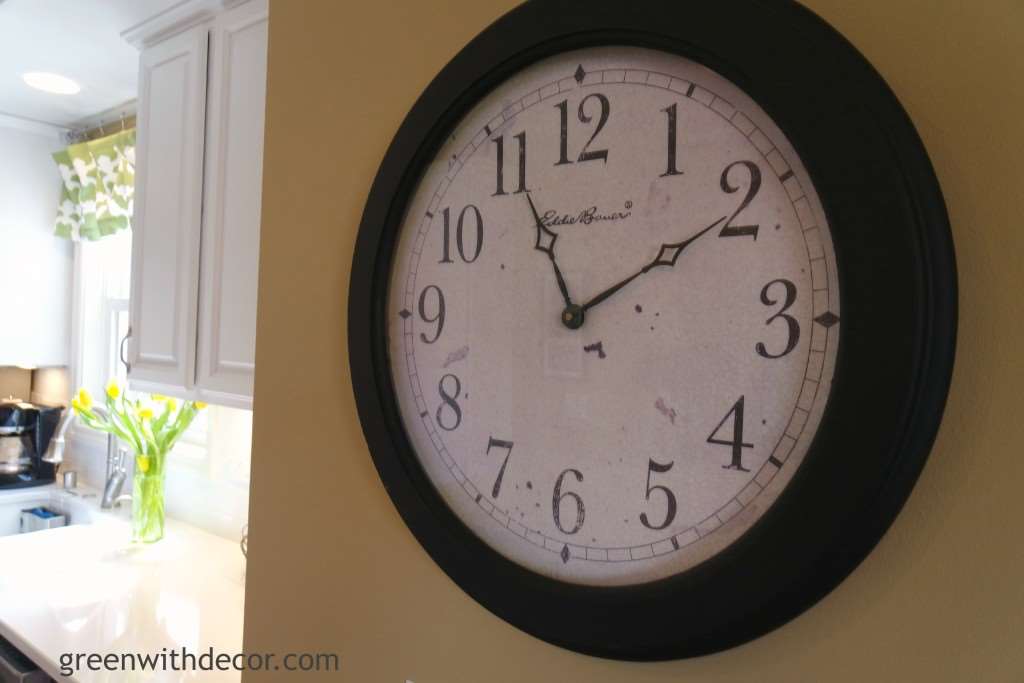 Green and red spatulas are functional and add some color to the utensil holder next to the stove: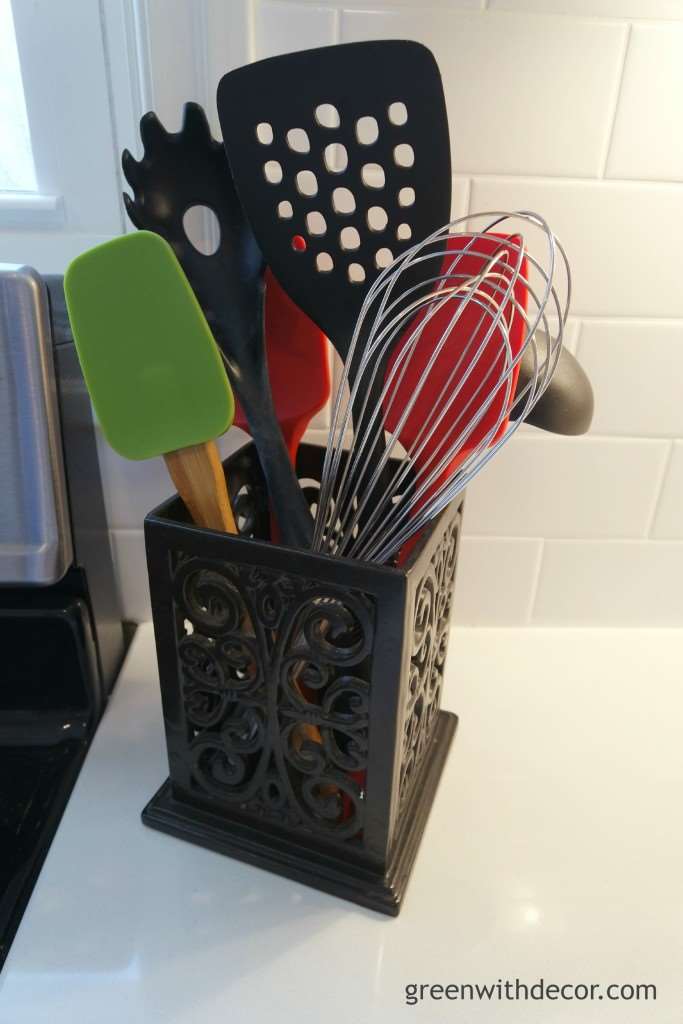 The light in the eating area is perfect. It's decorative while still being pretty flush to the ceiling.

Picking all the materials and deciding where everything should go during a kitchen renovation can be overwhelming.
You can read all about our kitchen renovation adventures and tips for picking everything out in my kitchen renovation archives.
Wow, a lot goes into a kitchen renovation! But when the end product is so wonderful, it's SO worth it!
As the rest of the house renovation gets wrapped up, I'll be sharing more room reveals throughout the house – and some smaller renovation and decorating projects that helped us get there!
GET THE LOOK:
Since a popular question I get is "Where'd you get that?!," here are links to the same or similar sources:
Planning your own renovation?
Download my printable Kitchen Renovation Checklist so you can easily keep track of each step. 
Sign up in the box below, and the link for the free printable will arrive in your inbox shortly. You'll also be signed up to get blog posts and alerts about new printables moving forward. (If you're already an email subscriber, you won't get added to the email list twice.)
*Please note: All printables and downloads designed by Green with Decor are for personal use only. Please do not alter the files or claim them as your own. These files are not intended for resale, nor are the printed versions of these files.
Remember to bookmark or pin this post if you want to save it for later!


Pin it!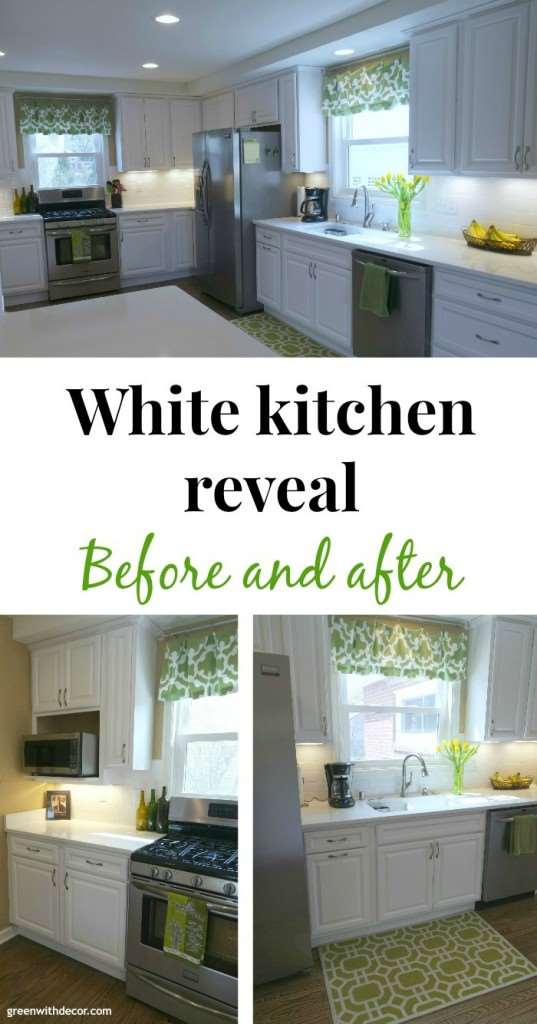 Want to read more posts like this?
Follow along: Get my emails | Facebook | Pinterest | Twitter | Instagram
Here are a few older photos of the kitchen, too. I've been working on photography. 🙂