Disclosure: This post is sponsored by Nostalgic Warehouse. All opinions, images and love of pretty door knobs are 100% mine.
Our first house in Cincinnati had crystal door knobs, and it's one of the things we miss the most about that house.
The door knobs and the screened-in porch – who know how perfect those are for summer nights?!
I just love how crystal door knobs add a timeless elegance to any space,
Needless to say, the boring old silver door knobs we had in this house just weren't our fave. After going through a bunch of renovations here, the door knobs just seemed kind of blah.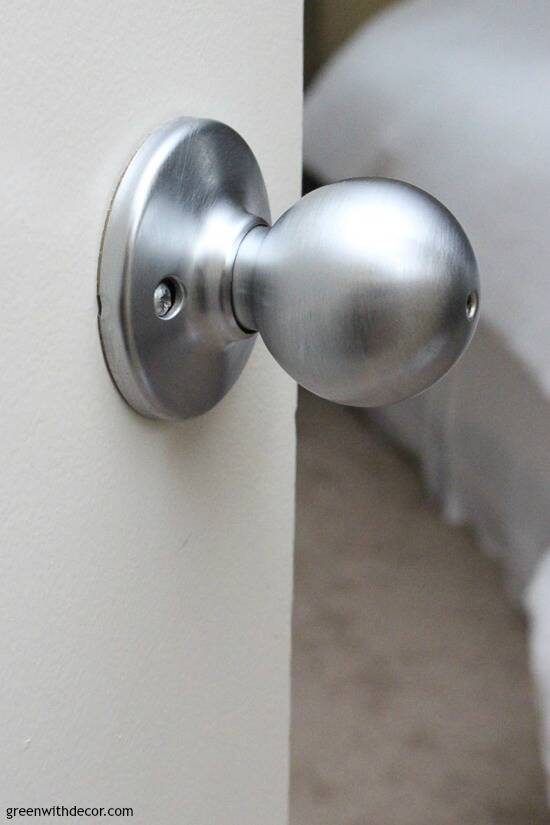 Soooo we updated them!
We picked these gorgeous Crystal Glass Knobs from Nostalgic Warehouse, and they look SO GOOD!!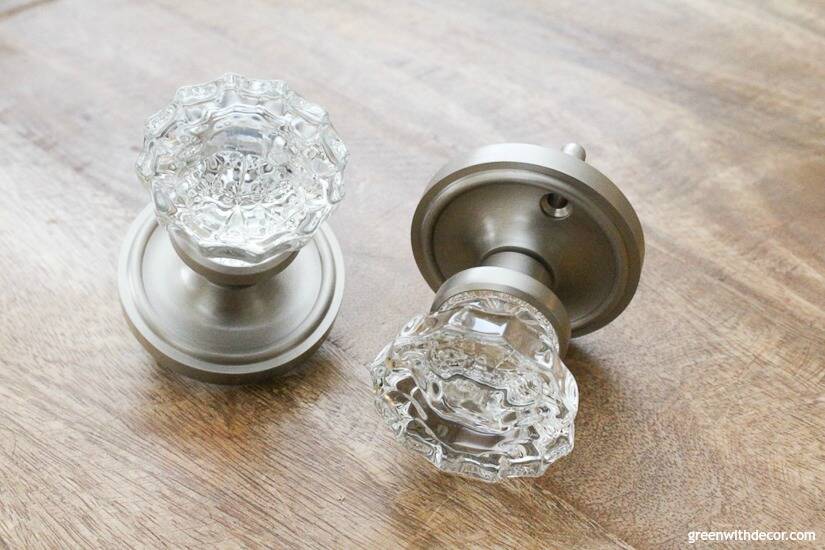 I just love them!
Who knew opening a pretty door knob could make entering a room a happy event?!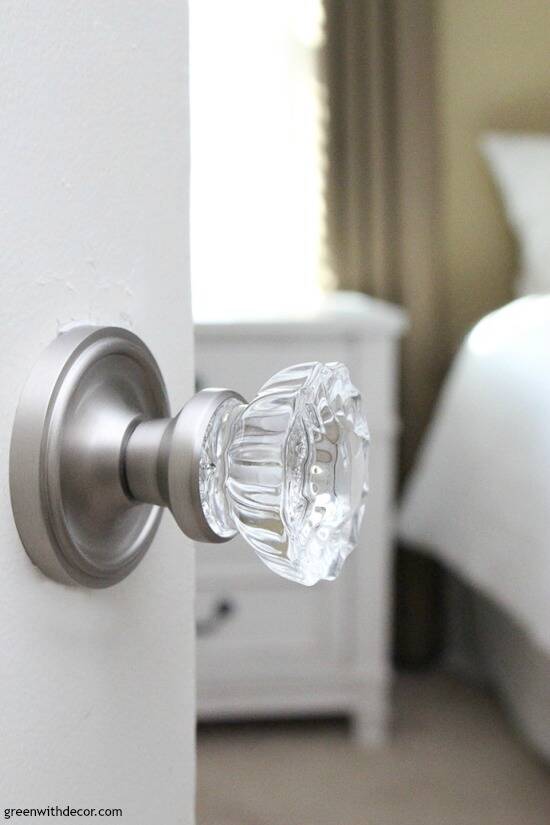 So normally switching out a door knob is a really easy update. I mean, unscrew the door knob, remove the knob and latch plate, install the new latch and door knob, and you're good to go, right?!
All you need is a screwdriver, and Nostalgic Warehouse even provides easy-to-follow instructions with each knob, too. Easy peasy, right?
Yeah.
Unless your old door knobs are actually attached to the door through a weird figure-8-shaped hole instead of a basic circle … which of course ours were. Agh!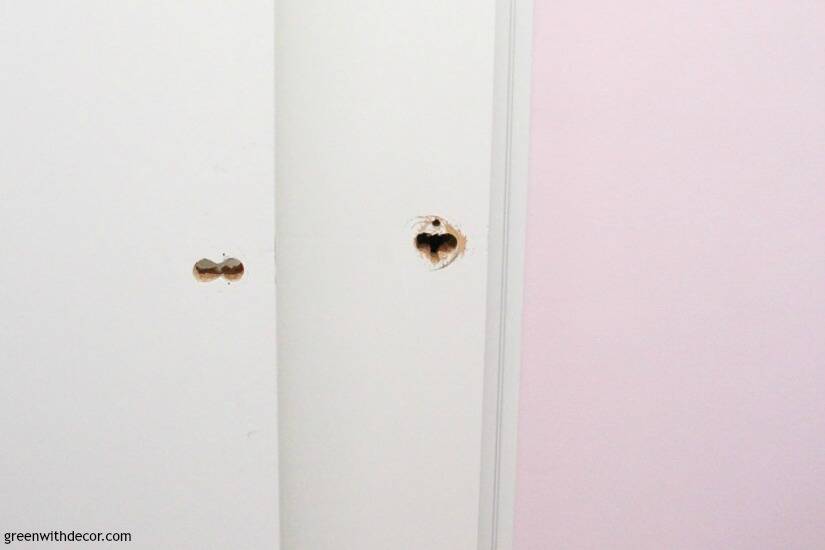 So this simple project turned into a larger project. Kalen cut larger circular holes in all of our doors using a handheld jigsaw, and then we could screw in our new door knobs.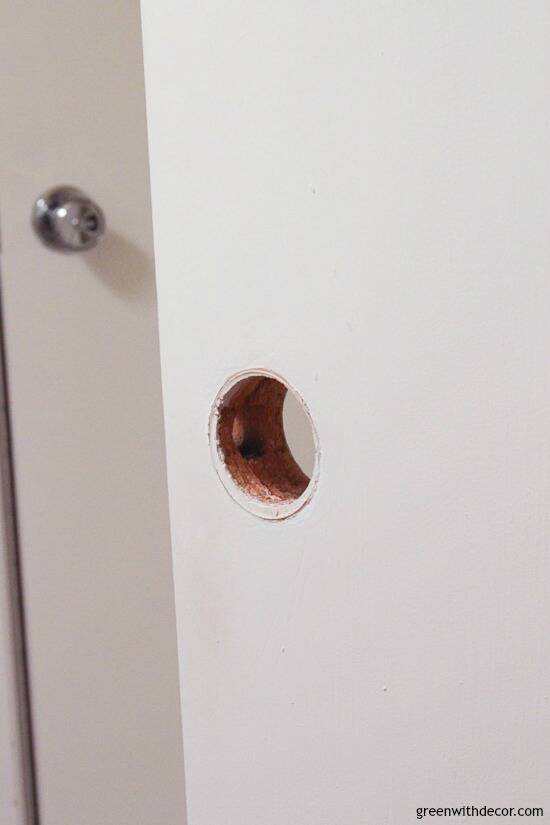 A bit more of a project than we anticipated, but so worth it, because aren't these beauties gorgeous!?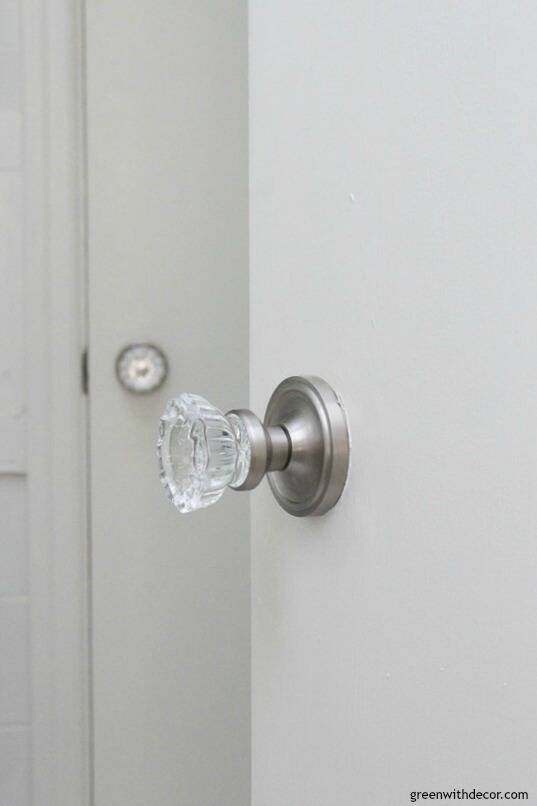 I love how the knobs give off such a timeless, classic look.
Especially in our powder room which has the timeless white and black tile. The crystal knobs really completes the vintage, classic look in here!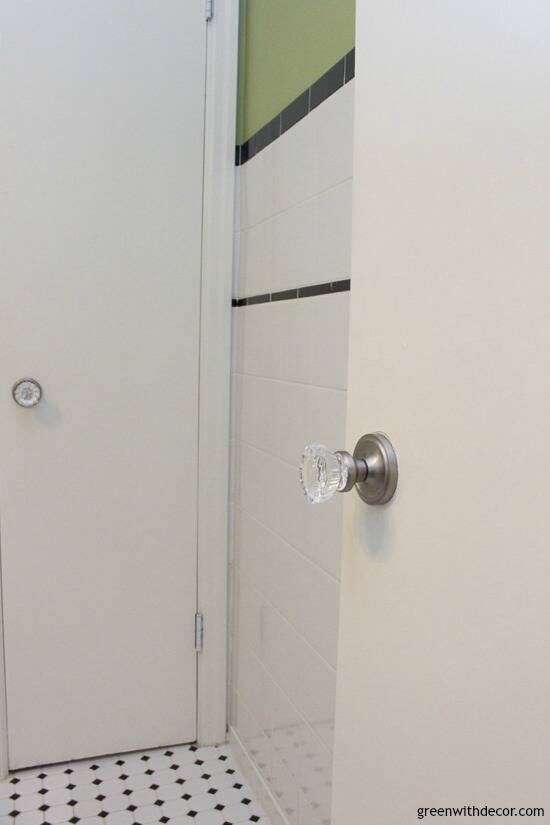 (Yes, we have a full linen closet in our downstairs powder room – at first I thought it was weird, but the storage is awesome!)
Nostalgic Warehouse has a variety of gorgeous plates, too.
We chose the Classic Rosette in Satin Nickel. You know I love silver finishes throughout our house! You can also get the same look in a variety of finishes if bronze or brass is more your style.
I loved using Nostalgic Warehouse's Hardware Designer tool on their website (click the 'design your own' tab to get to it) for mixing and matching knobs with plates to finalize our selection.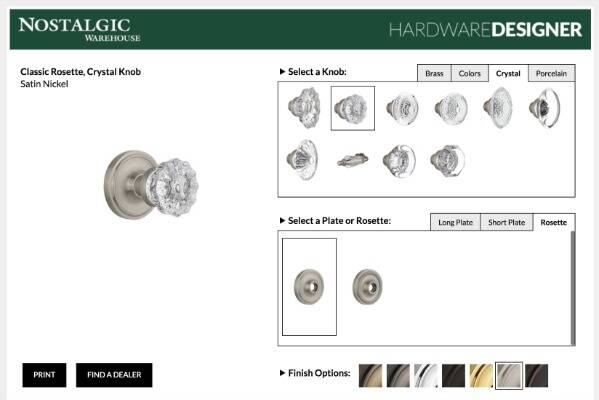 I do so much better when I can actually see pieces together rather than just guessing and hoping for the best!
Their selection of knobs and plates is gorgeous! There are so many pretty combinations you could come up with playing around. We were set on crystal knobs, but it was nice to see them on various plates before making a final decision.
This post contains affiliate links. This means if you click the link and buy something, I may receive a small percentage of sales at no extra cost to you.

GET THE LOOK:
Since a popular question I get is "Where'd you get that?!," here are links to the same or similar sources:
Have you made any fun simple updates like this lately?
It's amazing how swapping out door knobs can change the look of a room and really up the elegance factor!
And one more thing …
In case you're not on my newsletter (sign up here if you're not!), I shared a little note in there today. This will be my last blog post of 2018.
I'll be taking some time off around the holidays to spend with family, maybe/hopefully finish unpacking from our move and *fingers crossed* catch up on sleep … if our daughter agrees to it!
Thanks as always for following along, especially through my maternity leave and as I navigate blogging with spending time with our new daughter. I so appreciate you guys reading – this blog wouldn't exist without you!
Merry, merry Christmas – I hope you have a great holiday with friends and family!
See you in January! 🙂
Remember to bookmark or pin this post if you want to save it for later!


Pin it!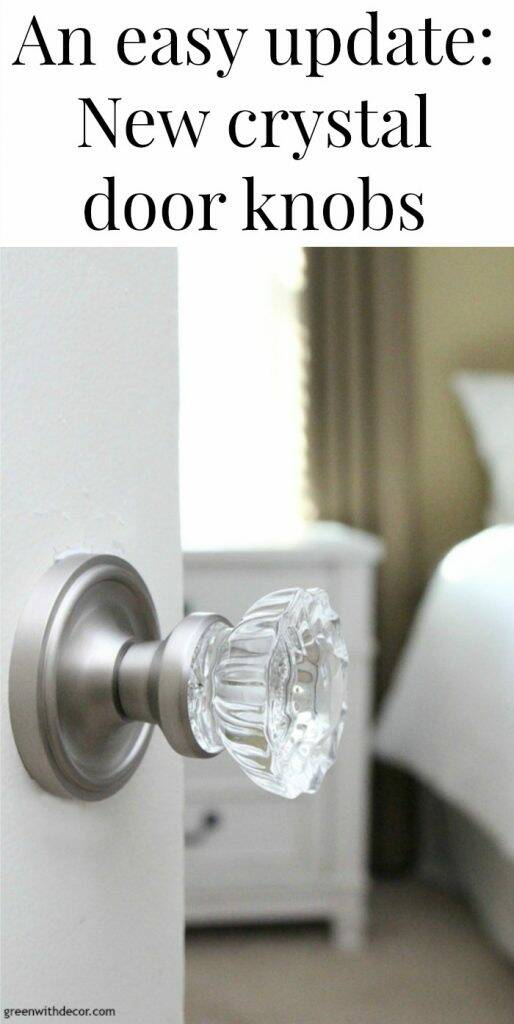 Want to read more posts like this?
Follow along: Get my emails | Facebook | Pinterest | Twitter | Instagram