Sherwin Williams' Ryegrass green is the perfect shade of sage green paint. Not too light or too dark, it looks great in the bathroom, home office and more.
I've professed my love for Sherwin Williams' Ryegrass green paint before. To me, it's just really the perfect shade of green paint!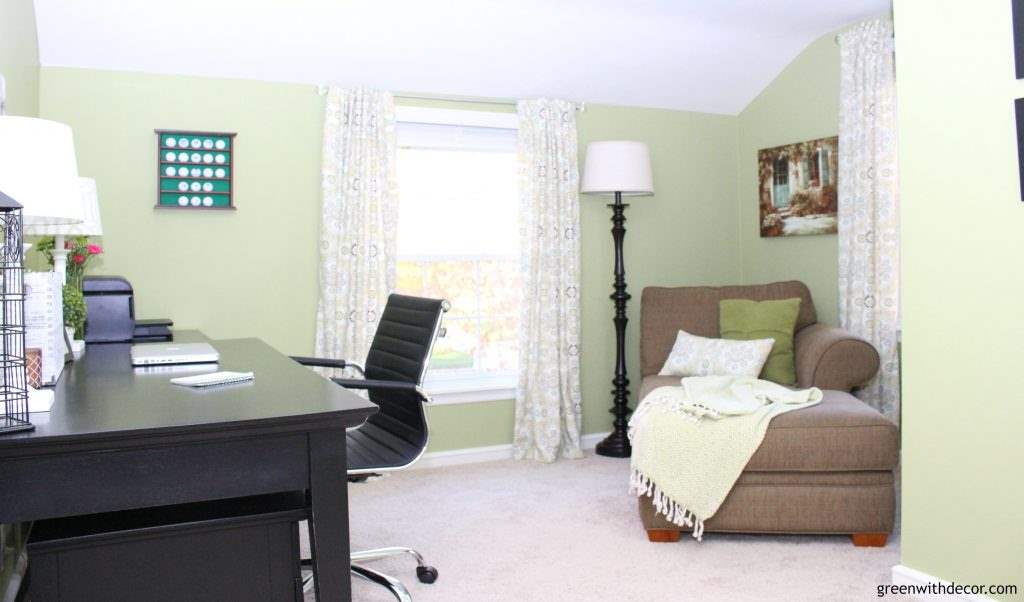 I mean it's pretty obvious I love it if you look around the blog. We've used it in five bathrooms (in three different houses) plus a few other rooms.
Green paint colors can be tricky. They're either too yellow, too blue, too brown, too neon, too pale, too dark … the list goes on.
I love green, but it took a lot of paint samples and swatches till I decided Ryegrass was the winner as best green paint color ever. (The color number is SW 6423 if you're wondering.)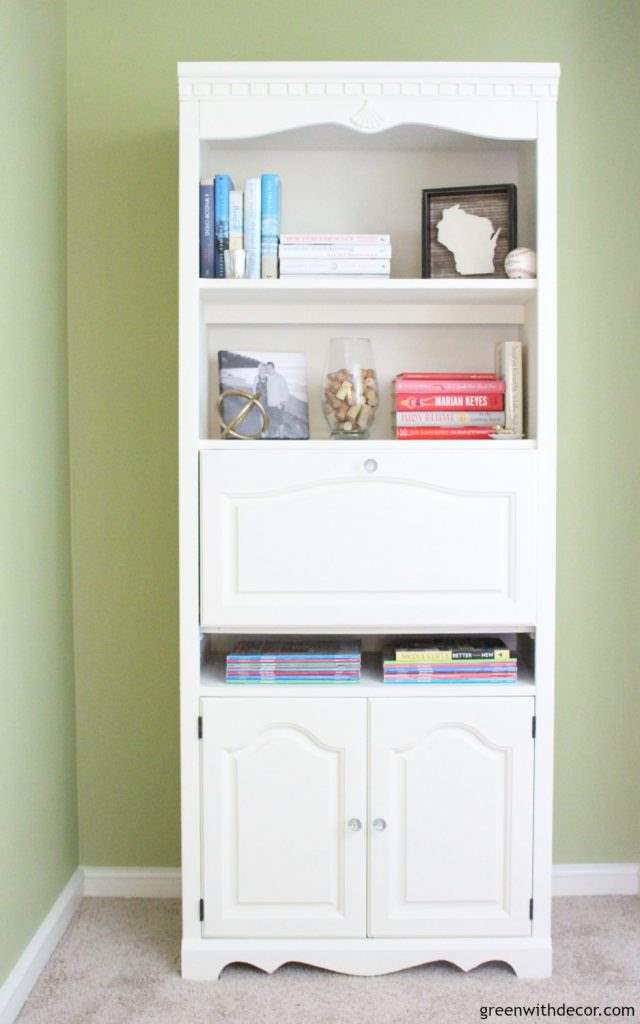 GET THE LOOK: Painted bookshelf | Crystal knobs | State wood sign
To back up a second, I'm diving into different paint colors in a new series here on the blog, because paint colors are one of the things I get asked about the most. There are just SO many out there, it can be overwhelming trying to choose between them.
Hopefully these posts and pictures of the paint colors in various rooms – with different wood finishes and decor accents – are helpful.
If you're looking for something more neutral, you can read about Sherwin Williams' Camelback (tan), Aesthetic White or Agreeable Gray. Or see my favorite blue paint, Krypton.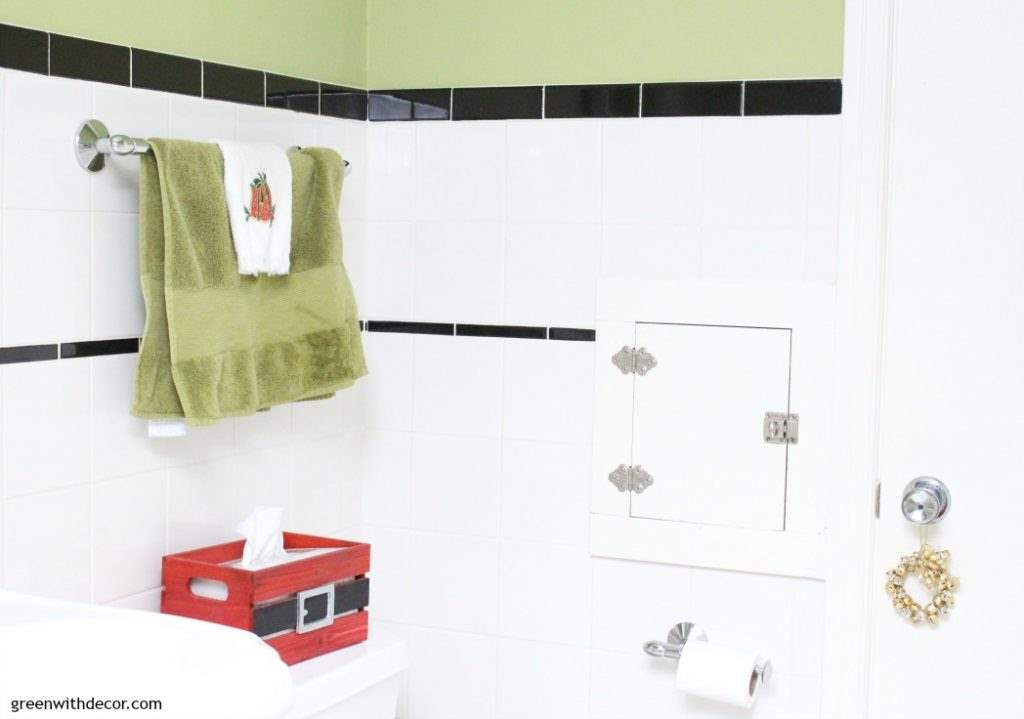 So back to Ryegrass. I LOVE it, but it's also worth saying I love it in smaller rooms. I'm one to paint big rooms neutral colors and add pops of color with artwork, pillows, bedspreads, etc.
I think small rooms (especially bathrooms) are fun ones to add a pop of color to on the walls, but of course, do whatever you want in your own house!
This post contains affiliate links. This means if you click the link and buy something, I may receive a small percentage of sales at no extra cost to you.
Ryegrass paint in a home office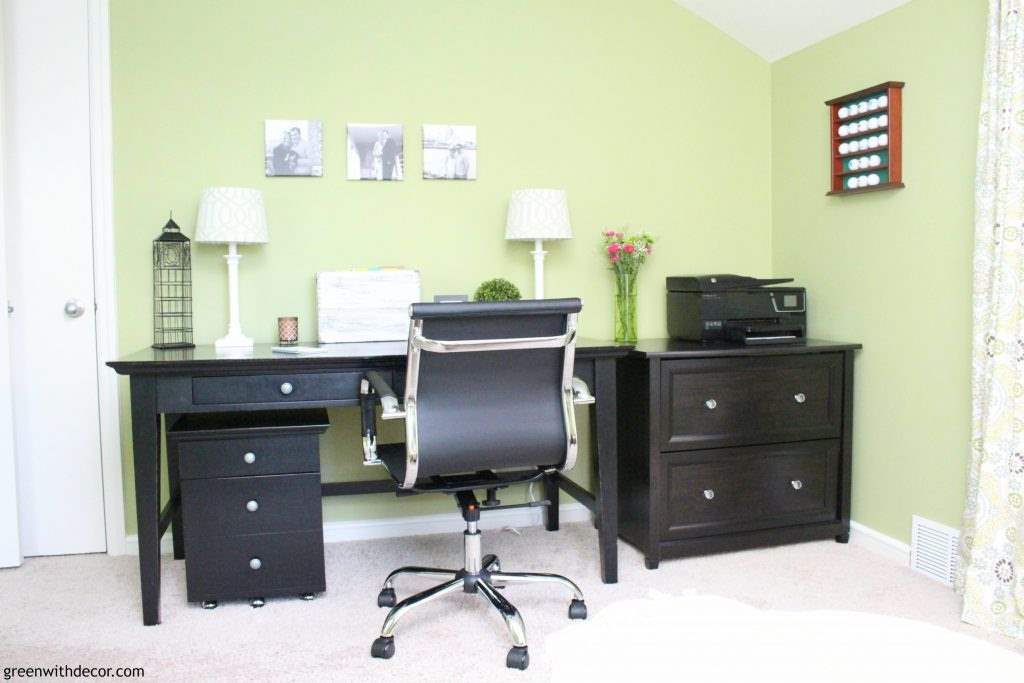 GET THE LOOK: Desk | Desk chair | Lamp shade | Curtains
Ryegrass paint in a bathroom
Green and white might be my favorite ever color combo, so of course I love Ryegrass green paint in bathrooms with white woodwork and finishes.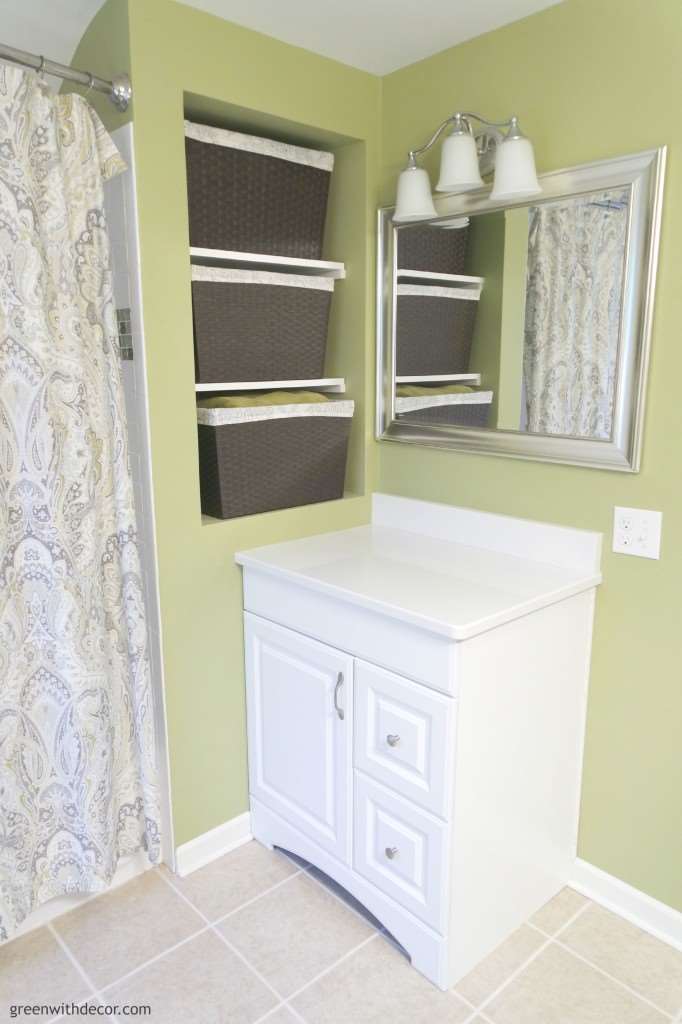 GET THE LOOK: Vanity (handle and knobs) | Light fixture | Mirror | Baskets
We have Ryegrass in our rental bathroom, too. I don't love it quite as much with that dark vanity as I do when it's paired with white. I think it looks a bit darker when it's next to brown, but it's still a beauty.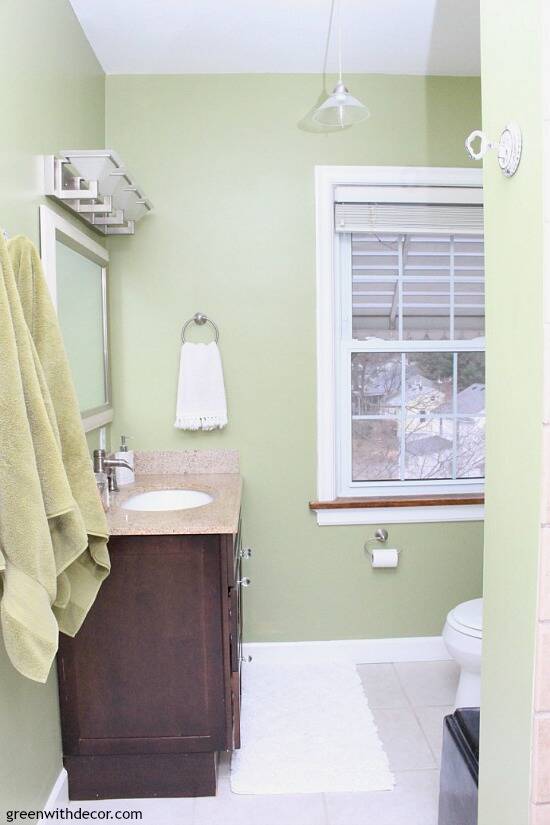 GET THE LOOK: Towel hooks | Mirror | Towel ring | Hand towel | Soap dispenser | White rug
If you're looking for a green shade a bit lighter or darker, Baby Bok Choy (SW 9037) is one shade up and Tansy Green (SW6424) one shade down on the SW color wheel. I will say, there's just something about Ryegrass that is the perfect shade of green paint without getting too dark or too pale.
Which is why I'm a huge believer in paint samples before committing. I love those paint swatches, but I think they often make colors look a bit darker than they are when they dry on a wall.
Plus all sorts of things – natural light, wood tones, etc. – can affect how a paint color looks in a specific room.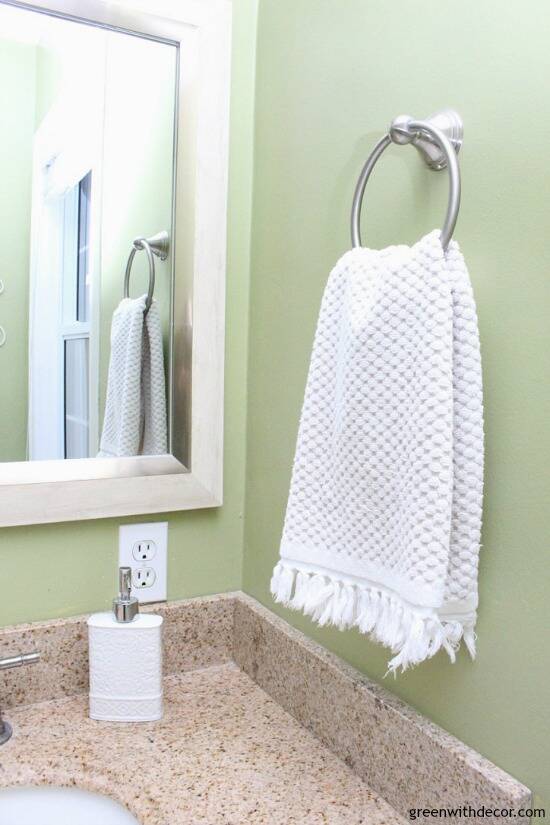 One more thing, because I like to look at these when I'm picking out a paint color.
Sherwin Williams names Queen Anne's Lace (SW 6420), Oyster White (SW 7637) and Pavestone (SW 7642) as coordinating colors if you're looking for a paint color for a room adjacent to the one you're painting Ryegrass.
We've never used those colors, although they all look pretty! We've always used Ryegrass near rooms that are either Camelback or Agreeable Gray – and we love it next to both!
What are your favorite green paint colors? Are you loving Sherwin Williams' Ryegrass, too? Pretty sure I'll never get sick of it paired with white woodwork!
I'll be back with even more blog posts (and pictures!) on specific paint colors.
Meanwhile, if you're planning a room painting project, check out these posts:
Remember to bookmark or pin this post if you want to save it for later!

Pin it!

Want to read more posts like this?
Follow along: Get my emails | Facebook | Pinterest | Twitter | Instagram