Disclosure: This post is sponsored by Wall Control. All opinions, images and love of DIY projects are 100% mine.
The basement makeover continues!
Our tool situation had become kind of a mess over the past couple of years. As the basement got more cluttered with stuff, it just became easier and easier to just throw things wherever when we were done with them.
Which seems fine until you need to find something simple like a hammer or drill, and you're met with this disaster.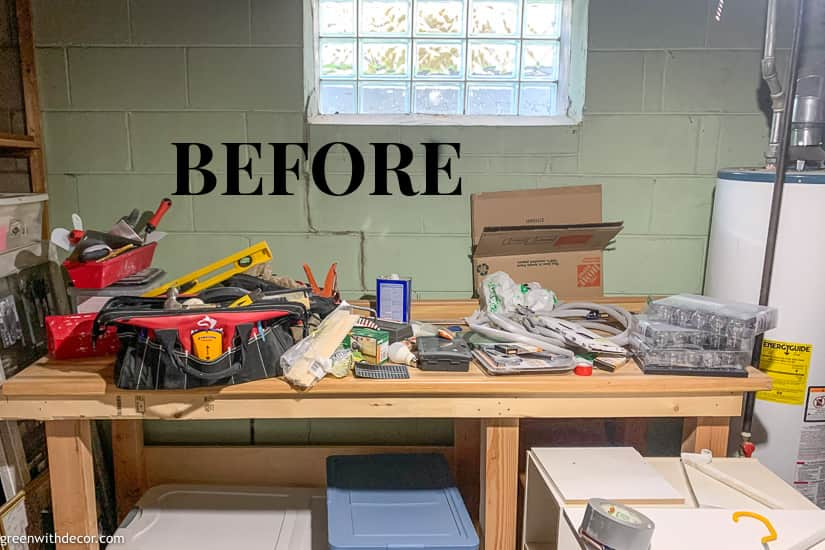 Yikes.
So we gathered a bunch of awesome tool organizing supplies from Wall Control and whipped this area into shape.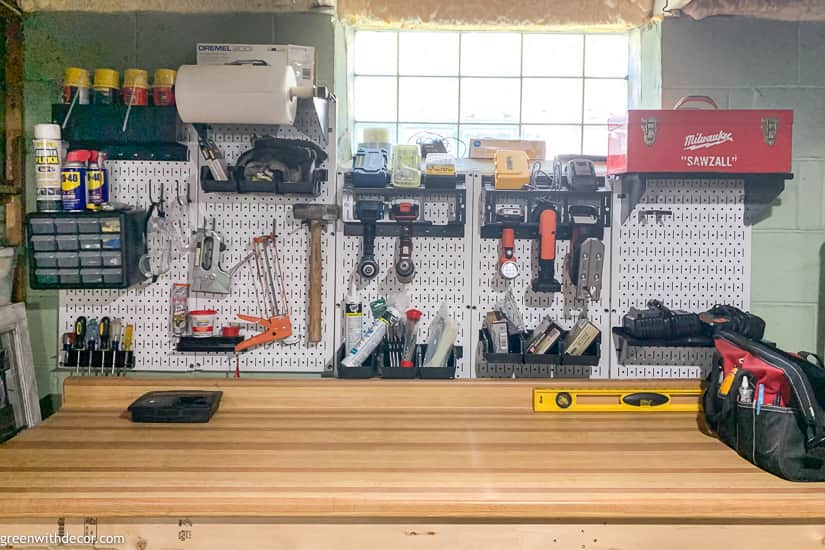 So much better, right?!
We've talked about organizing our tools on a pegboard for years, and somehow with a baby and other house projects, it kept getting pushed to the bottom of the priority list.
With baby #2 coming (and knowing our time for house projects will be even less!) and the basement makeover underway, we figured now was the time.
We're both so happy with this space and wish we'd just tackled it sooner. Within an afternoon, we had everything hung up. It really was quick and easy to install and set up.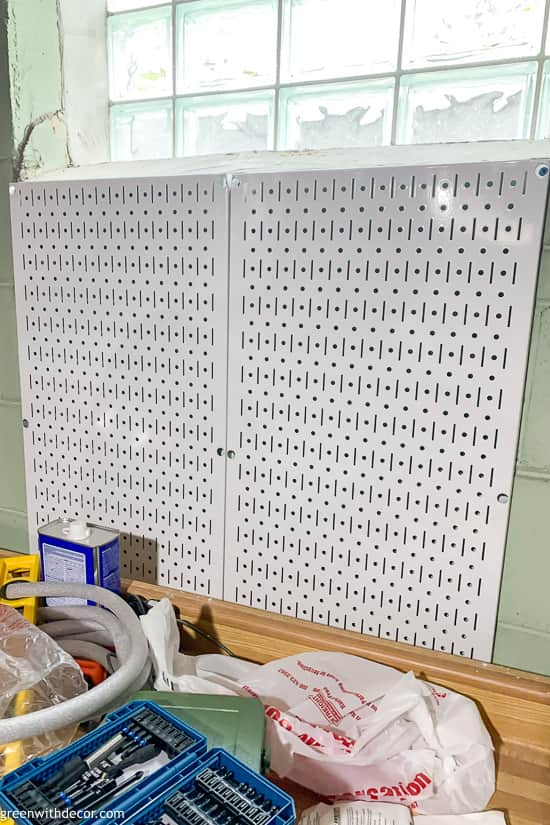 And it looks so good!
We love that the metal pegboard is strong enough to hold heavy equipment (like our Sawzall), the hooks are sturdy and truly stay hooked in (if you've ever had a cheap pegboard, you know what I'm talking about!) and the variety of tools / supplies you can hang with Wall Control's various pieces. We packed so much onto this wall!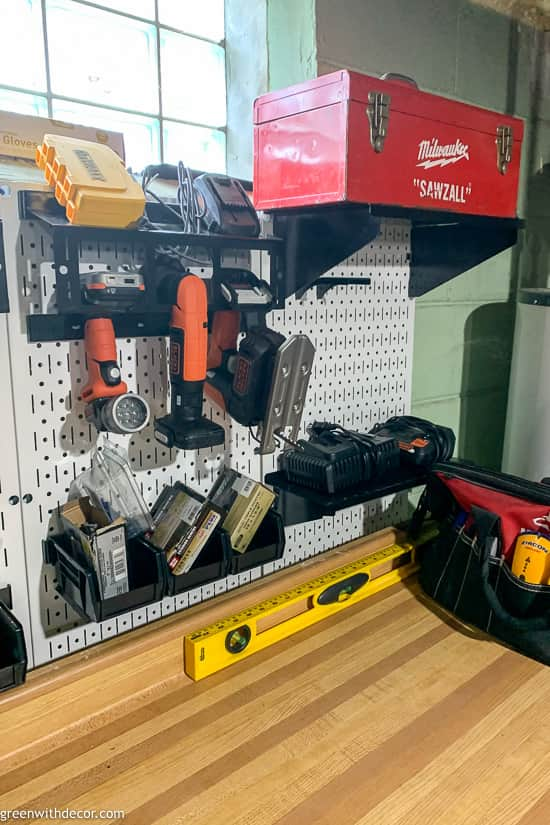 Let's take a little tour, shall we?
We started with the metal pegboard master workbench kit, which comes with a lot of helpful accessories. It's actually 6 different pegboards so you can configure them however you want to fit your space best.
Perfect for us with our window on this wall. (Side note: we replaced out basement windows with glass block at the beginning of the year, and it was such a great decision. Boring thing to spend money on yes, but our basement is much warmer and bonus, more secure.)
You can choose from a variety of colors if there's a specific look you're going for.
The workbench kit comes with a couple shelves, shelf dividers, plastic hanging bins, a dowel rod for paper towel or tape, a 4-can spray can holder, two 6-screwdriver holders, two hammer holders, plus other hooks and brackets.
Basically, it's awesome. They've thought of everything.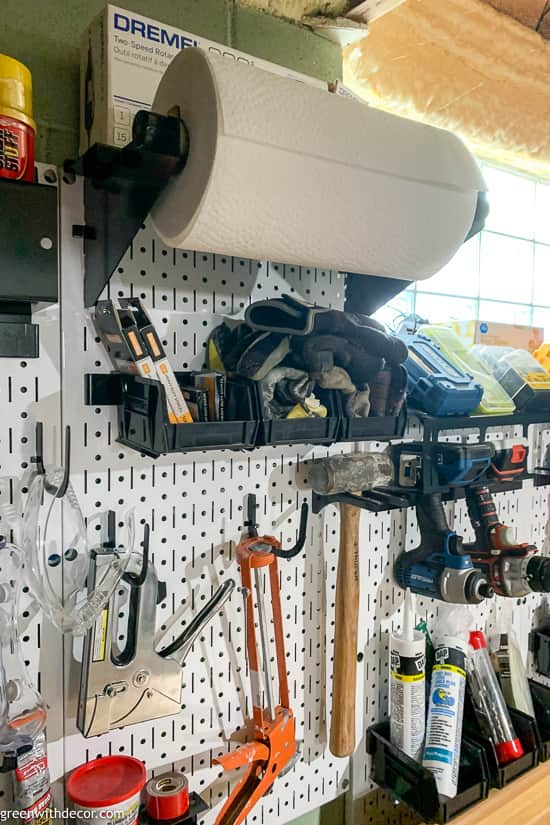 I swear we were always losing rolls of paper towel down here, and I love knowing we have a designated place for it now.
We also added this pegboard bin cabinet , which is perfect for holding nails and screws of all sizes. I love that it fits on the pegboard versus taking up counter space.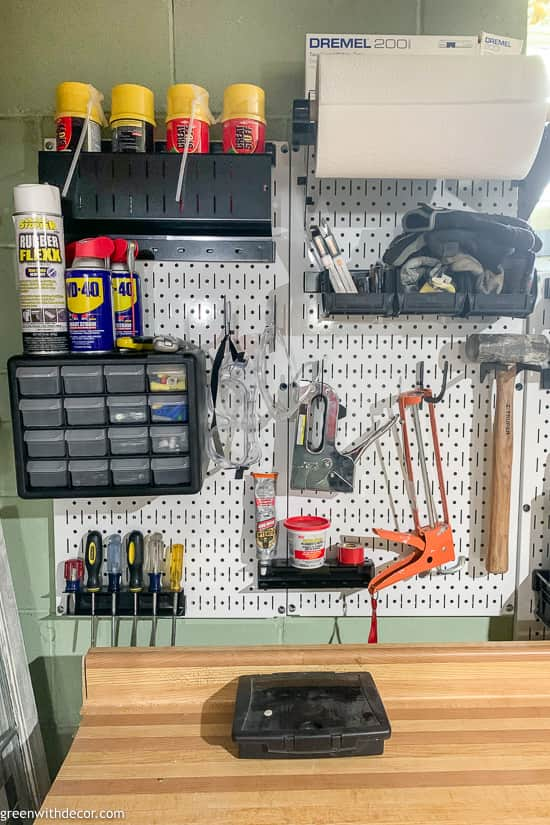 The drill holder storage racks are awesome for keeping drills organized.
Drills are such an odd shape, it's usually hard to store these in any organized way. This rack makes it easy to grab whichever one we need.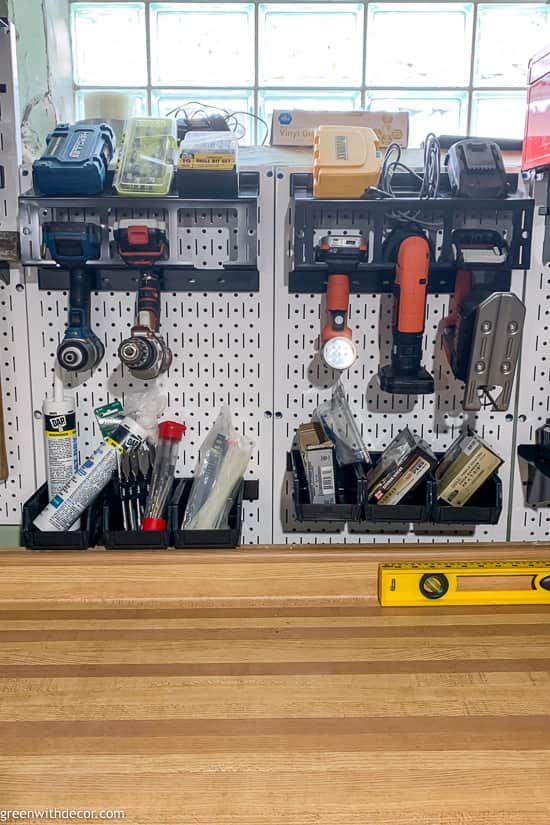 These U-shaped slotted pegboard hooks work great for all sorts of things like the caulk gun, staple gun and safety glasses.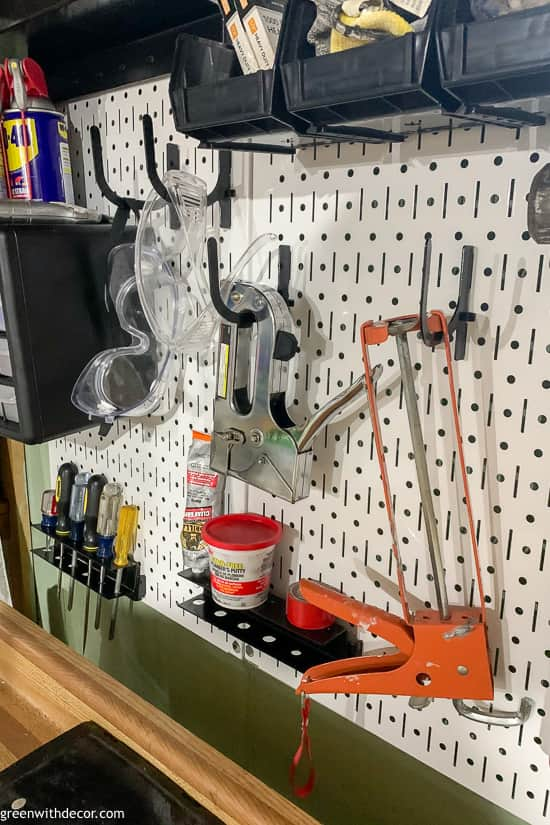 All those random things that are easier to find when they're hung up rather than stuffed in a disorganized tool bag!
It's amazing how much you can fit on a wall when you have a great system to organize it all vertically.
We also added a few clamp rack brackets around the corner to hold our step stool and clamps.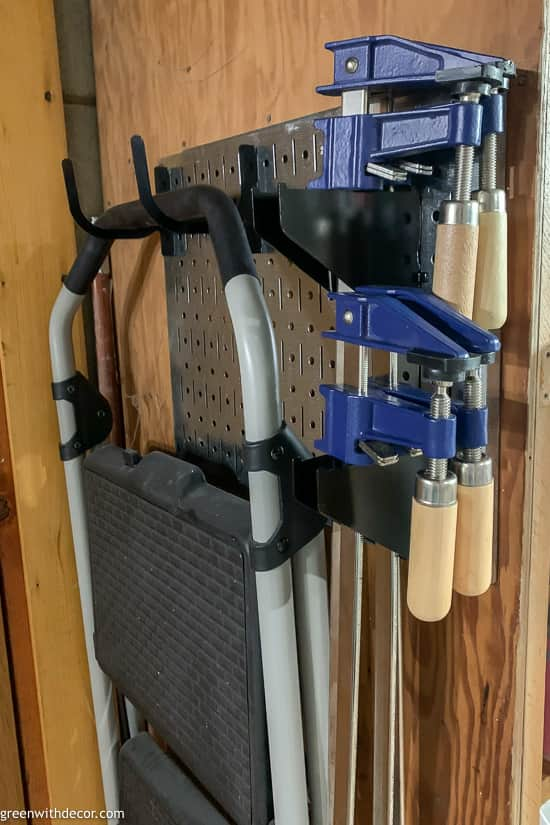 It's so nice to have everything off this counter workbench so we can use the space for small projects or just to get everything organized before carrying things upstairs to work on something.
We added a few old white shelving units we had below to store some larger tools and supplies. It all works so well!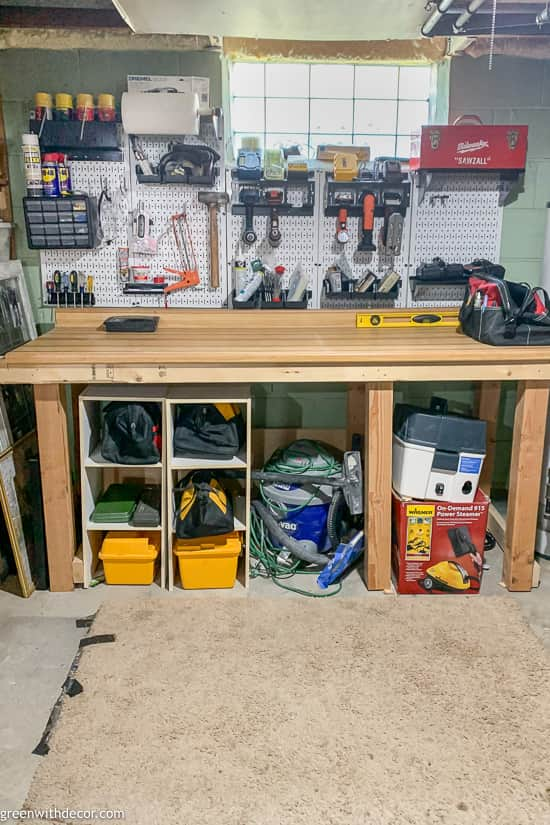 Amazing this space used to look like this, right?! Before and afters are the best.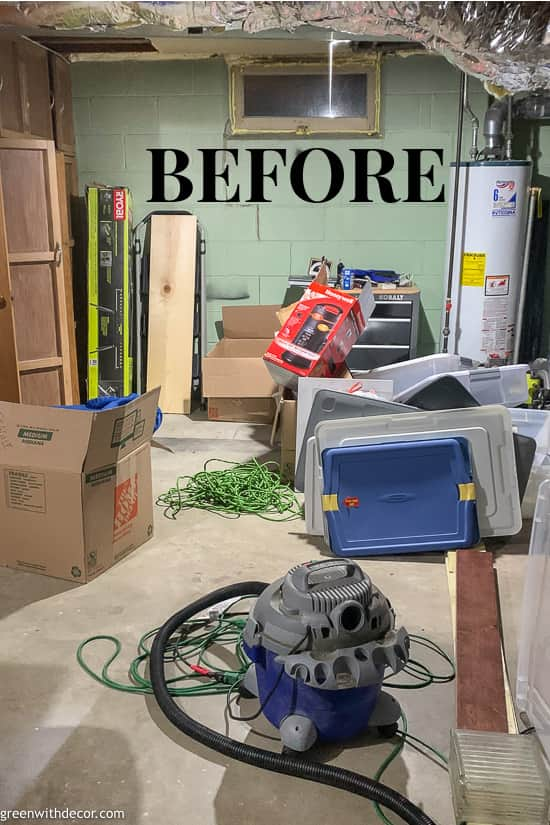 And one more thing. Out in the garage, we added another pegboard (gotta love the green!) and a few of these heavy duty pegboard hooks to hang our bikes.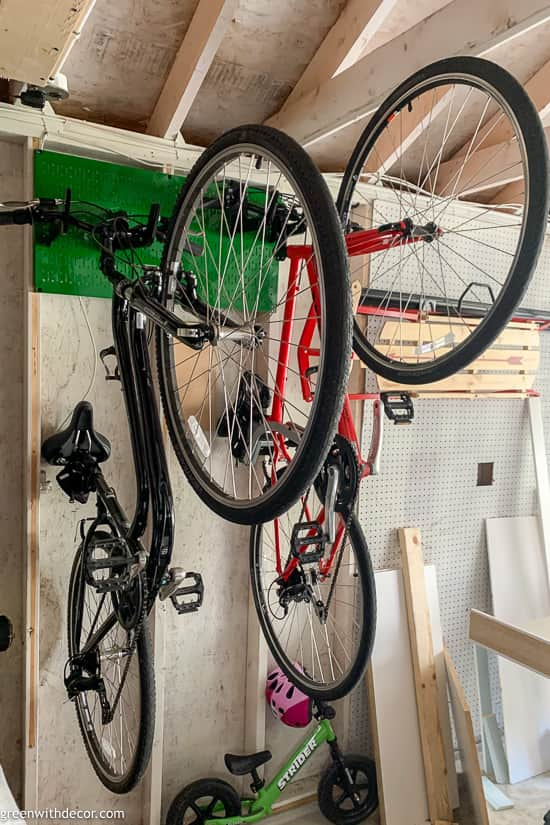 Perfect for keeping them out of the way all winter.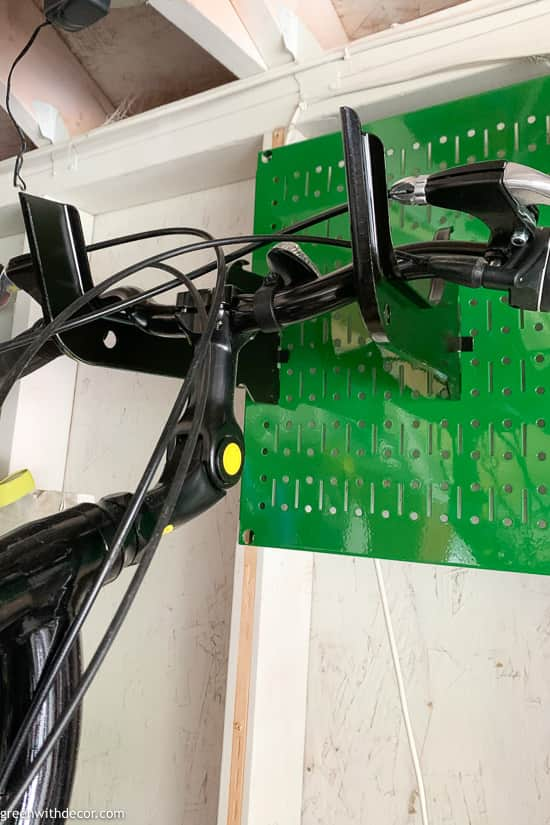 I'm really hoping now that we have a place for everything, everything gets put back away after we finish a project.
So far so good. We've had our new system hung up for a few weeks, and it's working great for us as we knock out house projects before baby #2 arrives. (Nothing like a deadline to get ALL the things done. But also could it be December already please?!)
GET THE LOOK:
Since a popular question I get is "Where'd you get that?!," here are links to the same or similar sources:
Have any other genius tool organizing ideas? Let's hear 'em!
Remember to bookmark or pin this post if you want to save it for later!


Pin it!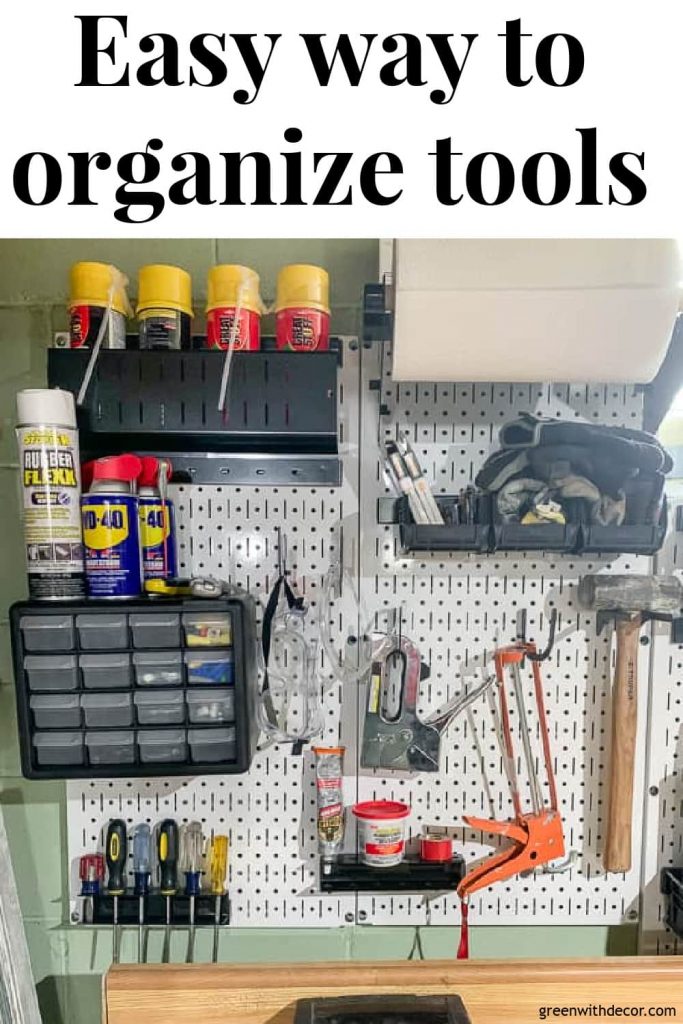 Want to read more posts like this?
Follow along: Get my emails | Facebook | Pinterest | Twitter | Instagram