Disclosure: This post is sponsored by Delaney Hardware. All opinions, images and love of pretty door hardware are 100% mine.
I've been waiting to share this post almost all summer! The weather here was crazy with summer weather not arriving till basically July so outdoor projects got delayed, but we're almost done with our outdoor project list for the year!
Which means we got a new front door installed and painted our side door … which more importantly means, we have gorgeous new door hardware!
Here's a peek at our front porch:
This post contains affiliate links. This means if you click the link and buy something, I may receive a small percentage of sales at no extra cost to you.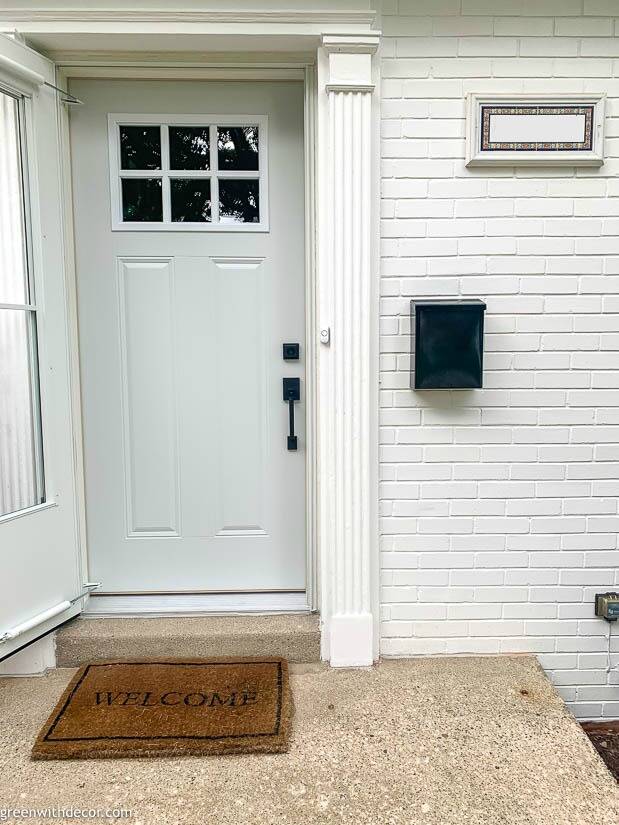 GET THE LOOK: Delaney Hardware Avino handleset | Welcome mat | Wireless doorbell | Mailbox
If you recall, our old front door was red, and the window was high so our foyer area was usually pretty dark.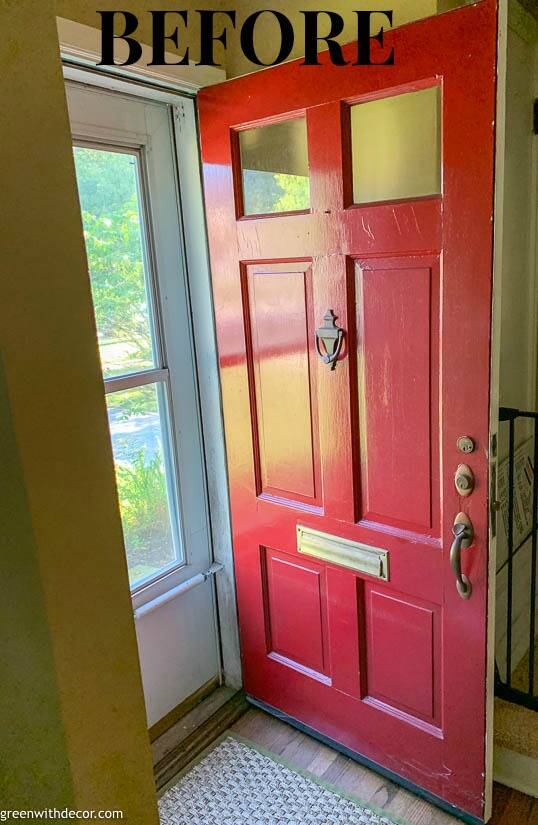 Much better now, right?!
As for the mail slot, it definitely was charming, but it let in tons of cold air all winter long, and it was just time for it to go. I know it's hard to let go of the old house charm, but sometimes function has to win.
And here's a peek at our side porch: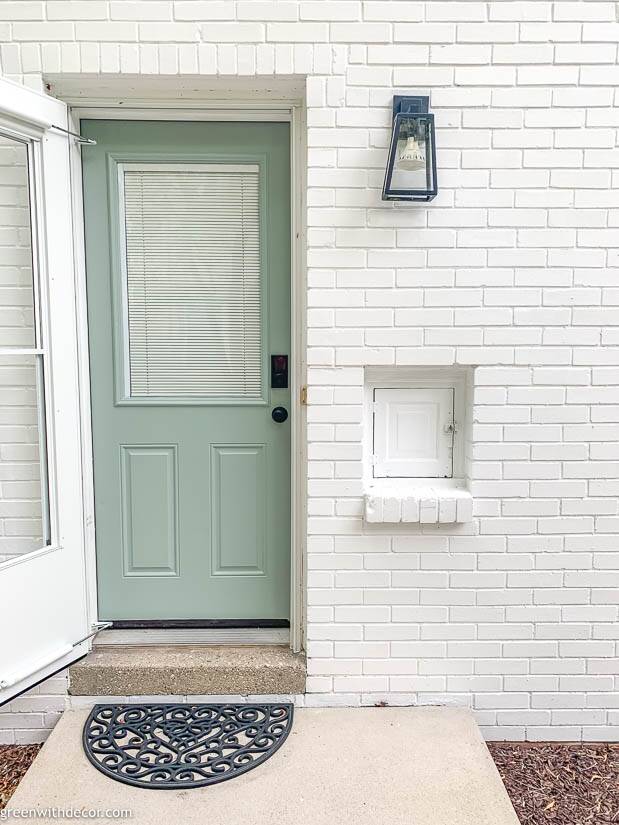 GET THE LOOK: Delaney Hardware smartlock | Black door mat | Light fixture
That little door next to the main door is the old milk crate delivery – isn't that cool?! It's painted shut, but I love the old charm of it. (And hopefully keeping it makes up for us getting rid of the mail slot, right?!)
This door was also previously red, and the paint job was just SO BAD.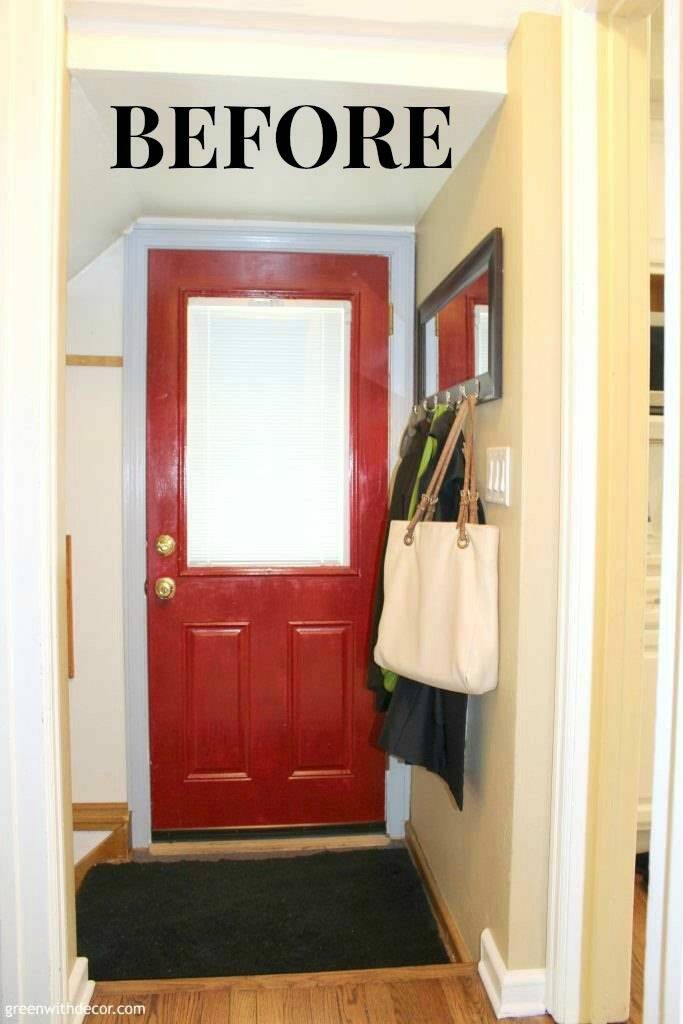 And that blue trim, eek! I'd blocked that from my memory!
I painted over that a long time ago but didn't get to the door till this summer. You can read more about painting the exterior door and the small entryway makeover in other blog posts, but today let's focus on the pretty new hardware!
New side door hardware / Smartlock:
On our side door, which is our main entry, we installed Delaney Hardware's ZW300 Smartlock. To say we love it is an understatement.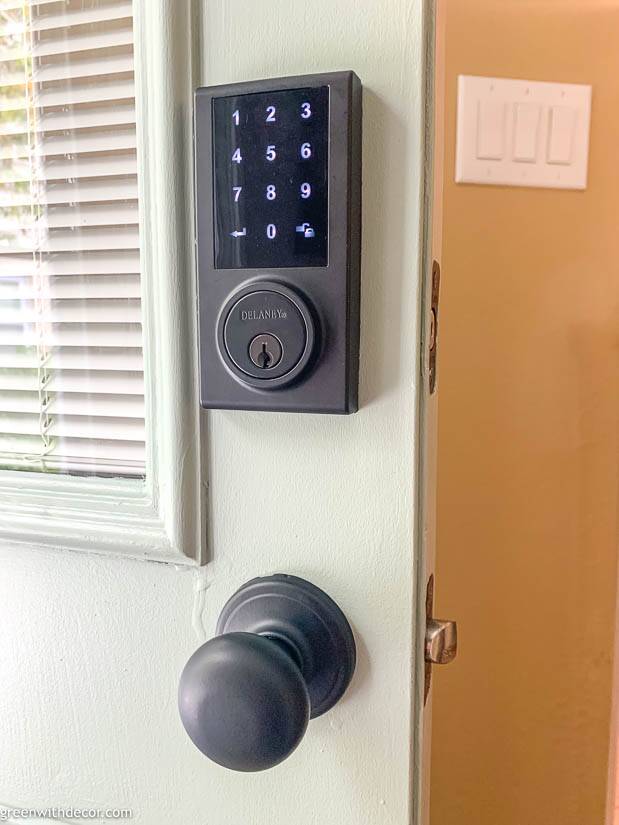 Some of our neighbors have smartlocks and always talked about how convenient they are.
But somehow, I still underestimated how awesome it is not to have to deal with keys (both locking and unlocking!) when you're trying to get in and out of the house while juggling a toddler and the 12 bags of stuff you always seem to be carrying whenever you're also carrying said toddler!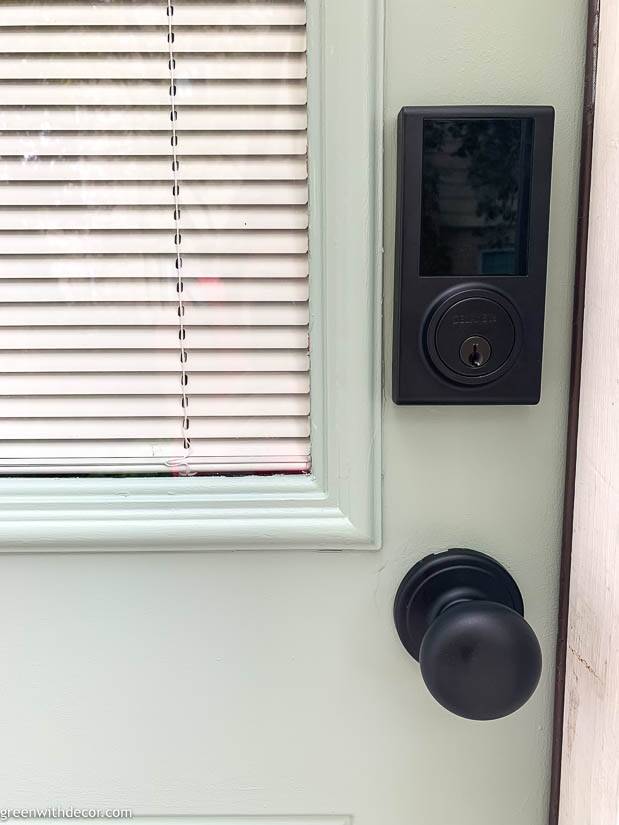 The Z-Wave Smartlock is easy to install. We didn't have to worry about drilling any new holes (Kalen's main concern when I told him I wanted a new smartlock!) and could slide the new lock right into the existing holes from the previous (very old) lock.
The installation videos on this page (click "installation" in the top menu) walks you through the process.
And the Smartlock comes with a camera hub you can set up anywhere in the house to monitor an outside area.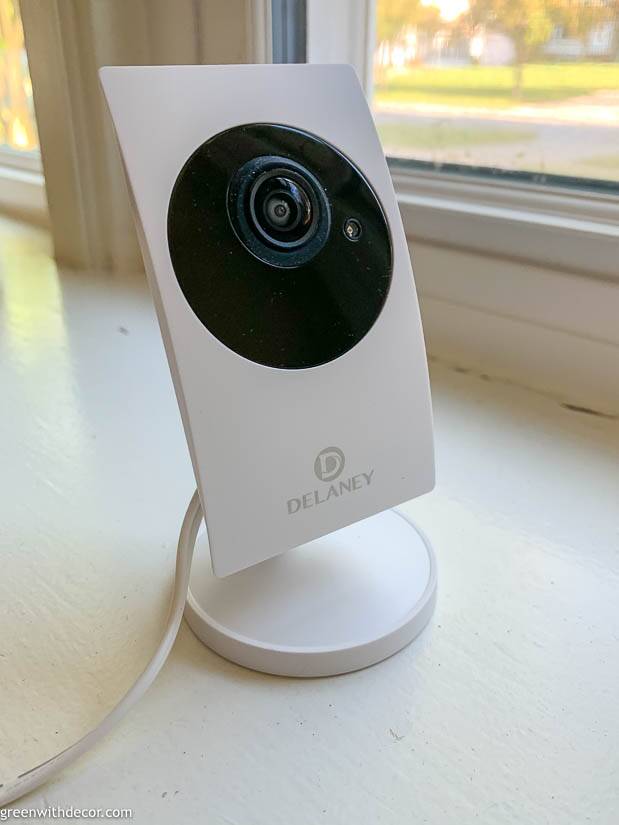 As a new mom that worries about ALL the things, I love having the camera. The Delaney app is free so you don't have to worry about paying any monthly fees.
One of my favorite things about the lock is that you can set up to 30 (!!!) entry codes so you can easily let in the cleaning lady, dog sitter, plumber, etc. and then not worry about them having a master code to get back in your later when you're not home.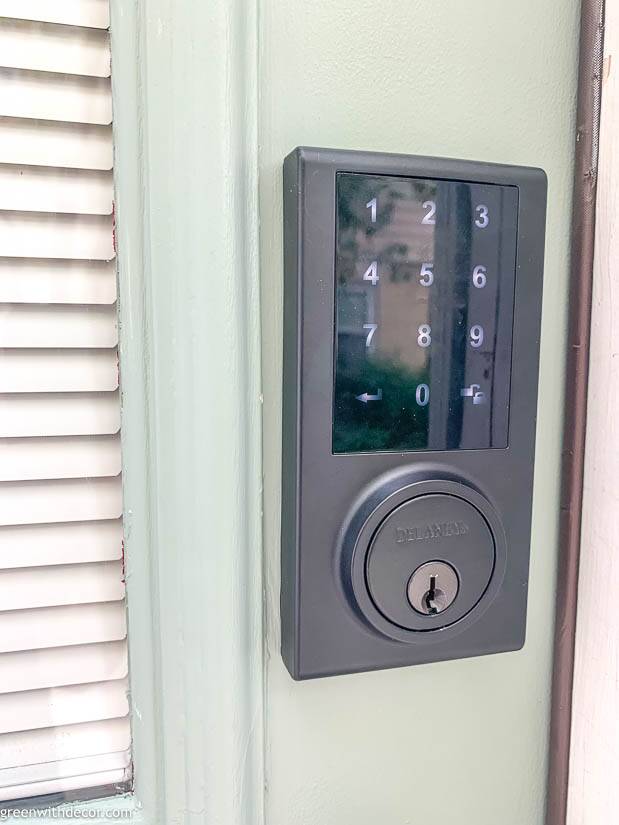 You can also easily track which codes are being used and when via the Delaney app.
And for those who still love having a physical key, you can also use a key in the Smartlock as well.
I keep one on my keyring just in case (being a mom really does make you worry about everything!), but we've had the Smartlock installed for a couple months and haven't run into any issues!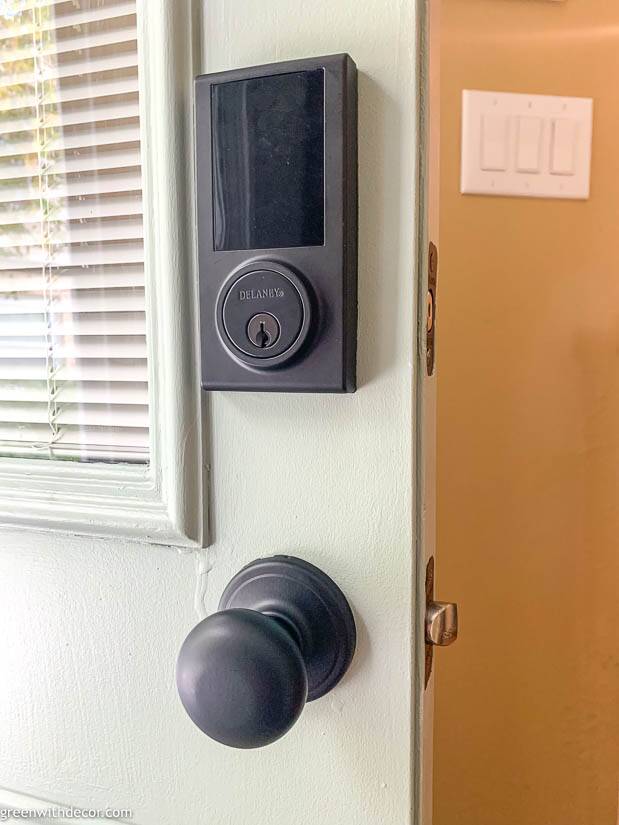 It takes AA batteries, and the battery life is usually about a year. (It lets you know when battery life is low so you won't be locked out!)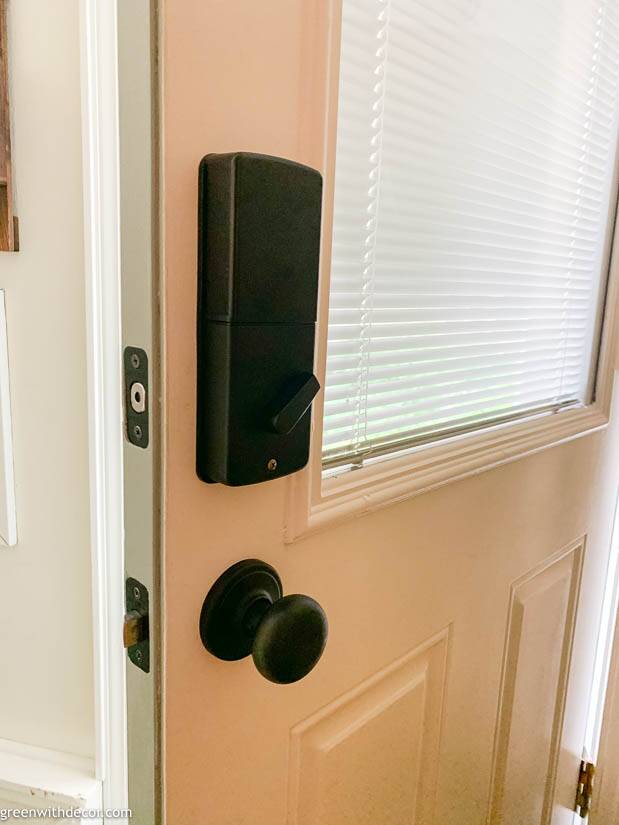 You can pair the Smartlock with any of Delaney Hardware's interior knobs or levels. We love the clean look of a simple round knob.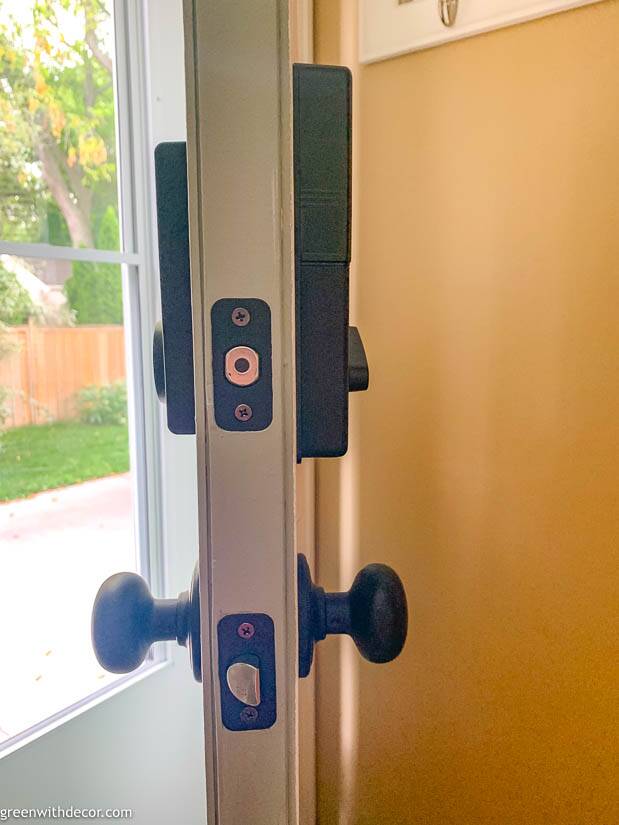 A quick note on color: We have silver hardware throughout our house, but I went with matte black hardware on both of our exterior doors for a couple reasons.
We have black light fixtures outside, and having just painted our brick white (which I'm still swooning over!), I wanted something that would pop a bit more against all of the white.
I was a little worried it would look funny on the interiors since we have silver everywhere else inside, but it doesn't bug me at all. I know people mix and match metals all the time – and I love it in other homes, but we just haven't done it in our house.
But with these being exterior doors – and not being right near any of our other silver hardware – it's not a big deal at all. Just thought I'd mention that in case anyone else is in the same boat!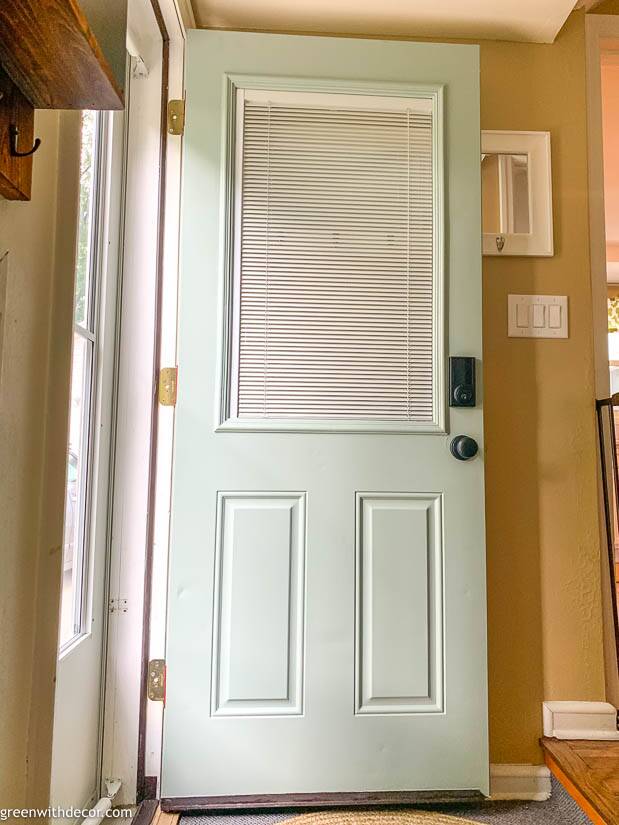 New front door hardware:
Going back to the front door, we had a contractor install our new front door (being an old house, there was some reframing that went into it – quite the project and beyond our skill level!) and the new gorgeous hardware.
We picked the Avino handleset, and I just love the square look of it. I wanted a more formal look for our front door, and the Avino is perfect!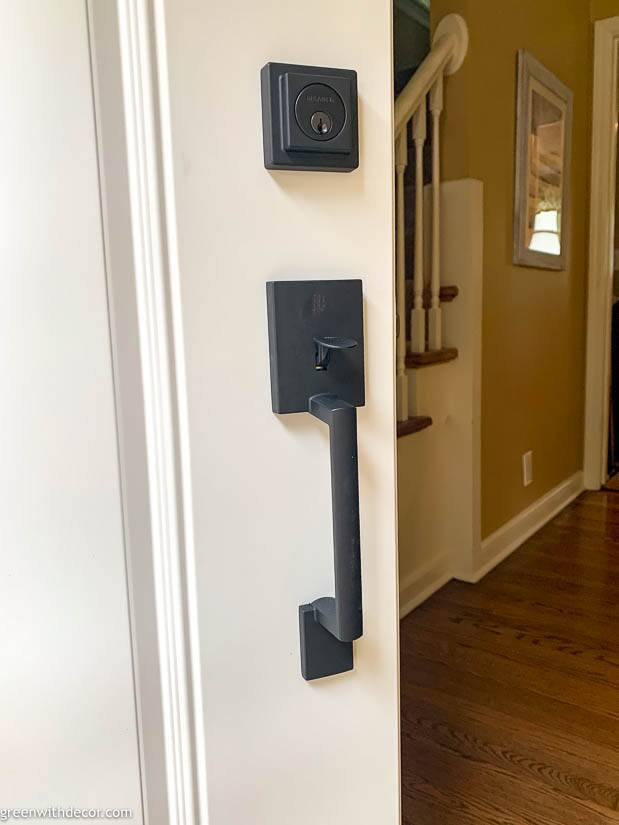 Again, you can mix and match the Avino with any knob or level, but I love look of a circular backplate paired with a round knob.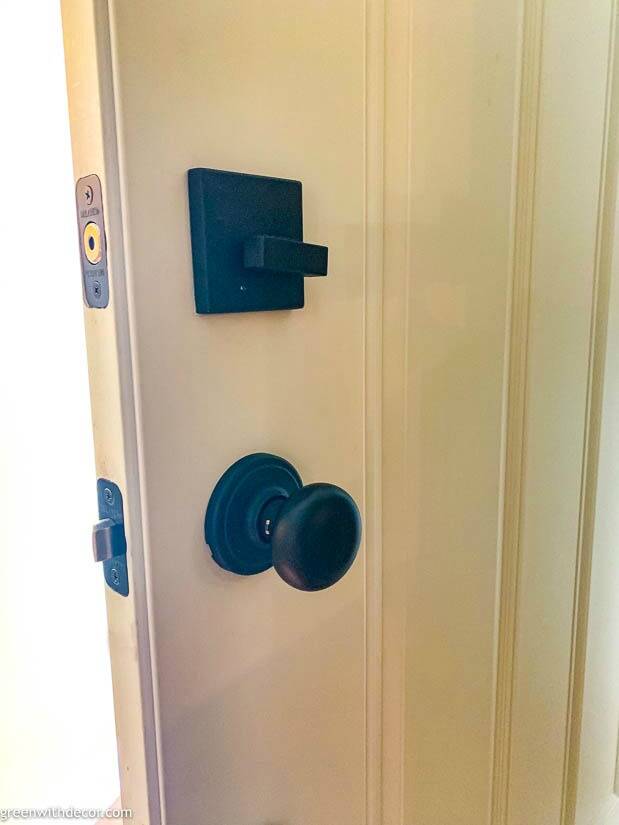 It looks soooo good on our new front door! I just love it every time I walk by!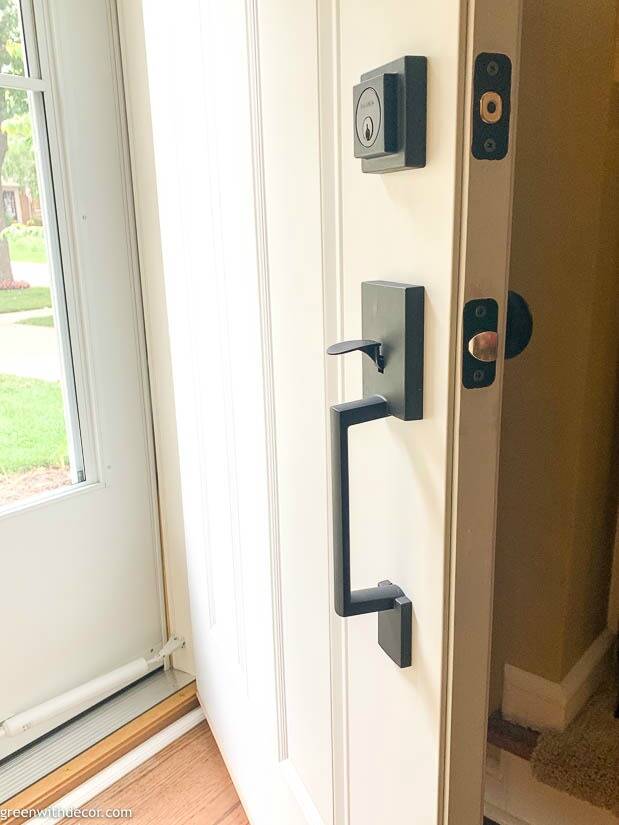 I am so happy to have this project done! The hardware is so pretty, and I've been excited to get these beauties installed since they arrived earlier this summer! They look awesome.
I'm debating painting our front door, too to give it a pop of color like the side door. But I want to live with the painted side door for a bit before I dive in and paint both. Stay tuned on that one!
You can check out all of Delaney Hardware's exterior hardware here and their knobs and levers here. You can also see where to buy Delaney Hardware near you here.
What summer projects are you working to cross off the list before fall weather sets in?
We're wrapping up this exterior makeover, but if you missed any previous projects, catch up here: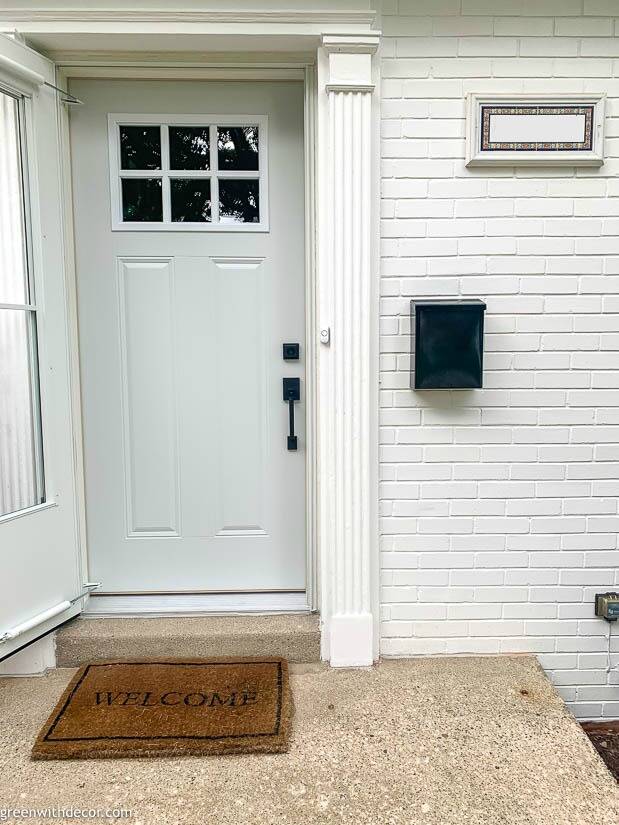 We also installed that new mailbox, got that cute welcome mat and installed that wireless doorbell. More details to come on all!
Remember to bookmark or pin this post if you want to save it for later!


Pin it!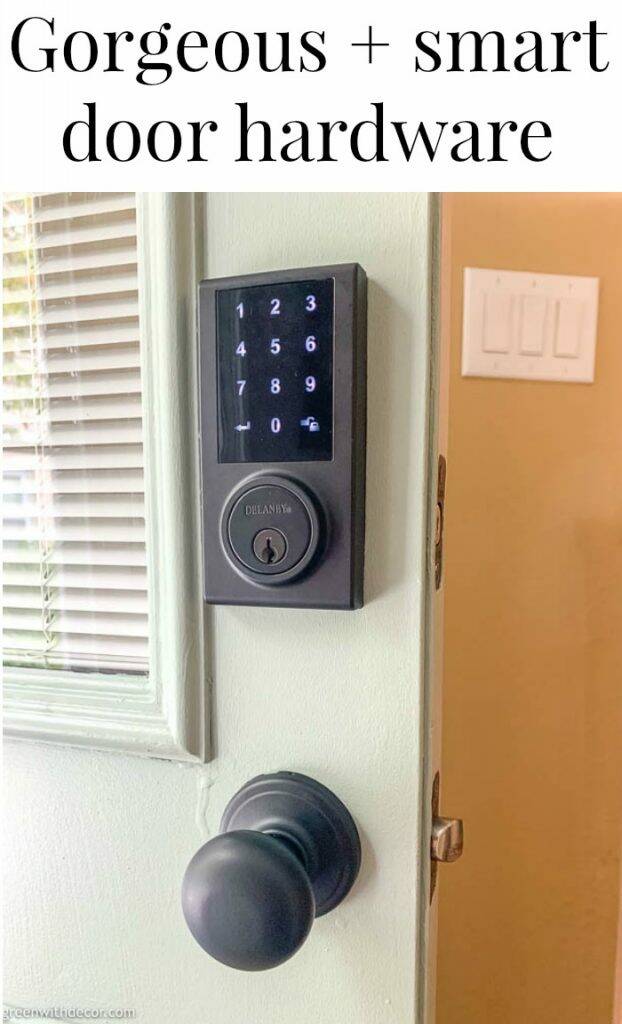 Want to read more posts like this?
Follow along: Get my emails | Facebook | Pinterest | Twitter | Instagram