Disclosure: This post is sponsored by Steinhafels. All opinions, images and love of pretty patio accessories are 100% mine.
Happy summer!
I realize it's July, but in Milwaukee, summer was SLOW to arrive, so summer basically only started a few weeks ago here. Which means I finally got around to decking out the patio!
I've been adding more blues to all of our rooms lately, which is really funny because there was a time when I never decorated with blue. Now I love it, and it goes well with green!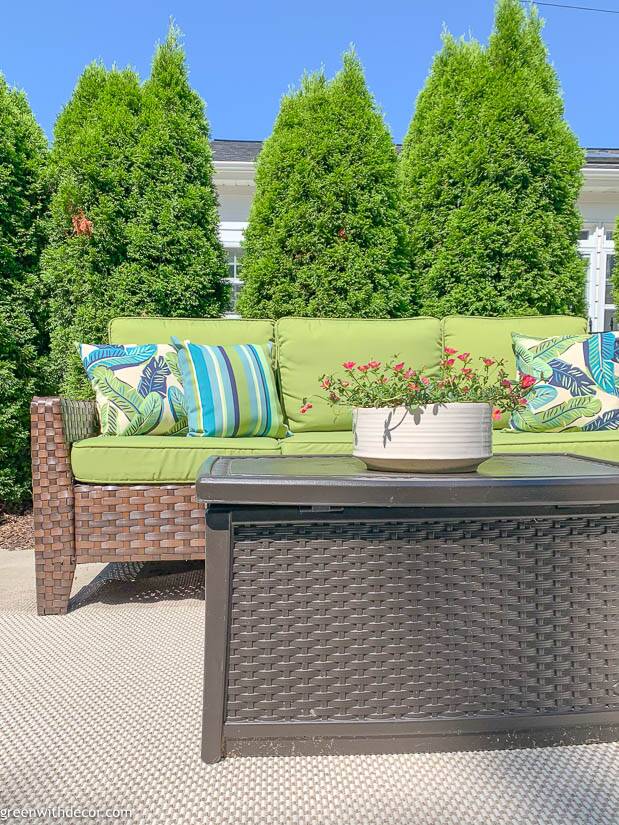 We added our patio shortly after we bought our house. We used to have a HUGE tree right outside the back of our house, which I was definitely afraid was going to come crashing into the house during some crazy thunderstorm one night.
Plus its roots were right in the way of where we wanted a patio, so it had to go. Here's how the yard started: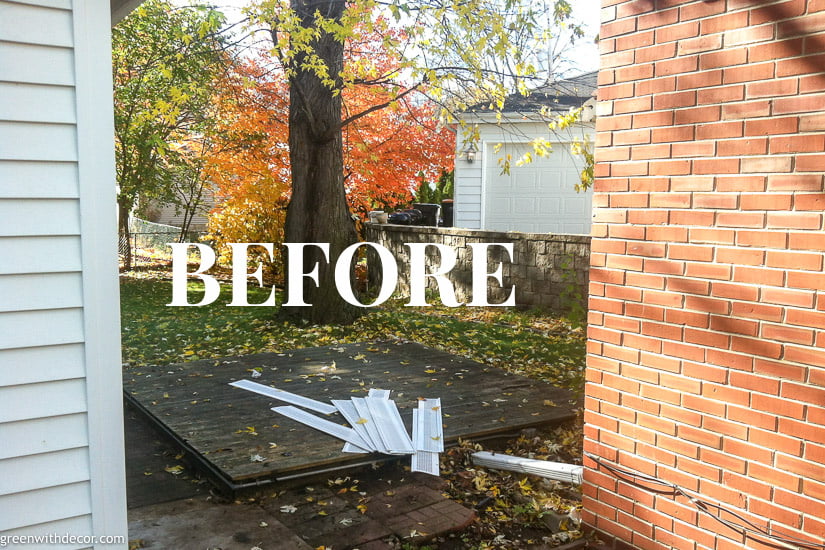 It definitely wasn't set up for those summer nights on the patio we all love.
And now here's that same view: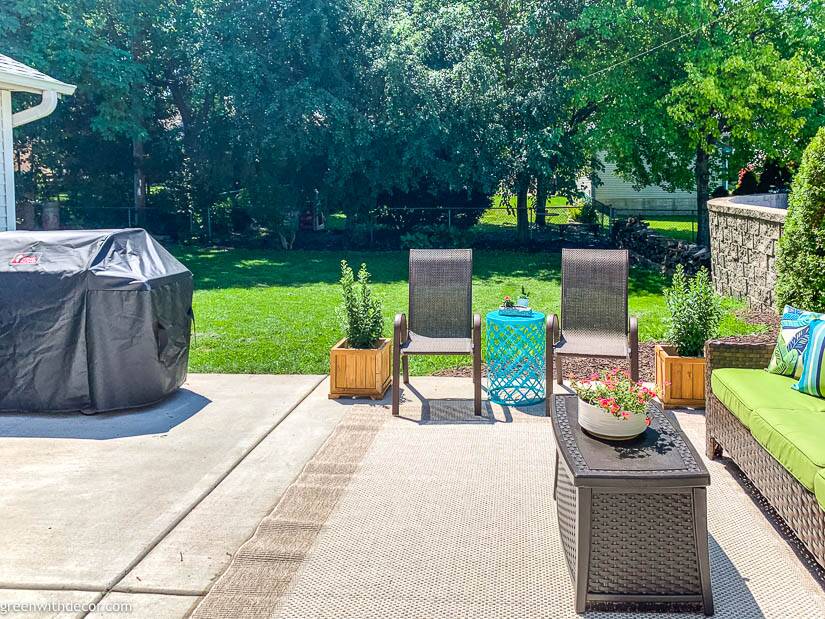 (The other side of our patio holds our 3, yes 3!! grills plus our table/chairs, so we'll focus on the lounging part of the patio today! As for the 3 grills, we may have gotten a little out of control this year buying grills, but the food has been delicious all summer, so I'm not complaining!)
Since we've been gone the past two summers, I felt like our patio needed a little refresh with some new accessories. And new grills, apparently.
Mainly pillows (my obsession continues), a new outdoor rug and some planters. We definitely haven't been the best at landscaping (too busy with inside projects) despite the fact that every year we say we're going to get to it … and then don't, so we're starting small!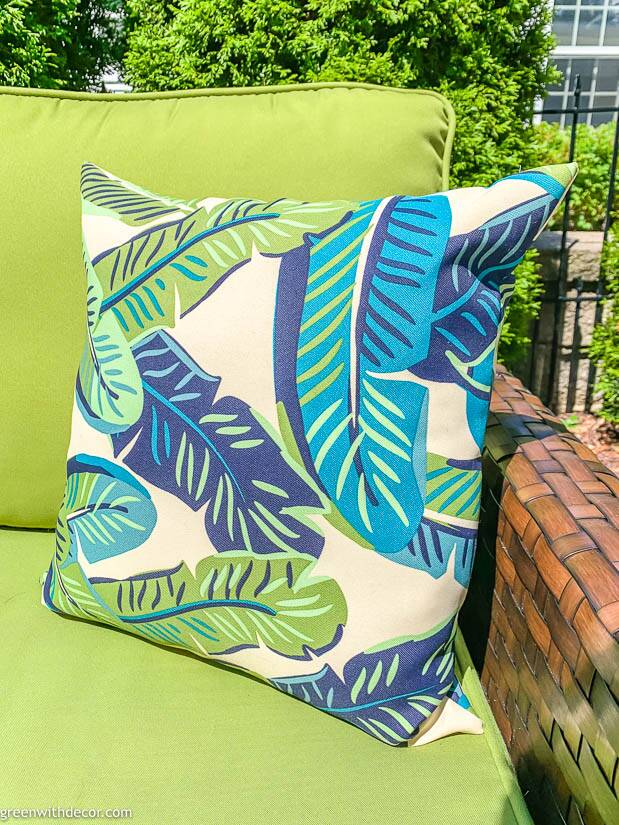 This post contains affiliate links. This means if you click the link and buy something, I may receive a small percentage of sales at no extra cost to you.
I love these new outdoor pillows (banana leaves here and striped here). They're perfect for tying in my new love for green and blue.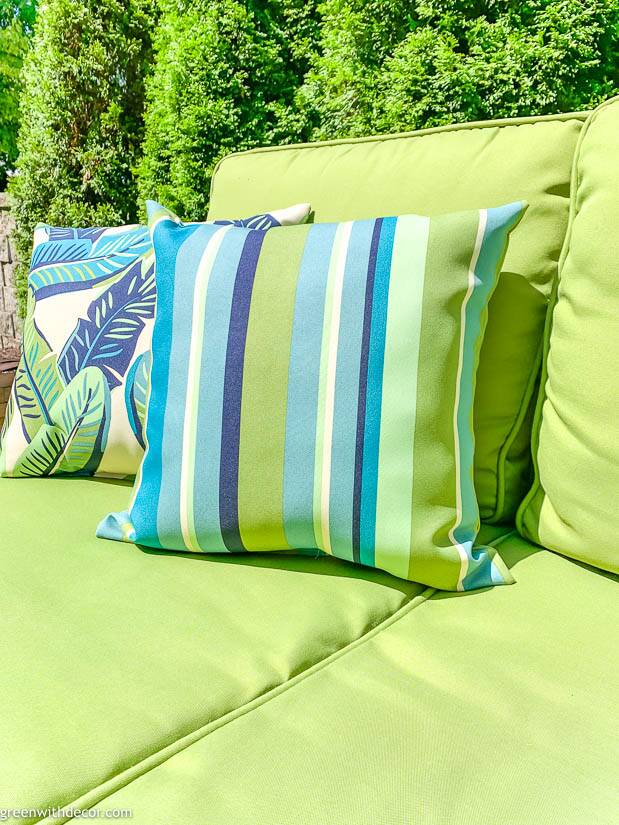 You can see all of Steinhafels' outdoor pillows here – a lot of them are on sale right now!
If you've ever read any of my posts about patio decorating, you've probably heard me talk on and on about outdoor rugs. But really, they're the best for adding coziness and instant decor to an outdoor space.
We'd had our last rug for a few years, and I was ready for a change. I wanted to lighten things up a bit, and when I saw this gorgeous outdoor rug from Steinhafels, I knew it was made for our space!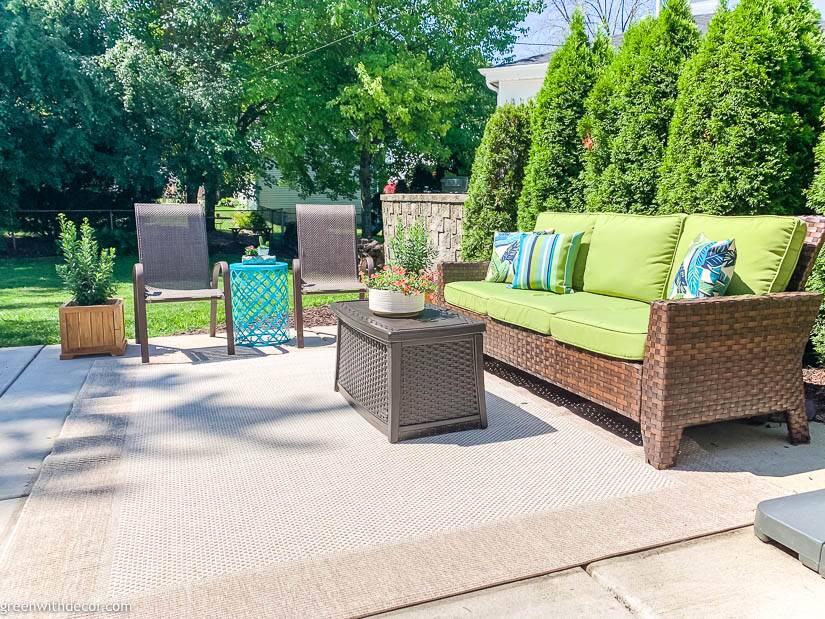 Here's a closeup so you can see the pattern. It comes in a light blue, too, which is really pretty but wouldn't have gone as well with our green couch.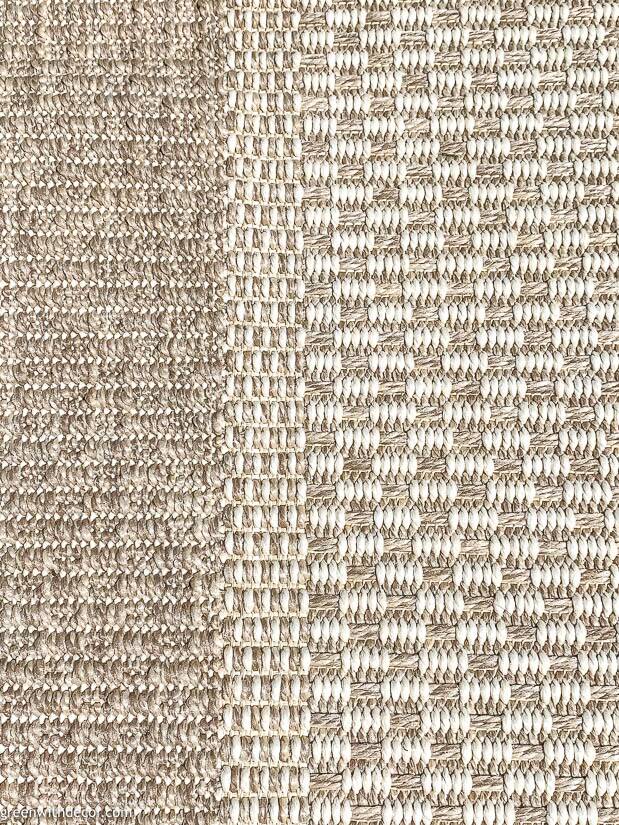 I love how it's not just solid so it will hide some dirt Oakley will inevitably drag on here.
She loves to nap on our outdoor rugs and was pretty distraught during the day we switched out the old one but hadn't put our new one down yet. She clearly thinks the rug is there for her!
I absolutely love Steinhafels' selection of gorgeous planters. (See all of their planters here.) Which might be obvious, since I got three different kinds!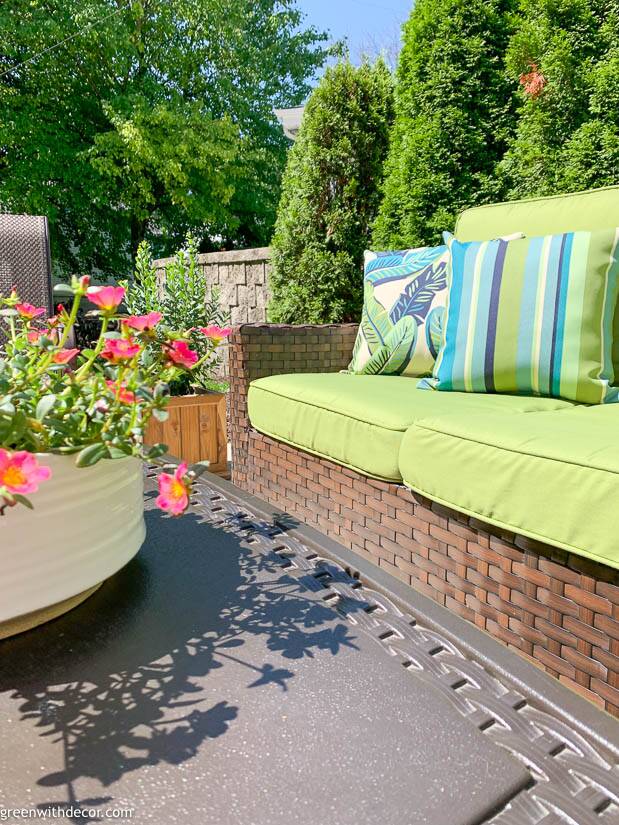 How pretty are these wood planters?! I love them for adding some greenery. Plus they match our fence really well, which you can see in the background below.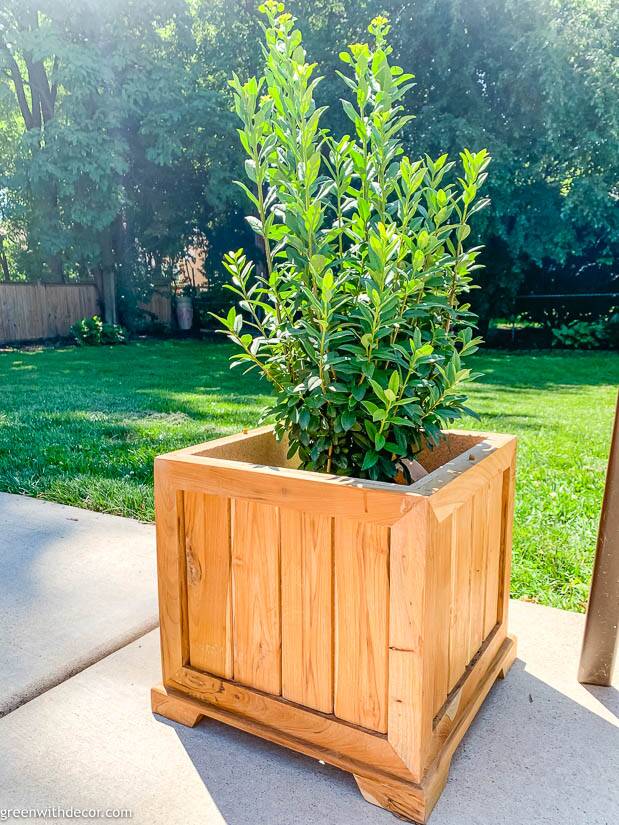 We bought the plant Straight Talk for them since they won't get too wide (only 2 feet) and can survive cold winters!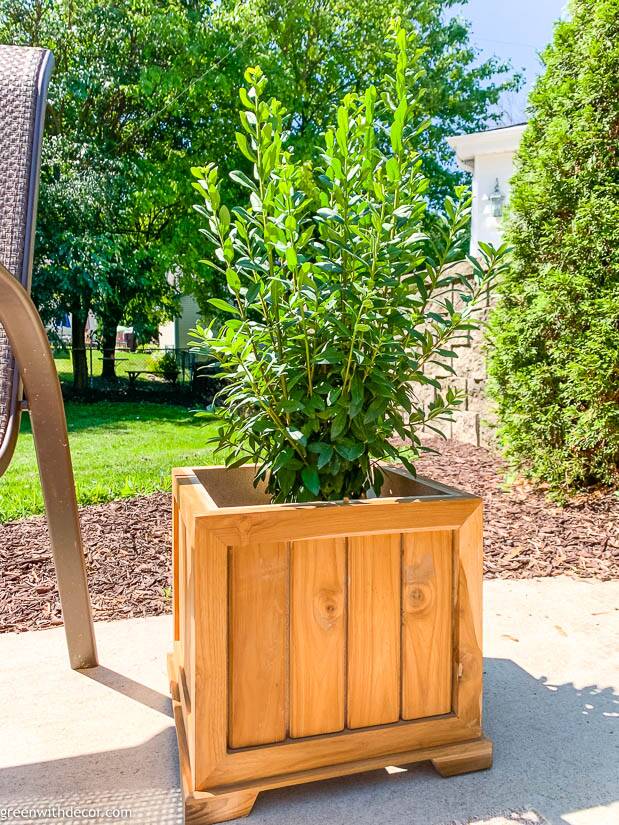 We have a long way to go in terms of landscaping, but it's so nice to have some 'life' back here with these new pretty plants! Some day we'll really get our act together and plant something pretty along the back fence.
This white ceramic planter fits perfectly on our coffee table for a little outdoor centerpiece.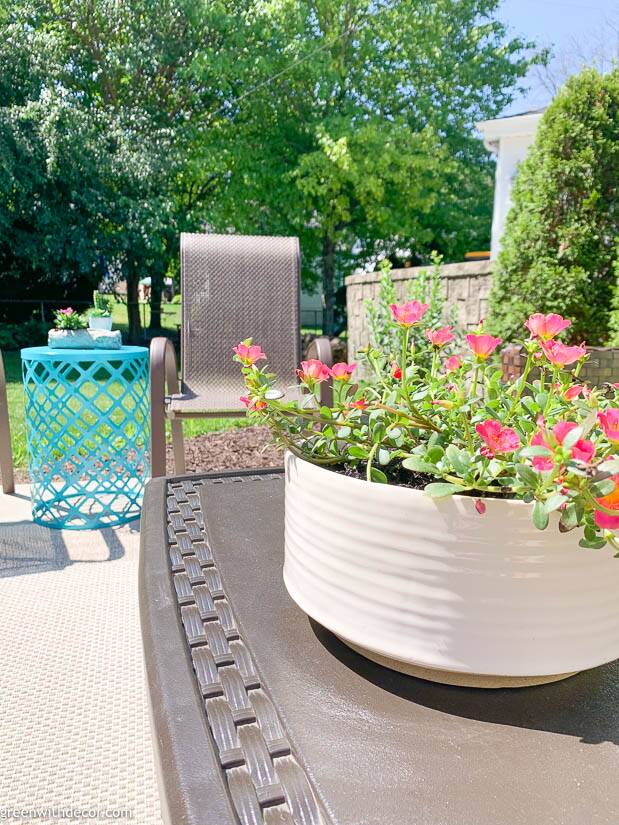 We bought a Mojave Pink Moss Rose plant for it, and I love how it fills out the bowl perfectly.
I'm already realizing this plant LOVES sun and looks way better on sunny days when it's all upright and happy.
And how cute is this little driftwood planter?! I love how it adds a little coastal touch out here. The flower in here is a Dianthus. It's the perfect pop of pink to tie in with the plant on the coffee table.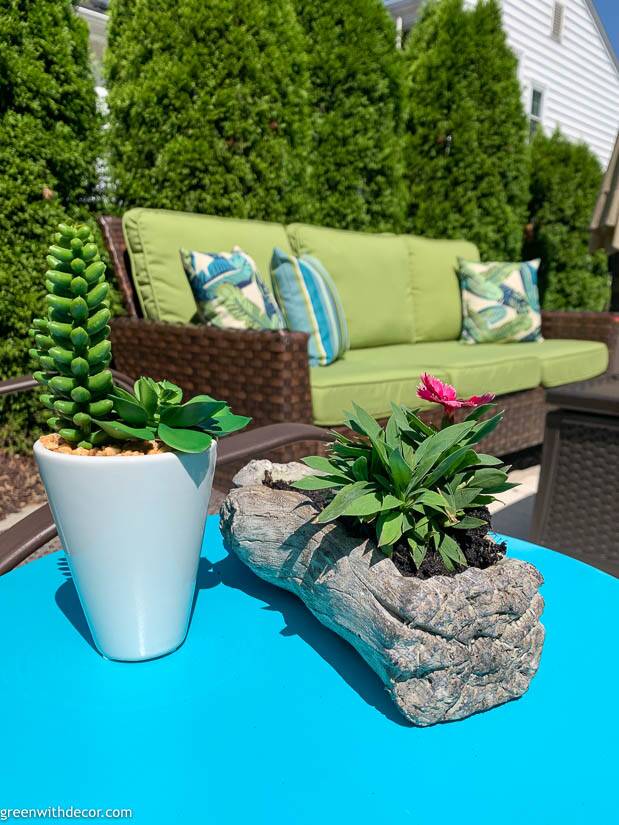 I snagged the faux succulent from Steinhafels, too. (The rest of the plants out here are real, but I thought this little guy was too cute to pass up!)
We've had this end table for a few years now. We freshened it up with spray paint last year. (Tutorial is here: The best spray paint for outdoor furniture.)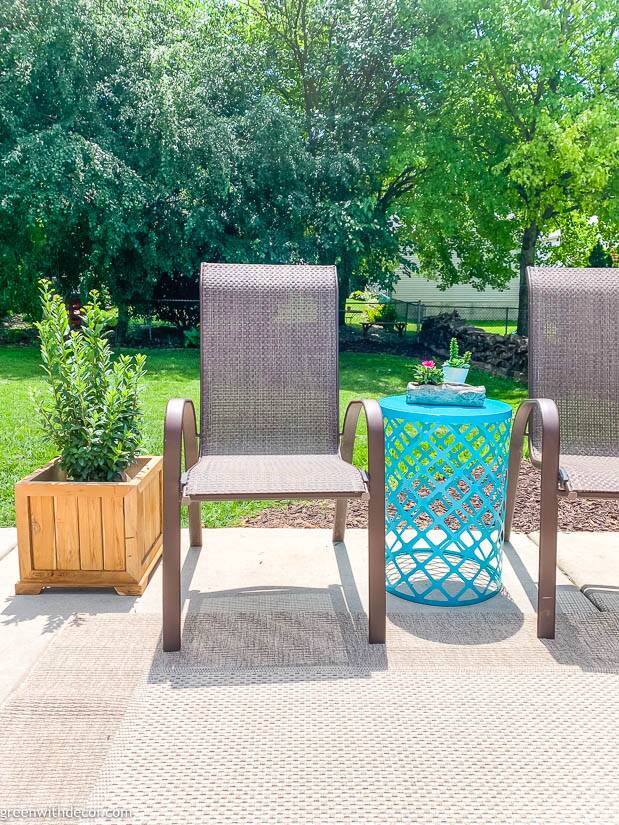 Basically all you need to dress up a patio? Pillows, an outdoor rug, planters with pretty plants and a little spray paint!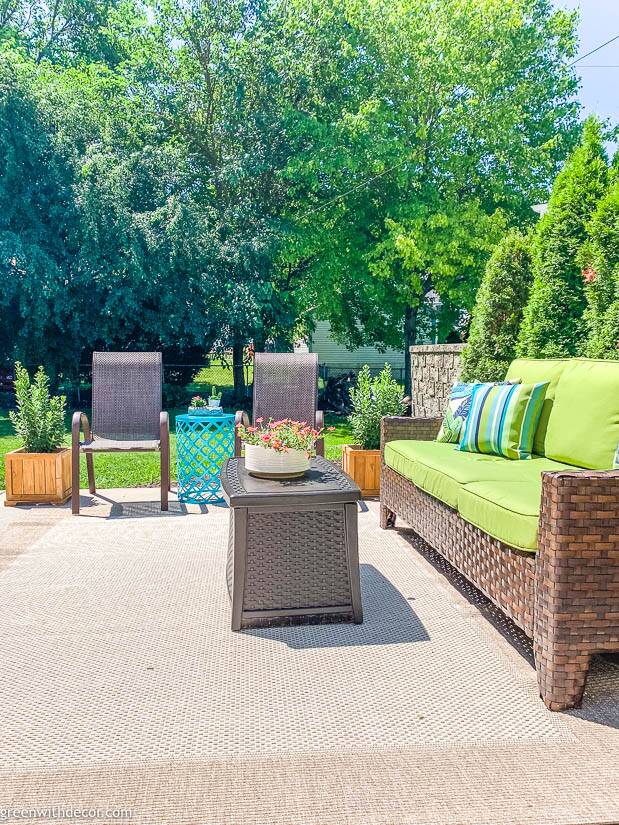 If you're also in the market for new patio accessories or patio furniture (they have such pretty full patio sets, including some with firepits!), check out Steinhafels' website. If we had a bigger patio, I'd totally be getting this big comfy sectional!
GET THE LOOK:
Since a popular question I get is "Where'd you get that?!," here are links to the same or similar sources:
We have some other outdoor projects planned that we're trying to knock out before summer is over so stay tuned for those! Meanwhile, I'm excited to enjoy the warm weather on our patio with our new pillows!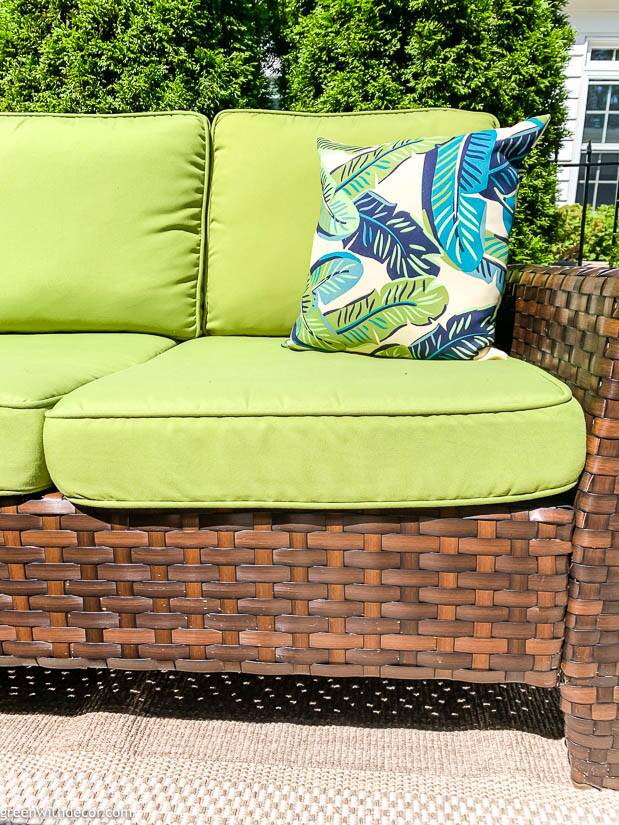 If you want more easy patio ideas, check these out:
Remember to bookmark or pin this post if you want to save it for later!


Pin it!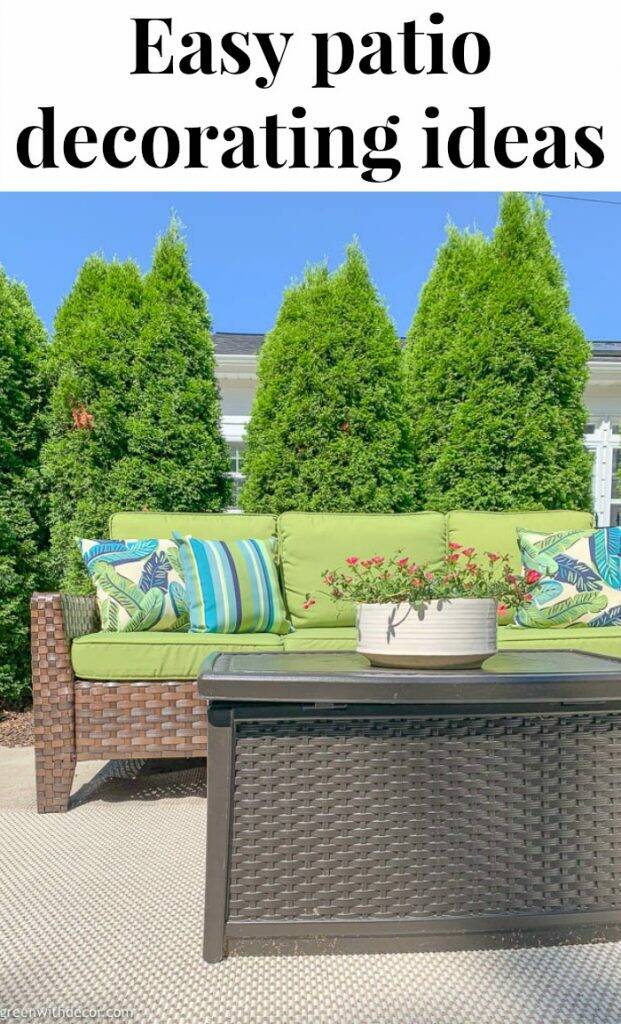 Want to read more posts like this?
Follow along: Get my emails | Facebook | Pinterest | Twitter | Instagram