We've slowly been working on our small entryway, which is literally just a landing at the top of our basement stairs before you step into the rest of the house.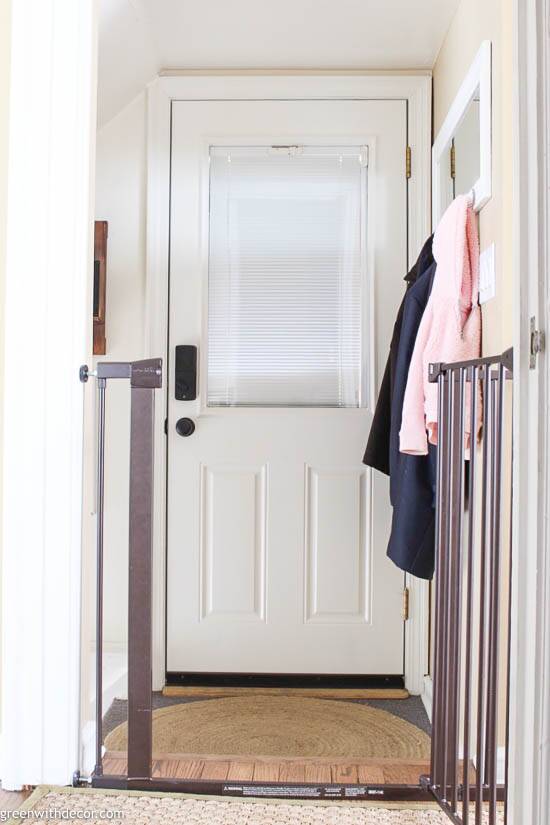 We'd love to have a massive mudroom with storage for hats, coats, boots, bags, etc., and we have some ideas that may or may not happen down the road, but for now, this little landing is jammed with storage since it sees a lot of traffic.
It's the door we use every day and how family and friends come in, too.
Small entryway before and afters:
So let's look at some before and afters of this space because those are always fun! The space certainly hasn't gotten any bigger over the years, which is the real dilemma, but paint really does work wonders.
Basically, paint and smart storage ideas is the name of the game here.
Here's a farther out, super old before picture from when we first moved in / when our lives revolved around our kitchen and bathroom renovations. (See those here: white kitchen renovation reveal and bathroom renovation reveal.)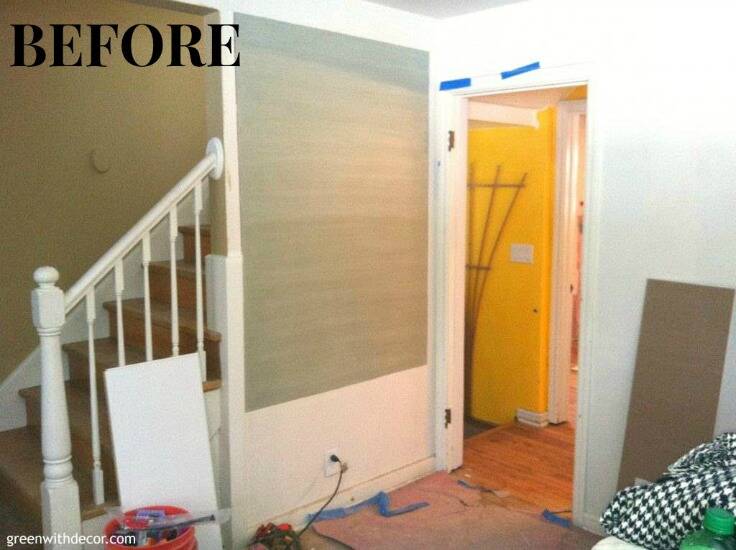 And now: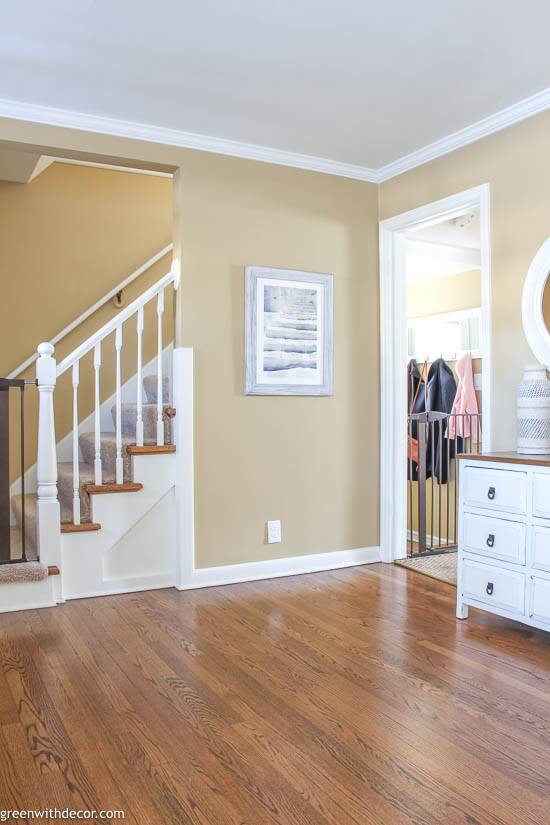 If you're new around here, when we bought the house, pretty much every room in our house was painted a different color. Eek.
This little entryway had a yellow wall, red door and blue trim. And there was wood trim leading down the basement stairs. Way too much going on for such a little space!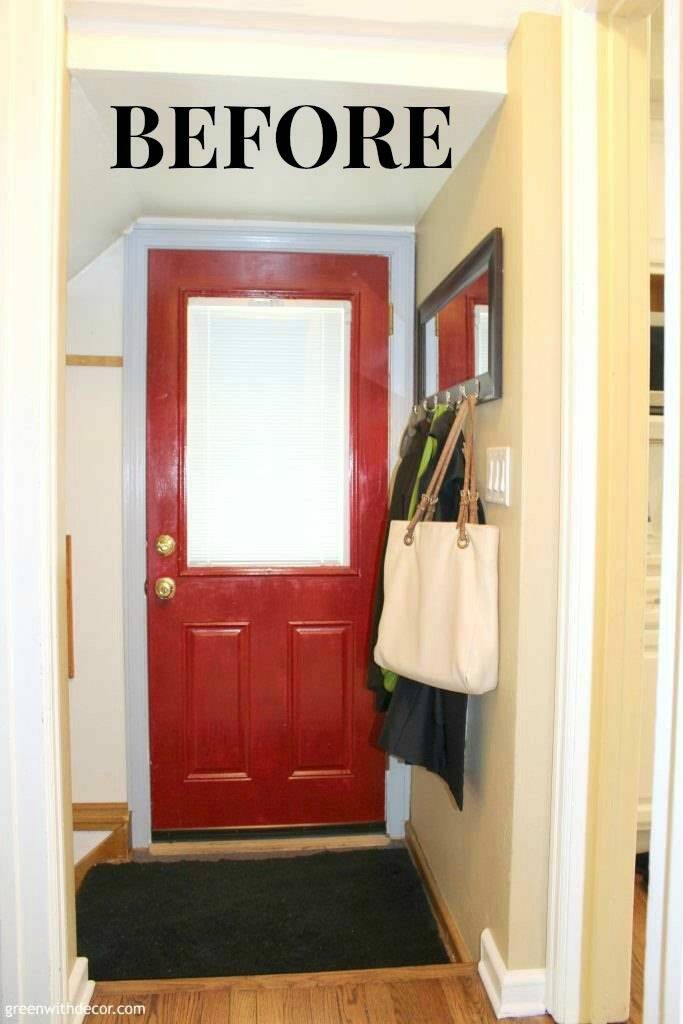 I painted all of the trim around the door and leading down the basement stairs (see more here: how to paint a banister), but then it stayed like this for a few years.
I really can't believe we lived with that bright red door for so long!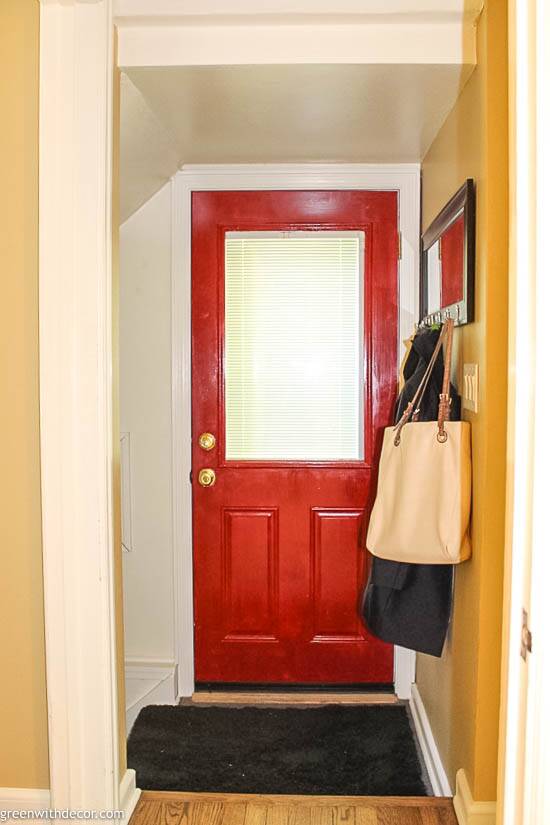 I share this in-progress photo though because these things take time, and I think it's way too easy these days to get caught up in makeovers that seem to happen overnight when you're watching from afar or scrolling through social media.
No matter how long it took, I'm so glad the red door is gone! And this space is SO much brighter than how it started: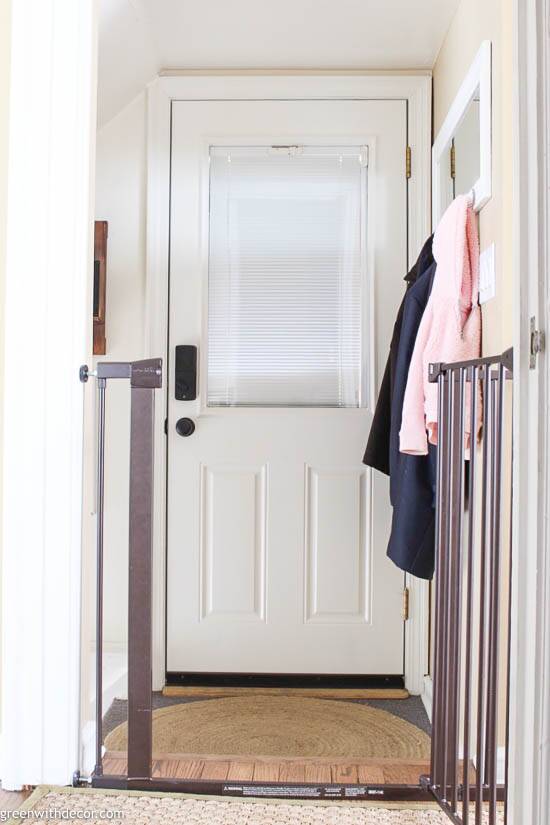 This post contains affiliate links. This means if you click the link and buy something, I may receive a small percentage of sales at no extra cost to you.
Here's another (before) view coming up the basement stairs (with a cameo from Oakley!):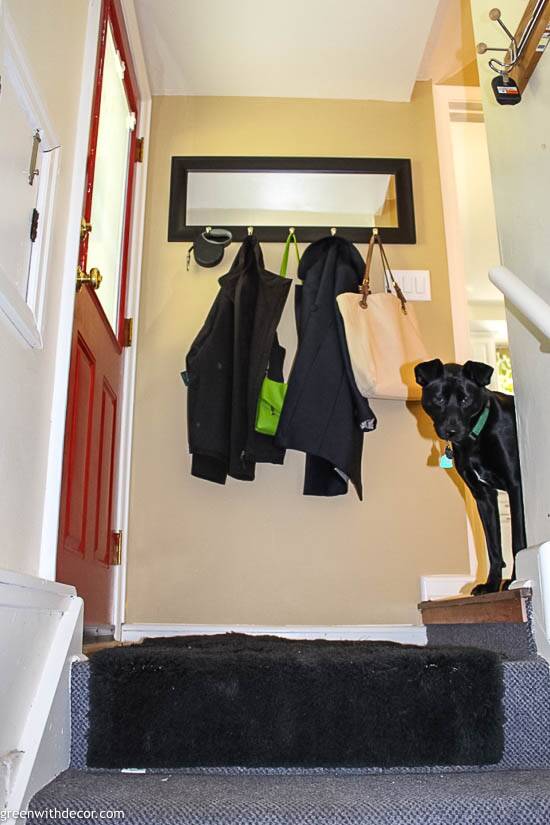 By the way, finding a rug that fit this space took forever! But I love this one that we found.
And now: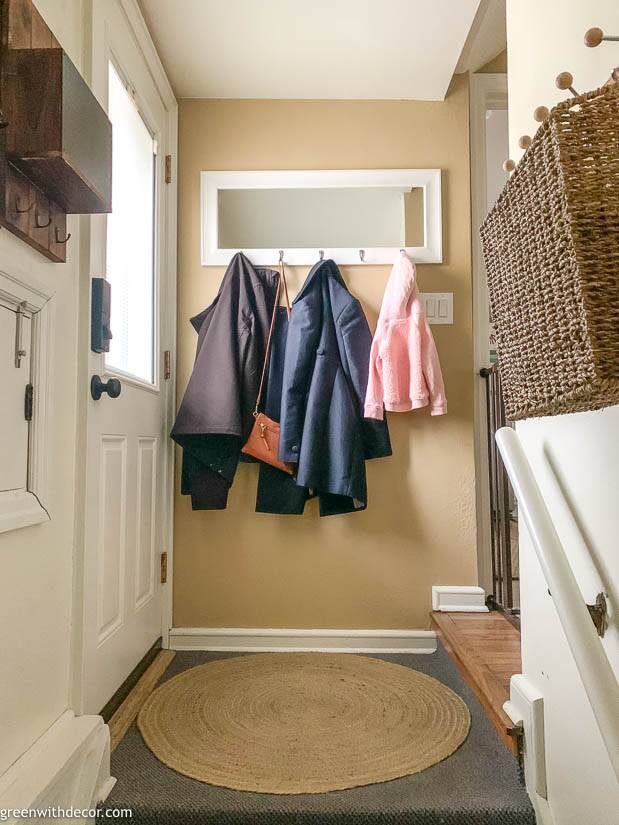 And a peek with the door open. I just love the blue color!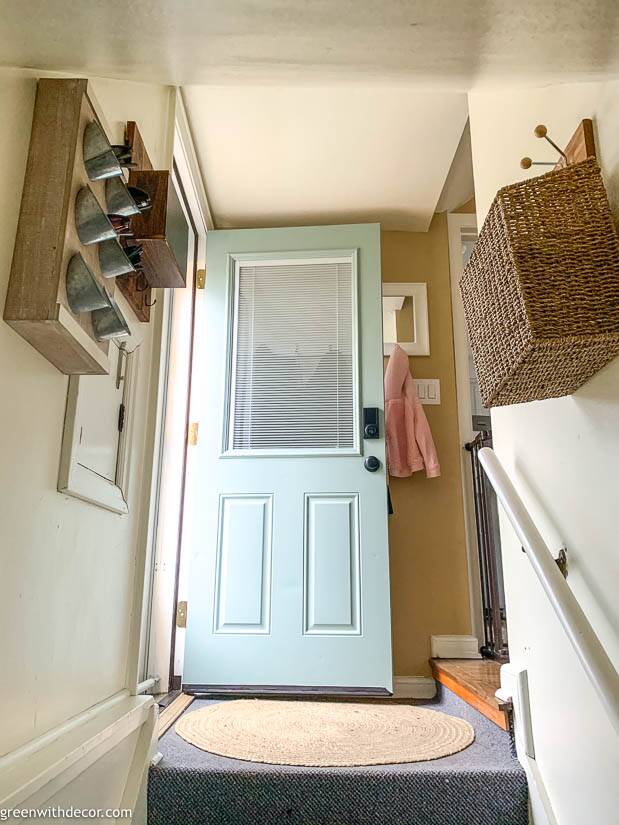 You can see how we painted our exterior door here. I put off that project for YEARS, and it really wasn't hard. I shouldn't have procrastinated that one!
(I love the blue but painted the inside of the door white to help keep this small space as bright as possible.)
The carpet may still be ugly, but this cute rug helps cover it up until we renovate our basement and/or figure out a larger mudroom plan at some point.
Small space storage ideas:
Despite the fact this space is small, we've managed to squeeze in some creative wall storage now that all of the painting is done.
Coats / bags:
I shared this little mirror / hooks combo recently (see it here: how to paint a mirror frame). It's amazing how even painting something as small as a mirror brightens up a small space!
It's the perfect small space solution for hanging coats and bags.
Dog leash / keys:
This message center holds keys and Oakley's leashes. I love that it hides the dog leash so we don't have to stare at it!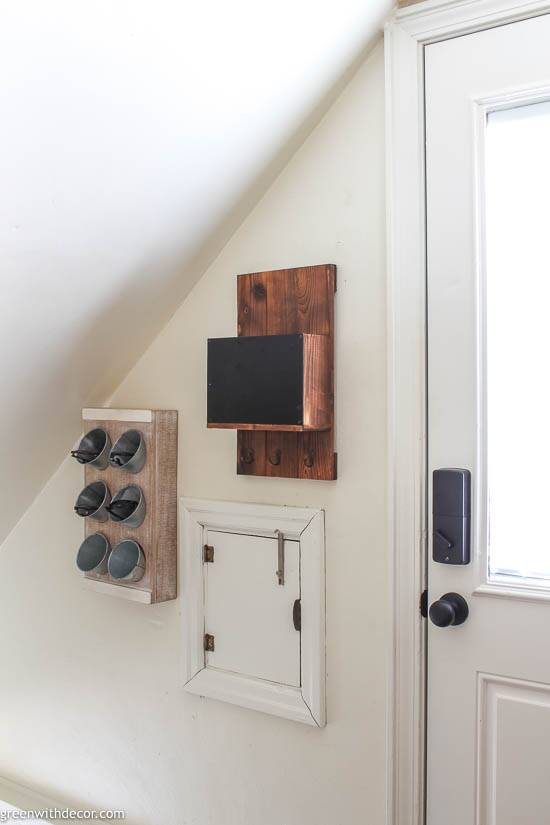 That small door is the old milk crate door. (It doesn't open anymore.) Isn't that fun?! It actually made hanging things on that wall a little tricky, but we made it work.
Sunglasses:
And this is a weird one, but, I was desperately looking for sunglass storage and couldn't find anything that would fit our limited wall space. Then I came across a little plant wall shelf from TJ Maxx.
I ordered it and still wasn't sure it would work until it arrived, but then I knew it would work PERFECTLY!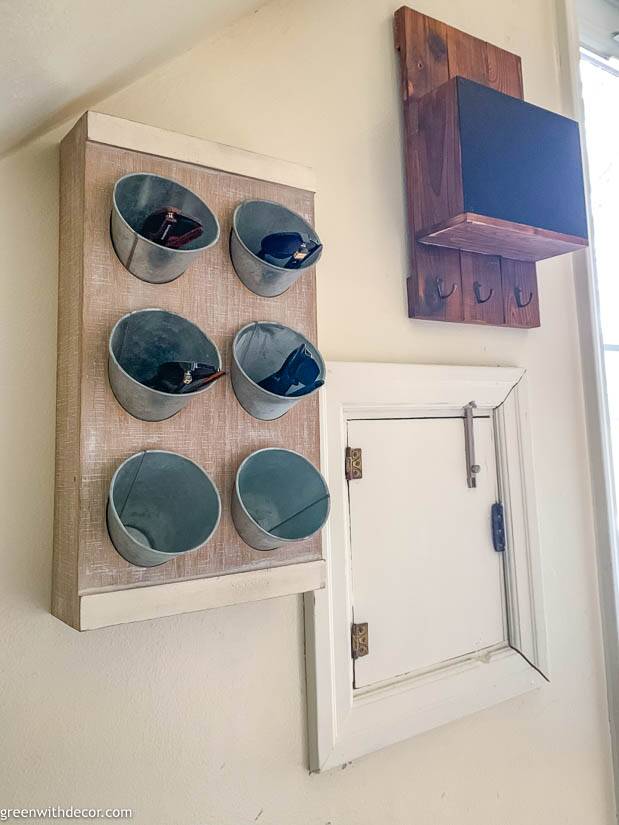 It's probably one of the things we get the most compliments on when friends are over, too, which is funny. I think we're all just looking for easy storage ideas, and this one works really well!
Reminder to always think outside the box for small space storage ideas!
I think I must have ordered one of the last ones though because it has since disappeared from TJ Maxx's website. I haven't seen it come back in stock. I haven't really been able to find anything too similar, but I included some pieces you could use for sunglass storage under "get the look" below.
Hamper:
On the other side of the stairs, these hooks are old and have got to go.
But I have a few ideas for this wall that I can't decide between, so until then, the hooks keep staying because can you ever have too many hooks in an entryway? Nope!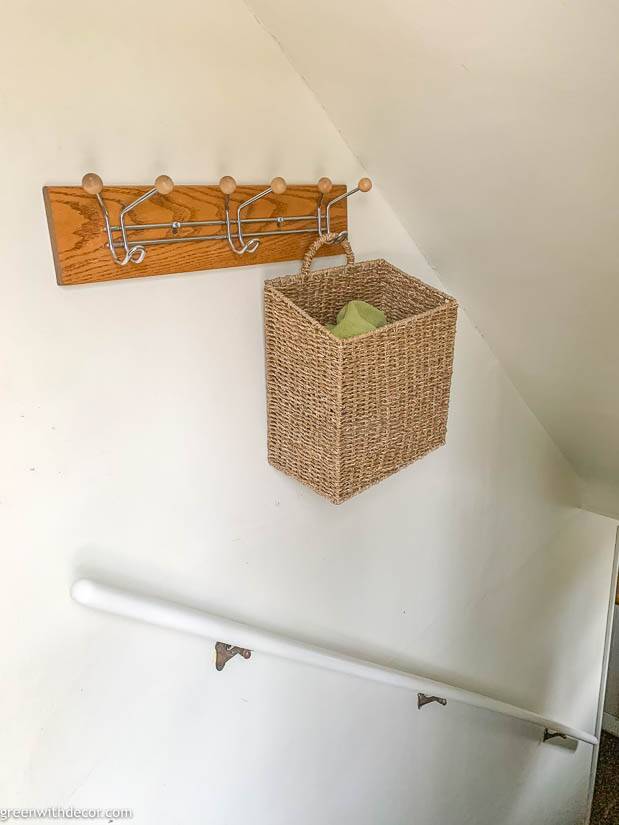 We use this hanging basket as a hamper for dirty kitchen towels and washcloths, which works so well! Another really random but functional small space storage idea!
It's perfect because it gives us a convenient place to toss dirty towels, keeps them hidden in a pretty basket and it's easy to grab as we're heading downstairs to do laundry.
Ours is from World Market a couple of years ago (and I've seen them in-store multiple times since), but I'm not seeing it on their site right now. Hopefully, they come back. Meanwhile, I found this one that looks similar.
Here's one more before and after view before we wrap up this small entryway post!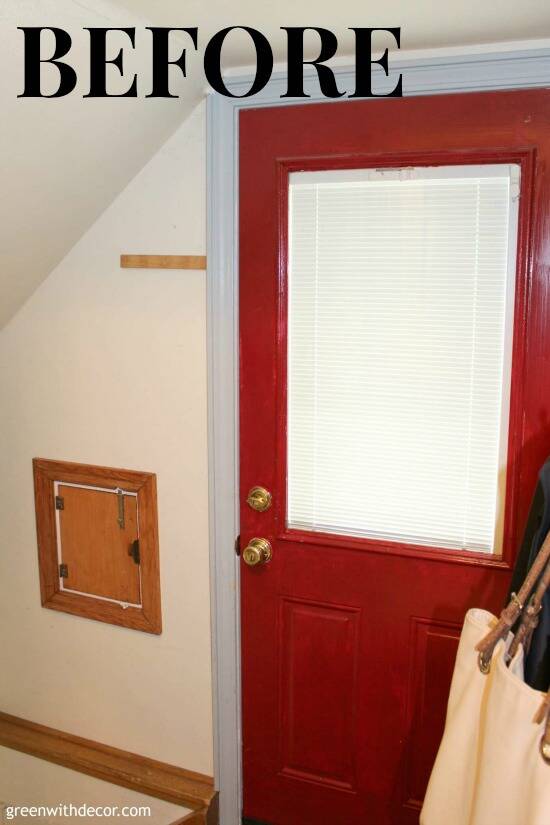 And now: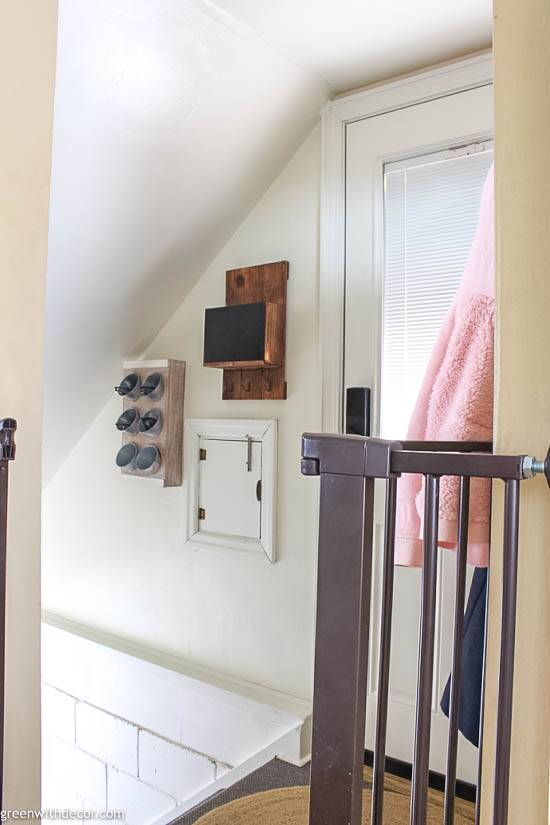 I just love these room reveal posts!
Does a little landing even count as a room reveal? I think with the amount of paint and storage packed in this little space, it definitely does.
GET THE LOOK:
Since a popular question I get is "Where'd you get that?!," here are links to the same or similar sources:
Wall color: Camelback by Sherwin Williams
Trim + door color: White Dove by Benjamin Moore
Blue door: Dune Grass by Country Chic Paint color matched in Sherwin Williams
Sunglass holder from TJ Maxx
If you want to catch up on the progress in this small entryway, check out these posts:
Remember to bookmark or pin this post if you want to save it for later!


Pin it!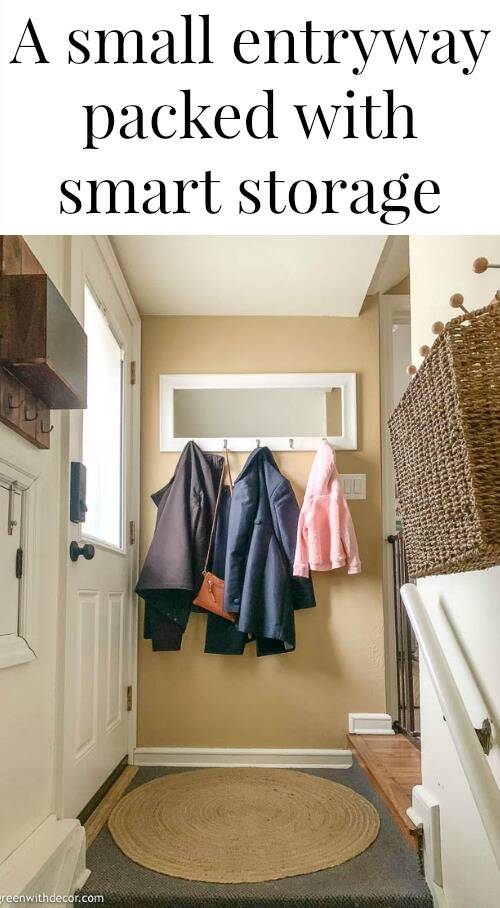 Want to read more posts like this?
Follow along: Get my emails | Facebook | Pinterest | Twitter | Instagram