With the kitchen demo in full swing we were eager to jump into the family room renovation. That paneling was just so ugly! We started with the built-in entertainment stand along the back wall.
Next up? The parquet floor. It was harder than it looked. The floor had been glued to the subfloor with some strong glue, and it was difficult to get up. We took crowbars and kept digging and scrapping until it was all gone. Whew! (Please excuse the poor quality of the cell phone photos below!)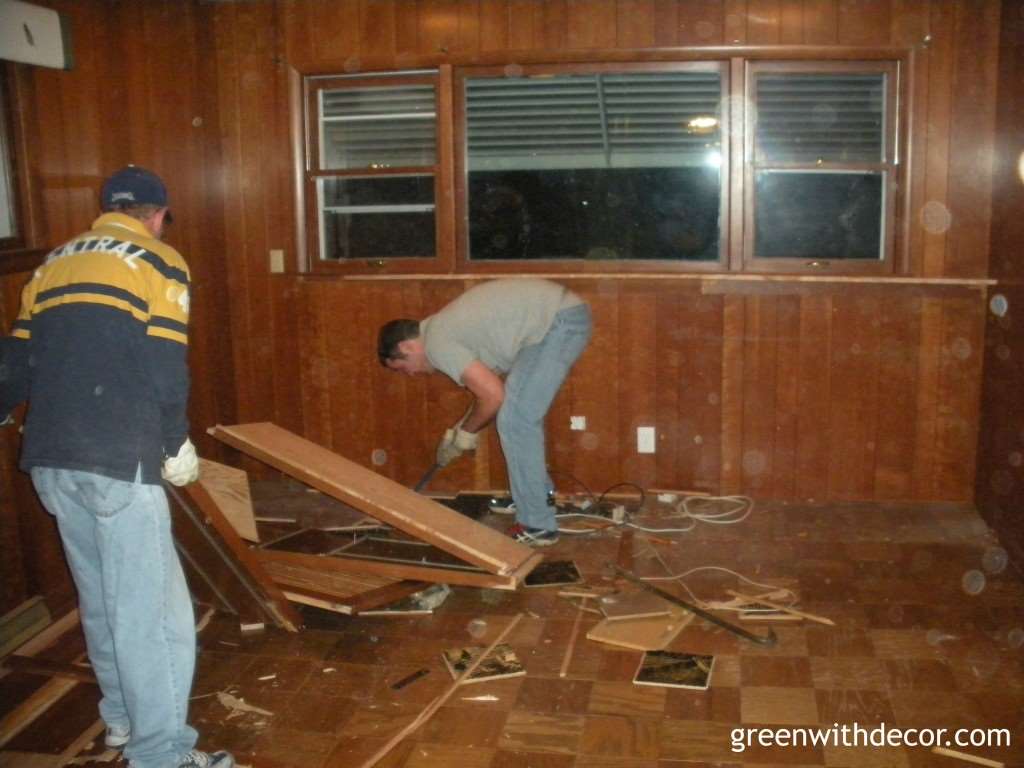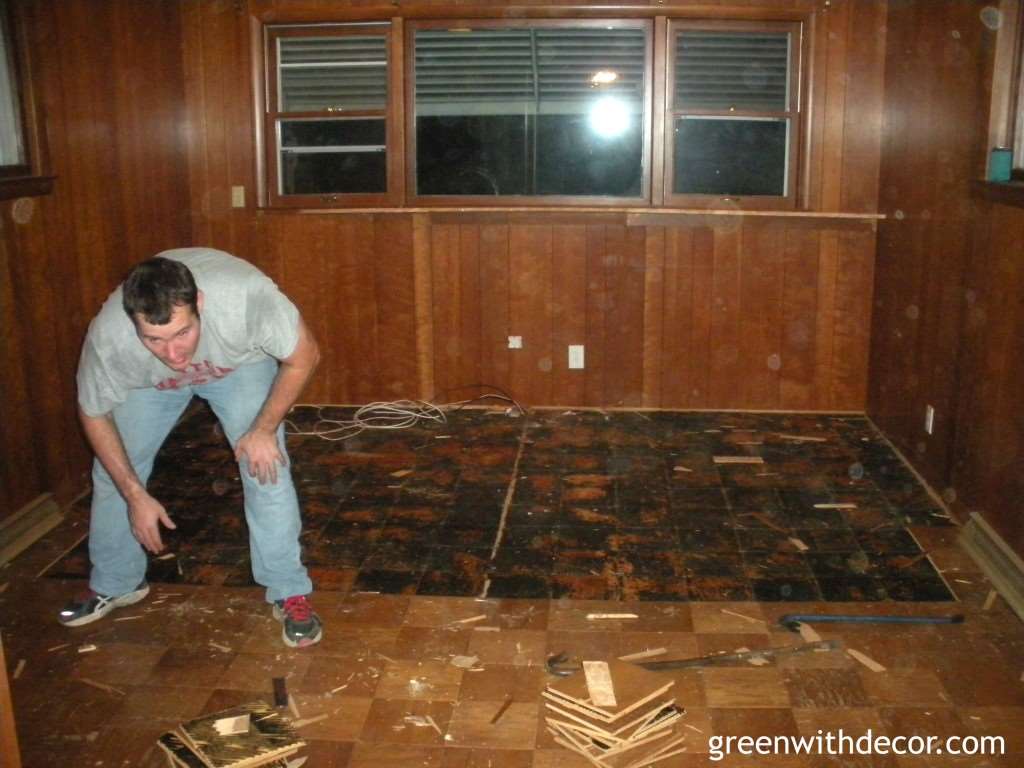 The previous owners had beautiful built-in cabinets along the family room wall that led into the dining room. We debated keeping these for a minute or two, but, since our renovation plan included bumping into the family room a bit to square off the kitchen, we knew we had to get rid of at least half of the cabinets. Since we had to tear some down, we got rid of them all.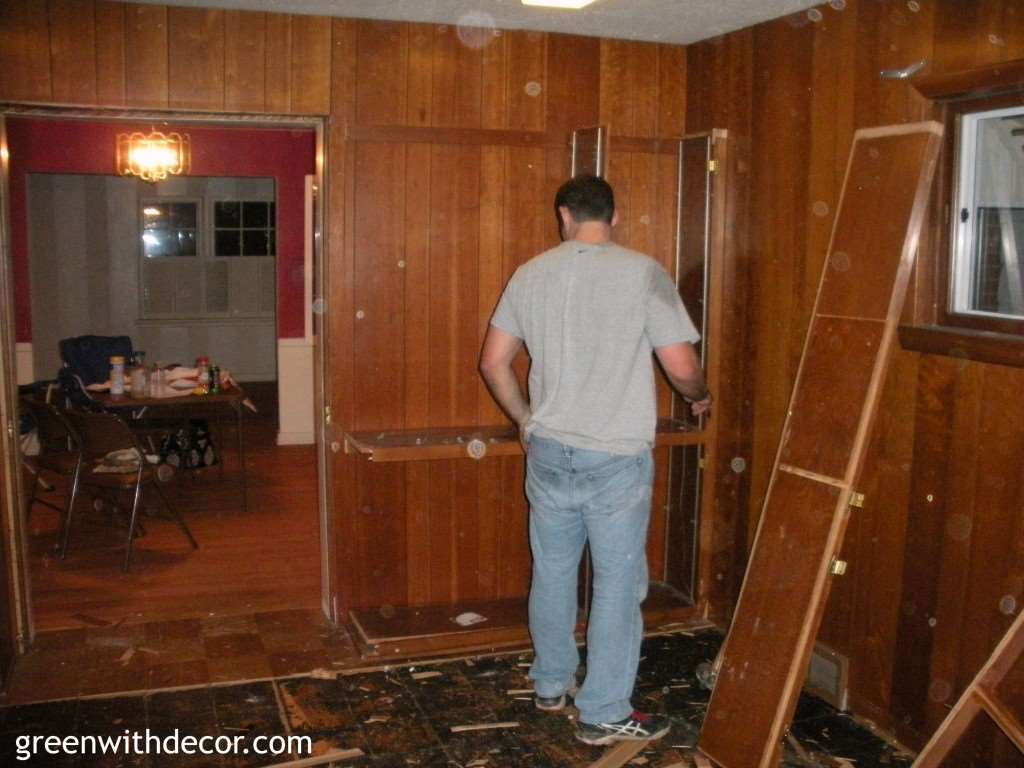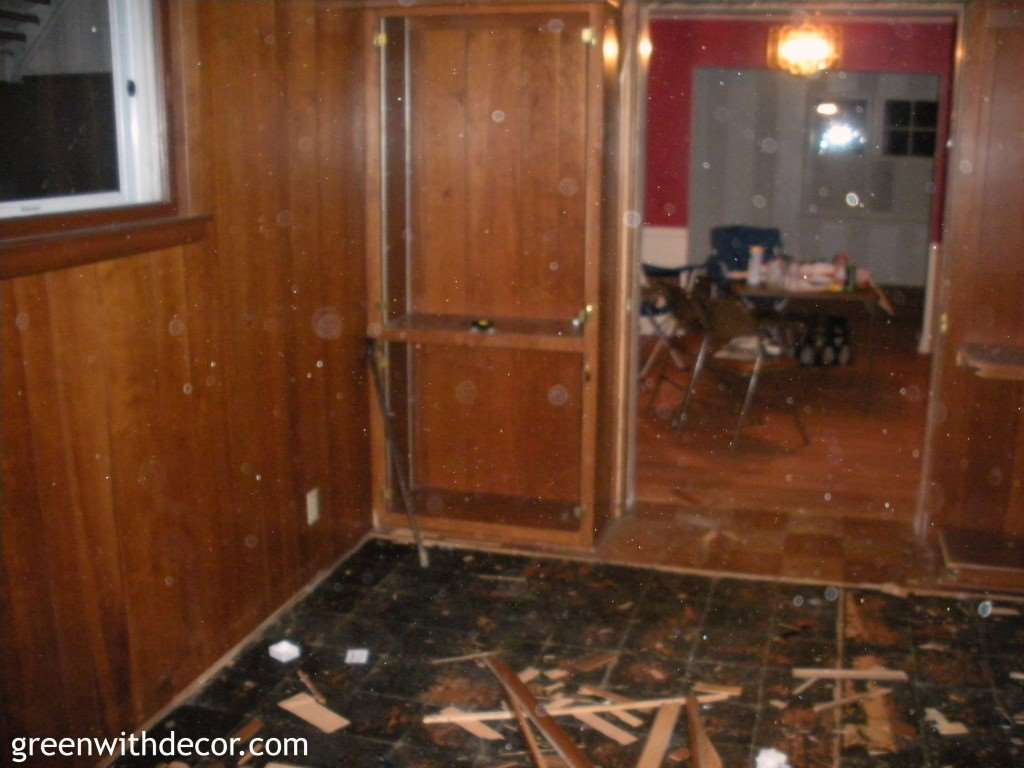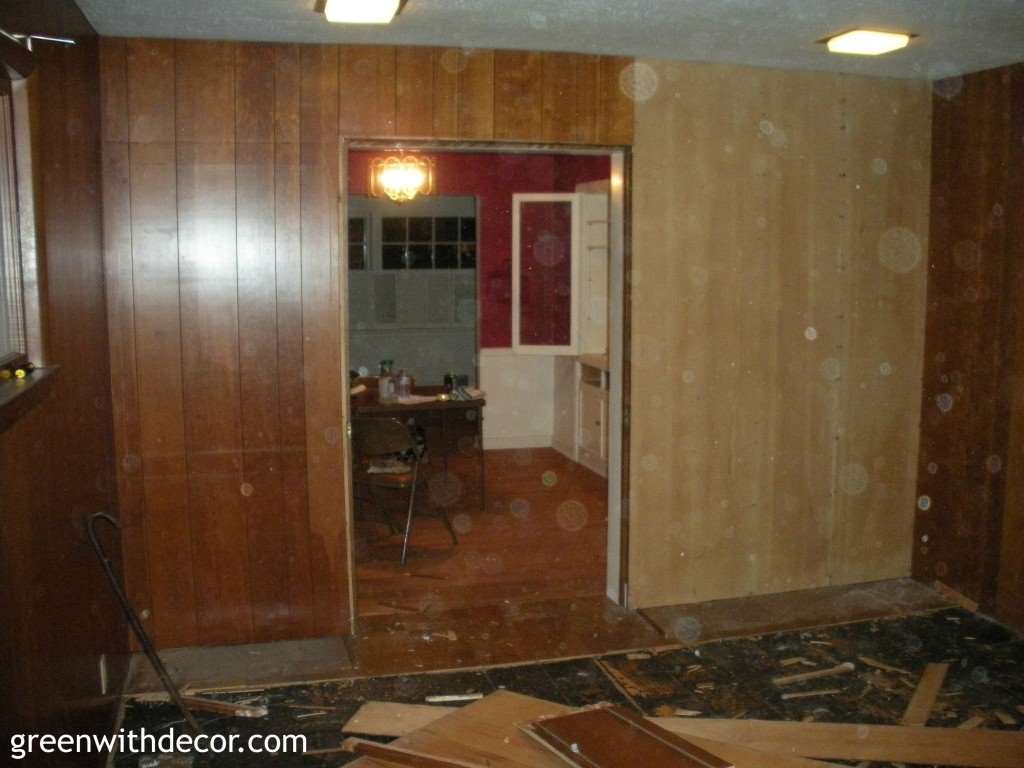 The doors were really such beautiful pieces of wood (they just don't make things like this anymore!) that we kept them, with the intent to possibly use them for future bookshelves. Months later, they're still sitting in our basement. We'll get to that one day! Have you reused old doors?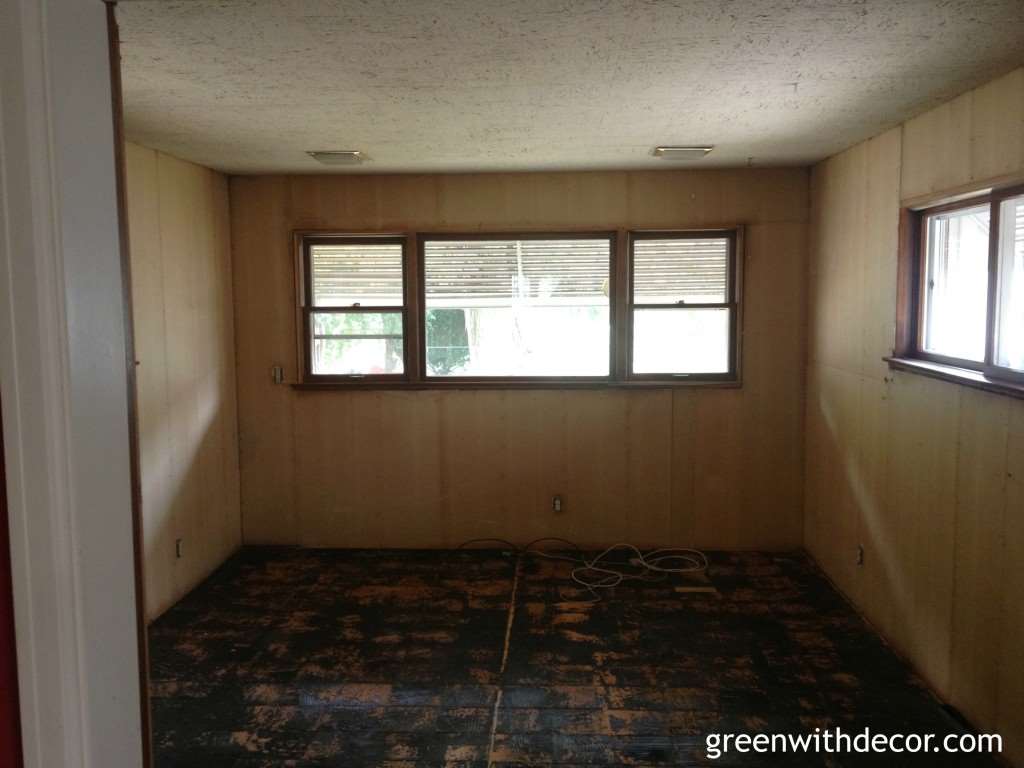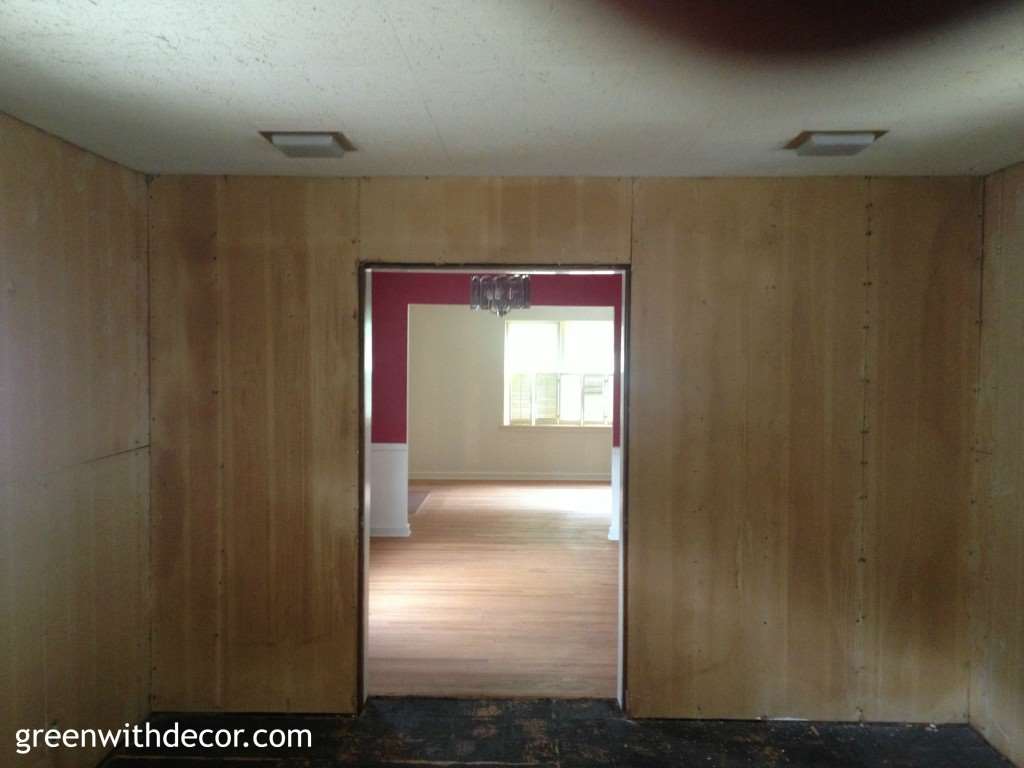 We tore out the outdated white ceiling tiles as well. It was exciting to get all of the old materials out of there!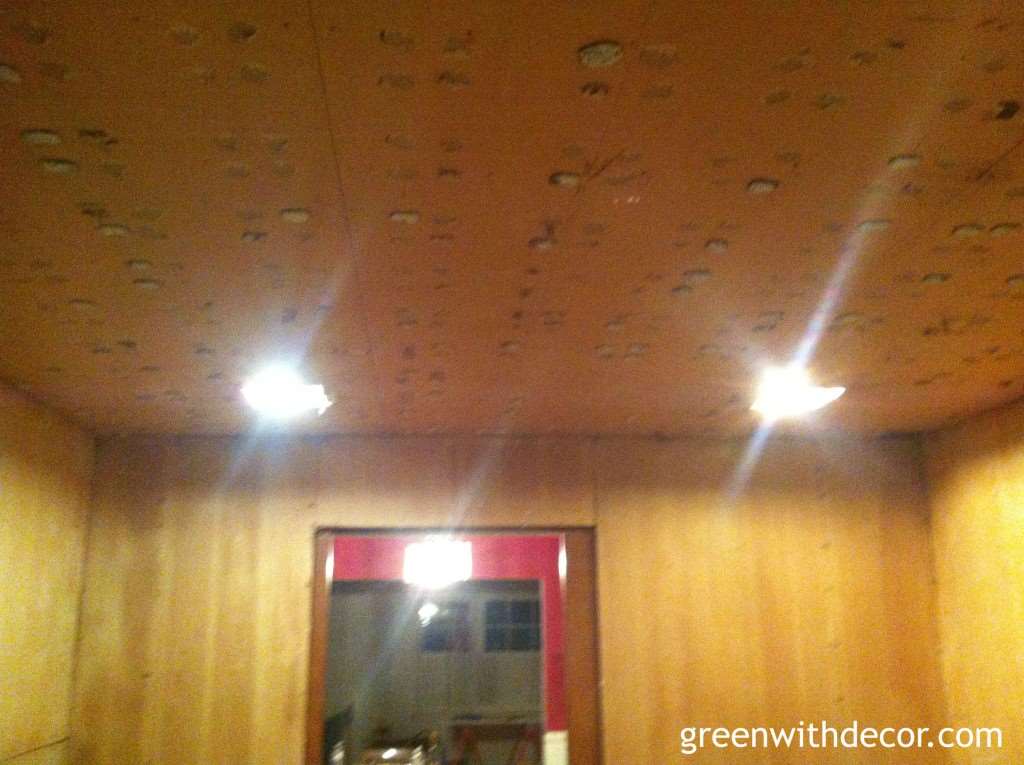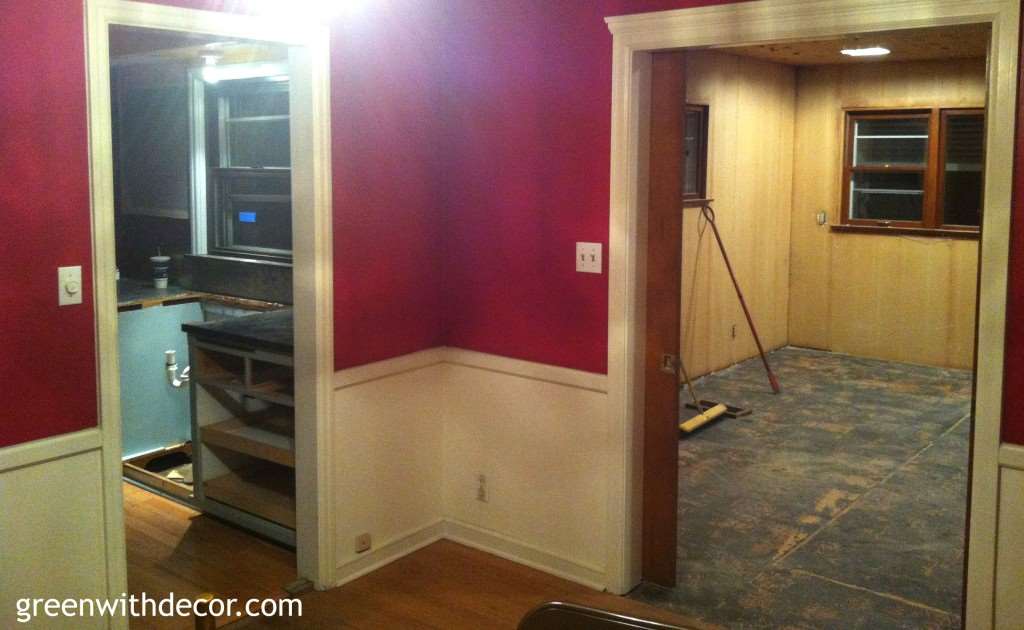 One of the things we liked about this back family room was the pocket doors in the wall leading to the dining room. They were old and would need to be replaced, but we loved the charm they provided. We liked that this could provide a way to close this room off at different times if we wanted.
The last part of demo-ing the family room was removing the awful rusty window awnings.
Planning your own renovation?
Download my Kitchen and Bathroom Renovation Checklists so you can easily keep track of each step. Click one of the options below to download them.
If you're already an email subscriber, hop over to my free printables library to grab a copy. You can grab the password to the free printables library from the bottom of any of my emails.
If you're not an email subscriber yet, sign up here and then you'll have access to everything in my free printables library – enjoy! It's my little way of saying 'thank you' to everyone who subscribes and follows along.
Remember to bookmark or pin this post if you want to save it for later!

Want to read more posts like this?
Follow along: Get my emails | Facebook | Pinterest | Twitter | Instagram | Google+