Save old jars to make these easy Fourth of July DIY silverware jars – perfect for a patriotic party!
I made these little silverware jars last year really last minute on the day before the Fourth so I didn't have time to post them on the blog before the holiday. A year later they're still holding up and are all ready for this year!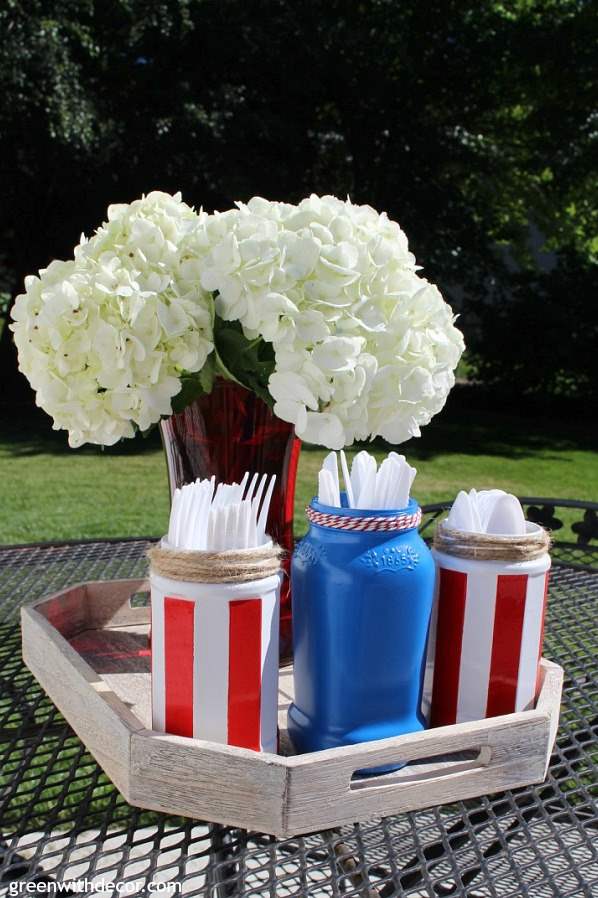 Today's post is part of the bi-monthly The Zero Dollar DIY Challenge hosted by my friend Sarah from Flourish & Knot. The rules are easy: put together some sort of DIY project using only things you have at home already AKA you can't spend any money. Perfect for all of us craft hoarders, right?!
Clearly this challenge was made for me since I put this project together long before it even started. 🙂
I always have glass jars and paint sitting around here. You can see all the other ladies' projects linked at the bottom of this post.
This post contains affiliate links. This means if you click the link and buy something, I may receive a small percentage of sales at no extra cost to you.
Supply list for Fourth of July DIY silverware jars:
Old jars

I used jalapeno jars for the red and white jars and a spaghetti sauce jar for the blue one.

Drop cloth
Twine:
How to make Fourth of July DIY silverware jars:
1. Wash out your jars and peel off the labels.
2. Tape off the tops of the jars so you don't get any paint inside.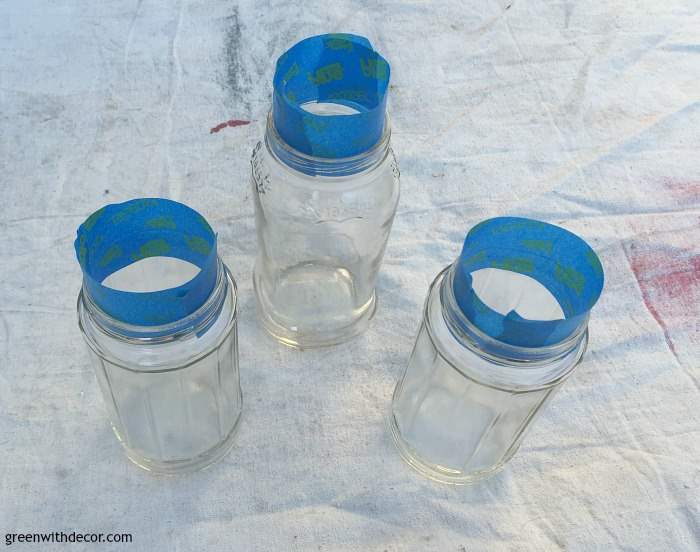 3. Spray paint the jars.
Give your to-be blue jars a coat of spray paint.
Give the to-be white and red jars a coat of white spray paint. Let both dry.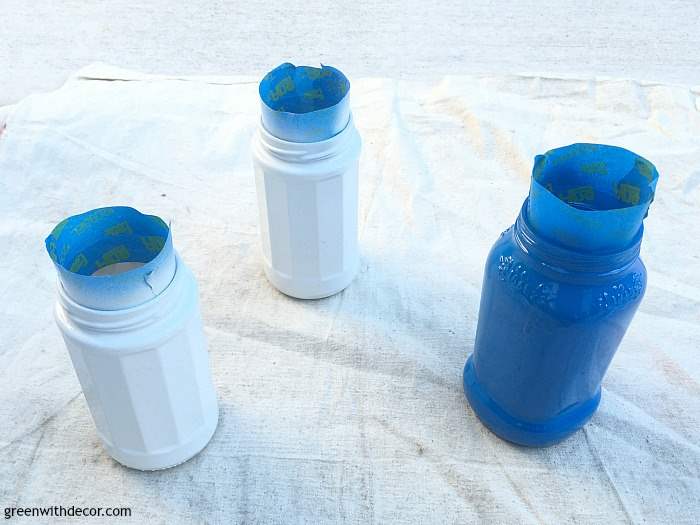 4. Tape off stripes on the white jar.
I used jalapeno jars (Ortega if you're wondering) for the striped jars since they're an octagon rather than a circle.
Then you don't have to worry about making sure all of the stripes are evenly spaced. (Why make it harder on yourself?)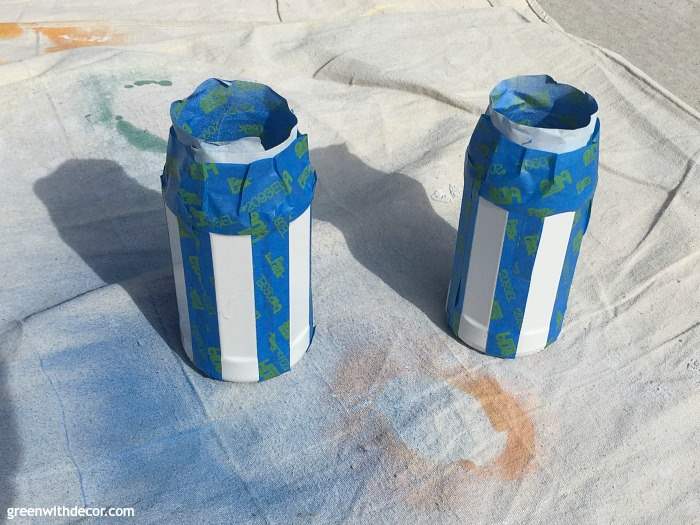 5. Spray paint the jars with red paint.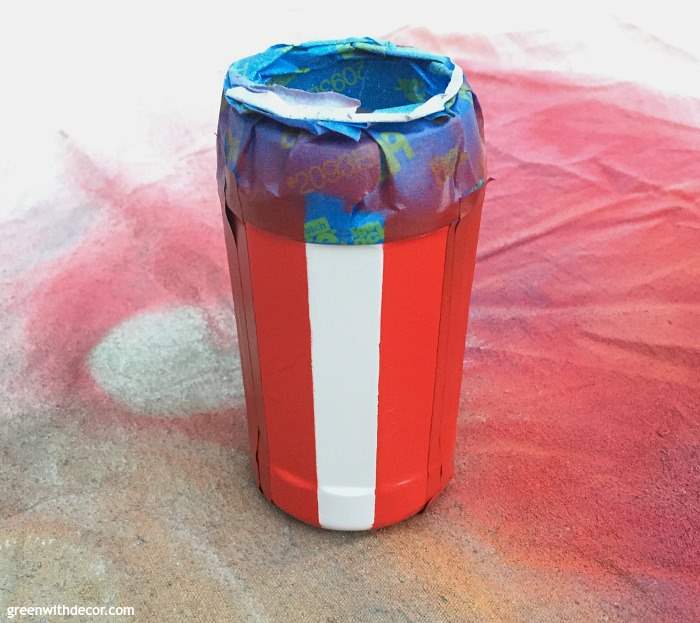 6. Tie the twine around the tops of the jars.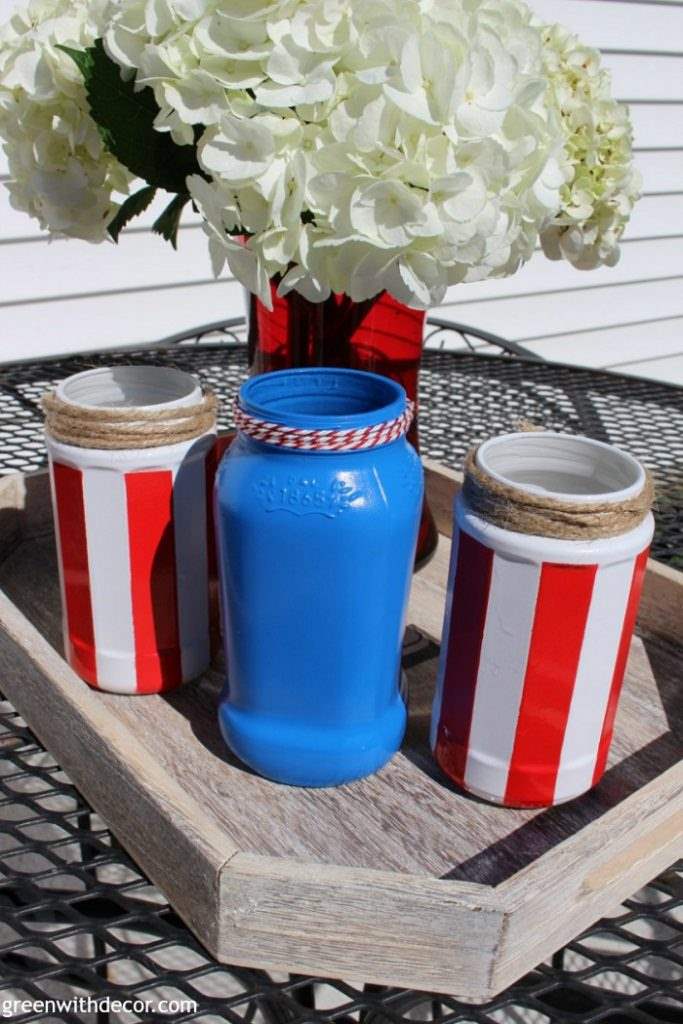 Then set up with silverware and get all set for your Fourth of July picnic!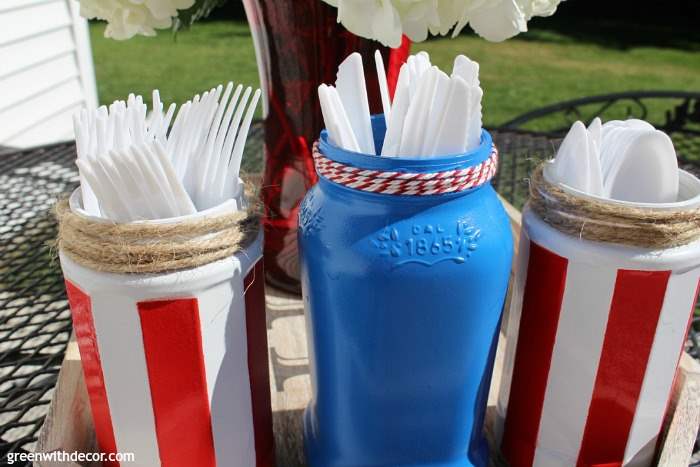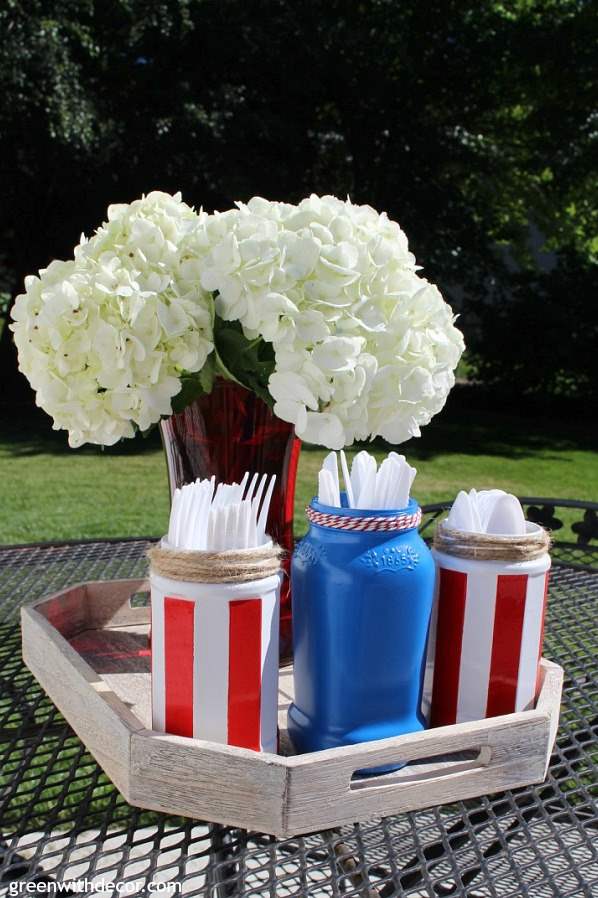 What are your favorite easy Fourth of July DIY projects?
Hop around to see the other ladies' No Spend DIY projects.
DIY Passion: Cabinet Door turned faux mosaic tray
Two Purple Couches: DIY Moroccan-style trinket dish
Design Inside the Box: Light fixture turned vase
Green With Decor: Fourth of July DIY silverware jars (you're here!)
Flourish & Knot: DIY Canada Day wreath
2 Bees in a Pod: Decoupage-transformed bucket
For more Fourth of July patio party fun, check out these posts:
Remember to bookmark or pin this post if you want to save it for later!

Pin it!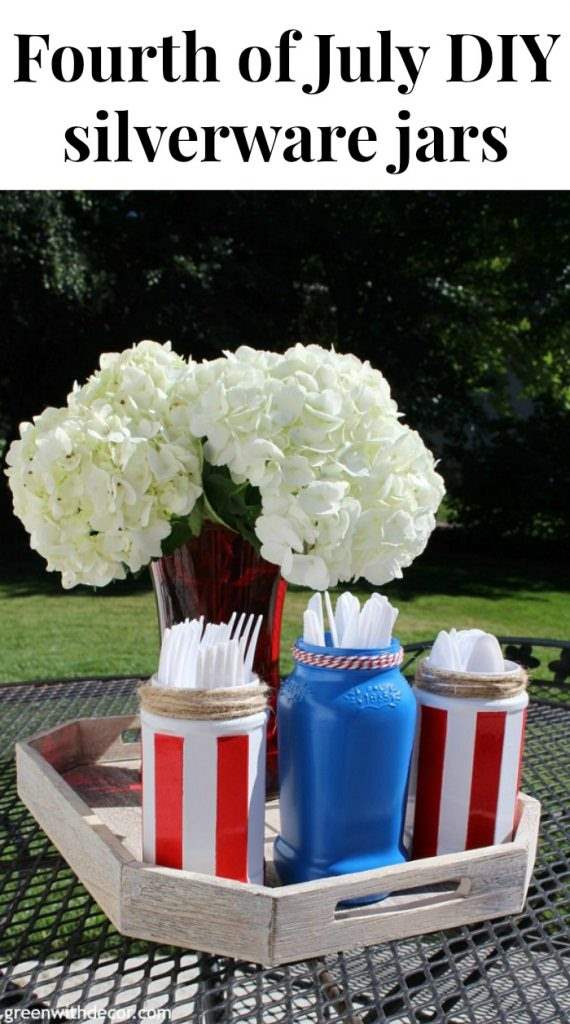 Want to read more posts like this?
Follow along: Get my emails | Facebook | Pinterest | Twitter | Instagram