The yard was (is) in rough shape and a whole lot of weeds need to be pulled, but that's for another day.
We're going to enjoy the patio today.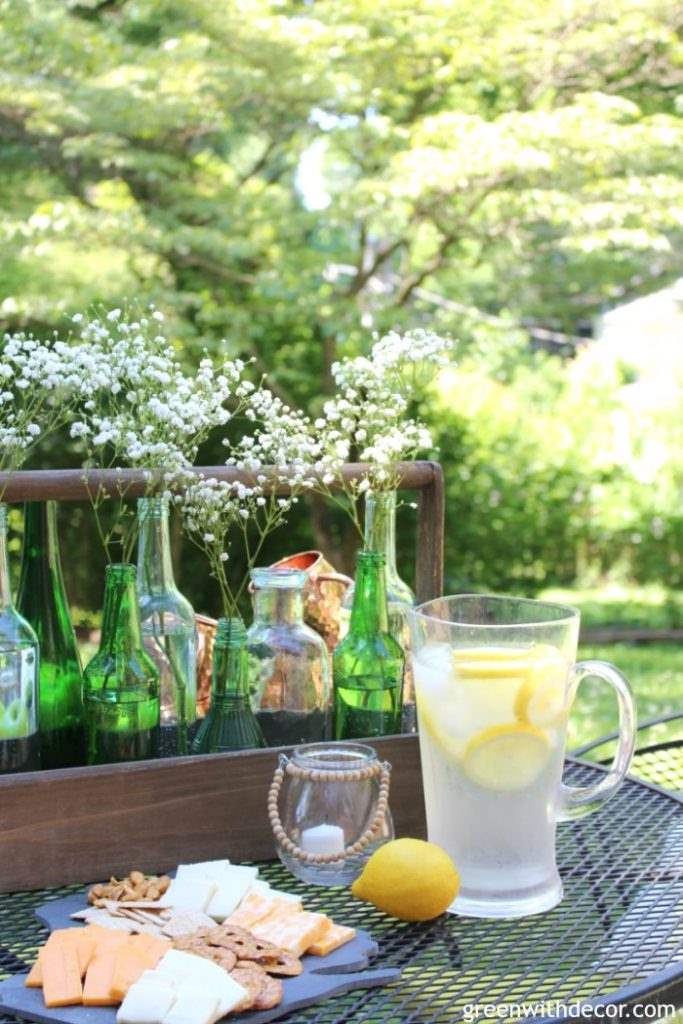 It's been a tad humid here most days, but there have been a couple cool evenings where we've been able to sit outside to enjoy a drink and some apps. And by apps, I mean cheese, because that is of course this Wisconsin girl's favorite snack.
Since we're taking breaks on the patio from all the painting going on inside, I figured the blog could do the same.
No worries paint lovers, the painted room reveals will continue next week. We're getting there!!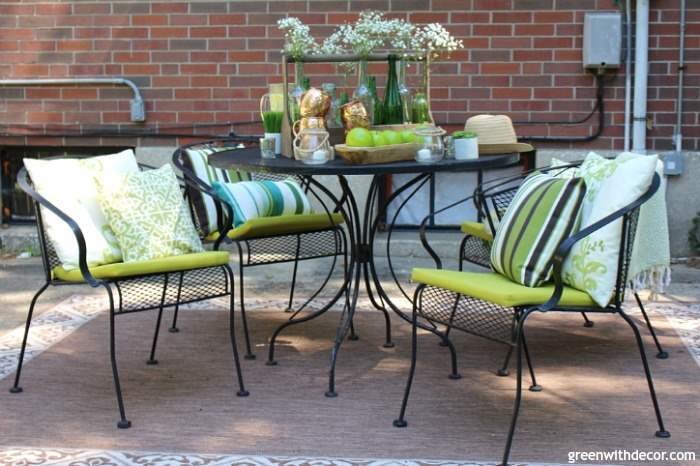 My friend Tara from Lehman Lane got a group of us bloggers together for a Summer Outdoor Tour. (You can see all of the other bloggers' outdoor spaces linked at the bottom of this post.)
When Tara first asked me about joining, I was a little worried I wouldn't have anything to share, but sometimes a deadline serves as the perfect motivation excuse for a painting break.
As I was setting up the patio, I realized what a perfect stress reliever it was. Digging through all that home decor piled up in the sunroom was so much fun, I've really missed decorating!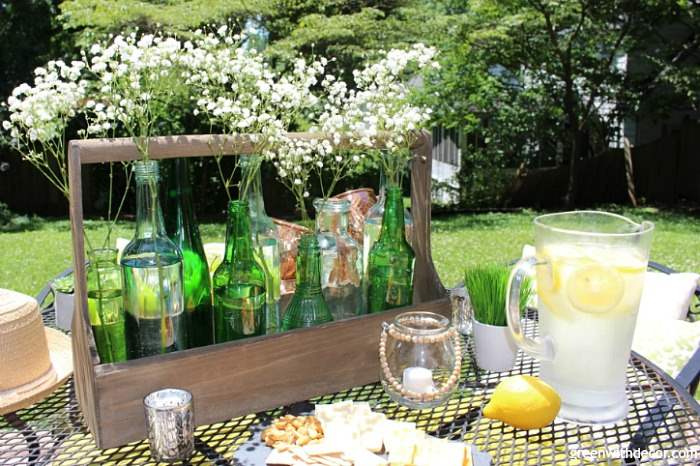 This post contains affiliate links. This means if you click the link and buy something, I may receive a small percentage of sales at no extra cost to you.
The patio might be smaller than we have at our Milwaukee house, but we're still glad to have an outdoor space here. It's not quite set up with all of our outdoor furniture, but there are a few fun things we used to make this rental patio seem more 'us'.
(The outdoor couch is in our sunroom, buried under all the home decor just begging to be brought back to life. I can't wait to get the sunroom set up but given its current storage unit state, it's probably last on the list.)
Here's the before so you can really appreciate what the patio looks like now: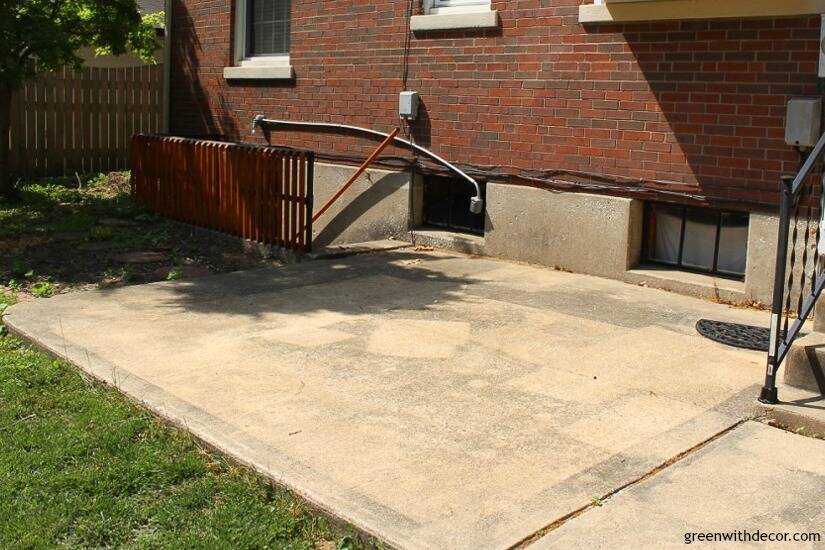 And now: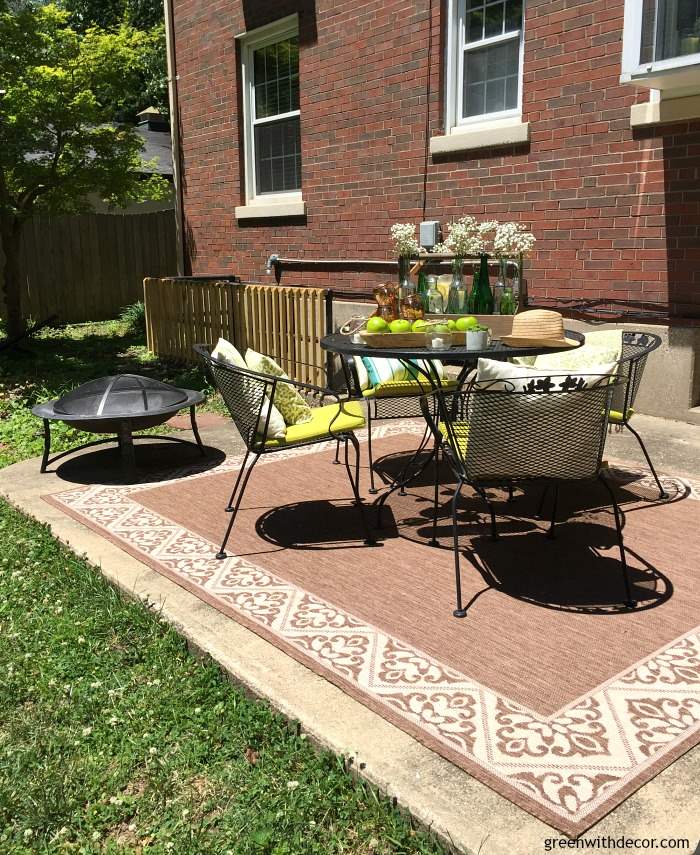 1. Outdoor rug
I'm a huge advocate of the outdoor rug anyway (why should indoor floors have all the fun?!), but especially when you're dealing with a weirdly discolored rental patio.
It's the perfect way to pretend the patio is new and pretty.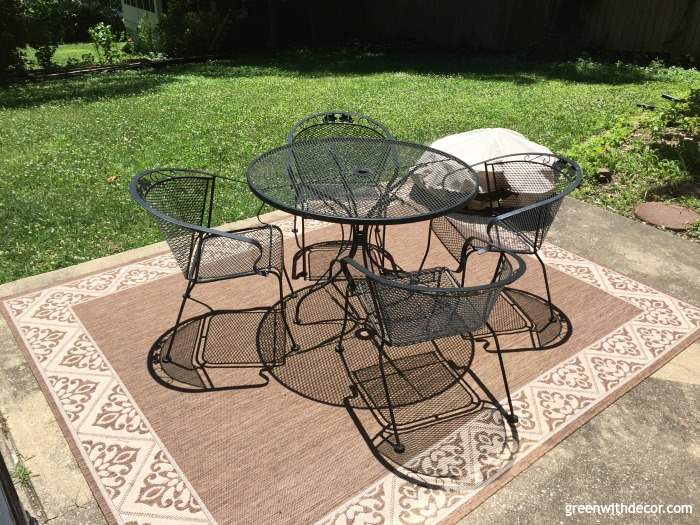 Plus you can take the outdoor rug with you, which is basically what I'm focusing on while we're in the rental. Anything we can take with us is more than worth the money.
2. Table and chairs
Our table has definitely seen better days, and giving it a good coat of paint is on my summer to-do list.
Meanwhile, just having a place to sit down outside and enjoy a drink and some food (cheese!) is perfect.
Even if you just have a small little balcony, grab two chairs and a little end table for in between. In my first apartment, just being able to get outside sometimes made all the difference. No one wants to be stuck inside all summer.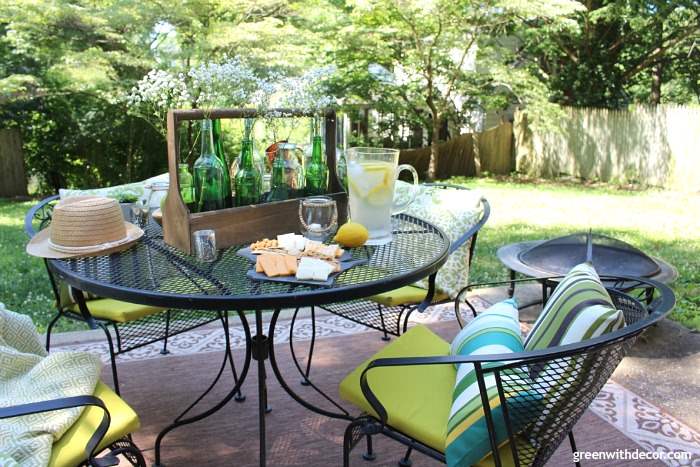 3. Fun serving dishes
We didn't bring too many of our appetizer dishes figuring odds of us having a party in a city where we have no friends is slim to none, so most of those are packed up in storage in Milwaukee.
But we did bring a couple, of course.
How fun is this Wisconsin cheese board?! Perfect for some delicious Wisconsin cheese. 🙂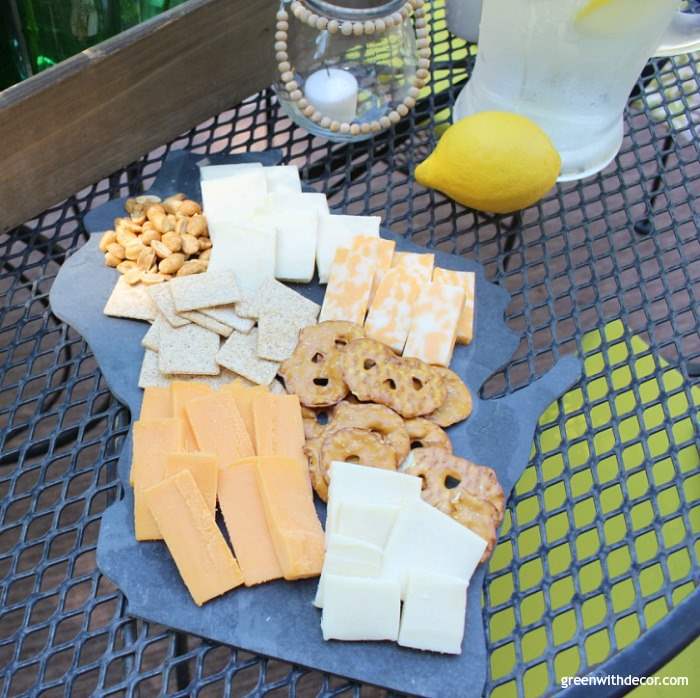 And it wouldn't be summer without some fresh fruit.
We bought this wood bread bowl the other day from a local decor store.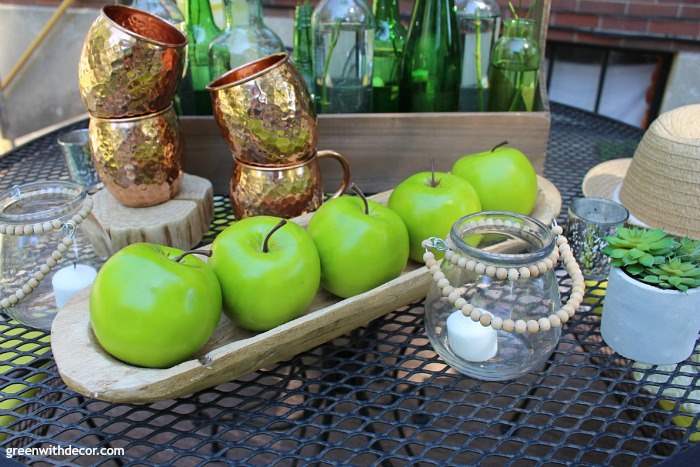 Kalen actually picked the bowl out, I'm so proud. I've been seeing these bread bowls everywhere lately so of course I had to see what they're all about. I already want about 3 more to fill with all sorts of fun things.
For now, I'm loving the apples, but I'm on the lookout for faux moss balls, wouldn't they look perfect in it?!
My Moscow Mule mugs of course also made the cut when we were being picky about what dishes to bring with us. They keep drinks SO cold.
Isn't that little wood slice fun, too? (Milwaukee folks, go to Sendik's, their decor is unreal this season! I want it all.)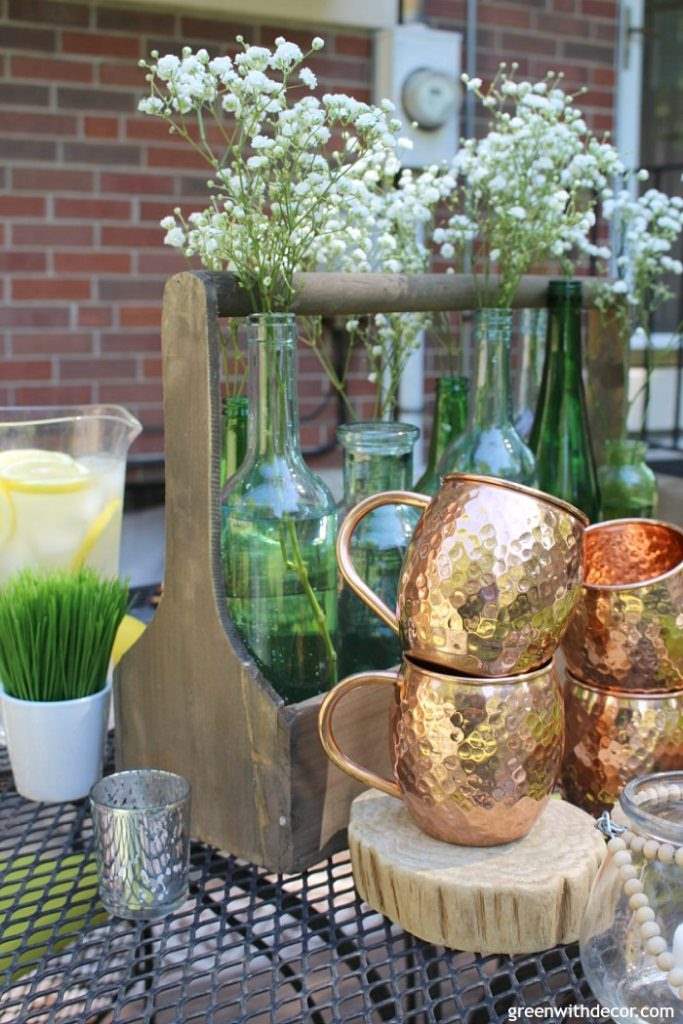 4. Cushions and pillows
Make it feel homey! Remember when I was outdoor pillow shopping? (FYI, all of the outdoor pillows in this post are under $15 each.)
I love this new little striped green and blue pillow. I'm starting to bring in more blues into our decor, and what better way than pillows!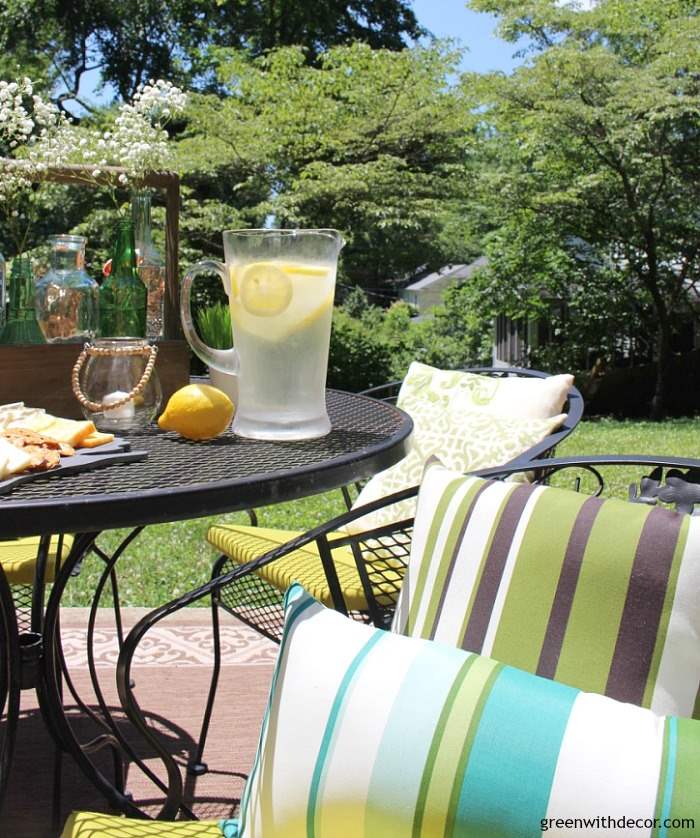 Despite the heat, of course I still have a throw sitting out.
This blanket is my favorite, and sometimes I just like the feeling of a blanket around me. Yes, even in the summer.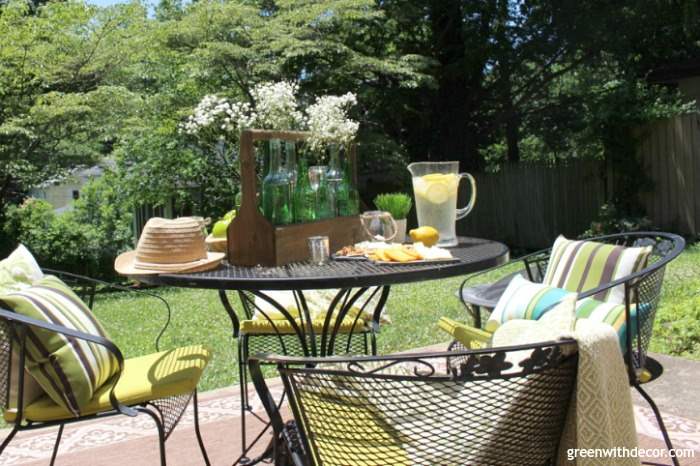 5. A summery centerpiece
Probably my favorite part! This old wooden tool box is so fun, isn't it?! I'm obsessed. (Milwaukee folks, it's from Roost.)
Filled with vases, old wine and beer bottles, and fresh flowers, it is peeeeeerfect for summer.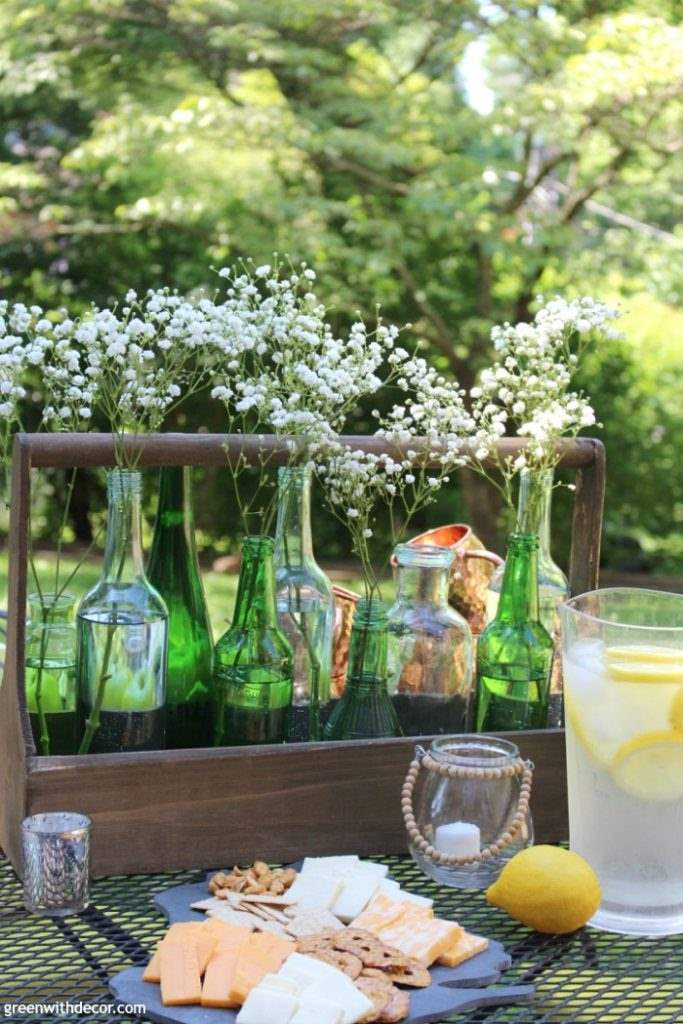 Just arranging this little centerpiece made me so happy. I need to finish cleaning and unpacking so I can focus more on decorating!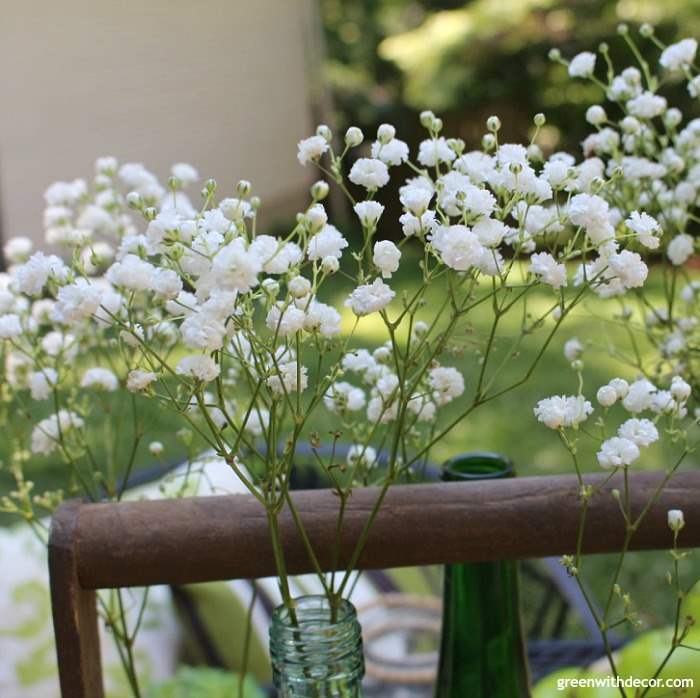 6. Lanterns and candles
I found these little glass and wood bead lanterns the other day, which are perfect for giving off a soft glow when the sun starts to set.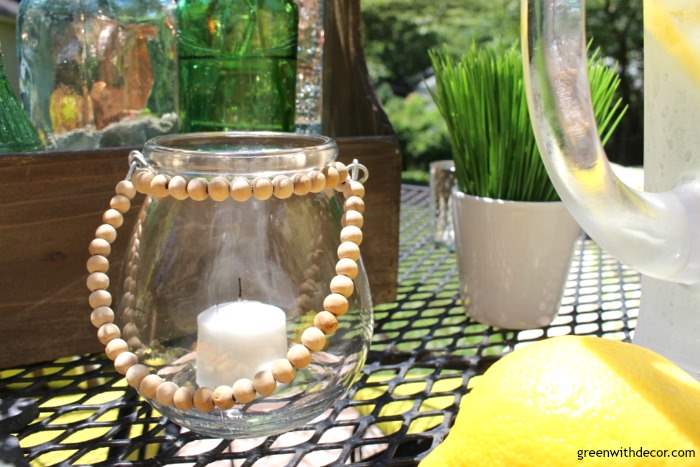 And of course these little mercury glass votives are perfect for pretty much any season.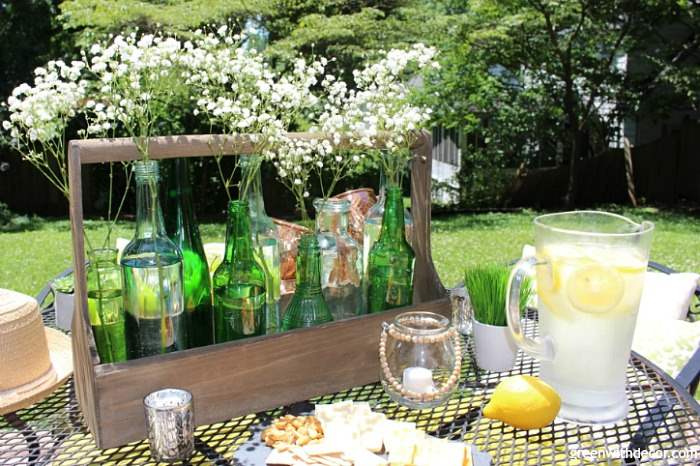 Oh and that little hat is fun, yes? Target dollar section for the win.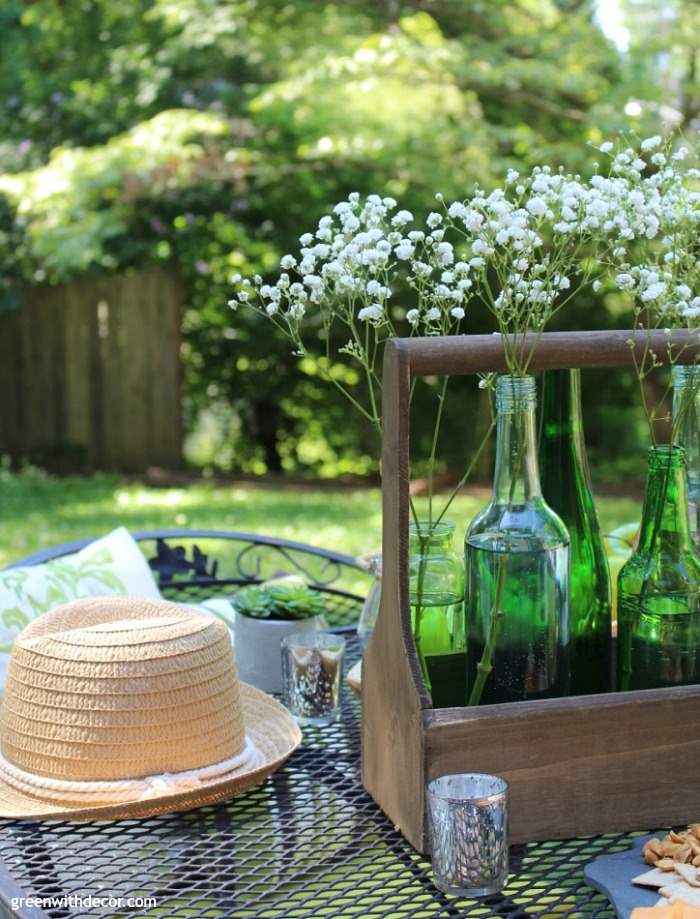 7. Potted plants
If I had my act together, we'd have some potted plants around here, too, since of course you can take potted plants with you when you move.
But with everything else going on, planters aren't happening this year. Maybe next summer.
Faux succulents and grass work just fine for now.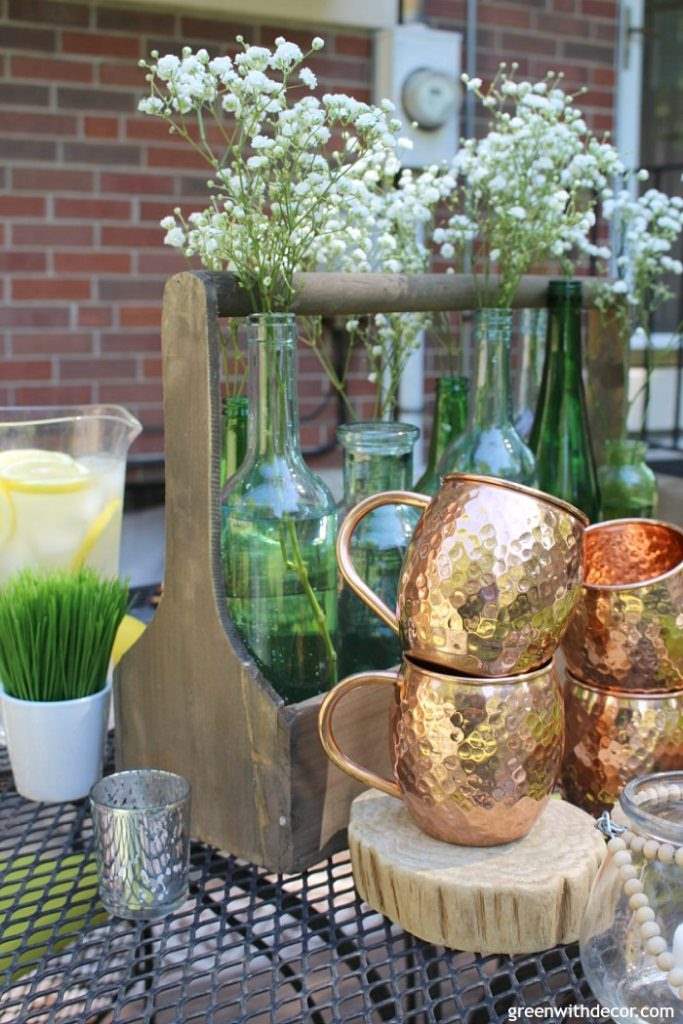 GET THE LOOK:
Since a popular question I get is "Where'd you get that?!," here are links to the same or similar sources:
Wisconsin cheese board (other states available)
Glass and wood bead lanterns from Kirkland's (can't find them or anything similar online)
How are you decorating for summer? Got any other easy patio decorating ideas for renters (or homeowners)?
Remember to head over to the other ladies' outdoor patio spots, too.
Remember to bookmark or pin this post if you want to save it for later!


Pin it!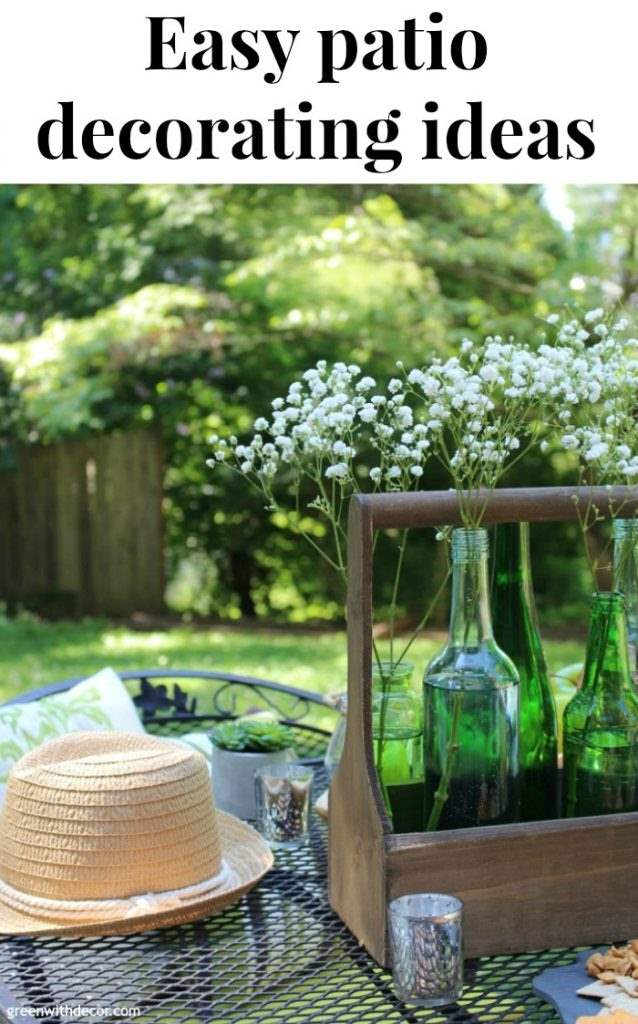 Want to read more posts like this?
Follow along: Get my emails | Facebook | Pinterest | Twitter | Instagram