I never thought pale yellow paint could make a room seem dark but having painted the kitchen white now, it turns out it can.
Here's the kitchen now, all pretty with Sherwin Williams' Aesthetic White!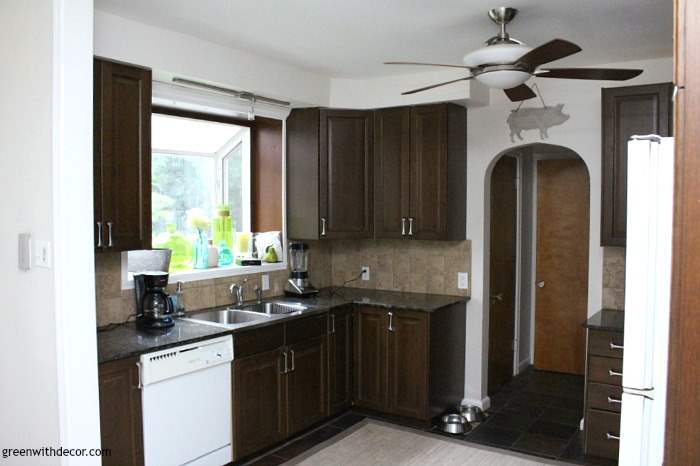 Remember the before?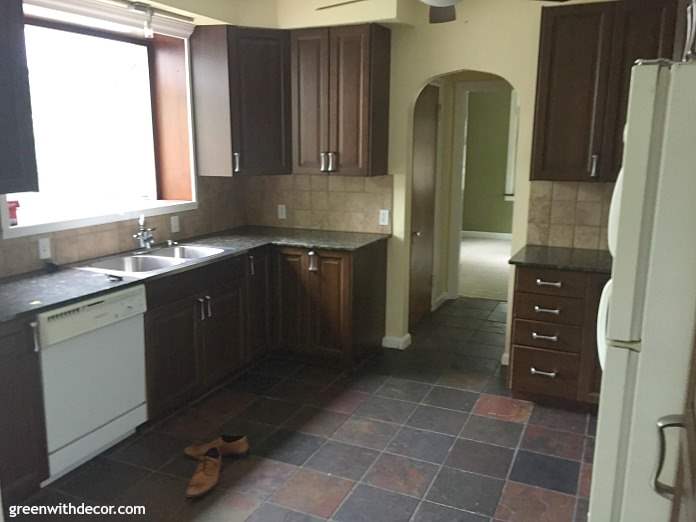 (Ignore all the random stuff spread around.)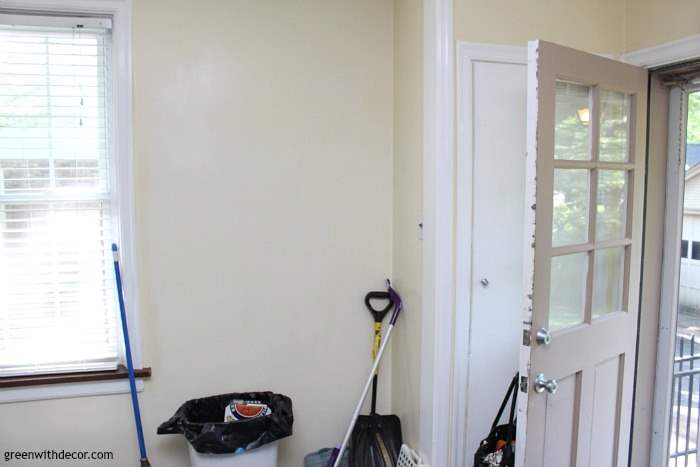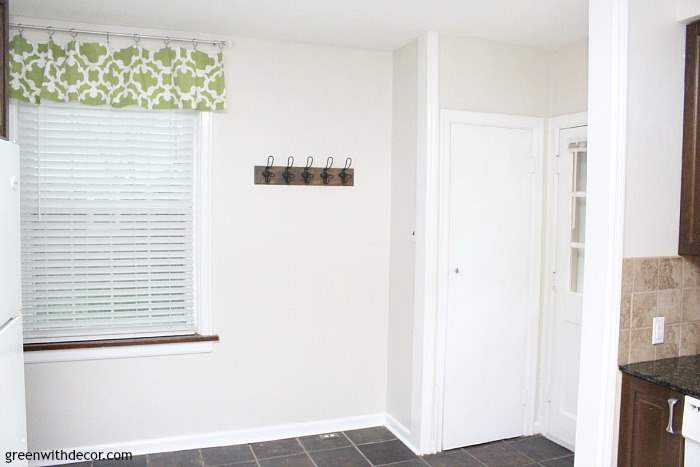 I love the color, and it really brightens up a dark kitchen. I will say, when we first started painting this room, I was worried I wasn't going to like the color.
It goes on very gray, and I was afraid it was going to be too dark and too similar to Agreeable Gray that we're planning to have throughout much of the rest of the house. (See the gray foyer here.)
But we'd already bought the gallon of Aesthetic White so I figured I was just going with it. I'm glad I did, because I really like the color when it dries. Especially along that back wall pictured above. It just brightens it up and feels so much cleaner than that old pale yellow.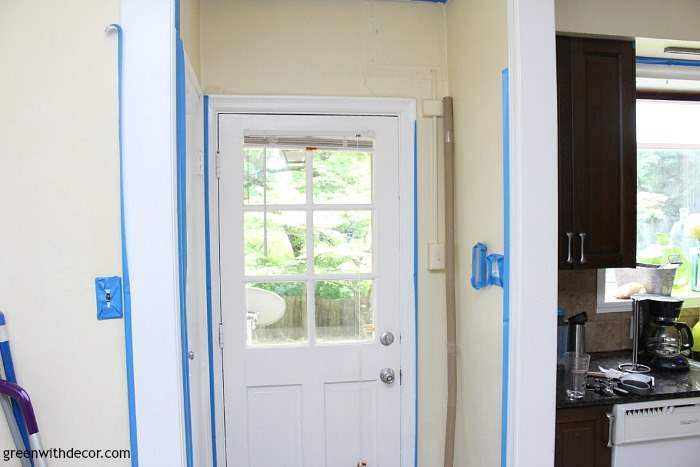 You can see it's not white-white when it's up against the white trim around the door.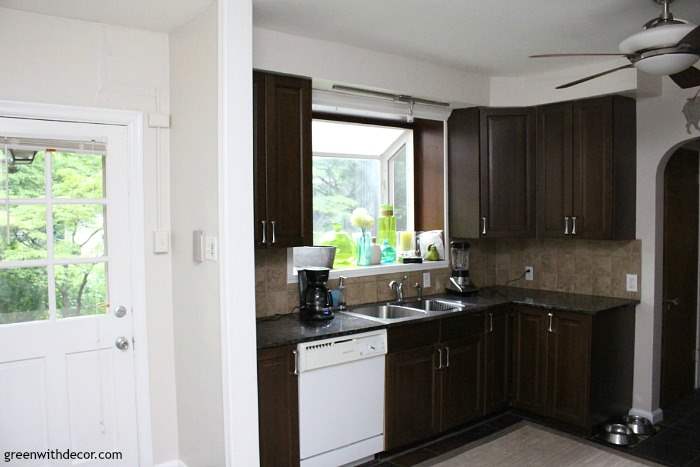 Painting above those kitchen cabinets was a chore, but I'm glad I did it. So much brighter!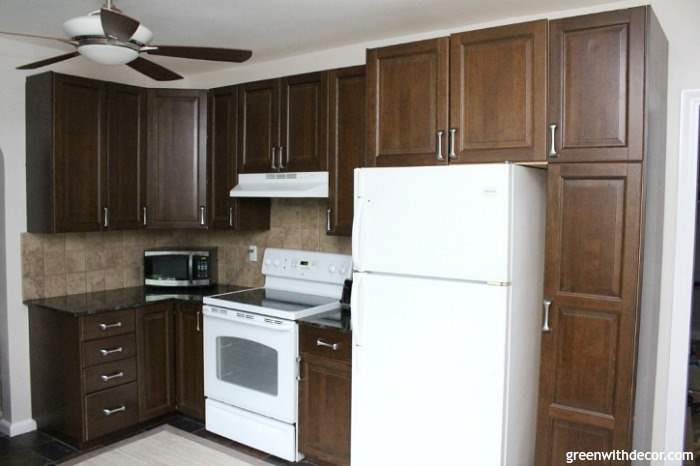 Ignore that wonderfully styled (or not) window box. (And what the what is that one little light above it?!)
We just started putting a bunch of our glass vases there when we were unpacking to keep them out of the way, and I haven't done anything with them since.
I like the colored glass in the window, but I still need to figure out a design for in here – it's such a huge space, and it gets REALLY hot during the day. Any ideas?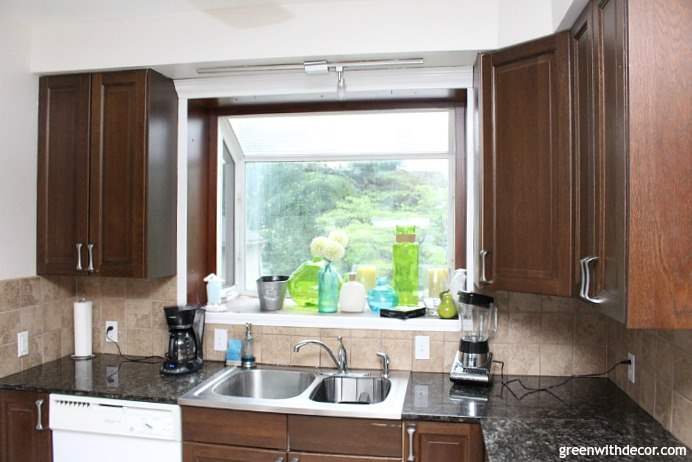 This post contains affiliate links. This means if you click the link and buy something, I may receive a small percentage of sales at no extra cost to you.
My brother Stephen said we should use the window box for our Christmas village come the holidays, which sounds perfect so we'll probably do that. Meanwhile we need to figure out what to use it for now.
We started decorating just a bit – a girl can only take so much cleaning and painting – and hung up these hooks, and I loveeee the wood and metal against the white. We ordered this bench for underneath the hooks and once it's put together, I'll share this little back foyer area.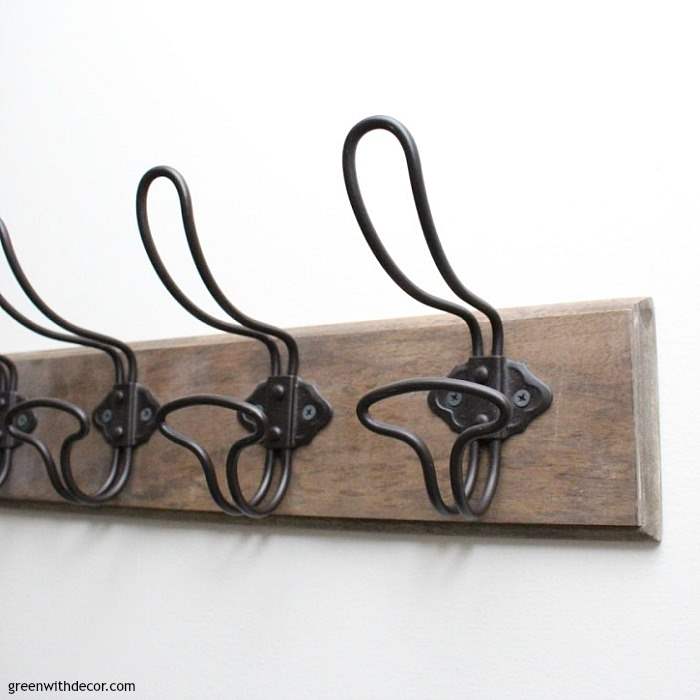 I also reused one of our window valances from our Milwaukee kitchen and bought the exact same curtain rod we have there.
And how great is the new rug?! It's huge and really brightens up the floor/covers up the dark, uneven slate.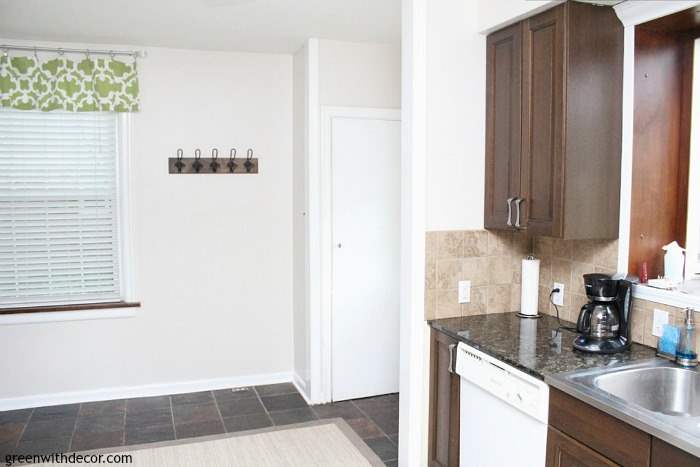 Of course we had to hang up our little metal pig, too. In Milwaukee, we had a frame around him (see it here), but I'm kinda liking it hanging all by itself.
What do you think?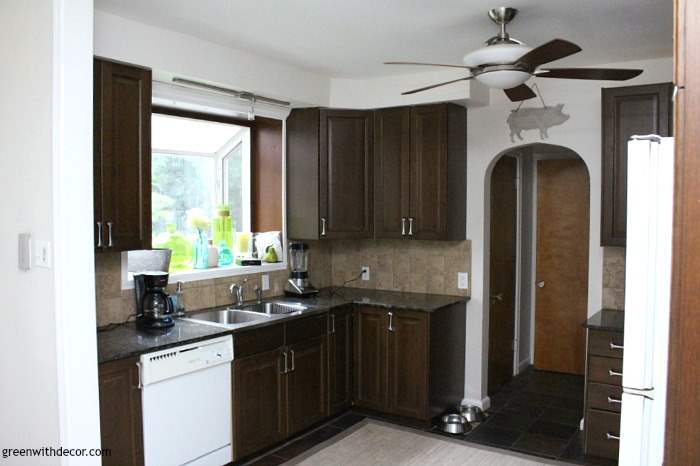 I don't love the big cabinet handles. We ordered new ones to switch out while we're here, and I can't wait till they get here!
Well three rooms down, five million to go. It looks like a paint store around here.
Do you have a favorite white shade of paint? Other ideas for brightening up a dark kitchen? Window box decorating ideas? Let's hear 'em!
You can see updates to the kitchen here:
Remember to bookmark or pin this post if you want to save it for later!

Pin it!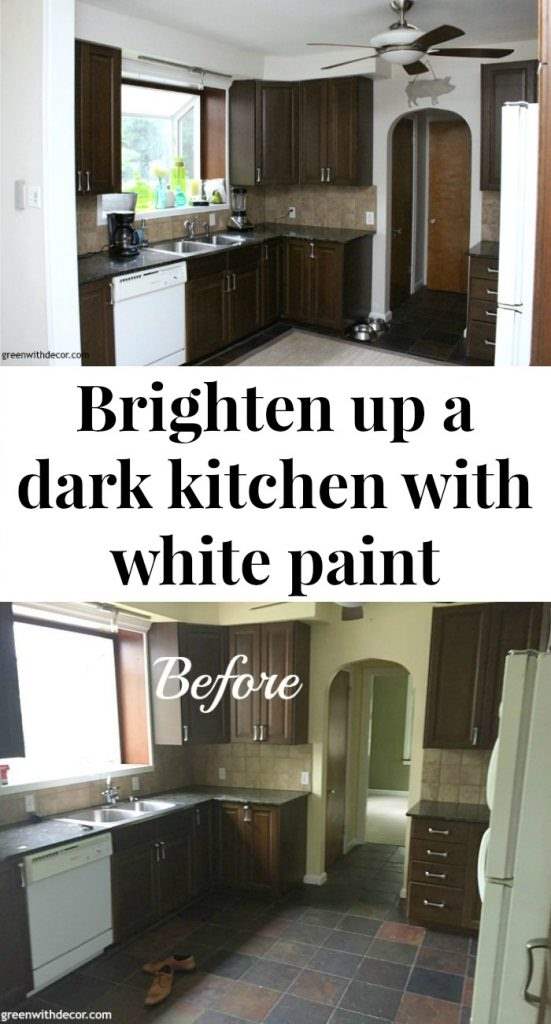 Want to read more posts like this?
Follow along: Get my emails | Facebook | Pinterest | Twitter | Instagram