Follow these 5 tips for an easy Fourth of July table that's simple and budget-friendly! These ideas are perfect for Memorial Day or Veterans Day, too!
I love Fourth of July.
But when it comes, it always seems like summer is flying by way too fast, doesn't it?! Which is kind of ridiculous since there are still two months left of warm weather and sunshine till we have to think about cooler weather and back-to-school things.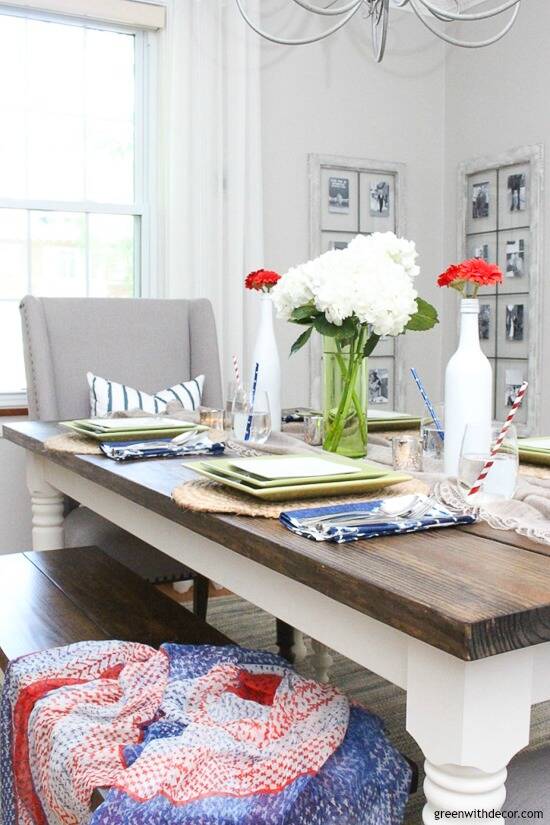 So let's focus on the fun of Fourth of July and forget that it might mean summer is passing too quickly! (Which actually, this year, with an August due date, I'm all about summer flying by, honestly. But for everyone else not counting down the days till August, let's chat Fourth of July, ha!)
Today's simple Fourth of July table is part of the summer tablescapes hop hosted by my friend Kelly from North County Nest. You can see all sorts of pretty (and easy!) summer table ideas linked at the bottom of this post.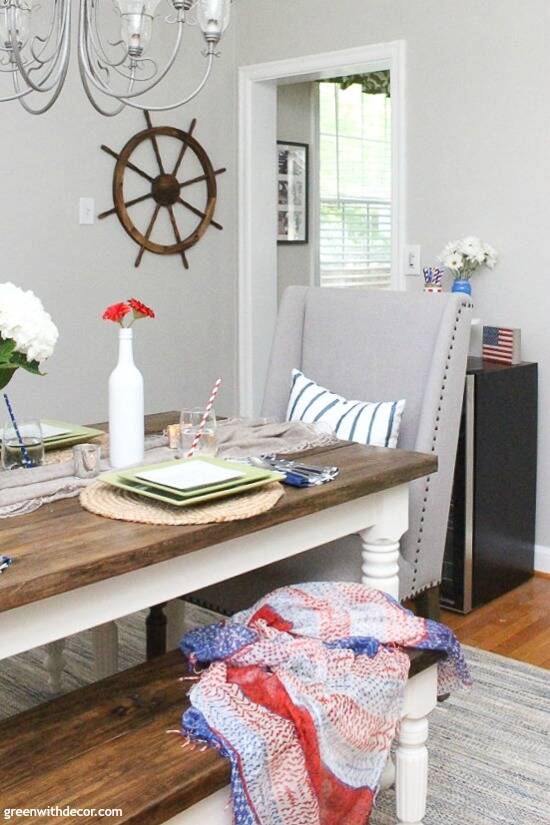 This post contains affiliate links. This means if you click the link and buy something, I may receive a small percentage of sales at no extra cost to you.
This Fourth of July table was super easy to put together, and aside from a couple clearly patriotic pieces, it's really just a mix of everyday decor pieces put together.
5 tips for an easy Fourth of July table:
1. Keep a stash of everyday pieces to use for tables throughout the year.
The table runner, which is actually a scarf, has become one of my favorite pieces. The neutral color makes it perfect for a table runner any time of the year, and the lace gives the table a little bit of an elegant look against the rustic look of our DIY farmhouse table.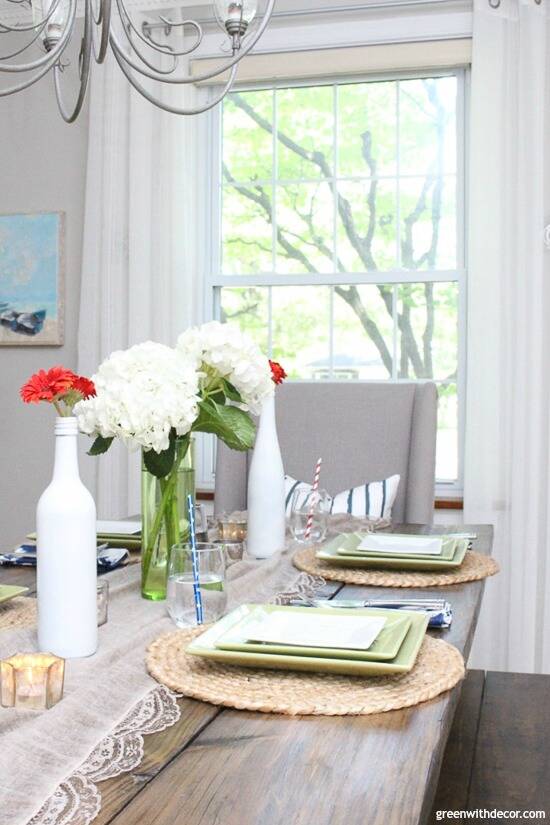 The jute chargers/placemats are perfect for any time of year, too.
So are the blue and white napkins. I even used them for a blue and copper Christmas tablescape!
Maybe green isn't really a Fourth of July color, but we use these plates year round, so I just went with it. Don't feel like everything always has to be themed!
I used the green glass vase in the center of the table to add green in somewhere else, too, so the plates weren't just the only green pieces.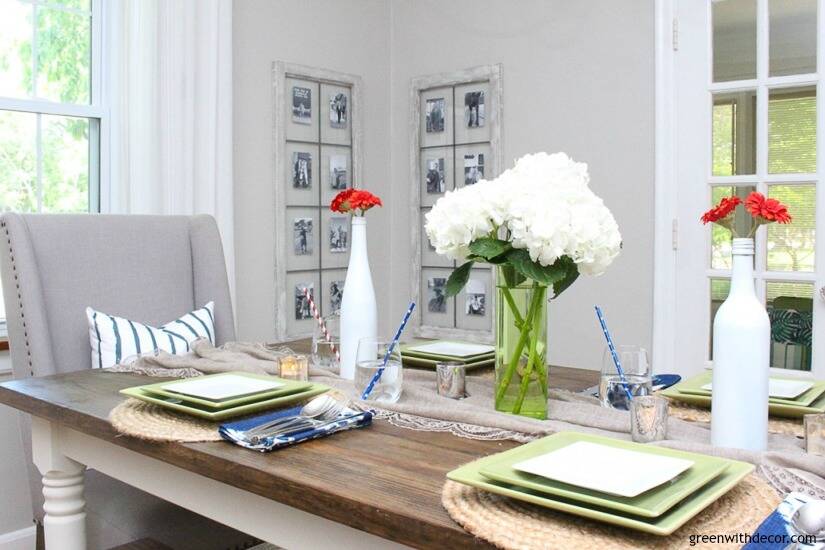 And the mercury glass votives are seriously perfect for just about everything – tablescapes, the mantel, you name it. They add a touch of glam – and candlelight always add some warmth to a table.
2. Spray paint old wine bottles and jars.
I know, I know, I talk about using old wine bottles and jars allllll the time, but they're free! And it's fun to use different sizes and shapes.
I spray painted a couple of wine bottles with this white spray paint. They're perfect to use any time of year.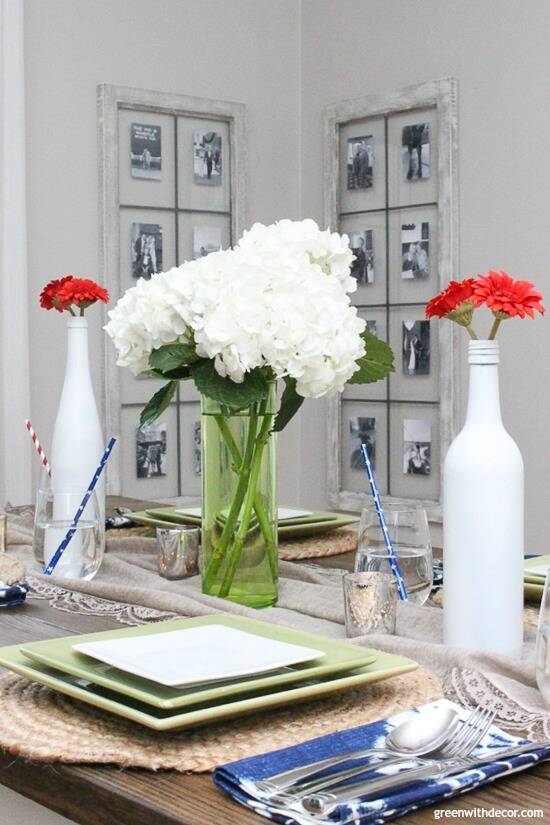 And over on the cake stand on top of the wine fridge, I have these Fourth of July DIY silverware jars. They were originally jars for spaghetti sauce and jalapeños.

3. Use red and white pieces.
These straws are perfect for Christmas, Fourth of July, Valentine's Day … that's the beauty of buying red and white pieces versus anything too holiday-specific.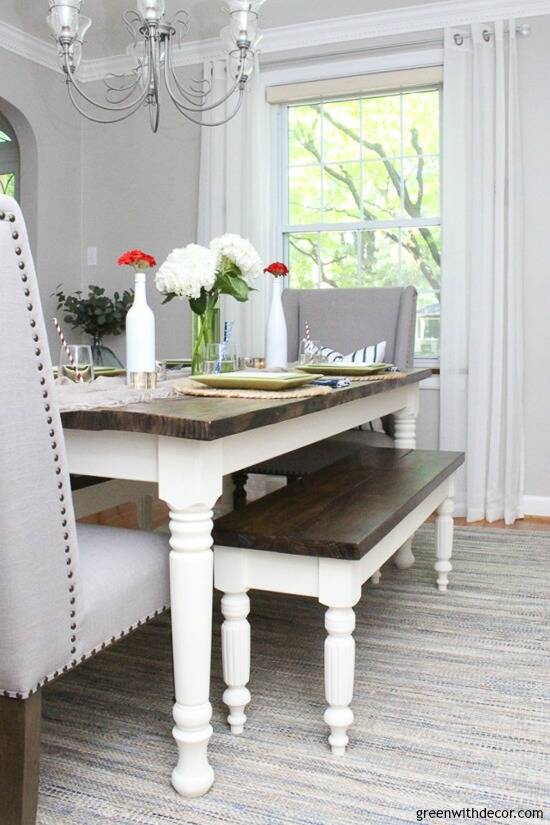 Not to repeat myself, but the white wine bottles and red flowers (more on those below!) add a patriotic touch to a Fourth of July table without being overly holiday-themed.
4. Add a few patriotic touches and call it a day.
A few festive pieces is really all you need when you mix them in with other everyday non-holiday pieces. The blue and white star straws are pretty much Fourth of July specific, but they're such a cheap add-on to a table.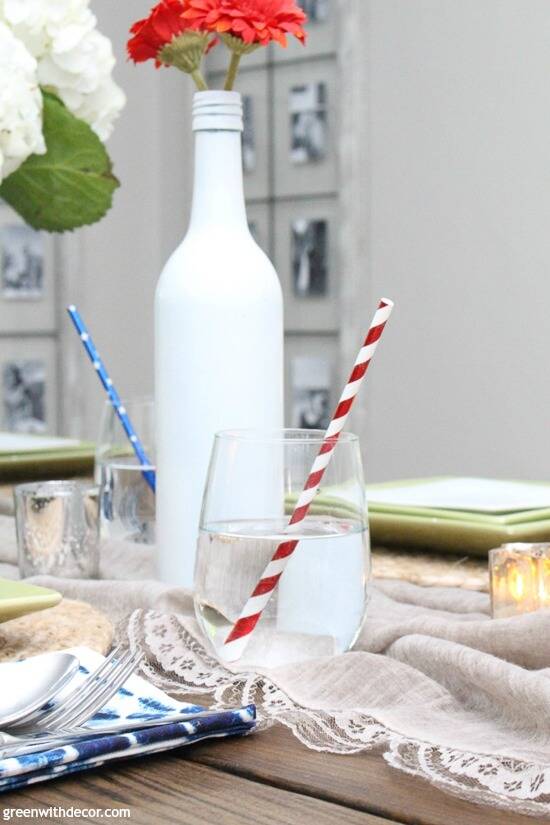 That little wood flag on the wine fridge was a $5 TJ Maxx find – perfect for adding a little patriotic flair without being too much (or costing too much).
5. Mix fresh and faux flowers.
You gotta love white hydrangeas, right?! They're one of my favorites.
And having fresh flowers in the house is always a nice treat.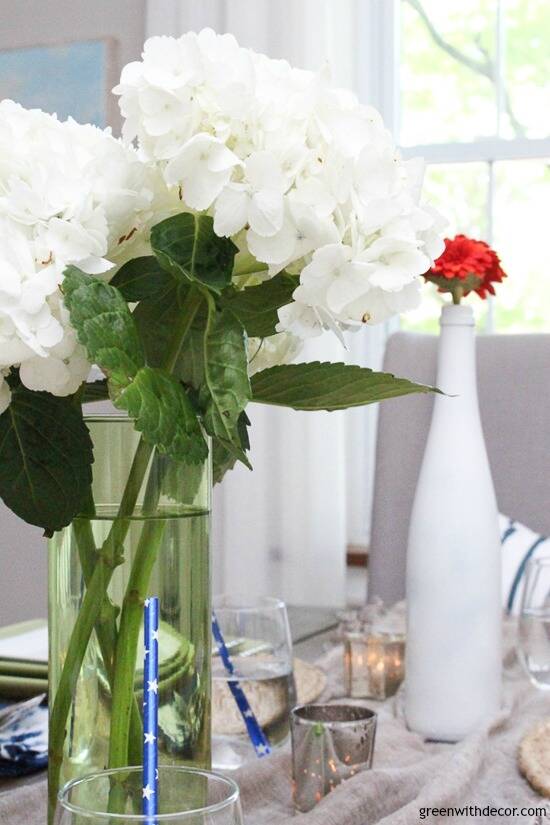 The (faux) red Gerbera daises are from IKEA forever ago. I keep them since, you guessed it, red can work for so many holidays throughout the year.
GET THE LOOK:
Since a popular question I get is "Where'd you get that?!," here are links to the same or similar sources:
I love how this simple Fourth of July table came together without much effort. Perfect for an easy summer day!
Do you have any other easy Fourth of July table ideas? I'd love to hear them!
You can see more of our coastal farmhouse dining room here if you're interested. We just wrapped up the room makeover, and we're loving it!
You can see more pretty summer tablescape inspiration from the bloggers below!
A Purdy Little House | Life on the Bay Bush | Polka Dot Poplars | A Wonderful Thought | Designers Sweet Spot | Intelligent Domestications | Loveland Lodge | Green With Decor (you're here!) | North Country Nest | Our Crafty Mom
Remember to bookmark or pin this post if you want to save it for later!


Pin it!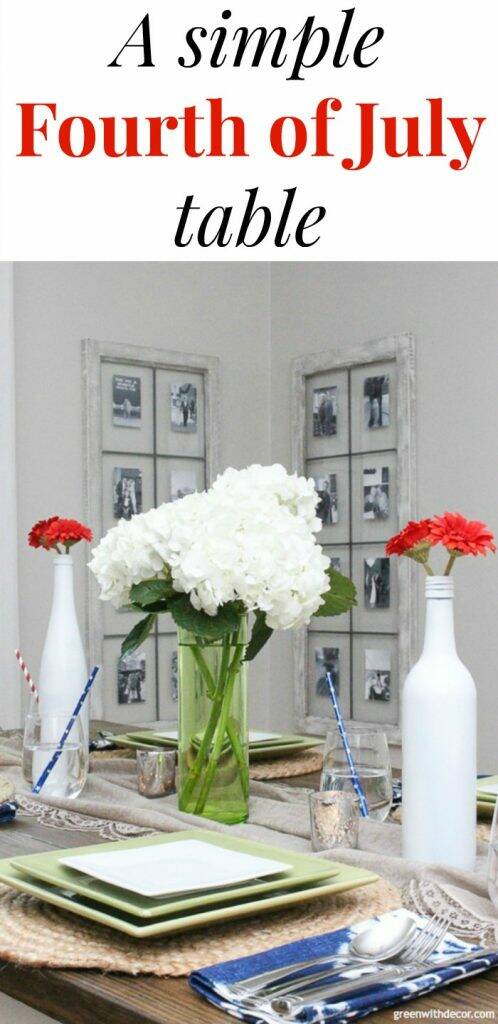 Want to read more posts like this?
Follow along: Get my emails | Facebook | Pinterest | Twitter | Instagram