Disclosure: This post is sponsored by RYOBI. All opinions, images and love of DIY projects and great vacations are 100% mine.
It's no secret I love DIY projects around here. I love traveling, too. Today's project combines them both in such a perfect way.
My brother Stephen's girlfriend Cathie loves DIY projects, too – and her parents love traveling. One day when Kalen and I were hanging out with Stephen and Cathie, Cathie said she'd always wanted to make one of those distance arrow signs showing off her parents' favorite vacations. Kalen and I were all about it.
Cathie's parents have an awesome pool in their backyard, which we all thought would be the perfect spot for a beachy tiki sign like this.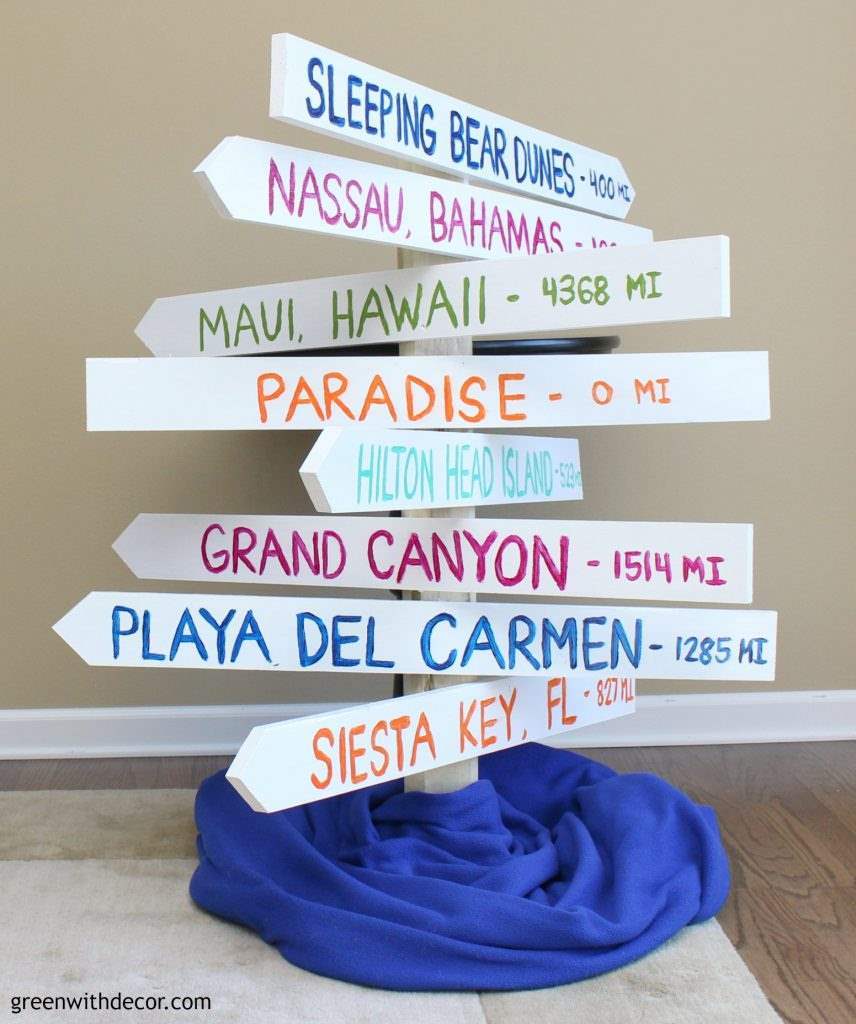 We started working on this project in the fall and finished in late December so Cathie could give it to her parents for Christmas. Which meant I couldn't share it on the blog until after they saw the sign so needless to say, I'm excited to finally share this project with you guys today!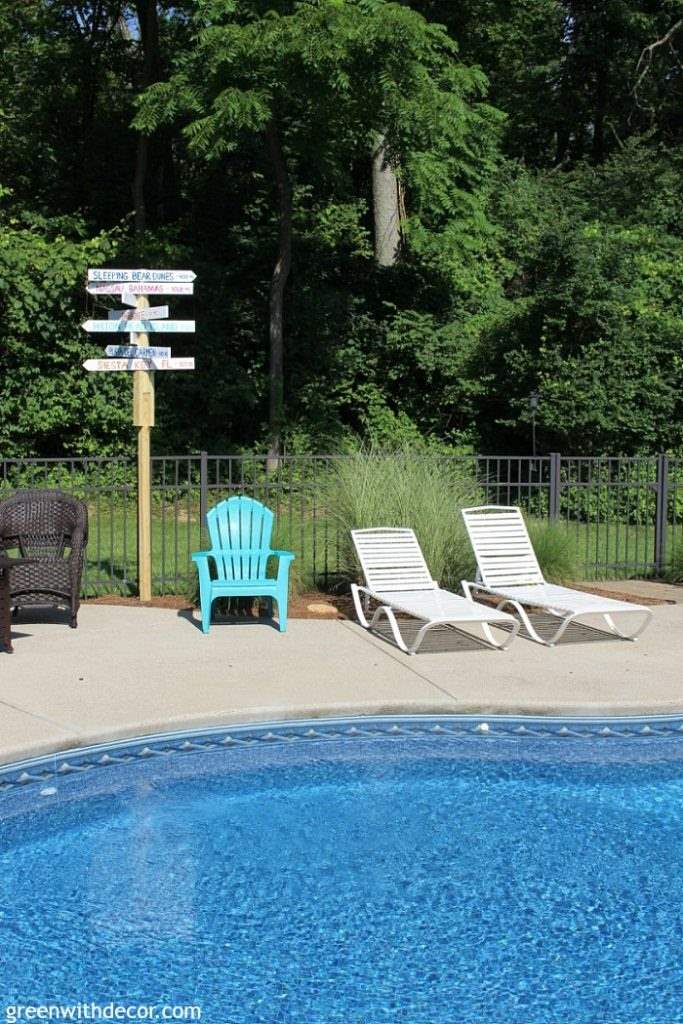 I do a lot of painting and DIY projects around here, but I've slowly but surely been working with Kalen on bigger projects, and it's so fun to work with power tools! Kalen and I have already come up with a whole list of projects we want to do (like building a dining room table). There's just never enough time for all the projects!
Before we dive into the tutorial, I have to warn you, this post is LONG. I seriously debated breaking it into two parts but decided it's easier for you all to have everything right here in one place.
Even though there are a lot of steps, it's really not hard. It does take some time though. Kalen, Stephen, Cathie and I spent a few Saturdays together hanging out and working on it. Oakley, too. Oh wait, she's still terrified of any noise – lawn mowers, saws, drills.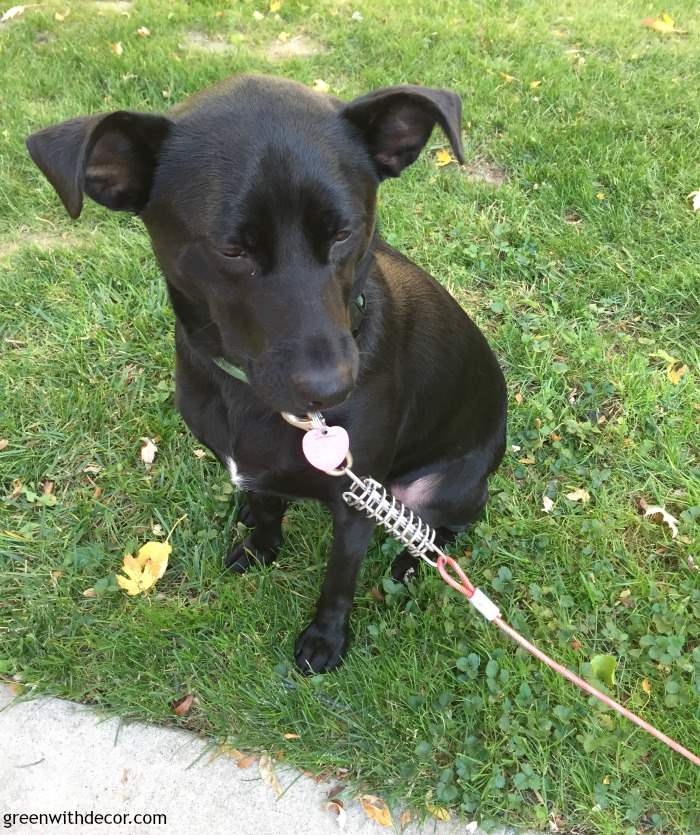 Just so you can see how far away she was from the garage where we were using the saw …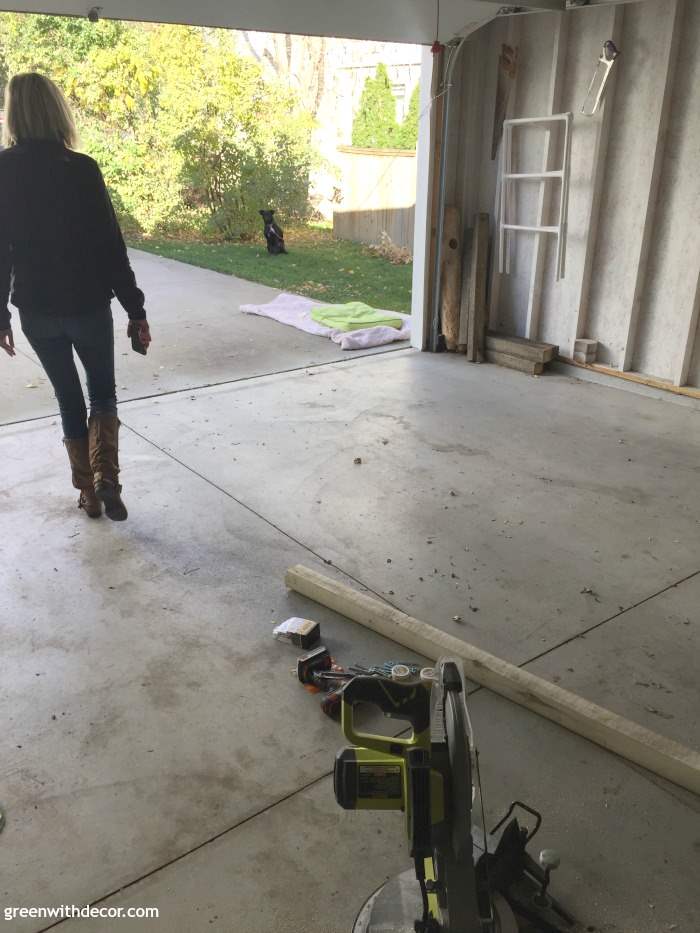 We put her inside after this. 🙂
This post contains affiliate links. This means if you click the link and buy something, I may receive a small percentage of sales at no extra cost to you.
Supply list for a distance arrow sign:
One 3.5"x3.5" 8' piece of pressure treated landscape timber
One 1"x4"x8' pressure treated board for every two arrows (8 arrows = 4 boards)
Safety glasses
Cordless drill
Two lag screws per arrow
Two washers per arrow
One spade drill bit, slightly larger than the head of your lag screw
Socket set
Level
Tape measure
Putty knife
Painter's tape (optional)
Paint for sign
Paint for destination names on arrows
Paint brushes (one for the sign and small brushes for the letters)
Stencils (optional)
Gloss paint (we used Rust-Oleum)
Planter (optional)
Concrete
RYOBI was one of the awesome sponsors at the Haven Conference I went to last summer. It's always fun to get to chat with brands in person, and I'm excited to partner with them on this project today.
How to make a distance arrow sign:
1. Decide how many destinations you'll list on your sign.
This will determine how many arrows you'll need.
2. Cut the 1"x4"x8' boards in half using your RYOBI saw.
Remember to follow all safety guidelines, including wearing safety glasses and close-toed shoes, when using the RYOBI saw.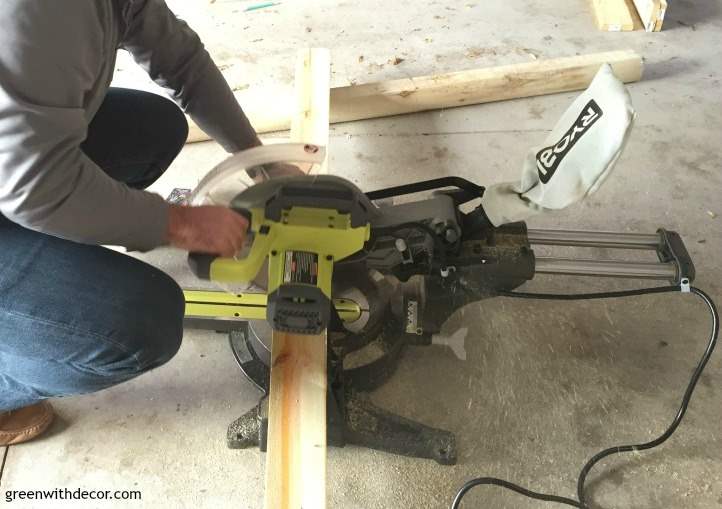 3. At the end of one of the boards, measure to the center of the board and mark it with a pencil.
This point will be the tip of the arrow. (You'll cut the arrows in step 4.) Repeat on all of your boards.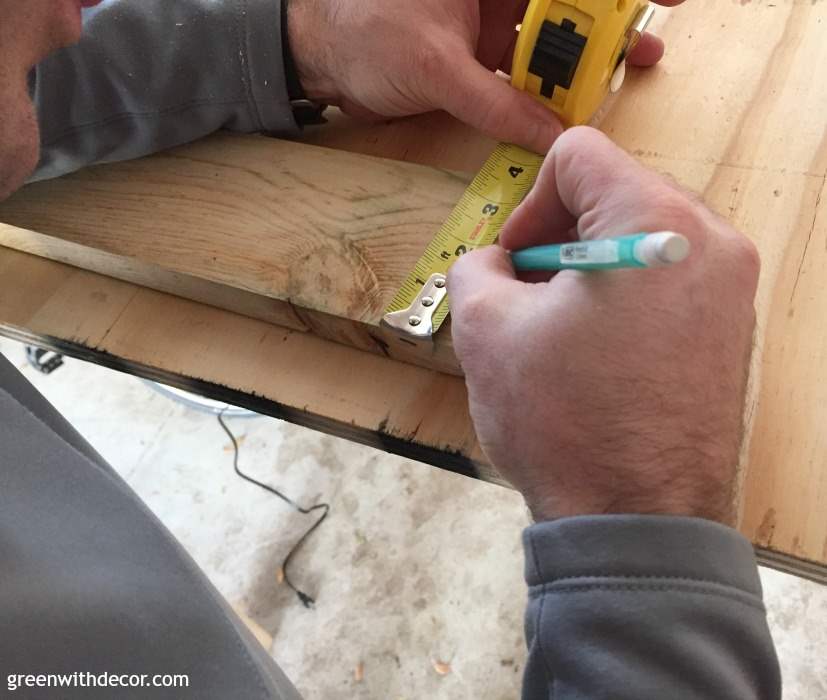 4. Use the laser on your RYOBI saw to line up with the mark you made at the center of the boards.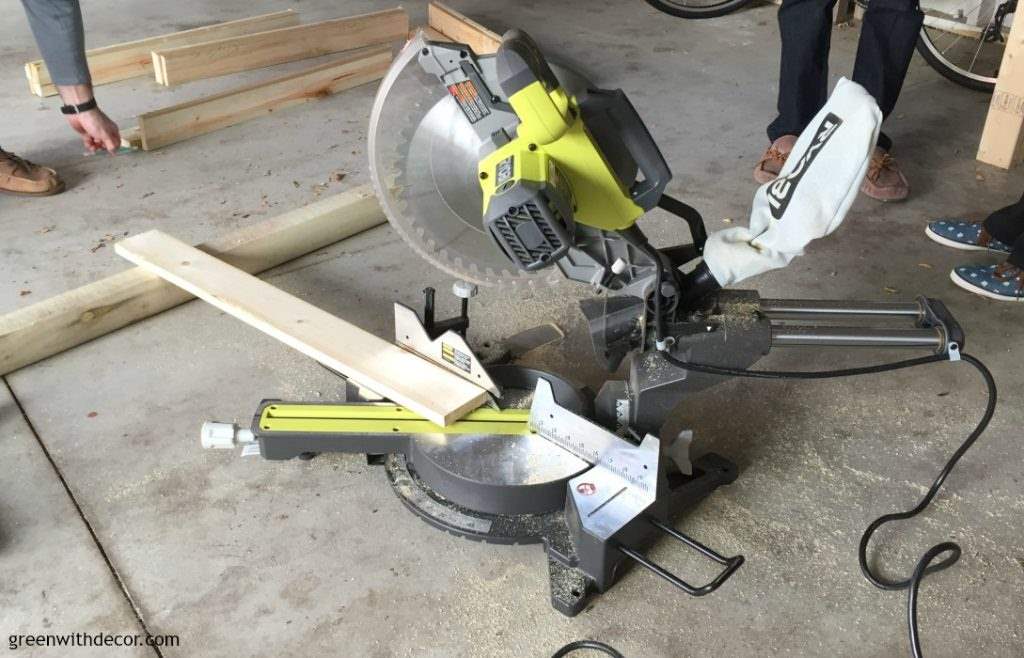 Cut off the corners of each board at a 45-degree angle so each rectangle board is now an arrow shape. You'll need to slide the saw out to finish the cut.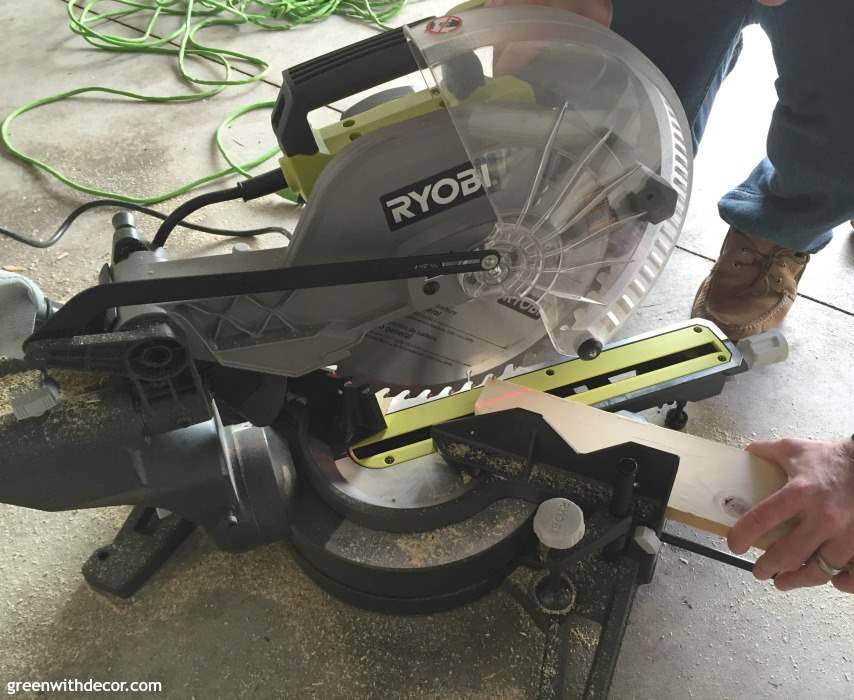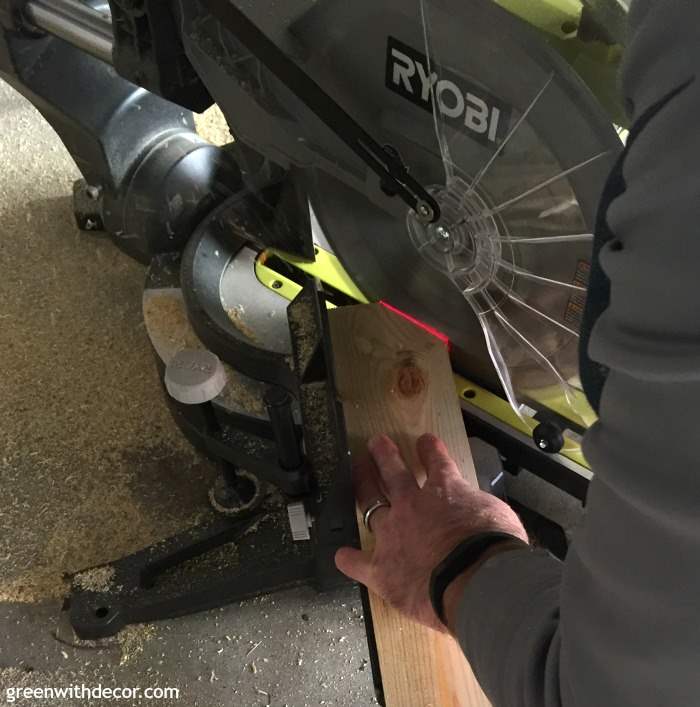 How awesome is this laser!? I love it.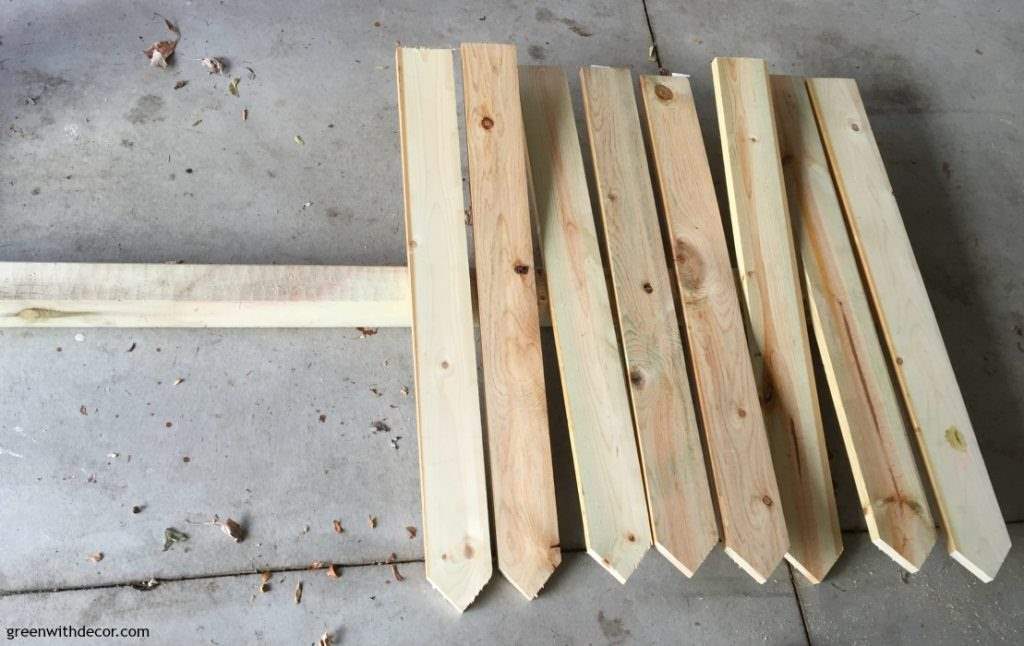 Note, if you're doing a "paradise – 0 miles" board like we did, you may not want to cut that board into an arrow shape.
5. Using a tape measure, determine the center of each board. Then use a spade drill bit and a cordless drill to drill two recesses into the center of each board.
The recesses should be just deep enough to hide the head of the lag screw but not any deeper or you'll end up doing more work later when you're using the socket set to screw in the lag screws.
6. Using a drill bit, drill two pilot holes slightly smaller than your lag screws through each board, in the middle of the recesses you just drilled with the spade drill bit.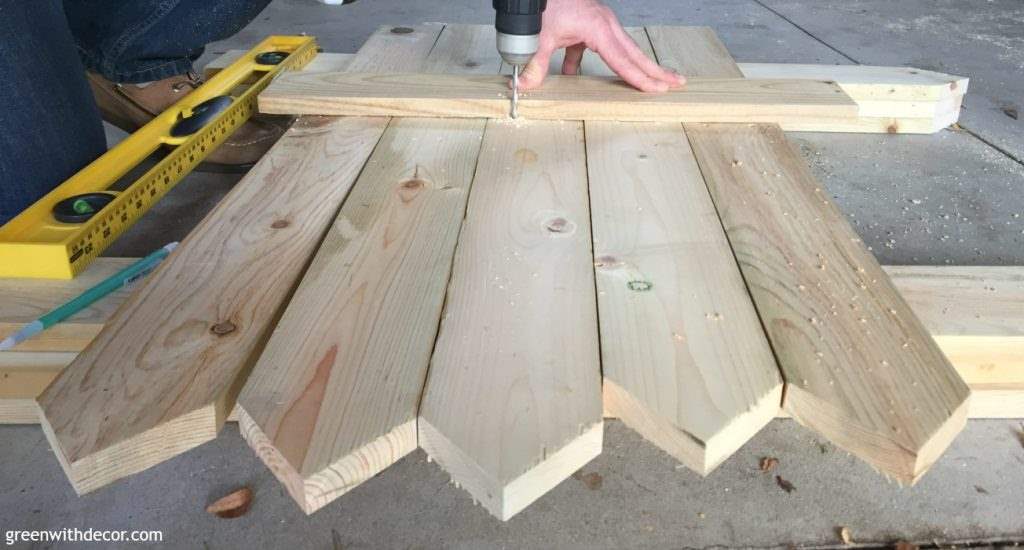 7. Decide where your lowest arrow will go on your post.
Here you'll have to decide which of two ways (outlined below) you want to display your finished sign. This may seem like you're getting a little in the project, but how you display the sign will determine where the lowest arrow should go.
Display option one, a permanent display:
This works best if you live somewhere where you'll leave the sign outside year-round.
Place the post in the ground, using cement to secure the post in the ground. If you go this route, you'll need to have three feet worth of the post reserved to be underground when you bury the post.
Display option two, a portable display:
This option works best in two cases: (1) if you're transporting the sign (like we did from Wisconsin to Cathie's parents' house in Ohio) and (2) if you don't want to leave the sign outside permanently (if you live somewhere with snow like Wisconsin or Ohio).
Note: Don't actually complete this part until you've finished steps 8-21, but here's how you'll complete this step:

Cut the board to 5'6" and place in an outdoor planter. Place the post in the cement, and have someone hold it while you pour cement around the pole, filling up the planter and using a level to ensure the post is perpendicular to the ground.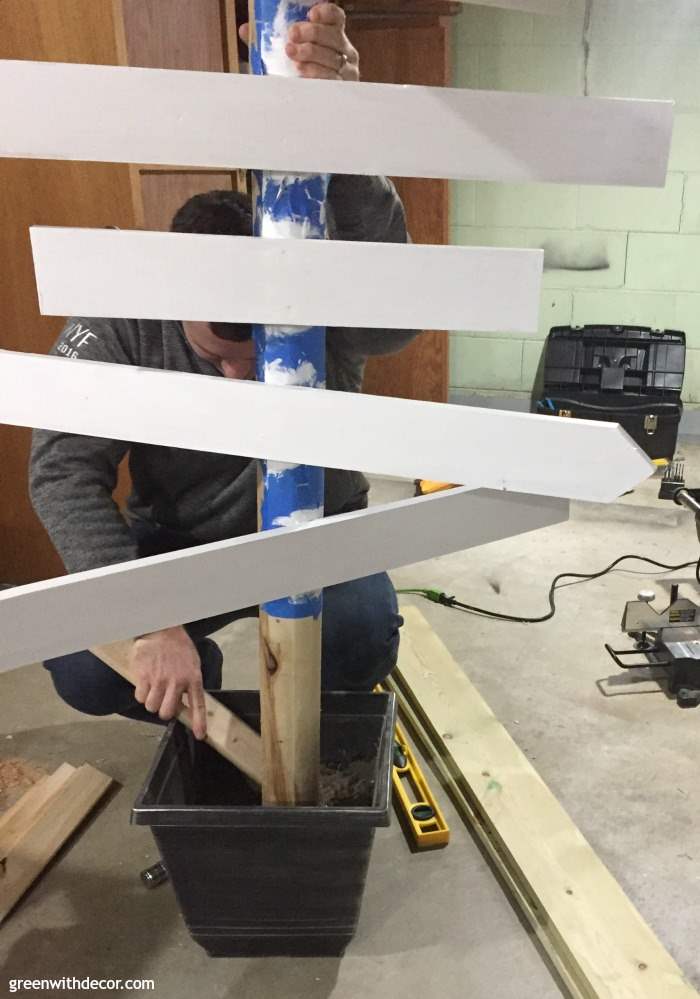 8. On scrap paper, draw a diagram of how you want the finished sign to look.
You have two options here, too:
One: Put the arrows on the post facing whichever way you want because it's way easier than …
Two: Figure out where the finished sign will be displayed and then set up each arrow to be pointing in the correct direction of the place listed on that arrow.
We went with option two, which I would definitely recommend, but I'll warn you. It sounds easy if you understand basic geography (which I'm assuming we all do 🙂 ), but somehow thinking about directions and places and which way every arrow should be pointing turned into an activity that had the four of us cracking up, constantly pulling out our phones to look at a map to make sure we were all on the same page. It was so funny.
Of course, it's your choice, but I'd recommend placing the arrows on the post so they're alternating directions. I think it makes the sign more fun.
9. Position your top arrow on the post.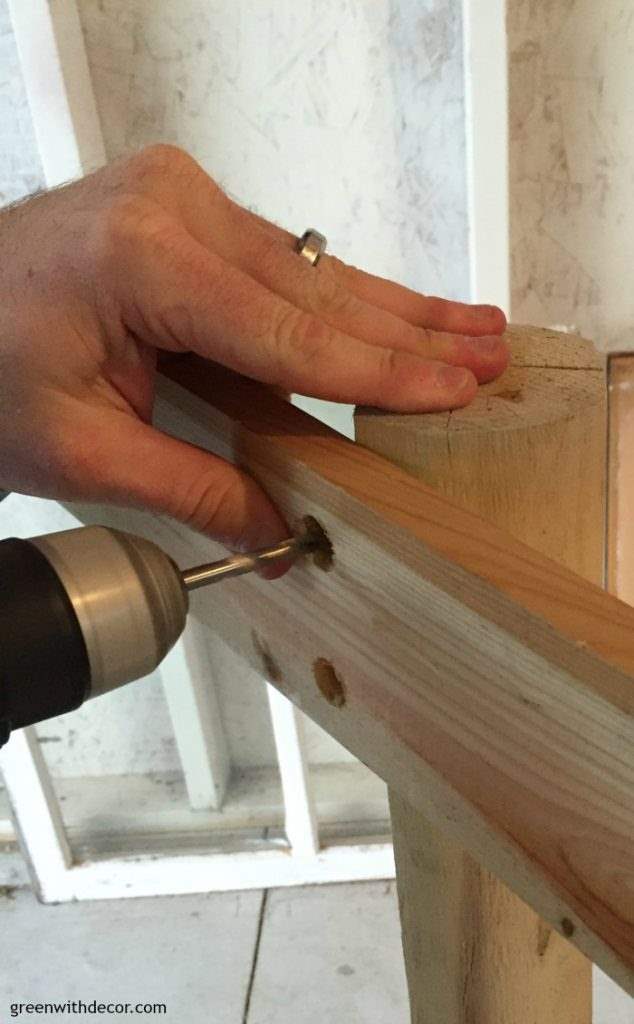 10. Drill a pilot hole into the post, using the board (arrow) as a guide.
It's extremely helpful here to have a second person making sure the arrow is level.
Note: Don't drill both pilot holes here. Drill one at a time. This makes it way easier when putting the lag screws in later because you won't have to match them up right away.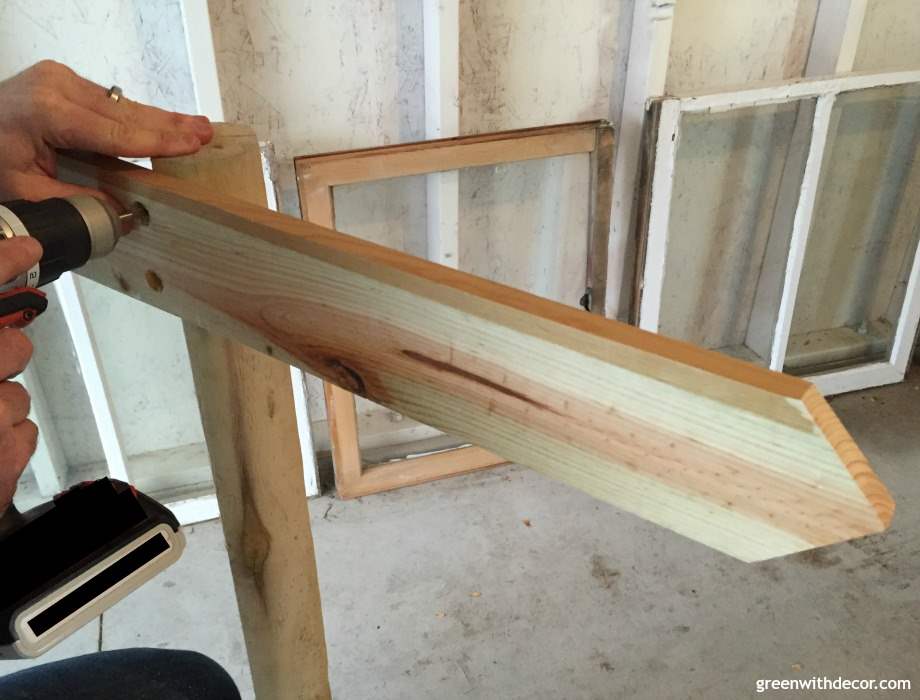 (Ignore the old windows in the background. Those are for a DIY project for another day!)
11. Use a socket set to screw the first lag screw into the board (arrow).
Make sure the screw head is completely recessed into the hole.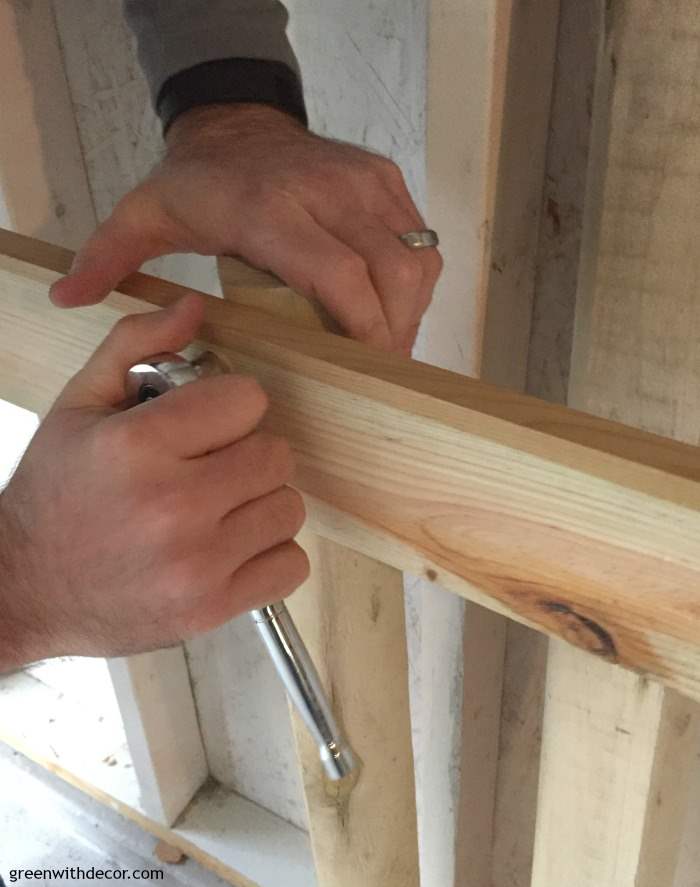 12. Drill the second pilot hole.
Screw in the second lag screw.
13. Repeat steps 9-12 for each arrow.
Again, this is personal preference, but we decided not to have the arrows all equal distance apart on the post. Part of the fun of this project is the tiki, beachy look, so it doesn't have to be perfect.
But of course if you want all of the arrows to be equal distance apart, you'll have to measure that out before you place the rest of your arrows on the post.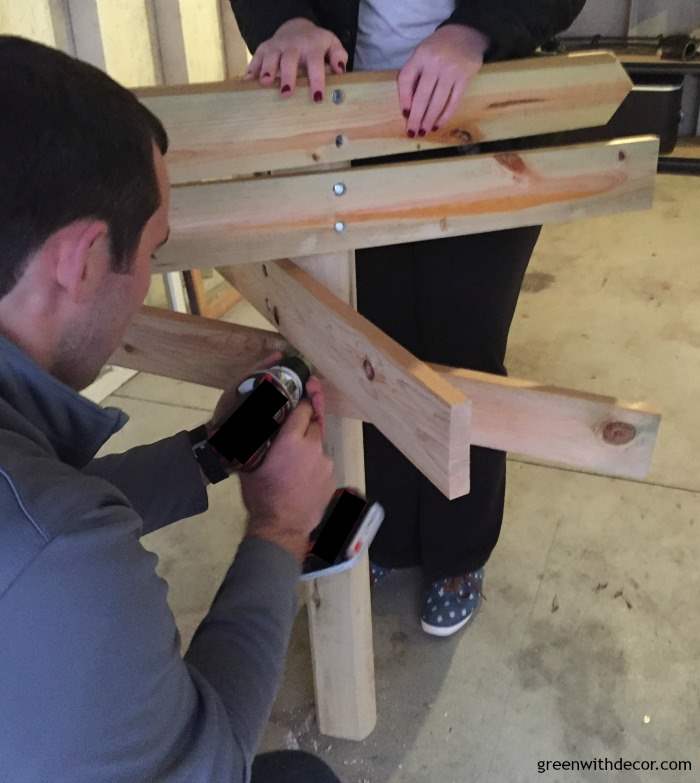 It was easier to turn the sign upside down to finish the bottom arrows.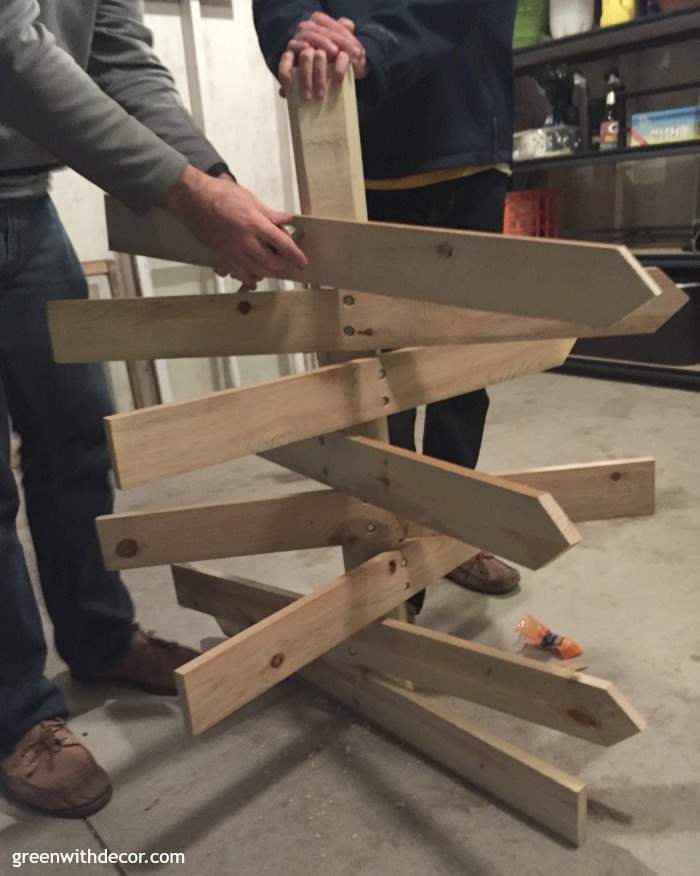 14. After all of the lag screws are screwed in, use wood screws to help secure any arrows that might still be a little wobbly.
15. Use spackling to cover the holes so you can paint over the holes where the lag screws are.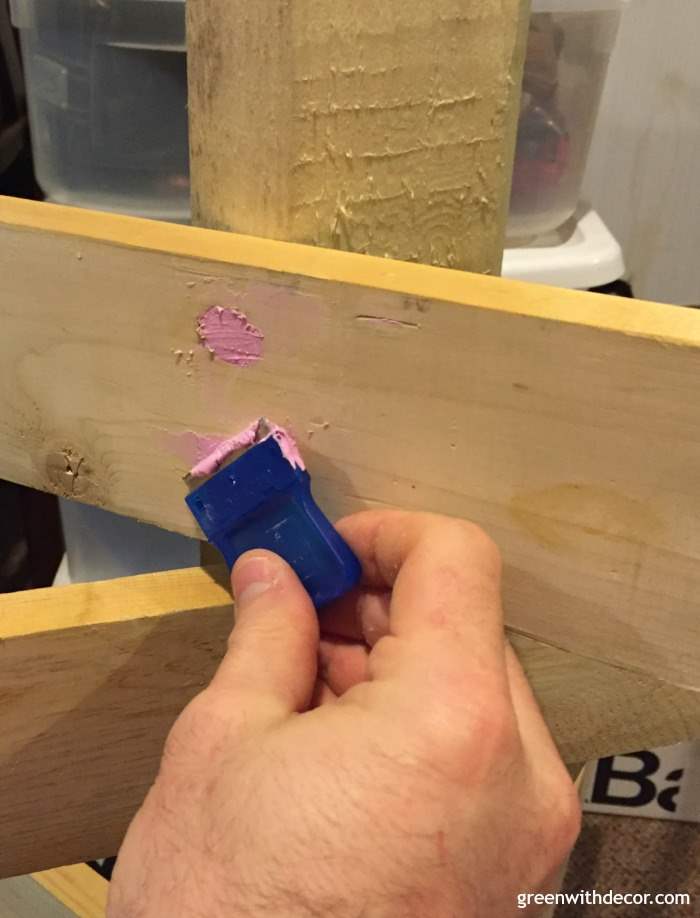 Let the spackling dry completely.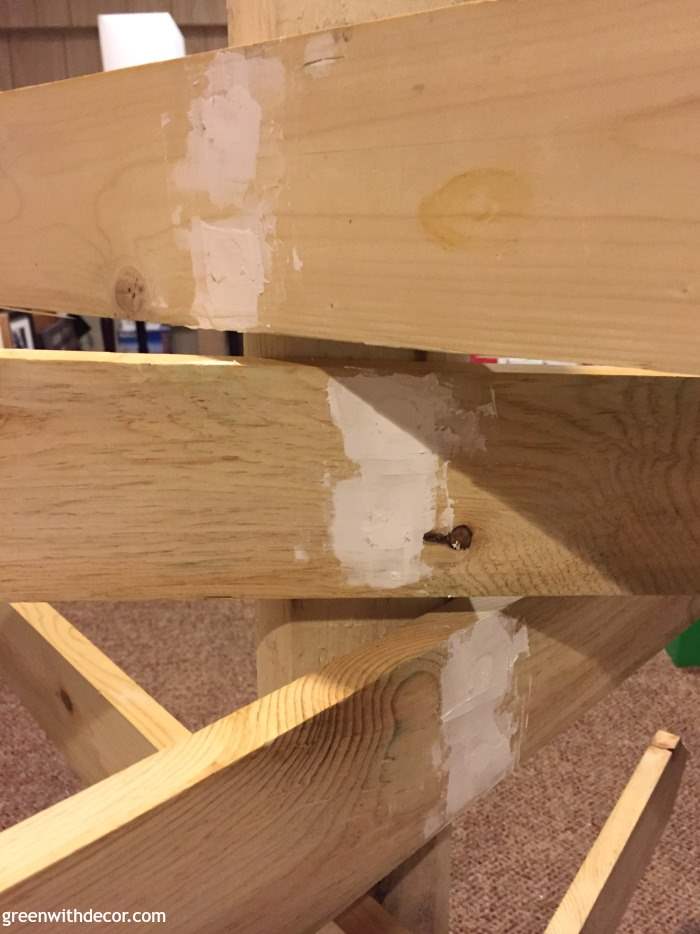 16. Sand the arrows to prep them for painting.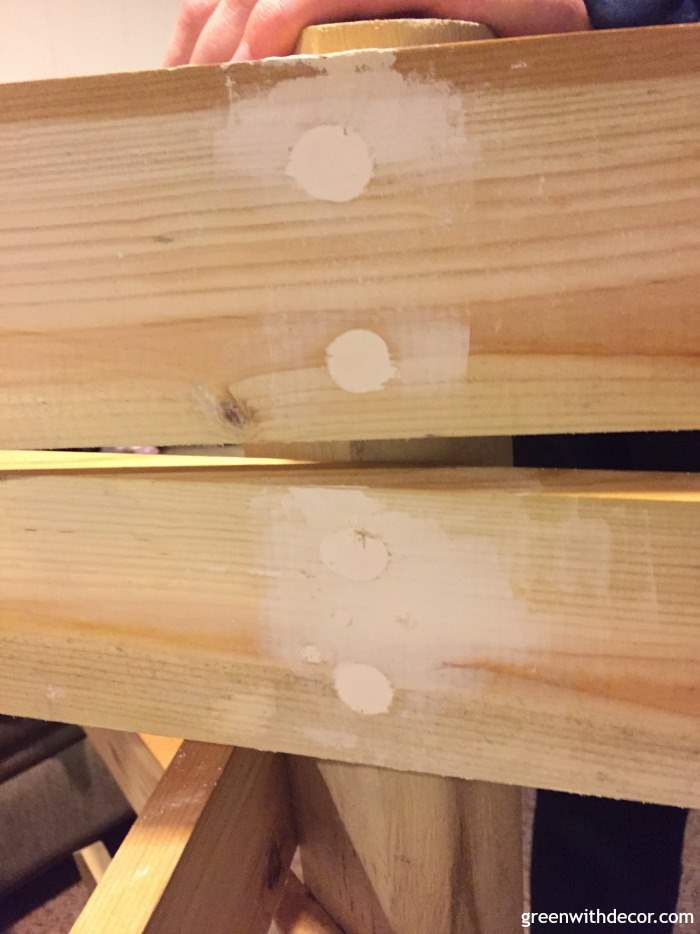 17. Paint the full sign.
We went with white paint for the full sign so the different colored names on the arrows would pop.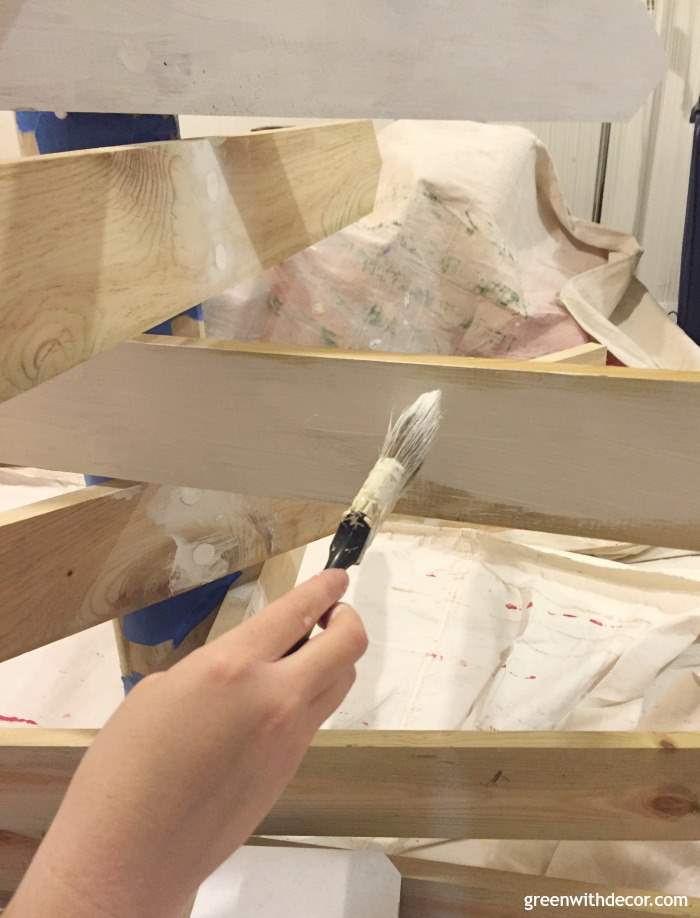 You could also paint each arrow a different color.
Remember to paint the bottom and the top of each arrow.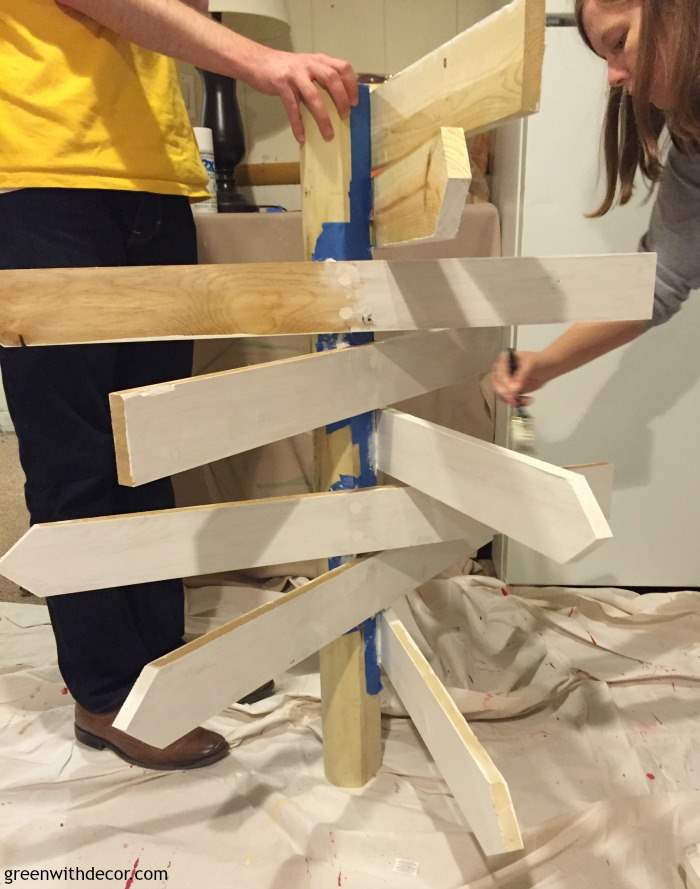 18. (optional) Look up distances for each destination.
This depends on whether you want to include the distances on your arrows or not. I think it adds some fun to the sign. Of course, it's also a little depressing to realize how far away you are from your favorite tropical swim-up bar!
And again, you have two options here. Are you sick of me saying that yet? You can go with driving distance or straight line distance.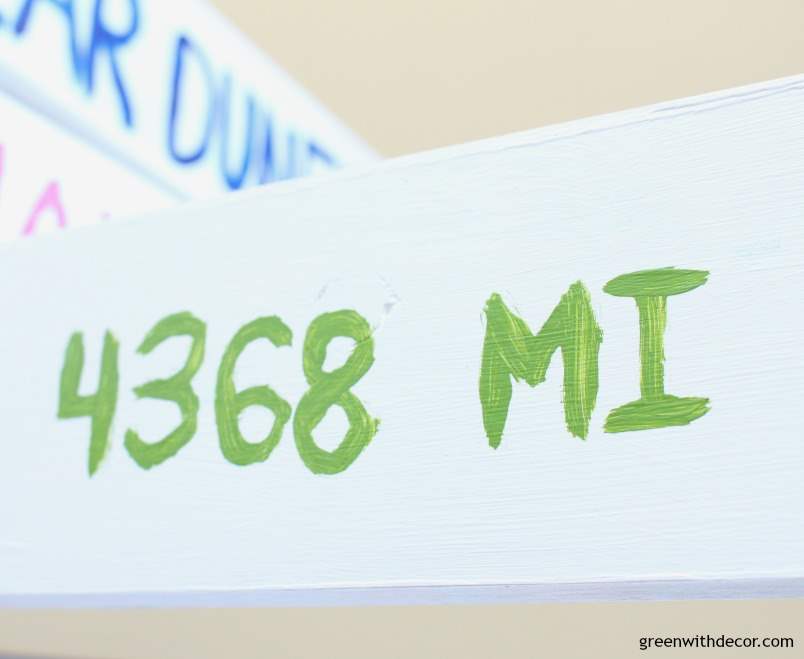 19. Paint the destination names on each arrow.
We picked some fun tropical colors to use for this. We talked about the best way to do this, with stencils or without, but to go with that casual beachy look, we went freehand.
I'd recommend sketching out one or two of the destination names on a piece of paper first just to get a feel for the size of the letters and where you should start painting so each name is somewhat centered on each arrow.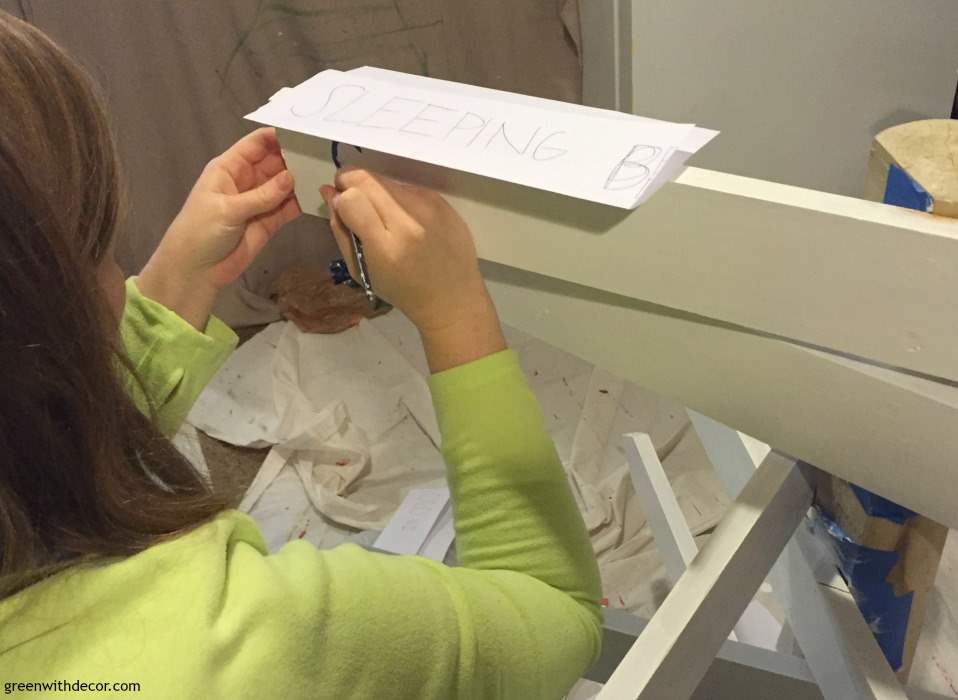 Then just go for it. You can't really screw it up. (And if for some reason you do, you can always paint over the arrow again and start over with the letters.)
I love the 'paradise' arrow. Because if you can't be in Hawaii or Mexico at a swim-up bar, hanging out at a backyard pool is definitely the next best thing.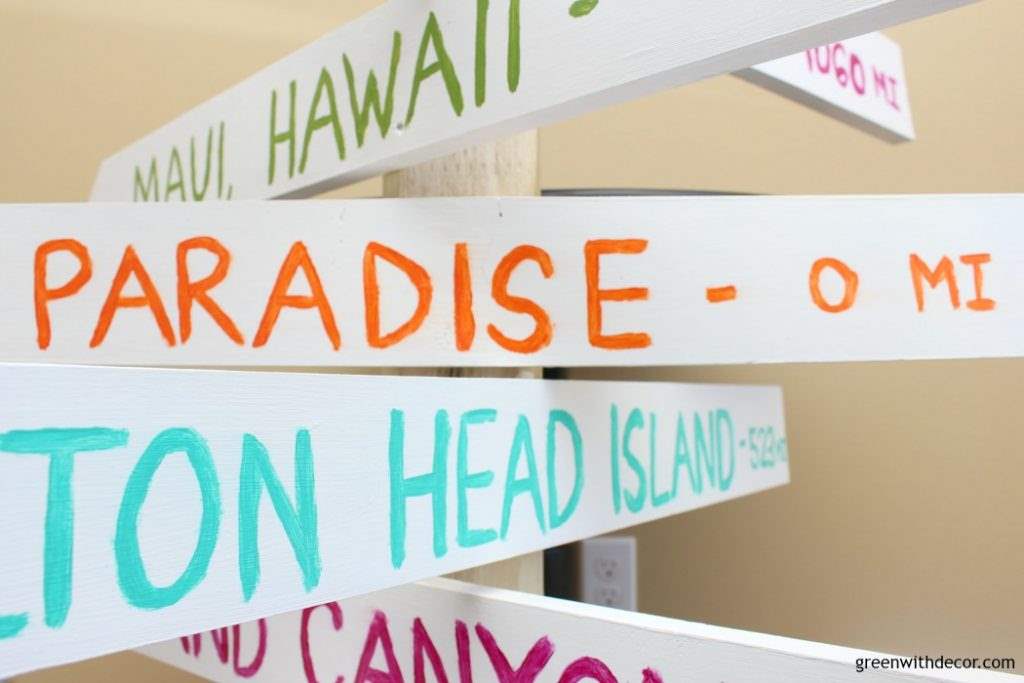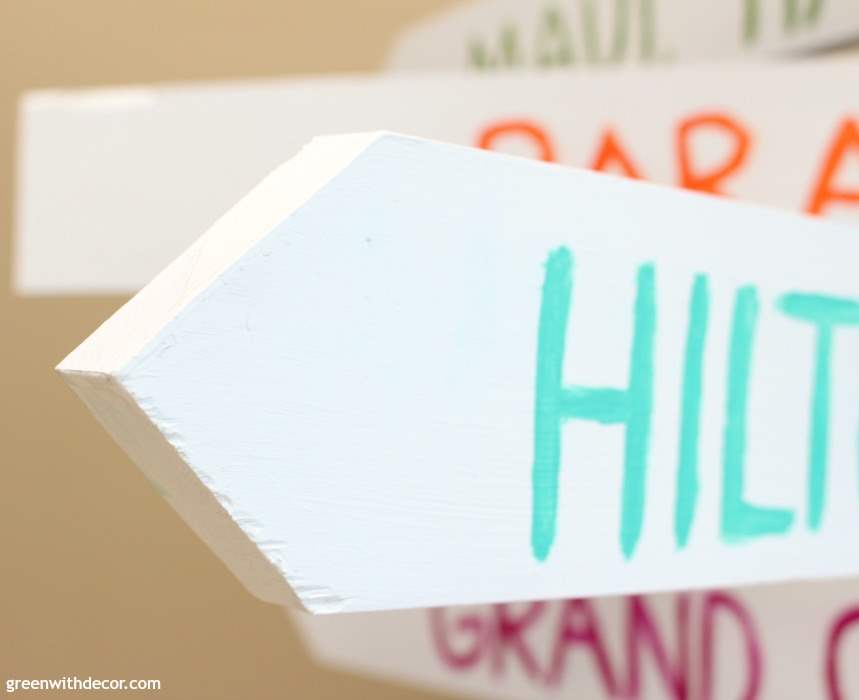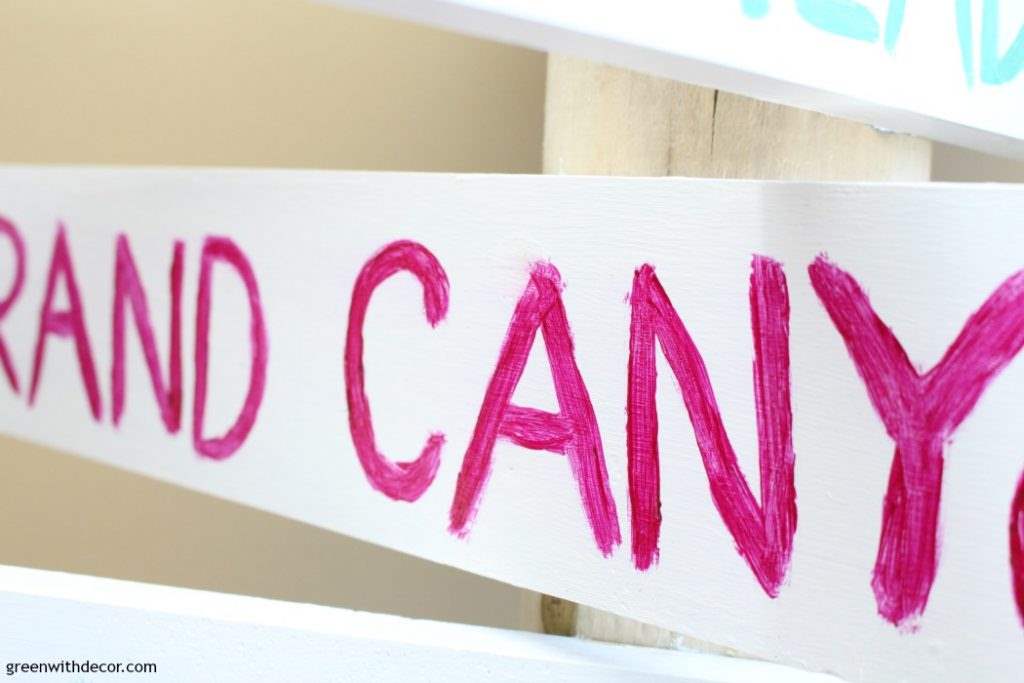 20. Seal with clear gloss paint to keep the sign protected outdoors.
21. Go back to step 7 and finish your sign – following the steps for either the permanent or portable display.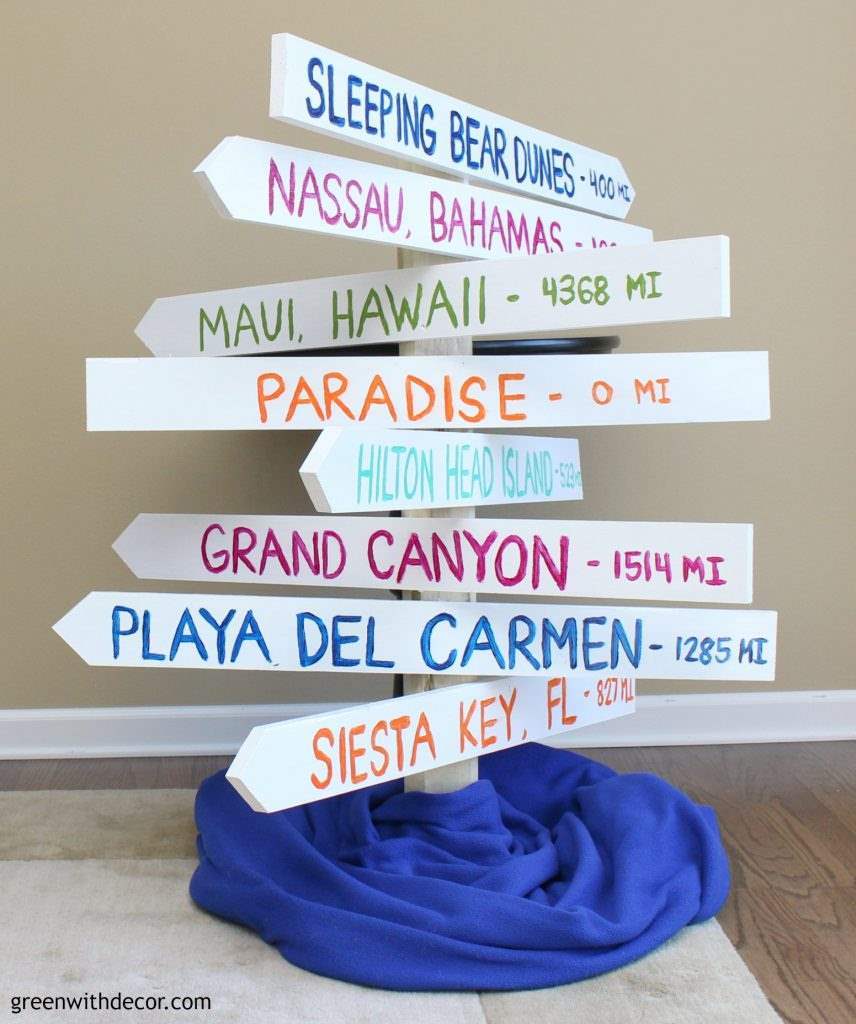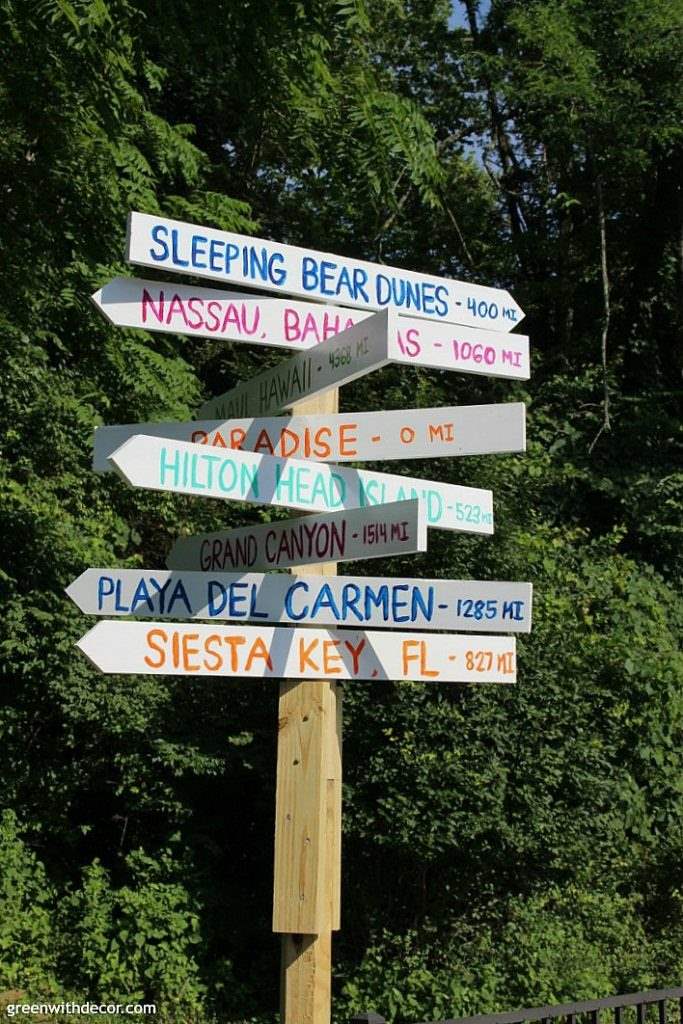 This was such a fun project, and it was great to work on something that Cathie's parents love so much. If we had a pool in our backyard, I'd definitely be making one of these distance arrow signs for us, but it might look a little odd in the middle of a bunch of grass.
Now on to planning our next vacation!
Remember to bookmark or pin this post if you want to save it for later!

Pin it!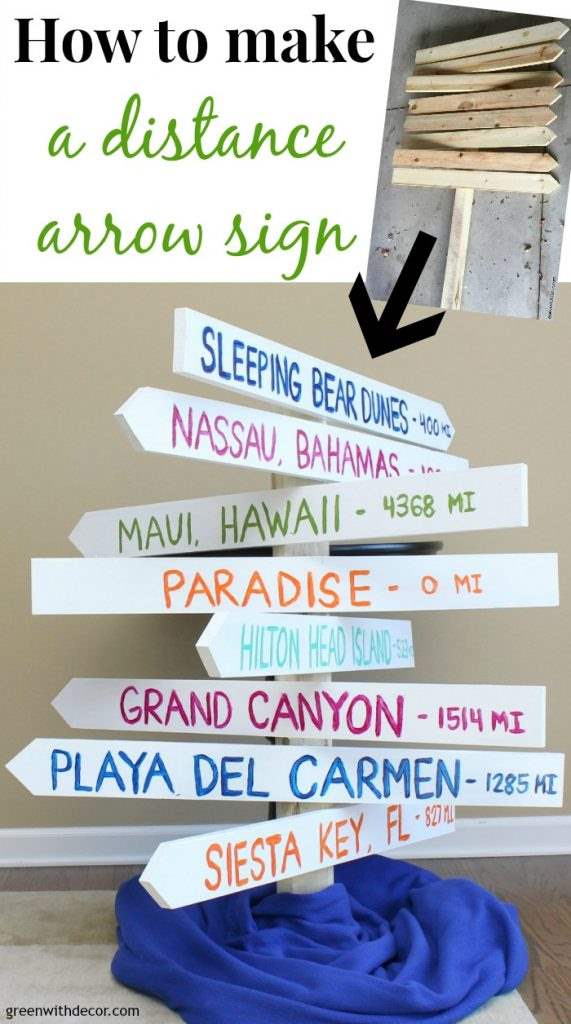 Want to read more posts like this?
Follow along: Get my emails | Facebook | Pinterest | Twitter | Instagram