If you're wondering how to paint a bistro set, it's easy with the help of a paint sprayer! Just follow this simple DIY tutorial.
Disclosure: This post is sponsored by Wagner. All opinions, images and love of DIY painting projects are 100% mine.
I think summer has really finally come to Wisconsin. I mean it hasn't snowed in 6 weeks so hopefully we're good.
Which means it's patio season!
This old bistro set is headed to my brother's new condo (yay for homeownership!) but needed a fresh coat of paint so it's up to par for their brand new patio. Paint to the rescue, of course.
Here's how the bistro set started: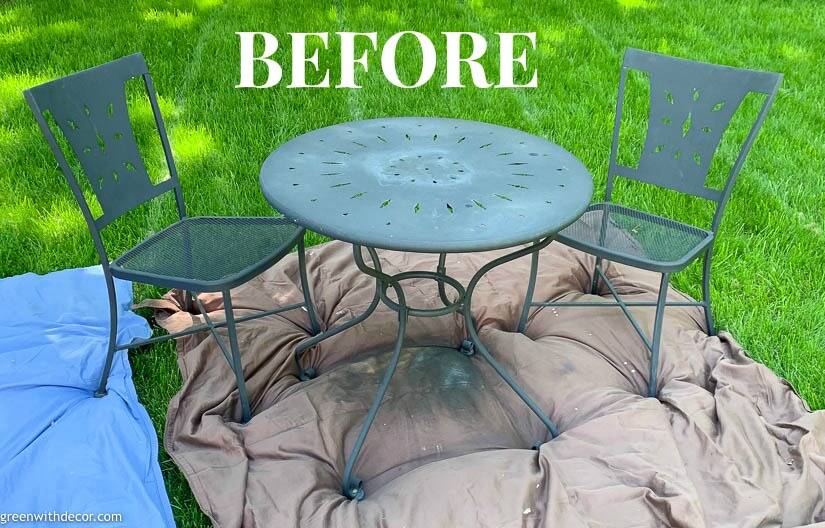 And now: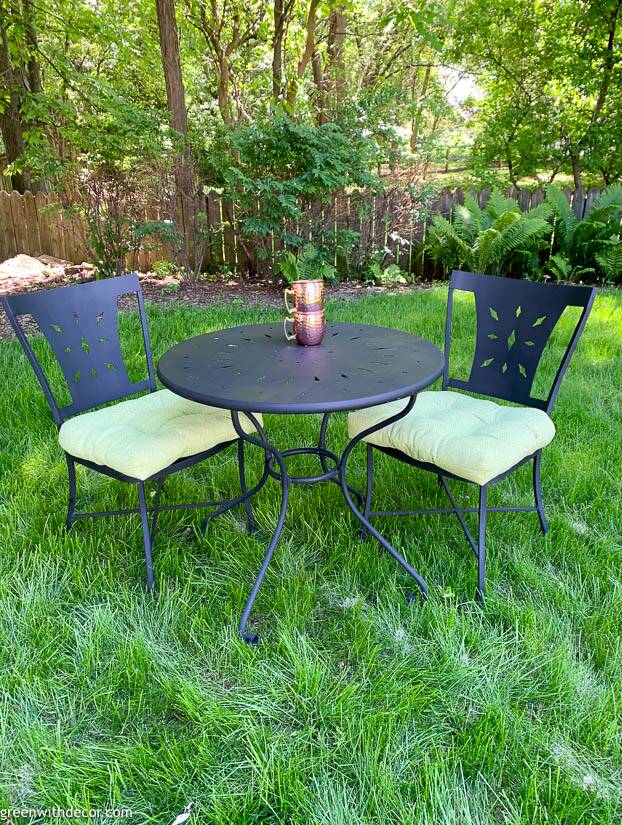 My mom and I knocked this one out in an afternoon. Quick painting projects are always the best painting projects, aren't they?!
And now the table is all set for drinks on its new patio!
Although it looks pretty good with all the greenery in my parents' backyard, too, I gotta say.
This post contains affiliate links. This means if you click the link and buy something, I may receive a small percentage of sales at no extra cost to you.
Supply list for painting a bistro set:
Drop cloth or old sheet
Rag
FLEXiO 3000 paint sprayer (also available here or here)
Extension cord (if needed)
Paint (we used Behr, I've yet to have a problem with any paint brand in the sprayer!)
Paint stir stick
Paper towel
How to paint a bistro set:
1. Clean your bistro set.
Grab an old rag and some soapy water, and wipe it down. Let it dry before you paint.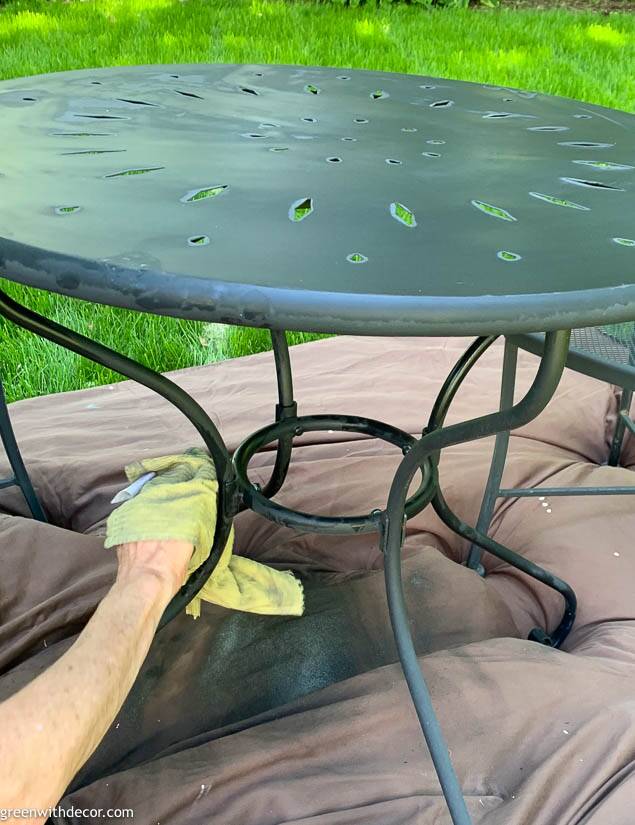 2. Prep your paint.
Stir your paint and pour it in the sprayer's paint cup.
(I almost never thin paint when using the FLEXiO and odds are, you probably won't have to either. If you run into any trouble, Wagner suggests adjusting your settings first before you thin your paint.)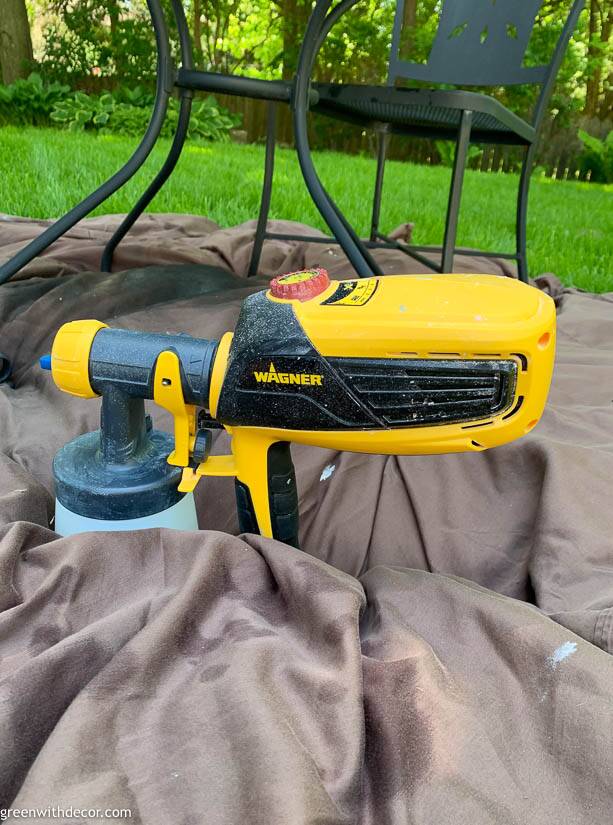 3. Select the right nozzle for your painting project.
The FLEXiO 3000 comes with two nozzles: the detail nozzle (for smaller projects) and the iSpray nozzle (for bigger projects).
The detail nozzle is perfect for painting a bistro set or other furniture pieces. (I just used it for painting our barstools, too!)
4. Assemble your paint sprayer.
Insert the suction tube into your paint sprayer, paying attention to the direction its facing.
If you'll be spraying in an upward motion, the suction tube should be pointed toward the back of the sprayer, and if you'll be spraying in a downward motion, it should be pointed toward the front.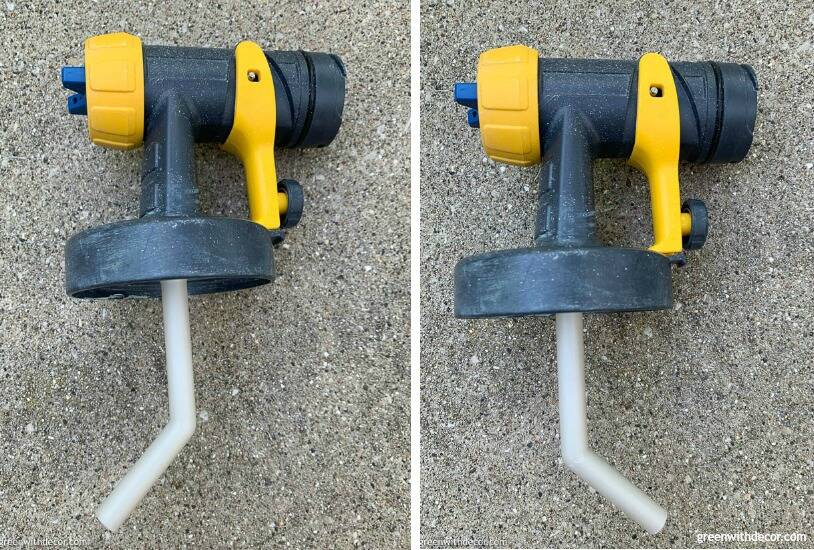 Screw the paint cup into your paint sprayer, twisting the nozzle into the sprayer toward the 'lock' symbol.
5. Adjust your paint sprayer settings.
Air power control: Wagner's manual walks through everything and is really helpful, but if you're also painting a bistro set or other outdoor furniture, set your air power control at about 3 or 4 to start. The thicker your paint, the higher you'll need to set this.
Material flow control: The material flow control setting will depend on what type of paint material you're using. Wagner's manual outlines this in an easy to read chart, but basically if your paint is running, this is probably set too high, and if you're not getting enough coverage, this is probably set too low.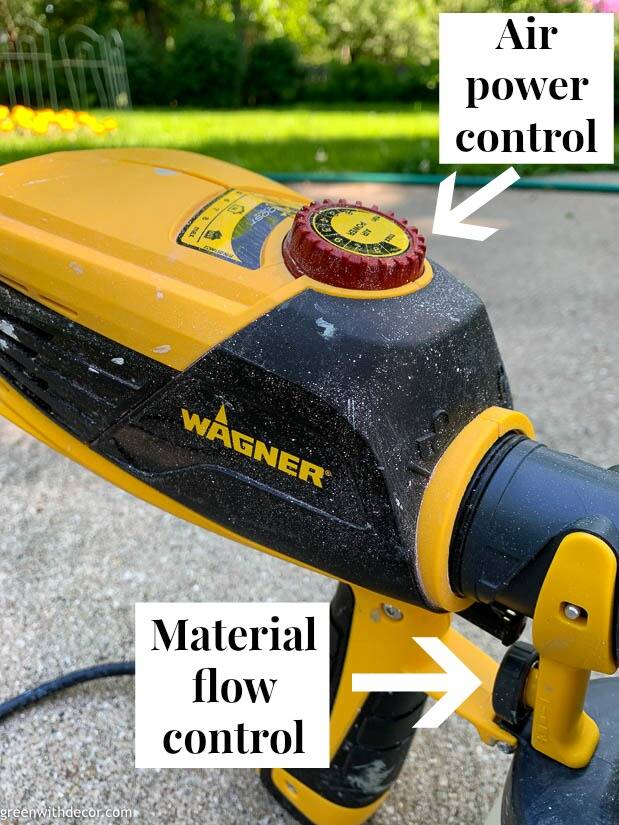 If you run into any issues with painting or aren't sure about the settings, look at Wagner's manual. Whether you don't have much paint flow, the paint is leaking or the paint is coming out splotchy, the manual has suggestions for increasing or decreasing certain settings, and you should be all set.
Spray shape / air cap: The air cap at the front of the sprayer determines the shape of the paint spray. When I'm painting furniture, I adjust this as I go, depending on if I'm painting the table/chair legs or a bigger surface like the tabletop.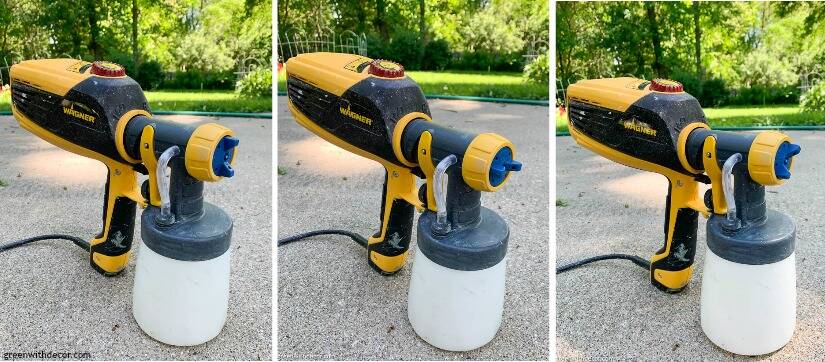 6. Paint!
If you've never used a paint sprayer before, I'd suggest practicing on the practice sheet Wagner provides with the sprayer.
Otherwise, just dive right in!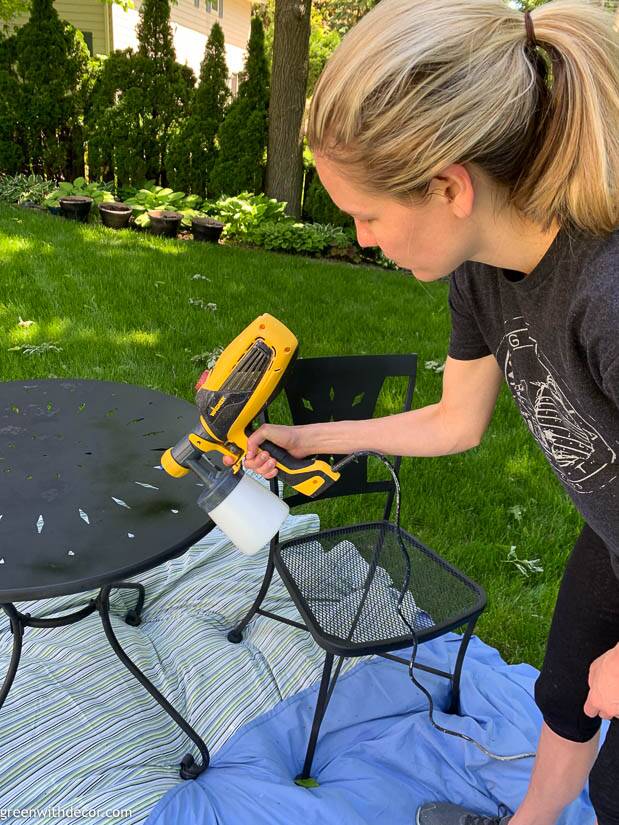 Here are my best tips for painting with a paint sprayer:
The paint sprayer should be 6-8 inches from your bistro set. If you're farther away, the paint will probably go on too thin.
Keep your arm moving to avoid too much paint hitting one spot.
Move with the paint sprayer instead of flicking your wrist so paint hits what you're painting evenly and at a consistent speed.
Go back and forth across your surface, overlapping some with what you just painted each time.
Do a first coat of paint, let it dry and then do a second heavier coat for full coverage.
Wipe the paint sprayer nozzle with a damp paper towel every once in a while. This stops any bits of dried paint from messing with the paint flow. (This is more important when painting larger projects.)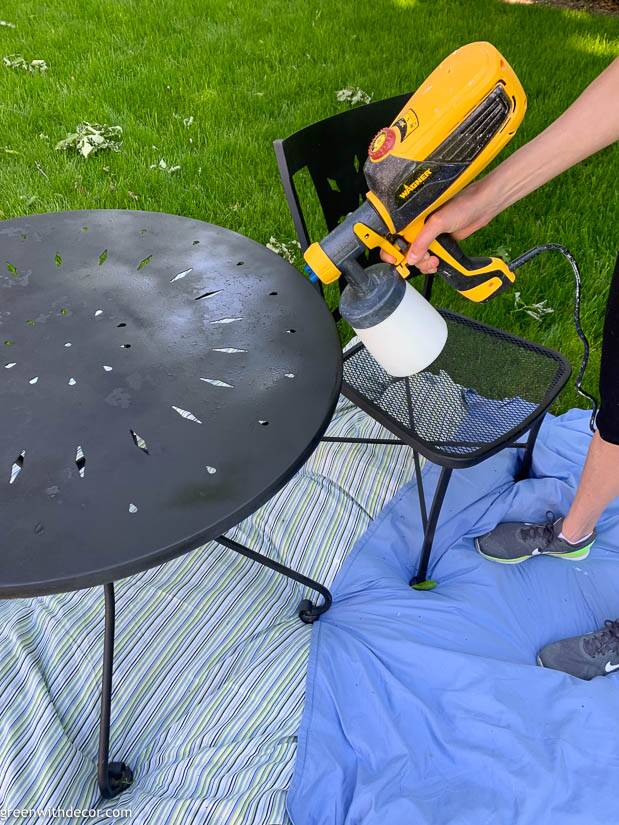 It's always amazing how FAST you can paint something with the paint sprayer. This bistro set was done in an afternoon, which is awesome when I'm trying to squeeze painting projects in during my daughter's (not very long) naps!
7. Clean your paint sprayer.
Unplug the sprayer and pour any unused paint back into the paint can.
Run warm soapy water through the paint sprayer, then unplug.
Take the detail nozzle off of the paint sprayer and take it apart to clean each piece. It's easier to clean than you think – I often get questions about this part. Again, Wagner's manual walks through this in great detail if you have any questions.
And all done!
I mean let's look again at the before/after of the table: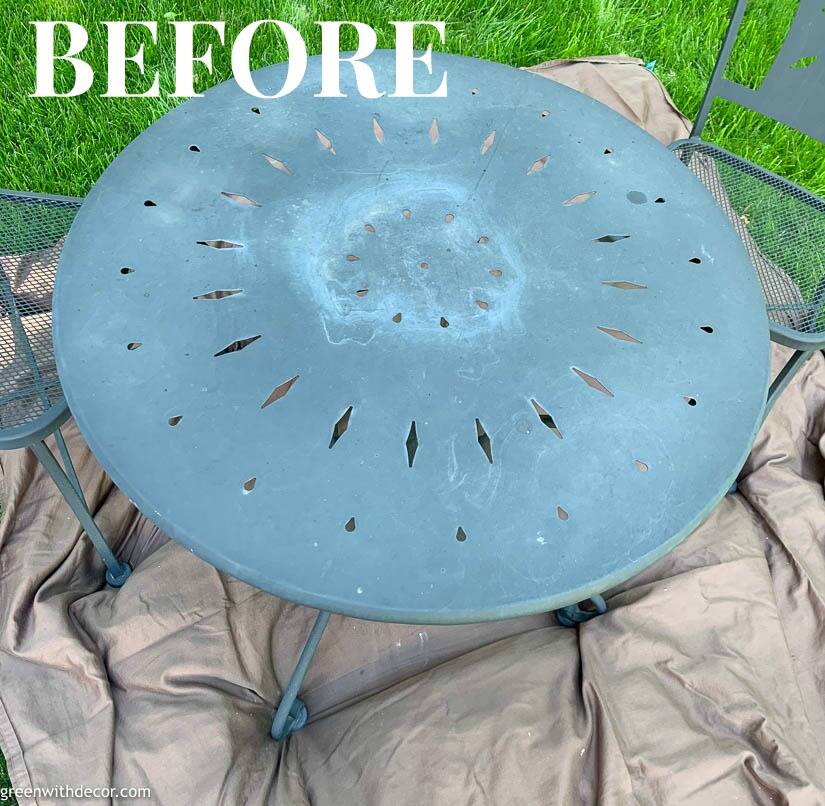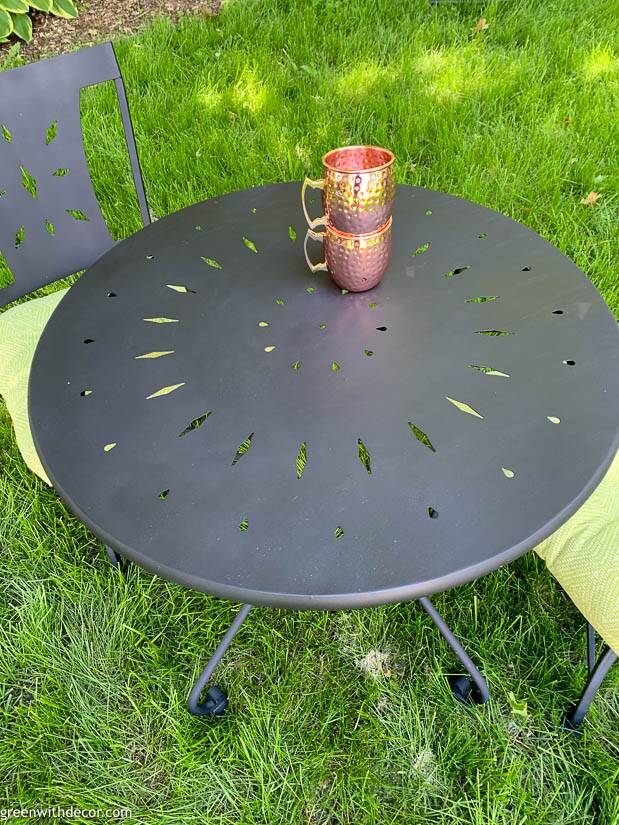 Gotta love paint! (And copper mugs for cocktail hour!)
Plus you can feel good about leaving bistro sets outside in the sun / rain / weather when you know you can always spruce it up with some paint again whenever it needs it.
Who's ready for drinks on the patio? My brother and his fiancé are hosting. 🙂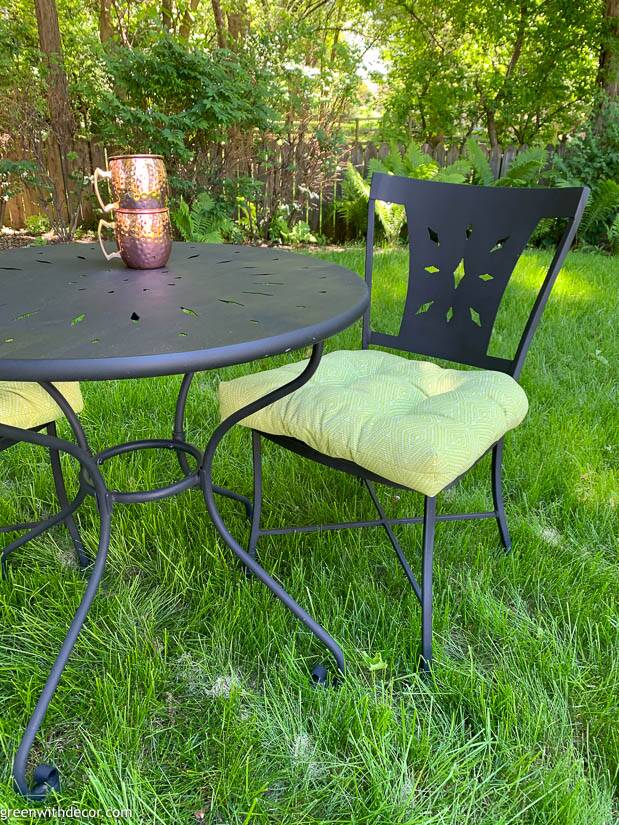 We have about a billion outdoor projects at our house we need to get started on before they start calling for snow again!
Is painting a bistro set on your summer to-do list? Or do you have any other fun outdoor painting projects planned?
Remember to bookmark or pin this post if you want to save it for later!


Pin it!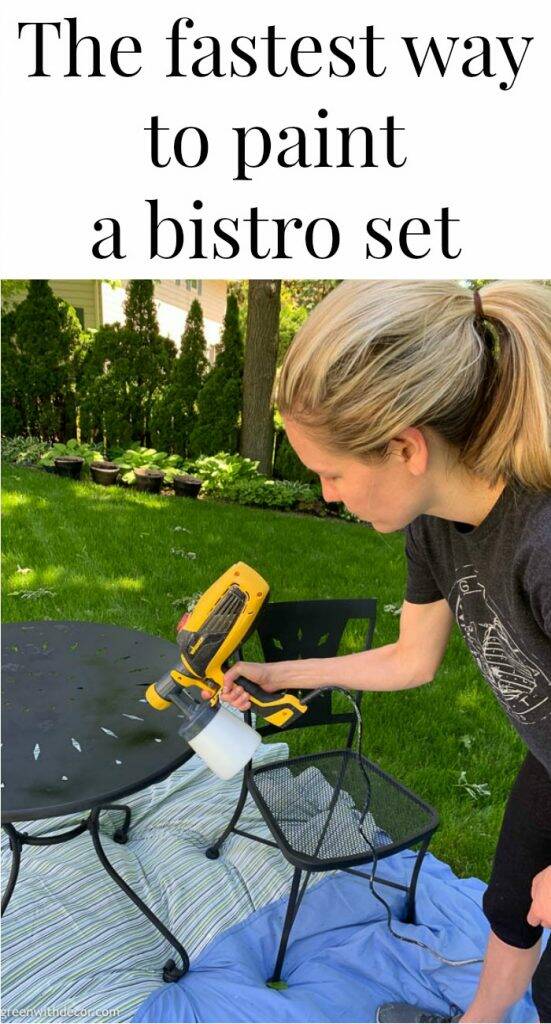 Remember to bookmark or pin this post if you want to save it for later!